How to use lighting, mirrors, vanities and color to transform a condominium bathroom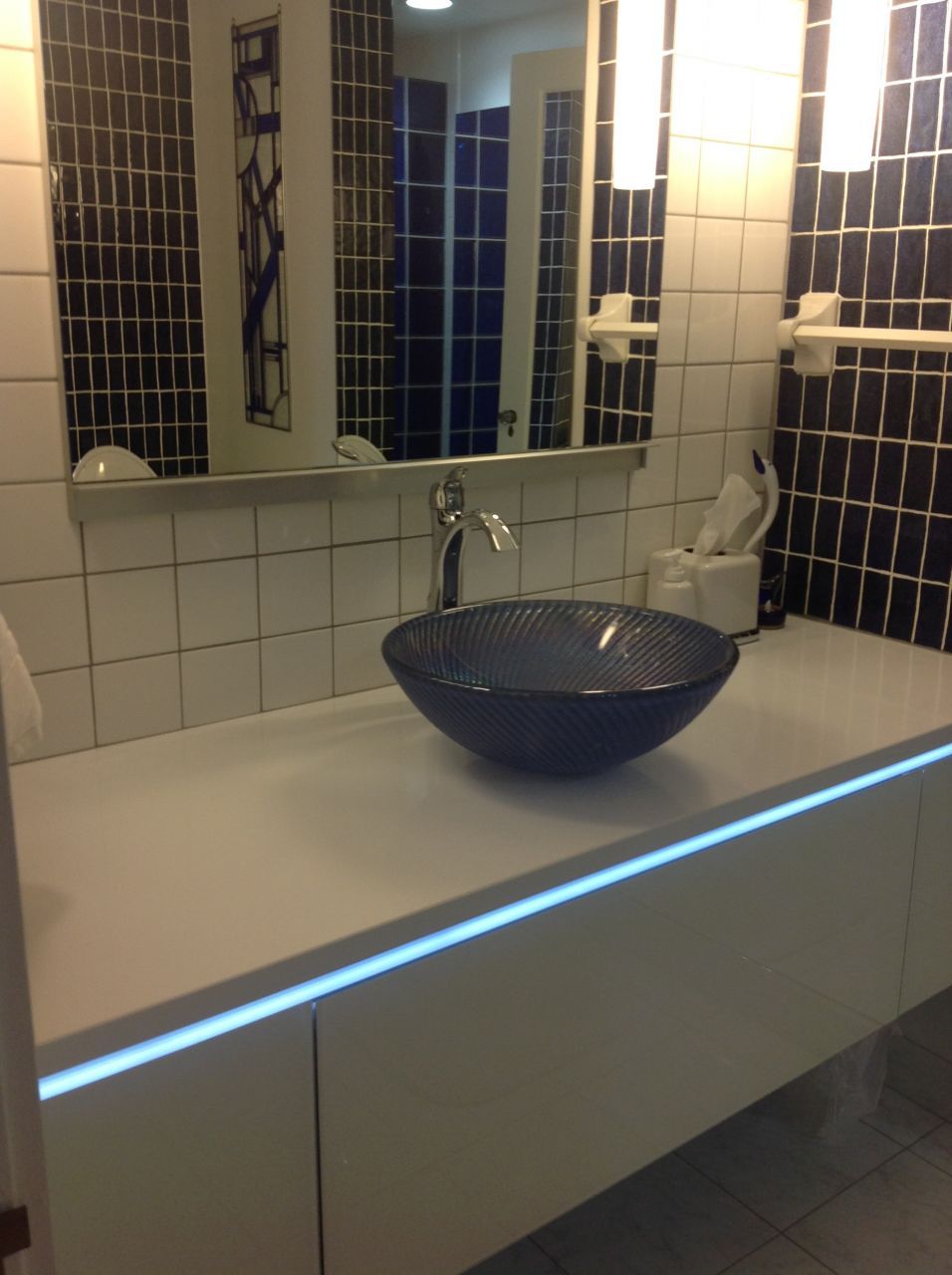 Robern wall mounted cabinets with Lighting and mirrors
Product selection can make or break the feel and function of a small condominium bathroom remodeling project. When Erna Hammer (of Cleveland Heights Ohio) decided to take on remodeling one bathroom and creating a second half bathroom the trips she would take to Welker McKee Supply (working with Cindy Wildman) resulted in her transforming her old bathroom into a sleek, functional and retro-inspired work of art!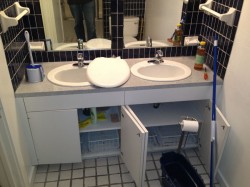 Learn below about Erna's cool and bathroom-changing product selections. 
Lighting – combining fun and function
Since Erna's 1 ½ condominium bathrooms are not located in spots where it is possible to get natural light through a window or skylight – it was a must to choose the right task and mood lighting. Check out the cool overhead light in the half bathroom and the under-mount vanity LED light in her full bath.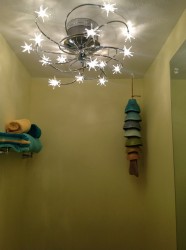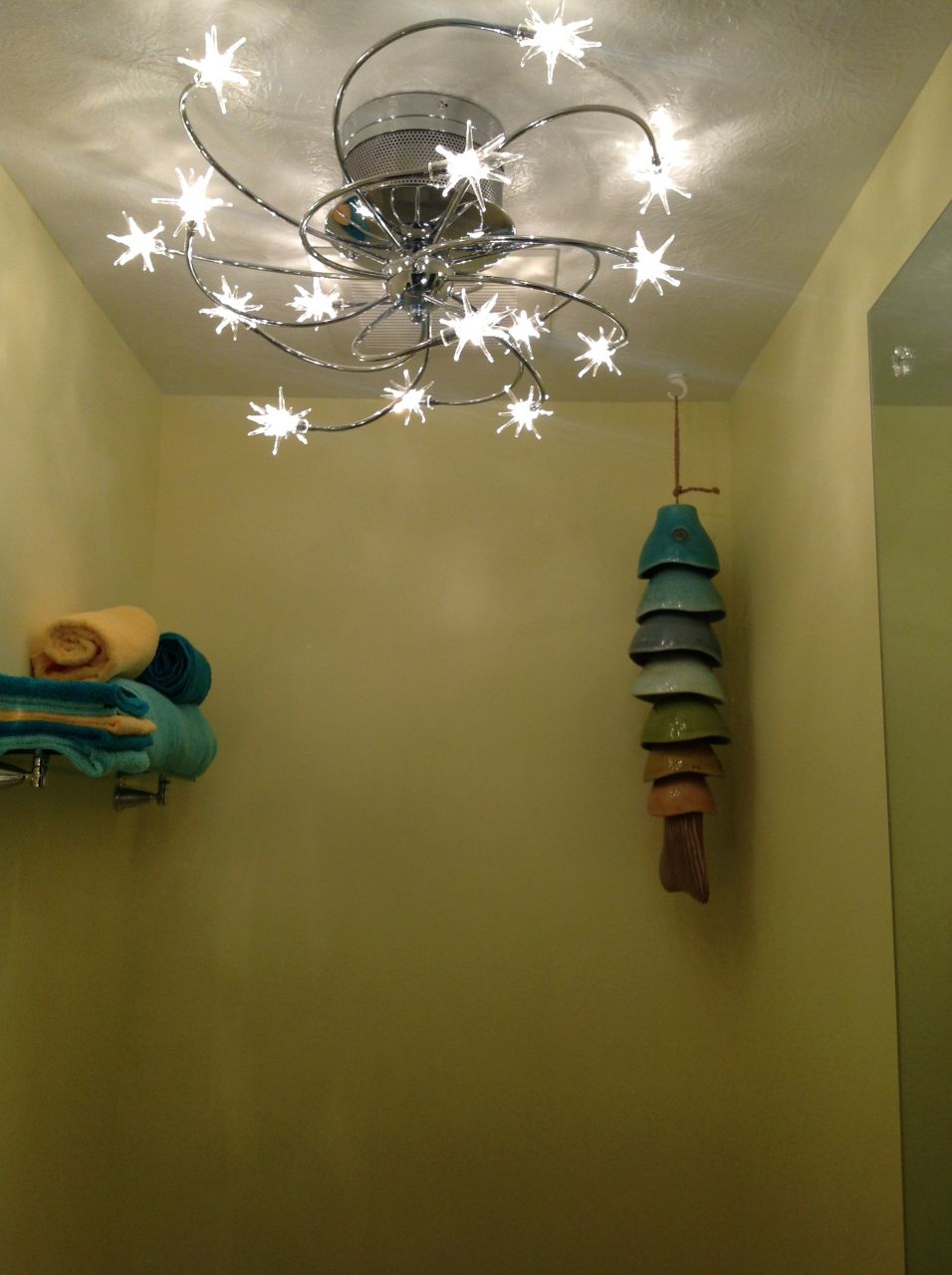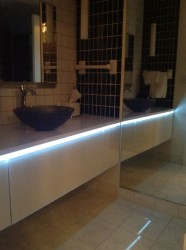 Mirror, mirror on the wall create useful and cool spaces for all!
Stop thinking about mirrors as just a flat material which gets slapped up against the wall. Take a look at this round mirror/light combo from Edge Lighting and these two mirror/medicine cabinets. Yes – you can add function and style simultaneously!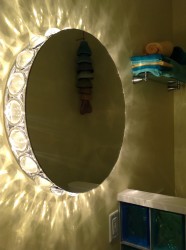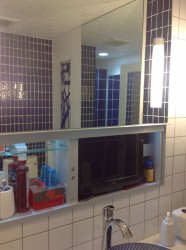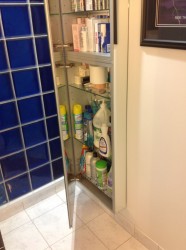 "Floating vanities" – sleek, stylish and practical
 It used to be vanities occupied a lot of space and were simply set on the floor. One of the hot 2014 bath remodeling trends are wall mounted (also known as floating) vanities. This sleek unit from Robern offers ample storage with an extreme amount of wow factor.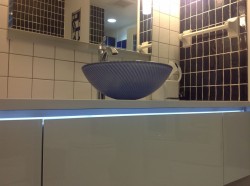 Eye popping colored glass blocks
 As Erna said, "I just love the retro look, feel and color in the glass block walk in shower and partition walls in my bathroom – it was a key feature driving our entire bathroom remodeling project." After looking through Innovate Building Solutions 54 colors Erna chose a striped grouping of cobalt, sapphire and storm for the shower and a checkerboard pattern of aquamarine and "waves" for the half bath's partition wall.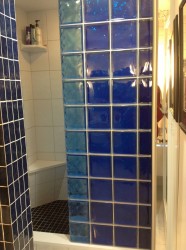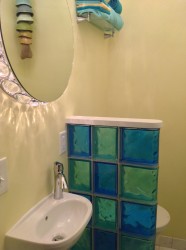 What do you think of Erna's condo bathroom product selections? What type of product tips and ideas do you have for smaller bathroom remodels? Please comment below.
###
Contact Cleveland Design & Remodeling (216-658-1270) or the Bath Doctor in Columbus (614-252-7294) for design ideas and estimates on bathroom remodeling. For nationwide product sales call Innovate Building Solutions (877-668-5888).   
---
Mike Foti
President of Innovate Building Solutions a nationwide supplier and regional (Cleveland and Columbus) remodeling contractors. Some of our product lines include glass counters, floors, backsplashes, glass blocks and grout free shower and tub wall panels
---