9 Tips to Convert a Closet into a Stylish and Functional Half Bathroom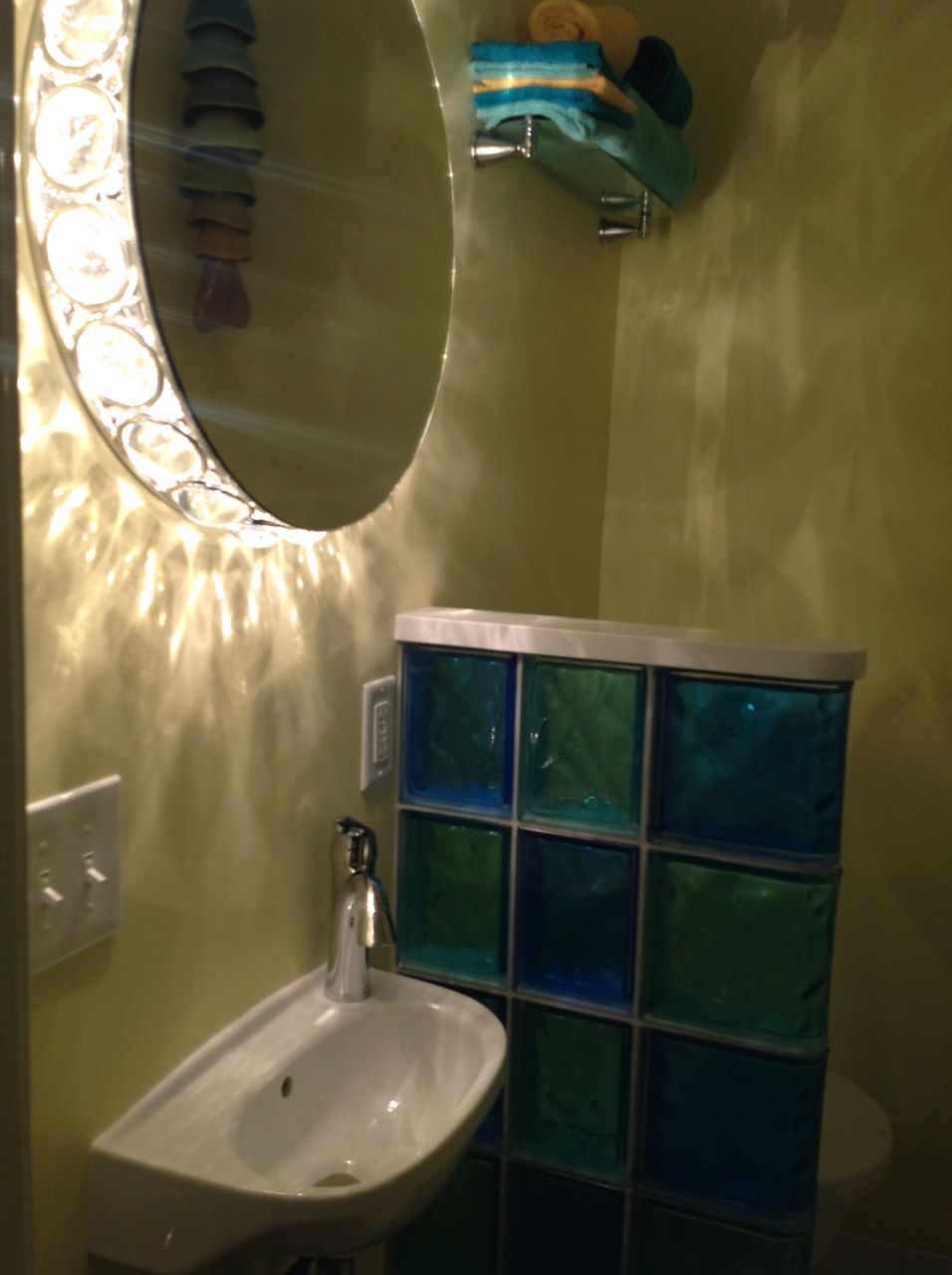 A closet turned into a cool retro half bathroom in Cleveland Heights
When Erna Hammer purchased her 1,350 square foot condo in an older vintage building in Cleveland Heights she knew she would have some remodeling projects ahead. One of her goals was to expand her single bathroom condo to a 1 ½ bathroom unit but to do it in a fun and functional way. Learn below 9 product and design tips that were used to transform this 3' x 6' closet into a cool and useful half bath.
Tip 1 – Think multi-purpose – Space is tight so you've got to be smart. What do you think about this light and mirror combo from Edge Lighting? (note – this product is also available with LED lights for a color changing affect).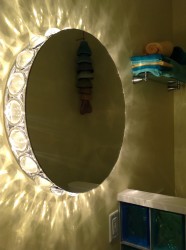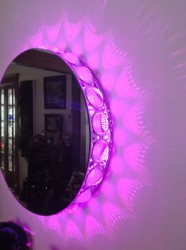 Tip 2 – Mini is good – Since the room was very narrow, space was at a premium. This wall mounted sink offered a cool, retro look while still conserving space and offering function.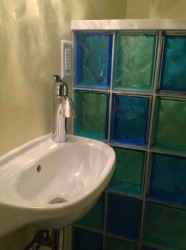 Tip 3 – Put your building materials on a diet – Instead of using the traditional 4" thick glass blocks thinner 3" units from Innovate Building Solutions were chosen for the partition wall.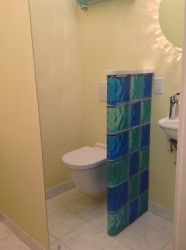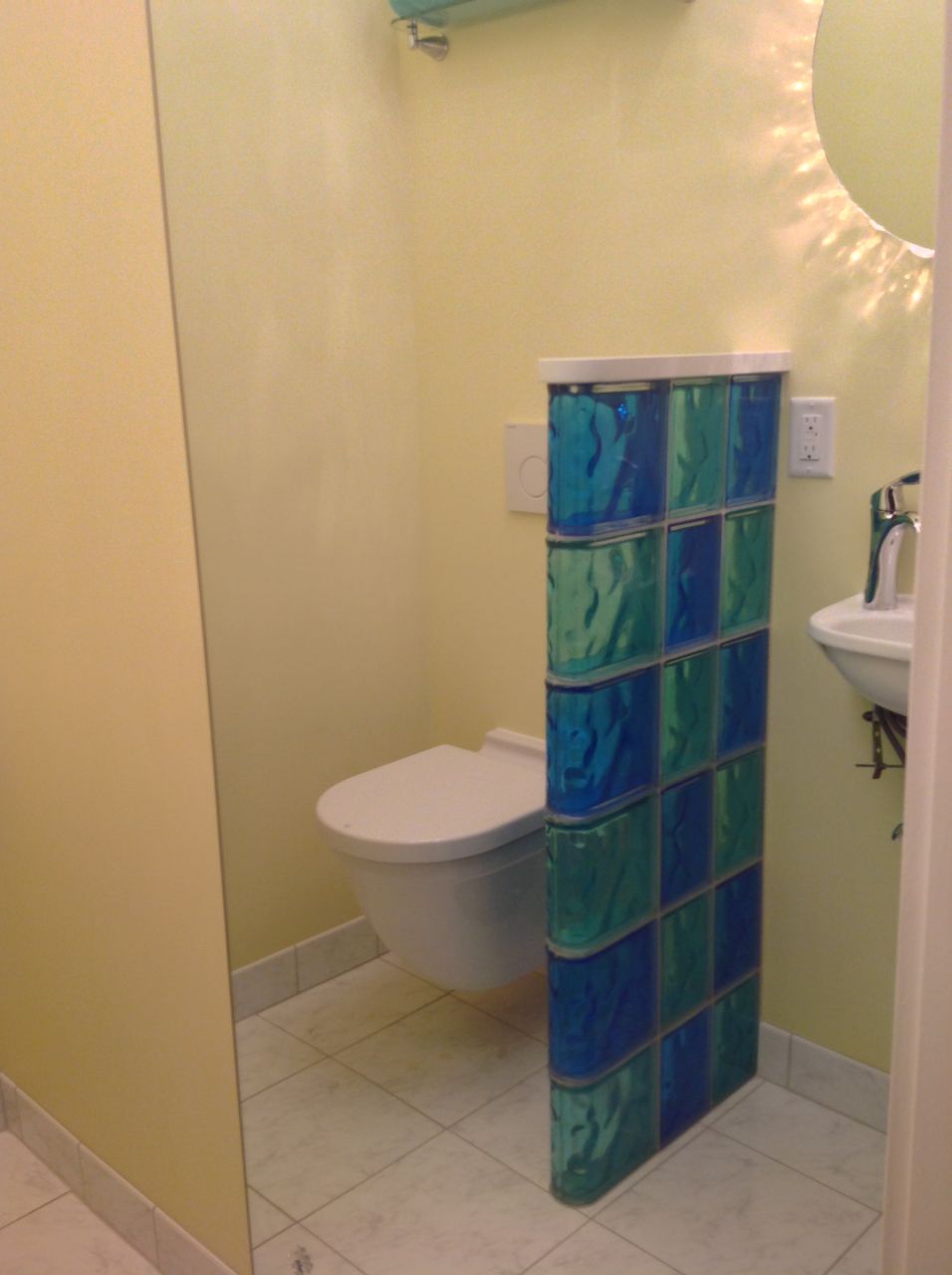 Tip 4 – Mirror it up – Mirrors create the feeling of space. A large mirror on the right wall along with the mirror/light combination on the left wall illuminate the bathroom and make it feel more open.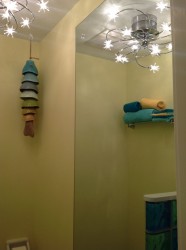 Tip 5 – If possible….bury it in a wall – Check out this wall mounted duravit toilet – the question is where is the bowl? Well in case you can't see through walls it's in the wall – what a great way to create space and have a nicer look.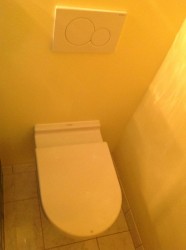 Tip 6 – Don't be afraid to add fun with colors and fixtures – Using a checkerboard design of aquamarine and "waves" colored glass blocks provides a whimsical touch. Note the cool overhead light as well.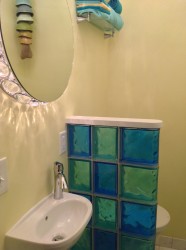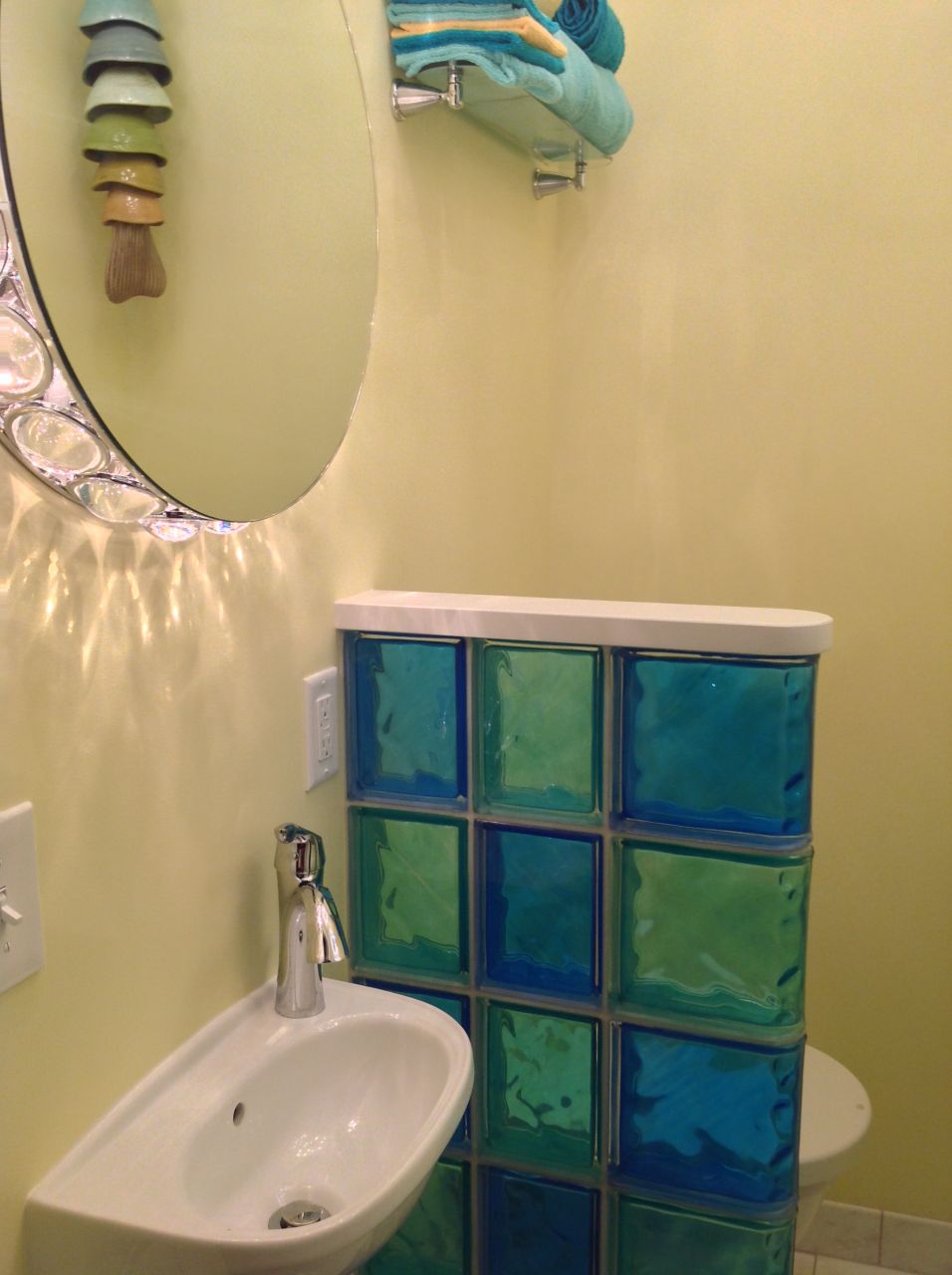 Tip 7 – Use bigger floor tiles – The 12" x 12" porcelain tiles create the feeling of more space (vs. smaller tiles) and also provide the benefit of fewer and smaller grout joints to maintain.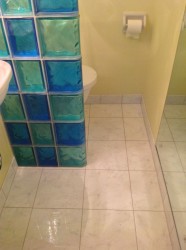 Tip 8 – Think "open separation" – Using a thin glass block half wall allows for privacy – yet still an open feeling – in the toilet area.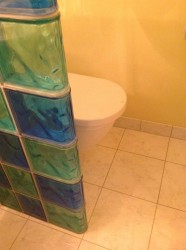 Tip 9 – Use the walls for storage – A shelf placed high on the wall provides storage without being in a spot someone might bump into it.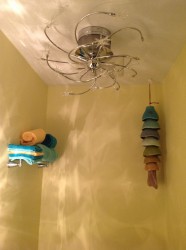 Can you see your closet transforming into a bathroom? Which of these tips did you like the best (or not like)? Please comment below or call us to learn more ideas.
###
Contact Cleveland Design & Remodeling (216-658-1270) or the Bath Doctor in Columbus (614-252-7294) for design ideas and estimates on bathroom remodeling. For nationwide product sales call Innovate Building Solutions (877-668-5888).
---
Mike Foti
President of Innovate Building Solutions a nationwide supplier and regional (Cleveland and Columbus) remodeling contractors. Some of our product lines include glass counters, floors, backsplashes, glass blocks and grout free shower and tub wall panels
---