How to create an outstanding glass bridge which will not fail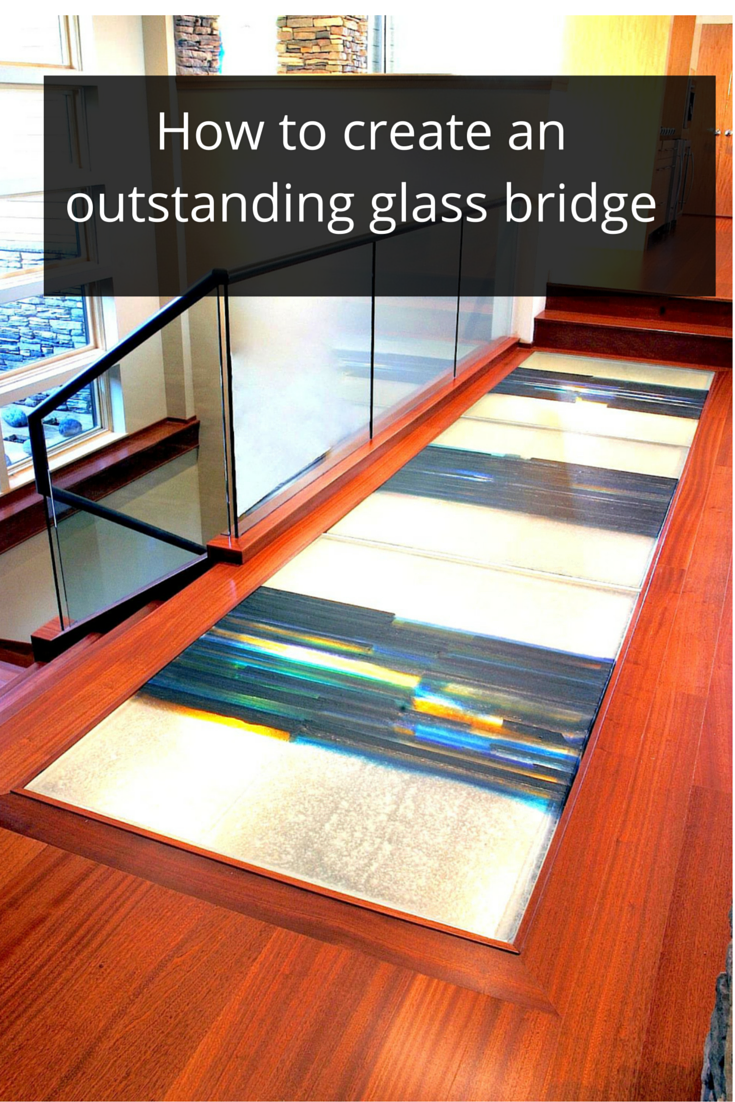 When you think of words to describe the most outstanding bridges in the United States (the Golden Gate Bridge in San Francisco, Brooklyn Bridge in New York or the Sunshine Skyway Bridge in Florida) what words come to your mind? If I'm guessing right it might be exhilarating, breathtaking, fun, beautiful and maybe a bit scary. The word which is not in this list – boring. Now image a bridge which not only spans between 2 points but one you can see through – now that's a wow! This describes a glass bridge. You many have heard or even walked on – if you were gutsy enough – some famous glass floors like the CN Tower in Toronto or the Tiananmen Mountain "walk of faith" (I have to say no thank you to this one!).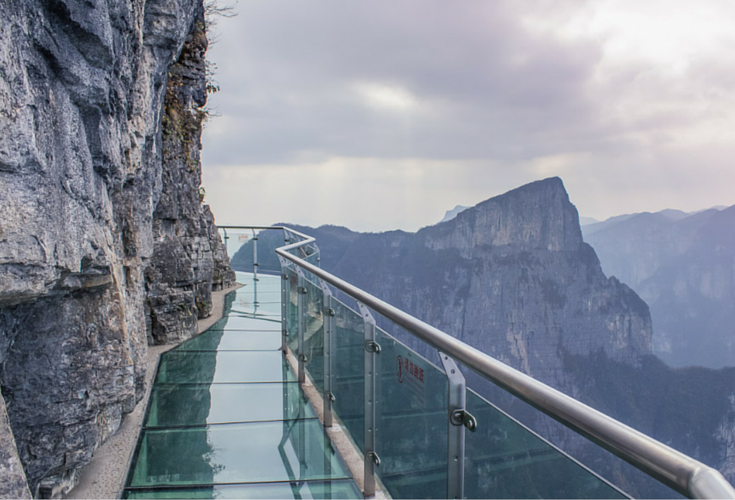 You may be thinking why should I care about a glass bridge since my home (or business) is not trying to span over the East River, the Pacific Ocean or even capture a breathtaking (top down) view of a famous city? When you look at the basic benefits of any bridge they look to connect 2 spaces. In the case of the glass and suspension bridges and floors mentioned above they make the connection between 2 places with a dramatic flair which cements an experience in your mind.
When you look at your custom home or business why should you settle for the same old same old design when you can add flair and drama to create a truly unique space? Imagine how people visiting your home will react while walking over a clear or colored glass bridge! If you're a business who wants to wow potential clients or new recruits a space which stands out from the crowd is essential (isn't this why you hired a professional architect or designer to plan your project?). Here are 3 unique advantages of glass bridges which make them one of the most distinctive features in a new home or commercial building:
1) Moving light through a glass floor – Perhaps you live in a row home in the city and the lower level of your home where you have your office is dark. A glass floor can help you move light into this space. Or perhaps you have a restaurant and want to get light into a lower level seating area – another distinctive advantage of structural glass.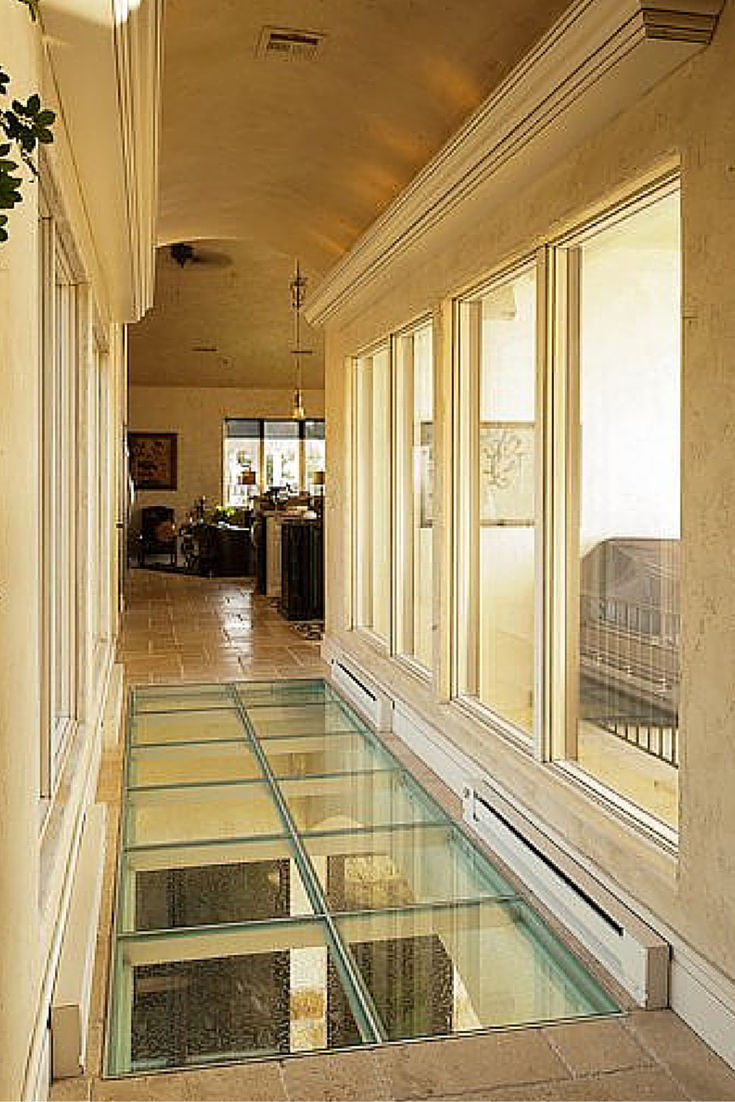 2) Visually connecting two spaces – One of the most interesting factors of a glass floor or bridge is it can be designed to be see-through. If you have a lower level wine cellar you can see through the floor to this feature. Maybe you're into sports memorabilia and you want other to see your favorite jerseys on display, or want to uniquely exhibit your company's products by creating a horizontal "showcase."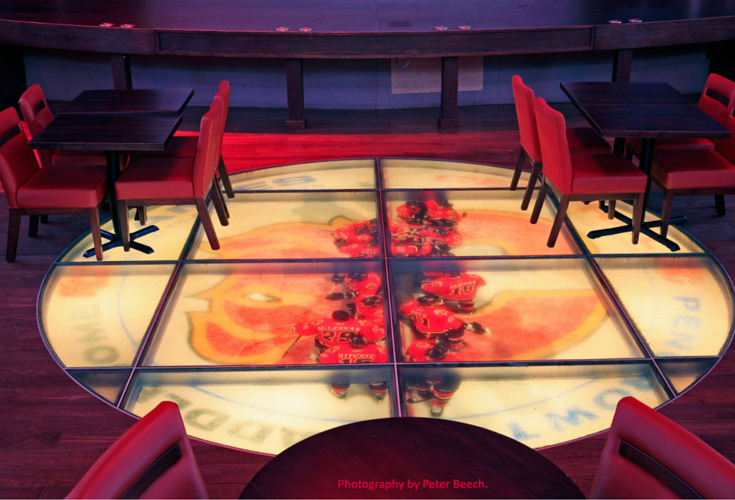 3) Creating wow factor – You want to add colored light through a horizontal space to create a kaleidoscope of colors below. Now this is a wow feature not to be missed!
In the article below I'd like to take you beyond the fun benefits of a glass bridge and dig into the design nuts and blots, safety, privacy and style considerations which make this product work in a luxury home or business.
Be safe.  A glass bridge has to work safely! Pre-engineered glass flooring systems
Cool is one thing but this glass bridge needs to be 100% safe and secure. Who wants to worry about someone falling through their floor? It is for this reason I strongly recommend a pre-engineered glass flooring system. There are glass bridge systems with aluminum support brackets (see the design details below).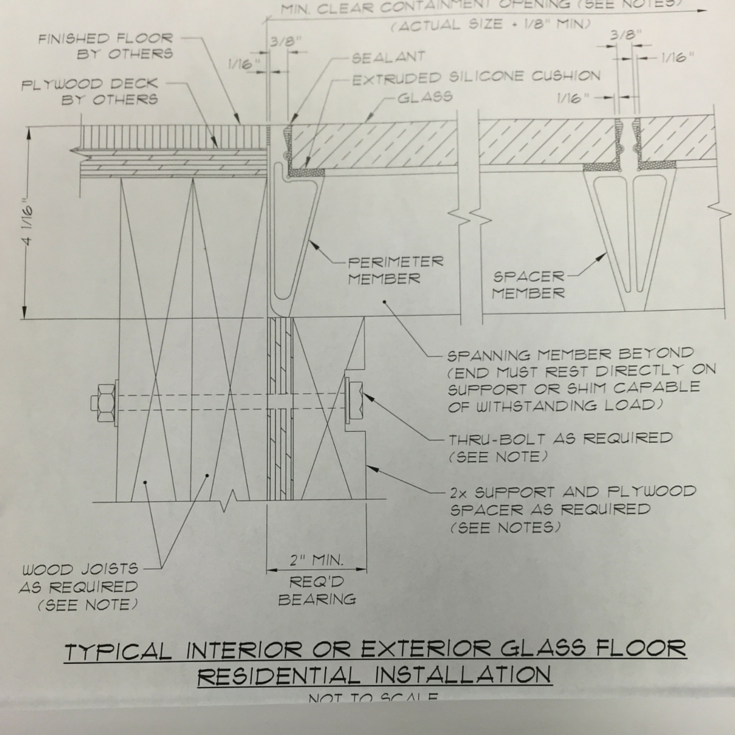 There are also glass bridges designed to be set onto steel structures, or ones with circular round pavers designed into concrete. Now matter what you do – I would recommend choosing a system where the engineering has been done. This is no place to go with a system where the builder or contractor says to you "I think I can make this work!"
Choosing the right type of glass for your bridge
Could you imagine using the same glass in your home windows to support people for the glass floor they are going to walk on? Of course not. Thin single or double pane home windows would not be safe or appropriate for a glass floor. Here are 3 glass options which do stand the safety test for a horizontal flooring system.
Standard laminated glass – When the term "standard glass" is used it describes the greenish color of the glass sections similar to what you'll notice in a common drinking cup in your cupboard. What is important with a glass bridge though is two thick pieces of this standard glass are put together with a lamination layer between which gives them the strength (along with the support structures mentioned above) to be used as a floor.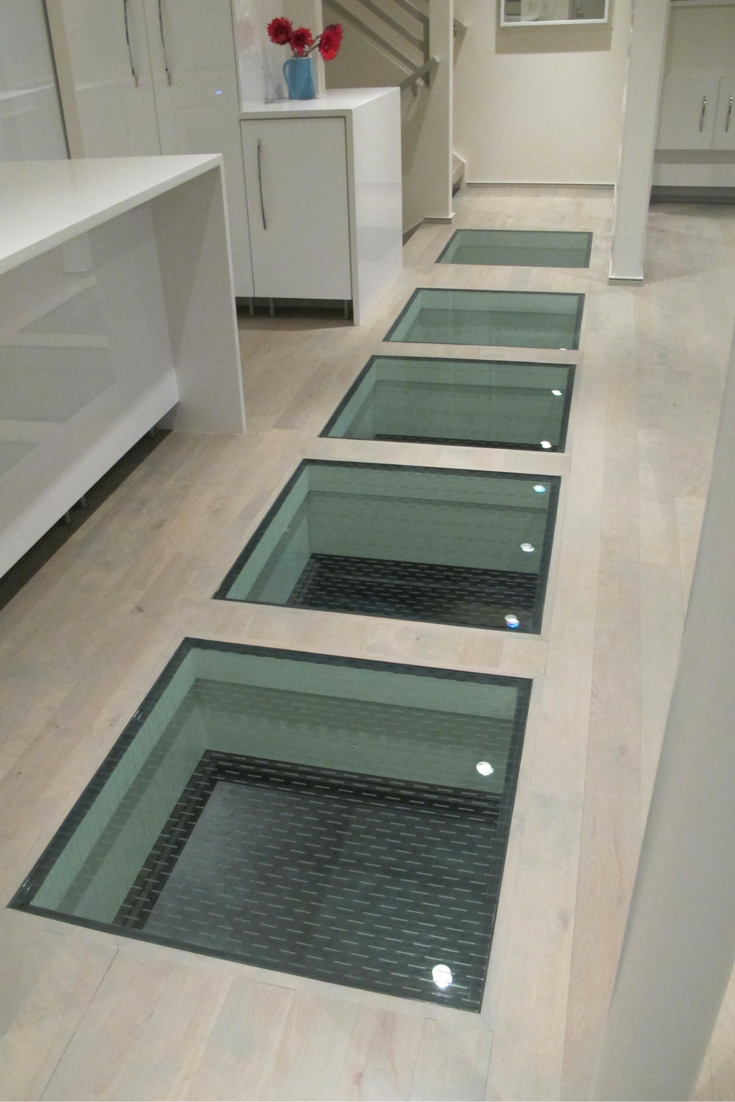 Ultra clear laminated glass – The ultra clear glass almost appears colorless, like the crystal glasses you use on Thanksgiving. The lamination layer is still important in this glass – but the visual clarity is superior to the standard laminated glass. The ultra-clear glass has improved clarity because it has a lower iron content (the iron is what creates the greenish hue in standard glass).
Colored art cast glass – Now if you really want cool for a luxury home or business this is the ticket. This glass use colored glass pieces which are cast in a mold then made into one large section(s) which allow colored light to move between spaces – the ultimate cool factor.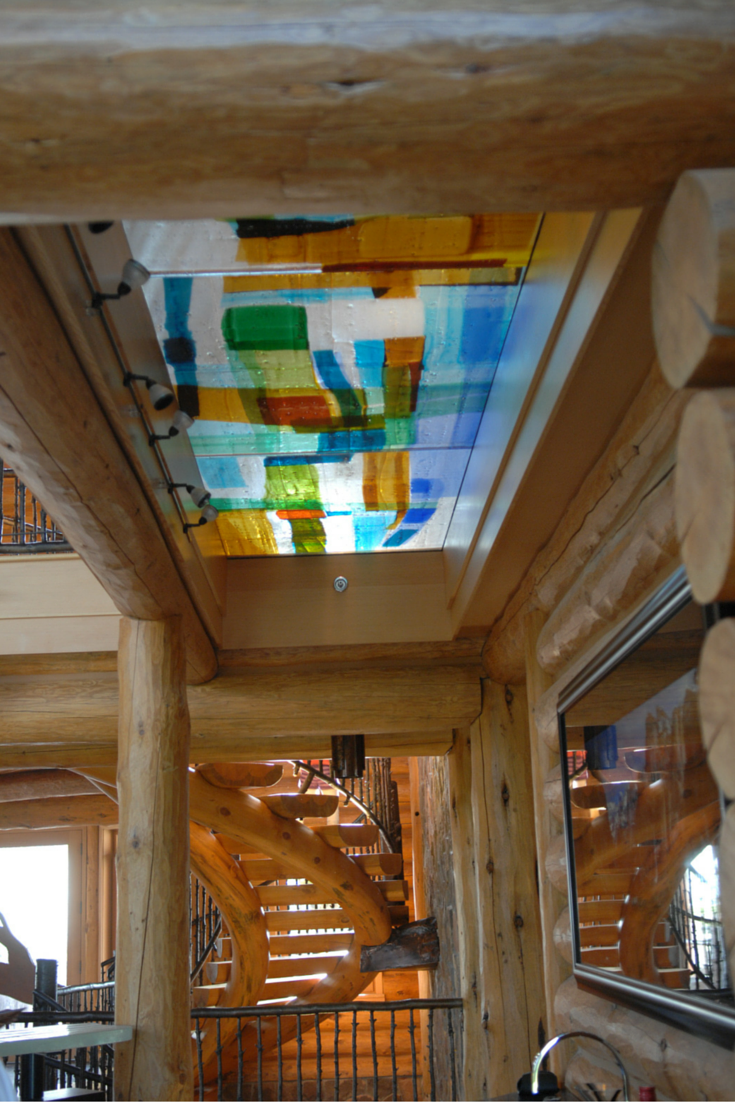 Thickness matters – glass flooring designed to take the weight load
In the design of glass bridges thickness does matter. Most glass bridges designed for residential and light commercial office building use are 1 – 1 ¼" thick. The thickness of the glass floors on the first floor of the Eifel Tower, the CN Tower in Toronto or the "walk of faith" glass bridge on the Tiananmen Mountain in China are significantly thicker given the unique size and weight requirements of these architecturally significant projects. A glass bridge or floor engineer can help with the right thickness for your project.
To see or not to see (through a glass bridge) that is the question
 A key question to get your mind around is how much visual clarity you want through the floor. There are 3 clarity options for a glass bridge:
Completely see-through – This can create an outstanding project if you want to see a water feature below, a wine cellar underneath your kitchen or some cool memorabilia.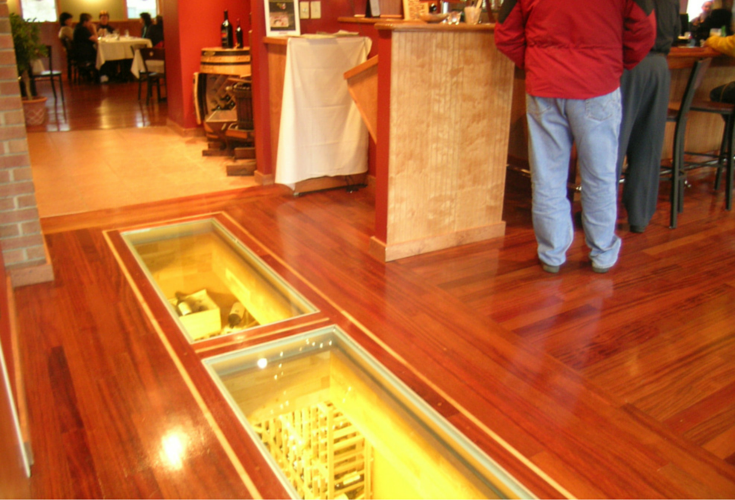 Partially see-through – Using a small ceramic frit on the top glass surface you can get obtain moderate privacy through the glass and also make the glass safer to walk on.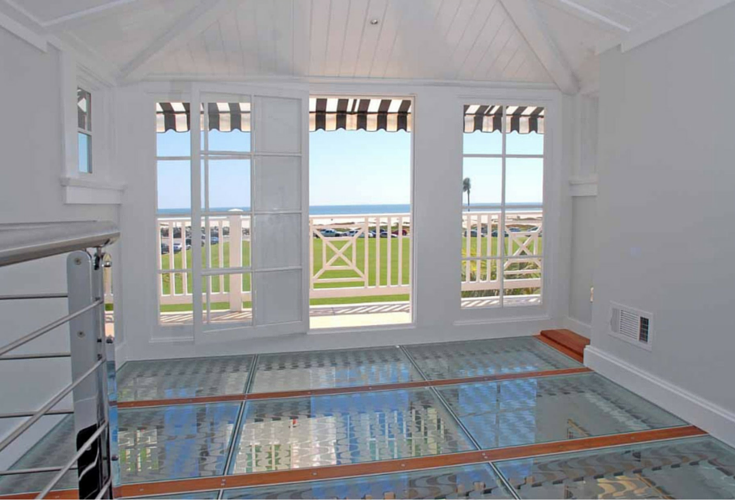 Completely private – A completely private floor is critical if you want to move light between floor levels and are worried about the personal privacy of people walking on a higher floor level – also known as the "skirt factor." Using an obscure acid etched finish a glass bridge can offer total privacy.
Conclusion 
Glass bridges can be the coolest feature in a custom home or commercial building. With that being said it's important to do it right with a pre-engineered system designed with your specific floor in mind. Comment or call the numbers below to get the guidance you need with your glass bridge project.
###
Call Innovate Building Solutions on a nationwide basis (877-668-5888) or for a local project their divisions in Columbus (614-252-3242) and Cleveland (216-658-1280) Ohio.
Save
---
Mike Foti
President of Innovate Building Solutions a nationwide supplier and regional (Cleveland and Columbus) remodeling contractors. Some of our product lines include glass counters, floors, backsplashes, glass blocks and grout free shower and tub wall panels
---