3 Ideas Transform a 1990's Bathroom into a Timeless Spa Experience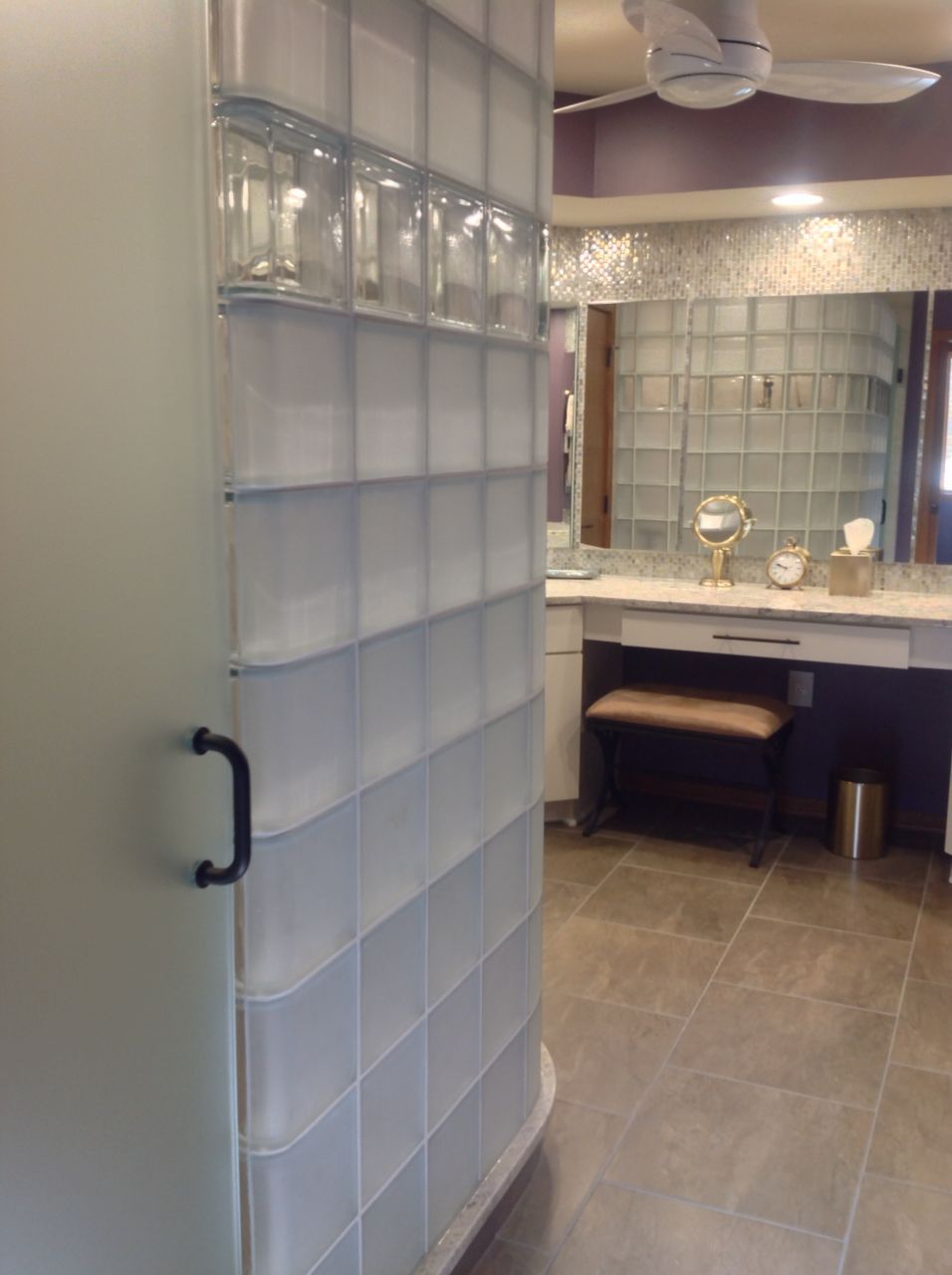 Here's two things you can count on. First, bathroom styles can and do change. Second, the design and products in your bathroom will need to change to keep pace with how you'll want to use the space.
Both of these realities became apparent to Chris and Cindy McGovern after they moved into their Columbus Ohio home. While the size of the bathroom was large enough, the 1990's look (it had a large Jacuzzi tub) and small stand up shower just wasn't going to work. When I talked to Cindy about the Jacuzzi tub she said, "I used it one time. I felt like I was going to sink into the darn thing it was so big. Instead of this tub being something I would enjoy it looked like a lot of work to me!"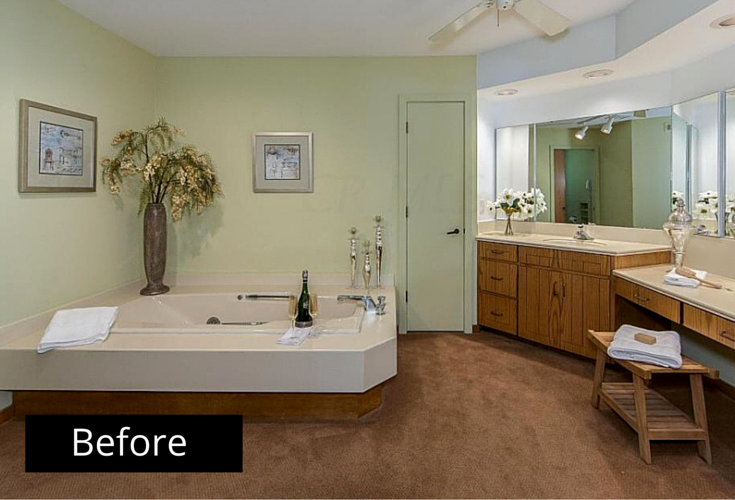 In addition the shower was a tiny 3' x 3' space which would be needed every day. As Chris said to me, "Mike – we wanted a finished bathroom which was cool yet functional and complimented our lifestyle. We did not want a finished space which was so slick that it would go out of style in a year. My wife Cindy wanted this place to feel like a spa. So we called in our A-team designer Marilyn Livingston -who really gets us – to help out."
In the article below we'll look at 3 ideas Marilyn, Cindy and Chris along with their builder Fred Ritchey of Ritchey Construction used to create a timeless, functional and spa-like master bathroom design.
Idea #1 – Make the bathroom bright with light, airy and calming for a spa like experience
When I think of a spa my mind goes to the sea, the feel of the ocean breezes on my face and warm sand under my feat. While bringing a bunch of sand in and putting it on the floor of this Columbus Ohio master bathroom might not be the best idea, there are some fun and practical products Marilyn recommended to Chris and Cindy which brought in a spa like atmosphere.
Heated floors – OK – you're in Ohio in the winter and you want to feel like you're on the beach – this could take a bit of imagination (and the right product)! Marilyn recommended adding heated floors to get that beach feeling. After putting in a tile bathroom floor in their old house Cindy was not so sure about tile again but with the heated system the tile floor is a pleasure to walk on.
Calming colors – Color can and does create a mood in a room – a fact Marilyn knows very well. She introduced sea glass colors in the bathroom tile backsplash and complimented the rest of the space with larger format wall tiles in neutral colors. The light purple paint colors adds a fun touch (although Chris told me his buddies have given him a bit of a hard time about the purple!).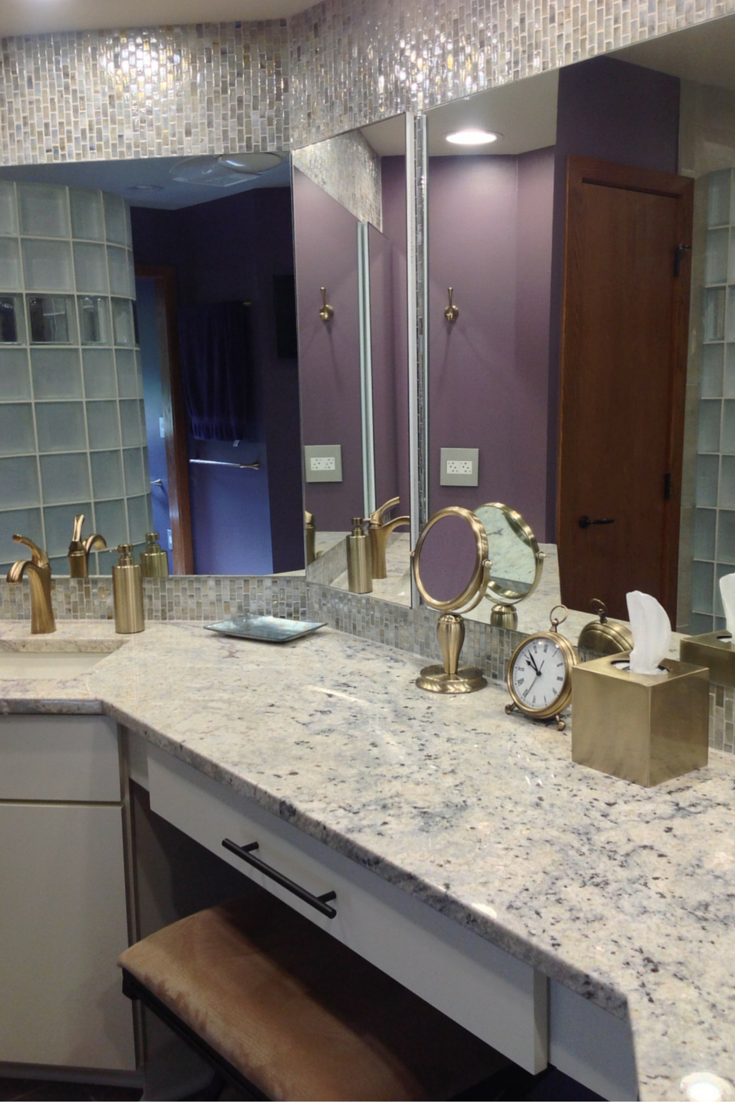 Keep it bright with natural light – Since the goal is to maximize light throughout the space (and there is only one window in the connected commode room) a glass block enclosure was used to allow light to flow into the shower.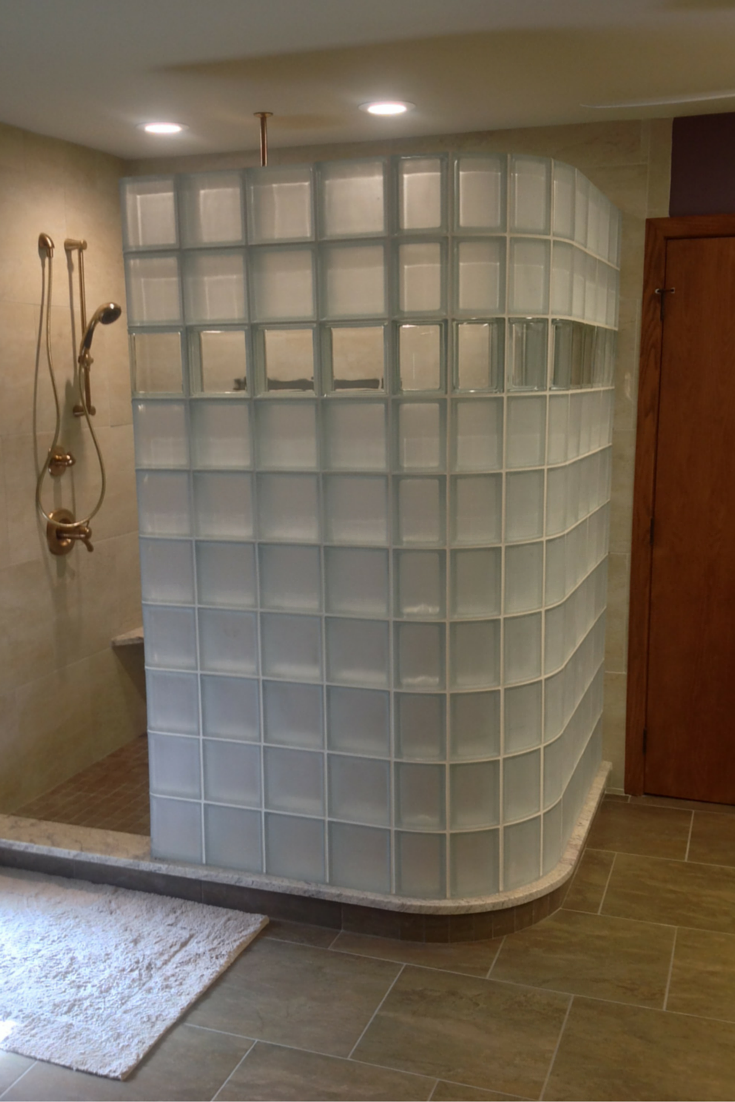 Idea #2 – In the 1990's you had the "big salad" (episode on Seinfeld) and "big Jacuzzi" tubs – today's bathroom is about the "big shower"
Bathroom styles can and do change. In the 1990's we loved shows like Seinfeld and if you're like me you remember the episode about the "big salad." Also during this time another big thing was the Jacuzzi tub in the bathroom. As lifestyles are more hectic people now see these tubs as massive space-wasting dust-collecting monstrosities. As Marilyn of Living Interiors said to me, "For today's upscale owner it's all about the big shower. We are using this space everyday so it's critically important to have it roomy and comfortable." Here's 2 key product decisions which make this large shower work for Chris and Cindy:
Decision #1 – Build a contemporary glass block shower enclosure with some twists and design turns – This is not just any-old glass block shower. First Marilyn suggested the glass block wall be designed with a relaxing curve to break up the angular design in the quartz countertops. Cindy also didn't want to feel like she was showering in a "see-through glass fishbowl" so a non-patterned contemporary glass block with a frosted outside surface was used for maximum privacy. In addition a single clear row at eye level was included by the team from Innovate Building Solutions (Columbus Glass Block division) so Cindy could check out the TV (or have a conversation with Chris) while in the shower – yet still have a private space (cool design!).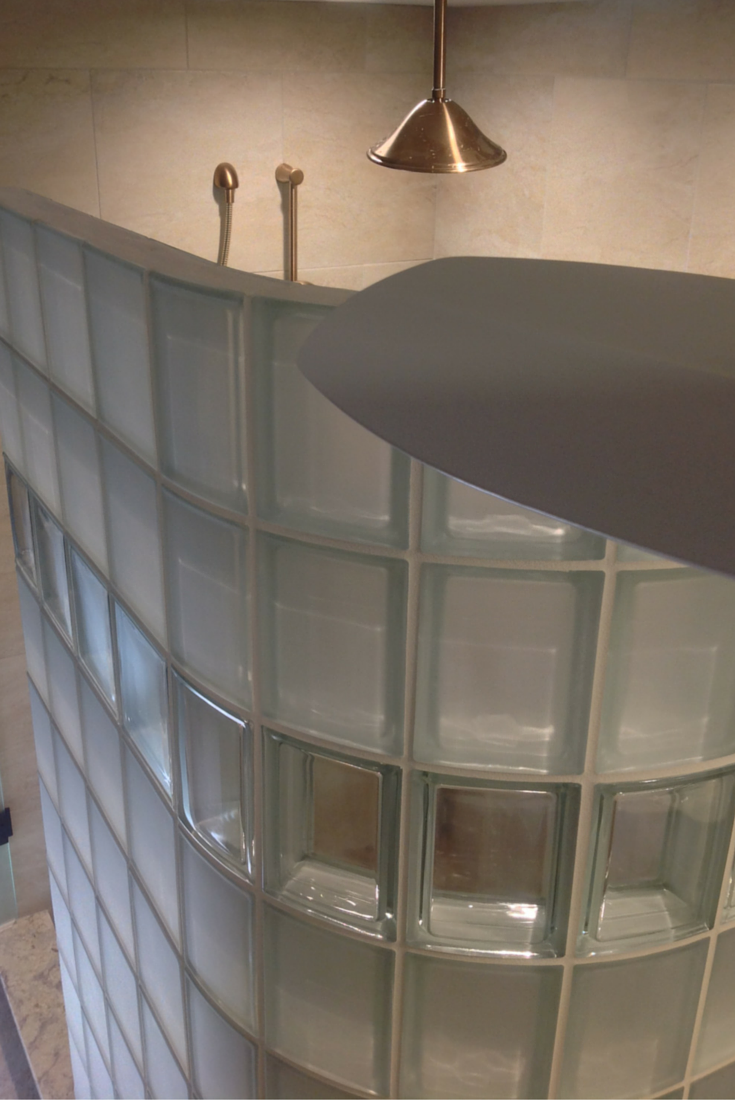 Decision #2 – Use multiple water sources – If you just want to get in and get out of the shower (this is basically how Chris uses the space) then just step under the hand held shower arm and as Larry the Cable Guy would say "Get 'er done!" Since this shower head is on an adjustable arm it can be at the perfect height for Chris (who is 6'1") or Cindy (who is 5'1"). If on the other hand you'd like to relax then you'll want to step under a rain head and let the gentle flow of the water roll off your head. Multi-water source options are key features in spa showers today.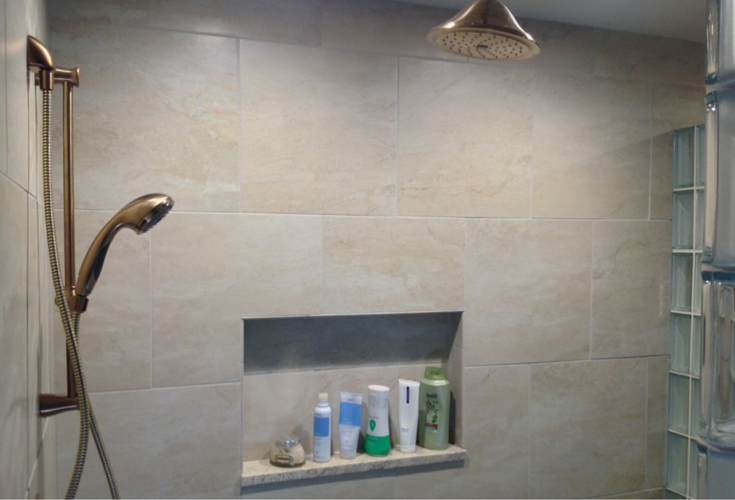 Idea #3 – Use design to add daily comfort  
 You know good design when you're living in it (your bathroom) or using it (your smart phone). Good design makes life simpler, more comfortable and more organized. Here's some design elements which make the McGovern's showering and bathroom experience better.
Keeping showering products tidy – Who doesn't want their space – whether it's a master bathroom or walk in closet to be neater and tidier than it is today? My guess is – no one! Organization can and should be built into a good shower design. In this case Fred and his team at Ritchey Construction designed into the shower wall a longer than normal niche to keep Chris and Cindy's showering products close at hand, yet neatly tucked away.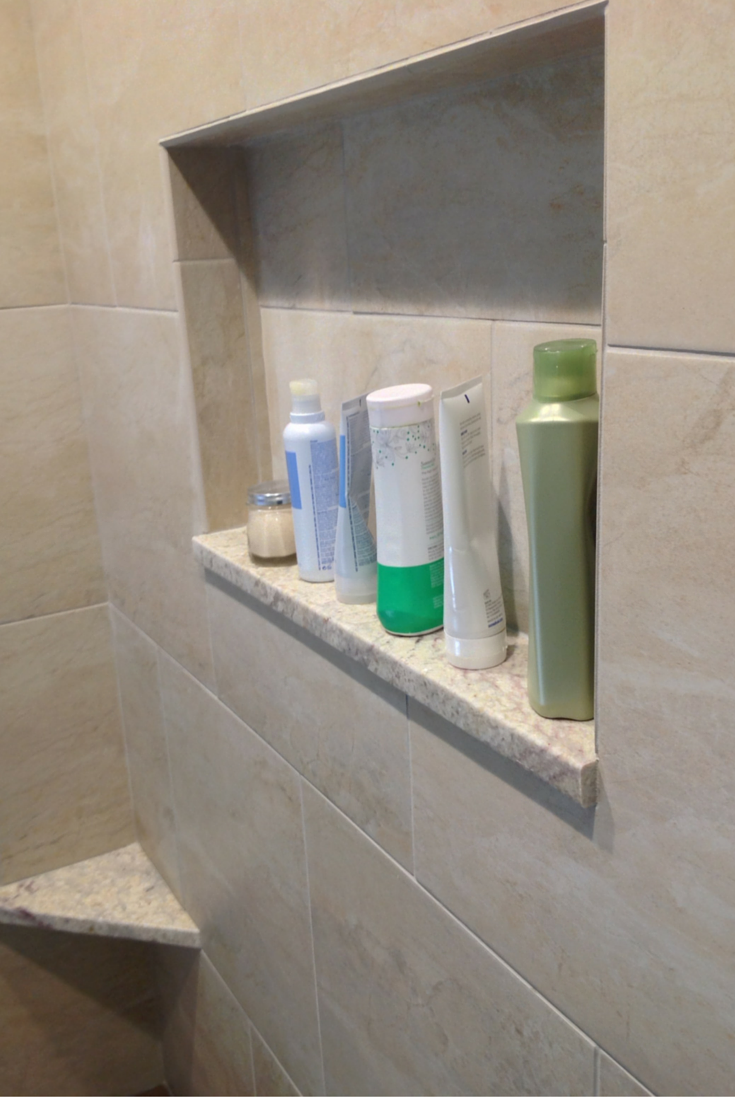 Make shaving your legs easier – What's the use of having a big shower if it's not designed to make what you do on a daily basis easier? In this shower a corner leg niche was added near the hand held shower to make it simple for Cindy to shave her legs.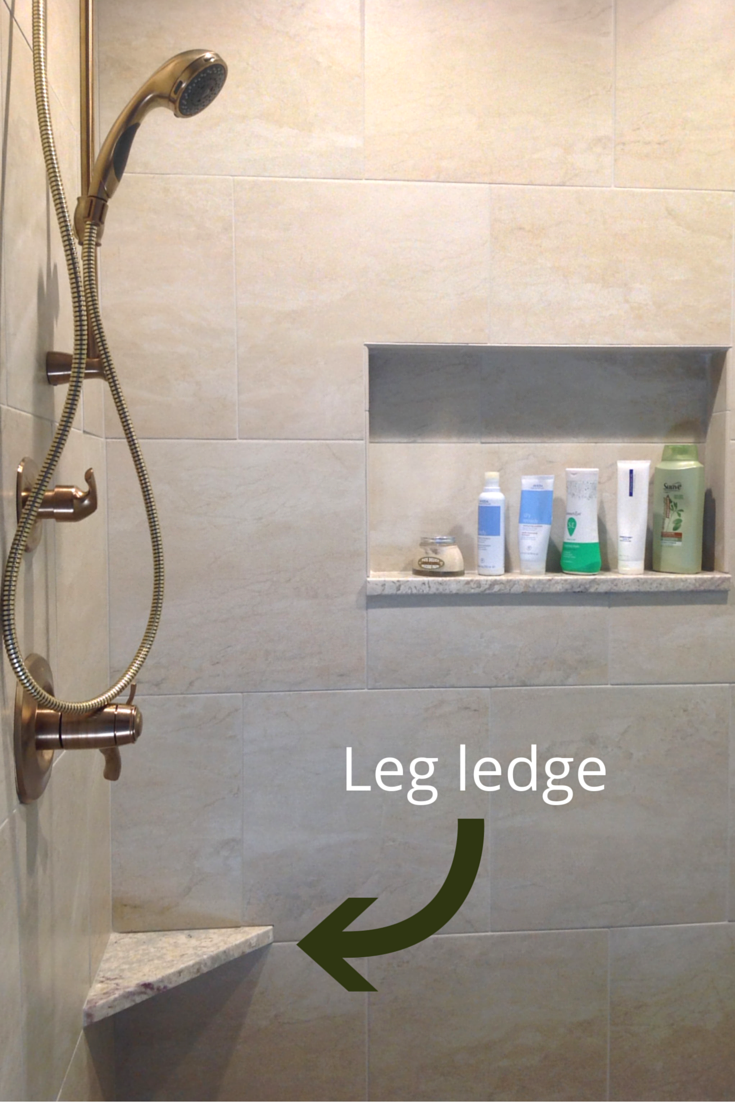 Keep the breeze flowing – Mold and mildew grow in bathrooms when the air is stagnant. One different – yet thoughtful – feature in this bathroom is a ceiling fan. It not only conjures up the feeling of ocean breezes (and when those Columbus winters get long – you know you need to do everything you can to forget about the cold outside!) but it also helps circulate air and prevent moisture.
Add more storage space – Bathrooms can be tighter spaces so using every inch efficiently is critical. As mentioned above the Jacuzzi tub became a large shower – but you may be wondering what happened to the old small 3' x 3' shower? This shower was converted into another closet so now the McGovern's have a place to put beach towels for the outdoor pool and linens.
Conclusion
Does your bathroom desperately need to get out of the 1990's? Would it benefit from a timeless and more comfortable design? Do you dream about having your own spa shower? Comment below or call the professional contractors, interior designer and nationwide wholesalers on this project to improve the style and function of your bathroom.
###
Here's some numbers to call:
Save
Save
---
Mike Foti
President of Innovate Building Solutions a nationwide supplier and regional (Cleveland and Columbus) remodeling contractors. Some of our product lines include glass counters, floors, backsplashes, glass blocks and grout free shower and tub wall panels
---