6 Fun & Colorful Glass Block Window Ideas to Jazz up your Home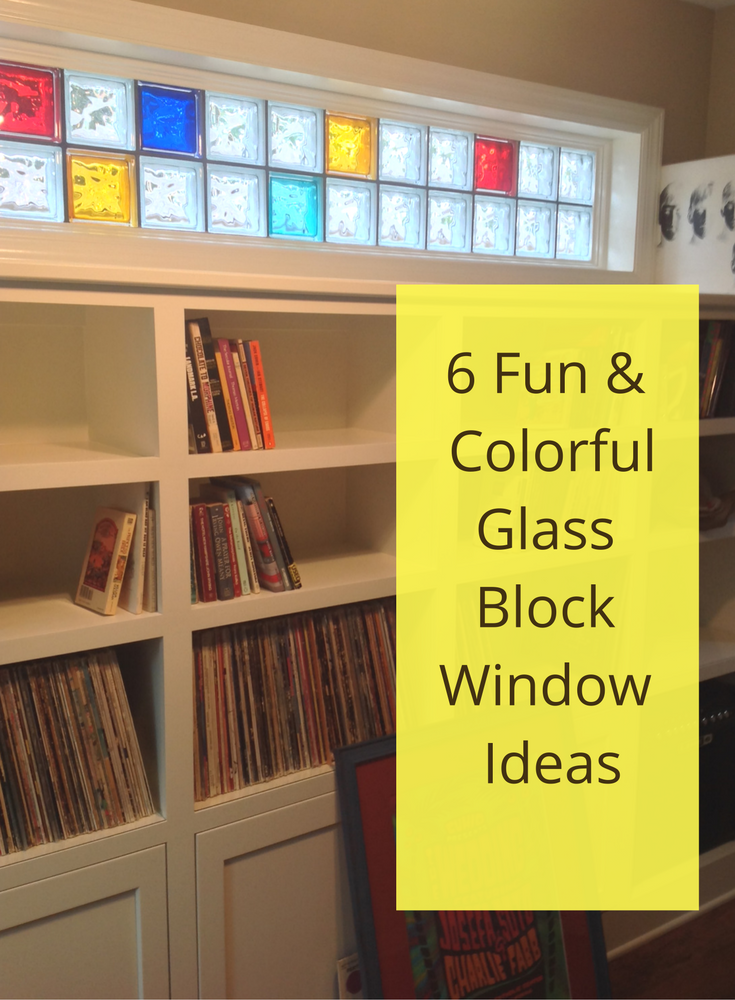 I love sunny falls days in Ohio where the leaves have turned multiple shades of yellow, green, red and orange – yet we still get near summer (in the low 70's) temperatures. Life was made to be enjoyed surrounded by light, color and not too cold temperatures (unfortunately the winter will not be too far behind– bummer). You might ask what does all this talk about the crispness and colors of Fall leaves have to do with glass block windows? Well – I'll tell you!
Glass block windows are a "workmanlike" product. Trustworthy – built thick and strong like a tank to protect your family and keep intruders out. Functional – they keep the nasty winds from whipping through your basement windows. Private – helping get light in places like bathroom windows without worrying about peeping Tom's looking in. But maybe, just maybe, glass block windows can be about more than that!
Have you ever thought about a glass block windows as fun, colorful or even a piece of art (while still doing the "dirty work" of protecting you and your family against high energy bills and intruders)? This may be a "Ripley's Believe it or Not" moment for you – but this timeless material can actually be fun and functional.
If you're remodeling or building new home this Fall take a peek at some imaginative and evolutionary things you can do with glass block now! Life (and your windows) doesn't need to be lived in "black and white" any longer. Don't be afraid to jazz up your windows with pattern and/or colors to give them your unique sense of style. Check out these 6 ideas.
Idea #1 – Timeless looks with a contemporary flair  
Clawfoot tubs, black and white tiles and furniture grade cabinetry are all elements which provide a classic look to a bathroom. In today's bathroom designs it's mixing elements – classic and contemporary – which are making spaces come alive. I love this picture of glass block transom bathroom window using an amber colored glass block and a mixture of sizes.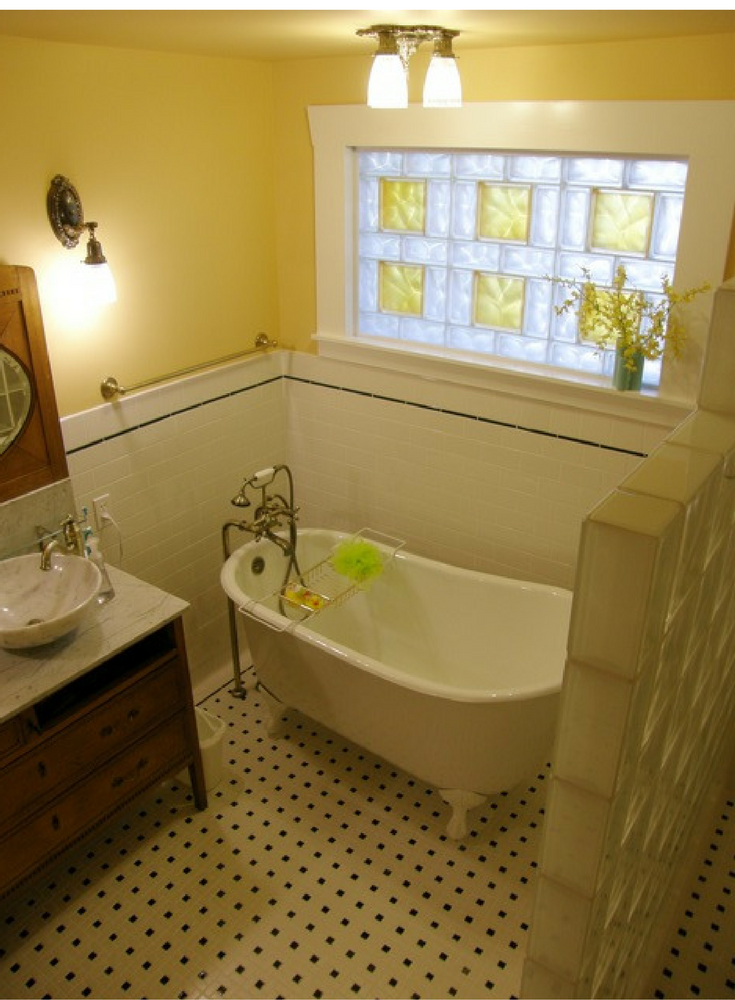 Contemporary and classic at the same time. It's a 2 for 1 special! What's cool is there are 53 other colors beyond amber which can be used in a glass block window design. These are definitely not Grandpa's glass block windows anymore!
Idea #2 – Light in unexpected place  
If you're family's like mine the kitchen is the place to be. Whether I'm making "Da Pasta" (that's what my kids used to call my spaghetti sauce when they were little) or my wife Rose making chicken marsala with mushrooms (I'm getting hungry now) family times do center around food…and the kitchen. With this being said kitchen countertops can be difficult to use if they don't have enough lighting. Here's a cool idea – add not only a basic glass block, but how about one with a mosaic tile texture, to a kitchen backsplash?
You'll get natural light and have a focal feature almost no one else has in their home. To make this project easier get a vinyl framed glass block window which installs like a traditional new construction window.
Idea #3 – An "elegant" glass block window with a Craftsman flair
Have you thought of a glass block window as elegant? You would if you put two pretty teenage daughters going to the prom in front of an inspired window like the one below.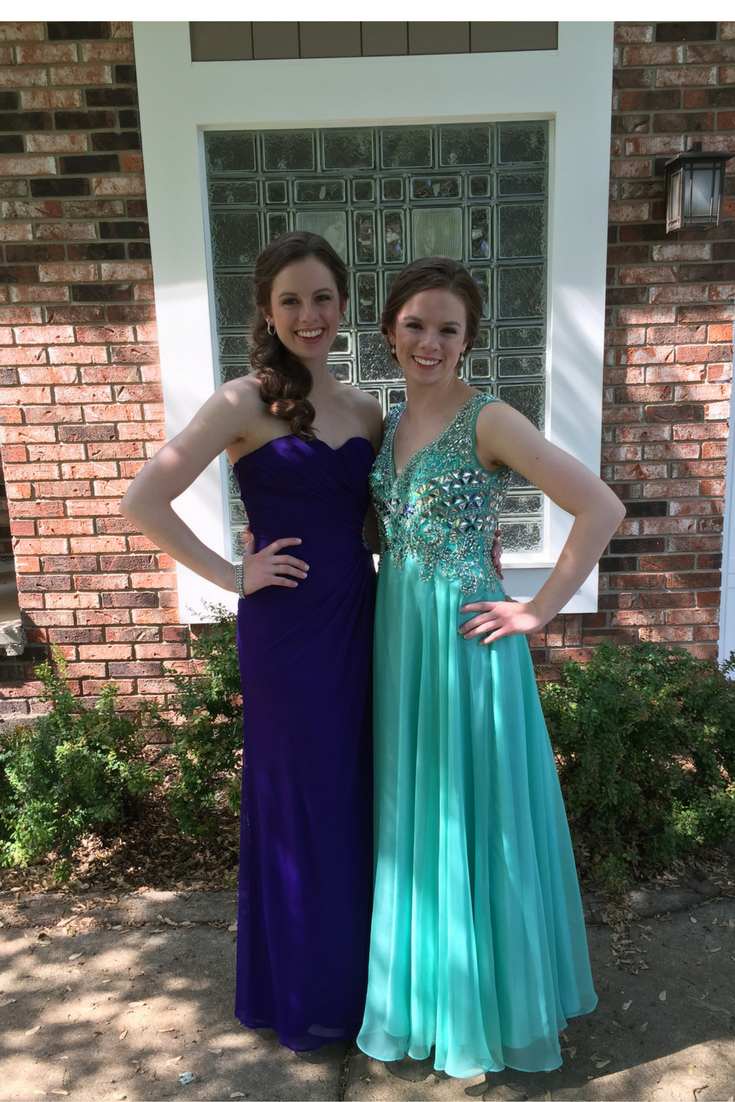 This project –installed and designed by a DIY'er in Michigan – used the Craftsman style entry door as the inspiration for this multi-size and pattern glass block window. The window and the door styles live harmoniously and provide improved energy efficiency and security.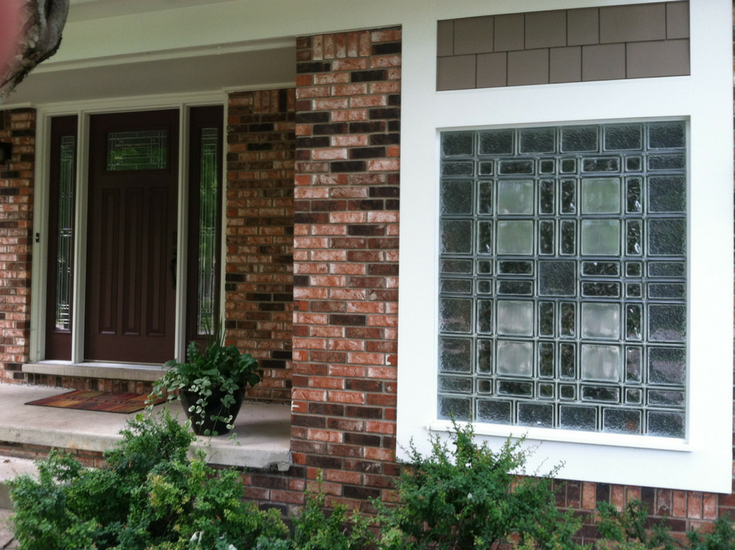 I bet you'll never guess what rooms on the inside of this window? It's a garage …if you can believe that!
Idea #4 – Giving your windows a gritty urban warehouse and industrial feeling
I thought it was interesting a few months ago when a new web magazine in Pittsburgh launched through a crowdfunding campaign named themselves "The Glass Block." What a curious name – but in looking at their mission – which is to connect Pittsburgh's history with its future through a multi-medium forum (reminiscent of Andy Wharlhol and if you're ever in "The Burgh" you need to check out this exhibit) I thought it was a brilliant name. Glass blocks are urban, industrial – but also have a bright shiny future.
This bright shiny future is happening with blocks never seen before in the United States. One example is metallized glass blocks with a shiny metallic inner surface. They provide a fabulous compliment to a warehouse, urban, loft or industrial space. Why not tie the past into the future with glass blocks!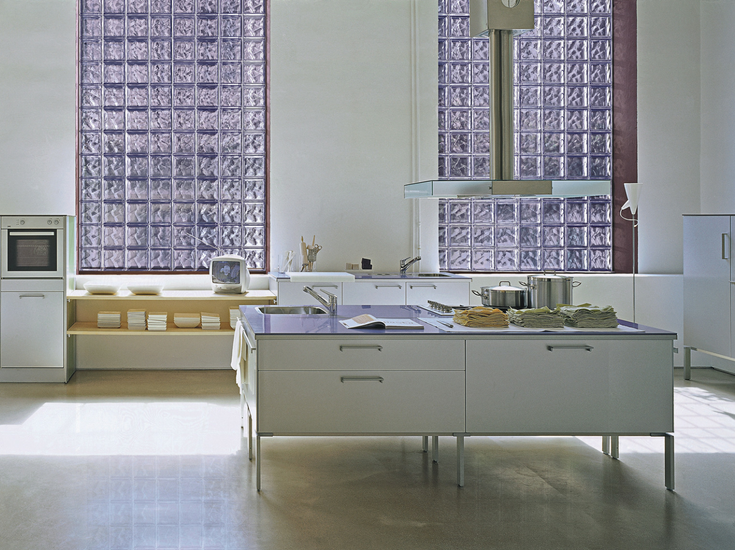 Idea 5 – Softer light for a safe and private shower experience
As I age I just can't see like I used to (my kids can darn near read in the dark where I have to be adjusting my glasses or moving the menu back and forth just to see it!). My dexterity just doesn't mimic my graceful (or at least somewhat graceful) ability to catch footballs on the Carnegie Mellon quadrangle like I used. I'm guessing there's some of you out there who can feel my pain! It's important in today's bathrooms to make lighting more abundant and agility less important so the space works for everyone in the home. I wanted to share this picture below which accomplishes both of these objectives. The frosted glass block window wall lets natural light in – and is completely private with its satin finish design. The one level wet room shower design also takes care of the agility problem.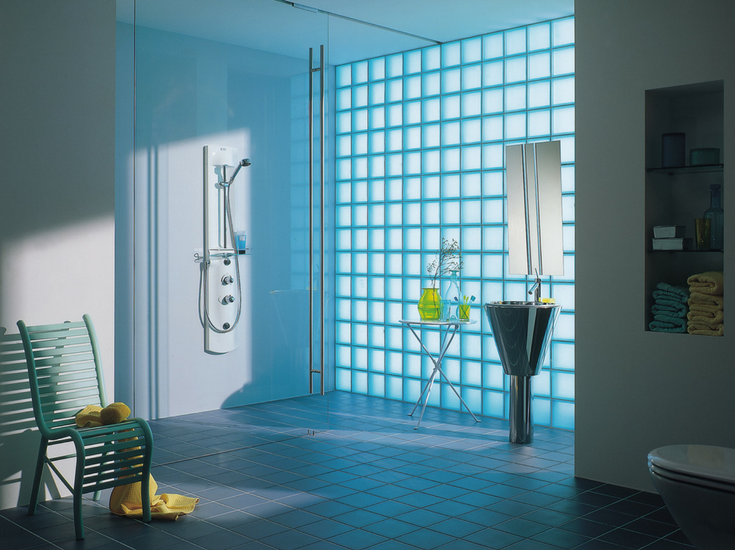 Idea #6 – Don't be afraid to reflect your good tastes. Let your interior inspire your exterior
You've picked out the perfect glass tile for your counter, backsplash or shower walls.  Why not take these interior colors to a new level with natural colored lighting through your windows? This is possible in a contemporary way using different size or color glass blocks. I love how the mirrors reflected the colors of these multi-sized clear and colored glass block windows in this modern bathroom. It adds fun to the bathroom – and will draw inside not just any old light – but colored light!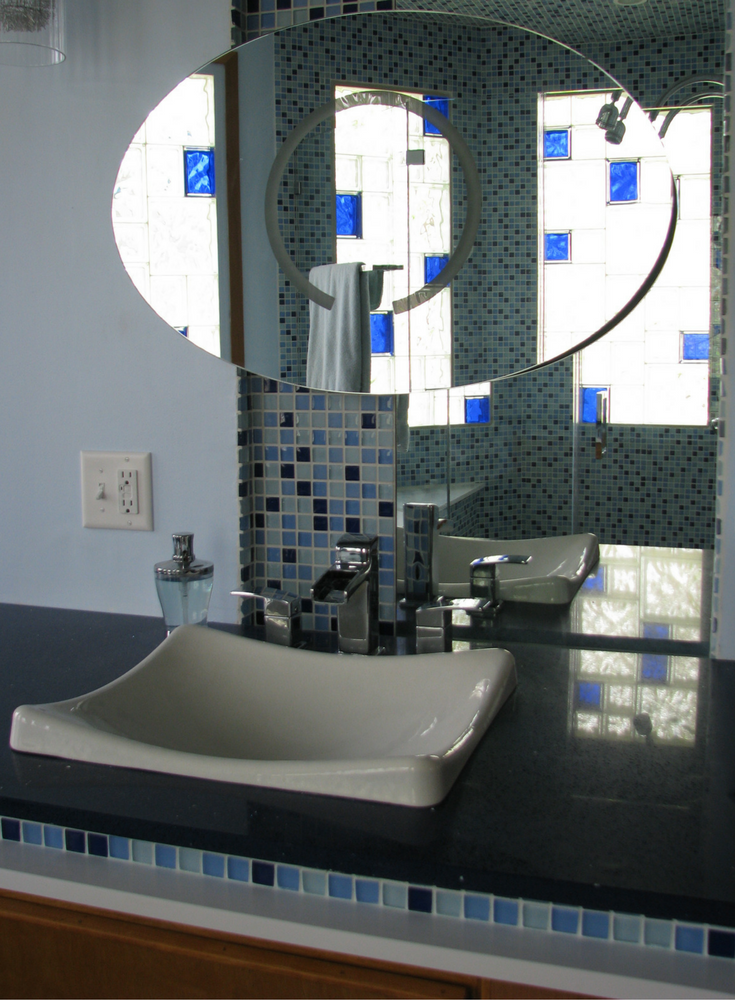 Conclusion
Glass block windows don't only have to do their workman-like job of keeping the elements (and intruders out) anymore. Why not see your windows as a place to have fun and add personality to your home? Glass blocks have been reinvented with cool colors, metallized and frosted finishes. What's stopping you from adding a little pizzazz and fun to your next remodeling or new home project?
###
For nationwide supply of glass block prefabricated windows call Innovate Building Solutions at 877-668-5888. For a local installation service and supply contact Columbus Glass Block at 614-252-5888 or Cleveland Glass Block at 216-531-6363.
---
Mike Foti
President of Innovate Building Solutions a nationwide supplier and regional (Cleveland and Columbus) remodeling contractors. Some of our product lines include glass counters, floors, backsplashes, glass blocks and grout free shower and tub wall panels
---