7 Answers Revealed Unlock the Mystery Behind Glass Floors and Decks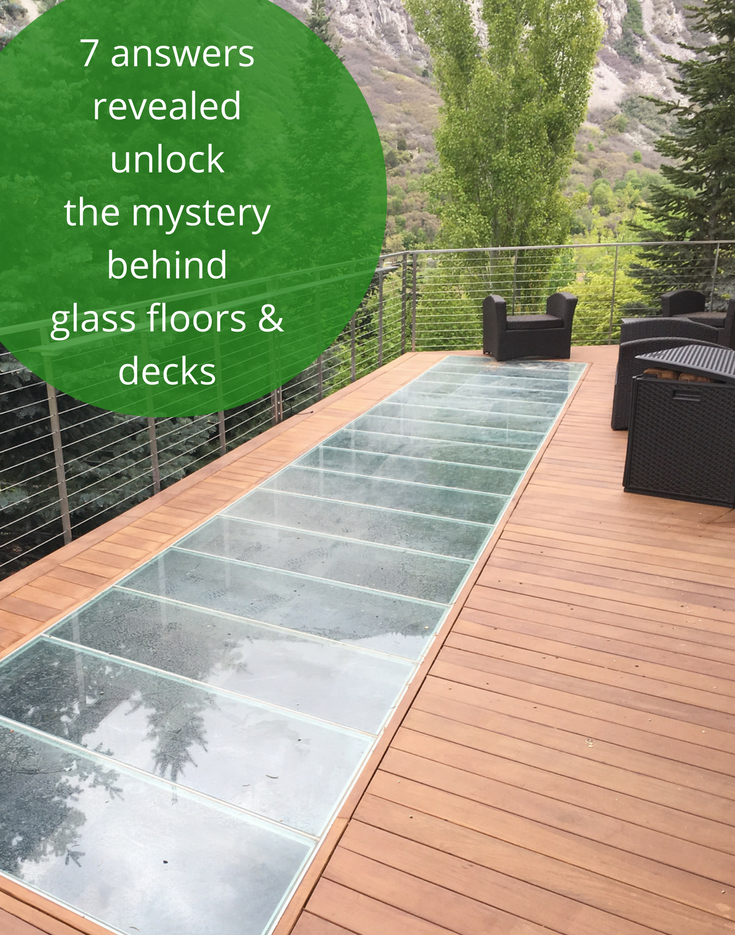 Modular glass deck planks to move light to a level below
Updated February 3, 2019
Nothing quite gets a debate stirred up like walking on a glass floor. They are cool, scary, fun, sleek, crazy, contemporary and stylish all in the same breath. The word which is no one's vocab about them is – boring! If you're looking to create an exciting, light-filled and dramatic design in a luxury home, professional workspace or public building which can move light (and your eye) from one level to another a glass flooring system is the ticket. At this point you may be saying, "Not so fast buddy – I've got a million questions about these floors before I would even consider using this crazy product!" If you said this you would not be alone.
Glass floors are not well understood and viewed by some as risky and crazy. The fear of the unknown will do that to all of us. Have you heard the popular acronym fear is False Evidence Appearing Real? My goal with this article is to "take you behind the curtain," to give you the straight scoop and reveal the answers behind the mystery which is the glass floor. So strap it on and let's step out "onto the ledge" and learn the answers to 7 questions about intriguing glass floors.
Question #1 – Is it safe to walk on a glass floor?
I had to laugh recently when I walked into a local Parade of Homes which displayed a glass floor  and the builder roped off the area so people couldn't step onto the floor. I was thinking this is one of the reasons people won't spec a glass floor in their home because they are worried they will fall through. Properly designed glass floors are completely safe. In most luxury home projects these floors are 1" to 1 ¼" thick with one to two lamination layers. Pre-engineered glass flooring systems are the best way to go because they remove the need to "design your own floor." The system below is actually rated to have 2x the strength of a common wood floor.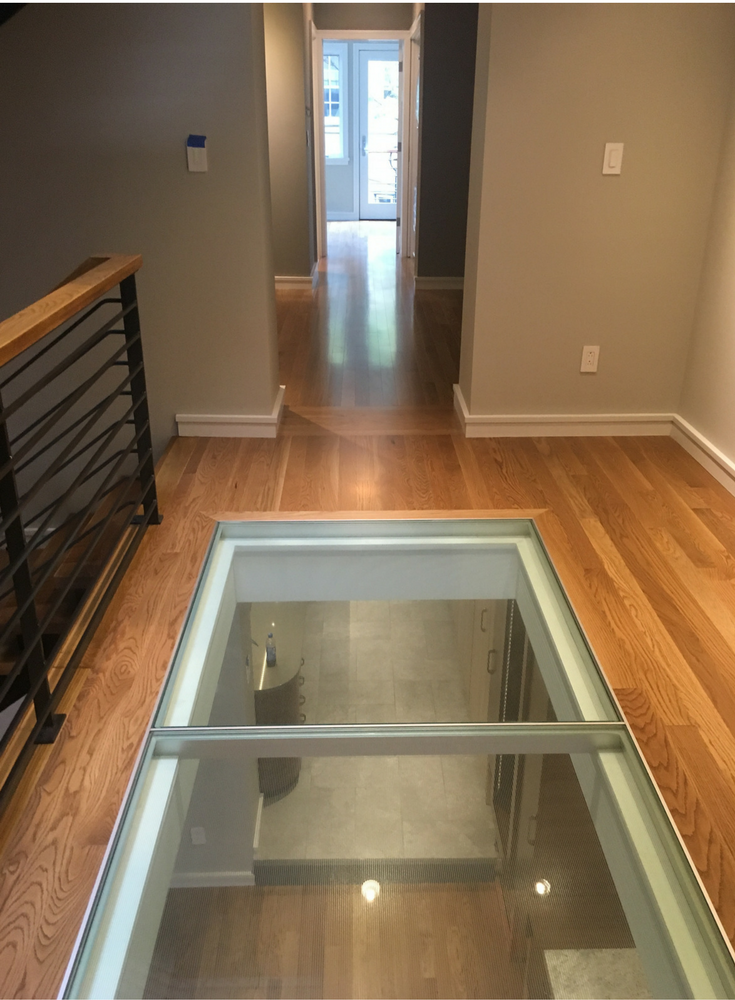 Question #2 – Are glass floor expensive?  
Yes.
Well that was a quick answer – but it's honest. If you're looking for the most cost-effective flooring system glass would not be the choice. Most interior glass floor systems wholesale in the range of $175 to $250 per square foot. If you're looking for a standard floor though this will not be your choice. On the other hand if you want a distinctive showpiece which can move light safely between floor levels or one which will show off your cool wine collection or sports memorabilia then you've got the right product.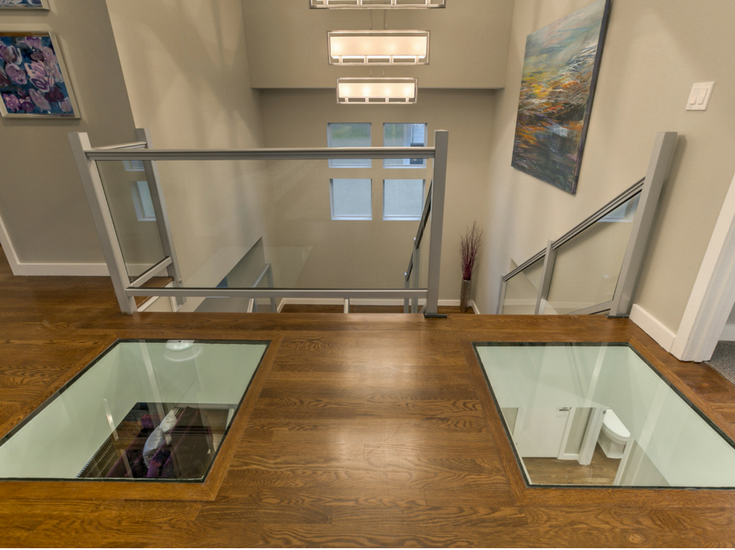 Question # 3 – Will a glass floor bring back (no modesty) visions of the iconic Marilyn Monroe "flying skirt" on the subway grate?
It was speculated one of the reasons Marilyn Monroe got a divorce from Joe Dimaggio 60 years ago was Joe was mad about the exhibitionist image of his then wife on the subway grate in New York City. It certainly makes sense why some husbands (and wives) don't like the thought of someone seeing under their skirt! With glass floors this is a concern (more so in public spaces and commercial building vs. private residential homes). The decision with a glass floor is simple – do you want it to be see-through (transparent) or not (translucent).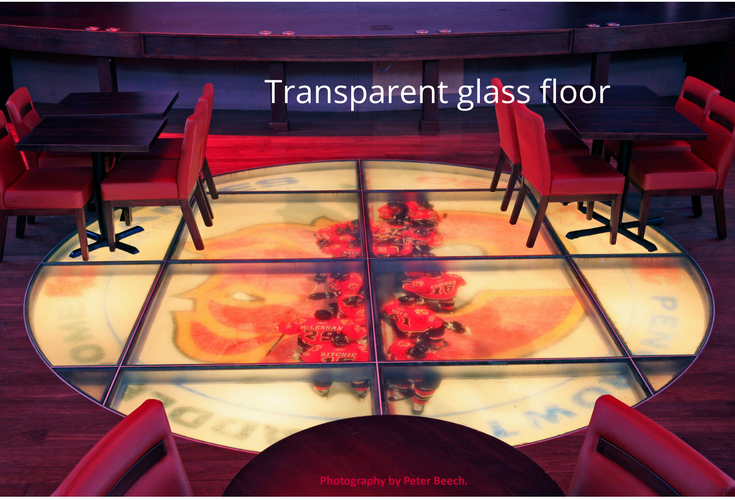 Glass floors can be made private by using a "glass frit" surface at the top or an etched finish applied to the bottom. You won't have to worry about what I like to call "the skirt factor" if you choose the right finish on glass.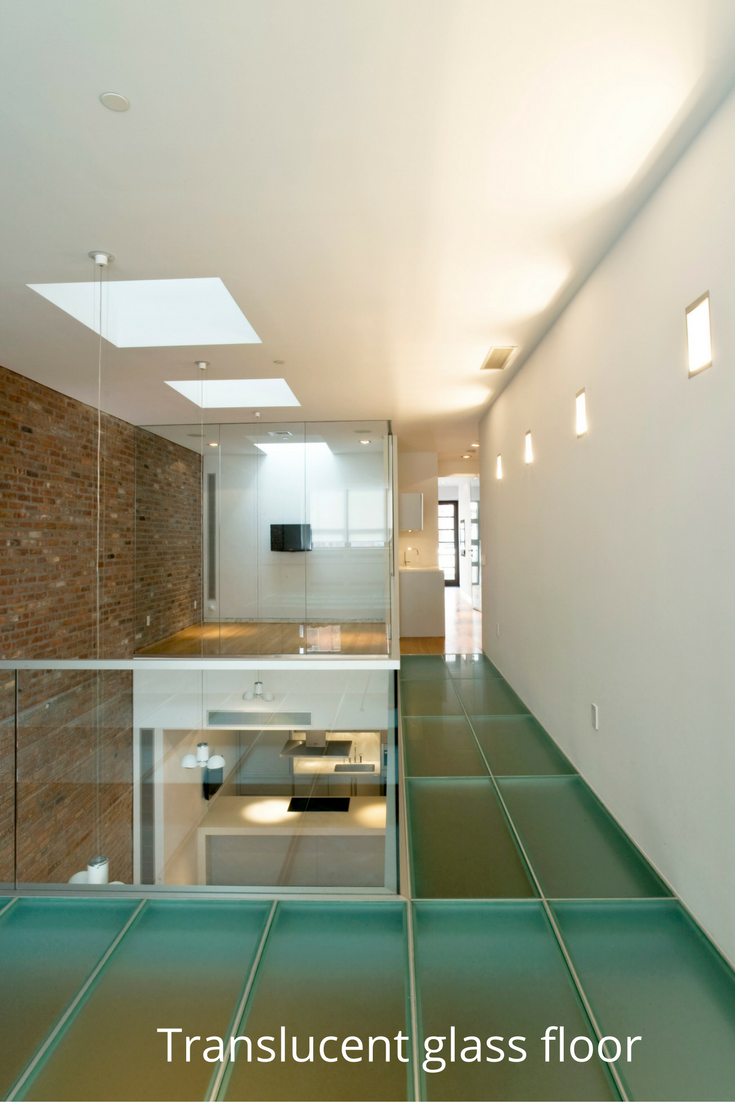 Question #4 – Are glass floor slippery?
They don't have to be. Sure any type of smooth glass surface can be slippery if there is not a textured surface added to the top. What is often done with glass floors to make them safe (inside or out) is to add a ceramic glass frit pattern is added to the top layer of glass. These frit patterns can either be understated (like the horizontal perforation pattern shown in the image below) or have an industrial urban feeling like a pattern called "boiler plate." If you want the least vision and the best traction control "mezzo" and "dot" patterns are best.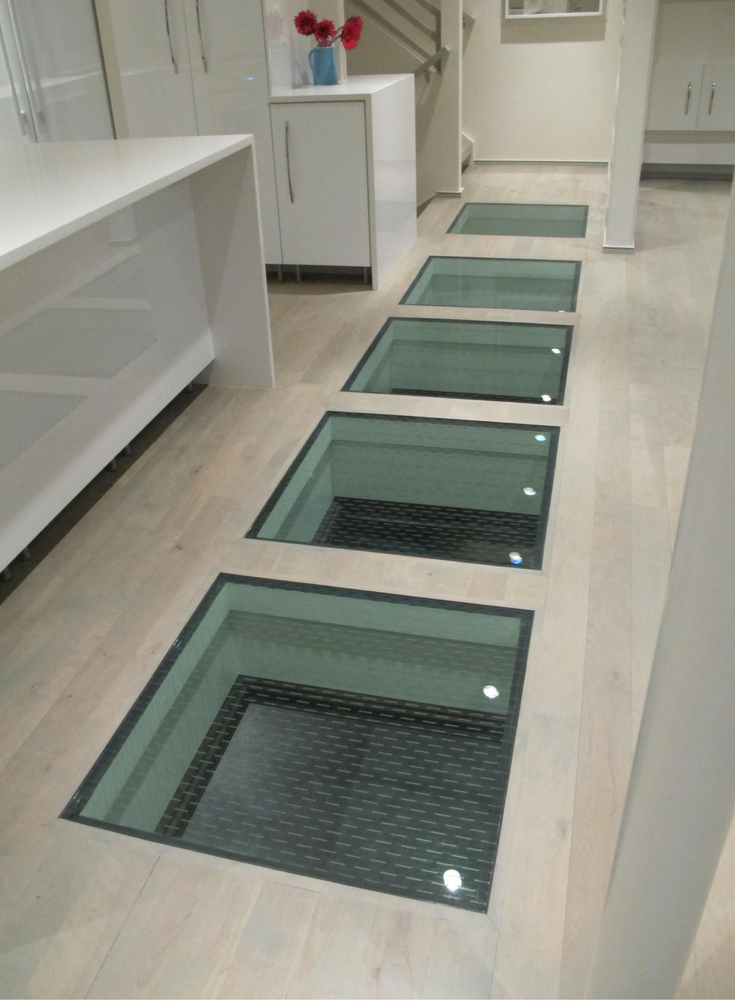 Question #5 – Can a glass floor be used in an outside deck?
 An exterior deck is a cool and practical use of a glass floor. When you want to move light into a lower level patio these systems are quite effective. You'll want to combine the glass frit we talked about in question 4 with a glass flooring system which is built for your project. When looking at a glass decking application one key question you'll need to get your arms around is if your project has to be 100% waterproof (this would be the case if you have a finished room below) or not. There are glass floors which are waterproof but I'll warn you they are 2 to 2.5 more expensive than a water resistant glass floor.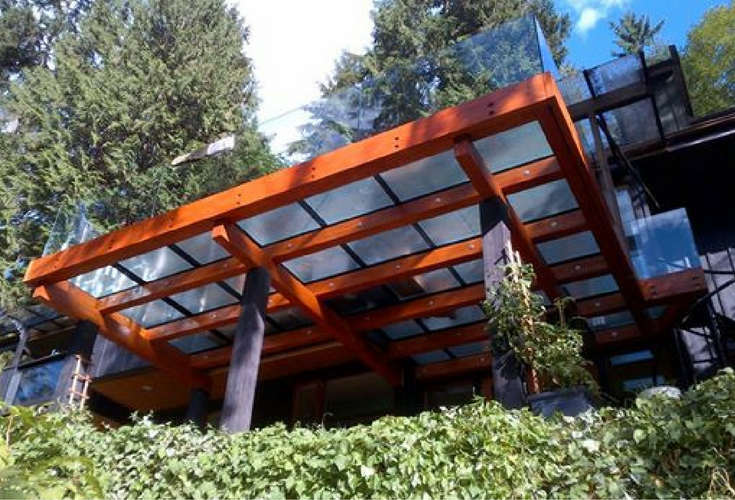 Question #6 – Will a glass floor scratch?
Glass is a hard material as measured under the Mohs scale of mineral hardness – but it is possible for it to scratch. To prevent against scratching the ceramic previously discussed is the way to go. To lessen the visibility of scratches the translucent acid etched obscure glass works well.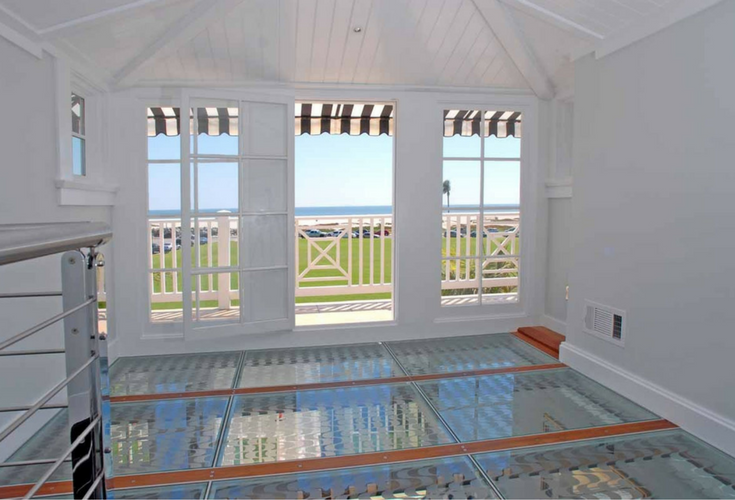 Question #7 – Can I get different colored designs or "crystal" clarity in glass floors?
Glass floors can be made with what we would call "standard" glass (which has the greenish hue you're probably familiar with from a normal drinking cup) or with "ultra clear" glass (with the clarity similar to a piece of fine crystal). If you really want a piece of art – which also can serve as a structural floor – there are cast art glass floors which will knock your socks off (check out the pic below)!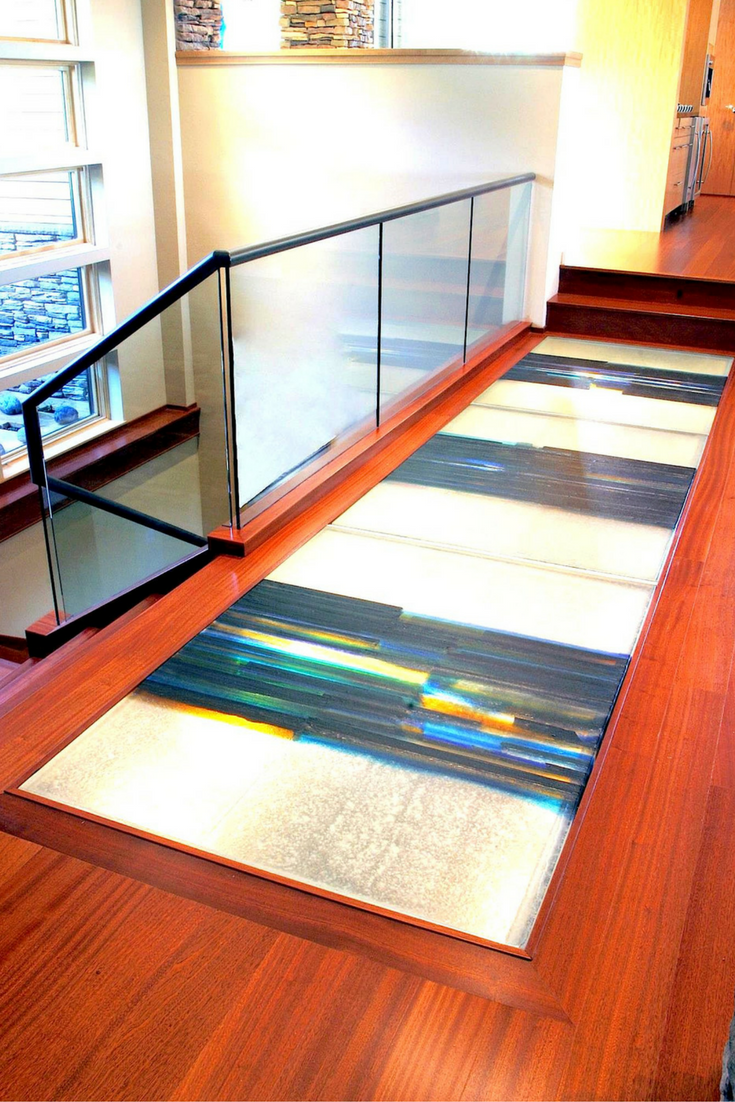 Conclusion
So – how did I do? Did I begin to unlock the mysterious glass floor for you? Yes – there are a lot of options and things you can do with this material but it's really not as mysterious (or scary) as you may think. If you've got more questions I'd be delighted to help you answer those specific to your luxury home, commercial building or industrial space. Call the numbers below and we'll get it figured out together!
Are you inspired to design your glass terrace, bridge, walkway, floor or deck? Please comment or call us at the numbers below for additional insights or pricing.
###
Call Innovate Building Solutions for nationwide wholesale pricing at 877-668-5888 or for a local project their divisions in Columbus (614-252-5888), Cleveland (216-531-6363), or Akron (330-633-2900) Ohio.
If you're a remodeler or builder and want practical advice on remodeling products, industry trends, marketing and sales tips to grow your business (and cut day to day hassles), start reading my newest blog – Innovate Builders Blog. It's packed with ideas you can use now. Click here to Sign Up for the Innovate Builders Blog.
---
Mike Foti
President of Innovate Building Solutions a nationwide supplier and regional (Cleveland and Columbus) remodeling contractors. Some of our product lines include glass counters, floors, backsplashes, glass blocks and grout free shower and tub wall panels
---