7 Creative High Privacy Bathroom Window Ideas (so you won't be putting on a show for the neighbors)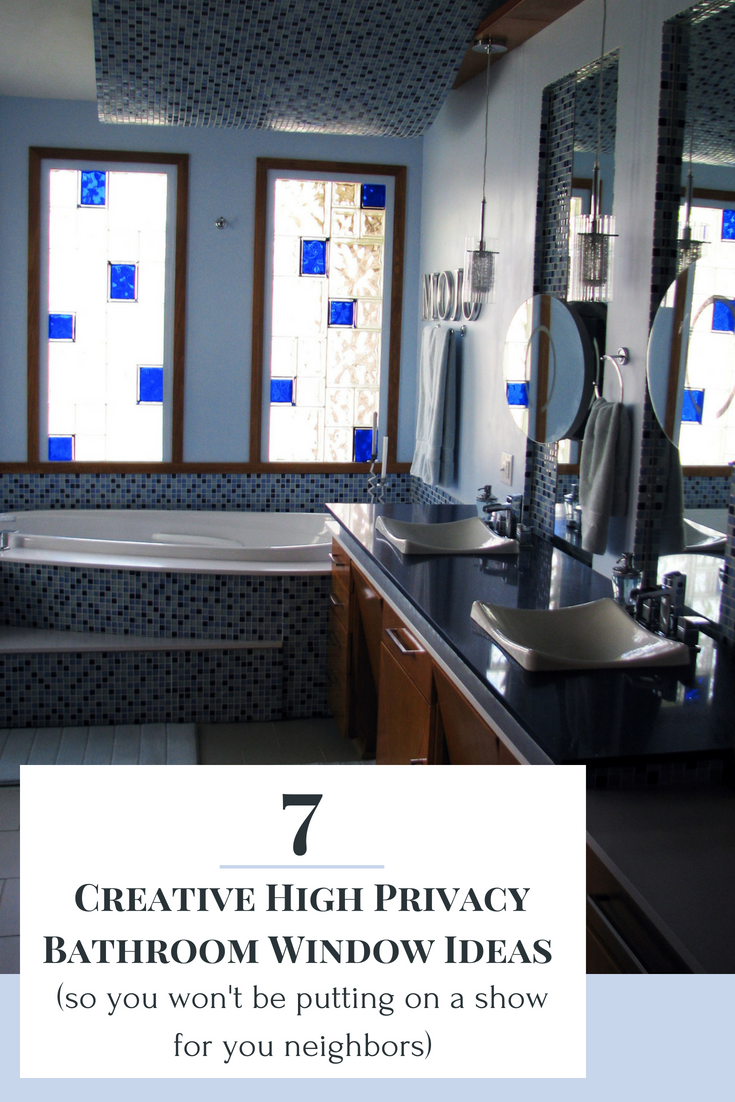 Updated March 24, 2019
Bathroom and shower windows are a blessing and a curse.
They're a blessing because they make your bathroom safer, light-filled and when opened give fresh air to keep moisture and mold away.
They're a curse because they 'open you up' (ready or not) to the world (or your neighbors in this case). If you don't find a way to make your bath windows private, you'll give neighbors an unwanted 'show' in your 'birthday suit.' As someone who won't be mistaken for Matthew McConoughey without a shirt – I'm not sure my neighbors would be looking forward to my 'show' anyway!
Because of the desire for privacy I've seen homeowners completely cover up windows in the middle of their shower with shower panels. This not only eliminates natural light – creating a closed in feeling, it looks 'butt-ugly' from the outside. You'll see a wall behind a window. How dumb is that? Doing this should be a bathroom remodeling crime punishable by 1 years in solitary bathroom confinement in a dark, moldy shower with a rusty shower head.
The challenge is this. How do you find a high privacy shower or bathroom window which adds style?
In this article I'm going to give you 7 practical and creative ideas, so you can maintain your dignity (and privacy) without sacrificing light (and to get fresh air as well). At the end let me know which idea(s) makes the most sense to you, or others you've used with success.
High privacy bathroom window idea #1 – Start movin' on up (not necessarily to the East Side) but to a 'deluxe window' (higher up) in your wall, wall, wall. The transom window.  
For those of us who grew up in the 1970's and 80's who could forget the TV show The Jefferson's which took an honest look at race relations (through comedy) in the United States. The Jefferson's (an up-and-coming) African American family were 'movin' on up to a deluxe apartment in the sky.' They had taken a step up in society as a black family in a predominately white rich neighborhood living in an upscale apartment on the East Side.
When it comes to your house windows, I'm not recommending you chuck your single-family home and move to a 'deluxe apartment in the sky in the wealthy side of town.' What I am recommending is locating your window higher on the wall so it maintains your privacy.
The problem with many shower and bath windows is the builder put the same sized double hung window (in the same location from the floor) as they did in other rooms. When a bathroom window is located in its 'usual' spot without blinds, curtains or shades you neighbors can 'experience' you in ways you (and they) never thought possible (not good).
If you 'move the window on up' (also called a transom window) you'll get the light you want without putting on a 'show.' Since a transom window is placed above body level it can even be see-through without the concern for privacy. If you want air flow, use a sliding transom window.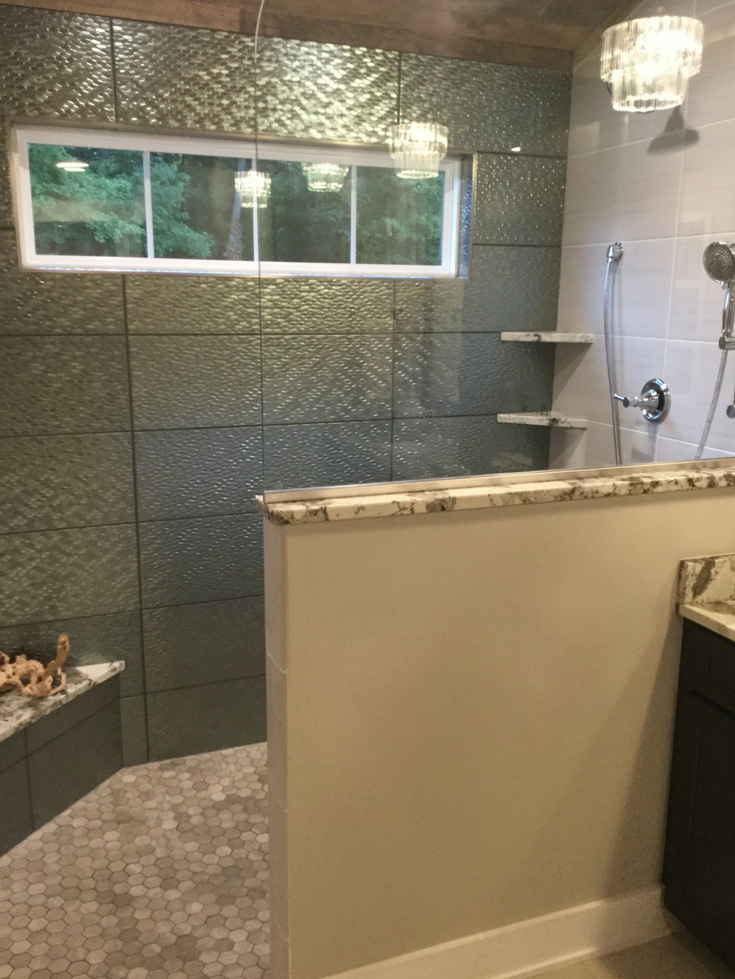 High privacy bathroom window idea #2 – Put your window on a different 'plane.' A skylight window in the roof.
When you think of house windows, what comes to mind? If you're like most, you think of openings on the sides and front of your home. However, have you ever looked up and thought about your rooftop as way to give you light and air flow?
Skylights have come a long way from the cheap 'plasticky' units put in 20 years ago (note: the first skylight in my home was replaced by my builder because it was a cheap plastic one and failed in less than one year).
Today, you'll not only find fixed skylights, but there are operable windows, sun tubes (or tunnels) to get light into small spaces – like most bathrooms.
What's also cool about skylights in a bathroom is you'll have zero concern about privacy (unless a pilot flies overhead with a set of binoculars. That's a weird and remote idea!).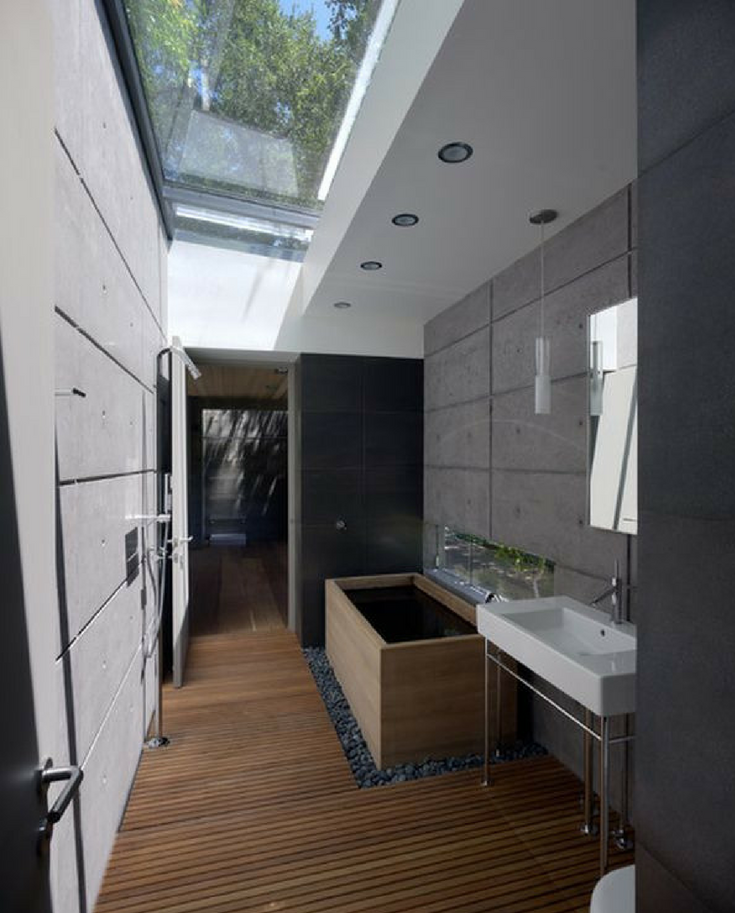 High privacy bathroom window idea #3 – Using the window as an artistic focal point. The stained-glass bathroom window.  
Instead of thinking of your window as some type of 'cover-up' operation, do a 180 on this train of thought. Reimagine your window as the focal point of the room. How you might ask?
Consider a stained glass bathroom window insert.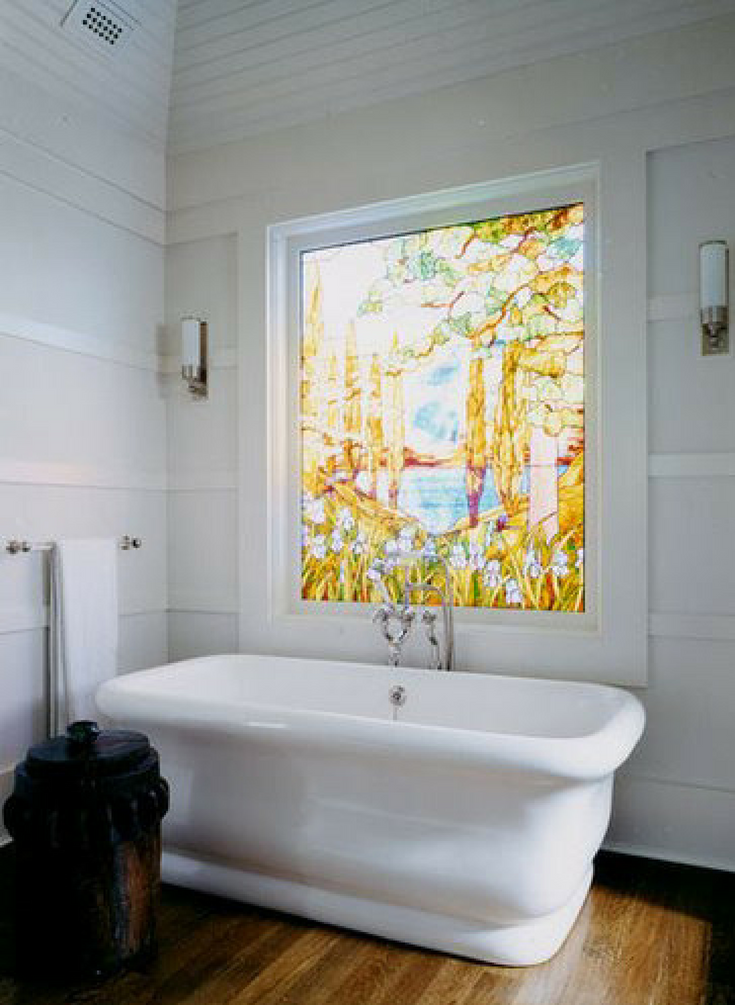 Stained glass can be completely private and bring colored light in with a one-of-a-kind design. Will this be the cheapest option? 'Er – that would be a negative.  But you can make your window an art piece as distinctive as you. A dazzling display of your personality.
If you're bold enough to stand out (and have the budget to do it) stained glass is perfect behind a freestanding tub, above a vanity or even in the shower.
High privacy bathroom window idea #4 – Go cheap and keep your privacy. Use decorative films over your window.
If your windows (the frames and sashes) are in good shape, you want more privacy, but your budget is tight here's an idea you'll want check out. Consider retrofitting the window with decorative window film.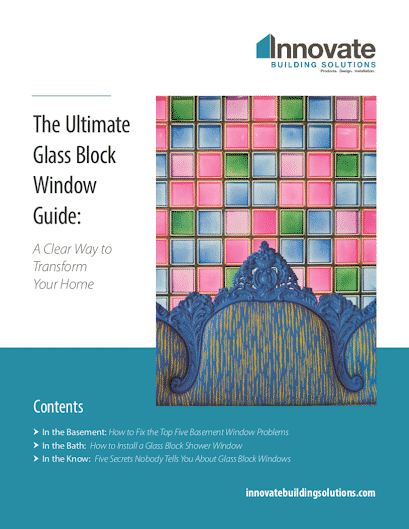 Ultimate Glass Block Window Guide
A Clear Way to Transform Your Home!
Window films are applied on to the glass and come in a variety of colored, frosted, etched and dynamic wallpaper-like patterns. They can cut down UV light and heat gain – a good thing in states like Florida or Arizona. Although if you live in way-too-cold cities (my hometown of Akron Ohio would qualify) you probably want all the solar heat gain you can get!
IMHO (in my humble opinion) I would only consider the window film for a bathroom window, not in a shower which is subjected to consistent water. In addition, if you have small kids you may want to stay away from film because it can be 'fun' for them to peel off when they're bored.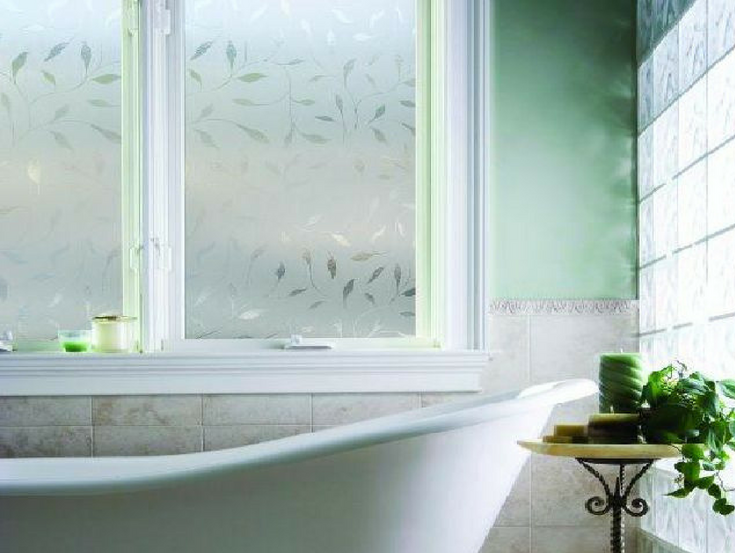 High privacy bathroom window idea #5 – Acrylics are not just for nails anymore. The acrylic block window.      
You want to block out other's views of your bathroom, but don't want to block out light and fresh air. An operable acrylic block window can be the perfect answer. They are available as crank out awning or casement style windows with high privacy block patterns.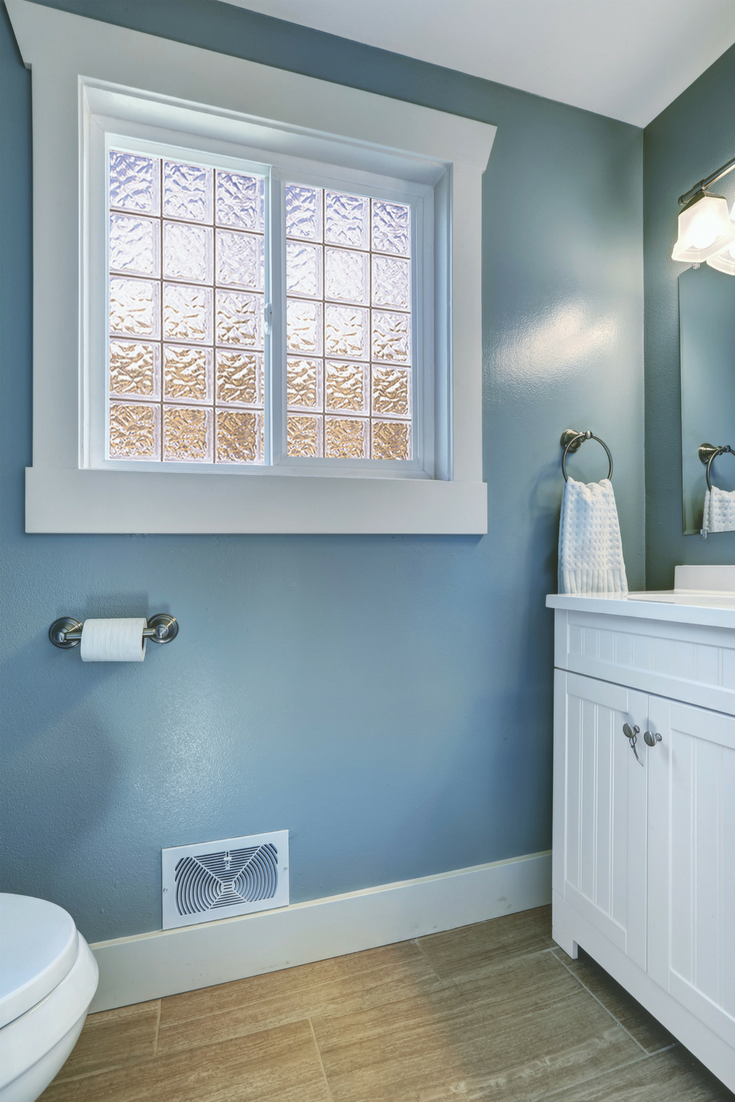 They are light and easy to install as either replacement windows in a remodel job or with nailing fins for new construction. There is even a UV blocking option as well. The only problem with these windows is they don't come with any polka dots or fancy glitter on them (bummer!).
High privacy bathroom window idea #6 – Getting the stained glass look without the cost of stained glass customization. The decorative glass window.  
While stained glass can be a one-of-a-kind-experience, it can also come with a one-of-a-kind custom price tag (which may not fit your budget). In addition, since stained glass is inserted inside the window opening, it doesn't solve the problem of a poorly insulated window with rusted or rotten window frames.
Enter the decorative glass window.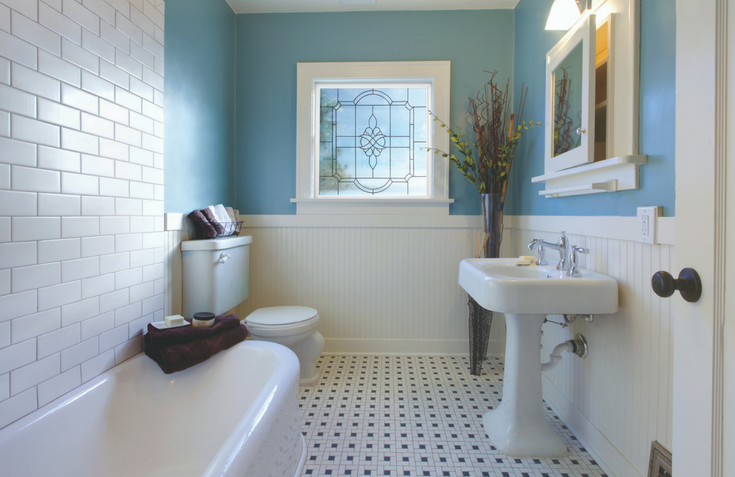 These windows are made with stained glass looking patterns and are manufactured inside vinyl frames which are perfect for a bathroom vs. metal frames (which can rust) or wood frames (which can rot). They'll give you a stained glass look without the stained-glass price.
You may be asking, 'what's the bad news?' The bad news is they only come in standard sizes, so you can't do odd sized or shaped windows like you can a custom stained glass insert.
High privacy bathroom window idea #7 – It's evolved beyond Miami Vice. The contemporary Mid-Century modern glass block bathroom window.
I have to admit being an avid watcher of Miami Vice in the mid 80's. It was the era of big hair, neon-inspired outfits and art deco design. Wavy glass blocks with bright neon lights behind them was HOT (and for the ladies so was Sonny Crocket with his pastel blazers, rolled-up sleeves and sockless shoe look). These styles were cool….at the time.
Just like fashions have changed, so have interior design styles and building materials.
The art deco look of the 80's is out. Today, the Mid-Century modern and minimalist bathrooms are in.
The old-style clear wavy glass blocks have now been redesigned and are being used as a stylish solution in to today's minimalist bathrooms where people want and need more privacy. Frosted glass blocks with multiple patterns provide a unique (stained-glass-esque) look without the price point -and they go well with a minimalist look. Even modern designed homes and showers are finding the high privacy glass block showing up in shower windows and walls alike.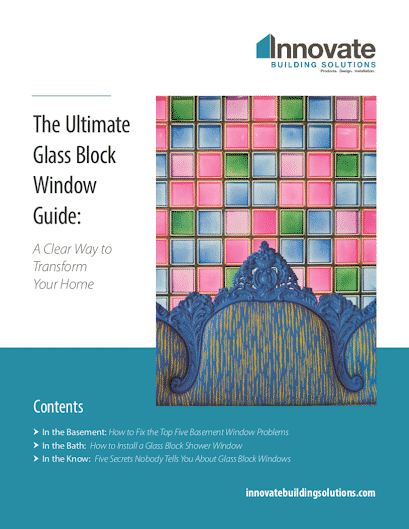 Ultimate Glass Block Window Guide
A Clear Way to Transform Your Home!
While Miami Vice (or Sonny Crocket and Rico Tubbs) aren't likely returning any time soon, the glass block is baaaaack!
Conclusion
Bathroom and shower windows should not be covered up, they should be embraced.
They should be embraced for their ability to give you light, make your space safer and bring air to a musty and high-humidity space.
To re-energize these windows, you'll explore new options. Include a transom window or a skylight. Make a bold statement with a stained or decorative glass window. Get with the newly styled minimalist glass block window trend.
Whatever you do, don't see your bathroom window as a pain you have to cover over (or work around). It's an asset you can enjoy – with the privacy and tranquility you deserve.
Need more help choosing a bath or shower window? Call or email me or my team.
How can I (or a member of my team) help you?
For assistance and factory-direct product supply of decorative glass, acrylic block or the new generation of glass block windows nationwide contact Innovate Building Solutions at 877-668-5888. For a local bath or shower window installation in Northeast Ohio call Cleveland Glass Block at 216-531-6363 or Columbus Glass Block at 614-252-5888.
If you're a remodeler or builder and want practical advice on remodeling products, industry trends, marketing and sales tips to grow your business (and cut day to day hassles), start reading my newest blog – Innovate Builders Blog. It's packed with ideas you can use now. Click here to Sign Up for the Innovate Builders Blog.
If you want to connect with me and/or learn more about remodeling, but don't want to put up with my wacky humor (I get it). Follow me on Twitter @Mike Foti, or my companies @InnovateBuild or @InnovateHomeOrg.
---
Mike Foti
President of Innovate Building Solutions a nationwide supplier and regional (Cleveland and Columbus) remodeling contractors. Some of our product lines include glass counters, floors, backsplashes, glass blocks and grout free shower and tub wall panels
---