How to eliminate tile grout joints in your bathroom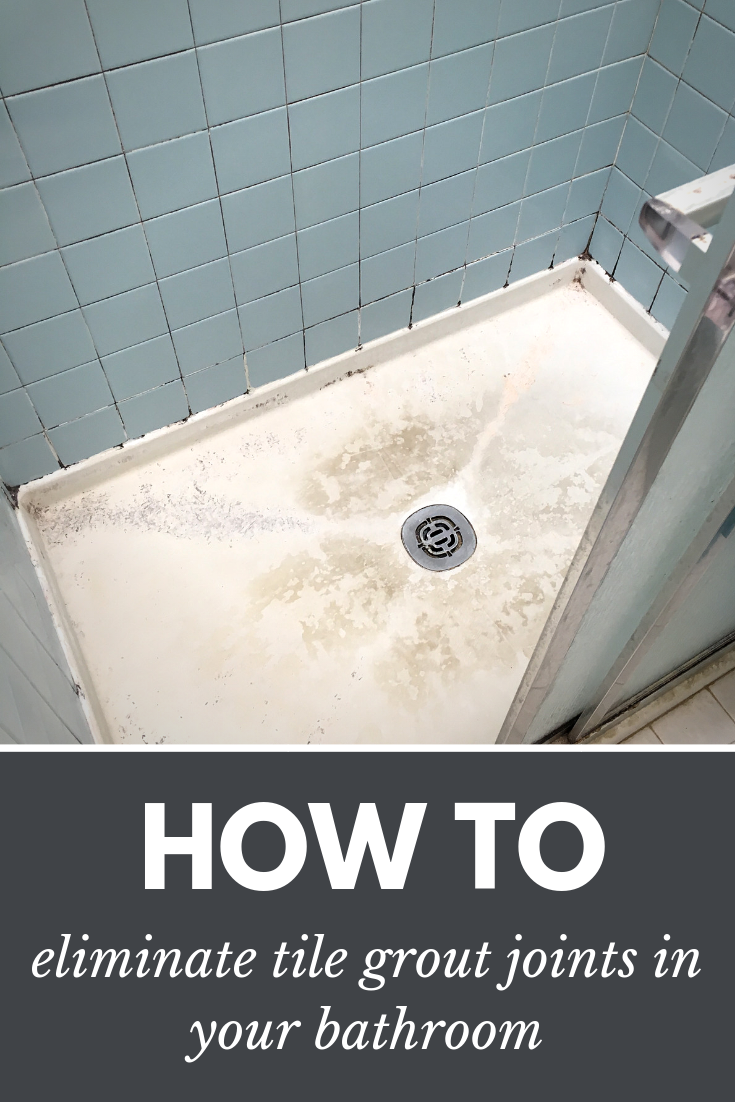 Updated March 24, 2019
Even though you're not 'sleeping with the enemy' in your bathroom, you know who public enemy #1 is in your bathroom. It's your nasty tile grout joints.
These joints may be ugly and stained. They may be cracked and half-falling out. They may have caused your ceramic tiles to crack. They may be moldy and the cause of health problems. They may be the driving reason water leaked through your shower pan, through the ceiling and onto your new mahogany dining room table. They may be the reason you're on your hands and knees 'enjoying' (sarcasm intended) working your scrub brush and basking in the fresh aroma of your favorite 'chemical brew' to clean up these joints again.
But, you continue to 'put up with' grout joints? If you haven't thought about why you put yourself through this torture here's 5 reasons I've seen to explain why you may stick with tile:
You take the path of least resistance. You say to yourself – everybody is doing tile in nicer tub, shower and bathroom areas and it's so simple to find fun tile selections in the store.
Your tile looks pretty. Yes – this is true … in the beginning. The problem is when your family uses the shower and the joints get dirty. Then, whose problem is it to keep the tiled shower in tip top shape?
You want to support your local businesses like The Grout Doctor, The Grout Medic, Sir Grout, The Groutsmith. There are more locally owned franchised grout cleaning franchises than you can shake a stick at. If you're lonely and have a few extra bucks to pay for more maintenance, then buying a tiled shower or tub surround or bathroom floor will keep your local grout cleaning franchise busy. That's good for them. Maybe not the best for your pocketbook or time – but you're supporting a local business.
You don't know better alternatives. Some of the 'out-of-the-box' home center shower and tub wall surround panels made of fiberglass are butt-ugly. So, you put up with tile vs. looking at dull, faded and yellowed fiberglass wall panels.
You can't find any contractor who is willing to put up the 'new generation' of grout free wall panels. You actually find a 'new generation' wall panel system made of solid surface, a decorative faux stone PVC composite, a high gloss or laminated wall system you're excited about. Then you talk to the one (impossible to get an appointment with) quality contractor in your town. He or she refuses to install the panels because they've never put them in before.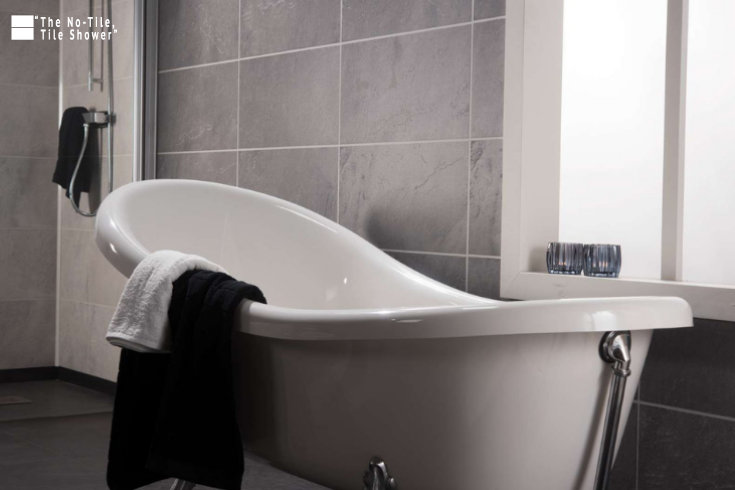 If you've had it up to 'here' (can't you just here your Mom saying this statement right now?) with tile grout joints – I get it (and I hear this complaint daily from homeowners). The real question is – what are you (or can you) do to eliminate bathroom public enemy #1, the tile grout joint?
In this article I'll give you the 3 step formual to do just that (blow up grout joints forever!). I'll start with the nastiest (and most important) area first – the tiled shower floor. Then I'm movin' on up to those dingy, moldy tub and shower wall surrounds. Finally, we'll step onto the bathroom tile floor for some grout-busting strategies and tips. OK – let's get busy and kill some grout.
Step #1 – How to eliminate tile grout from your shower floor pan
If you were a politician looking for votes for the single ugliest place in your bathroom, in most cases, the floor inside your shower would be the top vote-getter. Why you might ask? Well – it literally gets stepped on and flooded in dirt every time it's called into duty.
Even more problematic is most grouted shower bases have small mosaic tiles with loads and loads of thick (ready to absorb water) grout joints. If you're meticulous about sealing those joints on a yearly basis you've got a chance of keeping problems at bay. However, who exactly – but the most OCD people –seals grout joints on a yearly basis? I'll come clean and admit I have never sealed the grout joints in my master shower (which I also will admit needs to be replaces….SOON!).
If you're wondering why there are so many tiled shower pans, it's because they can be made any size and shape. This is critical if you have a large luxury shower or a small odd shaped space. Standard fiberglass shower pans (like the one's in your hall or kid's bathroom) are mass produced in common sizes (like 60 x 32 and 48 x 36). If you've got a weird shape or a unique drain location, common sized pans ain't gonna cut it. You need new solutions.
Fortunately, here's 4 options (for both standard and custom sized showers) to help you progress beyond your tiled shower base with zillions of grout joints:
Cultured granite shower pans – This is the most versatile shower pan to eliminate grout joints. Here's some of the advantages of this type of base:
They are grout free.
They come in 51 different colors.
They can have different drain locations.
They have different curb heights, or a ramped entry, for someone mobility challenged.
They are built like a rock.
They are 'relatively' cost effective (when compared to tile and the maintenance of tile over the long run).
Here's some of the drawbacks:
These puppies are heavy – you'll need help, and to eat your Wheaties, the morning before the install.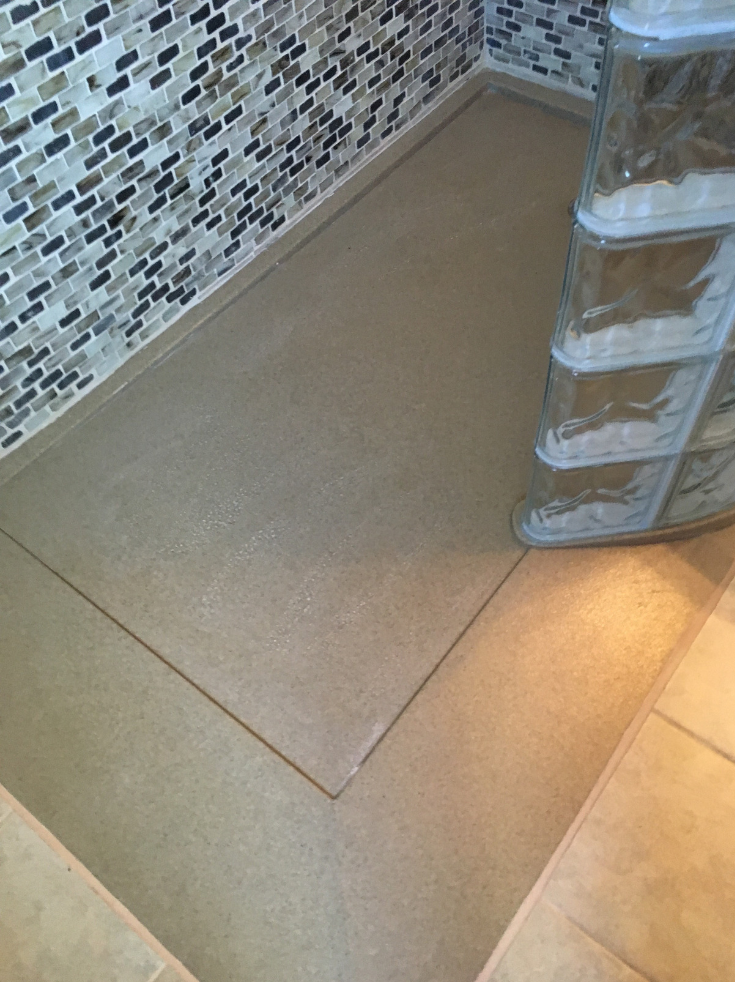 Solid surface shower pans – These shower pans are much like the cultured granite mentioned as far as advantages are concerned. The following drawbacks are slightly different:
In custom sizes they will be more expensive than the cultured granite, but in standard sizes they will be comparably priced.
You won't find as many color options and you'll likely only find them in a matte finish (which is harder to clean than the glossy look of the cultured granite).
Acrylic shower pans – Acrylic pans are a good mid-priced option to eliminate your tile shower. Here's some of the positives
They are available in a wide selection of shapes.
They don't yellow and crack like fiberglass pans.
They are pretty light on the budget.
The negatives to acrylic pans are:
You can feel them flex when you walk on them.
They are made in standard sizes with common drain location which may or may not work for you.
Color selections are limited.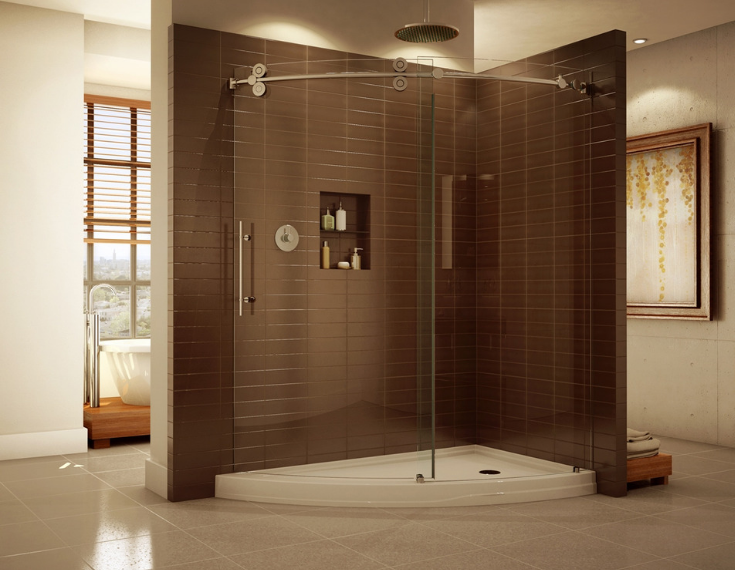 Fiberglass shower pans – OK I'm going to list this product as an option, but I'll admit I hate them. Putting my bias aside here's the main reasons to choose a fiberglass shower pan:
They are cheap, cheap and cheap. Did I mention they are cheap?
They are grout free.
The biggest reason I don't like fiberglass shower pans is:
They're cheap, can yellow, crack and don't last long.
They're mass produced in standard sizes – so if you've got a custom sized tile shower you're out of luck.
If you're looking for style and color selection – you'll only find these pans in boring white and drab beige colors.
They are available in basic shapes (mostly rectangular in design)
Step #2 – How to eliminate tile grout from your tub and shower wall surrounds with 'new gen' shower and tub wall panels    
Although the tile shower floor can be the cause of your biggest disaster if you get leaking through the ceiling and onto the floor and your furniture below, the tile area which makes you cringe when friends or family want to use your bathroom is your tiled shower and tub walls.
Who wants to look at (or worse yet take a shower in or clean up) tile walls with black, moldy grout joints? Yuck!  If you don't want to use the 'bottom-of-the-barrel' cheap fiberglass panels what options do you have? I'll dish up 5 for you here:
#1 – "Done-in-a-day" acrylic wall panels – You've seen the commercials on TV. The one-day bathroom with acrylic wall surrounds. I'll even admit our company got its start in the shower and tub wall panel business installing acrylic panels. Although they can be 'done-in-a-day' by a professional contractor, I'm not a fan. The good news is they can be a decent cost-effective alternative (if you don't get a sleezy rep trying to hard-close you with fancy sales tricks and inflated pricing) since they are warm to the touch, lower-cost and have different patterns and styles. The bad news is they are hard to find for a DIY'er and even harder to install (note – you use messy black butyl tape to install them and the panels can expand and contract after they're cut (especially if you're doing the work on a cold winter day). They are only 1/8" thick.
#2- Decorative faux stone wall panels – These ¼" thick panels come in 20 different patterns and look like real stone. Since they're made of PVC (the same material as in your plumbing pipes) they are super-easy to cut (you can even cut them with a carpenter's knife). With 3" wide edge trim pieces you can even make a bad cut and cover over the problem. Many patterns in this line are bold. If you want your wall panels to have some personality I would check them out. The drawback to this system is some people feel the PVC looks cheap (although I disagree) and the material doesn't have depth because the panels are flat by design.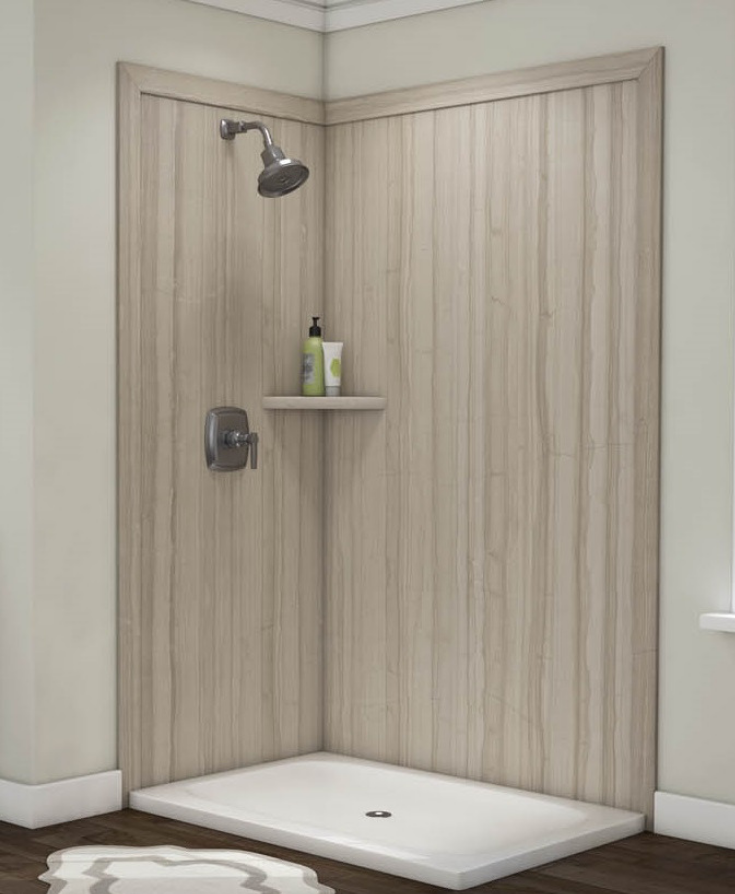 #3- High gloss acrylic wall panels – Cool, sleek, contemporary and ultra-fun. If you love the clean minimalist bathroom look which is hot today these wall panels are a natural complement. These high gloss panels help brighten darker rooms because light will bounce and reflect off your walls. The biggest drawback to these panels is they are PRICEY! But -who cares. You don't have to leave all your money to the kid's inheritance now, do you?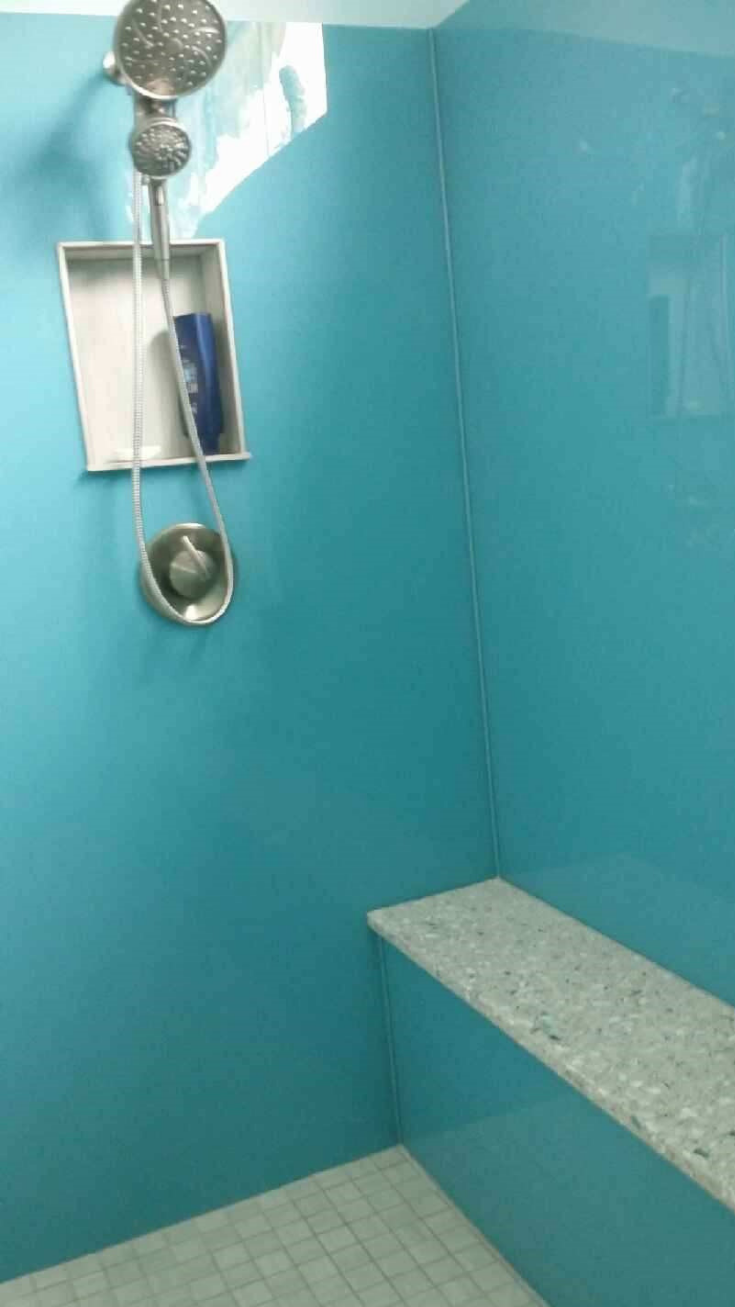 #4- Solid surface wall panels – These panels are the ultimate in durability (3/8" thick and built to last even in the toughest environments – you may be thinking of your teenage boys right now I'm guessing). They come in 51 patterns and 5 textures. All edges are prefinished. The material (while it's a man-made stone) is not as difficult to cut as people think. The biggest negative is these panels are heavier and some people think the patterns are boring.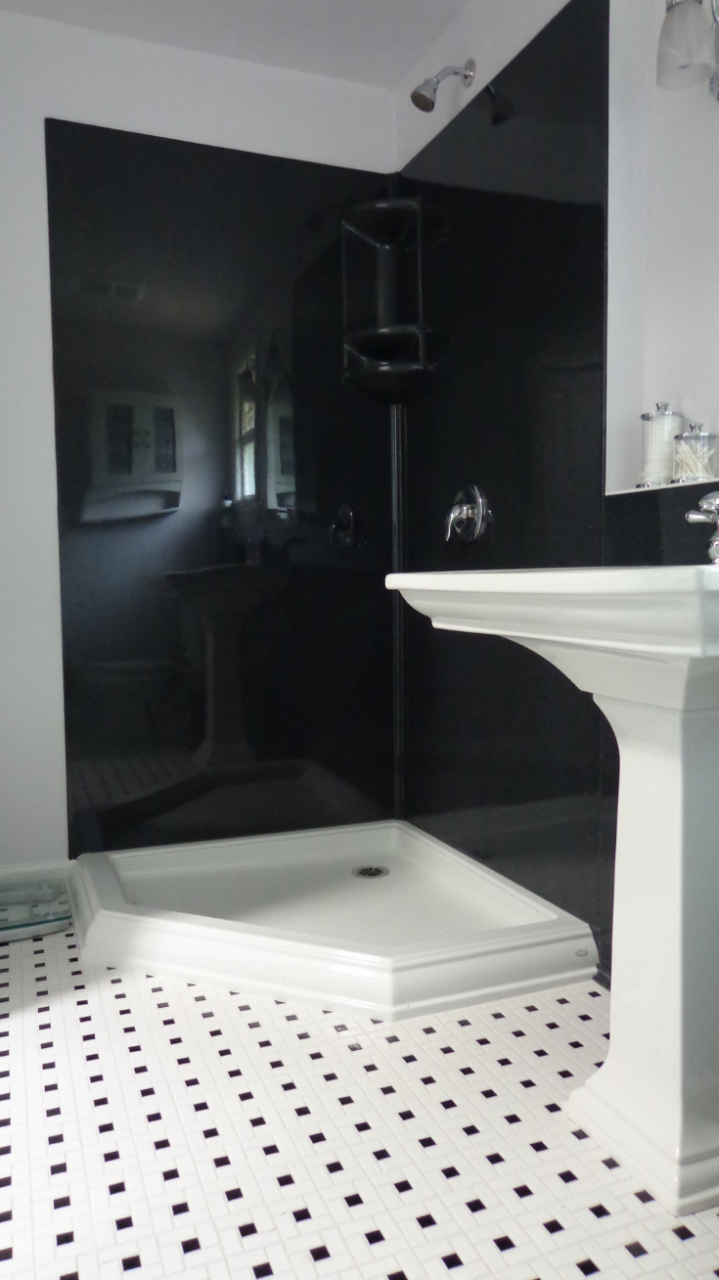 #5- Laminated wall panels – This is a new HOT system coming to the United States later this year. These panels 'click' together (like floating laminate flooring) and become 100% waterproof with a sealant added during the installation process. They are a dead-ringer for tile (it can be your little secret they aren't actually tile) and even have what feels like a grout joint. They come in high-fashion contemporary styles which fit today's bathroom styles like minimalist, farmhouse, shabby chic and contemporary. Pricing-wise they will be in the same ballpark as the faux stone and solid surface units mentioned above. Their biggest negative – they aren't available in the United States until mid-November. Stay tuned.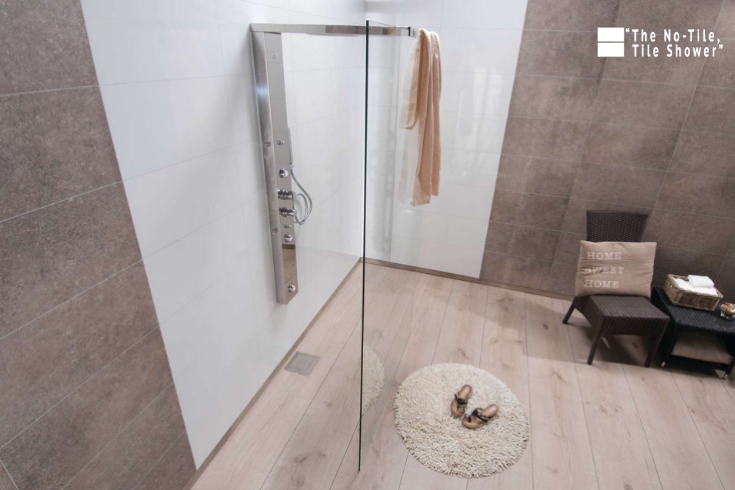 Step #3 – How to eliminate tile grout from your bathroom floor
While grout joints inside your shower and tub get significantly more water than the bathroom floor it doesn't excuse this area from being a problem. I can tell you from first-hand experience the bathroom floor was a problem for me when I noticed the brown stain on my kitchen ceiling. You see my sons didn't put towels down when they finished showering. I guess when they were younger I should have been thankful they were taking a shower at all! If you've ever had young boys you may know about trying to eliminate the evil disease S.B.S (Stinky Boy's Syndrome!).
If you'd like to eliminate your ceramic tile bathroom floor here's some choices to kick around.
Sheet vinyl flooring – Sheet goods are cheap to put down, but not the nicest looking. They also are tough to do as a DIY project.
Vinyl planks or tiles – These products have improved over the years – but you've got to be careful to keep the joints close together.
Engineered wood floor – An engineered wood floor looks beautiful and is simple to install with a 'click' system. They can be pricey – but they also create a luxurious look.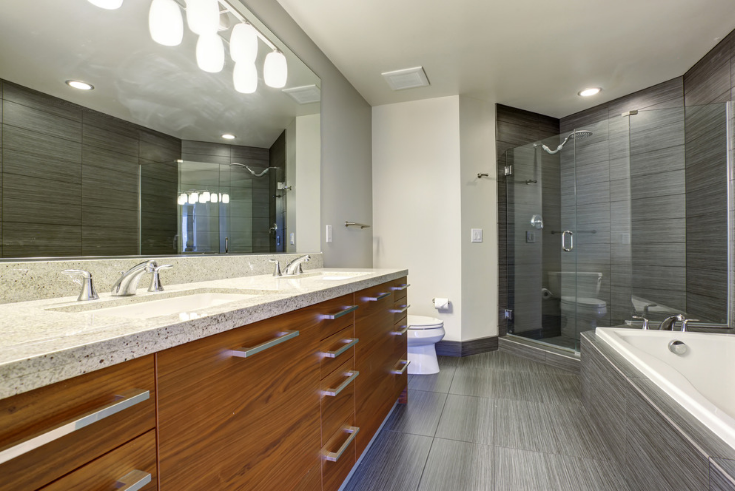 Laminate flooring – The laminate floors available today you'd swear are the real thing. With wood and stone like finishes they create a cool style for a Modern Farmhouse or Contemporary bathroom alike. They are also straightforward to install.
Concrete flooring – This is obviously not a great option in a remodeling job – but it can be ultra-cool for a modern minimalist bathroom in a new home. The negative of concrete flooring is it's cold to walk on.
Conclusion
I hope this article has provided you with hope. The hope to know it's not a lost cause and a foregone conclusion you have to 'put up with tile grout joints.'
You can win the battle against grout. Will it be easy? Probably not. It will take research. It might take the willingness to roll up your sleeves and do the job yourself if you can't find a contractor willing to use a grout-free shower base, wall panel or floor system which is new to them.
What you need to remember is this bathroom can be and should be all about you. Don't settle for a tile shower which causes you undue maintenance, stress or worse yet – water leaking on your new dining room table or living room couch.
Be determined to win the battle and eliminate Public Bathroom Enemy #1 – your tile grout joints.
If you'd like help designing a no-grout bathroom me and my team are here to help. We can offer nationwide factory direct product supply of grout free wall panels and shower bases. We can offer installation and contracting expertise in the Cleveland and Columbus Ohio areas. Call or email us at the numbers below.
How can I (or a member of my team) help you?
For assistance and factory-direct product supply of grout free shower wall panels and shower bases nationwide contact Innovate Building Solutions at 877-668-5888. For a bathroom remodeling project in Northeast Ohio call Cleveland Design and Remodeling at 216-658-1270 or The Bath Doctor in Columbus at 614-252-3242.
If you're a remodeler or builder and want practical advice on remodeling products, industry trends, marketing and sales tips to grow your business (and cut day to day hassles), start reading my newest blog – Innovate Builders Blog. It's packed with ideas you can use now. Click here to Sign Up for the Innovate Builders Blog.
If you're in the building business, click here if you'd like to learn how to become a shower wall panel dealer or call and ask for Mike at 877-668-5888.
If you want to connect with me and/or learn more about remodeling, but don't want to put up with my wacky humor (I get it). Follow me on Twitter @Mike Foti, or my companies @InnovateBuild or @InnovateHomeOrg.
---
Mike Foti
President of Innovate Building Solutions a nationwide supplier and regional (Cleveland and Columbus) remodeling contractors. Some of our product lines include glass counters, floors, backsplashes, glass blocks and grout free shower and tub wall panels
---