5 Annoying Problems with Kitchen Backsplashes (and how to fix them)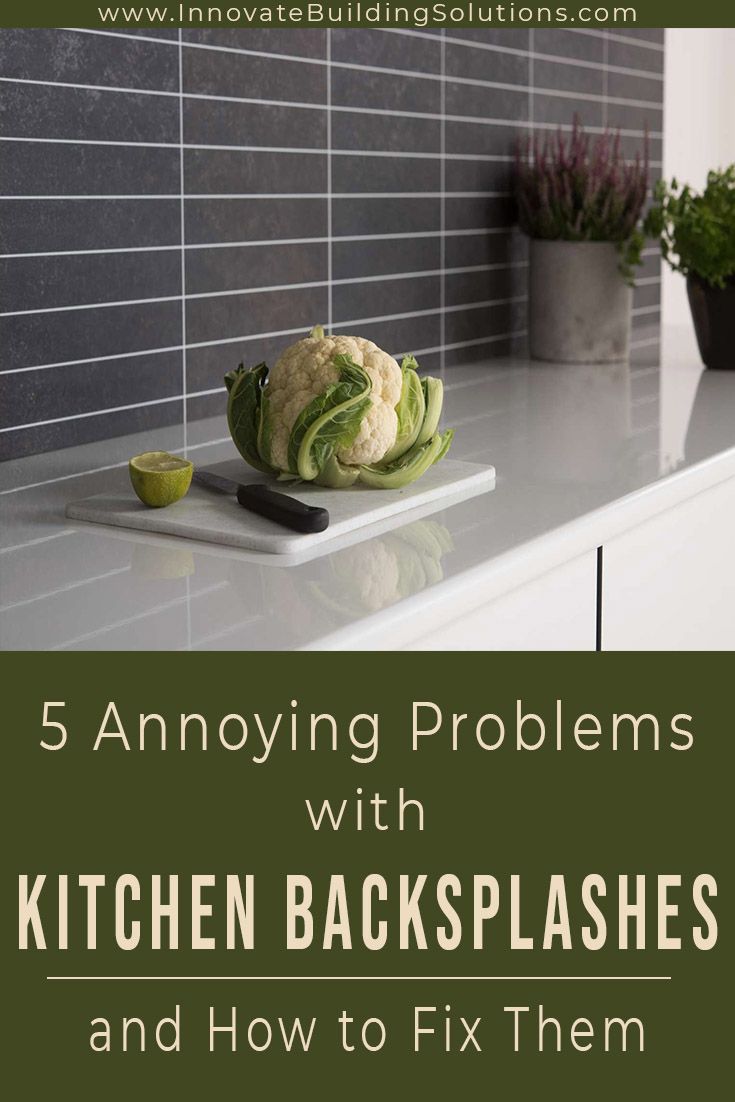 There are so many decisions and components in a kitchen remodel.  However, no single element injects style and personality quite like a kitchen backsplash. It literally (and figuratively) can create a splash (Ok, I get it, bad pun).
A backsplash can be like a statement piece of jewelry, or your favorite jazzy tie. It goes beyond the function of a backsplash (which is to make it easy to clean liquids which splash up on the walls). It adds a fashion statement everyone who visits your house can ooh and aaah about.
Although there's lots to love about kitchen backsplashes, they can also be a pain. You may have experienced these backsplash hassles:
Stained and cracked grout joints.
Materials which are so expensive they have you asking, "You said it's how much for that small area?"
Surfaces which are a cleaning nightmare.
Installation hurdles like outlets and stoves which increase the 'degree or difficulty' choosing the right backsplash.
The challenge becomes how can you get the stylish kitchen backsplash design you desire while also getting one which is easy to clean and install, yet won't force you to take out a second mortgage or tap into your kid's college fund?
In this article, I'll look at 5 annoying problems people deal with trying to choose the best backsplash. Then I'll dish up practical 'fixes' you can use to overcome these problems.
Kitchen backsplash problem #1 – The really cool, stylish alternatives are flat-out too expensive  
You love, love, love the sleek look of contemporary backpainted glass. However, when the glass supplier served up the quote you practically fell off your chair.
Then you started thinking maybe you could go for natural, minimalist kitchen with a concrete or exposed brick backsplash. Those fun alternatives also proved out of your price range.

You thought, "If only you had a Bill-Gates-esque budget!"
Here's a smart way to fix the problem of wanting a champagne look on a beer or 'reasonably priced Merlot' budget.
Look for look-a-like materials. Materials which give you the look, without the big outflow of cash.
For example, to get away from the high costs of backpainted glass the look-a-like option would be high gloss acrylic wall panels. They look sharp and are simpler and lighter to install. That's a 'trifecta' of benefits!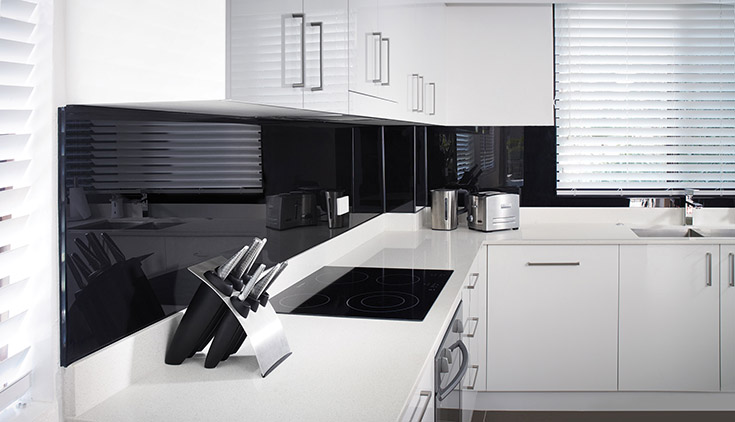 For the natural, minimalist look, cracked cement laminate kitchen backsplash is a perfect choice.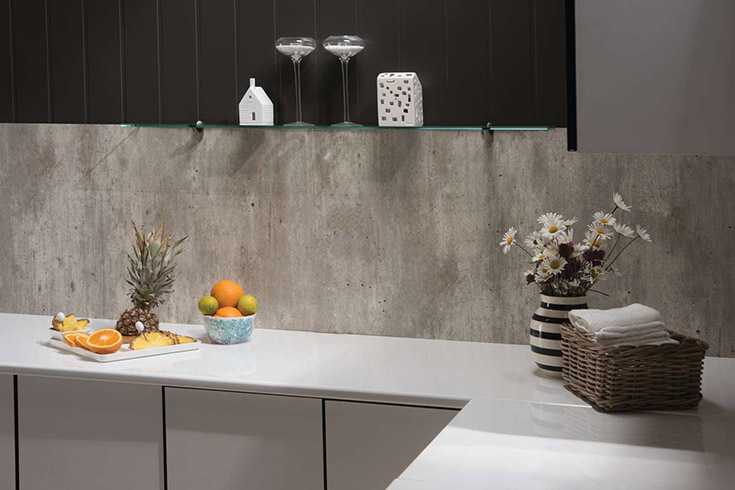 It is possible to get cool looks without a millionaires' budget!
Kitchen backsplash problem #2 – Tile grout joints which are a pain to clean
There is a wide range of inventive tile backsplash designs. Ceramic, porcelain and glass tiles all work well in kitchens. The big problem is they are joined at the hip (or should I say, the tile) by one evil element…
Grout joints
And, as you know, someone has to clean these grout joints. If that someone is you, that's a task, I'm sure, you can do without. Who exactly likes grout joints? 'Er – that would be NO ONE!
The good news is there are stylish panel options which eliminate joints, and will give you a tile backsplash alternative you can be proud of. You can opt for panels made out of glass, metal, laminate and even high gloss acrylic. With these options, you'll see style and grout-free aren't mutually exclusive.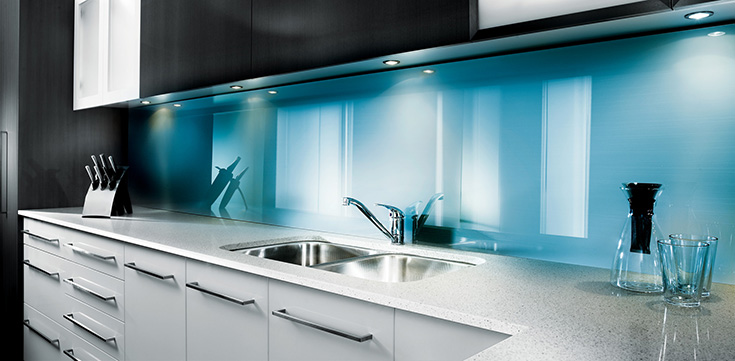 Kitchen backsplash problem #3 – Backsplashes may be small, but this doesn't mean they won't be a big challenge to install
It seemed like a good idea when you bought the ceramic tiles on sale at your local big box store. You thought it would be a simple (and cost-effective) to install them underneath your cabinets. Then you got 'schooled' in what you needed.
You found out you needed a wet saw, a tile cutter and more adhesives than you could 'shake a stick at.'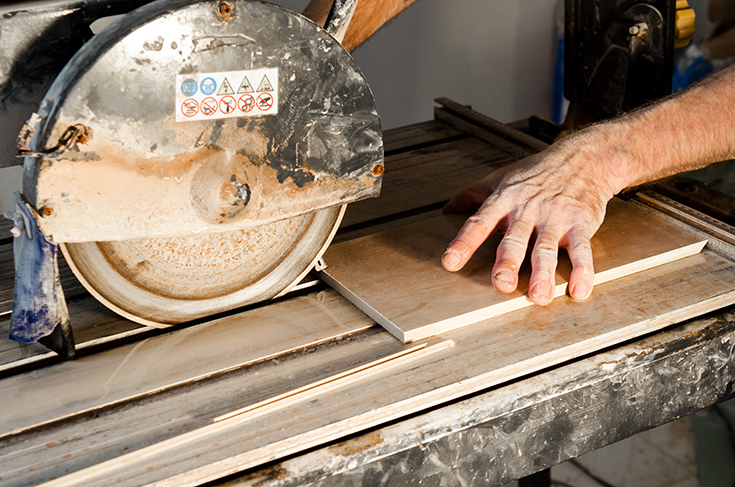 So, you thought, the heck with that. I'll lick this problem by hiring a contractor to do it for me. 4 companies flat-out refused to come out because they said, 'the job is too small" (and one of these companies even had in their print ad 'no job too small!'). 3 companies blew off the appointment. You thought, "What a waste of time it is finding a contractor today!" One company who did show, gave you mind-blowingly high quote.
You think, now what?
To fix this problem consider rolling up your sleeves and DIY'ing it with two simple-to-install backsplash systems:
System #1 – Peel and stick wall tiles – You'll find several lines of metal panels which are straightforward to cut and install. The only hiccup is some metal backsplash panels look cheap and are ultra-thin.
System #2 – Glue and screw panels – A sound option are 3/8" thick 22 ½" x 23" laminate kitchen wall panels. These panels give you the look of tile (without the installation – or future cleaning – hassles) and can be glued onto existing materials or screwed to a wood board.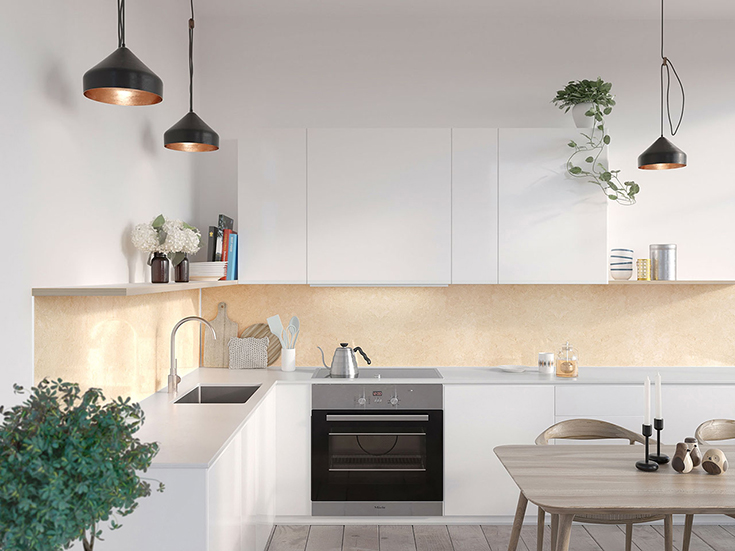 Kitchen backsplash problem #4 – Choosing products which are awkward to set in place
The one-piece granite slab looked wonderful until your crew was 'trying' to maneuver it between the countertop and kitchen cabinets. Can you say awkward?
The uber-expensive backpainted glass panel had the outlet holes cut out perfectly. Now you're praying you can get the panel in without cracking or scratching it.
Some kitchen backsplashes (while cool in theory) are a white-knuckle installation adventure (I could use some 'choice' words here, but this is a family-friendly blog).
If big, expensive slabs, or delicate long panels scare the pants off you, a better fix is to shift to 'componentized' materials. Look at options like tile, laminate kitchen backsplash panels or metal panels to take the sweat out of your installation.
Kitchen backsplash problem #5 – Working around 'obstructions' (those pesky outlets and stoves)
It's usually a welcome sight having plenty of outlets. In addition, a stove is obviously essential in a kitchen design. Where outlets and stoves are PUBLIC ENEMY #1 is during installation.
Outlets, and the type of stove (and the heat thrown off from it), are important factors determining which kitchen backsplash will work.
As discussed in problem #4, you've got to be careful installing granite slabs or backpainted glass because they have to be precut, and the outlets have to be in the exact correct spots. This usually requires professional templating and installation (which comes at a price). Although the upside of these materials is they work – despite the heat – behind all types of stoves.

On the other hand, there are other easier to install products (like the DIY kitchen backsplash panels made with a high-pressure laminate front) which are simple to cut around the outlets. They can also be used behind stoves with control panels in the back, or around electric stoves of all types.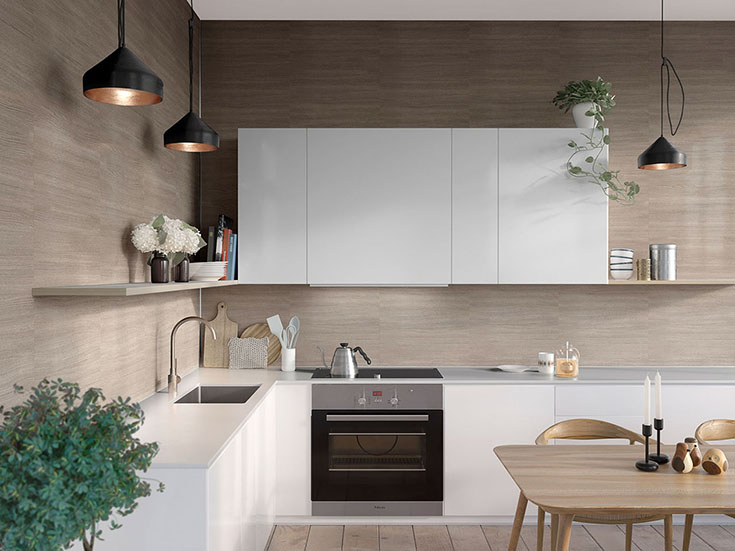 The most popular kitchen backsplash choice, ceramic tiles, are good to use everywhere, but cutting and filling tiles back in around outlets is time-consuming.
While I wish I could tell there was one product fix which makes it easy working around all obstructions (outlets and stoves), I cannot. What I will tell you is the most important way to get to the best backsplash solution for you is to do your homework before spending money. You'll want to ask the following:
What's the installation process to work around plugs? Are special tools required?
Are there heat limitations with your preferred choice which limit its use behind a stove. If so, what are those limitations?
Conclusion
Kitchen backsplashes can be the jewel of your kitchen design, or they can be a painful choice you need to constantly maintain for years to come.
The #1 key to eliminate the annoying 5 problems mentioned above is to do your homework up front. Don't let any 'stones…. or tiles' (maybe literally and figuratively) go unturned. Go in with your 'eyes wide open.' Know the pros and the cons of the material you'd like to use.
How can I (or a member of my team) help you?
If you'd like more input on laminated kitchen backsplash panels or high gloss acrylic panels, contact Innovate Building Solutions for nationwide factory direct pricing and information at 877-668-5888.
Even if you're looking for luxury kitchen panels for a manufactured home or easy to install wall panels for a vacation home rental we're here to help.
If you're a remodeler or builder and want practical advice on remodeling products, industry trends, marketing and sales tips to grow your business (and cut day to day hassles), start reading my newest blog – Innovate Builders Blog. It's packed with ideas you can use now. Click here to Sign Up for the Innovate Builders Blog.
---
Mike Foti
President of Innovate Building Solutions a nationwide supplier and regional (Cleveland and Columbus) remodeling contractors. Some of our product lines include glass counters, floors, backsplashes, glass blocks and grout free shower and tub wall panels
---