9 Questions You Must Ask Before Choosing a Waterproof Shower Wall Panel System
Updated July 9, 2023 
So, you've had it up to here (wherever 'here' is at) with your nasty brown or moldy tile grout joints or dingy yellowed fiberglass one-piece shower surround.
You've decided a waterproof shower or bathroom wall panel system is the way to go. However, the more you've compared what's in the market the more confused you've become. What's the best choice? Is it cultured marble and granite, acrylic or a PVC composite? Is it Kohler Choreograph or laminate wall panels? Too many choices. Every manufacturer, installer and supplier say there's is THE BEST. What should you believe?
As a guy whose company installs regionally (in Cleveland Ohio) and supplies nationally a wide array of wall panels I wish I could tell you there was one system which trumps (oops – sorry for using this politically charged word) them all. If only it were that simple.
Here's the reality.
There is no perfect wall panel system.
As I like to say, "Wall panels are like people. They all have their strengths and weaknesses, just like you and I (although my wife of 35 years – Rose – thinks I don't have ANY weaknesses…. OK, I lied!).
So, in a nutshell here's the only thing which matters.
At the end of the day (and at the beginning of the day for that matter), the perfect system is the one which works for you.
The best choice will fit your budget and décor, has features you love and is simple to install and clean.
My goal in this article is straightforward. I'm going to present 9 questions you need to ask, so you'll make the best selection for you.
I'll give you a money-back guarantee (oops, I forgot I didn't charge you any money) these questions will help make the selection process easier for you. And if they don't call our company and DEMAND more answers. Me and my team would be delighted to help you further (and my team will be less wacky than me – that's a bonus for you).
So, let's look at the 9 questions.
Question #1 – What's your budget for shower and tub wall surrounds?
You may be asking, "Did you have to start there? Couldn't I drool over the cool stuff first and then find out I couldn't afford them?"
Well certainly you can drool over high-priced wall panels – but why waste your time? Get a feeling of costs. Skinny down your selection alternatives and get this 'bathroom remodeling' process rolling.
Here's a 'cheat sheet' (no, we won't share this with your 8th Grade Geometry teacher either) of the pricing tiers of popular grout free shower panels.
Down & dirty – as cheap as you're going to find – In this corner you'll find fiberglass reinforced panels (the bottom of the barrel), fiberglass and acrylic.
Takin' the middle of the road – This is what most people choose who upgrade from the 'not so nice' (OK – lets call them what they are – junk) the original home builder put in. Mid-priced panels include laminate, PVC composite, Kohler Choreograph, and cultured granite and cultured marble.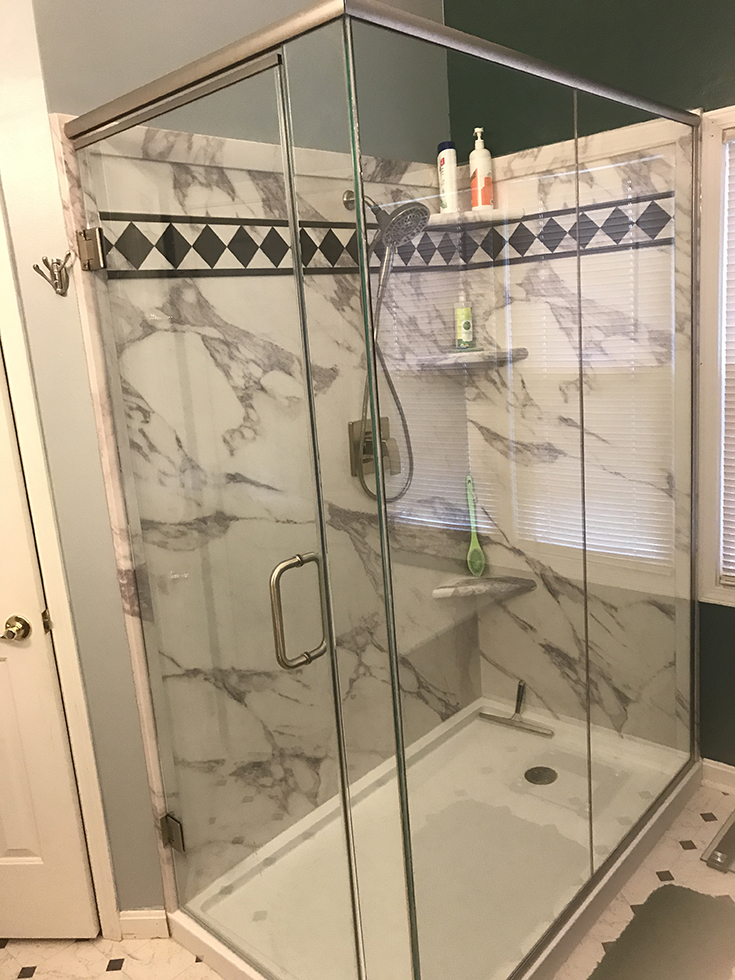 You better have some big bucks – Optical grade high-gloss acrylic and granite panels are very cool, but very pricey.
Question #2 – Do you want matte or gloss finish shower or tub wall panels?
Matte finishes today are hot. They give you an organic feel. They don't show spots. They're understated and elegant.
On the other hand, gloss is cool. It brightens a dark room. Its reflective qualities make a small room feel bigger. Gloss surfaces pop.
Below you'll find a listing of the finishes available for each panel type.
Gloss finish only – Acrylic, PVC composite (actually a semi-gloss), optical grade high-gloss acrylic.
Get Free Samples!
Click here to request free samples of our High Gloss Shower Wall Panels.
Matte finish only – Kohler Choreograph.
Matte and gloss finishes – Cultured marble & cultured granite (although matte has a significant upcharge), Laminate wall panels.
Get Free Samples!
Click here to request free samples of our Laminated Waterproof Shower Wall Panels.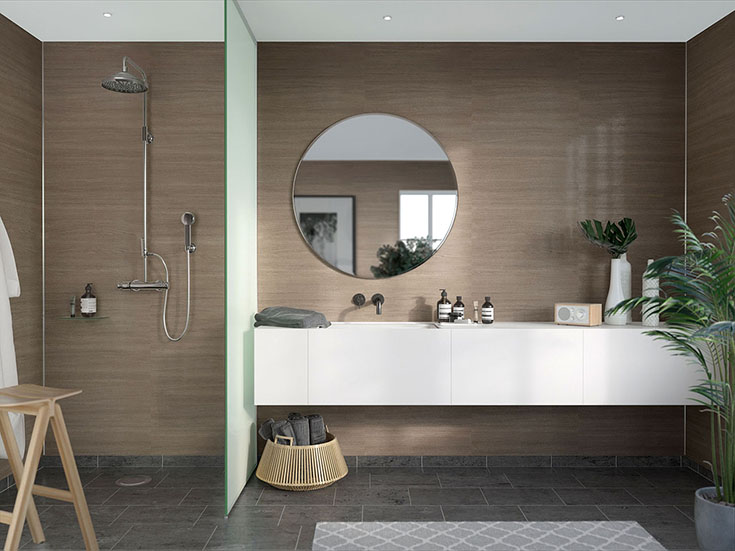 Question #3 – Is there a shower wall panel system which can be installed by one person?
Whether you want to DIY your job or hire a professional, needing 2 people to put the panels up is a pain to coordinate and expensive (even if you're only paying for a steak dinner for your Brother in Law …but you know he can eat you out of house and home).
Most wall panels require 2 people because they're thin and flex (acrylic, PVC and high gloss acrylic fit into this category), or because they're too heavy for one person and can crack during installation (cultured marble, Kohler Choreograph and Luxstone fit here).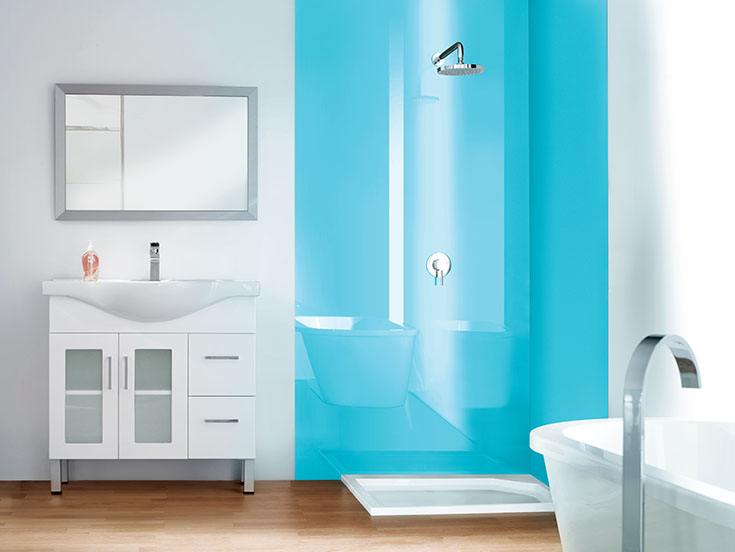 If you want to save time, money and hassle – choose a panel which only needs one person to put them up. That system is laminate wall panels. These 2' x 8' x 3/8" thick panels are simple to handle and – while sturdy – only weigh 26 lbs. They click and lock together like laminate flooring.
Question #4 – How can I find a shower wall panel which fits my interior design?  
While all these panels will waterproof your shower, tub or bathroom walls, not all 'make the grade' when you put style into the equation. The best choices (IMHO) by interior design styles are listed below: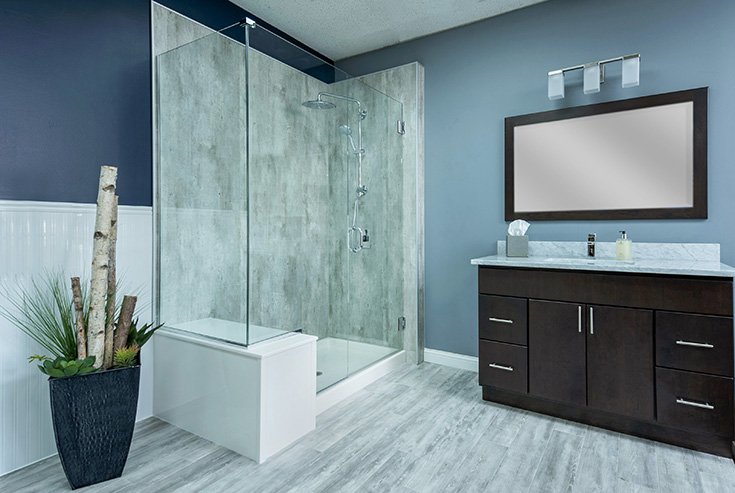 Get Free Samples!
Click here to request free samples of our Laminated Waterproof Shower Wall Panels.
Question #5 – Which faux shower and tub wall panels look and feel like the 'real thing?'
Let's get real. All 'faux things' (whether they're faux wall panels, faux wood or marble floors, or faux jewelry) have one thing in common, they're trying to give you the 'champagne look of the actual material on a beer budget.'
We're all looking to 'live large' without tapping into our Elon Musk or Bill Gates trust fund (oops, I forget, if you're like me you've haven't made it into these guys trust funds quite YET!).
Some faux products are amazing at capturing the look and feel of the real thing, others fall woefully short. As a guy whose been around wall panels for a few years I'll give you my POV of the faux wall panels which have nailed the look, and which ones I wouldn't waste money on.
Unbelievably good faux wall panels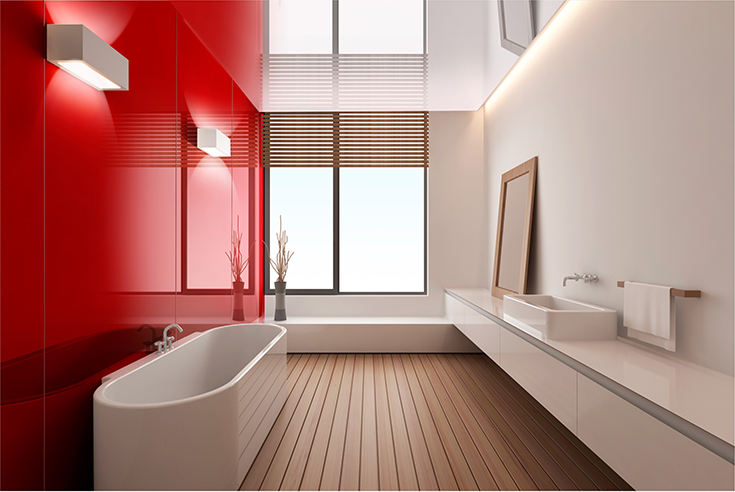 Cracked cement laminate panels – It's hard to find the seams in these 2' x 8' units, plus it's far cheaper than actual concrete walls. You'll create a minimalist look and won't have to back up a cement truck to do it either.
Marbleized PVC composite walls – Using digital printing technology they look like marble and granite but are light and simple to install.
Get Free Samples!
Click here to request free samples of our DIY Shower and Tub Wall Panels.
Distressed wood wall panels – You'll get the Joanna Gaines rustic feel, without the maintenance of actual wood…and they can be used in a wet shower or bathtub space.
Unbelievable bad wall panels
Acrylic molded panels which are supposed to look like tile – They're plastic with a tile mold – and that's exactly what they look like. Yuck!
Cultured granite panels which are supposed to look like stone – Since the joints are the same color as the faux stones – they look fake to me.
Question #6 – Will seams, battens or corner trim pieces be visible in corners or in longer walls?
Nothing interrupts the natural look of a faux shower wall panel system faster than metal strips popping out where none would exist with the 'real thing.'
If you can choose a wall panel without trim, do it. However, many systems require trims (whether they're visible or not) to waterproof your shower or tub. If you're building a wall larger than 60" and want to eliminate corner and seam trim pieces the 2 best alternatives are solid surface wall panels and laminate bathroom panels.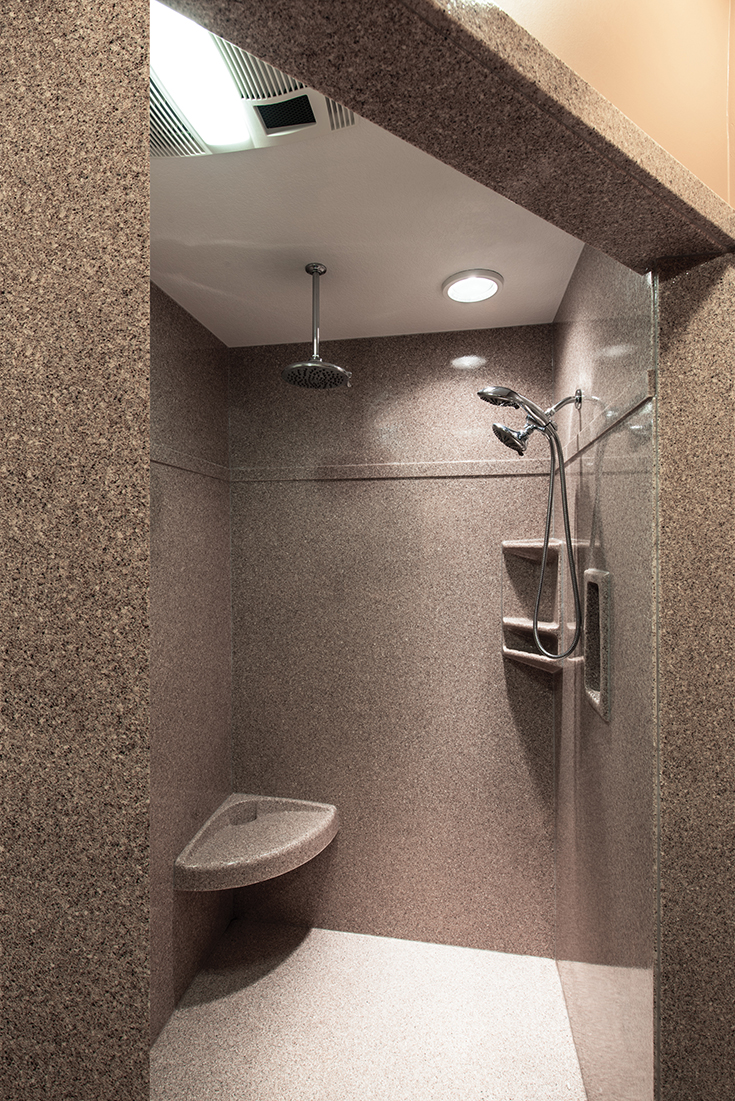 Question #7 – Are fashion-forward accessories available for these wall panels?
I'm going to digress for a minute with this example, but when you step into walk in closets today (and I've done a lot of this over the years with my Columbus custom closet division, Innovate Home Org) it becomes VERY obvious for most women (yes I'm being sexist here, but this generalization is true) an outfit is not complete without the right accessories. Just count pairs of shoes and handbags and you'll know I speak the truth (note – women on average have 31 pairs of shoes and men have 8 and my walk-in closet resembles this remark).
This same principle about the importance of accessories holds true in bathtub and shower surrounds. You want (and need) stylish and flexible spaces for your shower accessories.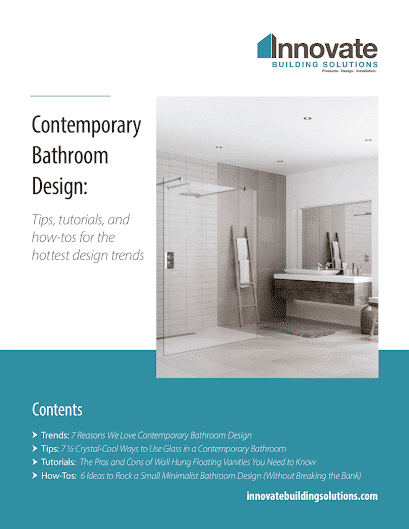 Get Our Contemporary Bathroom Guide!
Tips, tutorials, and how-tos for the hottest design trends
However, here's the problem. Some shower wall panel systems have no accessories. These manufacturers need to 'get a pulse' and recognize people need a place for soap, shampoo, razor or loofas…and the list goes on and on. Other systems have accessories which 'do the job,' but should be reported to the fashion-police. However, there are a couple of systems which range from 'pretty good' to 'wow' from my perspective. I'm passing out my 'grades' and here they are:
'Needs a pulse' – Optical grade high gloss fits here. The manufacturer has made no attempt to create accessories for the line. You'll either have to 'jimmy-up' your own homemade recessed niche or use glass corner shelves (which aren't bad).
'Steady–Eddie', but your fashion police Interior Designer wouldn't be caught dead using them – Molded cultured marble corner caddies and recessed niches will remind you of Your Father's Oldsmobile. Behind the times, but 'reliable' (as Dad would say).
Pretty doggone good – PVC composite and contemporary shower accessories with brushed nickel finishes for the laminate shower wall panel line compliments the wall panels well.
A 'wow' accessory line – This is one area Kohler has nailed down. Not only do the accessories compliment the matte finished walls, but some (including the shower locker) actually have adjustable shelves and a place for your razor. Very thoughtful.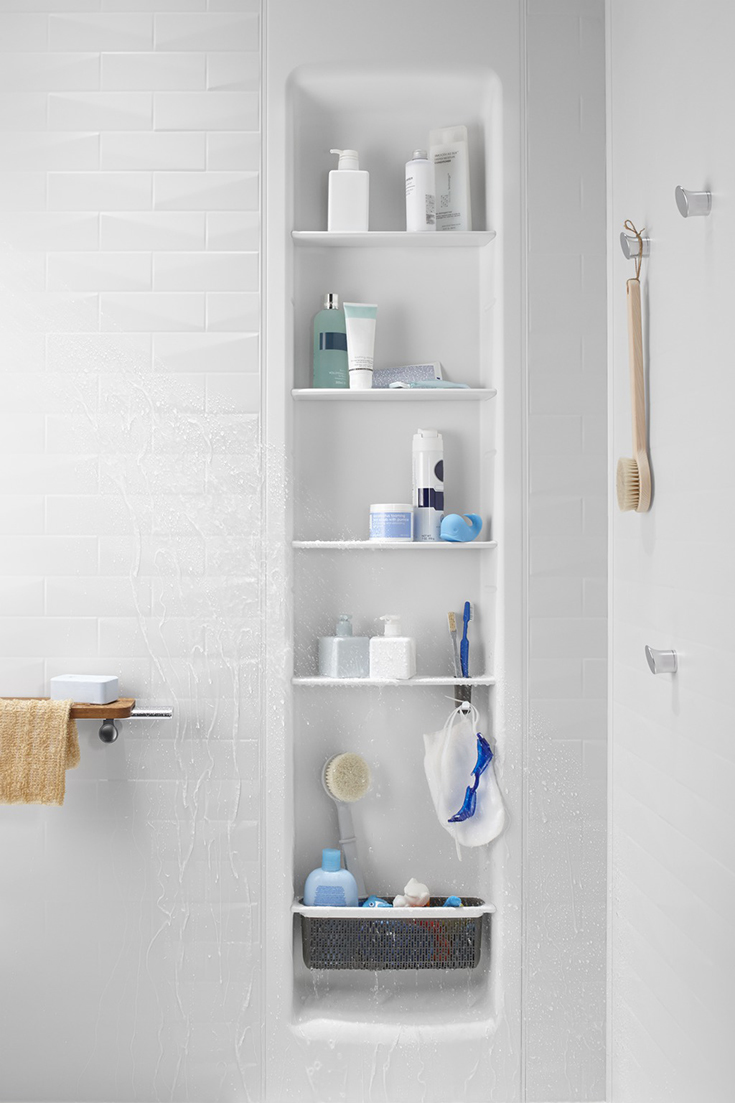 Question #8 – Do the panels 'travel' and 'ship' well? Do they crack easily during installation? How many panels do I need to order? 
You've gutted the room a month ago. The shower pan is set. When the panels arrive, you're going to put a bow on this project. You can smell the finish line.
You get notice the shipment (finally!) is coming. You open up the package and one of the panels is cracked. Oh **** (fill in your #NotForYourKidsEars words here). Can you say frustrated?
The workability and 'move-ability' (not a word, but I'm using it anyway) are critical components of a wall panel system which doesn't blow up into a 'Wow, this project ended up costing waaay more and taking much longer than I thought job.'
You need wall panels which arrive in one piece.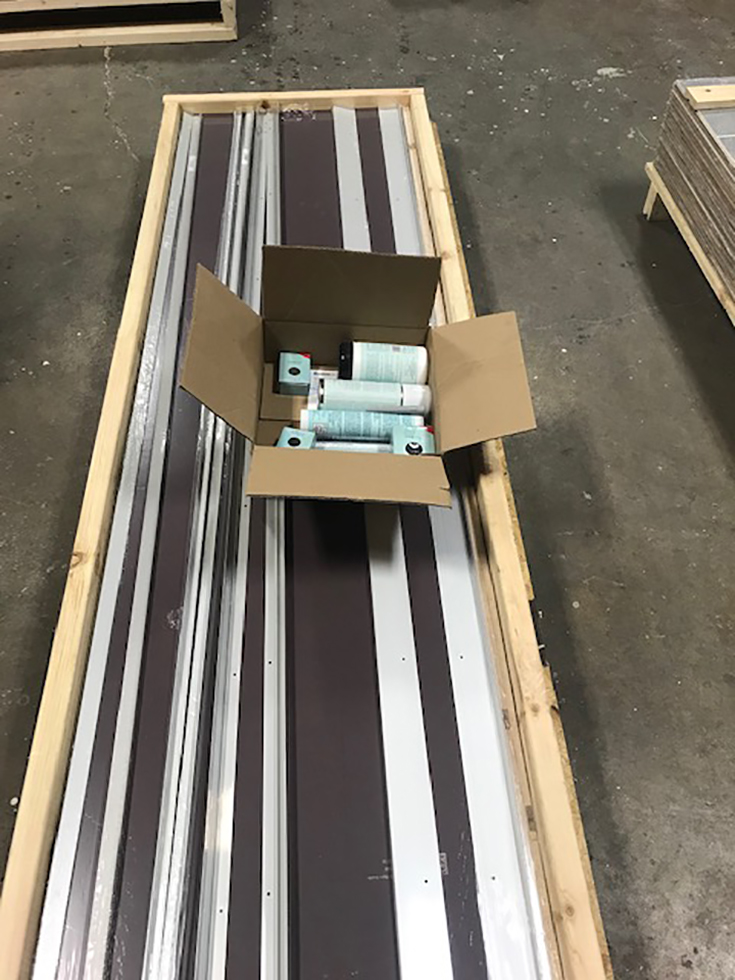 You want wall panels which won't break during installation.
Here's my personal list of 'no sweat' to 'you'd better break out the Depends' wall panels:
'Get out the Depends wall panels' – Prone to cracking and awkward to ship best describes these stone panel choices. Kohler Choreograph, for example, has a bad 'rep' with delivery lead times and arriving in one piece. Check out their reviews. Cultured marble and granite panels are so brittle manufacturers have resorted to delivering with their own trucks because common carriers break them way too often. Installing can also be a 'white-knuckle' experience since stone panels are heavy and can crack if you don't fit them properly.
And even if you choose one of the 'no-sweat wall panels' you want to make sure you're ordering the correct number of panels – so you won't get caught with your 'pants down' and need to order more. And if you're kicking around the laminate shower panels – in this video below you can watch examples which will lead you to how many panels you need.
Question #9 – Which shower and bathtub wall panels work for a vacation or single-family rental home?
When you're looking to find tenants (in a competitive rental market) and/or compete with other properties on VRBO or Airbnb, your bathroom walls better not only look sharp, but also be able to withstand the beating they can take from tenants and guests (without costing a bunch of money). Depending on the value of your properties, use the following categories to determine the best shower wall panel for your single family rental or vacation home:
Stylish yet often too expensive – Unless your looking for wall panels for a luxury contemporary boutique hotel, the high gloss acrylic panels will be too expensive.
Durable yet not too stylish – Cultured granite, solid surface and cultured marble get high durability scores with their 3/8" thick stone design. However, when it comes to style, the word boring comes to mind.
Cheap and they look it – If cheap is your #1 factor, then acrylic or fiberglass is OK. However, if stylish and/or durable are features which matter to you, there are better choices.
Conclusion
I know I threw a lot of information at you in this article. However, I'd like to simplify things since you've hung around with me to the end.
In reality, all walls panels (no matter what any manufacturers say) have strengths and weaknesses. But 'at the end of the day' (or at the beginning of the day when you shower also') there's only one thing which really matters. And it is…
Which systems works best for the budget, style and durability you desire.
If all this analysis still has you befuddled (isn't that a funny word?), I'd recommend doing 1 of 2 things:
Make your decision based on what your gut tells you.
Get help from a shower wall panel distribution company which sells multiple systems (so they're not motivated to strong-arm you to buy their 1 – and only- wall panel solution).
If our company can help (hey- after all I've still got to pay for my daughters' college in a couple of years!) please call or click the numbers below. Thanks for reading,
Mike
How can I (or a member of my team) help you?
Do you have any additional questions for me (or my team)?
We'd love to assist. Call us at 877-668-5888 (for nationwide wholesale supply or a connection to a local installing dealer of laminated wall panels). For a local shower design and installation call 216-658-1280 in Cleveland or 614-252-3242 in Columbus for shower and bathroom supplies.
If you're a remodeler or builder and want practical advice on remodeling products, industry trends, marketing and sales tips to grow your business (and cut day to day hassles), read my newest blog – Innovate Builders Blog. It's packed with ideas you can use now. Click here to Sign Up for the Innovate Builders Blog.
If you're in the building business, click here if you'd like to learn how to become a shower wall panel dealer or call and ask for Mike at 888-467-7488.
If you want more advice (or like wacky humor) follow me on LinkedIn @MikeFotiLinkedIn or on Twitter @Mike_Foti or my companies @InnovateBuild or @InnovateHomeOrg.
---
Mike Foti
President of Innovate Building Solutions a nationwide supplier and regional (Cleveland and Columbus) remodeling contractors. Some of our product lines include glass counters, floors, backsplashes, glass blocks and grout free shower and tub wall panels
---