15 Things Smart Bathroom Remodelers Never Do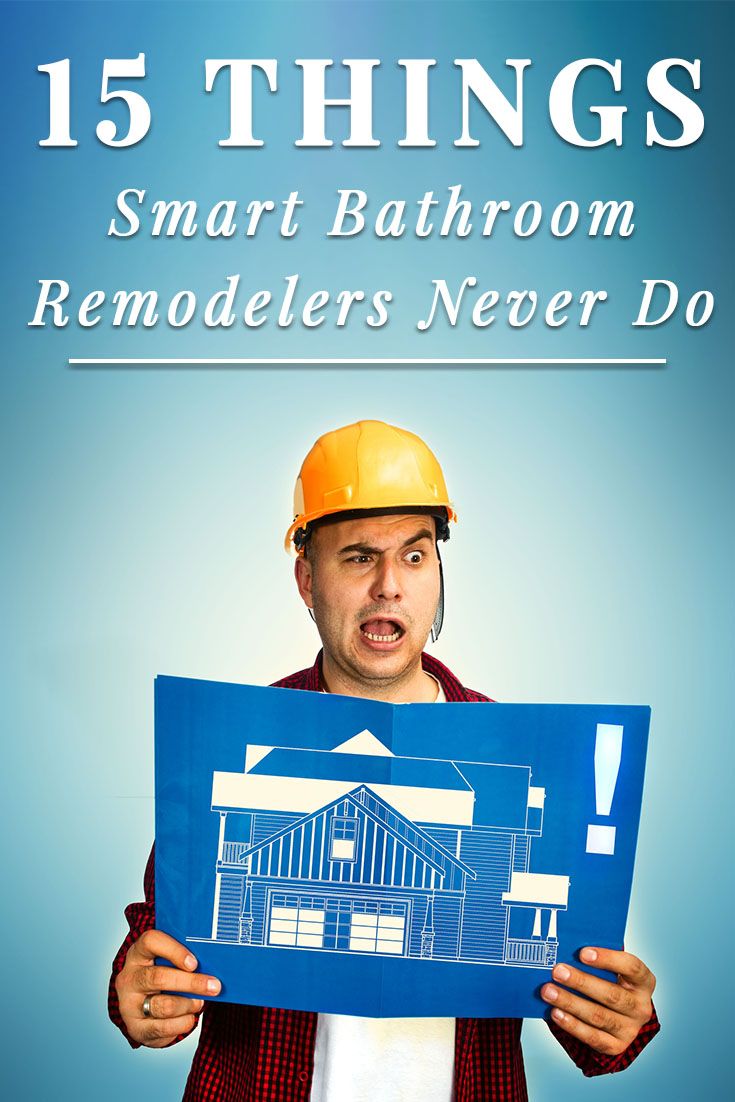 I know what a pain it is finding a bathroom remodeling contractor. As a matter of fact, I talked to a homeowner this week who said the wait time for a reputable contractor in her town was 2 years! Wow – 2 years, that's crazy!
However, whether you're doing a complete gut and bathroom redo or a makeover of your alcove with a bath to shower conversion, you're investing a lot of money (likely in the range of $6,000 to $60,000). The stakes are high. If you hire an idiot, you could end up stranded with a job half-done trying to figure out how to pick up the pieces.
You need a smart bathroom contractor. Not necessarily one with the cheapest price, but one who knows their stuff and delivers value. You need a professional who knows how to run a project, work with you and is an expert in products and processes to get your job done efficiently and effectively.
So, in this tight labor market where do you find a needle-in-a-haystack contractor? During the quoting process how can you know if they're someone you should work with, or can turn into the contractor from H-E-double-hockey sticks as your kids used to say?
Read 15 things smart bathroom remodelers never do so your money won't go down the drain (OK – bad bathroom remodeling pun, but I'm sticking with it).
#1 – Things Smart Bathroom Remodelers Never Do – They don't offer products and systems which fix your problems
Usually the reason you're looking to shell out big bucks to remodel is because there's things you HATE, HATE, HATE about your bathroom now. You've got tile grout joints which are old and moldy. Or your husband is struggling to step over the high shower curb. Perhaps you have no storage and want to blow up tacky hooks hanging everywhere.
After your first meeting you don't want your remodeler coming back with a plan with a new tile shower (after you told them you HATE grout joints). You don't want them using another ugly fiberglass shower pan – just a tiny bit better than the old one you hate – because they can 'get it on sale.'
You need them recommending products and systems to get rid of your bathroom pains (like the grout free wall panels or stone shower pans shown below). If this contractor isn't serving as the 'Advil' to solve your bathroom pains, you don't want (or need them).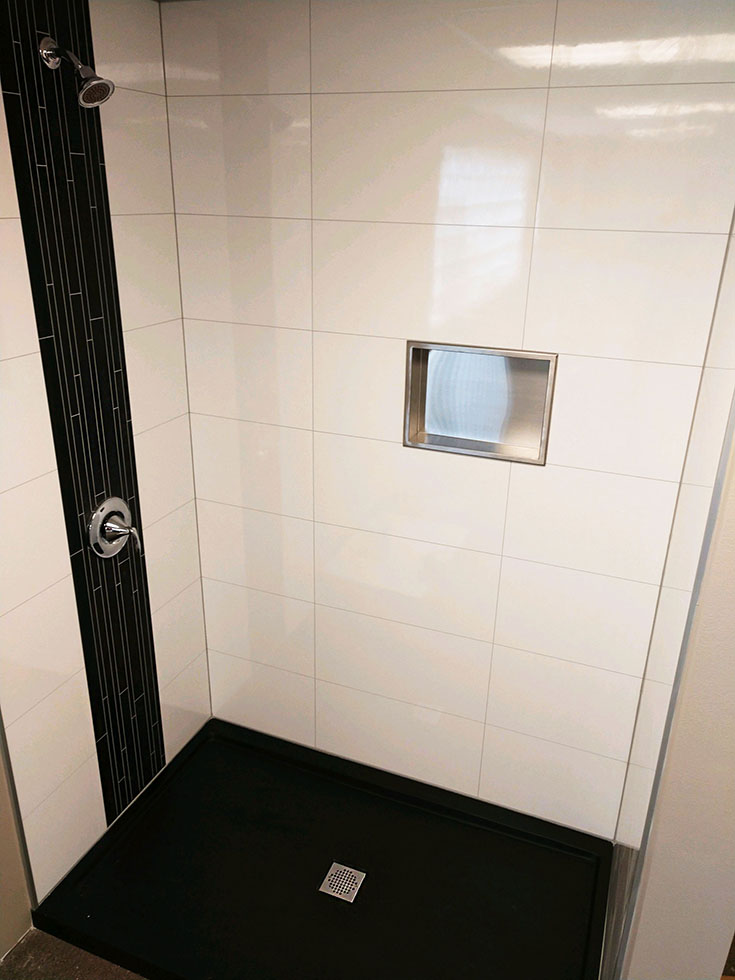 #2 – Things Smart Bathroom Remodelers Never Do – They don't miss clues which help you save money in the long run
Bathroom are wet and dangerous. These dangers become obvious as you age.
Your ability to step over a high shower curb or tub rail doesn't improve. Your ability to see in a dark bathroom while shaving doesn't go back to the 20/20 vision you had as a kid.
Sorry to depress you.
Even if you don't talk to your contractor about these problems, a smart remodeler will be able to 'sniff out' challenges before they happen.
For example, a smart remodeler can suggest a low-profile shower pan or a 'ramped curb extension.' They'll bring up strategies to get rid of shadows above your vanity to improve lighting.

A smart bathroom remodeler will look 'down the road' so you don't need to 're-remodel' your bathroom if a bad health- event or aging doesn't treat you kindly.
#3 – Things Smart Bathroom Remodelers Never Do – They don't plan like a fool and order 'on the fly.'
While unexpected 'surprises can happen in bathroom projects once you 'open the patient up,' ('er you do the demo) there are errors which can be stopped before they start. One of these errors is, as my Dad used to say, 'getting your ducks in a row.' And those ducks would be ordering the materials, BEFORE the job begins.
No matter how reputable the vendors your contractor is working with are, stuff does arrive damaged. If products which come in while your job is in process and aren't in one piece – you now have a bathroom out of commission for an extended time (and you and I both know how 'fun' it is being in the middle of a construction zone – which is in the middle of your house!).
Smart contractors order materials before the project begins. They inspect materials before starting. This get jobs done quicker – not because they rush – but because they have an efficient process to spot problems –and stamp them out quickly.
#4 – Things Smart Bathroom Remodelers Never Do – Say 'I can't, or I won't' without hearing you out  
You've researched the daylights out of this remodel. You've scoured Pinterest and Houzz so long your eyeballs are practically falling out. You've got the evidence ('er pictures) from your favorite social media sites to show your vision for a relaxing spa bathroom. You want low maintenance (high style) shower wall panels so you can blow up your scrub brush. You want powerful body sprays and a rain head. You're excited to show your ideas to possible contractors.
You excitedly pull out your phone and Ipad with the pics. He flatly says, "Lady, we don't do that." End of case. Done. You're S.O.L!
If – during the quoting process – you get turned down cold by a contractor (no matter how hair-brained in actuality your ideas may be) – this is not a good sign.
Look for contractors who will either say, "Although I haven't worked with this product or system yet – I'll look into it for you. Or conversely, they'll be knowledgeable enough to say, that's an interesting idea ('er that's a P.C. code word for your wacked out, but I'm going to be nice here), however here's an option I know will perform better for you and at a lower cost."
You need a progressive contractor. You need one who will value your research and try to make your dream bathroom a reality. You need one who offers smart alternatives you haven't thought of.
#5 – Things Smart Bathroom Remodelers Never Do – Point their fingers at suppliers, employees or subcontractors when things go wrong
I know it's hard to know what it's actually like working with a contractor before you hire them (and every contractor whose been around a while has had a job which has 'gone south'). However, you can use reviews to see how they've dealt with adversity before.
When you're reading a negative review, see if they blame everyone (suppliers, the customer, even their own people) for things which went bad. Are they honest and thoughtful in the face of adversity?
The 'blame game' does no good.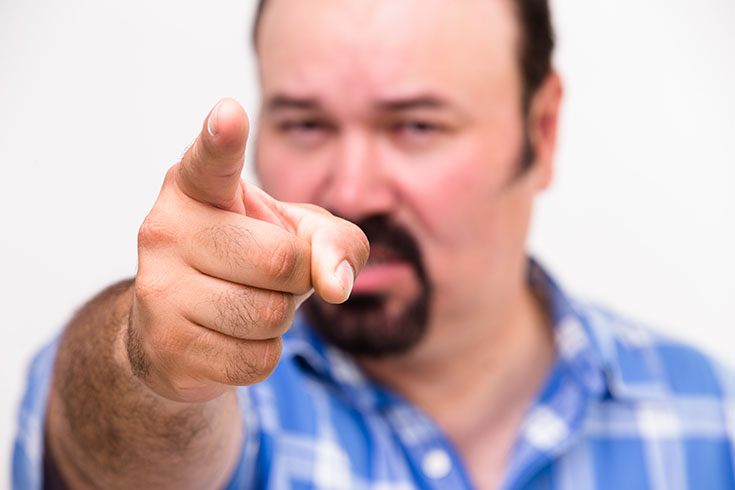 When things go wrong (a schedule which is missed or a part which as made wrong throws off the schedule) see if your contractor is smart enough to communicate openly without slamming other people and companies in the process.
#6 – Things Smart Bathroom Remodelers Never Do – They think through the size of the shower opening or shower door, so you don't have to
Little things make a big difference in a bathroom design.
Smart remodelers ask questions about who(m) will be using the shower. They'll tactfully (which can be tough) ask if these people are bigger or smaller to compare the tradeoffs between a larger shower opening (for a walk-in design) and tightening your entrance.

They'll explain the merits of a sliding glass doors vs. a shower screen vs. a pivoting door so you'll know which is best.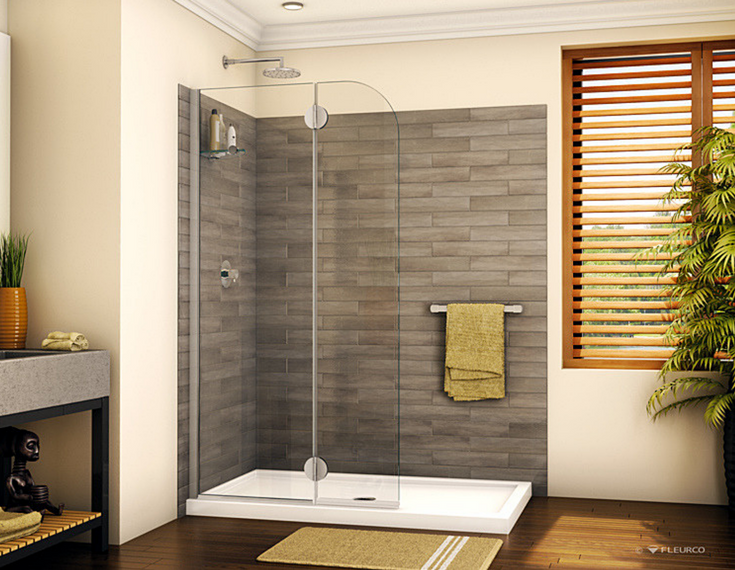 They guide you through shower choices, so you'll know what (literally) fits you best.
#7 – Things Smart Bathroom Remodelers Never Do – They don't assume there's not a better way
Here's what you need to avoid. It's the STUCK IN THE MUD CONTRACTOR.
You can tell this contractor when they use phrases like, "Mr., this is how we've always done it."
Well – ALWAYS – is a looooong time. Progressive contractors know products and processes are evolving – since they take the time to learn new approaches along the way.
If it feels like your potential contractor is stuck in the mud (or are as inflexible as the drainpipes they're installing), say 'next.' Call someone else.
#8 – Things Smart Bathroom Remodelers Never Do – They don't try to fit square peg into a round hole'
Remember when Mom said, "Don't fit a square peg into a round hole." Basically, don't try to MAKE something work which doesn't fit.
This happens often in bathroom remodeling, especially when choosing a shower pan.
Let's assume your contractor goes out and buys the cheapest pan they can find at the big box store. Then they find out the 'standard' drain hole is in the wrong place. Now they tell you, "Lady (OK – they aren't very tactful either), we're going to need a plumber to move your drain because it won't fit where the hole is with this standard pan."

You see what they aren't telling you (or possibly don't realize themselves) is they could have sourced a custom shower pan and specify the drain location they needed. Even though a custom pan is 'more expensive,' the total cost (custom pan + no extra plumbing costs) are cheaper for than a (standard pan + expensive plumbing costs).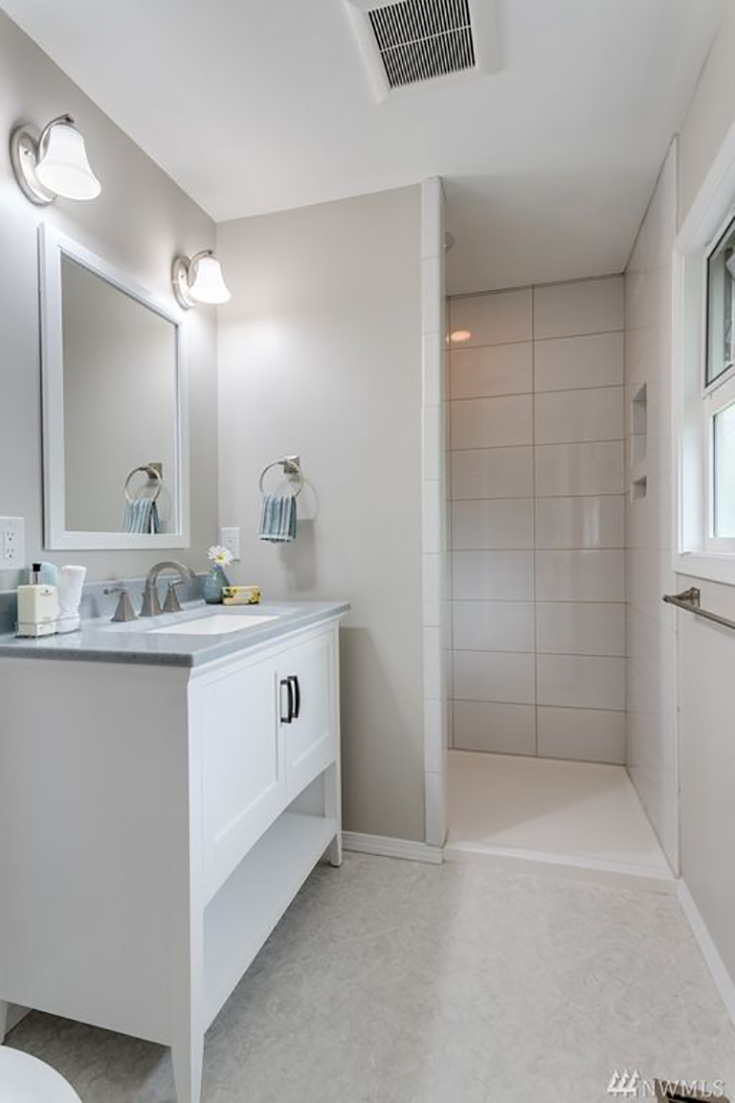 Don't let your contractor put a quote/unquote 'cheaper' shower pan in if it means more expensive plumbing costs to make it work. It's the classic square peg in a round hole problem.
#9 – Things Smart Bathroom Remodelers Never Do – Forget you DESPERATELY need storage
Storage in a small 5' x 8' bathroom is a problem. Where do you put your shampoo, soap and towels? You don't want to be stuck again with ugly plastic tacky dollar-store-special shower caddies, rickety towel bars or substandard storage.

You've been 'putting up with' bad storage hassles for years. Smart remodelers suggest products like recessed niches. They'll add a small shelf above a toilet to 'buy storage' where none existed. They'll up your storage game with slide out shelves inside the vanity.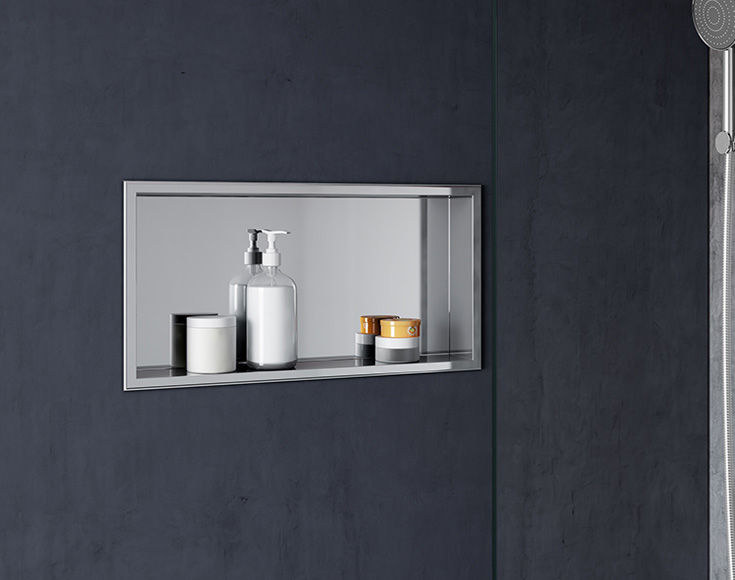 Smart remodelers know storage problems and suggest practical products to fix this problem.
#10 – Things Smart Bathroom Remodelers Never Do – They don't put their form ('er design) before your function
A luxury design dripping with intricate tile shower patterns laid in a herringbone pattern looked SOOOOOO wonderful in the drawings. The professional bathroom designer was proud to show this option to you. The chandelier with all the small tiny pieces looked SOOOOO upscale, until you had to take the tiny strands down and clean them. The shower basin with the 'teeny-tiny' (as Roseanne Roseannadanna used to say) mosaic tiles looked sharp the day they were installed. Now YOU are 'elected' (by process of elimination) to clean them.
While a bathroom designer and contractor can dream up beautiful designs, it's you who is stuck cleaning them.
A smart contractor/designer will put the function (and maintenance) of your bathroom BEFORE their pretty design. Make sure your space is designed to live smart.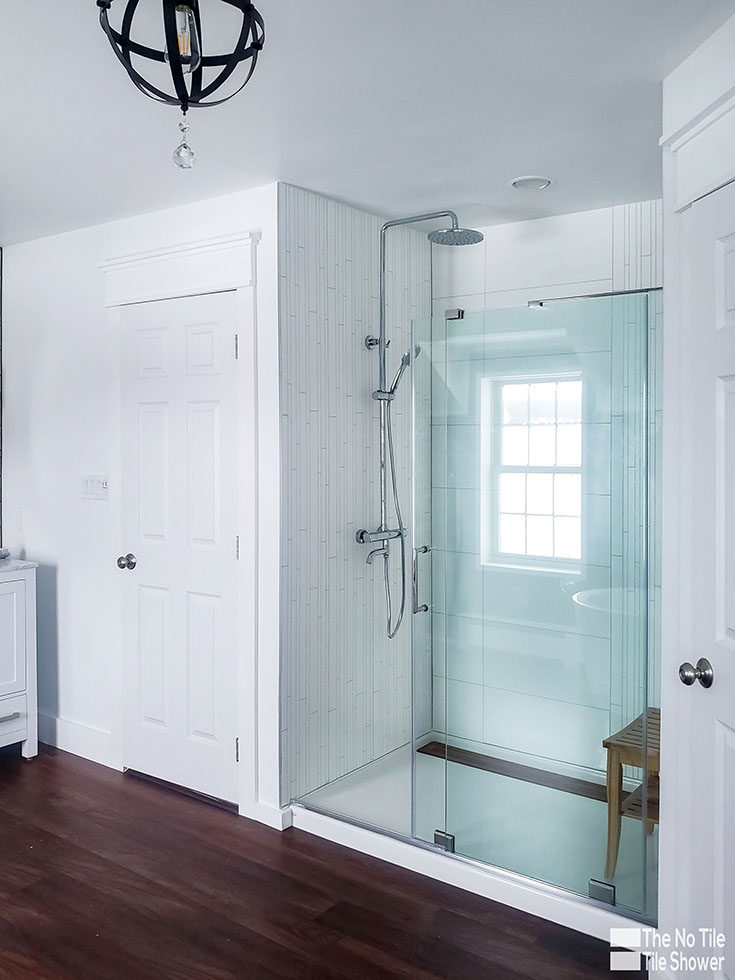 #11 – Things Smart Bathroom Remodelers Never Do – Don't assume you always want to stand in your shower
Effective shower design is about planning (even the little things). And, as you know, even if you have a small 4' x 3' shower it's not smart to 'try' to shave your legs while propping a hand up on the side wall. Sounds like an accident waiting to happen, doesn't it?
This is where shower seating is critical. While bench seats are wonderful in a large walk in or steam shower, they AREN'T happening in a small space. There isn't room. You need a seat, but probably think you don't have enough square footage.
This is when smart remodelers show you a fold down seat. Even in tiny showers, the seat can be down when you need and up when your husband doesn't.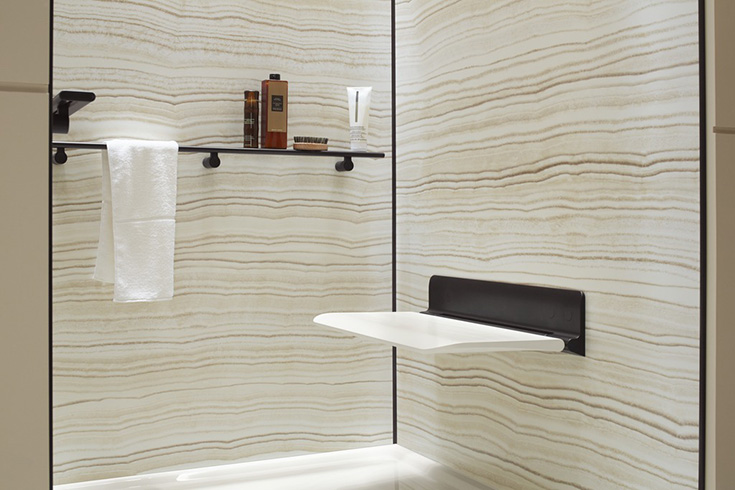 #12 – Things Smart Bathroom Remodelers Never Do – They don't skimp on what you don't see
Professional bathroom remodelers and even DIY 'weekend contractor warriors' get the 'joy to experience' (sarcasm intended) past projects-gone-wild when they're demoing out the old materials.
Bathroom tile laid directly on the subfloor.
Mold spores 'cheered on' by no ventilation.
Shower tiles slapped up on drywall which isn't exactly 'tasty' once you see how things look behind the wall.
Whether these projects were done by a 'so-called' contractor or by a delusional 'I Think I Know What I'm Doing' DIY'er, they're blunders you're not repeating.
Mistakes which make your current bathroom unsafe, unhealthy or downright ugly can be avoided by spending a few bucks behind (or inside) the wall. Intelligent contractors use waterproof wall backer board, exhaust fans or durable floor underlayment system, to name a few smart 'behind-the-scenes' products.
A smart contractor (or intelligent DIY homeowner) won't be (as my Dad used to say) penny-wise and pound foolish. They'll refuse to skimp behind the wall.
#13 – Things Smart Bathroom Remodelers Never Do – Assume they have the memory of an elephant, a sharp waitress or their ex-spouse
Let me digress with a short story.
There's a small Hunan restaurant I go to close to my Cleveland office once a month. The same waiter is always there. He says to me every time (thinking he remembers my order), "Oh, you want the Kung Pao Chicken, right?"
Inside my head I'm laughing (again) and manage to tell him, "No, I'd like Massaman Curry with Tofu." He was close to getting the order right – NOT!
I joke to myself, "Maybe he's suffering from 'Olds-heimers.'  Then I think, he should pull out his order pad and just ask me what I want. His memory IS NOT ready for prime time.
So, what you may be asking does this have to do with smart bathroom remodeling contractors? Well – everything.
You see there's a lot of 'moving parts' in a bath remodel. There's a multitude (I'm using a 'fancy word' here to impress you – is it working?) of selections. There's a lot of construction details. There's 'obstructions' (outlets, air vents, and windows) to work around.
You see smart remodeling contractors are not only meticulous in their questioning process on the initial call, but also in taking notes.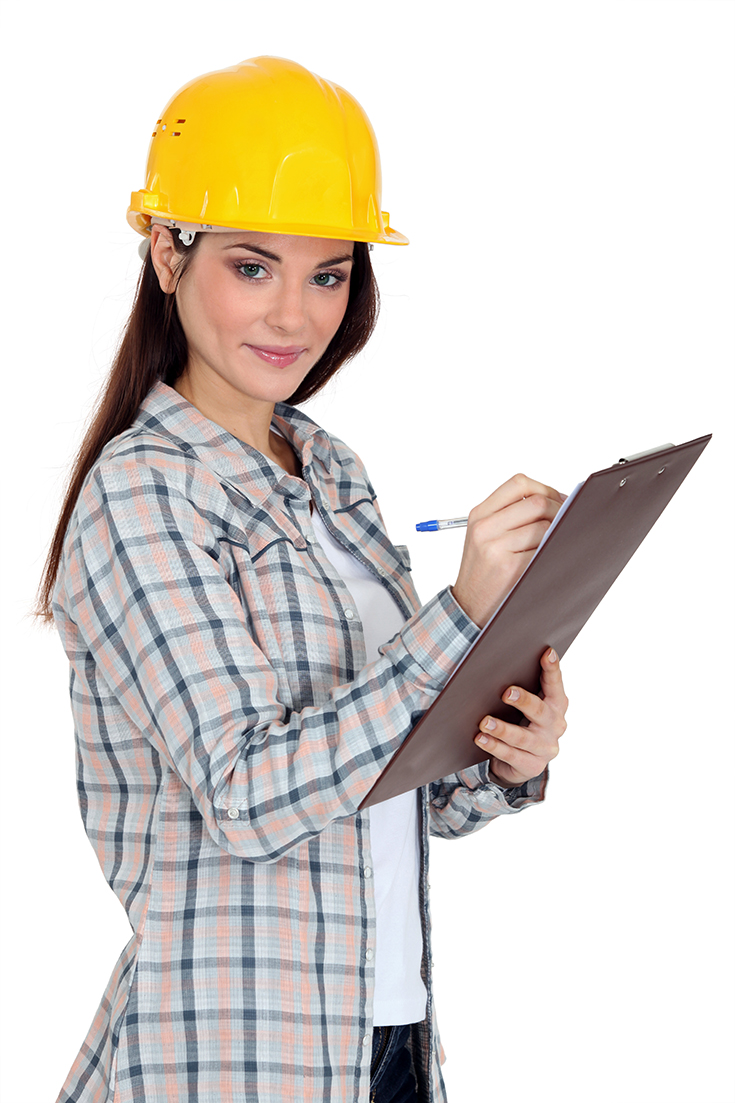 They understand the devil (their profits and eliminating your potential future frustrations) are in the details. Make sure your future contractor has an Ipad, a notepad or graph paper and knows how to use them.
#14 – Things Smart Bathroom Remodelers Never Do – Forget how lighting impacts the feel and function of your bathroom
Who likes a cold, dark, damp and cramped space except a mushroom or snail?
Small bathrooms in older homes were (theoretically) designed with function in mind. However, often you have no natural light. You have one shadow-inducing fixture over your tattered and torn vanity. Your 15 year-old-daughter complains it's IMPOSSIBLE to put her makeup on. She tells you how IMPORTANT this is! You also worry if your Mother comes live with you, this atrocious lighting could be a future Emergency Room visit waiting to happen.
While less-than-average remodelers only focus on 'big-ticket' items in their quotes (like showers, tubs and vanities), the ability to use (and fully enjoy) your new bathroom is joined-at-the-hip with effective lighting.
If you have zero natural light today a solar light tube, skylight or transom window can be the answer. Or make your shower safer for Mom or Dad with task lighting or swapping out the scummy shower curtain for a light transmitting curved glass door. Add LED vanity lights to see in the dark crevasses of your drawers.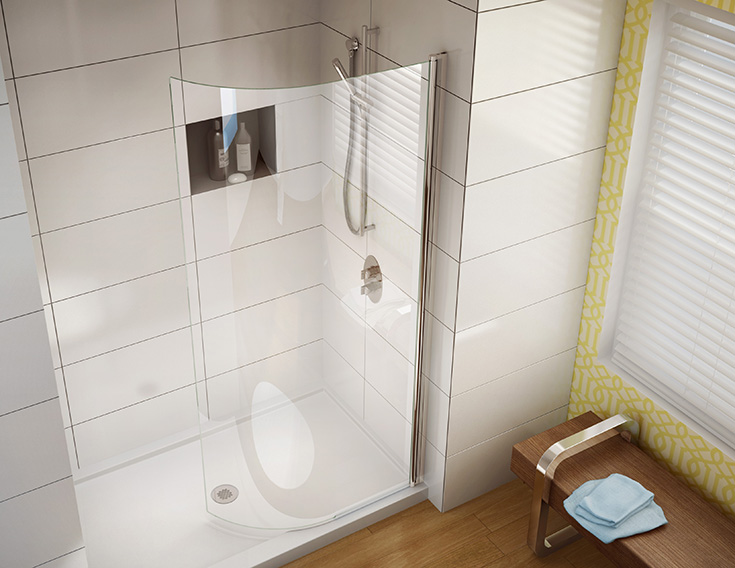 Smart bathroom remodelers know lighting matters.
#15 – Things Smart Bathroom Remodelers Never Do – Ignore the b-word (budget) on the first appointment
You just love, love, love the bath remodeling ideas on your Pinterest and Houzz boards. Your giddy when your highly reviewed and recommended contractor confidently says, "I'm confident I can make your ideas a reality!"
You're soooooo excited to see the design in 2 weeks.
The day arrives.
Your Design Consultant (you're already thinking of them as YOUR consultant) cranks open their laptop and unveils your 3D design. It's wonderful. You're ecstatic.
Then the 'moment of truth' arrives. You know what I'm talking about. THE PRICE. They deliver … the blow! You say – in disbelief, "How much did you say?" Maybe you heard wrong.
Can you say, "Out of your league?" Your crushed. Your MAD. You wasted your time.

This lesson in frustration is avoided by smart contractors. A contractor who 'has it together' will look at your dream images and wish list on the first appointment. They'll share (through their portfolio) past jobs similar to what you want and what you can expect to spend.
They won't shy away from sharing 'ballpark' prices. They know its flat-out-dumb to waste anyone's time with fancy designs only to crush dreams when it's way beyond your budget.
Make sure your remodeler isn't afraid to share budget pricing with you on the first appointment.
Conclusion
While I wish I could tell you there are 'perfect' bathroom remodelers who do everything right the first time, that's a fantasy world which doesn't exist.
However, with this being said there are smart contractors and some who are as dumb as rocks. If you hire a bad one, you'll be 'picking up the pieces' (and literally) paying the price for their mistakes. Don't let this happen to you.
Take this list of 15 things smart contractors never do and choose the 5 most important to you. Make sure your potential contractors address your concerns and carry themselves with the professionalism you deserve. Even if you have to endure the 'wait list' to get on their schedule, it's better to be patient than deal with the aftermath of a 'bathroom remodeling job gone wild.'
I wish you the best of success with your project.
Mike
How can I (or a member of my team) help you?
Do you have any questions me (or my team) can assist you with?
We'd love to help. Call us at 877-668-5888 (for nationwide wholesale supply of grout free wall panels, shower pans and glass enclosures). If you're looking for a local installing dealer of laminated wall panels or bathroom remodeling our contractor network can help. For a local shower design and installation call 216-658-1280 in Cleveland or 614-252-3242 in Columbus for shower and bathroom supplies.
If you're a remodeler or builder and want practical advice on remodeling products, industry trends, marketing and sales tips to grow your business (and cut day to day hassles), read my newest blog – Innovate Builders Blog. It's packed with ideas you can use now. Click here to Sign Up for the Innovate Builders Blog.
If you're in the building business, click here if you'd like to learn how to become a shower wall panel dealer or call and ask for Mike at 888-467-7488.
If you want more advice (or like wacky humor) follow me on LinkedIn @MikeFotiLinkedIn or on Twitter @Mike_Foti or my companies @InnovateBuild or @InnovateHomeOrg.
---
Mike Foti
President of Innovate Building Solutions a nationwide supplier and regional (Cleveland and Columbus) remodeling contractors. Some of our product lines include glass counters, floors, backsplashes, glass blocks and grout free shower and tub wall panels
---