Grout Problems? Here's 7 Foolproof Ideas to Eliminate Them from Your Bathroom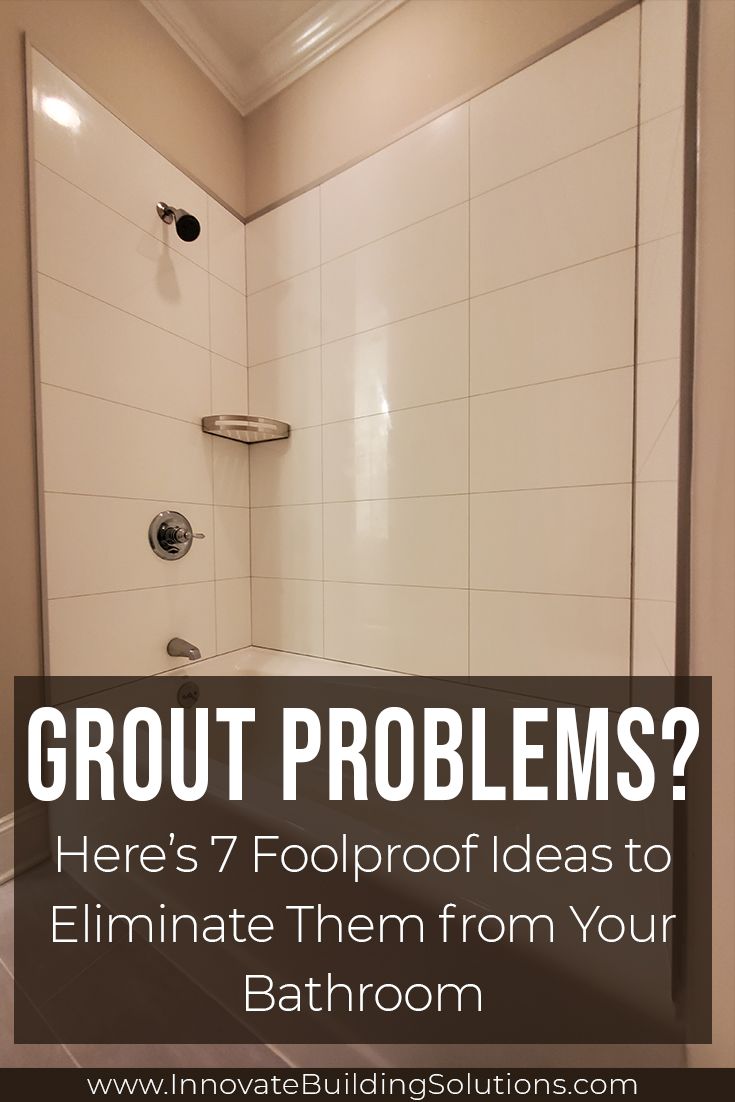 Dark stains and mold 'greet' you in your morning shower.
You 'get to' mix up another crazy 'brew' of baking soda, hydrogen peroxide and oxygenated bleach to try cleaning the dirt and yuckiness (not a word, but I'm using it anyway) from your shower and bathroom tile walls. You feel like you're in 10th grade Chemistry class mixing bubbling elements once again (and that's NOT a good thing).
Your nylon scrub brush is not supposed to be your BFF, but this tile shower is forcing you to 'hang out' together all the time.
Let's call grout in your bathroom what it is.
NASTY.
It's the enemy of the people. And that person is YOU!
You've told your spouse (or significant 'utter) is no uncertain terms, you want grout joints eliminated, expunged, blown up (have I stated this strongly enough?) in the bath remodel you're getting ready to do. However, the question is, how can you do this without using cheap plasticky products which look like dollar store specials?
That's the challenge this article will tackle head-on. First, I'll identify 7 places tile (and his evil stepbrother, grout) are used in bathrooms. Then I'll give you practical (and stylish) alternatives to eliminate tile. Let's dig into the 7 ideas.
Idea #1 – Eliminate grouted tile shower surround walls with groutless shower wall panels
In the old days the only way to replace a tile shower was with fake-looking fiberglass or acrylic shower walls or behind-the-times (but popular when mullets were the rage) molded cultured marble panels. While these products do eliminate grout, their ugliness factor has you saying, "There's no way that stuffs going on my bathroom walls!"
Fortunately, product innovations in shower wall panels have put the 'bad old days' of these ugly options in the rear view mirror. For example, today one sharp option is ¼" thick PVC bathroom panels. They not only look like stone, but are lighter, simpler to install and there's no need to seal them – EVER.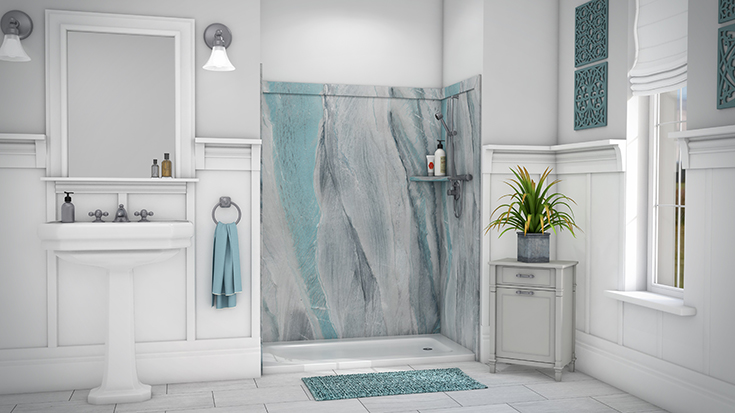 Another trend-setting product are 3/8" thick laminate panels. They're 26 lbs. per section and 2' x 8' in size, so you can install them with one person. You'll swear (assuming your Mother is not there to scold you) they're real tile or stone. And they even have different colored faux joints embedded in the panels. That may be why they're referred to as the 'no-tile, tile shower.'

Idea #2 – Eliminate 'old-school' grouted shower pans and replace with contemporary acrylic or matte finished stone bases
If there is one place grout can cause you a HUUUUGE problem, it's if you have a mortared (also called 'mud-set') shower pan. These hard-to-build, high-maintenance, time-sucking-to-install old-school pans are an accident waiting to happen (if you've experienced leaking through a 'site-built' cement-based tile shower pan, you know what I'm talking about).
It's nice to know there are three stylish, yet-durable alternatives – which you can 'take-it-to-the bank' won't leak. Here they are:

Option 1 – Reinforced contemporary acrylic shower pans – These modern styled (check out the angular shower curbs) pans are reinforced with an MDF core underneath their acrylic 'skin.' They're available in stylish shapes. Some even use curved glass so you have more elbow room. There's also a product called a FlexPan which makes it possible to turn a custom shower base into a 'standard' (that's industry code-word for less expensive) size to save you money.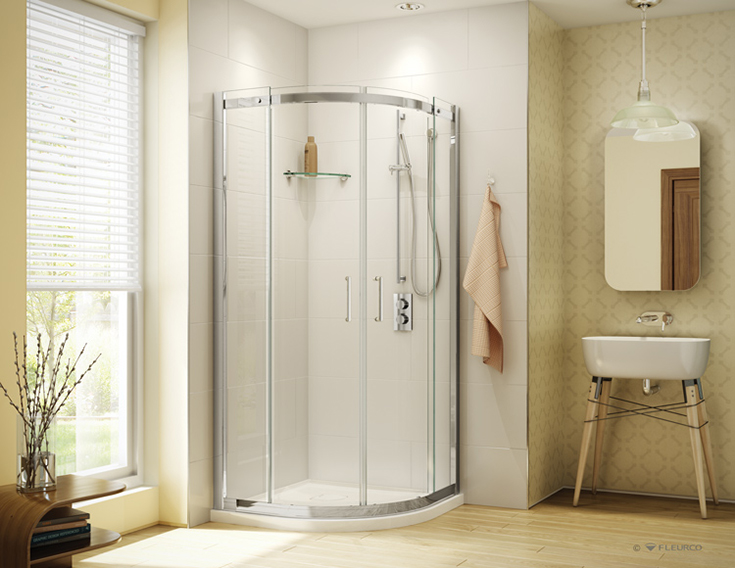 Option 2 – Matte finished cultured stone pans – These pans not only provide the durability of a man-made stone, but they're matte white or matte black finish is on target with fashion-forward bathroom designs.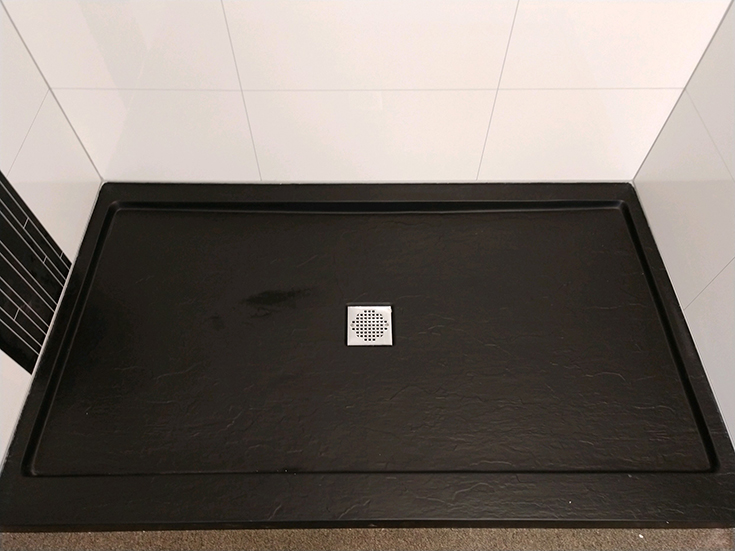 Option 3 – One level grout free shower pan – Available in a 63 x 37 size (which can be cut for smaller spaces), this one level pan offers a seamless transition between your bathroom floor and your shower pan. They're accessible with style.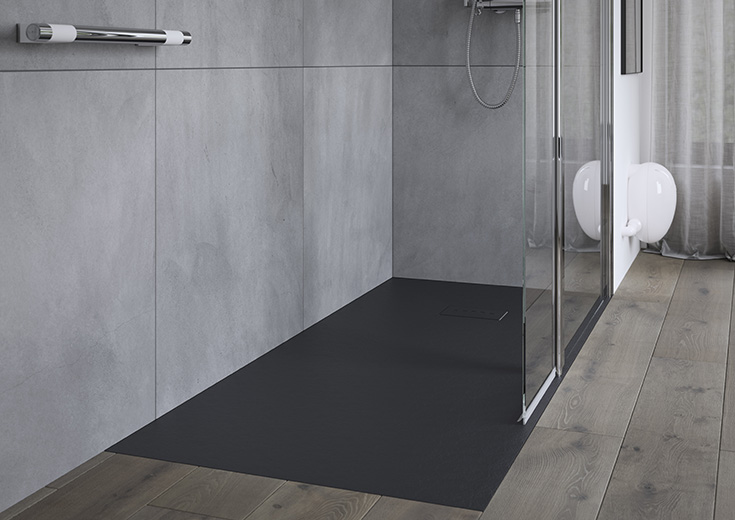 Idea #3 – Eliminate grouted ceramic or porcelain tile bathroom floors with luxury vinyl plank or laminate flooring
Let's face it. In bathroom flooring projects the tile industry is taking a beating. It's impossible to find tile setters. It's expensive to install tile. The grout joints between tiles are a pain to clean. Other than that -tile is great (sarcasm intended).
Luxury vinyl planks and simple to install 'click-together' laminate flooring is gobbling up market share. These materials are comfortable on your feet and easy to DIY (if you don't want to spend so much money – or can't find – a professional to do it for you). In addition, they're cost-effective and easy to maintain (with no grout joints). What's not to like?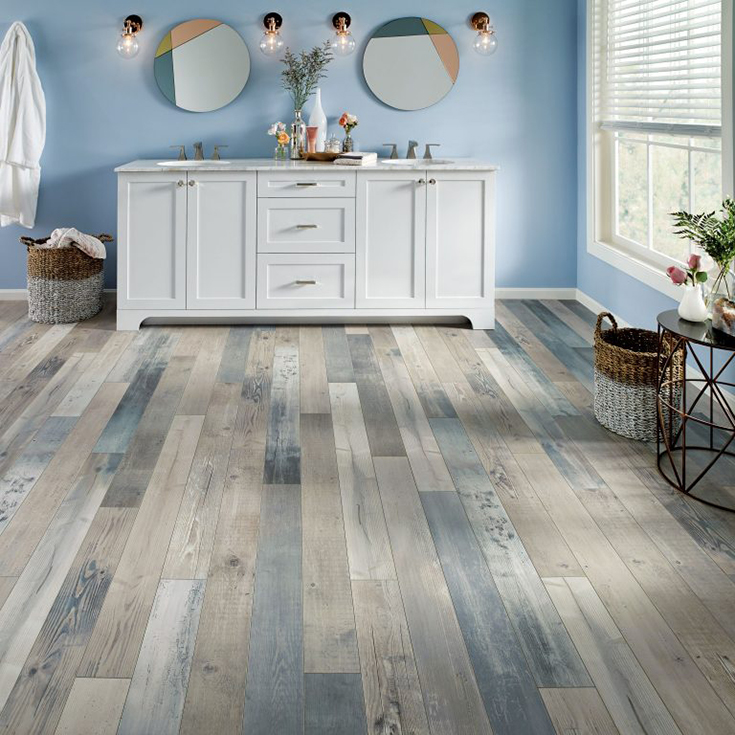 Idea #4 – Eliminate nasty tile niches with 'slide-in' stainless steel inserts or corner glass shelves
Do you dare peek into the crevasses of your custom-sized niche in your existing tile shower? If you can stomach the view, you'll likely see stained grout joints or worse yet – the 'M' word…. mold! These niches were not only hard (and time-consuming) for a tile setter to build, they're a pain in your rear to clean.

Here's two quicker, better, faster ideas for you.
First, to lick (OK – not literally) the niche problem, use a stainless steel recessed niche. When you combine them with grout free shower panels you'll get a stylish, simple to clean shower which is 'no-muss, no-fuss.' It's also nice to use niches if you have a small stand up shower to conserve precious (yet lacking) square 'inch-age.'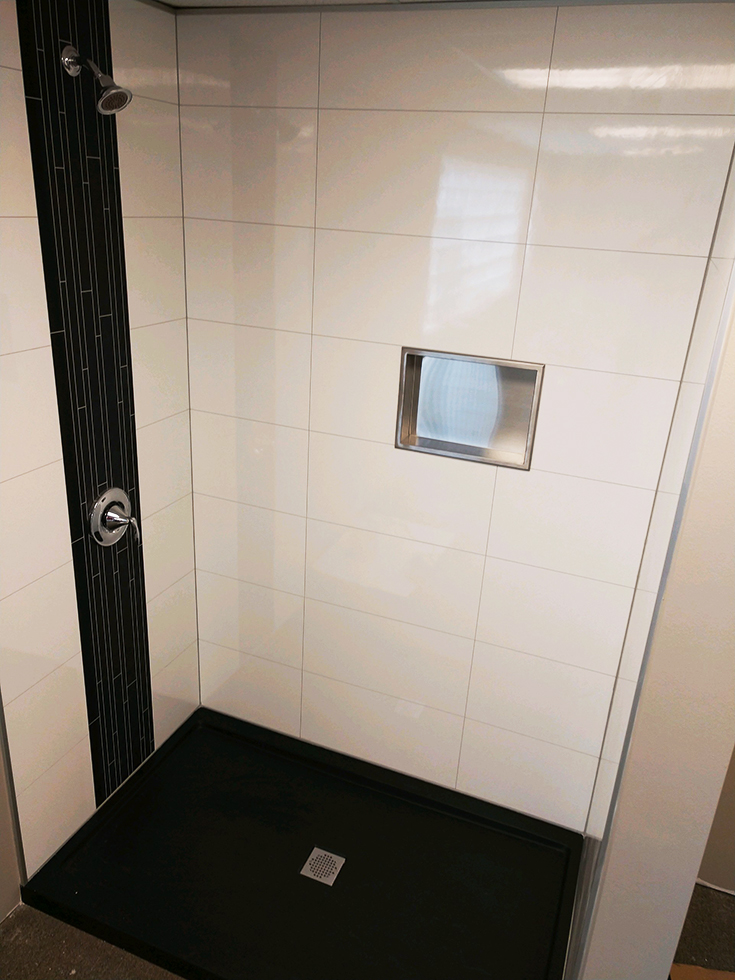 Another stylish choice is glass floating shelves.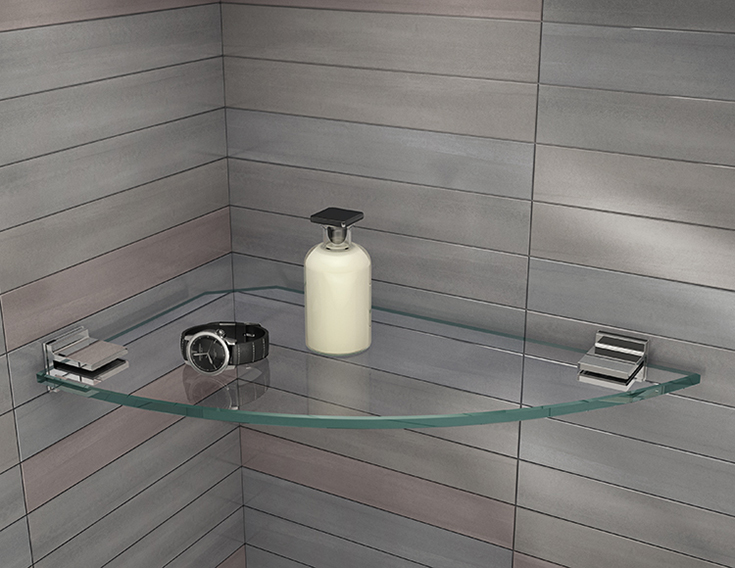 Idea #5 – Eliminate tile wainscoting or tiled bathroom walls with grout less wall panels
So, you bought the traditional cape code or colonial home for its character. Then you lived in it for a few years and you learned the code-word for a home's 'character' is high maintenance. Now you're 'sick and tired' (as Mom used to say) of cleaning teeny-tiny tiles and grout joints in your wainscoting or bathroom walls.
Those 4" x 4" tiles which were lovely when you decided to buy this 'classic' home, now have you spewing words which would make Mom wash your mouth out with soap (does any parent even commit this act of cruelty today?). You've got better things to do than clean bathroom walls and wainscoting.

Here's a solution to your problem.
Extend the grout free wall panels beyond your shower and into the bathroom.
One product which does this masterfully are laminate wall panels. You'll get rid of grout cleaning FOREVER and can do it with style.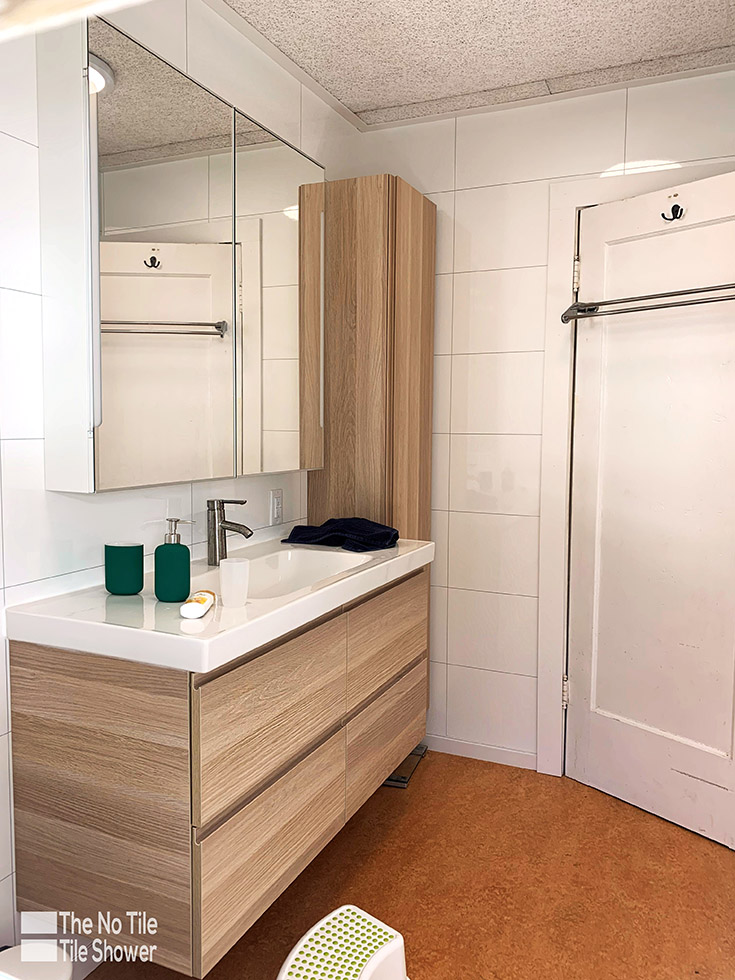 Idea #6 – Eliminate grouted tile bench seats with solid surface slabs or a fold down seat
It's wonderful to relax or shave your legs on a tile bench seat. What isn't wonderful is cleaning little mosaic tile grout joints again and again. Yuck! If you're desperately looking for a better solution, they do exist.
One option is solid surface bench seat topers. They're thick, durable and a breeze to wipe off.
Another option is sleek acrylic fold down seats. They're contemporary and take up so little room you can even use them in a tiny 3' x 3' stand up shower.
Idea #7 – Eliminate expensive (and hard to install) vertical accents and horizontal tile borders with grout free laminate panels or decorative PVC border trims
Aren't tile borders and accent trims a pain to install? Here's the main steps in the installation process you'll need to work through if you choose tile:
Hang the hard to cut cement board (or install an expensive extruded polystyrene backer system).
Measure, layout and cut your tiles.
Screw up your starter board so your tiles won't sag when they're being installed.
Spread the thin set
Clean everything off.
And this is just the installation hassles. We haven't even gotten to the cleaning process of tile borders or accent trims. You get the 'pleasure' (sarcasm intended) of enduring the little joints year after year. While these borders and accents look sharp initially, the 'eventually' of cleaning them will become your life.
Fortunately, you don't have to put up with this crap! For the accent trims use laminate shower wall accent pieces. These 1' x 8' x 3/8" thick panels click, lock and seal together. They go up in minutes. Not in hours and days like tile accent trim.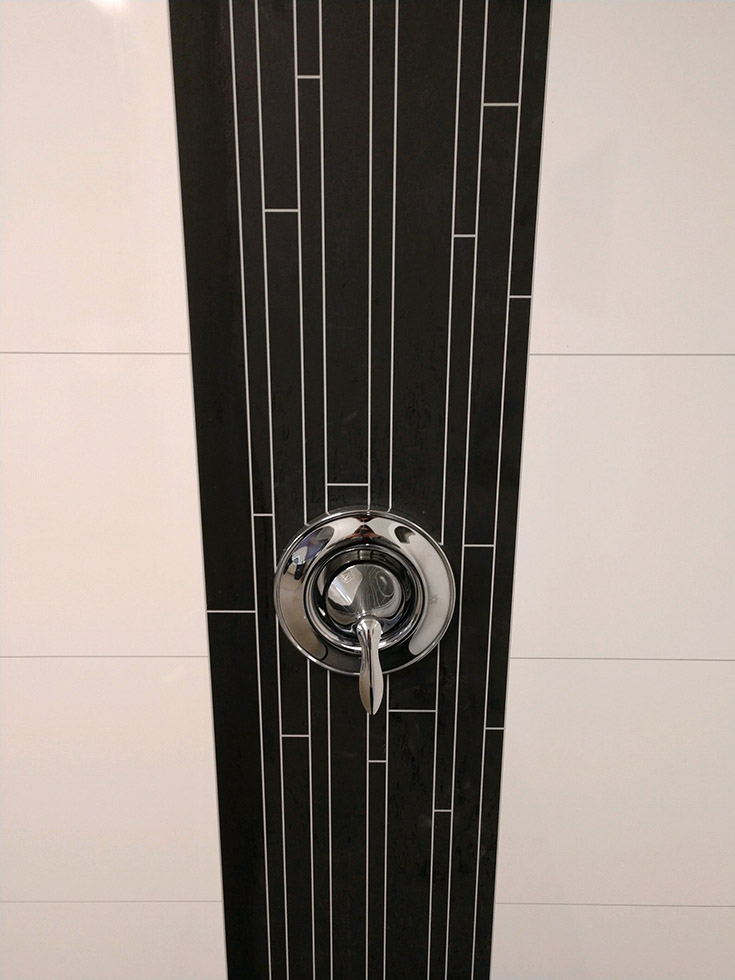 If a horizontal border is the look you want, decorative PVC trim borders are glued to the finished panels. As a guy I work with would say, "Easy-peesy-lemon-squeezy!"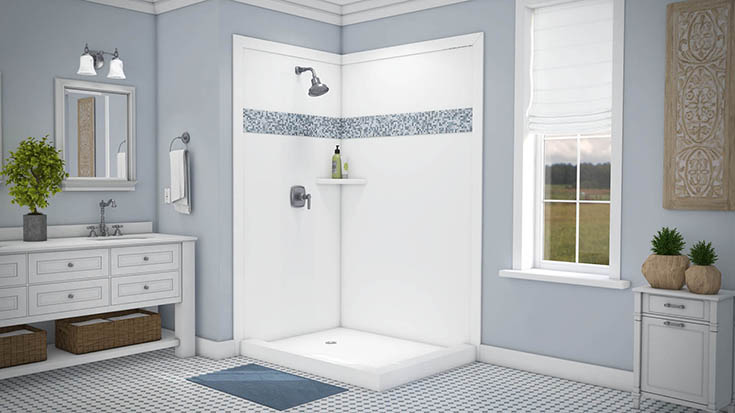 Bottom line. Borders and accent trims don't have to be a pain in your rear! Leave that pain to someone else who chooses tile.
Conclusion
So, have I convinced you it's not only possible – but do-able (with style) – to eliminate grout in your bathroom?
The reality is grout free shower panels, bases, flooring, accessories, seats, and accent trims have come a long way.
Don't put up mixing exotic 'brews' of weird cleaning solutions to clean tile grout joints. Stop fighting with mold and mildew.
Take the plunge and blow up grout in your bathroom.
If these grout free bath and shower options confuse you, we'd love to help. Click the links or call the numbers below and me (or a member of my staff – note – they're really smart and not as wacky as me), would love to help you.
Mike
How can I (or a member of my team) help?
Please call 877-668-5888 (for nationwide wholesale supply of grout free wall panels, shower pans and glass enclosures). If you're looking for a local installing dealer of laminated wall panels or bathroom remodeling our contractor network can help. For a local shower design and installation call 216-658-1280 in Cleveland or 614-252-3242 in Columbus for shower and bathroom supplies.
If you're a remodeler or builder and want practical advice on remodeling products, industry trends, marketing and sales tips to grow your business (and cut day to day hassles), read my newest blog – Innovate Builders Blog. It's packed with ideas you can use now. Click here to Sign Up for the Innovate Builders Blog.
If you're in the building business, click here if you'd like to learn how to become a shower wall panel dealer or call and ask for Mike at 888-467-7488.
If you want more advice (or like wacky humor) follow me on LinkedIn @MikeFotiLinkedIn or on Twitter @Mike_Foti or my companies @InnovateBuild or @InnovateHomeOrg.
---
Mike Foti
President of Innovate Building Solutions a nationwide supplier and regional (Cleveland and Columbus) remodeling contractors. Some of our product lines include glass counters, floors, backsplashes, glass blocks and grout free shower and tub wall panels
---