How to Compare Cultured Marble vs. Laminated Shower Wall Panels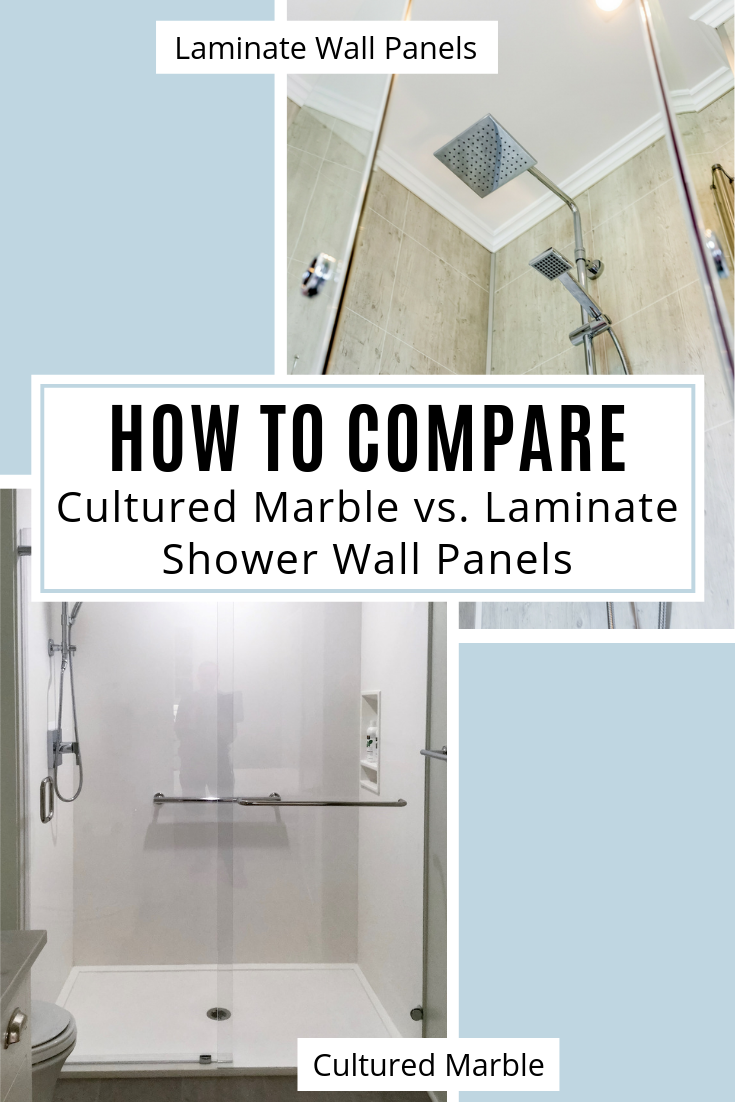 In the United States (especially in the late 1980's and 1990's) cultured marble shower wall panels were hot. Builders and homeowners loved their 3/8" thick construction. They loved their durability. They loved the fact they look like marble slabs – at a far lower cost. You can even get a cultured marble vanity top or shower pan to match your walls.
In Europe (and especially in Norway) in the 1990's a new wall panel product was born. This system would take the Euro bathroom wall surround market by storm. These units, called laminated shower panels, are also 3/8" thick. However, unlike its 'molded' brother cultured stone, which is made in big sheets, the laminate panels are 2' x 8' sections. They weigh 26 lbs.
Laminated wall panels have grown like wildfire. They're now as popular as ceramic tile in Norway. They make up 1/3 of the bathroom wall surround market in this country.
It wasn't until last year (when laminate panels were introduced in the U.S.) that these two wall systems would 'face off.' OK, it's not exactly a 'championship wrestling Battle Royale' yet, but homeowners in the United States are now comparing and contrasting these two options.
The question I (and my team) get all the time now (since we design with both) is what are the advantages and disadvantages of each system? Which do you like better? Which would be best for my project? Which product is cheaper? (Note, actually they cost about the same, so this isn't a big factor in choosing one over another).
While it would be simple to declare one the 'winner,' like in life, it's not that simple. As I tell customers,
"Wall panels are like people. They all have their strengths and weaknesses."
In this article my goal is to deliver this comparison in true Joe Friday from Dragnet fashion.  I'm going to offer up "Just the facts ma'am, as Joe used to say (or sir, if we're going to be P.C. about it)."
First, we'll look at the advantages and disadvantages of laminate wall panels vs. cultured stone.  Second, we'll turn the tables and peek at the advantages and disadvantages of cultured stone shower panels vs. their laminate brothers.
At the end, I'd love your opinion and/or additional questions you have to get your arms around your best choice.
Advantages of Laminated Bathroom and Shower Wall Panels vs. Cultured Marble
Advantage #1 of Laminated Wall Panels – Contemporary Looks for Modern Minimalist, Transitional and Modern Farmhouse Bathroom Design Styles
Let's face it, cultured stone shower panels look 'old-school.' With laminated panels you can get a crisp contemporary design for a transitional look. On the other hand, if you love the weathered, rustic, Joanna Gaines-ish look, shabby chic shower wall panels in the Modern Farmhouse collection will be right up your alley.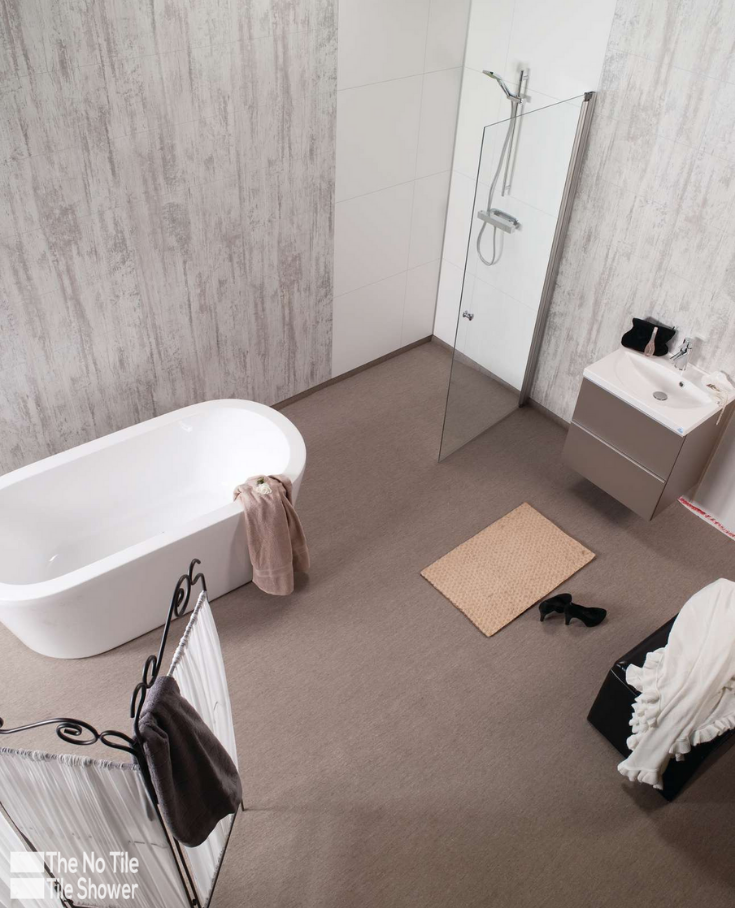 Advantage #2 of Laminated Wall Panels – Tile and Stone Looks are More Realistic
Since cultured granite and marble are poured in a mold, they look…well…like they've been poured in a mold. The faux tile joints are the same color as the faux tile or stone patterns. In reality, they're 'fake tile news' (to quote a U.S. President. Can you guess who?).
With laminated wall panels the joint is routed in with CNC (Computer Numerical Control) precision. You'll feel the indented joint. This joint is not only 100% waterproof (like cultured stone panels), but the joint is a different color than the tile pattern (just like ceramic tile).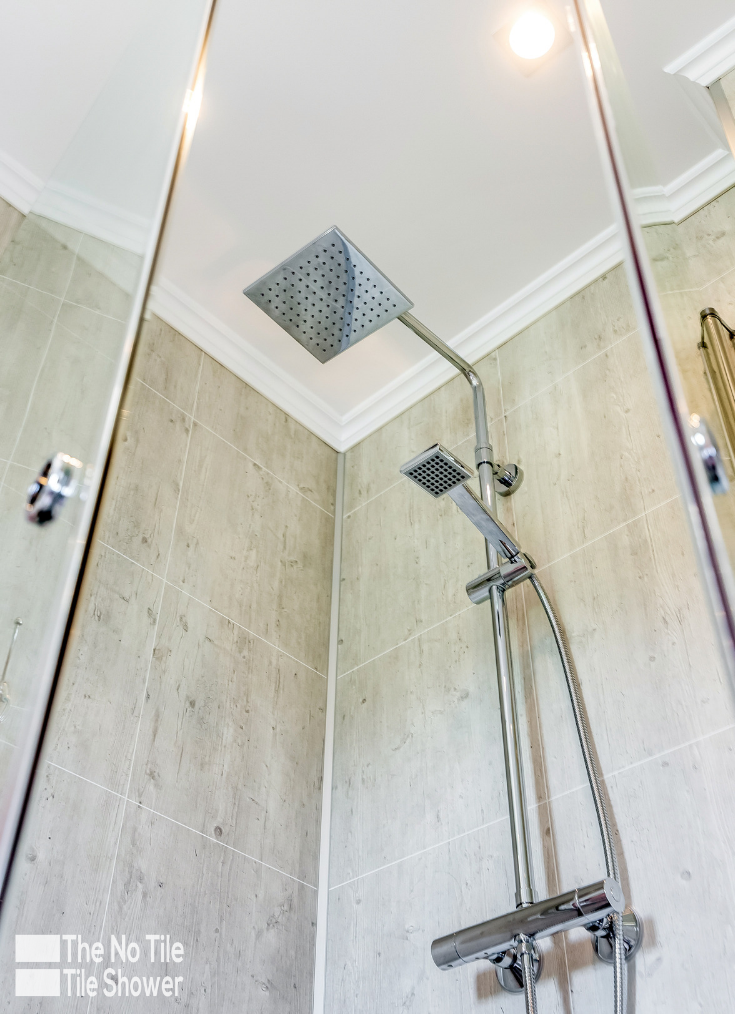 Advantage #3 of Laminated Wall Panels – They 'travel well' in houseboats, RV's, Converted Sprinter Vans or Tiny Homes
Laminated panels are far lighter than cultured stone (a 2' x 8' x 3/8" thick panels weighs 26 lbs. as mentioned previously). Since they click, lock and seal together like laminate flooring, they're a smart option for a 'home on the go' where heavy products which are prone to cracking (i.e. cultured stone) are a bad idea.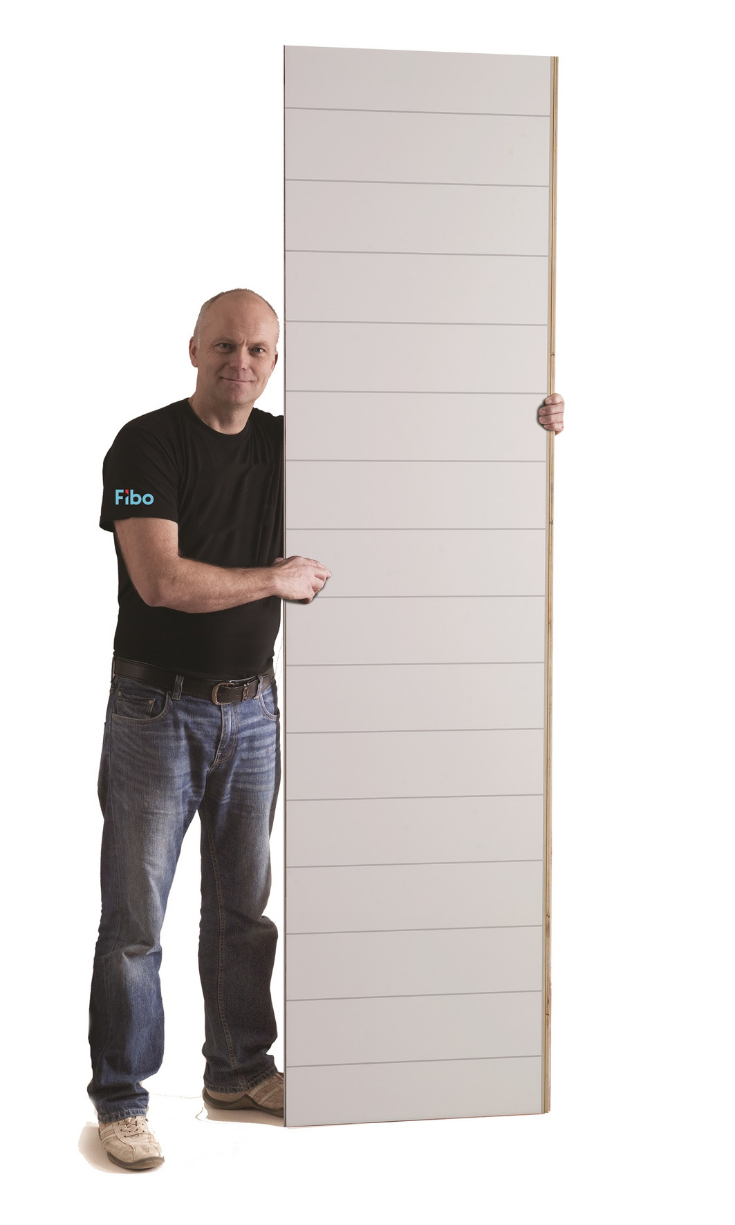 Advantage #4 of Laminated Wall Panels – You'd don't need to be a weightlifter, or bribe a buddy with a steak dinner to install these panels
DIY projects can be a pain – especially when the products you're working with are heavy. As mentioned above the cultured stone (AKA solid surface) panels are big and bulky. They're a 2-person installation job (no matter how you slice it).
If you like to work alone (or if you're being honest your crabby-butt nature makes it better if no one is working with you – ha! ha!), the laminate panels are manageable and everyone can be out of your hair (what's left of it), when you're working.
Advantage #5 of Laminated Wall Panels – Multiple tile sizes, joint sizes and textures to choose
Since cultured marble panels are manufactured in molds which are costly investments, the selection of tile and stone looks are limited. Most manufacturers offer (at most) 1 or 2 tile/stone patterns.
On the other hand, laminate bathroom wall panel tile joint patterns and sizes are changed by simply reprogramming the CNC machine they're made on. If you like larger format 24" x 24" tile look with a rough wood texture, that's no problem. If stone shower panels with wider joints fits your motif, it's also available in a large format 24" x 16" design. Small 'tile joint' patterns are also available.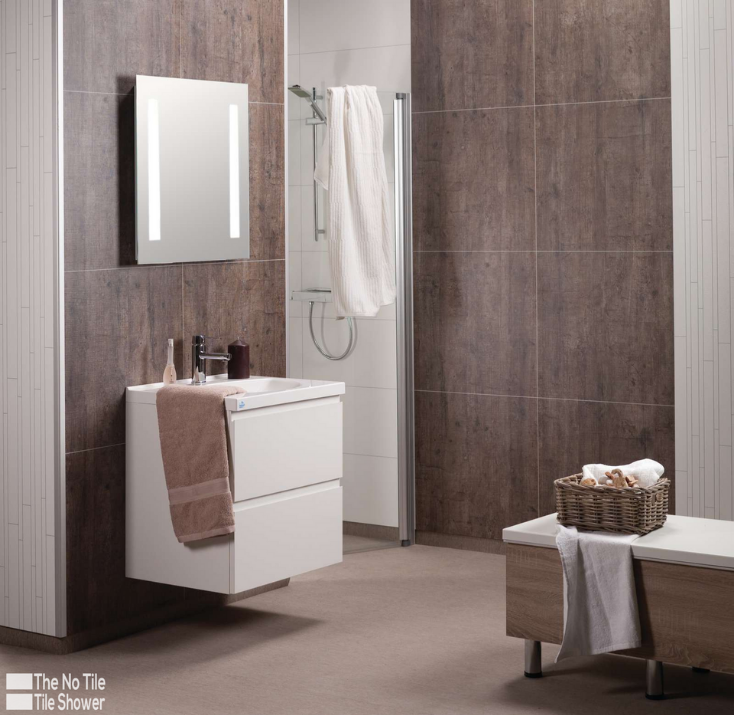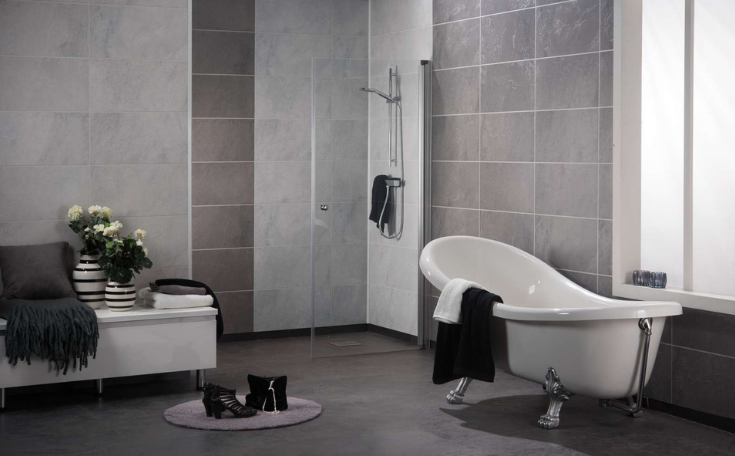 Advantage #6 of Laminated Wall Panels – Available for immediate shipment for rush jobs!
Your shower pan cracked (lucky you – sarcasm intended) and leaked onto your new kitchen cabinets and flooring. You talked about redoing your old, moldy and nasty master bathroom tile shower, but it never got high enough on the list for you to plunk down the dough to get the bath remodel started. At least not until 'the leak' happened.
NOW YOU HAVE AN EMERGENCY ON YOUR HANDS!
Your main bathroom is down. You're determined to blow up ALL GROUT. This time there will be no leaking through an 'old-school' mud-set tile shower pan. Your mission, and you have no choice but to accept it, is to find a good-looking grout free system ASAP.
The problem is you don't want a cheap store-bought fiberglass unit at your big box store and it's going to take 5 weeks to get a made-to-order cultured marble system.
This is where laminate walls can be the answer. They're in stock. They're ready to go. Don't put up with long lead times when you need to get your job done ASAP, but also want a cool product designed to last.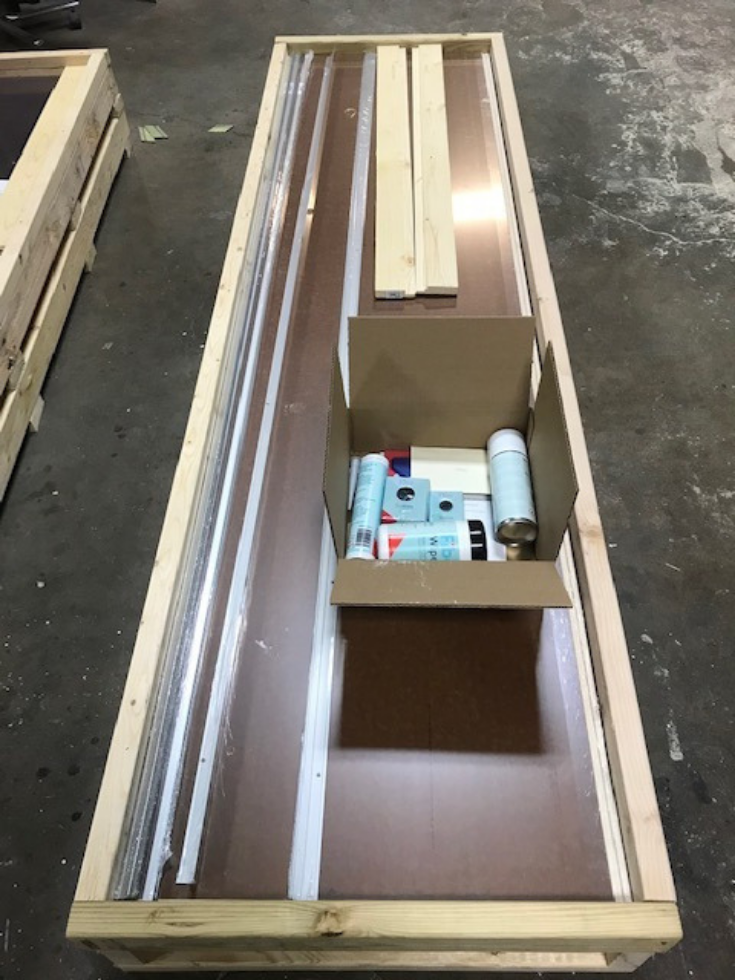 Advantage #7 of Laminated Wall Panels – You can get contemporary niches and corner shelves which don't look like they've been designed back when mullets and big hair were popular  
OK, if you're 'a bit' on the older side (like me) you remember when mullets and big hair were the rage. This is about the same time when the cultured marble corner caddy molds (still used in the market today) were developed! Not exactly an up-to-date look.

Whether you want a contemporary brushed nickel recessed niche or an inventive corner shelf where the trays can be removed for easy cleaning, the laminate wall panel system has accessories which fit today's styles.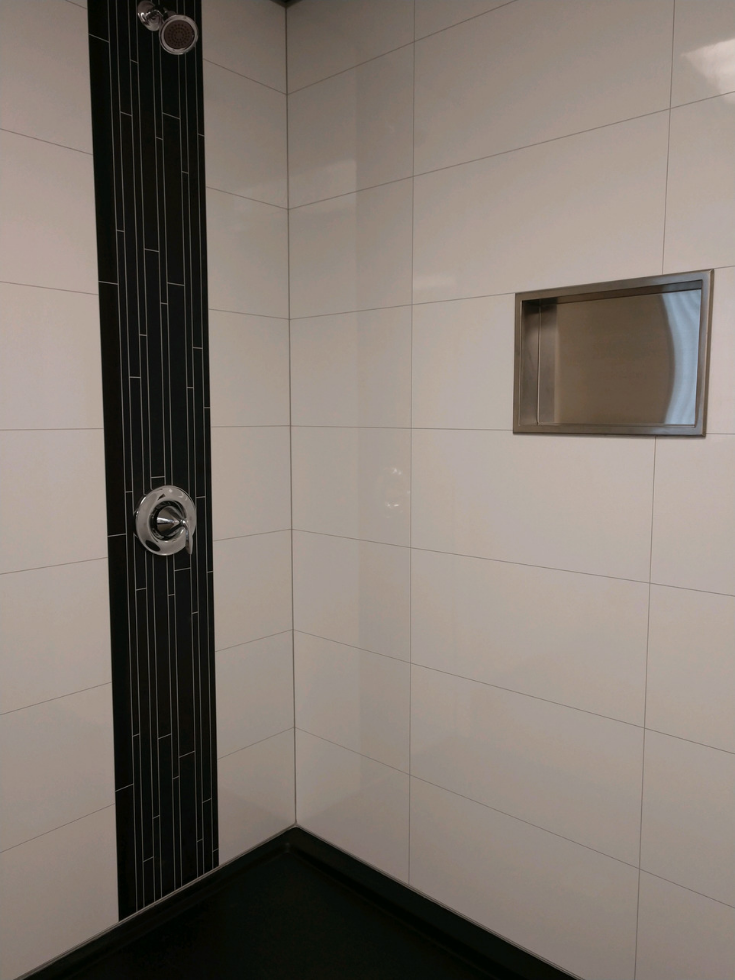 Advantage #8 of Laminated Wall Panels – A Quicker (and Cleaner) Direct to Stud Installation
Laminated wall panels screw directly to OSB (Oriented Strand Board) or 1" x 6" furring strips. They're quicker to install than cultured stone panels. You don't need tube after tube of adhesives (not exactly the greatest for the environment) to glue them onto green board (which are required with stone panels) either.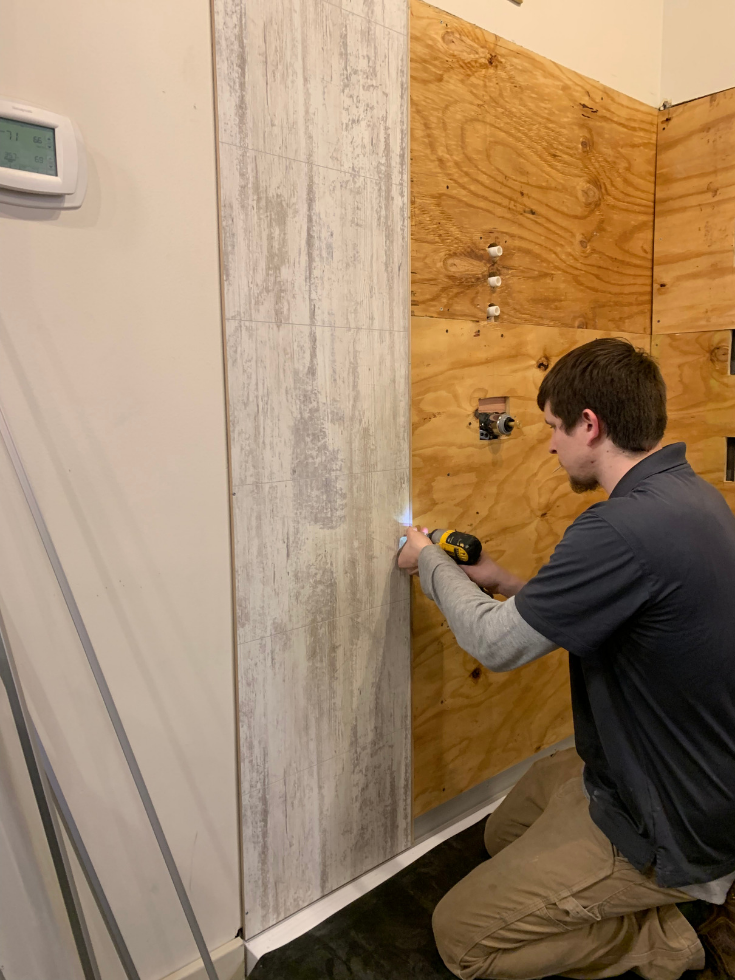 Advantages of Cultured Marble Bathroom and Shower Wall Panels vs. Laminate Panels  
Advantage #1 of Cultured Stone Panels – They're precut and made in specific sizes  
Since cultured granite or marble shower panels are made-to-order (unlike laminate panels which may have cuts at the end of the wall), all of your cuts (assuming you measured correctly – not that you've ever messed up before – ha! ha!), can be pre-made at the plant.
In fact, these panels can be made in outrageously large sizes. It's possible to make them over 100" x 100", although getting that size into your home may be a bit of a stretch.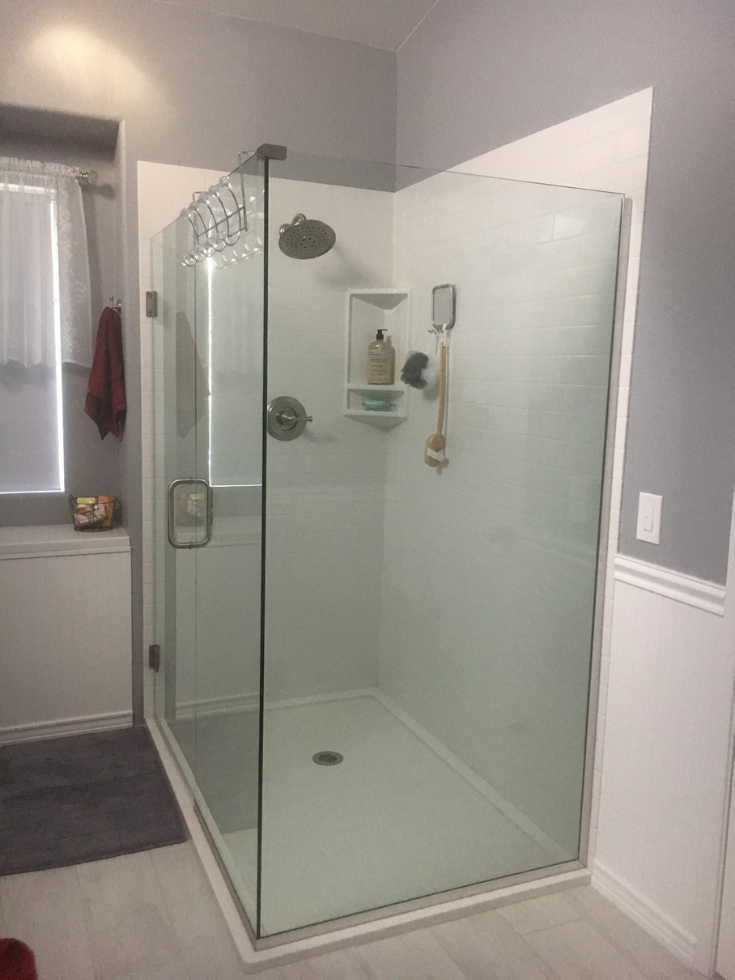 Advantage #2 of Cultured Stone Panels – Edges are pre-finished without the need for finished trim pieces  
With the laminate product you have a high-pressure laminate which is applied over a marine grade plywood. This construction, while sturdy, does require the edges to be sealed with trim pieces.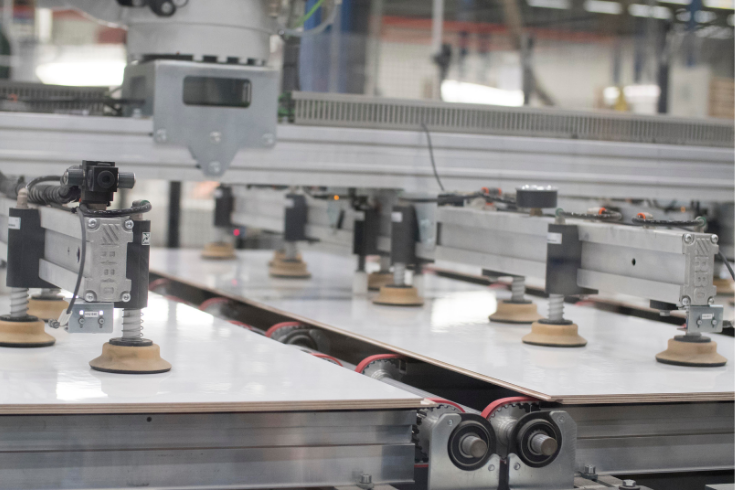 With cultured stone panels the edges are factory pre-polished. This saves you a step installing trim pieces. It streamlines the look.
Advantage #3 of Cultured Stone Panels – Shower pans and vanity tops are made in the same materials as the wall panels
Picking out colors can be a pain.
Finding a high-quality shower pan to go with your walls would be a bonus.
Locating a one-piece vanity top where there is no lip around the sink to get dirty is challenging.

Cultured stone is one product which can solve all these problems in one scoop. You'll find custom cultured stone shower pans, vanity tops and walls can be coordinated and made with the same material.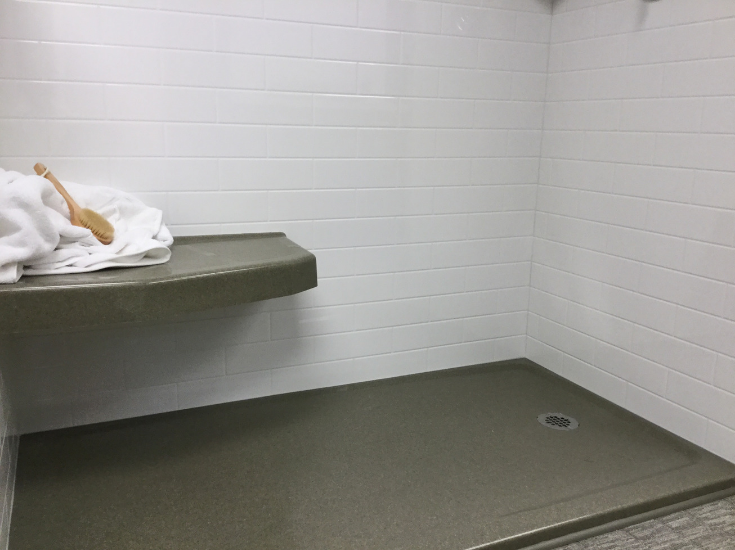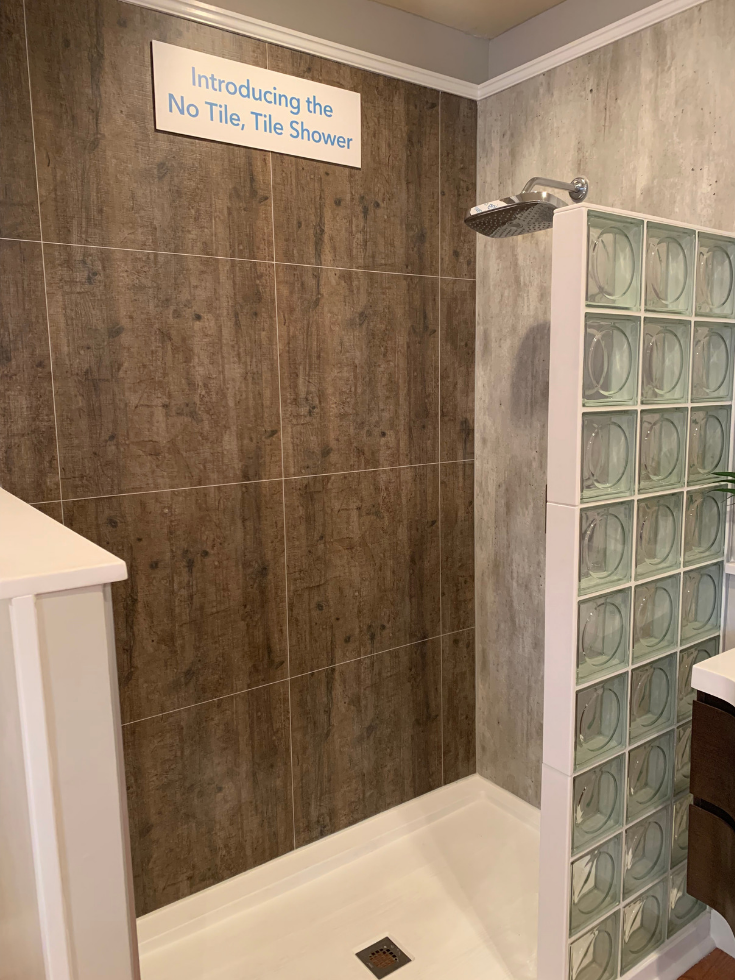 If you use the laminate panels there are cool contemporary acrylic shower pans you can use, or the cultured stone shower bases, but you can't use the same material on the walls and the pan (if a 'matchy-matchy' design style is comfortable for you).
Advantage #4 of Cultured Stone Panels – If you love subway tile, cultured marble or granite wall panels are the ticket
Since laminate panels are assembled in 2' x 8' sections you can't design with an 'overlapping' running bond pattern (as mason contractors would say) which is required in a subway tile look.
Since cultured marble panels are formed in a mold, the pattern takes on whatever design is engineered into the mold.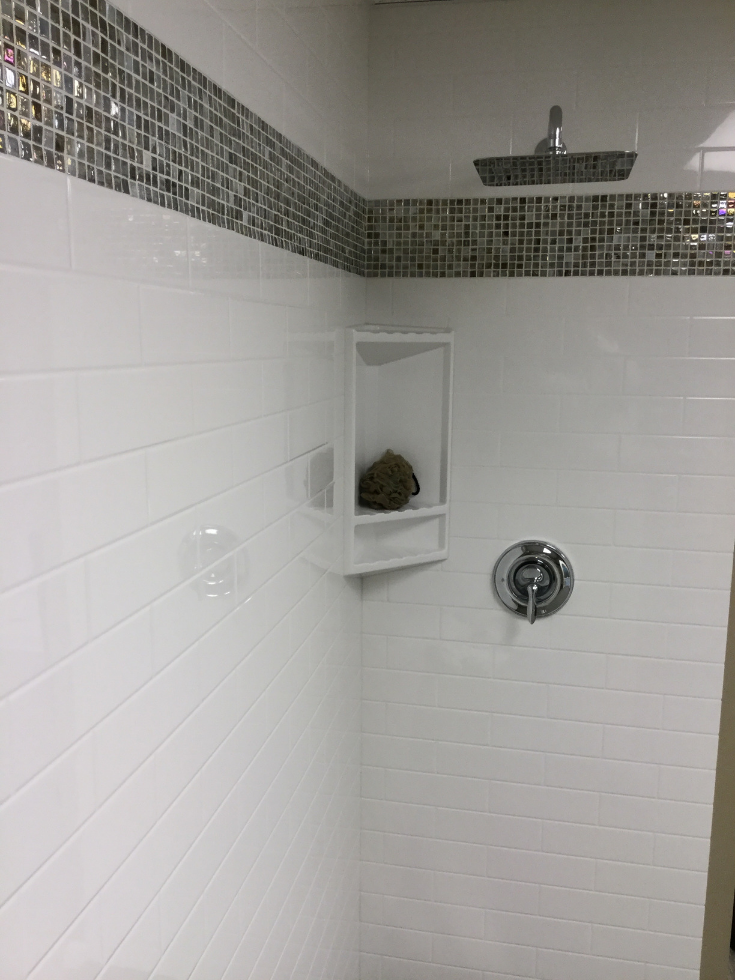 Advantage #5 of Cultured Stone Panels – They're seamless.
While laminated panels are guaranteed to be 100% waterproof, they're still seamed with a click, lock and seal system similar to laminate flooring (although you don't see the separations between panels).
Cultured stone (while as heavy as all get-out) is a solid, seamless slab.
Conclusion
My goal with this article was to give you the point/counterpoints and advantages and disadvantages to compare these 2 time-tested and proven bathtub, shower and bathroom wall panel systems.
If you ask me which is better, I'd go 'P.C./Switzerland' on you and say…it depends. It depends, on what you may ask.
It depends on you. Your likes. Your desire for an easy installation. Whether your design tastes are more traditional or contemporary.
If you backed me into a corner and said choose one or you're getting permanently cut off from your Graeters Chocolate Chip ice cream and sports pages every night, I'd have to admit which one I like best. Then I'd 'spill the beans' and say my money is on the laminated product. While they're priced similarly, I think the laminate is way cooler, looks more realistic and its contemporary look fits the design style my wife Rose and I like best.
Which one would you choose? What questions do you have?
Please comment below or call us if you're looking for nationwide supply of laminated wall panels or custom cultured stone shower pans.
How can I (or a member of my team) help you?
Do you have any additional question about your project me (or my team) can 'fill in the blanks' for you?
We'd love to help. Call us at 877-668-5888 (for nationwide wholesale supply or a connection to a local installing dealer of laminated wall panels). For a local project call 216-658-1280 in Cleveland or 614-252-3242 in Columbus for professional installation service.
---
Mike Foti
President of Innovate Building Solutions a nationwide supplier and regional (Cleveland and Columbus) remodeling contractors. Some of our product lines include glass counters, floors, backsplashes, glass blocks and grout free shower and tub wall panels
---