9 Stylish Bath and Shower Product Ideas You Need So You Won't Want to Pull Your Hair Out Anymore
You can complain about it, but you can't avoid it. You may be asking, what is 'it?' 'It' is your cramped bathroom which makes you want to pull your hair out. It's makeup you're rustling through drawers to find. Its towels jammed into your linen closet. It's grab bars which belong in your local hospital but are staring you in the face. It's plastic shower caddies which resemble Dollar Store 'specials' – which in fact they were.
Your bathroom products (i.e. accessories, vanities, storage 'systems' – if you can call them that) are a source of frustration. They're ugly, unsafe and uninviting.
The question is, what can you do about it? Can you transform your not-so-hot bathroom (or at least spruce it up) with better designed (and better made) bath and shower products? Can you create a time-efficient place to get ready during your morning scramble (while managing the craziness of getting kids off to school and yourself ready for work)? Can you organize and accessorize your bathroom so it's actually a room you enjoy using (now that would be a Ripley's Believe it Or Not moment)?
While this sounds impossible, it's not as crazy as you may think IF you use the right products in the right places.
Not sure what those 'magic' products are? Well – you'll take a journey to learn 9 bath and shower ideas in the article below. We'll dig deep (if you dare) into your vanity drawers, linen closets and dare-I-say-it – shower enclosures – to get practical ideas to 'spruce up' the seemingly 'un-spruce-able' room – your bathroom.
Bath and shower idea #1 – A matte black multi-purpose towel bar, soap holder and toothbrush holder which won't make you say – yuck!
If you've got a cheap, thin, chrome plated single-functioning towel bar holder which now 'smiles' at you because it's bent in the center, I can feel your pain. Let's face it, your original home builder installed the cheapest thing they could get away with. Now, you're left to live with it.
In small bathrooms – you need to think multi-function – but also create functionality with style. One smart product is this multi-purpose towel bar with soap, toothbrush and cup holders. Use it in the shower. Use it close to your vanity. Wherever you use it, you'll have a contemporary bathroom accessory which is fresh and useful. This product comes in chrome or ultra-hot matte black finishes.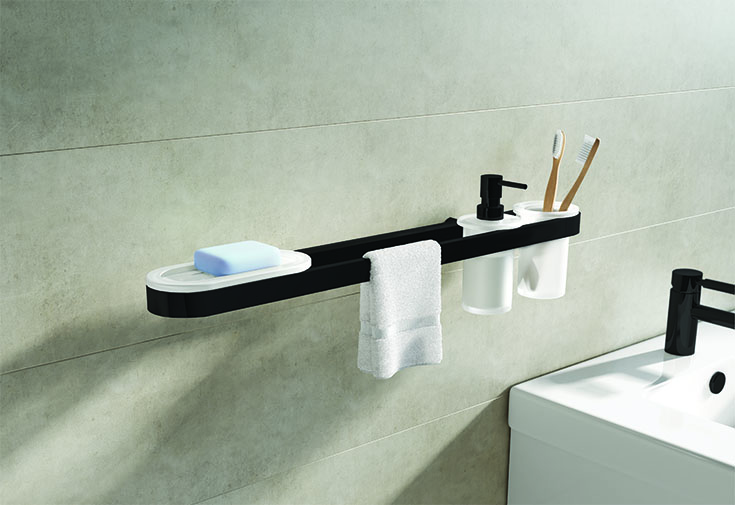 Bath and shower idea #2 – Stylish 135-degree grab rail  
Even though it's hard to admit it – your husband and your Mom aren't getting any younger (you on the other hand – have the advantage of Botox to stay perpetually 39!). With this being said, you know you need your bathroom to be safer – but 'traditional' grab bars make you want to throw up!
You want your bathroom to be sharp – yet you need it to be safe (especially if Mom comes to live with you).
Fortunately you can now get style and safety with this 135-degree grab rail. If you're asking if the stuff stocked at your local big-box store would be cheaper – the answer is yes. However, do you really want your bathroom to look institutional?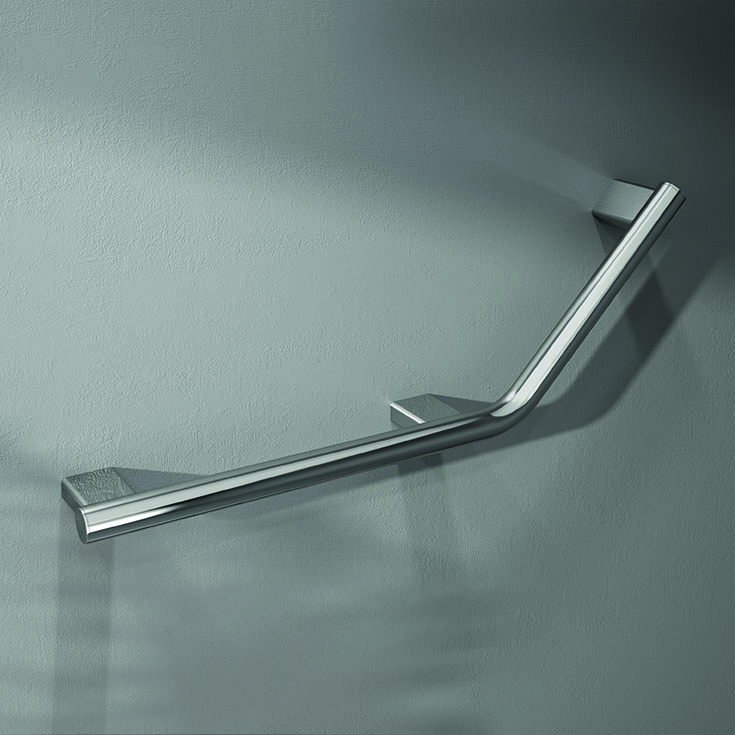 Bath and shower accessory idea #3 – 16" wide recessed niche for a low maintenance shower with more storage
As my wife Rose likes to say, the time between 'wake up to pretty' gets longer every year. And – how true this is. As you age your lotions and potions grow. The problem is your shower storage is not keeping pace.
The pathetic plastic shower tray hanging over the shower head isn't cutting it. If you want better storage which is simple to maintain, here's an idea.
Get rid of your nasty tile (or fiberglass walls) and replace them with grout free laminate shower wall panels and also this cool brushed nickel 16" wide recessed niche inserted inside. You'll not only cut down your shower wall surround maintenance – but you'll gain storage (inside the wall) where none existed before.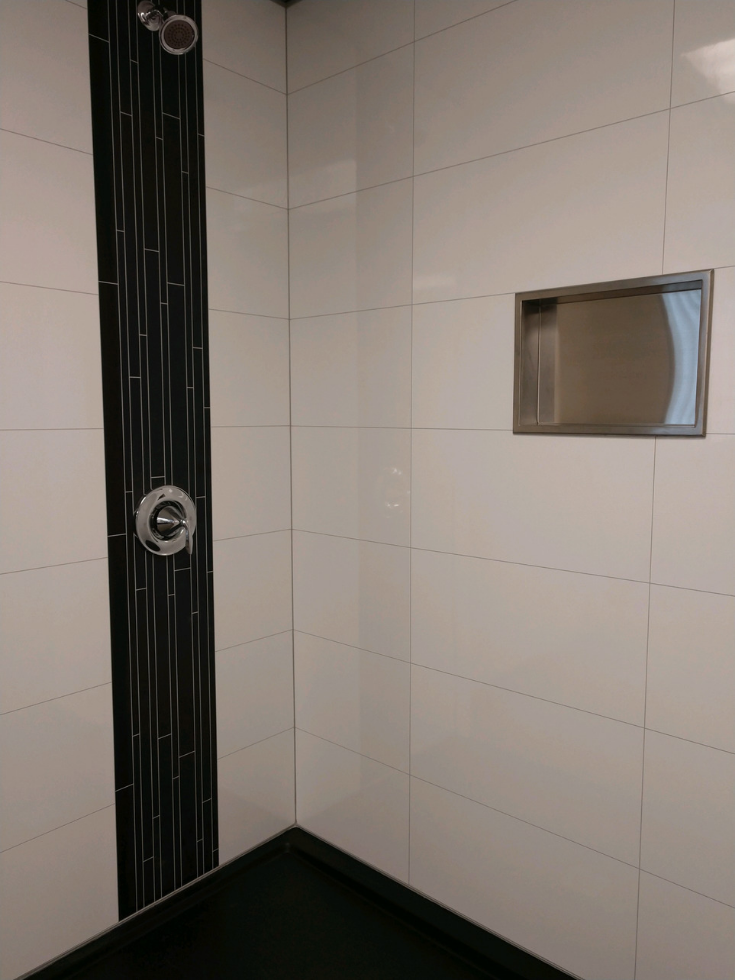 Bath and shower accessory idea #4 – A contemporary vanity with pull out storage compartments
There's nothing more frustrating than digging through the back of your vanity trying (in vain) to find your blow drier or cleansing cream you just got at the store.
The key to sharper storage is having a stylish vanity where your supplies come to you. Check out this vanity below. It has a compartment drawer which slides out so you can see what's inside. Very cool.
Bath and shower accessory idea #5 – A vanity with fold down drawers when counter space is in limited supply  
Small counters are a pain. When you lack counter space in a small bathroom you know your dream of a double bowl and expansive counter just 'ain't happenin'.' Well – here's a space-saving accessory idea which is smart. It's a vanity with fold down drawers to house your towel and Kleenex.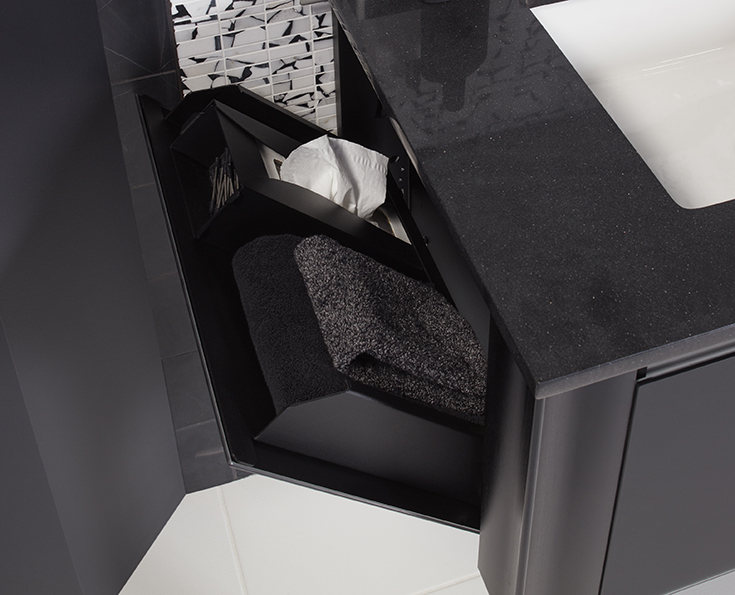 It saves precious inches – yet stores items you absolutely have to have.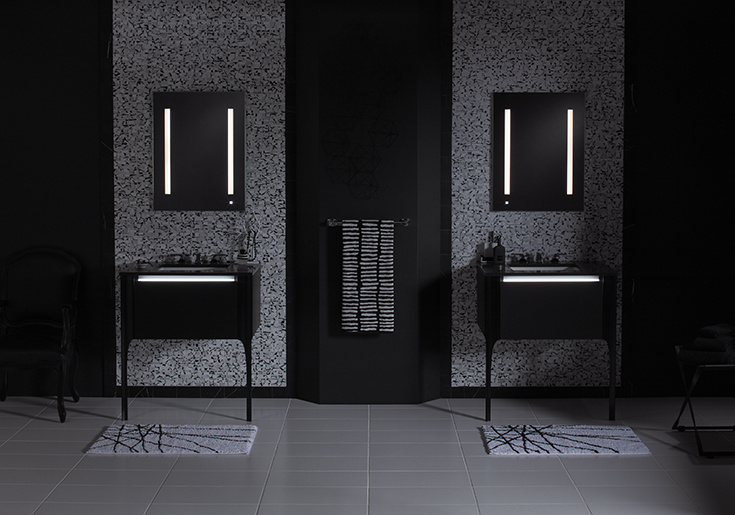 Bath and shower accessory idea #6 – Gain storage, gain light & get rid of steam – all in one swoop
If Mom comes to live with you, you know your bathroom has to change. The lighting IS NOT ready for prime time. Your limited storage WILL NOT work for the waaaay-too-many meds she's taking. Plus your lack of an exhaust fan will be another challenge when she needs to use the mirror (and the thought of Mom stretching over the counter to wipe off the steam (like you do today) doesn't give you the warm-fuzzies.
Here's a 3-in-1 solution to these problems. This recessed contemporary mirrored medicine cabinet with LED lighting and a defogger – adds storage, style and ensures the mirror is free of steam – so it's easy for her to use.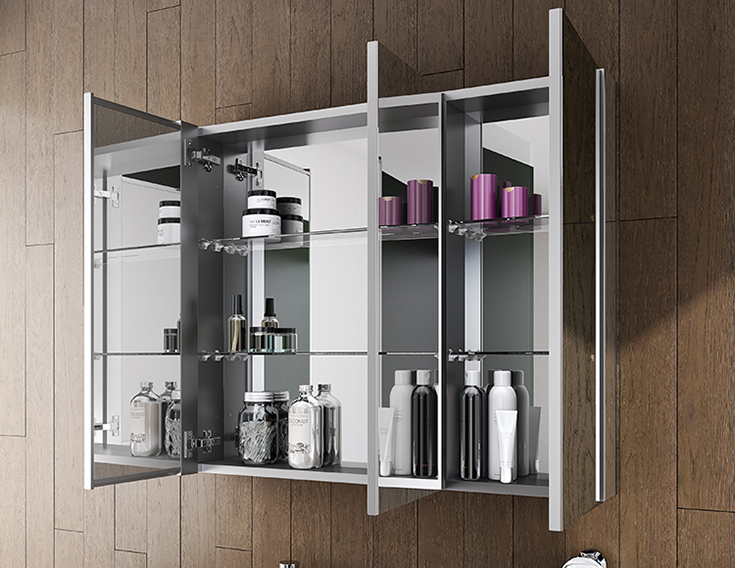 Bath and shower accessory idea #7 – Use your volume with storage above the toilet
Small bathrooms are tough. Where you put towels and supplies is a never-ending challenge.
One smart way to accomplish this is to use a Ladder rack above the toilet. It's smart looking. It takes advantage of unused volume.
Bath and shower accessory idea #8 – A fold down or moveable bathroom seat
As your husband and Mom ages (not you though!) the need for seating (to shave legs or take clothes off) becomes increasingly important. The smaller the bathroom, the more thoughtful your seating choice needs to be. Here's 2 options you can use:
Option 1 – The fold down shower seat – Fold down seats make sense when you don't have the large walk in shower you wish you had. Fold down the seat when you need it. Fold it up when you don't. With fun teak designs, you'll create a spa-feeling without a wallet-draining price point.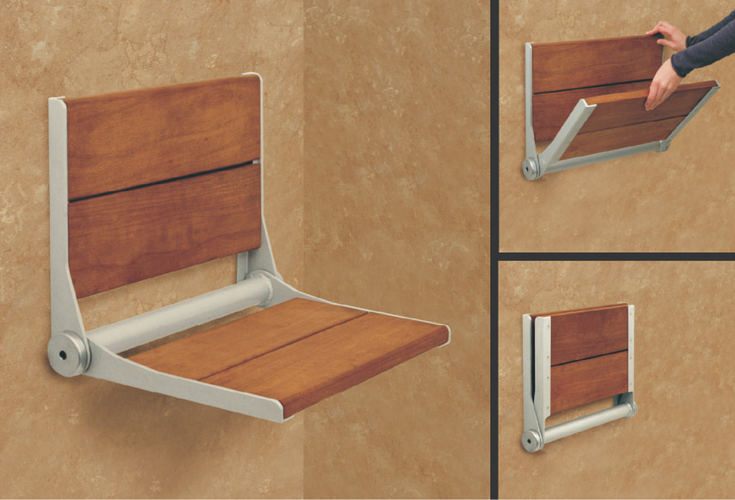 Option 2 – Bath seat for inside or outside the shower – This 14" wide seat is light enough to move inside or outside the shower. The rubber grips beneath its feet stay stays securely in place – even in the shower. With 1,500 lb. capacity, it's built to last.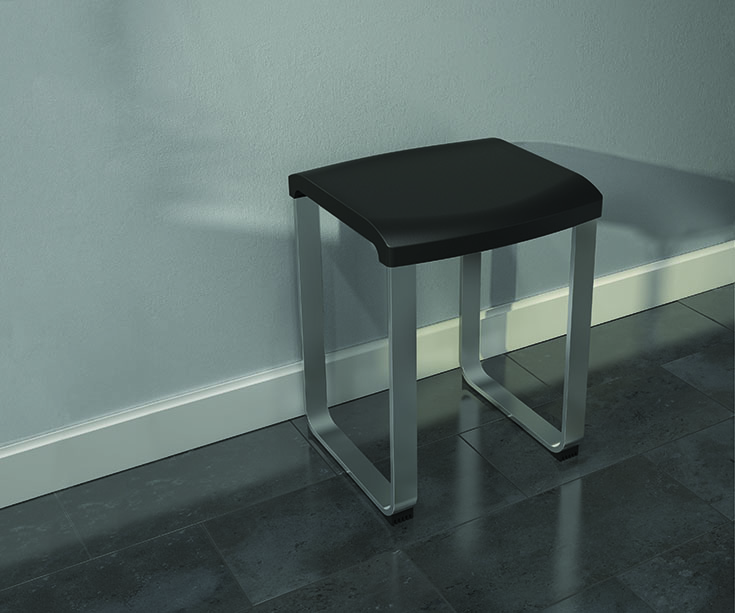 Bath and shower accessory idea #9 – A corner footrest
Sometimes – just like in life – it's the little things which make a big difference. One of those little aggravations you'll say goodbye to is the challenge of trying to prop up your foot in the shower to shave your legs.
This comfortable, yet-stylish corner footrest can be placed anywhere on the wall (depending on how tall you are) and makes shaving easier.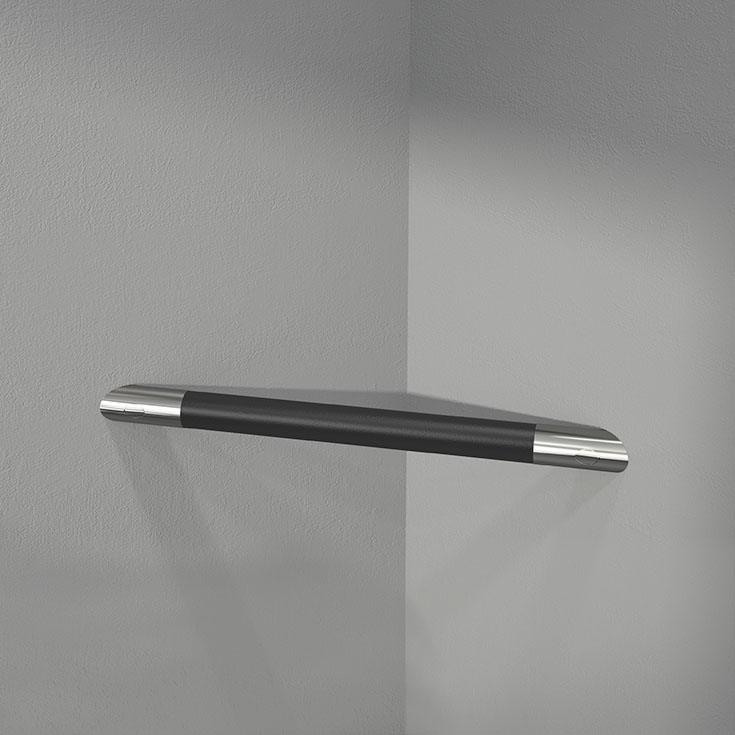 Conclusion
I hope you see you don't need to be a hair-pulling 'victim' of a disorganized, out-of-date, and frustrating bathroom. You do NEED, however, to use the right products to create a space you'll love.
Maybe it's a fun vanity with pull down or pull out drawers. Maybe it's a storage ladder to use your volume (even though you lack the square footage). Maybe it's using precious wall space with multi-purposed towel bars and soap holders or a recessed niche.
Your bathroom doesn't have to 'live' like it does today. Will it take planning? Yes, that would be correct. However with the right choices you'll be able to keep all your hair (OK – or least most of it) and actually enjoy your bathroom – if you can believe that or not!
Mike
How can I (or a member of my team) help?
If you're looking for help with space-saving accessories or maintenance-cutting grout free shower wall panels me and my team would love to help. For nationwide supply or shower accessories and shower enclosure systems call 877-668-5888.
For a local shower and bathroom design and installation call 216-658-1280 in Cleveland or 614-252-3242 in Columbus for shower and bathroom supplies.
If you're a remodeler or builder and want advice on remodeling products, industry trends, marketing and sales tips to grow your business (and cut day to day hassles), read my newest blog – Innovate Builders Blog. It's packed with ideas you can use now. Click here to Sign Up for the Innovate Builders Blog.
If you're in the building business, click here if you'd like to learn how to become a shower wall panel dealer or call and ask for Mike at 888-467-7488.
If you want more advice (or like wacky humor) follow me on LinkedIn @MikeFotiLinkedIn or on Twitter @Mike_Foti or my companies @InnovateBuild or @InnovateHomeOrg.
---
Mike Foti
President of Innovate Building Solutions a nationwide supplier and regional (Cleveland and Columbus) remodeling contractors. Some of our product lines include glass counters, floors, backsplashes, glass blocks and grout free shower and tub wall panels
---