Project Spotlight: Improving Bathroom Safety & Function while keeping a Cool Retro Design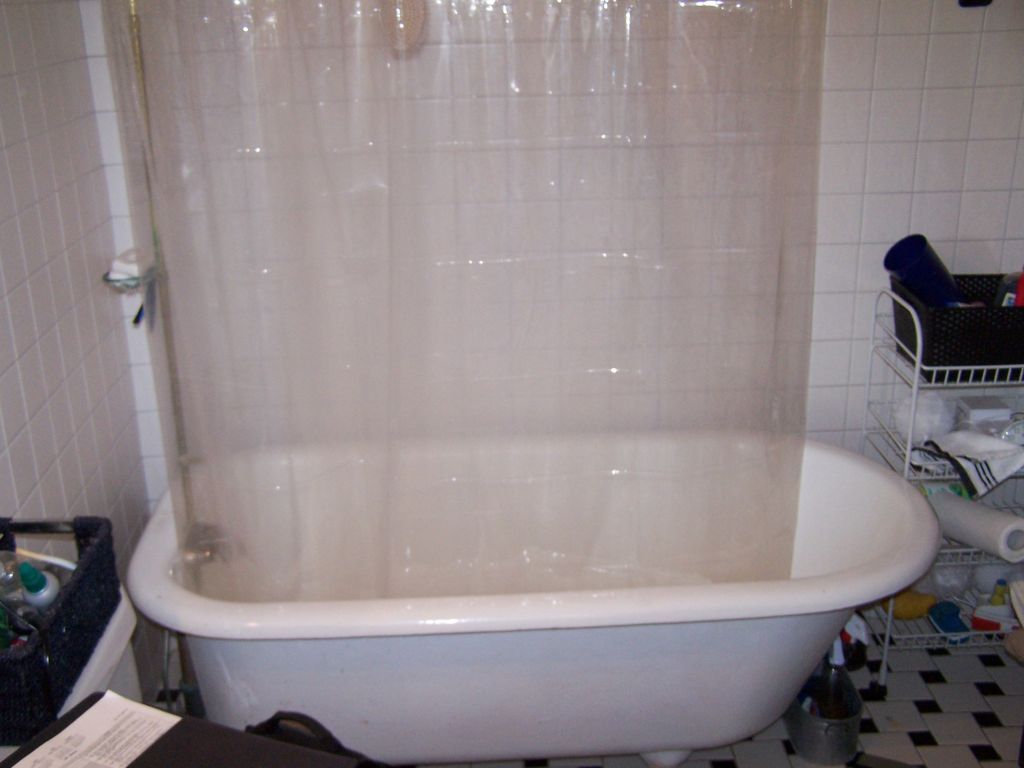 The McGuires (who live in a suburb of Cleveland Ohio) had a problem – how could they retain the black and white retro design of their bathroom while making it safer, easier to use and also upgrade the looks without the cost and aggravation of gutting the space.
The main challenges were:
A cast iron clawfoot tub which was dangerous to get in and out of.
An old brass curved shower rod and stationary shower head which were outdated and covered the view of the decorative tile design.
An existing pedestal sink 30" tall which required excessive bending.
The bathroom remodel contracting & design team
The Bath Doctor/Cleveland Design & Remodeling where chosen for the project. The McGuires were helped with product selections and design by Jeff Merrell and John Fronek. The field Project Manager was Steve Vlk who was assisted by John Exton.
Product Solutions & Installation Approach
(Out) Cast Iron Claw Foot Tub
(In) Waterproof custom tile shower base
The 250 lb. clawfoot tub was taken out and the floor tiles underneath had to be carefully removed to not disturb an existing in floor heating system to make the way for the new shower base. A Wedi extruded polystyrene shower base was chosen because it is waterproof and can be custom fit in the field. Steve relocated the drain to a central location and John removed two rows of tile and backerboard to get the area prepared for the base. Wedi wall board and black tiles were used to create a new border for the space and to not have to worry about finding an exact match to the existing white tile shower wall surrounds.
(Out) Curved Shower Rod & Stationary Shower Head
(In) Tempered Glass Shower Enclosure & Dual Shower Head
A 3/8" thick clear tempered glass wall was set on the white solid surface curb cap used on the top lip of the base and space was left open on the right side to create a walk in shower. The clear enclosure allowed an unobstructed view of the intricate black and white tile design that was hidden by the old shower curtain. The new water lines were run behind the wall and a hole was strategically cut for a new shower valve. The McGuires chose a chrome Moen head with a shower diverter which allows for both a stationary shower head or a hand held shower to be used.
(Out) Old Style Pedestal Sink & Faucet
(In) Ergonomically Friendly Pedestal Sink & Comfort Height Toilet
A Kohler porcelain white sink (which was 34" tall vs. the old sink at 30" tall) and a comfort height toilet where chosen to update the bathroom's looks and to make a more universal and ergonomically friendly design.
Finishing Touches
No bathroom remodeling project is complete without some decorative and functional finishing touches. The McGuires added a teak shower bench and new vanity to compliment the looks of the bath and provide increased storage for soap, shampoo and towels.
What are your thoughts or questions about this project? Please comment below.   
###
Learn more about bathroom & shower remodeling by visiting Cleveland Design & Remodeling (216-531-6085), Columbus Design and Remodeling (614-252-7294), or The Bath Doctor (513-742-6679) ( serving the Cleveland, Columbus, Cincinnati and Dayton markets).
---
Mike Foti
President of Innovate Building Solutions a nationwide supplier and regional (Cleveland and Columbus) remodeling contractors. Some of our product lines include glass counters, floors, backsplashes, glass blocks and grout free shower and tub wall panels
---