How to create a light transmitting glass block subway tile design for a kitchen, bathroom or commercial wall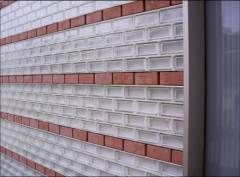 Looking for a cool way to add a subway tile design and have a light transmitting wall, backsplash or window? With the introduction of the newest size of glass blocks – the 4" x 4" x 4" – it is now possible to create a design that not only has the subway tile/running bond look but also one that can serve the dual purpose of being a window, shower or commercial wall. Learn more about the new block manufactured by Pittsburgh Corning, where it can be used and how it can create a unique residential or architecturally inspired space below.
How to use the new 4 x 4 x 4 glass block size – To create a running bond/ subway tile look and simultaneously create a glass block shower, wall or window the new 4 x 4 block is used at the sides of the wall or window and is accompanied by 4" x 8" blocks as the primary units in the center. Combining these 2 sizes will create the traditional brick or subway tile design to match with exterior brick, block or commercial walls or interior tile shower walls.
Where to use this new block – Some common places to use the block commercially would be install as a window or wall around brick courses or as an interior partition wall to separate work spaces while still allowing light to flow from one spot to another.
In home projects the blocks can be used in a bathroom remodeling project as a shower wall, in a kitchen as a backsplash/window – or wherever you'd like the running bond architectural design and the ability to move light.
What patterns are available – The 4 x 4 x 4 glass block masonry unit is available in patterns which provide different amounts of light, privacy and design. For the maximum light and sight the Vue pattern will be best. To provide moderate privacy with a flexible design aesthetic choose the Decora pattern. For maximum privacy the Icescapes patterns is available. 
How to make it cool – You don't have to settle for a clear glass block any more. If you want to add one of kind of styling add in some etched, colored or frosted glass blocks to make the wall, shower, backsplash or window really pop.
How you done anything cool with different glass block sizes or patterns or have a question about the use of the 4 x 4 x 4 blocks? Please comment below.
Learn more about decorative and functional uses of glass blocks by visiting Columbus Glass Block (877-668-5888) , Cleveland Glass Block (216-531-6363), Mid America Glass Block (513-742-5900) of Cincinnati or Dayton. If you are doing bathroom or kitchen remodeling and are interested in a subway tile design visit Cleveland Design and Remodeling (216-531-6085), Columbus Design and Remodeling (614-252-7294) or The Bath Doctor in Cincinnati (513-742-6679).
Related Articles
---
Mike Foti
President of Innovate Building Solutions a nationwide supplier and regional (Cleveland and Columbus) remodeling contractors. Some of our product lines include glass counters, floors, backsplashes, glass blocks and grout free shower and tub wall panels
---