5 Benefits of a Custom Solid Surface Countertop, Shower Wall, Base or Vanity Top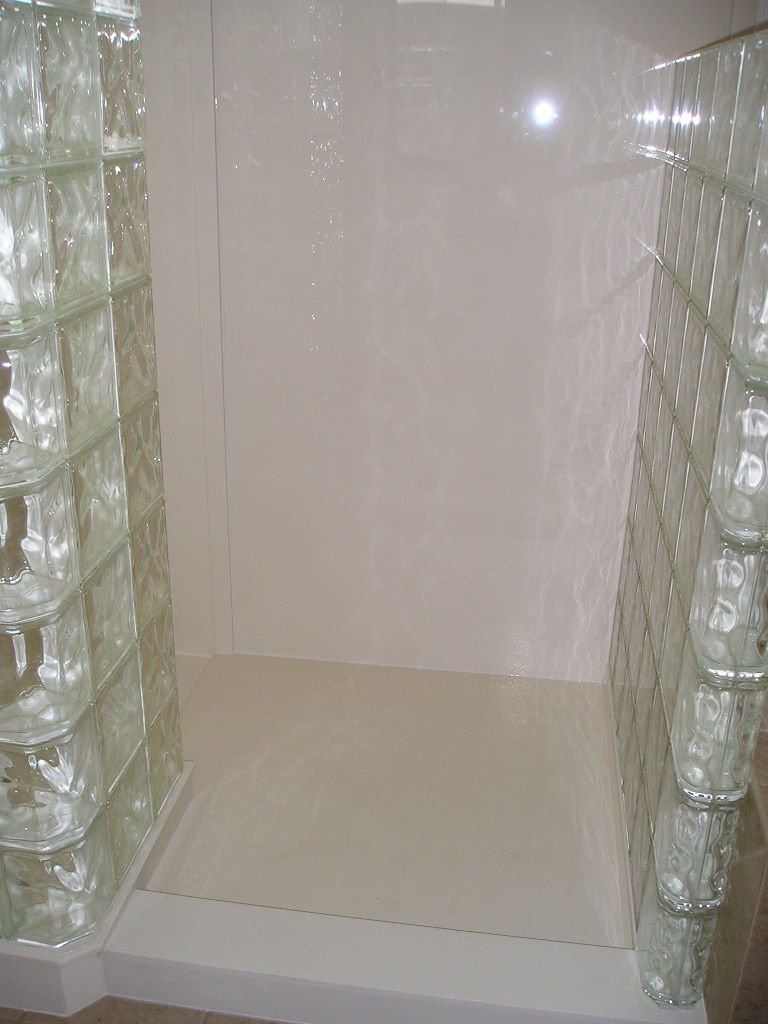 Are you looking for a luxurious, durable and green-friendly product to use for a shower wall, base, vanity top of countertop for a kitchen or bathroom remodeling but are confused by all the options? If so – you're not alone. For a high end look the most popular options today included granite, marble, tile and solid surface. This article will present the biggest benefits when using solid surface materials for a bath or kitchen remodeling project.
Benefit 1 – An easy to fabricate material for a

custom shower base

or countertop design– While granite and marble offer some attractive color combinations the ability to fabricate custom shapes is limited. Corian solid surface material can be made into virtually any size or shaped (straight, curved, angled) shower base, wall or countertop. The material is not only available in 110 color combinations but there are multiple edge designs for a unique look.
Benefit 2 – Seamless design does not promote growth of mold or mildew– Let's face it – showers, bathroom and kitchens are popular places for mold and mildew to grow because of the large quantity of water and liquids present. Since Corian solid surface material is non-porous it is being used extensively in hospitals and schools to minimize the risk of infections. This material choice can certainly create a healthier home environment as well.   
Benefit 3 – Durable material minimizes maintenance time and costs – A material that looks good initially but creates a lot of effort and cost to maintain over the long run can be a pain. Unlike products like granite and marble – solid surface countertops, walls and shower bases do not need to be resealed because they don't absorb moisture and won't stain.   
Benefit 4 – Cool color and design options – The fabulous thing about custom design is the ability to get exactly the look you want. With solid surface materials you can use multiple colors in the same design. Here are some combinations to consider:
Combine a different color sink bowl and vanity top
Use a different colored shower threshold than the shower base
Put in a colored design inside a shower wall or use a decorative border.
Create the look of tile design layout within the Corian shower walls.   
Benefit 5 – Green friendly material – Since solid surface materials are non-porous, durable and will not throw off any gas it is a natural fit for a residential or commercial project that are focused on environmentally conscious materials. 
What do you think about solid surface materials for a shower wall, base, counter or vanity tope? Have you used them before? If so – how have they worked out? Please comment below.
###
If you need assistance with a using Corian solid surface materials for a bathroom or kitchen  design & remodeling project learn more by visiting Cleveland Design & Remodeling (216-531-6085), Columbus Design and Remodeling (614-252-7294), or The Bath Doctor (513-742-6679) (serving the Cleveland, Columbus, Cincinnati and Dayton markets).
---
Mike Foti
President of Innovate Building Solutions a nationwide supplier and regional (Cleveland and Columbus) remodeling contractors. Some of our product lines include glass counters, floors, backsplashes, glass blocks and grout free shower and tub wall panels
---