Adding Cool Designs in a Glass Block Wall or Window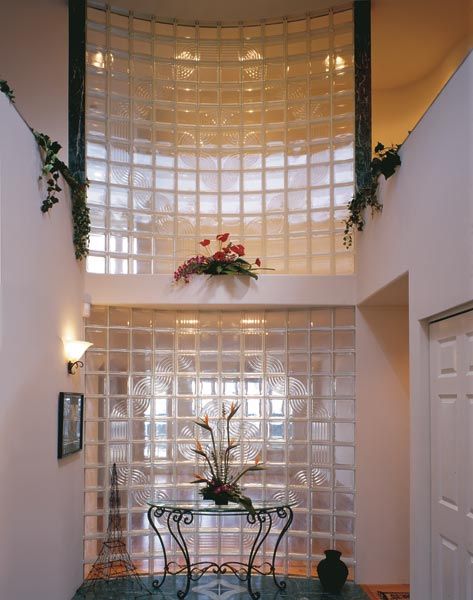 A stud and drywall wall may serve the functional purpose of separating rooms but it doesn't do much to add style or move light through the inside of a loft, single family home or commercial space. What's getting hot now is to use glass block designs in wall or interior window areas to add interest, increase natural light and save energy. Here's 3 designer options with to consider:
Option 1 –

Glass Block Patterns

– If you like to literally create a work of art inside a wall or window space check out the "Spyra" block pattern manufactured by Pittsburgh Corning. This unit uses a series of concentric arcs inside the block to create circular or wave type designs. The "Bromo" and "Ocean View" blocks are 2 other patterns from Mulia Inc. to create a distinctive style.
Option 2 – Etched Glass Blocks – For a custom one of a kind look laser etching the units with nature designs (perhaps trees, birds, flowers etc.), hobbies (golf, swimming, tennis, running etc.) or even logos for a corporate space (waiting rooms, conference rooms) can transform the ordinary into the extraordinary.
Option 3 – Colored & Frosted Glass Blocks – To make a more vibrant statement the use of color can be dramatic. There are 108 colored and frosted blocks to choose from that are not only available in the standard sized blocks (4" x 8", 6" x 6", 6" x 8", 8" x 8" & 12" x 12") but they also come in shapes to turn corners or make rounded or walls that gracefully step down.
Would you like to remodel a room and add more interior light through an existing drywall wall? What do you think about using etched, colored, frosted or patterned glass blocks? Please comment below.
To learn more about glass block designs or remodeling visit or call Columbus Glass Block (877-668-5888) , Cleveland Glass Block (216-531-6363), Mid America Glass Block (513-742-5900) of Cincinnati or Dayton, Cleveland Design and Remodeling or Cincinnati Design and Remodeling.
---
Mike Foti
President of Innovate Building Solutions a nationwide supplier and regional (Cleveland and Columbus) remodeling contractors. Some of our product lines include glass counters, floors, backsplashes, glass blocks and grout free shower and tub wall panels
---