The benefits and uses of solid security glass block windows & walls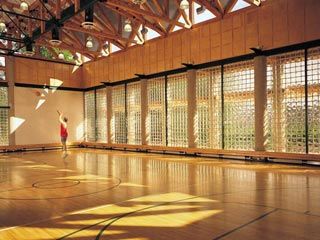 Building security, vandalism, glass breakage can be a nightmare for maintenance departments and drive up costs for building owners. A solution to this problem is using solid security glass blocks. Learn below the benefits and common uses for this product.
Benefits
Improved security and reduce vandalism– Since these solid glass blocks are 3" thick and weigh 15 lbs for each 8" x 8" x 3" unit they are very difficult to break in through.
Bullet resistant windows & walls – Due to the high impact strength of these units they resist penetration from him impact weapons like 9 mm and .357 magnum bullets.
Easy to maintain & replace – The smooth glass surface makes it easy to remove graffiti from a window or wall. If a block were to break this type the entire window assembly does not need to be fixed (only the individual 8" x 8" block).
Increased fire resistance up to 90 minute UL ratings – If your home or industrial building is in close proximity to another building a more fire resistant window may be required from your building department.

Solid glass blocks

windows have up to 90 minute fire ratings.
Improves

soundproofing windows

– If it's difficult to concentrate due to nearby traffic, trains, machinery or crowds these blocks have a sound transmission class rating of 53 and a noice reduction coefficient of .05 for a quieter inside space that can improve productivity.
Design patterns available for clear view or to obscure inside views – There are 2 patterns – a Vue see-through block and also an obscure (stippled) block for increased privacy.
Uses
The most common places where these blocks are use are gym windows, recreations facilities, walkways and parking garages, factories and manufacturing buildings, jails, detention centers, police stations and high risk industrial and distribution buildings.
Do you have any questions or input about the benefits and uses of solid security glass block windows or walls? Please comment below.
If you need more information about installing solid security glass blocks visit Cleveland Glass Block (216-531-6363), Columbus Glass Block (nationwide at 877-668-5888 or 614-252-5888) or Mid America Glass Block (513-742-5900) of Cincinnati or Dayton.
---
Mike Foti
President of Innovate Building Solutions a nationwide supplier and regional (Cleveland and Columbus) remodeling contractors. Some of our product lines include glass counters, floors, backsplashes, glass blocks and grout free shower and tub wall panels
---