Laminated Glass Floor Systems – Benefits & Uses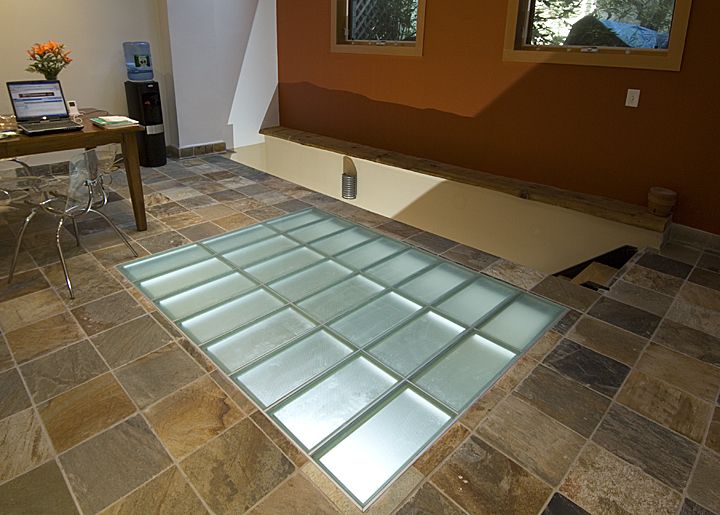 Structural glass floor system in an office
If you're looking to create a buzz around the interior design of your building project and want a functional way to move light through various floors (or levels) of a space a laminated glass floor system may be the answer. Learn below the top benefits of these flooring systems and where they are frequently used.
Benefits
Move light through various levels of a building or residence– Increasing light transmission in lower level spaces can be very important whether you're in a mall (where the lower floor tenants want people to be able to see their window displays and not feel like they are in a dark space) a museum or private residence. Glass floors can be used to move this light in both a functional and decorative way.
Add the wow factor to an interior or exterior design – How cool is it to walk over a glass floor or stair tread that appears to be floating in space? These systems make a dramatic design statement in most any type of building.
Engineered to fit an exact need or style – Glass paver floors are certainly not generic off the shelf items. An architect or designer can specify the shape of the laminated glass flooring sections, whether the glass panels are transparent or translucent and even put custom patterns in their projects.
Different surrounding materials can be used– Whether you're doing a glass walkway or bridge you have flexibility on the materials that will surround your glass floor (most common surrounding materials include wood, tile, stone or concrete floors).
Easy to install or replace – The challenge with old glass floors tended to be the difficulty of replacing the glass sections (which were usually embedded into a supporting concrete system) and installing the heavy systems. With the introduction of the new aluminum grid systems the floor is prefabricated into modular sections and the floor panels can be individually replaced.
Uses
The most common places where these flooring systems are used is for bridges, walkways and staircases. They are seen in medical centers, contemporary homes, civic centers, schools, hospitals, universities, malls and shopping centers.
Do you have any questions or input about structural laminated glass floor systems? Please comment below.
If you need more information about the design, supply or installation of these floors visit Columbus Glass Block (nationwide at 877-668-5888 or 614-252-5888), Cleveland Glass Block (216-531-6363), or Mid America Glass Block (513-742-5900) of Cincinnati or Dayton. These companies are divisions of Innovate Building Solutions.
---
Mike Foti
President of Innovate Building Solutions a nationwide supplier and regional (Cleveland and Columbus) remodeling contractors. Some of our product lines include glass counters, floors, backsplashes, glass blocks and grout free shower and tub wall panels
---