How to design a handicap wheelchair accessible bathroom – Part 1 the Shower Base & Entry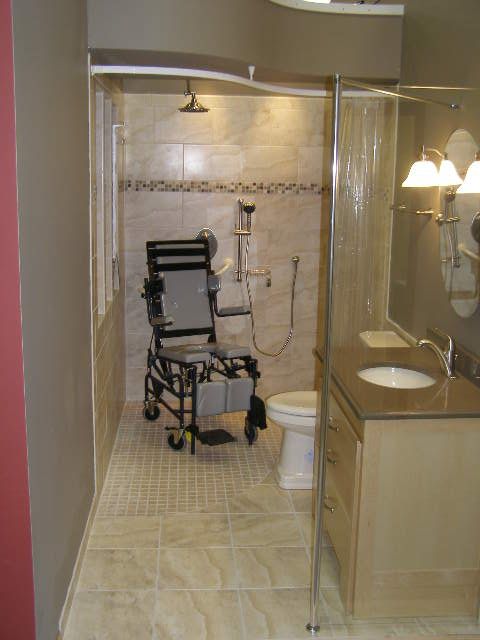 A one level wet room shower
Updated January 20, 2019
For someone in a wheelchair showering or bathing can be a huge challenge (and in some cases an activity to be avoided given the physical strain of the task). That is unless the bathroom and shower has been designed to accommodate their needs. Designing a handicap accessible bathroom requires a mix of careful planning, thoughtful design, selecting the best products and choosing a contractor with the right expertise.
There is NO REASON a handicapped (or accessible) bathroom can't be a cool space!
In Part 1 of this series the focus will be on the step to design the entry to the bathroom and selecting the best shower base.
Step 1 – Get help for your accessible shower 
Since accessible design showers and bathroom require special design and construction skills it is best for a family to get input from others who have been down this road before. A good place to start is to look for a contractor or designer who has the CAPS (Certified Aging in Place) designation through the Home Builders Association. This training provides focused learning in both accessible and universal design concepts. Although I hate the term 'aging in place' (it feels like people are stones to me – which is certainly not the case) – we all want to stay in our homes as long as possible. Assisted living facilities are expensive and take your independence away.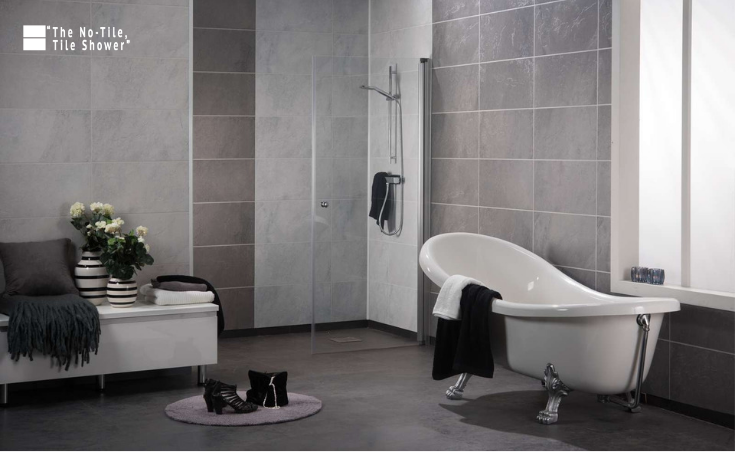 Another great source is obviously to use the Internet and check out sites on the subject. If the person needing an accessible space is a veteran the Veterans Administration not only has knowledgeable people but also offers financial assistance with through the HISA program. Many states also have Rehabilitation Service groups for additional input and project funding for home modifications.
Step 2 – Get a game plan together for the entry of your accessible shower 
At the most basic level the person in a wheelchair needs to be able to fit through the bathroom door. This may require increasing the opening to be 36" wide (if your space will accommodate this home modification). It may also be helpful to change the swing on the door to open outwards or to use a pocket door. While 'ADA' says you need a 36″ wide space, these guidelines only apply to public buildings (like stadiums, hotels etc.). You want to make the size of your opening big enough to be comfortable to get in. Get your wheelchair and measure it with whomever is using it on (you need room not only for the chair but also for their hands to wheel through).
Use a size which is comfortable – not what the Americans with Disability Act says.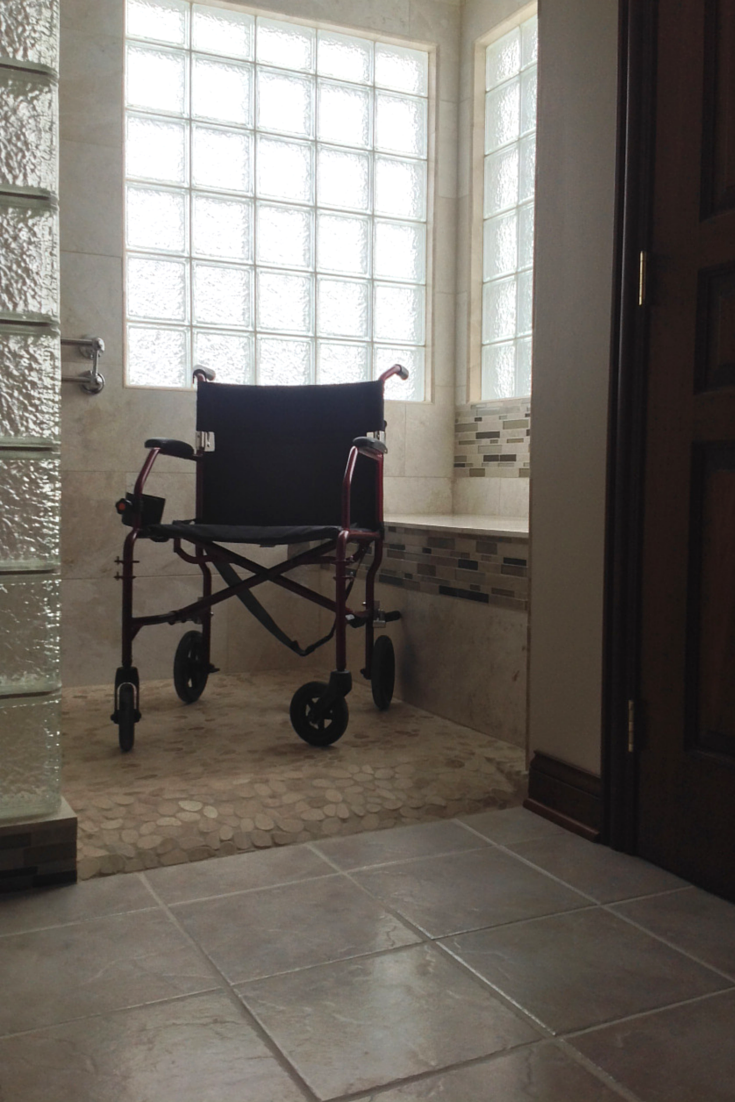 Step 3 – Recognize it's possible to convert a small tub space into a roll in shower 
In many cases existing bathrooms have been equipped with either a 60 x 32 bathtub/shower combination (which does not allow a person in a wheelchair to shower themselves) or the stand up shower is too small to even consider having the ability to roll into with a wheelchair. So a conversion (also called a bathroom modification) will be necessary. To make it possible to get into the new space it's important to make a clear path from the door directly to the new showering area. Using a one level wet room system you can turn a tub space into a one level room where showering alone is possible for a family member in a wheelchair.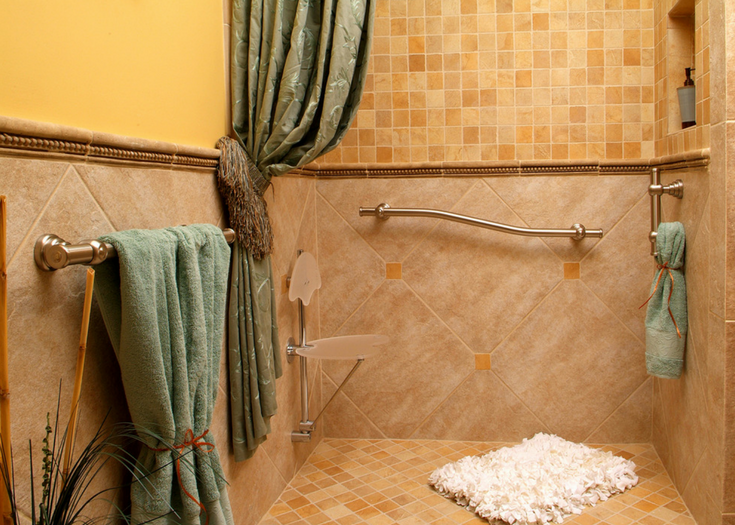 Step 4 – Find the right shower base for a handicapped accessible roll in shower 
The base of the shower is just like the foundation of the home – it may not be a sexy thing to look at or consider but it is often the first key to making the space work for someone with mobility challenges. To make a roll in wheelchair accessible shower it will be best to not use a traditional shower with a step over curb. Usually a space with a ramp either built into the base or a "wet room" (a single level room with the shower at the same floor level as the rest of the bathroom) will work best. Roll in shower bases can be made of many diverse materials including an expanded polystyrene ready for tile system, acrylic or fiberglass – to name just a few. Another important consideration will be the type of drain used for the shower. A drain in the center of the shower will often make it more difficult to move a chair in the space. Consider the use of a linear drain (also called a trough drain) that is place near the perimeter of the shower.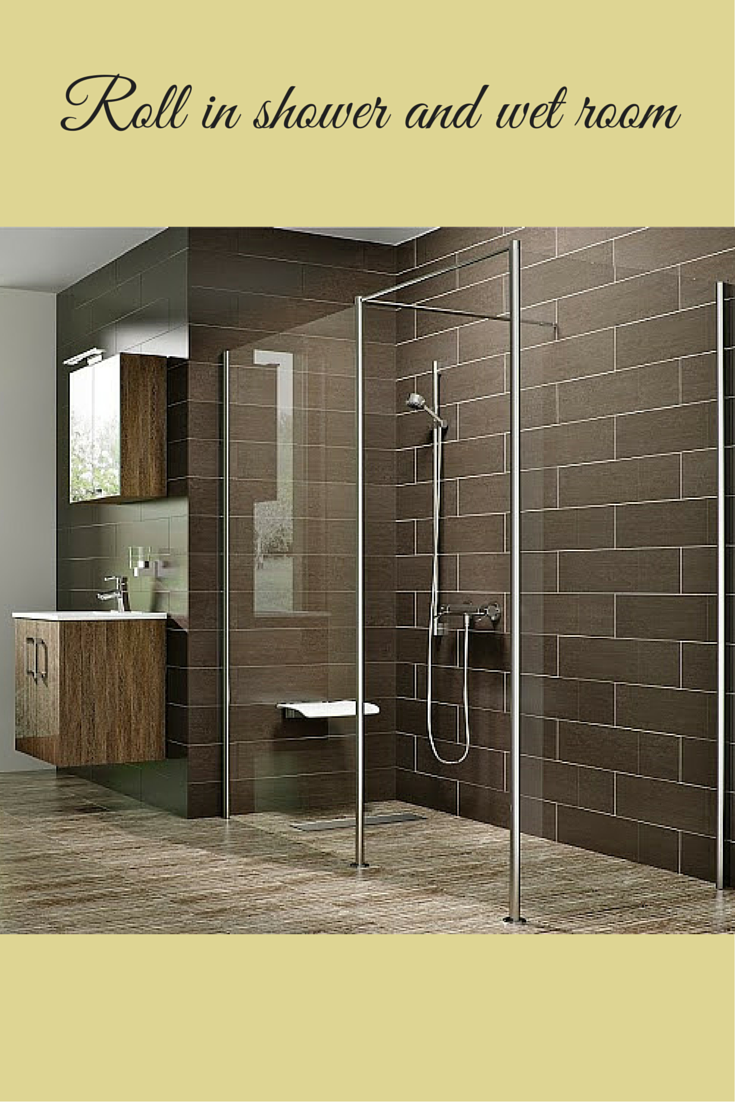 Stay tuned for Parts II and III in this series that will focus on the design considerations of the walls and accessories for a wheelchair accessible bathroom. Do you have any questions or input about the advice offered in this post? Please comment below.
###
Learn more or get an estimate an accessible roll in shower by visiting or calling Cleveland Design & Remodeling 216-658-1270) or The Bath Doctor of Columbus (614-252-7294) or Cleveland (216-531-6085). For nationwide factory direct product supply of these product call Innovate Building Solutions at 877-668-5888.
If you're a remodeler or builder and want practical advice on remodeling products, industry trends, marketing and sales tips to grow your business (and cut day to day hassles), start reading my newest blog – Innovate Builders Blog. It's packed with ideas you can use now. Click here to Sign Up for the Innovate Builders Blog.
If you're in the building business, click here if you'd like to learn how to become a shower wall panel dealer or call and ask for Mike at 877-668-5888.
---
Mike Foti
President of Innovate Building Solutions a nationwide supplier and regional (Cleveland and Columbus) remodeling contractors. Some of our product lines include glass counters, floors, backsplashes, glass blocks and grout free shower and tub wall panels
---