Experienced DIY Remodelers Transform a Master Bathroom and Bedroom with Thoughtful Design and Decorative Touches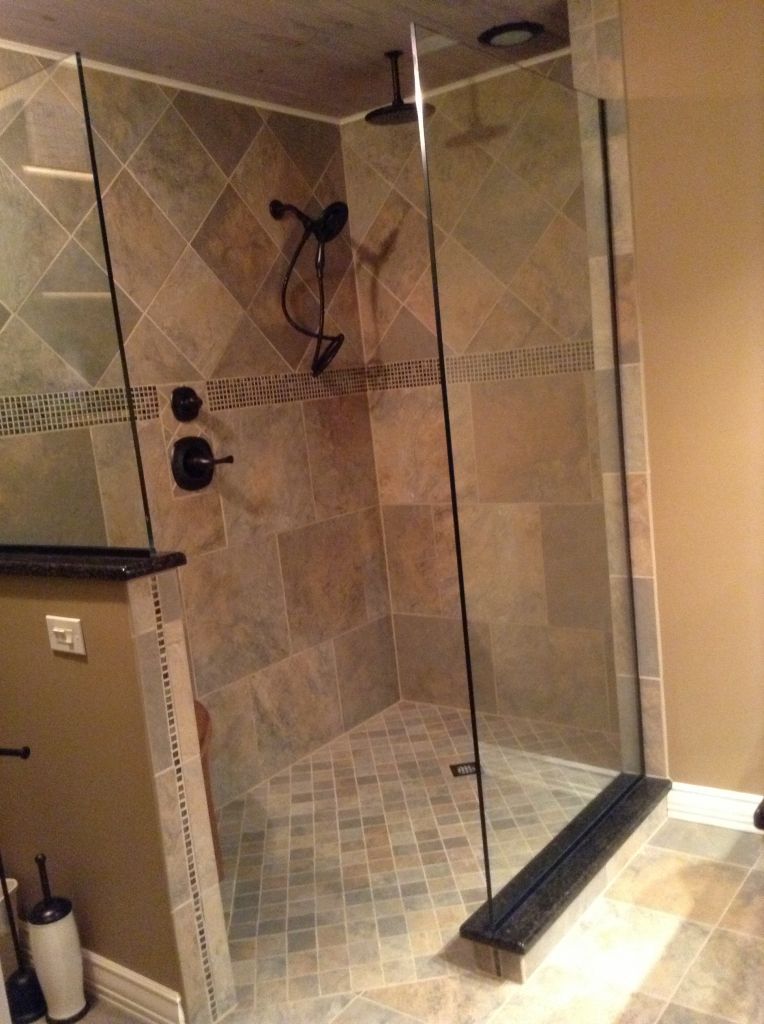 Barrier free tile shower in Traverse City Michigan
"I love this shower so much I don't want to get out of it!" exclaimed Devah Young of Traverse City Michigan. When Devah and Tom Young decided to remodel their bedroom and bathroom they had already renovated every other room of their home – they were no strangers to the remodeling process!
For this project their goals where to (1) make the spaces easier and safer to live in, (2) provide some unusual touches to make the project distinctively their own (3) to use materials which would perform well over the long run – all while doing the project at a cost effective price.  Learn below how Devah and Tom were able to achieve these goals.
Goal 1 – Design a space for ease of use, comfort and safety
A key driver for Tom's desire to do this project was to help Devah from the bruises she was getting from bumping into the pivoting entry doors into the bedroom and bathroom. The couple decided to use pocket doors to not only improve safety but also to maximize the usable space as well.
The small one piece stand up fiberglass shower was replaced with a large walk in barrier free shower. This required gaining the needed space by removing an adjoining closet. The shower was equipped with a wall mounted hand held shower and a rain head. The hand held shower can be used while sitting on the teak shower seat or standing. The rain head provides a gentle showering experience after a long day. In addition a built in shampoo nook with glass shelves not only provides style – but also maximizes the square footage insider the shower.
Goal 2 – Add unique decorative touches
Remodeling is a labor of love for Devah and Tom and no place is this more evident than by admiring the thoughtful touches in this remodeled bathroom and bedroom. Some of these touches include:
An antique buffet table which was repurposed into a bathroom cabinet and sink – Tom reduced the height of the old buffet table and added a decorative granite top and 2 vessel sinks (the old space only had one sink). Devah took hold of refurbishing the old buffet table by using an English "chalk paint" to create an old world waxy finish for the new bathroom cabinet. Lighting was added to highlight the piece and provide improved safety when entering the bathroom in the evening.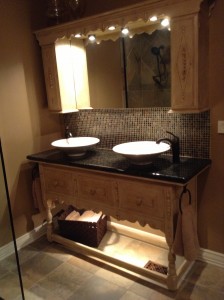 Hickory wood flooring and a tongue and groove purple bedroom ceiling – You can't help but notice the dramatic woodwork done by Devah and her brother when entering the master bathroom.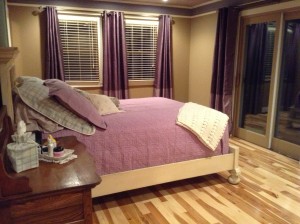 Unique pattern layout in the tile shower – The lower portion of the shower used large ceramic tiles which where laid in a running bond pattern, in the middle was a ceramic stone accent border, and the top tiles where laid "on point" (in a diamond type pattern).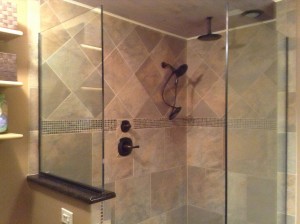 Goal 3 – Use materials which will stand the test of time – Irrespective of whether you are a DIY remodeler or a professional, a quality project goes beyond the "skin" of what is seen.  Choosing the right products and using proper installation methods will result in a project which lasts. Tom carefully chose the following 3 products for the tile shower enclosure:
Product 1 – Waterproof barrier free shower base – Tom used a pre-sloped expanded polystyrene base which was thin set to the subfloor. The floor tiles where thin set over the base. As Devah said, "this base not only drains well and is waterproof – but it made our installation process so easy we would never go back to the old method of pouring a shower floor again!"
Product 2 – Schluter waterproof wall backer – The Schluter system is not only much easier to work with than traditional cement board, but it provides a waterproof barrier to prevent damage to the walls behind the shower.
Product 3 – Urethane grout – While urethane grout is more time consuming to work with it never requires resealing and absorbs much less water than a traditional sanded grout.
What do you think about Tom and Devah's project? Please comment below.
###
If you're looking for a supplier nationwide for the waterproof barrier free shower base, wall backer systems or urethane grout contact Innovate Building Solutions at 877-668-5888. If you're looking for a bedroom or bathroom remodeling company in the Cleveland or Akron Ohio areas call Cleveland Design and Remodeling (216-658-1270).
---
Mike Foti
President of Innovate Building Solutions a nationwide supplier and regional (Cleveland and Columbus) remodeling contractors. Some of our product lines include glass counters, floors, backsplashes, glass blocks and grout free shower and tub wall panels
---