Eliminating a Shower Door with a Low Maintenance Glass Block Walk in Shower Kit in Lincoln Delaware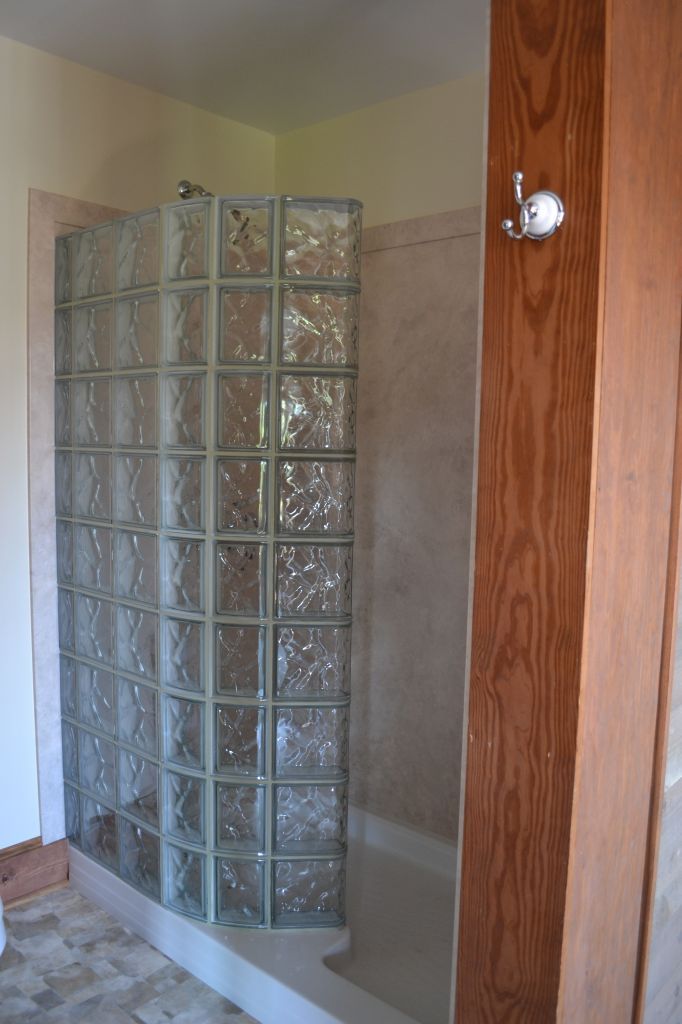 Glass block walk in shower kit with acrylic base and DIY interior shower wall panels
"I really needed to ditch that ugly shower door. The one piece fiberglass shower surround had a flimsy framed shower door which was to tough to clean and rusted," said Debbie Kee about her bathroom in Lincoln, Delaware.
The door dilemma started a one year Internet research project for Debbie to find a stylish, low maintenance alternative to transform this shower space and her bathroom. Learn below how Debbie (in conjunction with Innovate Building Solutions and her contractors Stu Welch and Barry) used a glass block shower kit and DIY shower wall panels to create a easy to clean and good looking walk in shower.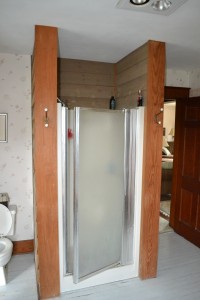 Bathroom size and layout
The old fiberglass one piece shower occupied a small 36" x 36" area so the decision was made to "borrow" some unused space from an adjoining bedroom to accommodate a new 60" x 34" curved acrylic base (with matching glass block wall sections).
Bathroom products chosen
Debbie's goal was to achieve a more open feeling and to use products that didn't feel heavy or were hard to maintain. These design considerations lead to the following choices:
1) Thinner series glass block curved shower wall and base kit – Debbie chose a graceful looking wave glass block wall pattern that was not only thinner (the blocks were 3 1/8" thick vs. the standard 4" thickness), lighter, and more cost effective but also provided more room inside the shower as well! In addition a slip resistant acrylic base makes clean up a snap. Stu and Barry (the installation contractors) actually had fun installing the glass block sections (imagine having fun doing a home remodeling project)!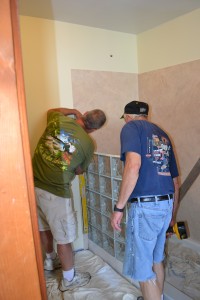 2) DIY shower interior wall panels – Since Debbie didn't want the heavy feeling of tile walls it was suggested to use a waterproof DIY shower wall panel system that is grout free and looks like real stone. The Crème Travertine wall design was selected and extra corner shelves and a recessed niche were installed to maximize the amount of storage.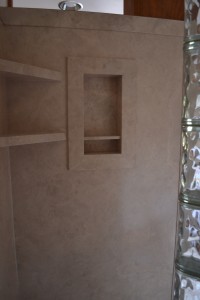 3) One piece linoleum bathroom floor – Debbie found an attractive linoleum that complimented the space and created a light feeling in the room.
Although Debbie says her new bathroom is delightful – perhaps most importantly her granddaughter just loves the space!
What do you think about Debbie's renovation? Please comment below.
###
To learn more about a curved glass block shower kit or DIY shower wall panels or get a free estimate visit or call Innovate Building Solutions on a nationwide basis (877-668-5888) or for a local project their divisions including Columbus Glass Block (614-252-5888), Cleveland Glass Block (216-531-6363), West Side Glass Block (216-398-1020) Mid America Glass Block (513-742-5900) of Cincinnati or Dayton and Akron (330-633-2900), Cleveland Design & Remodeling (216-658-1270) or The Bath Doctor of Columbus (614-252-7294).
If you'd like to contact Debbie about her project or about her work with teaching kids to love music visit www.keenotemusic.com
This article was authored by Mike Foti
---
Mike Foti
President of Innovate Building Solutions a nationwide supplier and regional (Cleveland and Columbus) remodeling contractors. Some of our product lines include glass counters, floors, backsplashes, glass blocks and grout free shower and tub wall panels
---