Are Bathroom Remodeling Projects in the United States too big? 9 Tips to make a small bathroom work
When I first saw the picture above showing off a wet room shower with a glass block wall positioned in front of a tub (taken from a project in Europe) I thought there's no way some one in the United States would position a shower like this in front of a tub (although I think it looks cool)! The reality is in the United States on average our homes are 2,300 square feet in space whereas in France they are 1,211 and in the United Kingdom they are only 818 square feet. So in Europe it's critical to use the most of every inch of space. That means in this country we've got space to spare and didn't even realize it!
Do we as consumers in the United States think we have to remodel our bathrooms, kitchens and basements larger than they really need to be? Conversely if someone currently has a small bathroom what are some remodeling ideas to consider to use the existing footprint without sacrificing style and function?
The article below will briefly look at the benefits of small bathrooms and then provide a few tips to create a smaller bathroom remodeling project that will pop and work well for all members of the family.
Benefits of a Smaller (Not So Big) Bathroom
In the book and web site The Not So Big Home Susan Susanka says "the Not So Big Home does not mean small – it means not as big as you thought you needed, but built perfectly to suit your needs." Consider some of the benefits of smaller bathrooms:
Improved energy efficiency and savings on heating and cooling costs
More sustainable and ecologically friendly
Reduces building and remodeling costs
9 Quick tips for a small bathroom remodel
If you'd like to get the most out of your small bathroom (and keep the remodeling costs down from having to make the space larger) consider some of the following tips:
Tip 1 – Wet rooms – a wet room is a single open space where the entire bathroom is waterproofed to gain more functionality.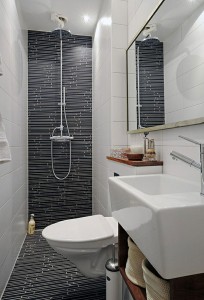 Tip 2 – Use a small bathtub – there are some chic models now available.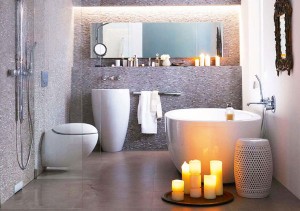 Tip 3 – Use a pocket door vs. a hinged entry door to save space.
Tip 4 – Hang a large mirror – this will give the illusion of a larger area.
Tip 5 – If you're going to have a shower enclosure use clear glass doors – this will create a more open feeling.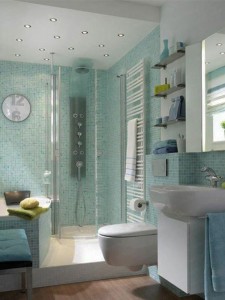 Tip 6 – Bring in natural light (while not sacrificing privacy) – small baths can be tough because often the shower is positioned on an outside wall and it can be difficult to bring in light without sacrificing privacy. Consider using a frosted glass block window or glass transom to solve this problem.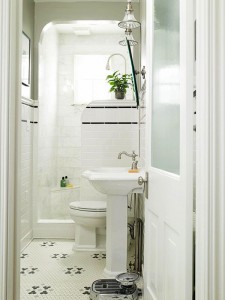 Tip 7 – Recess as much storage as possible – consider using recessed soap and shampoo niches in the bath/shower and also recessing a medicine cabinet.
Tip 8 – Use 16" or 18" deep cabinetry vs. the standard 21".
Tip 9 – Add an exhaust fan – this will help to keep the smaller space comfortable and get the moisture out (this is especially important if you don't have the luxury of an operable window).
What do you think about the size of bathrooms in the United States? Do you think you can make a smaller space work? Please comment below.
If you're looking for more information, small bathroom products or an estimate on remodeling a small or large bathroom visit The Bath Doctor of Cleveland (216-531-6085) or Columbus (614-252-7294).For nationwide direct product sales call Innovate Building Solutions (877-668-5888). For complete bathroom remodeling contact Cleveland Design & Remodeling (216-658-1270).
---
Mike Foti
President of Innovate Building Solutions a nationwide supplier and regional (Cleveland and Columbus) remodeling contractors. Some of our product lines include glass counters, floors, backsplashes, glass blocks and grout free shower and tub wall panels
---