Glass Block Shower Wall adds Style to Texas Bathroom Remodel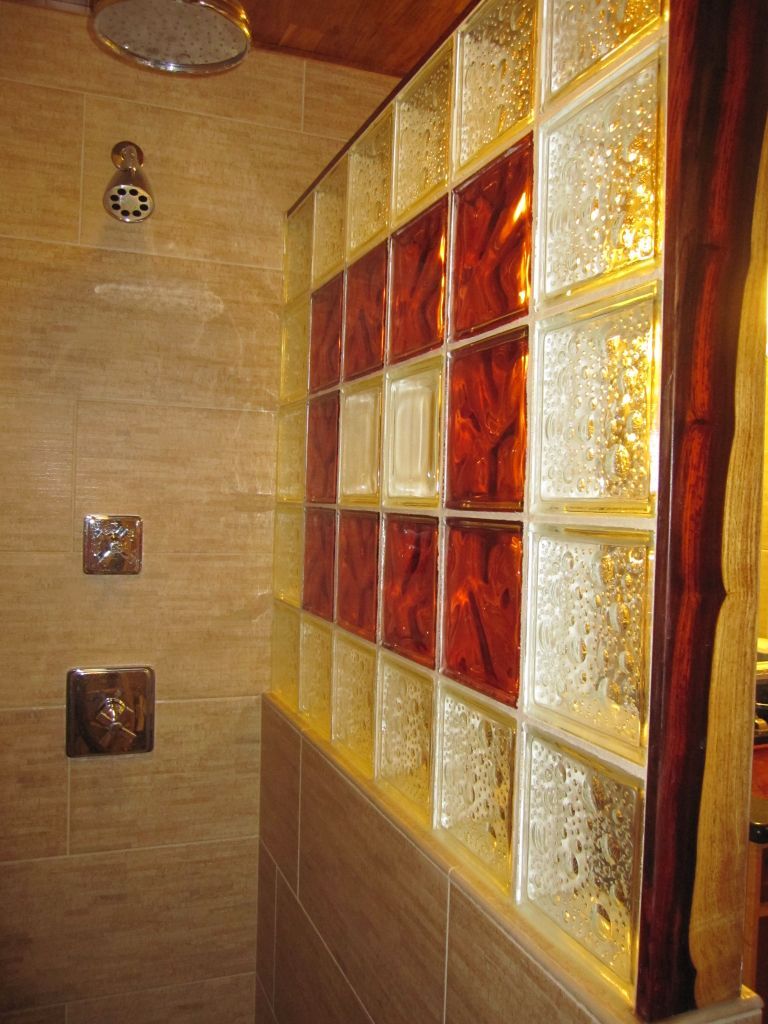 Inside view of shower with custom glass block wall and decorative cocobolo wood trim in a Texas remodel
When Debi and her husband George were looking to remodel their small Texas bathroom their goals were to combine an easy to clean and user friendly walk in shower with and to use unique wood elements. In order to use every available inch of space the couple removed a wall to pick up 2′ in width (so the final dimension of the space was 7.5′ x 7.5′ – see pictures during demolition below) and used a pocket door to help with space restrictions.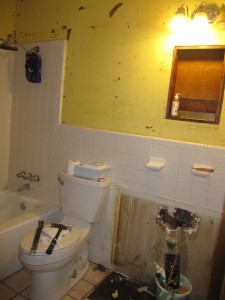 The finished bathroom was a stylish door-less shower highlighted with a one of a kind glass block design with several unique uses of durable species of wood in the trim, ceiling and cabinetry. Learn more about this project below.
The Walk in Shower
As Debi said, "We were looking to convert our little bity bathroom into a larger walk in shower. We did not want to incur any costs associated with moving the plumbing, but wanted to invest our money in this remodel on high quality finished materials that would last – and also include the wood features that George loves!"
This focus on high quality, low maintenance and stylish products resulted in the following selections: 
Decorative glass block shower wall with cocobolo trim – Working with Lillie Burton from Innovate Building Solutions 3 glass block patterns (Vue, Decora and Seascapes) were combined with a "sunset" colored glass blocks and decorative glass tile blocks to create a distinctive design. The wall was trimmed with cocobolo wood – which is an oily, dense wood which has red, brown and white colors naturally inherent in the wood. Wow – what a cool combination! (note – yes it is fine to use this cocobolo trim in a wet shower environment due to the dense nature of this species of wood).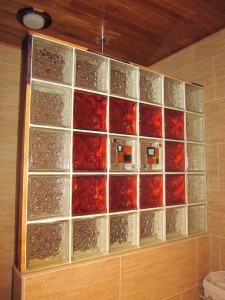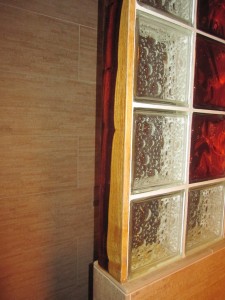 Happy Floors  12" x 24″ porcelain tiles in Bambu Beige– Debi just loves the abstract look of the  porcelain tiles which were laid horizontally from the floor to the ceiling. The big sized tiles are not only nice and stylish to look at, but they result in fewer and smaller grout joints.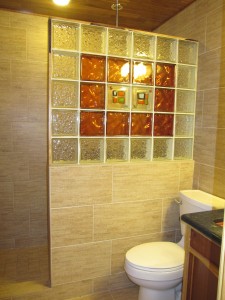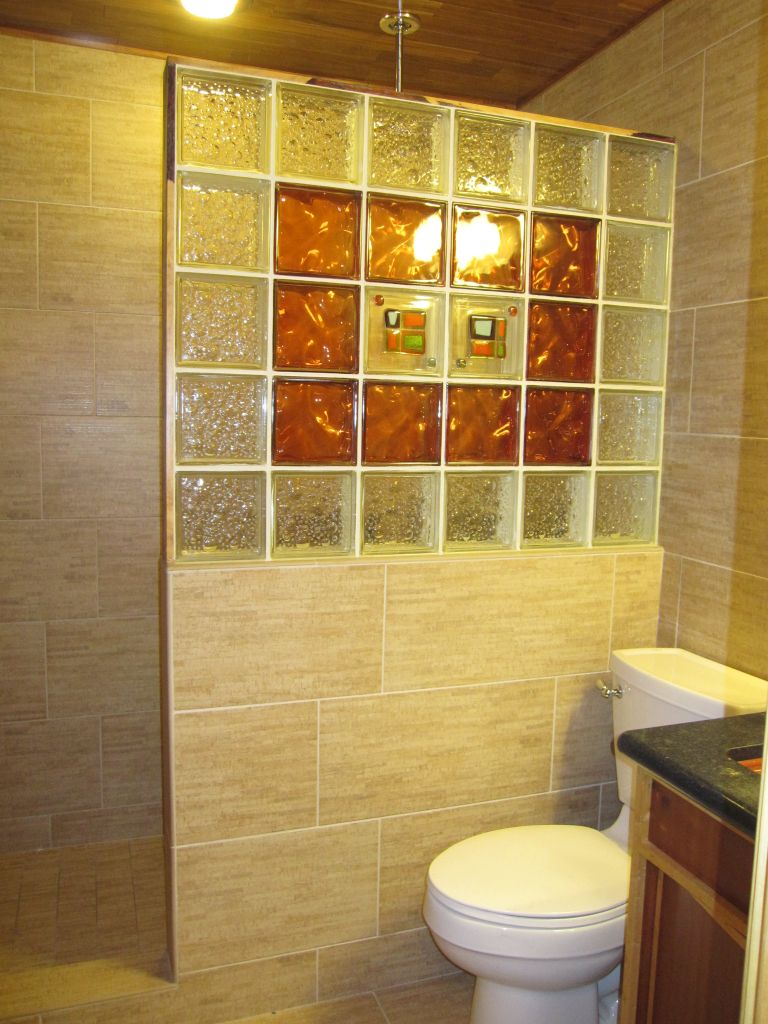 Teak flooring used on the ceiling – This room takes on a stunning and warm appearance with the use of teak flooring on the ceiling of the entire bathroom.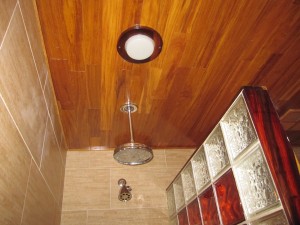 The Use of Custom Wood
The cool use of durable and decorative wood does not stop at the shower. In the main portion of the bathroom George built a custom bathroom cabinet and vanity with ribbon wood and birch trim. The vanity used a Kohler ledges undermount bathroom sink in a ember color. The cabinets were topped off with granite.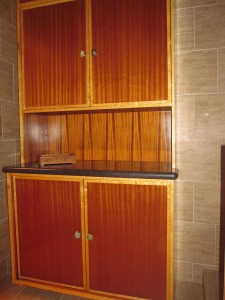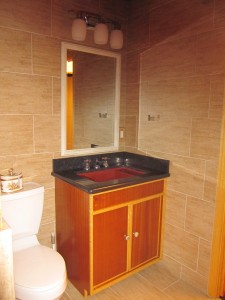 In addition George made a custom towel rack that looks like a small ladder – what a fun and functional use of wood!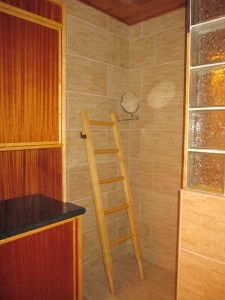 While Debi and George were very hands on with this project (creating the cabinets, towel stand, glass block wall installation and final wood trim details) – they also had help in the final result. The construction and build out was done by Kitchen and Bath Wizards and the glass blocks were provided by Innovate Building Solutions.
What do you think about Debi and Georges' walk in shower? What experience do you have with using wood products in a bathroom environment. Please comment and ask questions below.
Learn More About Frosted Block Windows
To learn more about the frosted protect all glass block windows or get a free estimate on a glass block window, wall or shower project visit or call span itemscope itemtype="http://schema.org/LocalBusiness">
Innovate Building Solutions
on a nationwide basis (877) 668-5888) or for a local project their divisions including
Columbus Glass Block
(614) 252-5888),
Cleveland Glass Block
(216) 531-6363),
West Side Glass Block
(216) 398-1020) or
Mid America Glass Block
(513) 742-5900) of Cincinnati or Dayton and Akron
(330) 633-2900).
---
Mike Foti
President of Innovate Building Solutions a nationwide supplier and regional (Cleveland and Columbus) remodeling contractors. Some of our product lines include glass counters, floors, backsplashes, glass blocks and grout free shower and tub wall panels
---