Remodeling a Luxury Touring Motor Coach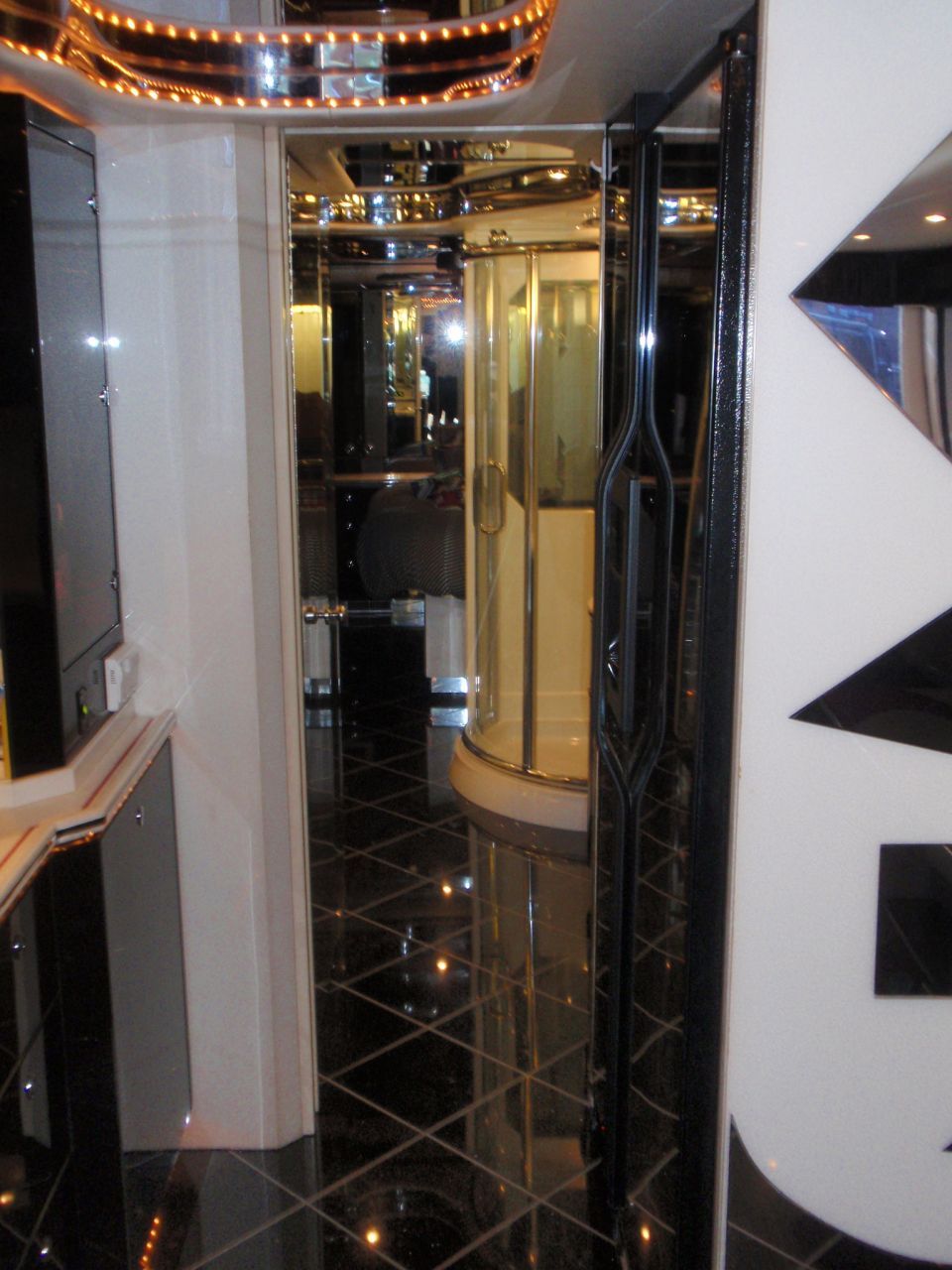 Remodeled interior of Prevost H3-45 touring motor coach
Yes – the News from the Block blog is usually about interesting home remodeling products and projects but it's cool to see the dynamic things being done with "moving" homes (in this case a touring motor coach) as well. Learn below how the luxury motor coach owned by the Allagier family was not only remodeled but given a literal "facelift" through the design, product selection, construction and ownership team of Excalibur Coach (including President Doug Stolfo and Office Manager Cindy Jonker).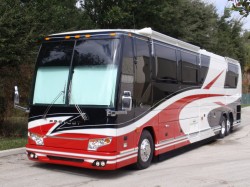 A Prevost H3-45 gets a facelift
A luxury motor coach is much more than just a vehicle to get you from point A to point B and provides shelter– it's a statement of the style, tastes and enjoy of life for it's owners which really makes a coach special. In the project the Prevost (official luxury motor coach of NASCAR) H3-45 got what Doug calls a "facelift" where the front of the unit was remodeled to replicate the look of this coach's newer 2012 version. In addition this coach got a new paint job with fun colors (gray, black, red and white) which really helps it to stand out on the racetrack infield.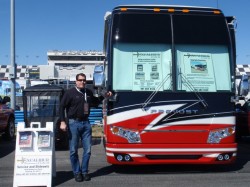 Interior coach remodeling
Much like the design of an aircraft efficiently using every inch of the inside of a motor coach is a must. In this project the Allagier's were not only looking for improved functionality, but they wanted the coach to mirror the look of a luxury home.
One key area of the interior coach remodel was redefining and upgrading the bathroom. The old shower was small and outdated and the vanity and flooring lacked the contemporary design look desired by the owners.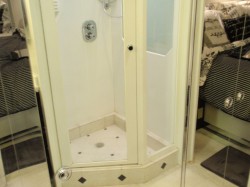 Doug and Cindy improved the space by selecting a curved sliding glass shower system with a clear glass doors. This 36" x 36" arc-shaped acrylic shower base (from Fleurco) has 70" high curved sliding doors which works in the small space and eliminates the problem of the old shower where the owners were banging their elbows against the shower doors. To provide additional style a new granite floor, interior LED lights and a remodeled vanity provide a sleek, modern look.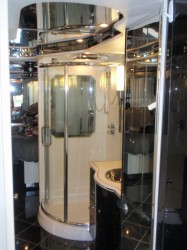 Other Prevost remodeling projects and upgrades
In addition to the features outlined in this project there are many other upgrades possible for luxury motor coaches. Some of these include upgraded sound systems, entertainment cabinets, floor and ceiling upgrades, new seat upholstery, TV upgrades and even bedroom mattress motion tilt systems!
Whether you are tooling around the country or going to a NASCAR racing event a luxury motor coach can provide a lot of fun, function and entertainment. What do you think of this project? Please comment below.
For more information about remodeling or upgrading a motor touring coach contact Excalibur Coach at 407-302-9139. To learn more about the unique curved sliding shower base and enclosure system call Innovate Building Solutions at 877-668-5888.  
---
Mike Foti
President of Innovate Building Solutions a nationwide supplier and regional (Cleveland and Columbus) remodeling contractors. Some of our product lines include glass counters, floors, backsplashes, glass blocks and grout free shower and tub wall panels
---