7 Reasons to Choose a Shower Door over a Shower Curtain – Part 1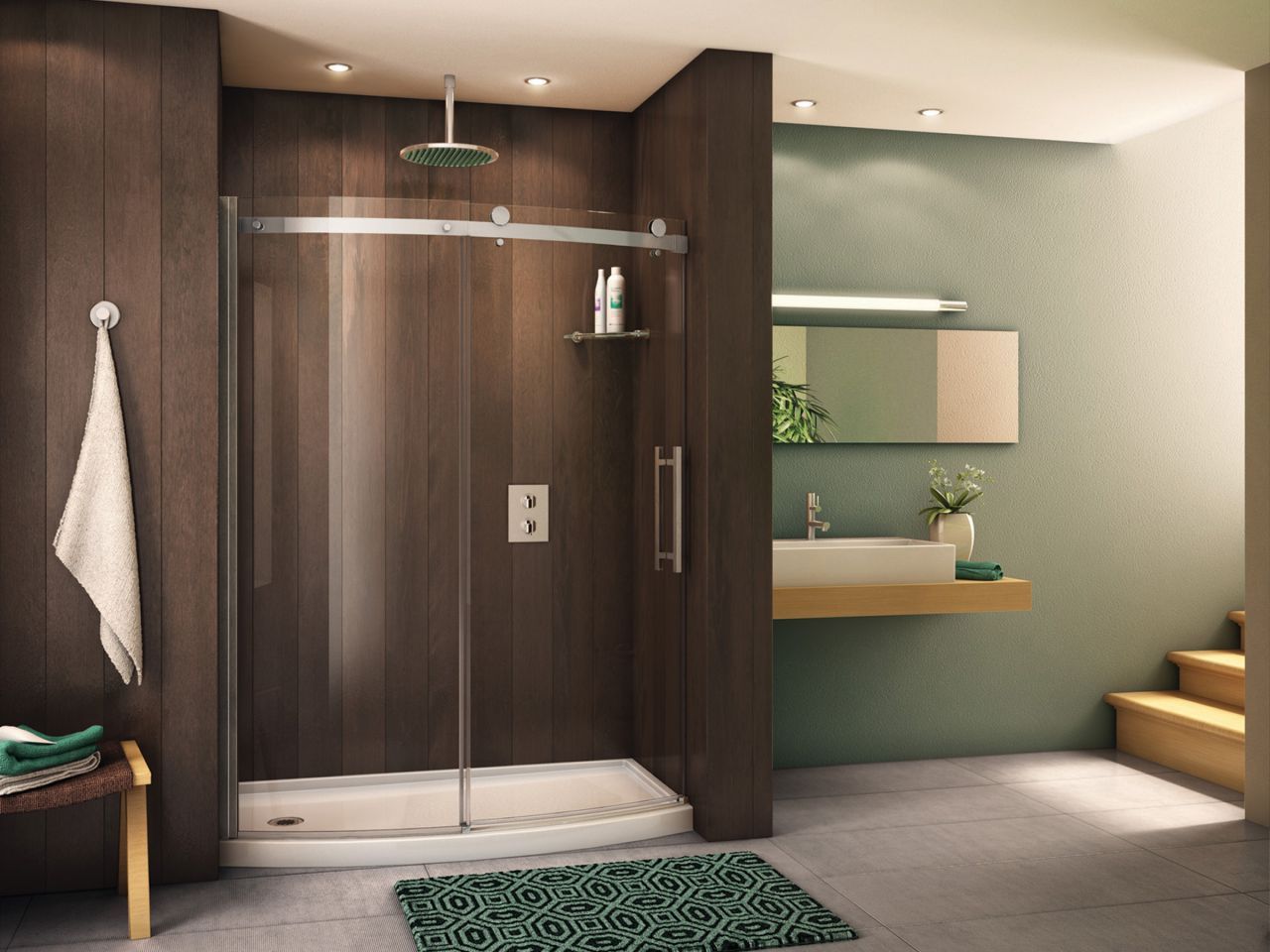 2 sided glass shower door with a Flexpan reinforced acrylic pan
Updated February 22, 2019
"Should I choose a shower door or a shower curtain?" – asked one of our customer recently. When I said "it depends," – she said "what kind of a cop-out answer is that!" While the interaction may be funny it's really true that neither the shower door nor the shower curtain is a slam dunk favorite over the other. The selection depends on many factors including the amount of privacy/openness desired, budget and ease of cleaning to name just a few factors.
In Part 1 (of a 2 part series) I'll focus first on 7 advantages of choosing the shower door over the shower curtain (in Part 2 I'll flip this around and look at the advantages of the shower curtain over the door).
Reasons to Choose a Shower Door over a Curtain
Reason 1 to choose a shower door over a shower curtain
A more open feeling – If you're claustrophobic or just like a more open, airy look a clear glass shower door is the hands down winner. Most curtains block the view. With a glass door – you won't feel separated from the rest of your bathroom.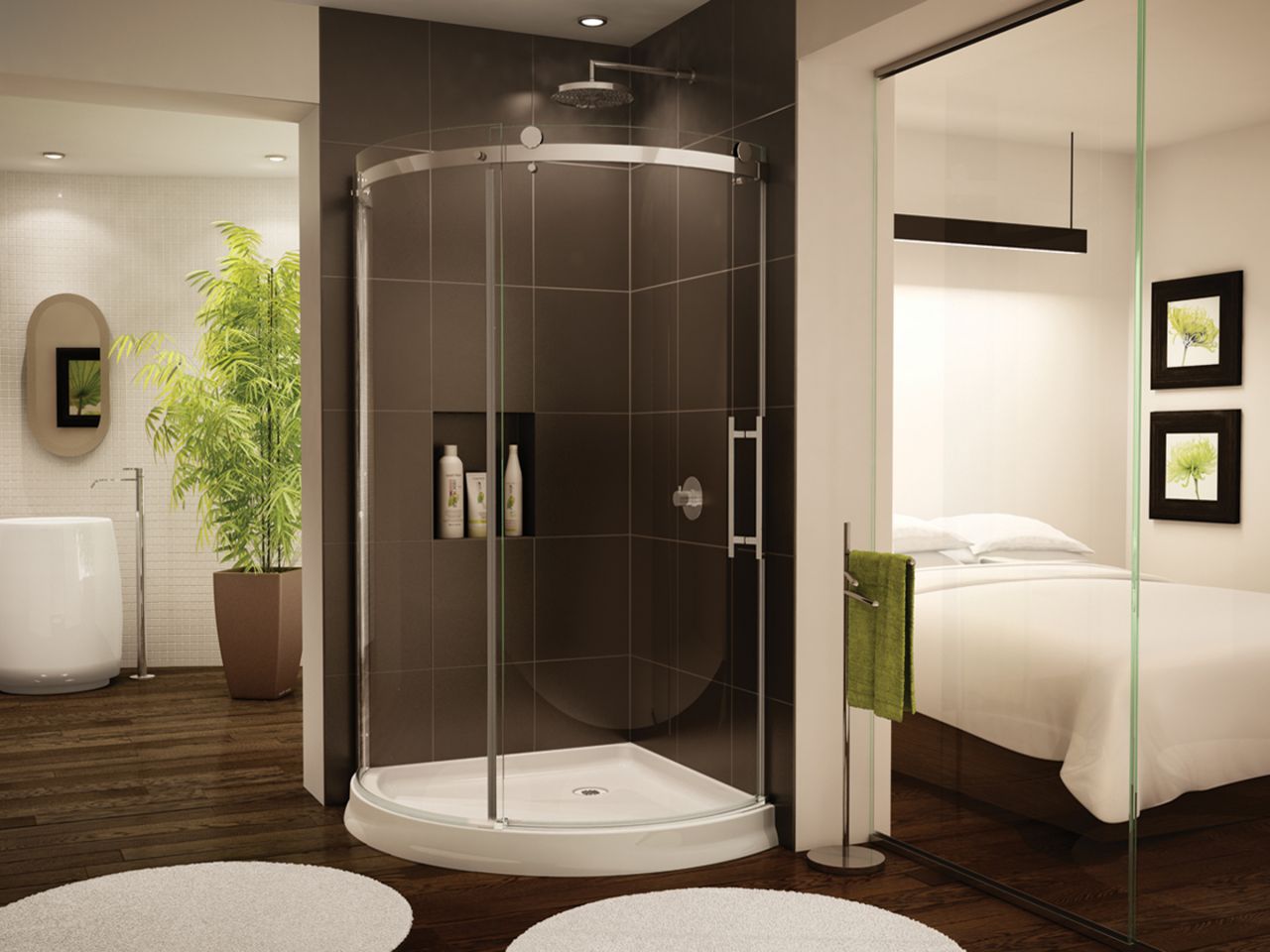 Reason 2 to choose a shower door over a shower curtain
Keep the water in – Since shower doors are attached to the walls they will keep water in – this helps to eliminate damage to woodwork and vanities which are often in close proximity to the shower. Curtains can minimize water coming out but often don't eliminate it (just ask me – we had to replace woodwork in our boy's bathroom from them not focusing on fully closing the shower curtains – can you feel my pain here?).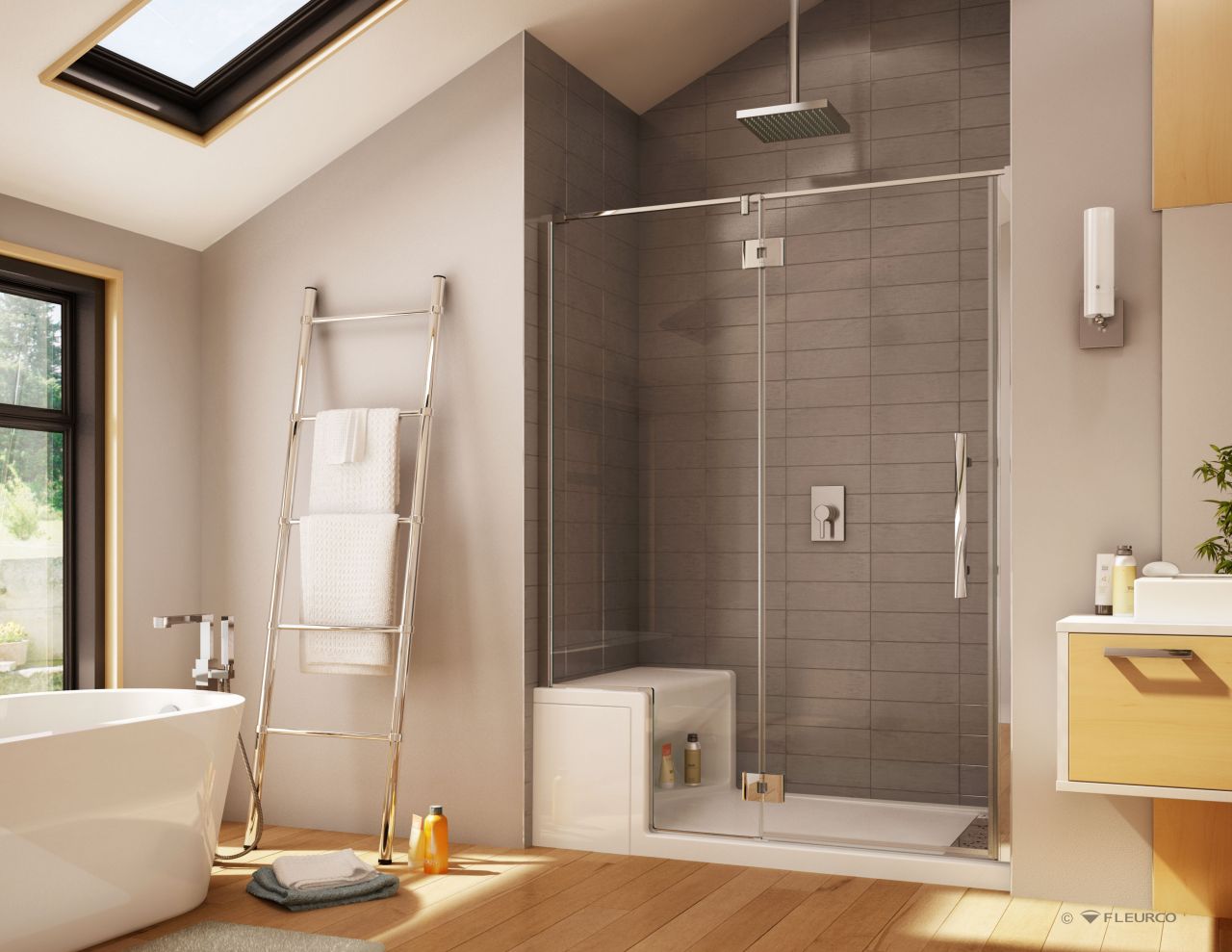 Reason 3 to choose a shower door over a shower curtain – Lower lifetime costs
Shower curtains will get moldy, accumulate scum and stains and need to be replaced. The shower door will last much longer. The doors provide a "green-friendly" option. Now – if you spend a 'boat-load' of money on your shower door I'll have to admit buying several curtains will be cheaper, but with a moderate priced door the glass doors will be a one-time expense.
Reason 4 to choose a shower door over a shower curtain– You can show off the inside of your space
Perhaps you've put in a cool body sprays, rain head, fixtures, glass tile accents or a bench seat. Why cut off the view with a shower curtain when you can have an open view to the inside which fully displays your style and investment? Show off your style 'loud and proud' with a glass shower door.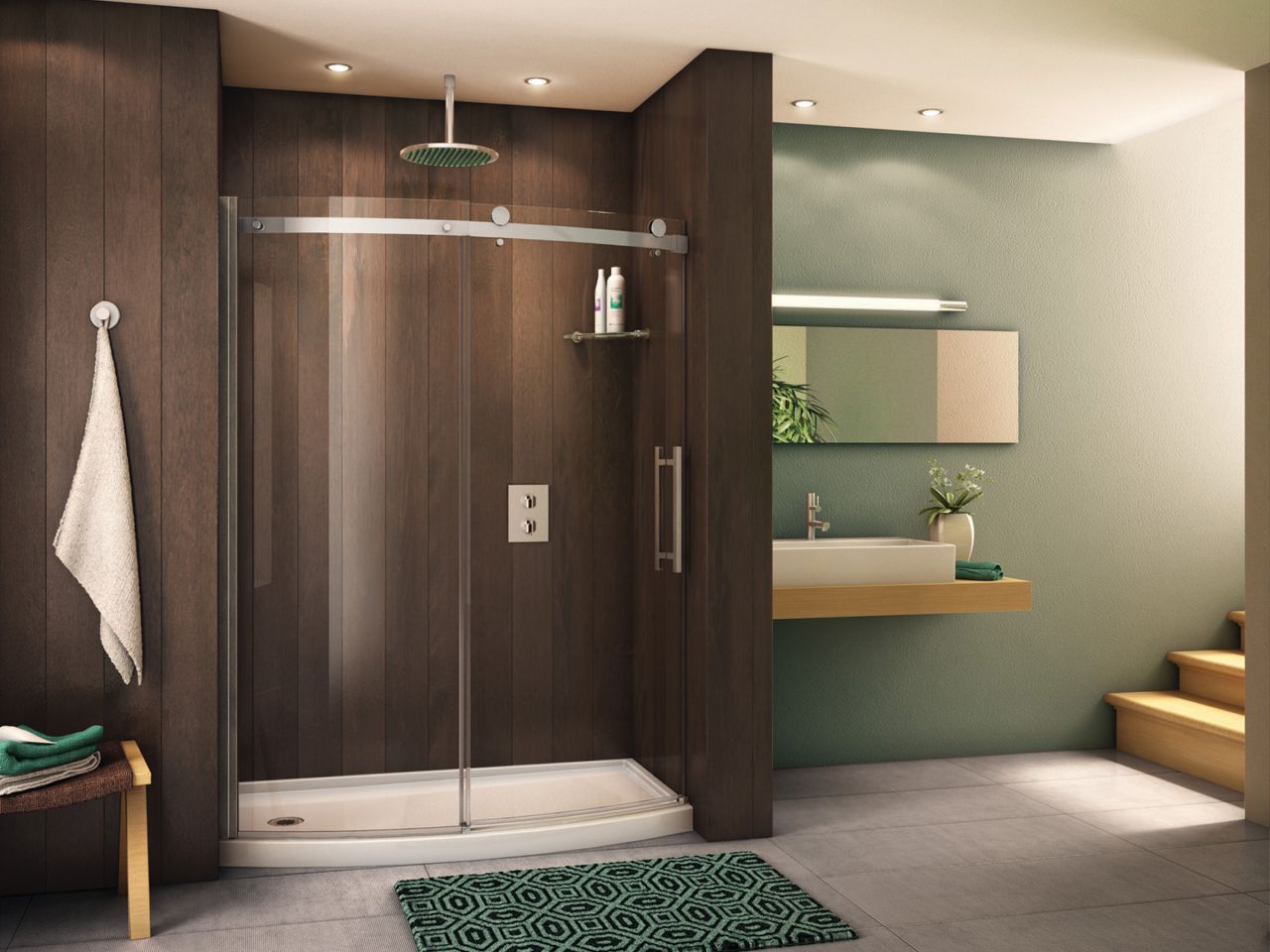 Reason 5 to choose a shower door over a shower curtain– A clean modern appearance
Shower doors can provide a sleek contemporary look for today's bathroom – especially when you  choose clear glass. In this bathroom you can see straight into and enjoy these light-reflecting high gloss shower wall panels.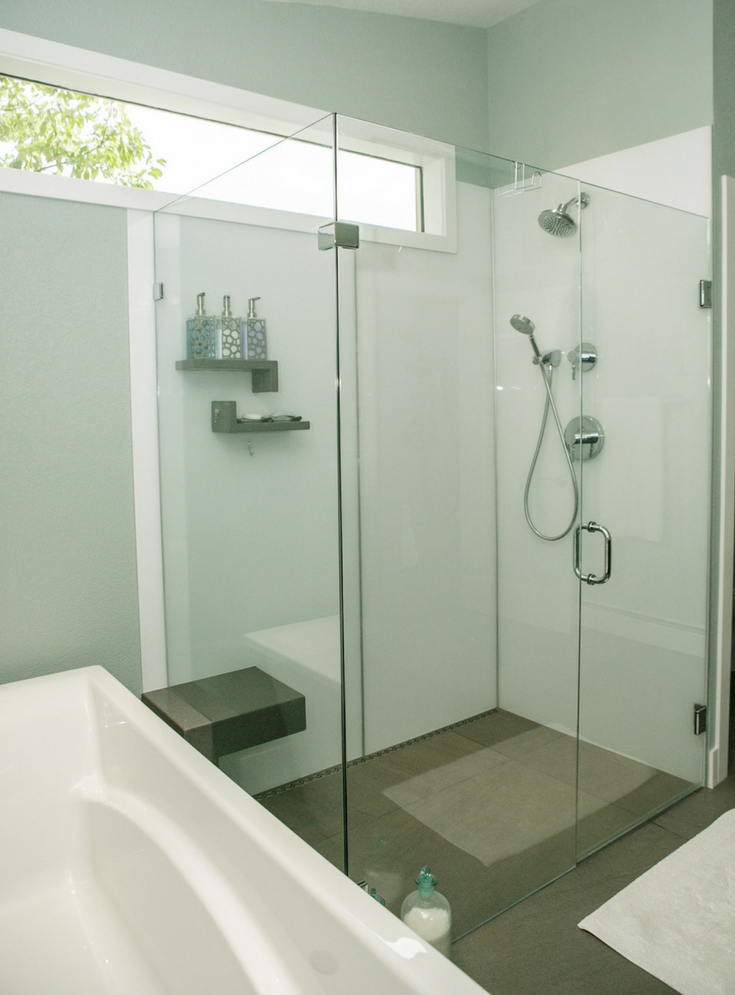 Reason 6 to choose a shower door over a shower curtain – No wrestling with a shower curtain
Ever had a shower curtain stick to your body? What a pain that is! Since the shower doors don't move this hassle is eliminated. This guy looks just a bit stuck to the shower curtain. Can you help him?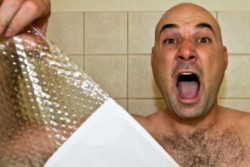 Reason 7 to choose a shower door over a shower curtain– It's easier to clean
Since doors provide a high level of resistance to mold, mildew and scum and can be cleaned with standard glass cleaners or squeegees they are easier to maintain than curtains. Why hassle with a shower curtain. Don't you have better things to do with your life?
Conclusion
Have these 7 reasons swayed your opinion of using a shower door over a curtain? Why or why now? Please comment below.
If you're looking for nationwide factory direct pricing on glass shower doors or a price on a bathroom remodeling contact The Bath Doctor of Cleveland (216-531-6085) or Columbus (614-252-7294). For nationwide direct product sales on unique shower doors call Innovate Building Solutions (877-668-5888). For complete bathroom remodeling contact Cleveland Design & Remodeling (216-658-1270).
If you're a remodeler or builder and want practical advice on remodeling products, industry trends, marketing and sales tips to grow your business (and cut day to day hassles), start reading my newest blog – Innovate Builders Blog. It's packed with ideas you can use now. Click here to Sign Up for the Innovate Builders Blog.
---
Mike Foti
President of Innovate Building Solutions a nationwide supplier and regional (Cleveland and Columbus) remodeling contractors. Some of our product lines include glass counters, floors, backsplashes, glass blocks and grout free shower and tub wall panels
---