Natural products and abundant light highlight a Westerville Ohio bathroom remodeling project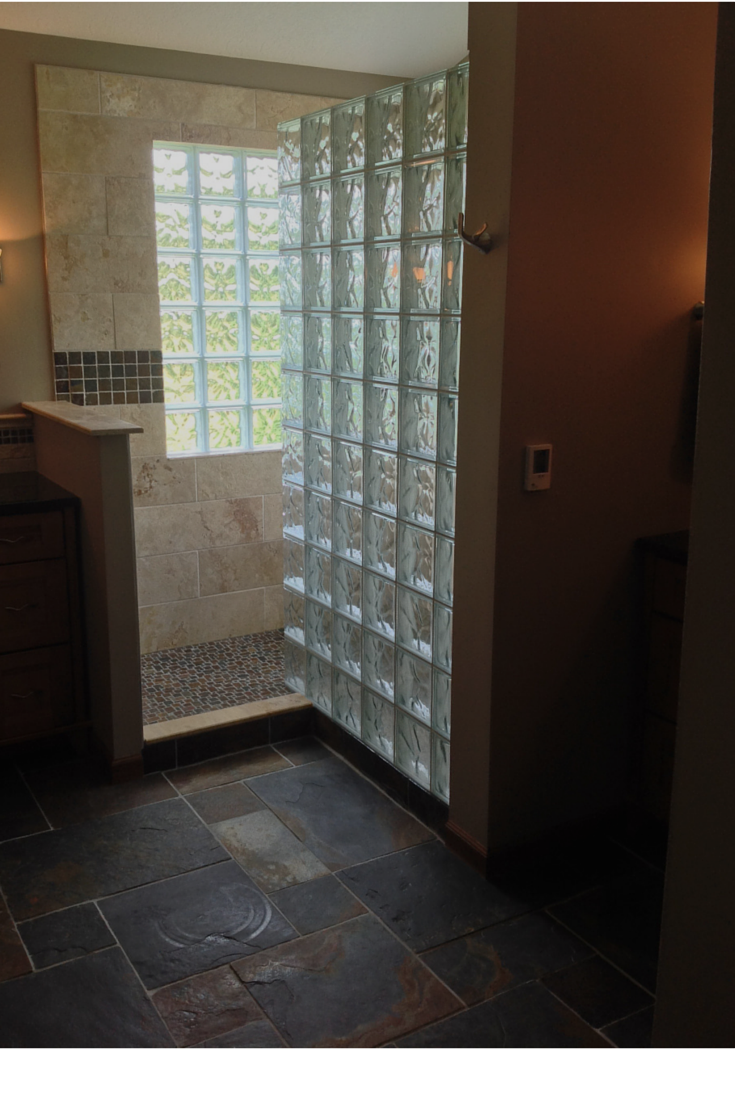 Caryn and Pat Knott just knew it was time for a change in their master bathroom. A room-eating soaking tub in the corner, curtains which blocked out the light in two large windows, and a small stand up fiberglass shower all screamed out the look of the 1990's! Learn below 3 key steps Caryn and Pat (along with their remodeling contractor – Dan Skubak of Skubak Builders) used to transform this space into a more useful, light-filled and natural feeling master bathroom environment.
Step 1 – Reconfigure the space – Although there was plenty of space in the bathroom the stand up shower was too small and soaker tub was way too big (see the before image below).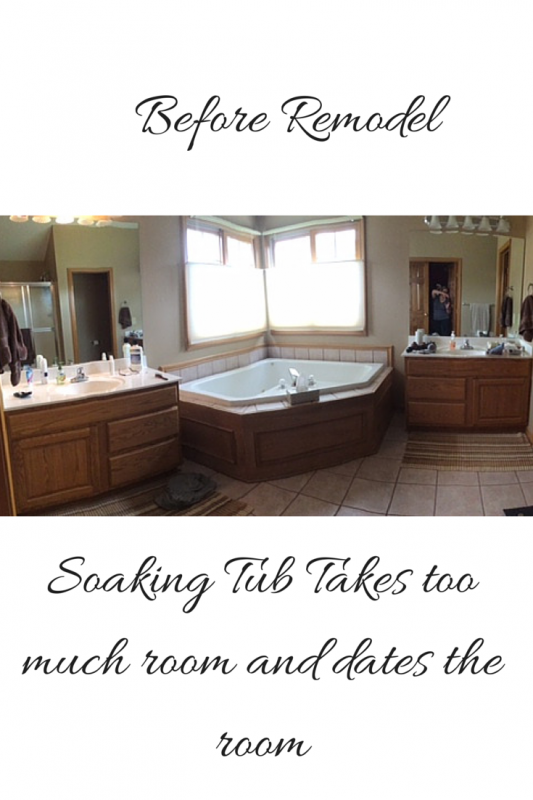 The decision was made to remove the tub and replace it with a contemporary door-less glass block walk in shower which was installed by the Columbus Glass Block division of Innovate Building Solutions. A 3 1/8" thick "wave" pattern glass block was chosen to maximize the space inside the shower, move a lot of light through the area and maintain privacy.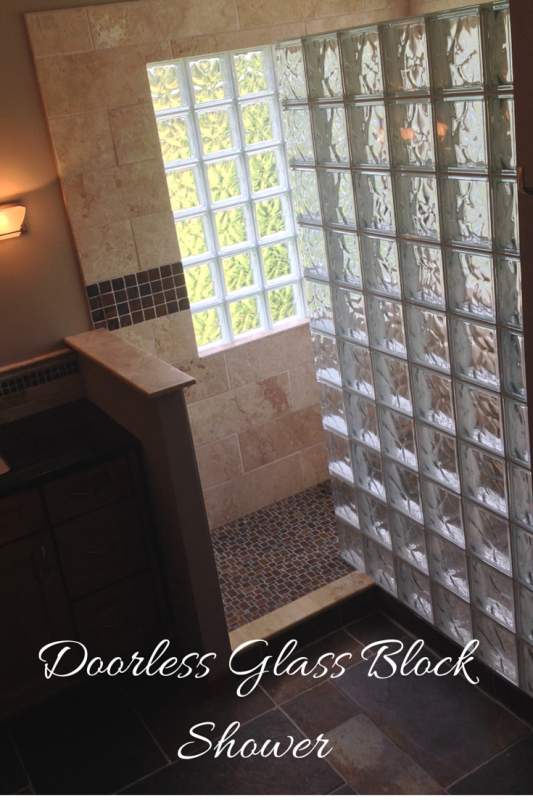 Step 2 – Creating a natural, earthy and comfortable bathroom and shower– Creating a homey, inviting feel for a master bathroom is critical given the amount of time spent in this room. These objectives were realized in this Westerville remodel by using the following products:
Natural slate floors laid in a "Versailles" pattern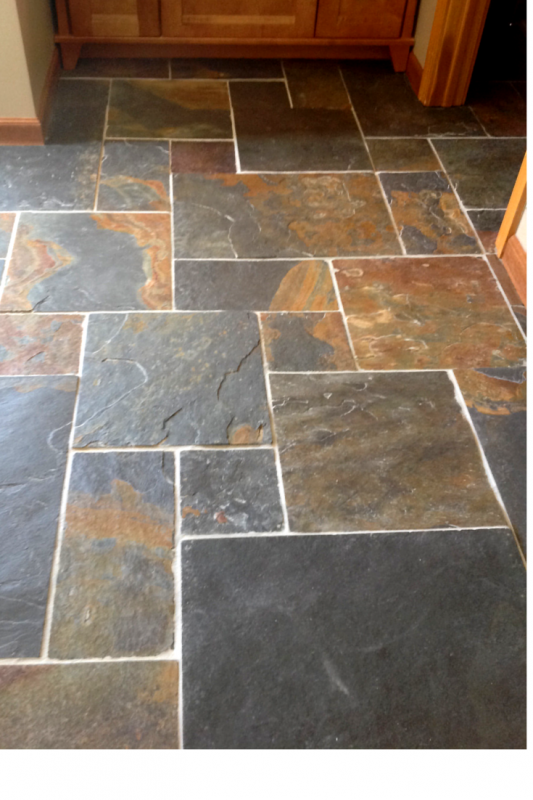 Uba tuba granite covering his and hers countertops
Recessed travertine wall niches in the shower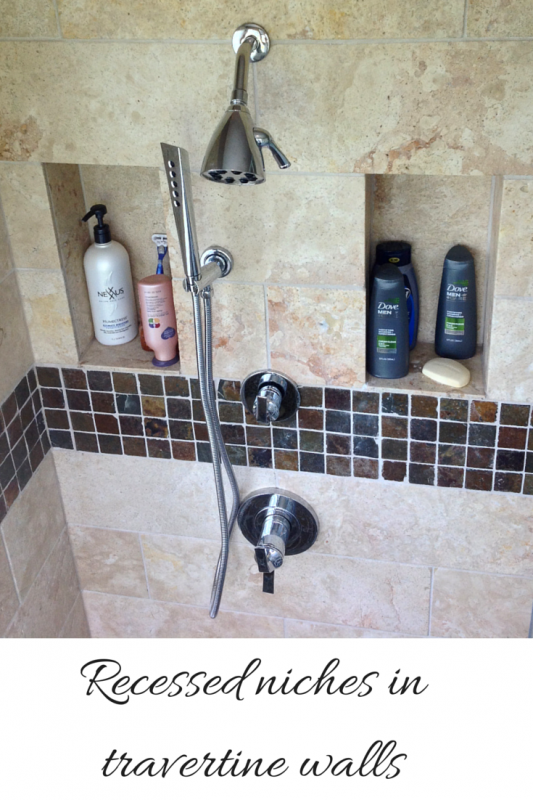 Adding heated flooring (this was an especially nice feature since the bathroom is over the garage and the floor used to get cold in the long Ohio winters).
Step 3 – Gain privacy and light in the shower without curtains – With the redesign of this second floor bathroom there were two large windows which were located within the new shower space. In order to maintain privacy and maximize light, without the need for curtains, an obscure "wave" pattern glass block windows were chosen (note – if this was a first floor application a completely private frosted glass block would have been the likely choice).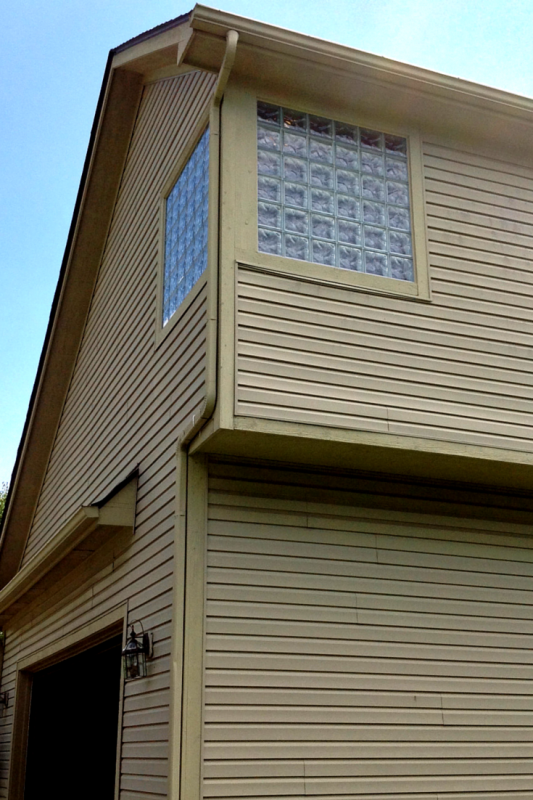 What do you think about Pat and Caryn's master bath remodel? Please comment below.
###
For additional information about a bathroom remodeling project in WestervilleOhio contact Dan Skubak (at Skubak Builders) at 614-270-3394. To learn more or get a free estimate on a glass block shower call Innovate Building Solutions on a nationwide basis (877-668-5888) or for a local project their divisions including Columbus Glass Block (614-252-5888), Cleveland Glass Block (216-531-6363), West Side Glass Block (216-398-1020) or Mid America Glass Block (513-742-5900) of Cincinnati or Dayton and Akron (330-633-2900). 
---
Mike Foti
President of Innovate Building Solutions a nationwide supplier and regional (Cleveland and Columbus) remodeling contractors. Some of our product lines include glass counters, floors, backsplashes, glass blocks and grout free shower and tub wall panels
---