Colored glass block wall provides a stylish and durable alternative for a Los Alamos New Mexico shower remodel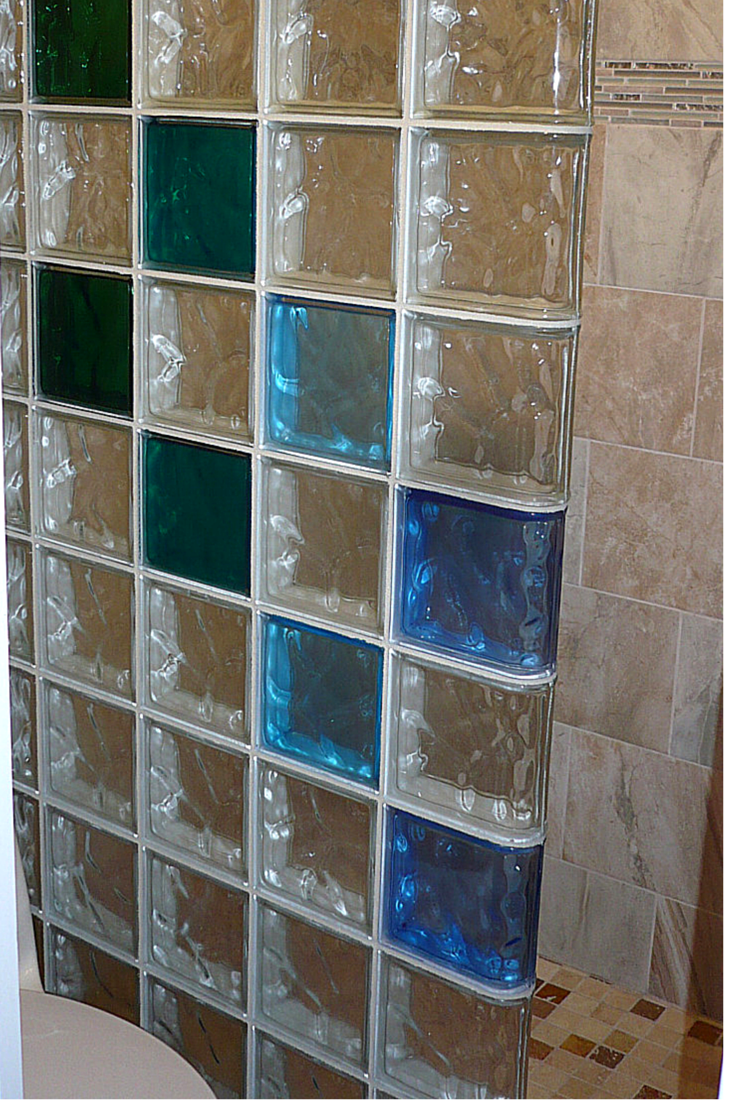 The wear and tear of silicone deposits and an outdated fiberglass tub/shower unit with flimsy framed by-pass doors can really bring the look of a shower down. Such was the case for a woman in Los Alamos New Mexico. Her goal  was to convert a traditional (and dated) 1973 porcelain tub with 4″ x 4″ porcelain tile surround and glass bypass doors  into a non-traditional stylish and open-concept shower (while making sure the materials were durable enough to stand up against the silicone deposits in her water).
Learn below about the products (including a cool colored glass block shower wall), installation systems and design approaches used to maximize the look, functionality and durability of this master bathroom shower.
It all starts with the colored glass block shower wall
Have you ever looked at clear glass or etched glass shower enclosure and think they are a bit boring? This owner was not inspired by the clear glass products – she wanted something a bit more artistic and interesting. This objective lead to the choice of a glass block wall with a random colored glass blocks (which included ocean, glacier, evening sky and cilantro colors) in a "wave" pattern. This product not only provided a unique look but also privacy and ease of cleaning for the silicone deposits.
The 36" wide wall used a "step down" design for a more open feeling and offers a spacious 24" opening entry. This wall was prefabricated into easy to install stackable sections by Innovate Building Solutions.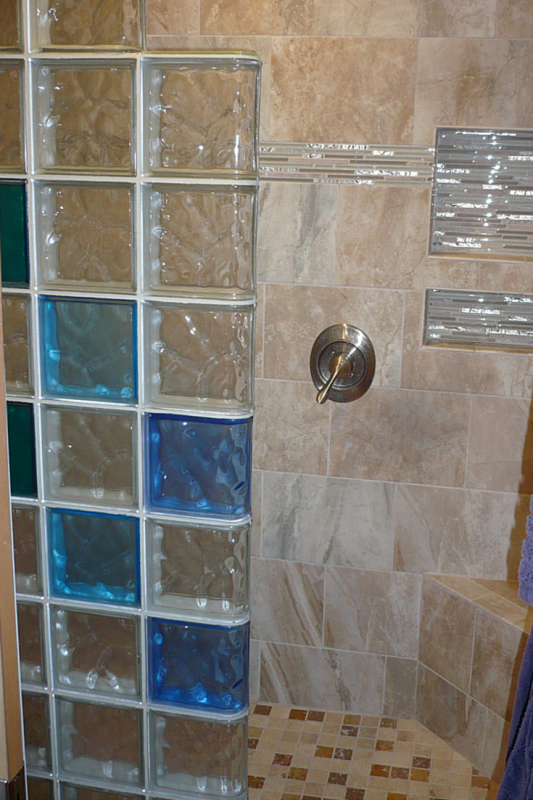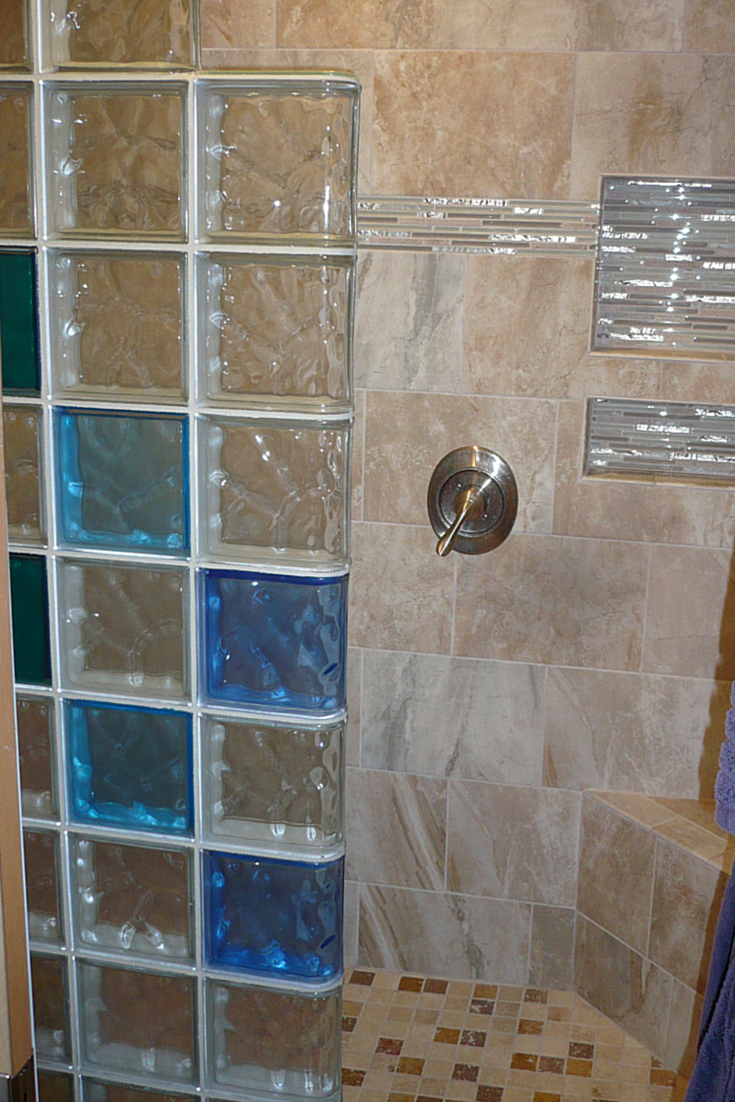 Choose your tile and grout wisely
If you've ever had the challenge of dealing with a not-so-clean water supply you know the importance of choosing the right building materials! To create a sense of fun, excitement and longevity this shower was designed with larger ceramic wall tiles (14" x 10" units) to minimize grout joints, a grouping of stylish pencil glass tiles (in bottle green and frosted white colors) and multi-colored 2" x 2" mosaic travertine ceramic floor tiles. The colors chosen provided a rich and varied color scheme to tie into the colored glass block wall.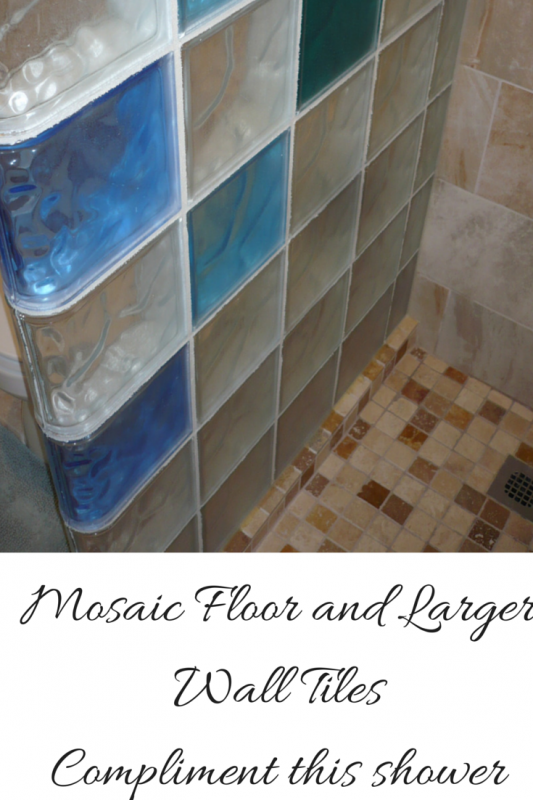 In addition to using the right tiles choosing the strongest grout is critical. This job used urethane grout (in a linen color) which does not require resealing and provides a high level of resistance to water penetration.
Use every inch of space….recessed niches, corner seats and thinner glass blocks
Since 32" x 60" showers are not the most generous in size it's critical every inch of space is maximized. Three design choices were made in this project to get the most out functionality out of the space.
Choice 1 – Recessed niches – The two soap and shampoo niches were built into the wall (recessed) vs. being built onto the wall. The cool glass and marble pencil shaped tiles make these niches really stand out.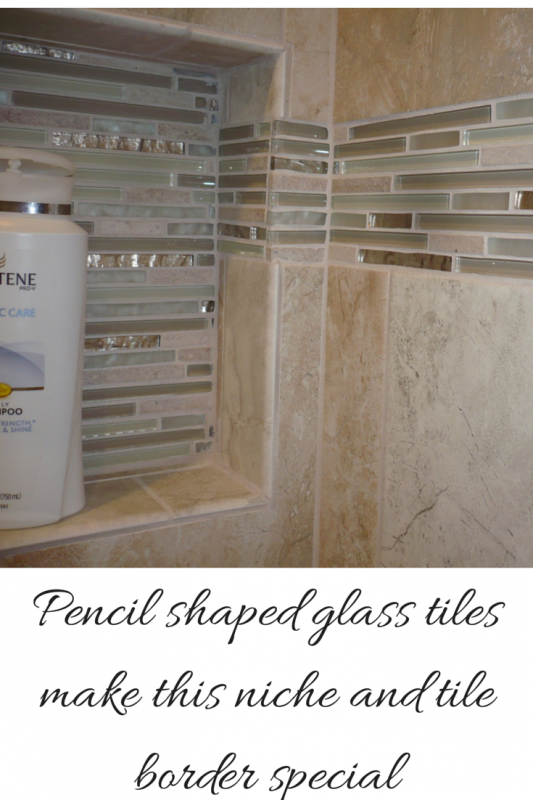 Choice 2 – Corner bench seat – To create a comfortable space for shaving and showering a small bench seat was tucked into the entry corner.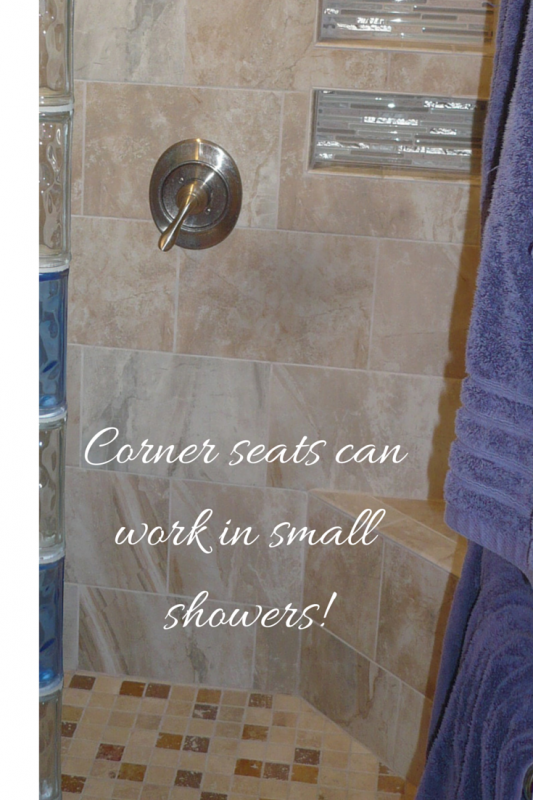 Choice 3 – Thinner glass blocks – These aren't your grandfather's old 4" thick glass blocks! New thinner units were chosen which cut the thickness by almost 25%. In addition the wall was placed on the outside edge of the shower curb to increase the inside elbow room.
Conclusion
What do you think about the product choices for this 32" x 60" bath to shower remodel? Please comment below.
###
To learn more or get a free estimate on a colored glass blocks or a glass block shower call Innovate Building Solutions on a nationwide basis (877-668-5888) or for a local project their divisions including Columbus Glass Block (614-252-5888), Cleveland Glass Block (216-531-6363), West Side Glass Block (216-398-1020) or Mid America Glass Block (513-742-5900) of Cincinnati or Dayton and Akron (330-633-2900).
---
Mike Foti
President of Innovate Building Solutions a nationwide supplier and regional (Cleveland and Columbus) remodeling contractors. Some of our product lines include glass counters, floors, backsplashes, glass blocks and grout free shower and tub wall panels
---