7 Techniques to Brighten Up a Master Bathroom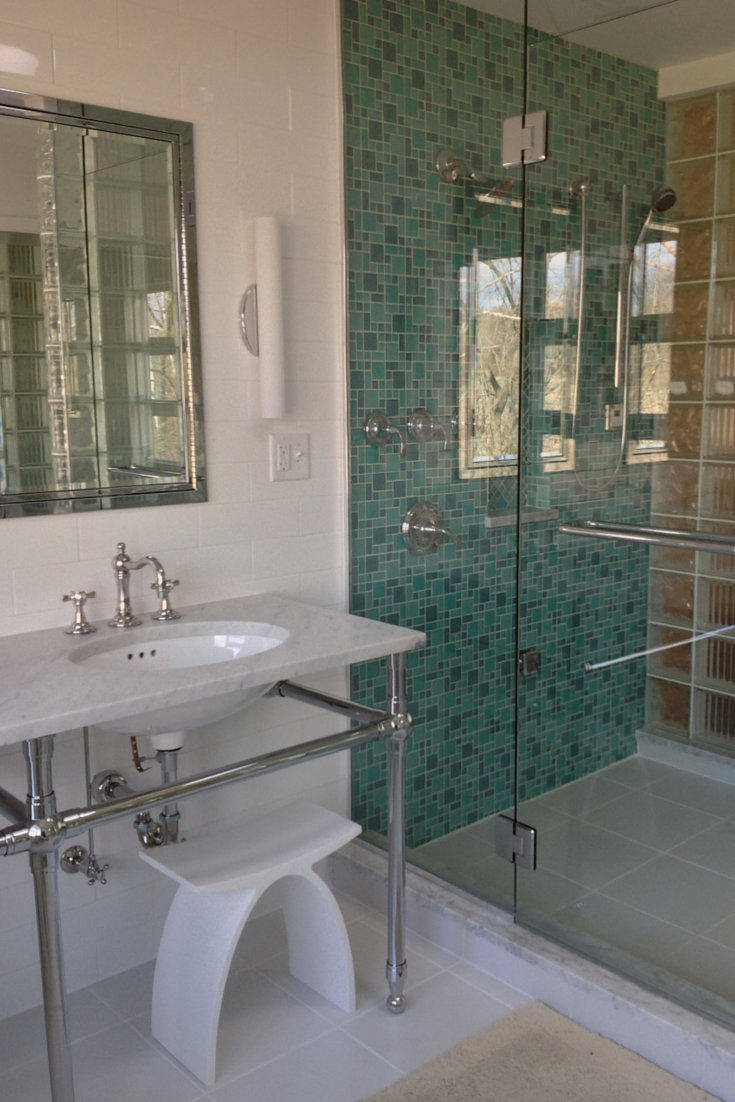 Do you suffer with a dark, uninspired 1980's looking master bathroom which does not reflect the beauty and potential of your home and it's surroundings? Such was the case for Ray Ellwood and John Looney with the master bath in their peaceful and rural home in Lancaster Ohio. As Ray said, "The old bath was generic and unimaginative – beige walls, press-board cabinetry, a single double hung window and a standard one piece fiberglass shower which made way too much noise! Something had to be done to improve this space!"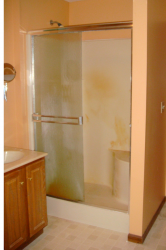 Learn below how Ray, John and their craftsman Matt Waites used a mix of 7 techniques to lighten up, brighten up and embrace the inside and outside surroundings to make a spectacular remodeled bathroom.
• Technique 1 – Create a larger window opening – The serenity and natural light possibilities of this eastern bathroom needed to be maximized. The old double hung window was replaced with a larger Frank Lloyd Wright inspired window with a fully operable casement window on the left (providing even more air flow than the old double hung) flanked on the right by a stack of two fixed lite windows and an operable awning window in the center.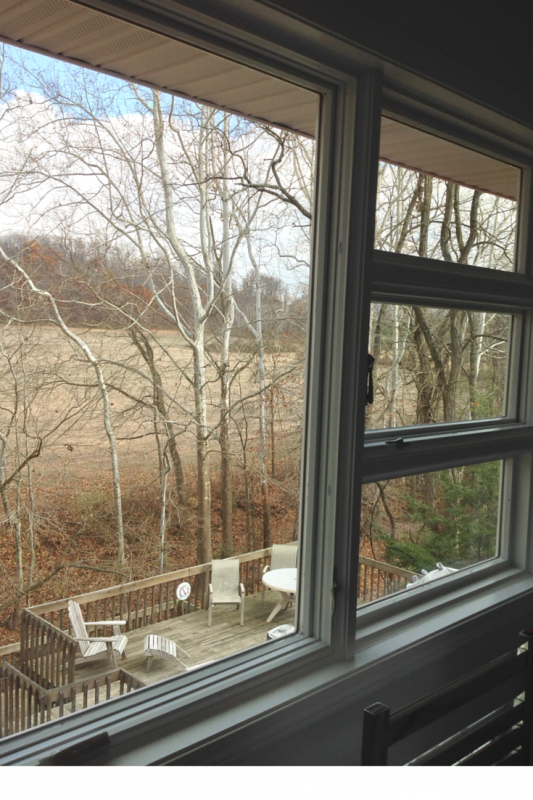 • Technique 2 – Mirror, mirrors on the wall – Using a bank of full length mirrors on the cedar lined master closet and the medicine cabinets creates the feeling of a larger space and reflects the beauty of the bathroom and the panoramic outside.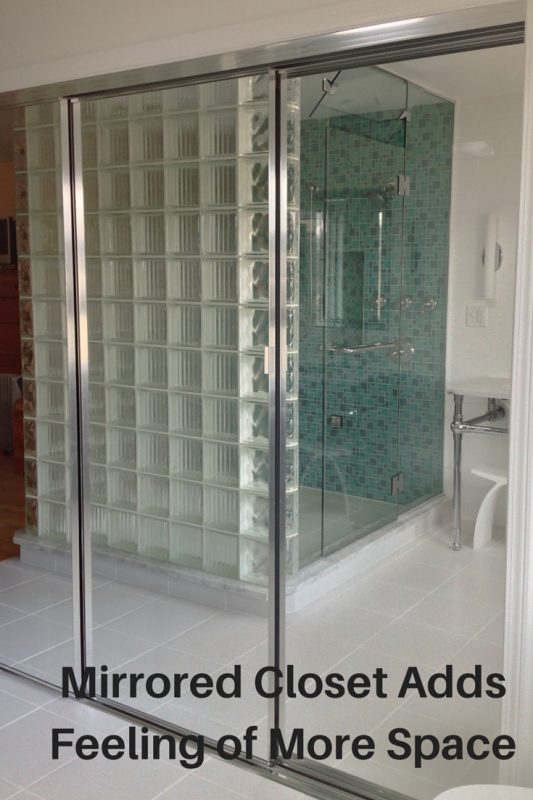 • Technique 3 – Moving light through the space – a modernistic frameless glass and glass block enclosure – In the old shower a one piece fiberglass shower not only made too much noise but it blocked light from the window in the bathroom shining into the bedroom. The completed project has a 3 sided steam shower with one wall being a frameless glass enclosure/door and two walls using a decorative – yet private – glass block structure.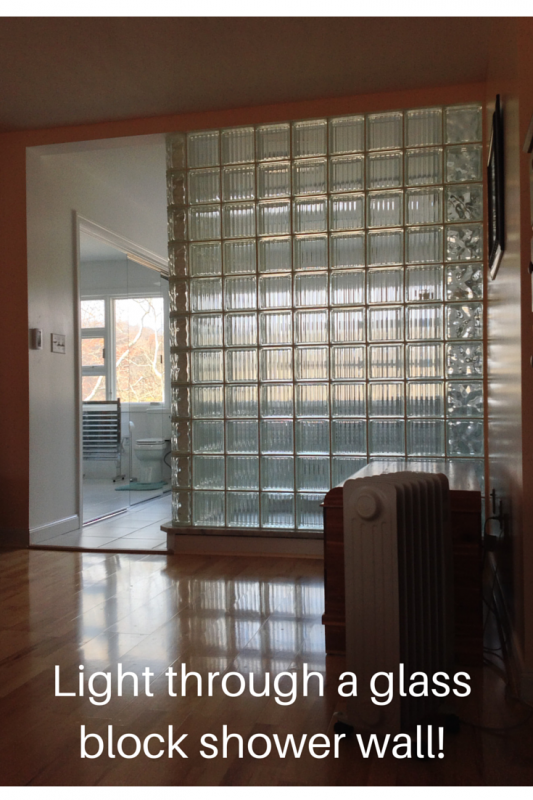 • Technique 4 – Embrace modern technology – a roof-mounted tubular skylight – Why settle for "daylight" when you can also enjoy the benefit of nighttime "moonlight." The tubular skylight reflects light from above at all times of the day. Check out the attractive illumination of this master bathroom at night!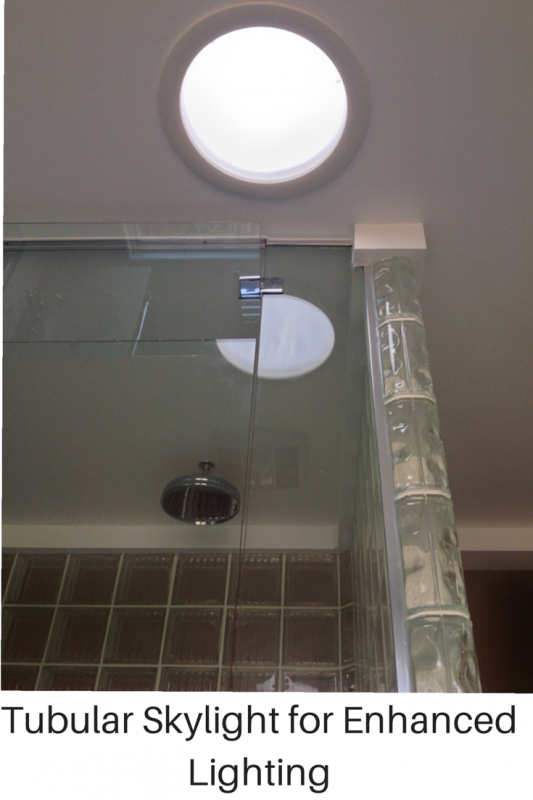 •
Technique 5 – Use classic white tile – Using a combination of large 13" x 13" floor tiles and classic white subway wall tiles not only provides a fun contrast to the multi-colored glass tile shower wall – but it brightens the room considerably.
• Technique 6 – "Hidden" night lighting – Even in the darkness of the evening or early morning it's easy to find things with the interior lights tucked away in the mirrored medicine cabinet and master closet.

• Technique 7 – Marble and chrome vanity top – Ray and John really enjoy the subtle sophistication (and easy to clean properties) of this Carrara marble vanity top with chrome trim and plumbing fixtures they purchased at Restoration Hardware. They provide perpetual brightness to the room.

Which of these 7 techniques would you consider using for your next master bathroom remodeling project? Please comment below.
###
For more information about the glass block shower call Innovate Building Solutions on a nationwide basis (877-668-5888) or for a local project their divisions including Columbus Glass Block (614-252-5888) or Cleveland Glass Block (216-531-6363) divisions.
---
Mike Foti
President of Innovate Building Solutions a nationwide supplier and regional (Cleveland and Columbus) remodeling contractors. Some of our product lines include glass counters, floors, backsplashes, glass blocks and grout free shower and tub wall panels
---