5 Guaranteed Tricks for Choosing Shower Wall Panels without Busting Your Budget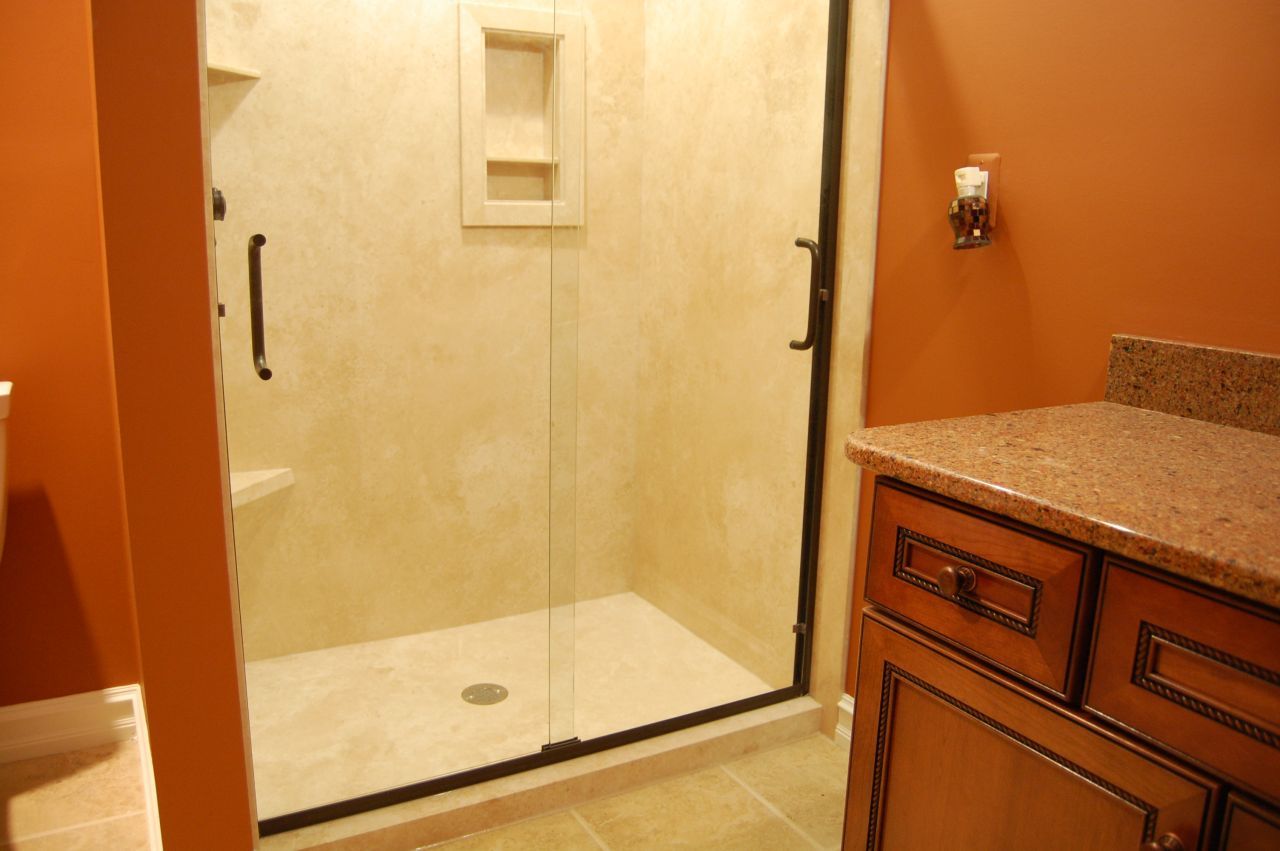 Updated September 15, 2019
Options in shower wall panel systems can be daunting. These systems are available in various sizes, textures, colors, budgets for decorating styles ranging from traditional to contemporary to even cool new styles like Modern Farmhouse. However, the selection process is overwhelming . It can be simple to choose a panel system if you have unlimited funds – however, most of us don't fall into that category. So in this article my goal is to tackle 5 guaranteed tricks (or strategies) to help you choose shower wall panels without busting your budget (or making your kids return all their Christmas gifts so you can afford this bathroom remodel. 
Guaranteed Trick #1 – Determine your budget for shower panels – If you don't have the bucks there is no sense in kicking the tires 
If you don't know your budget for shower wall panels you can waste a lot of time (and get false hopes of a cool system you'd love, but is way out of your budget). Knowing the general price points of the wall systems will save you time.  If you have a tight budget (in the $200 to $400 range) low cost off the shelf fiberglass panels or FRP panels from your local home center are best. Yes – these panels are cheap, but if you're just going to flip the house (and it's not in the greatest neighborhood anyway) – the cheap way may be the best way (even though it pains me to say this).
For a mid priced budget (in the $900 to $1,700 range) the options get far better. One option are acrylic wall panels. They are shiny and simple to clean, but not the most luxurious looking. Another option are decorative faux stone wall panel line, cultured stone wall panels or laminated wall panels. Both of these lines create fun looks at a pretty good price and the installation process is simple (especially with the laminate panels because they come in 2′ x 8′ sheets which click, lock and seal together like tongue and groove flooring). These panels are perfect for either your single family home or as shower panels for a Air BNB or vacation rental home bathroom you own. Check both options out below.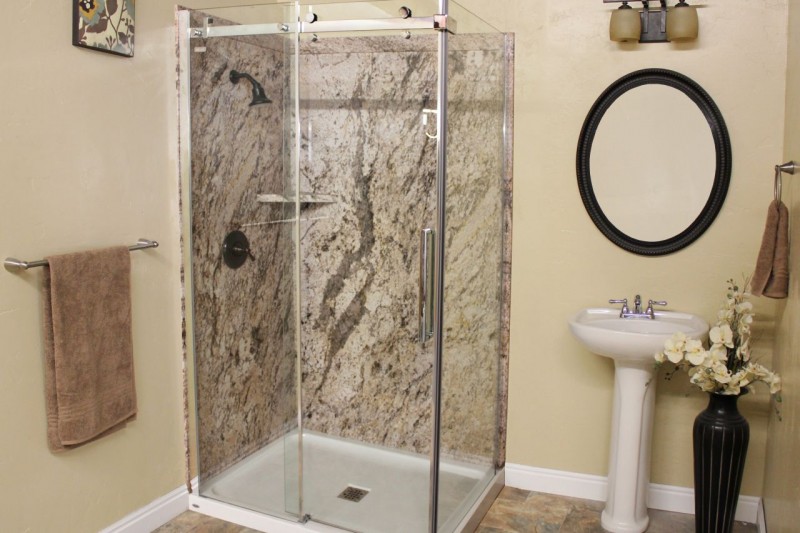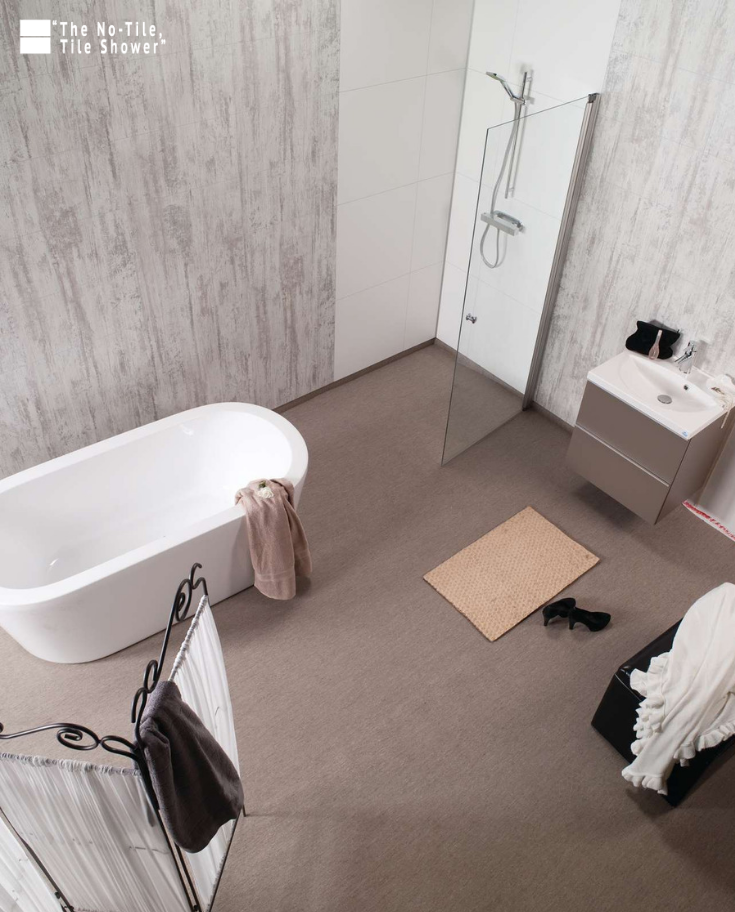 Luxury shower panels include high gloss acrylic and natural stone (like granite and marble). The high gloss acrylic panels are fun, but be prepared – they are not a 'cheap date.' A 60″ x 36″ system with all the accessories costs a bit of $3,300.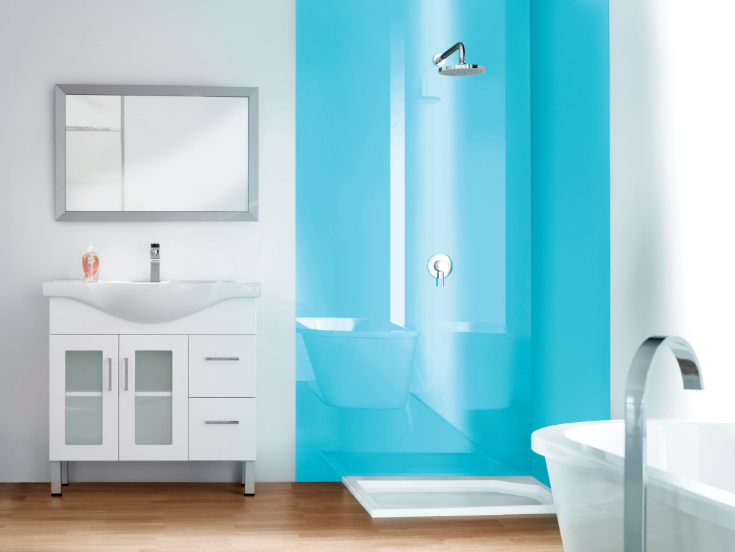 Guaranteed Trick # 2 – Measure twice, shop once – know your sizes before you figure out what you're going to buy 
Some systems (like inexpensive fiberglass panels) are only available in standard sizes (like 60 x 32, 32 x 32, 48 x 48 etc.). Other other systems (like PVC backed decorative walls, solid surface, laminated wall panels and high gloss acrylic panels) can be customized to fit any space. First it is best to remove all old material before measuring the space. A stud to stud measurements is best (if you can't do this let your shower wall panel supplier know what material is currently in the space (so they can 'guess-timate' what your final actual size is). Then measure and create a rough sketch. Eliminate those systems which don't offer the flexibility to make your space work (out of the store fiberglass and acrylic systems will fall by the wayside if you have a custom size/shape).
Guaranteed Trick # 3 – Consider the vision and interior design style of your finished bathroom
While many people love the look of tile and natural stone – they don't like the maintenance of grout joints. This fact has increased the use of laminated, solid surface, acrylic and fiberglass systems where the look of tile or stone is to built into the grout free wall panels. IMHO some of these systems look butt-ugly (if we're being real when you look at an acrylic or fiberglass wall panel system with a 'molded stone or tile joint' does it fool you one bit that it's not a 'fake wall?).

So, how can you get a 'stone-looking' wall which looks realistic without paying an arm and leg for it? I'll let you know my first choice is to use the laminated wall panels. These have the texture of natural stone – and also the feel of a grout joint. In addition, the laminate panels come in progressive interior design styles like Modern Farmhouse, Modern Minimalist and Shabby Chic. You can have 'high style' and grout free all in the same breathe. Below you'll find one example of the laminated shower wall panel system. These panels not only work well in single family homes, but also in luxury apartment shower walls as well.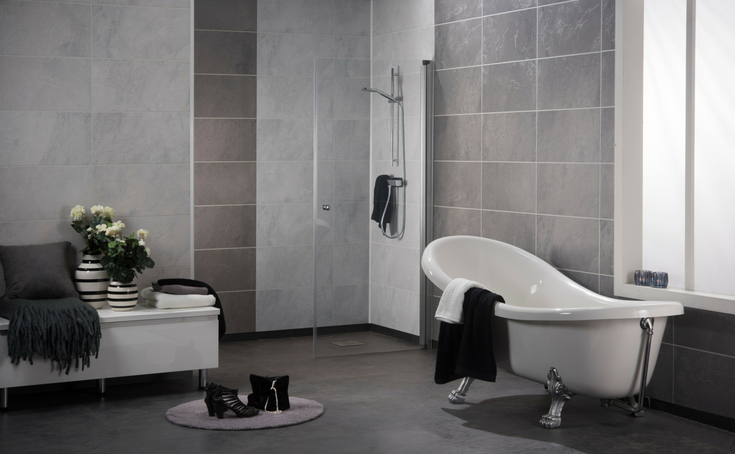 My second choice are to use cultured granite wall panels. These panels are molded (which isn't quite as good as the laminate) – but give you a rock-hard surface you know will last. Check out this product below.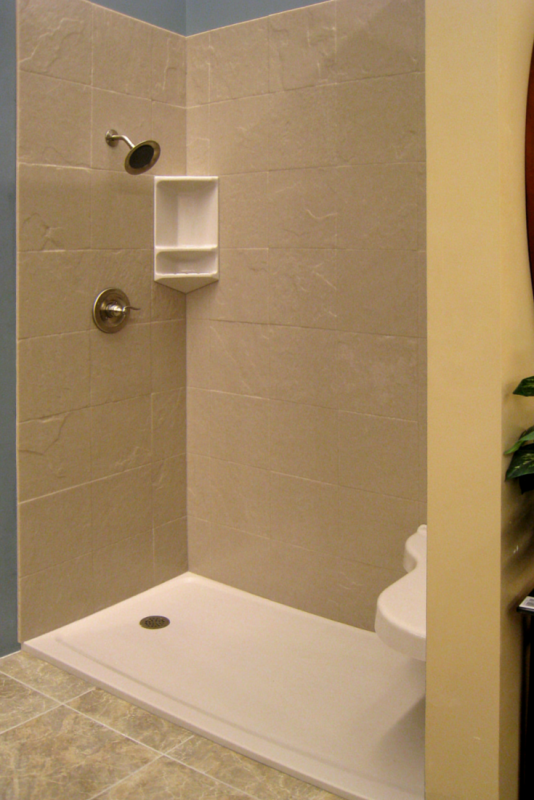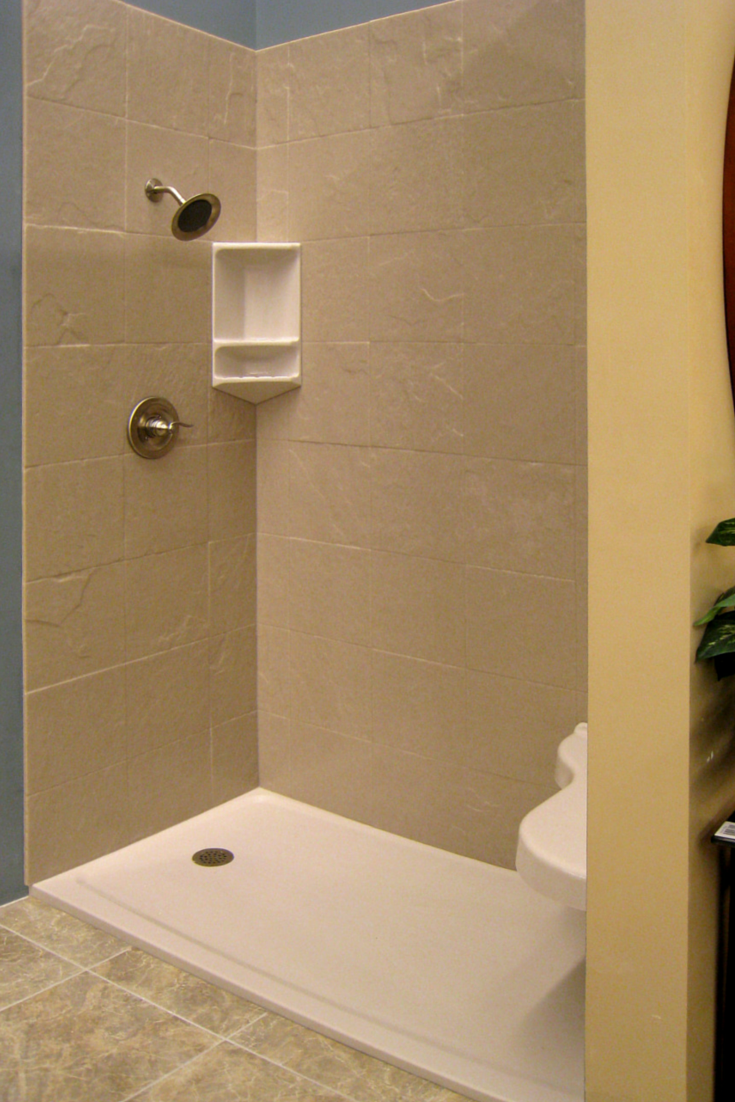 If the traditional grout look is not for you perhaps the clean contemporary styling of high gloss wall panels (which look like back painted glass) could be the right choice. They're sleek, fun and ultra-contemporary.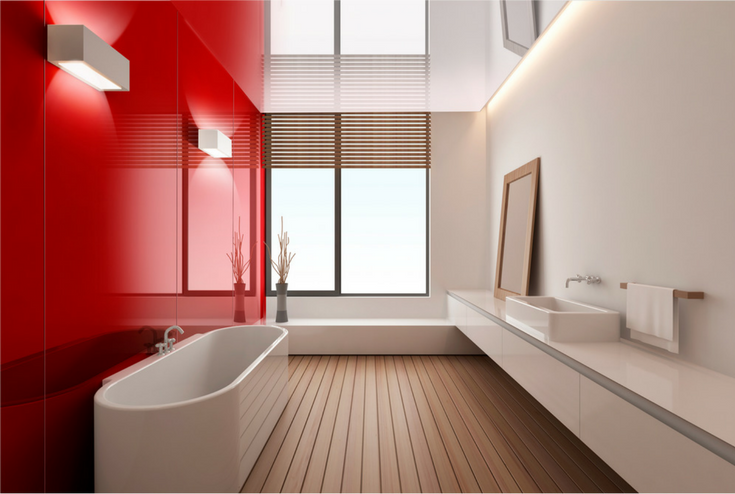 Guaranteed trick # 4 – Determine if you want to DIY (do it yourself) or hire a professional contractor to install your shower wall panel system 
If saving on the cost of a contractor to install your wall panels is essential to make this job work for your budget consider using either the cheap fiberglass standard sized wall panel system (assuming you can use a standard size), the PVC backed composite faux stone walls, solid surface or the laminate wall panel system. Of all of these I would rank the PVC system and the laminate system as the simplest (with the laminate system #1 because the longest wall – the shower back wall – can be installed without having to lug up a single bulky panel into a tight bathroom space). These simple to install systems can be perfect for shower walls in manufactured homes as well. You'll see a pictures of the laminate and decorative faux stone marble systems being installed below.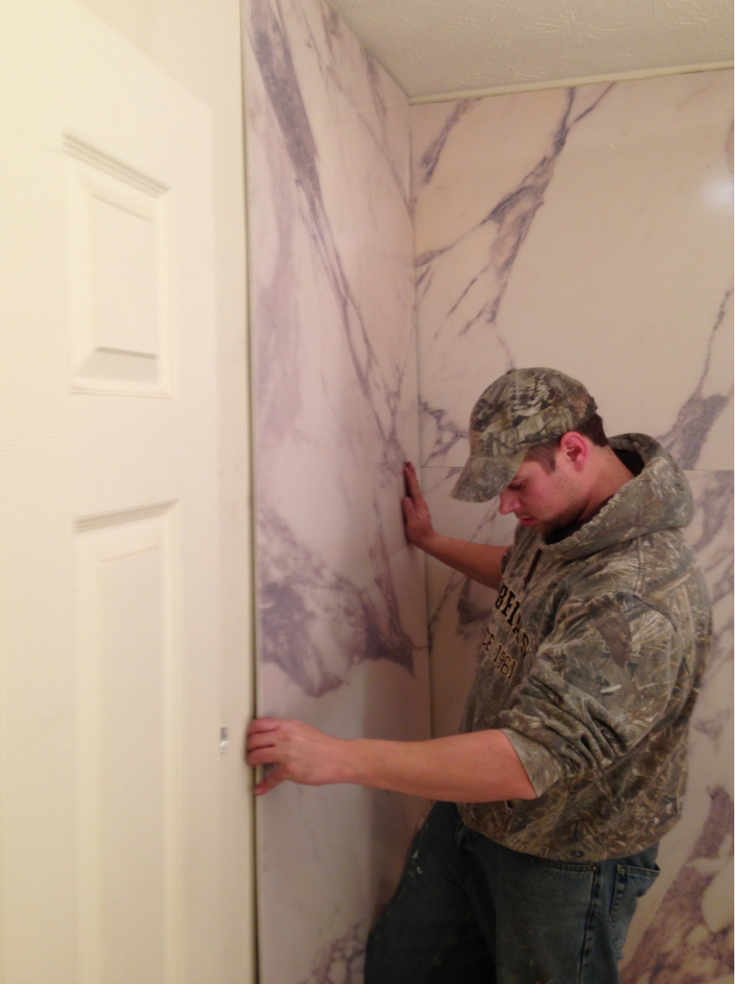 Acrylic shower wall panels, on the other hand, sounds easy but they're more of a pain in the butt than you think. Since these panels are prone to expansion and contraction (and need to be installed using butyl tape – which is messy) they are best installed by a trained contractor.  
Guaranteed Trick # 5 – Don't forget the cannolis ('er I mean the shower accessories) 
Who can forget the famous line if the movie The Godfather after the mobsters have made 'the hit' about not forgetting the cannolis. For many people (I'm totally included in this) a meal is not complete without the dessert. In the case of shower wall panels – they aren't complete unless you have the shower accessories (niches, corner shelves, bench seats) to make the shower fully functioning. After all if you don't have a place to put your shampoo, soap or to sit down and relax in a shower, what good is it?
What you'll see is not all wall panel systems offer the same breadth and depth of accessories.  Cheaper systems like fiberglass offer limited (to no) accessories which are usually built into the wall. With PVC,  solid surface shower and laminated wall panels you've got options. Before buying a shower wall panel system dig into what accessories you can get. Make sure your shower can be a complete system.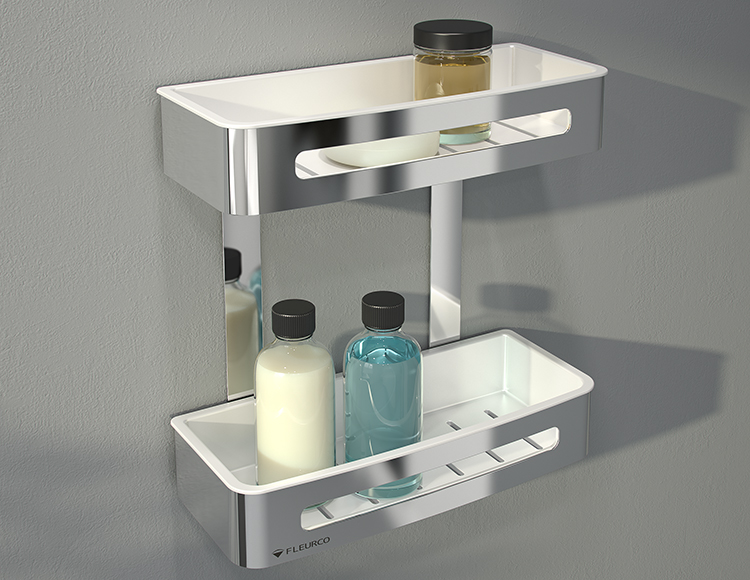 Do you have questions about shower wall panels, would like to get samples of the systems mentioned above or need pricing? Please comment or call the numbers below.
Nationwide supply on shower wall panel systems is available through Innovate Building Solutions (877-668-5888) or regional installation The Bath Doctor in Cleveland (216-531-6085) or Columbus (614-252-7294). If you lead a building or remodeling business click this link to become a bathroom wall panel dealer.
If you're a remodeler or builder and want practical advice on remodeling products, industry trends, marketing and sales tips to grow your business (and cut day to day hassles), start reading my newest blog – Innovate Builders Blog. It's packed with ideas you can use now. Click here to Sign Up for the Innovate Builders Blog.
If you're looking for shower panels for multi-family homes or bathroom walls for modular homes call 888-467-7488.
---
Mike Foti
President of Innovate Building Solutions a nationwide supplier and regional (Cleveland and Columbus) remodeling contractors. Some of our product lines include glass counters, floors, backsplashes, glass blocks and grout free shower and tub wall panels
---