5 Tips to Brighten up and Open up a Guest Bathroom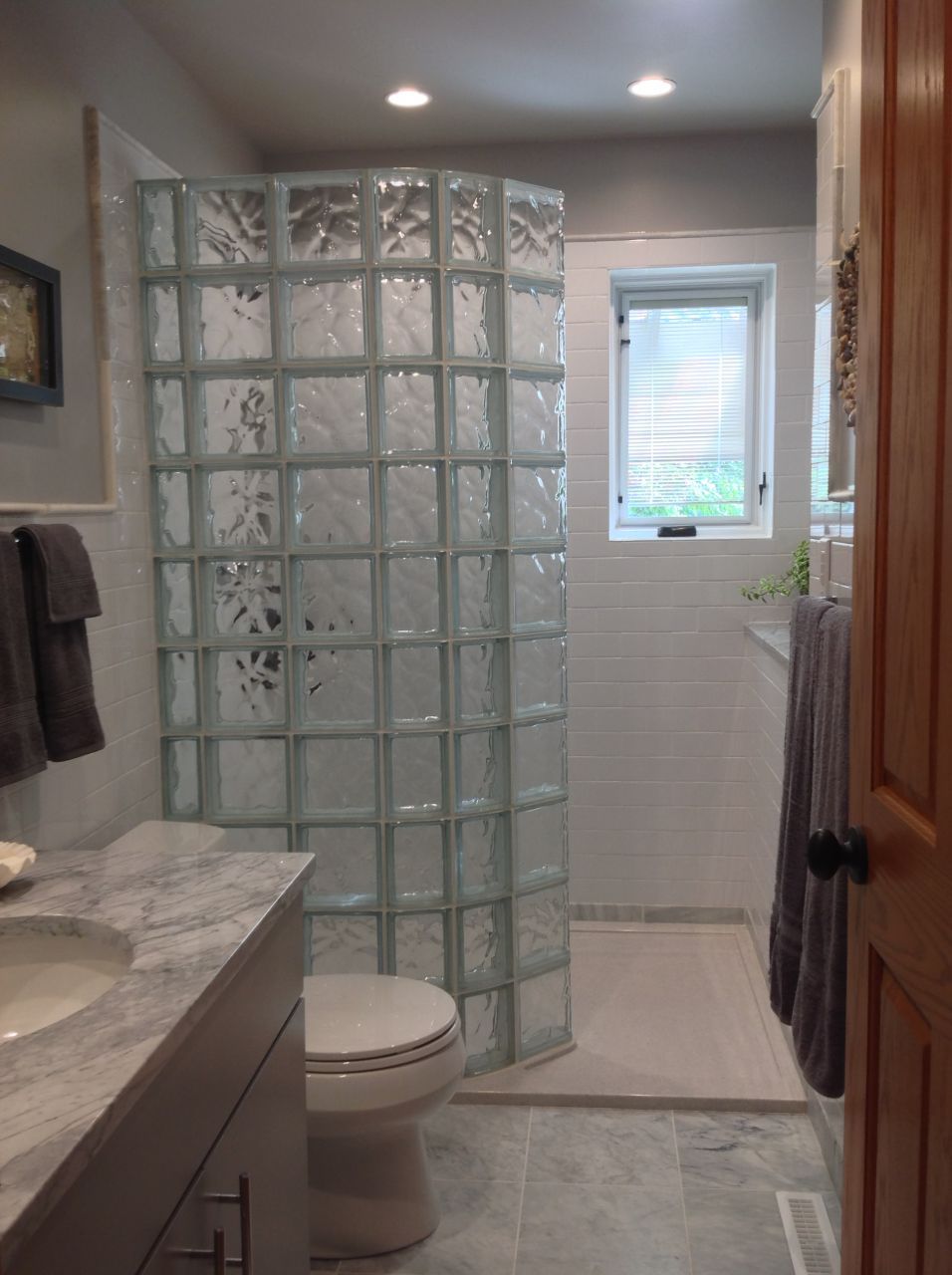 Frank and Sandy Hicks are no strangers to the remodeling process. They have completed many projects on a part-time basis in the evenings and weekends during the 44 years Frank served as a full time air traffic controller. I was so impressed with their custom home with an open floor plan in the countryside in Lancaster Ohio. This home is a testament to Sandy's interior design inspiration and Frank's construction expertise.
Although Frank and Sandy's home is beautiful their needs and styles have changed during the years they have lived in this home. They had grown tired of their dark, cedar-lined guest bathroom with a small 3' x 3' fiberglass shower in the corner of the room. As Sandy said to me, "The time had come to lighten up and brighten up this space." Using Sandy's eyes for design and Frank's knowledgeable construction hands learn 5 tips you can use to brighten up and open up your guest bathroom and create a spa-like atmosphere.
Tip 1 – Create a walk in shower to open up the space – What many people may not realize is it is possible to create a walk in shower in a small space. In this project Frank had a 55" wide space for the shower along with an alcove space to the right of the entry. Before making a trip to a Columbus home show Frank thought it would not be possible to open up the shower and eliminate the need for a door. As Frank said, "At the show I was impressed with the look of the curved glass block shower wall system with a low curb stone solid surface shower base.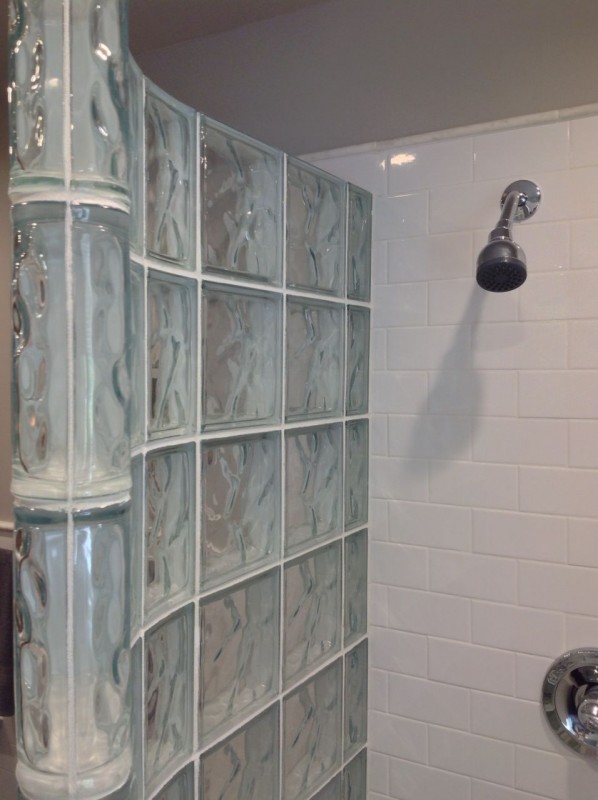 It was nice to see I could use a curved glass wall and get rid of the need for a door. This new shower is also easy for guests to get into and low maintenance."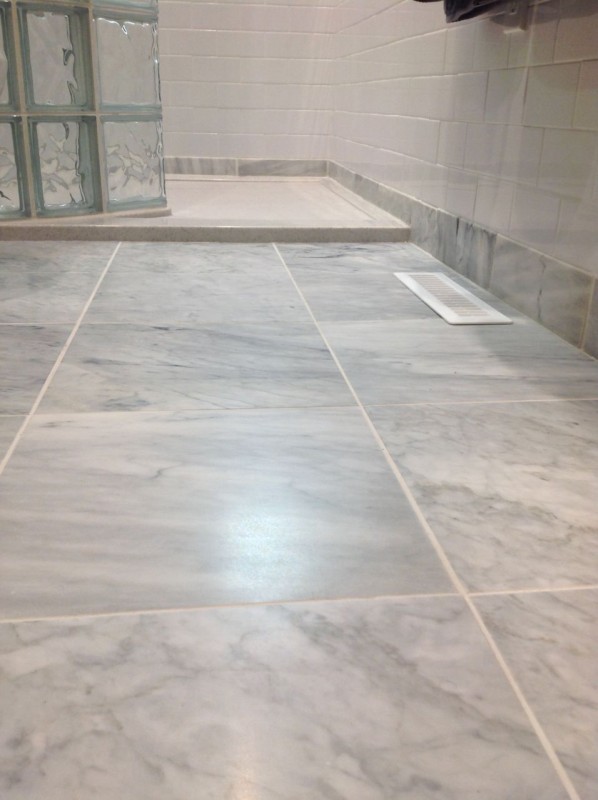 Tip 2 – White subway tile shower and bath walls – The white subway tile reflects light fabulously and provides a traditional and classic feel which blends well with the rest of Frank and Sandy's home.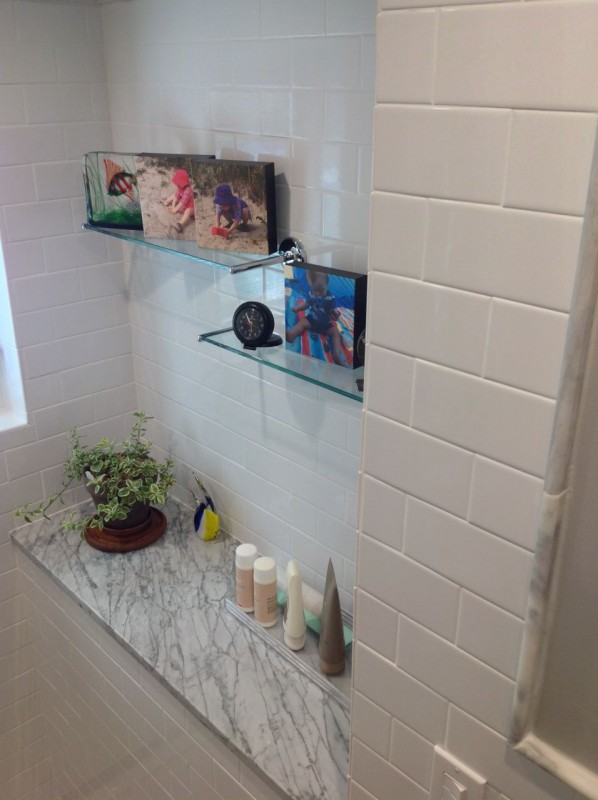 Tip 3 – Mirror, mirror on the wall – Another sound idea Sandy had to create a spa-like environment and provide a brighter space was to use a decorative sea shell mirrors on the wall. I think it's cool how the glass blocks are reflected in these mirrors.
Tip 4 – Moisture resistant LED can lights– Being able to flood the room with light – or just provide softer night lighting can makes all the difference. In this project Frank used moisture resistant can lights with long-lasting LED sealed bulbs which are controlled by 4 separate switches. These lights add to the open and airy feeling of the room.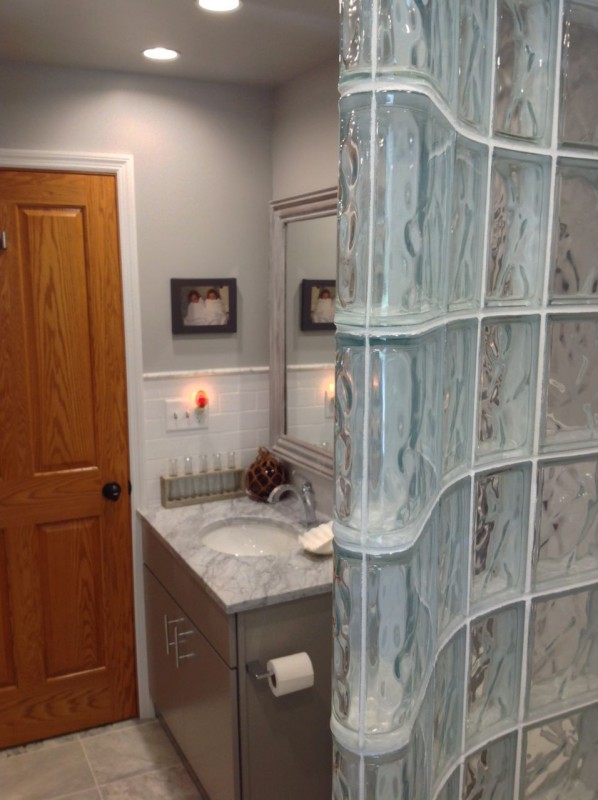 Tip 5 – Carrara marble floors and trim – Nothing conjures up a traditionally elegant look like white and grey Carrara marble. Frank and Sandy not only used this for the bathroom floor but also as decorative rope trim, for a recessed soap and shampoo niche and also as a "baseboard" in the shower – very cool!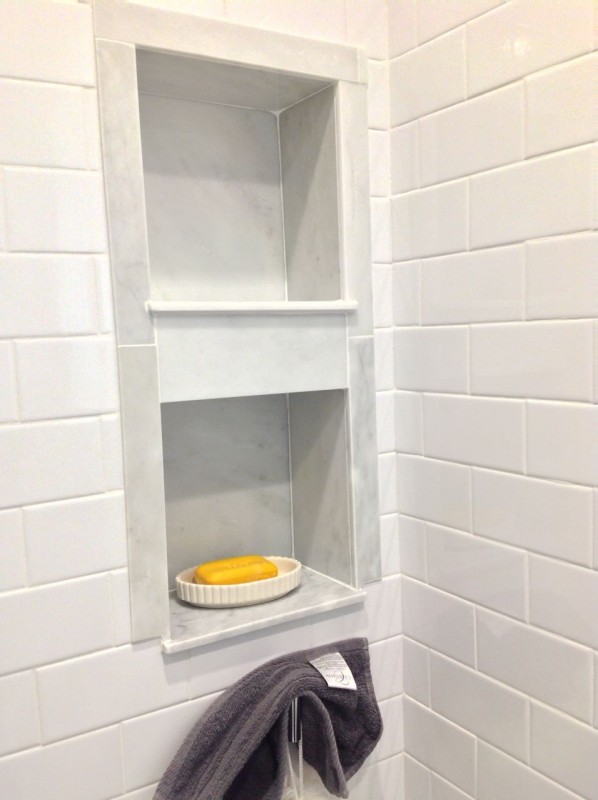 Which of these 5 tips do you like the best? Please comment or call the numbers below for more insights on bathroom remodeling and the use of glass block walls or stone shower bases.
###
For more information on the glass block shower system or stone solid surface walls or bases Call Innovate Building Solutions on a nationwide basis (877-668-5888) or for a local project their divisions including Columbus Glass Block (614-252-5888), Cleveland Glass Block (216-531-6363), West Side Glass Block (216-398-1020) or Mid America Glass Block (513-742-5900) of Cincinnati or Dayton and Akron (330-633-2900).
---
Mike Foti
President of Innovate Building Solutions a nationwide supplier and regional (Cleveland and Columbus) remodeling contractors. Some of our product lines include glass counters, floors, backsplashes, glass blocks and grout free shower and tub wall panels
---