How to add impact to a patio with unique hardscaping – colored glass bricks and bluestone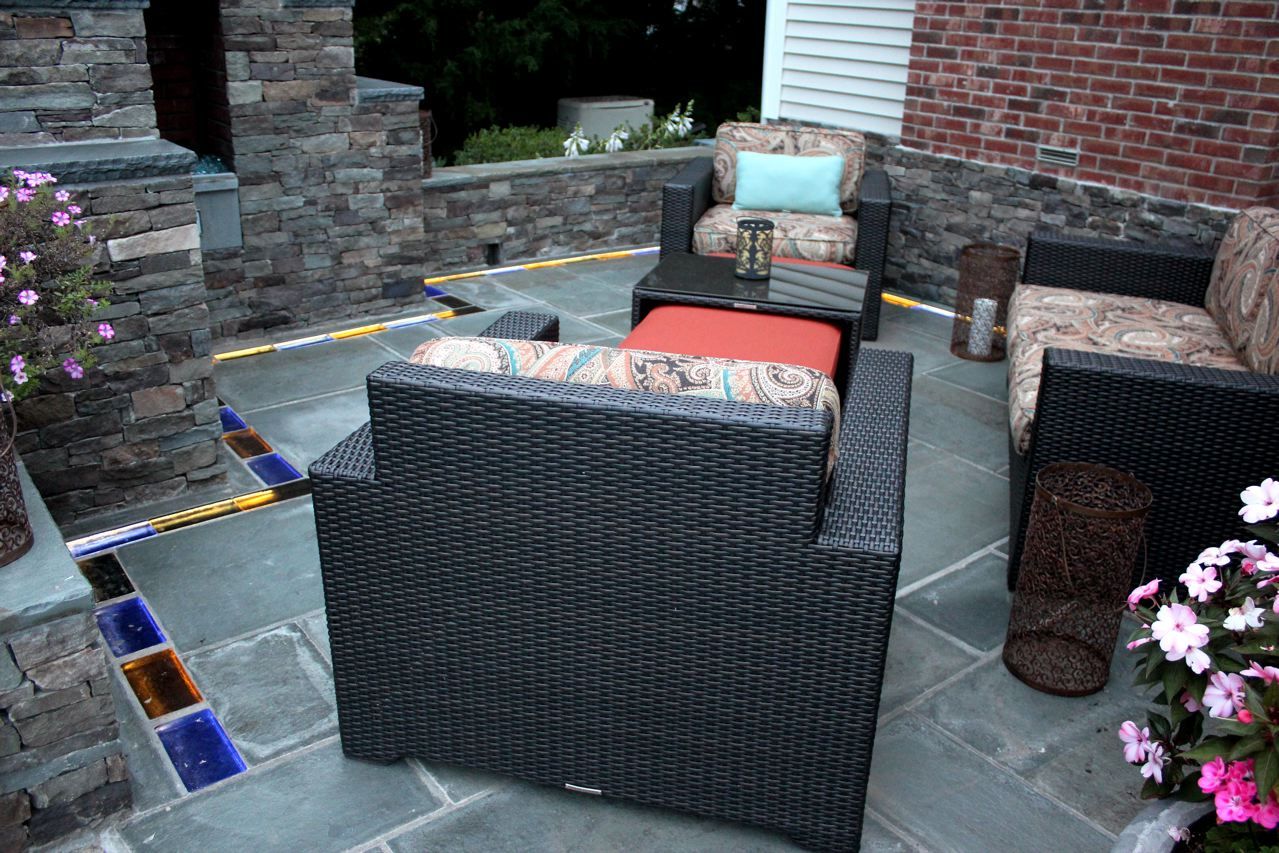 In the old days of landscaping you might see a simple concrete patio and a small wood deck in the backyard – not very inspiring – but times have changed. In today's landscape and hardscape designs outdoor spaces are now embraced as "exterior rooms" which increase fun and function while providing distinctive touches of personal style. The article below is an example of going beyond the blah patio of yesteryear and designing the outside space to provide more than just seating – but an experience for friends and family.
Learn how Dani Howard (a homeowner in Guilford Connecticut) along with help from her contractor (Hanler Construction of Guilford Ct.), lighting designer (Jill Boender of Sound Lighting and Design of Branford Ct.), and designer (Lisa Wasserman-Sivan) transformed a small deck and patio into three inviting outdoor rooms with unique hardscape features including illuminated colored glass brick pavers and functional and beautiful natural bluestone slabs.
Designing 3 exterior rooms
 When Dani decided to transform her outdoors she knew it would be no small task. The challenges with the old design was having only 15' of useable deck space, an undersized pool patio and bathrooms which were only accessible through the house. Working with her designer a completely new layout was developed to create 3 exterior rooms.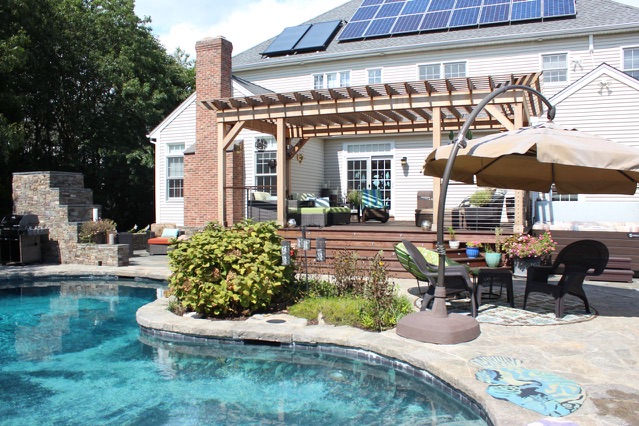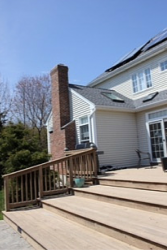 The room on the left side has a curved retaining wall which was built to protect a unique Japanese tree. The patio was lined with colored glass brick pavers which can be lit up at night.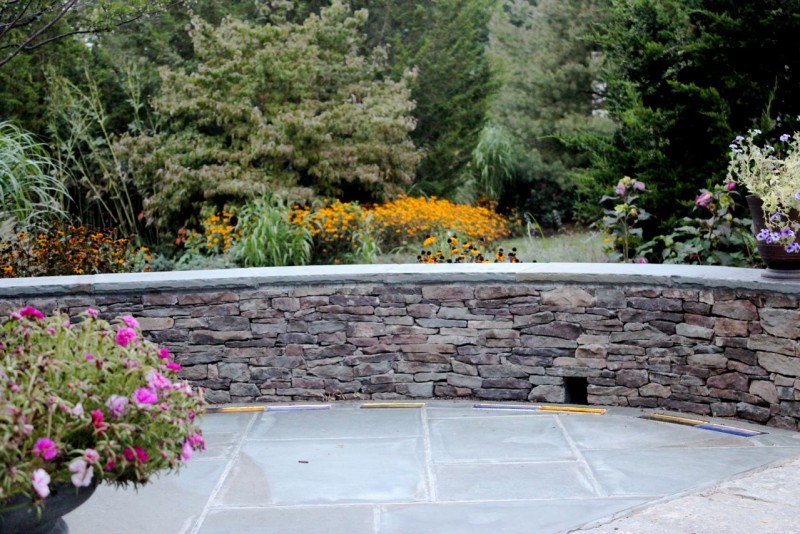 The middle room contains the deck which has been expanded with a decorative pergola in the center.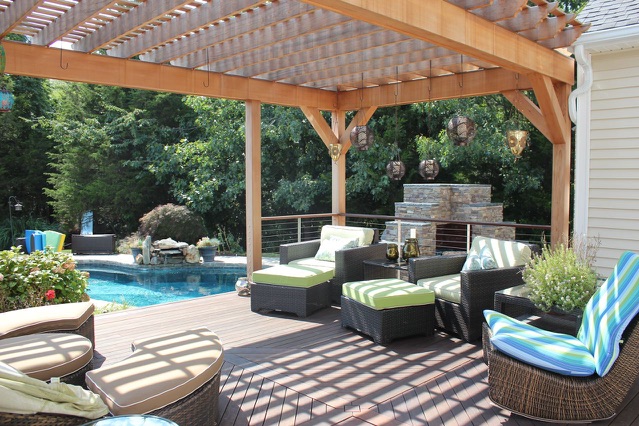 The right side room has an angular fireplace with a warm and welcoming seating area (once again using the illuminated glass brick pavers). This new layout provides a high-end hardscape design with expanded seating and places to relax and have fun with friends and family.
Adding patio style and illumination by refusing to say no!
Sometimes when you've got a vision for a cool-looking redesigned space you need to know how to not take no for an answer! While Dani was searching through Pinterest she got a creative vision on how to make her patio distinctive, safer and more interesting.
As Dani said, "I saw this fun image of a concrete patio with stained glass in-lays which created color and light into the horizontal patio space. While the stained glass looked nice it was quite expensive and I didn't think it would be very durable – especially through the harsh Connecticut winters. I came up with the idea to use glass blocks or glass bricks – but was told by several suppliers it wouldn't work. I continued my research until I connected with Innovate Building Solutions who talked to me about using solid colored glass bricks. The 4 ½" x 9 ½" x 2" solid glass bricks looked much cooler than the standard 8" x 8" square hollow glass blocks and are safe to use in the ground.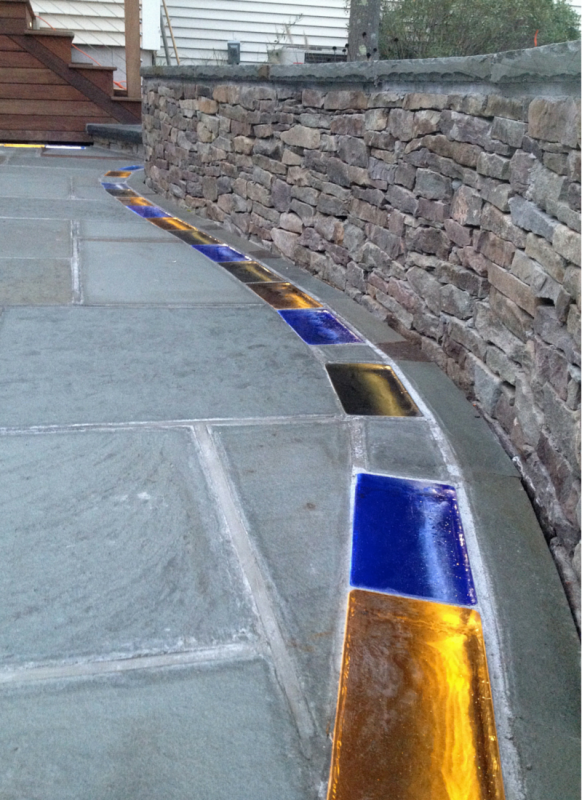 Using the glass pavers along with a metal channel system with waterproof LED lighting designed by Jill lighting designer we now have a feature which really pops.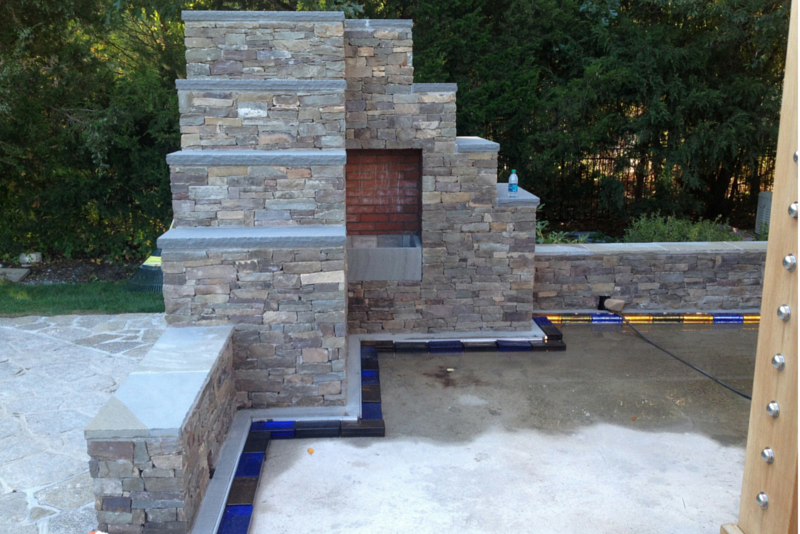 The outdoor spaces are safer, more unique and provide 24/7 lighting with a total wow factor!"
Using bluestone slabs for a luxury look
Dani wanted to have a more dramatic and upscale outside environment than just pouring a big slab of concrete. She chose to use Pennsylvania bluestone which is a dense, strong fine-grained sandstone quarried in the Northeastern United States.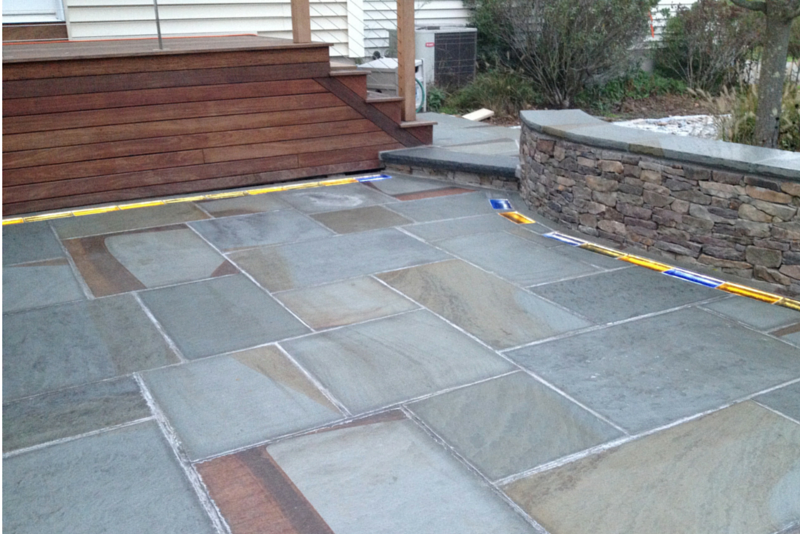 As Dani said, "I love the varied blue, rust and gray tones and mixture of sizes in our patio now. It provides a sense of warmth and elegance to our outside rooms." (the installation of these stones, the illuminated pavers and retaining walls was done by Cordero Construction of Bridgeport Ct.).
What is your favorite feature of Dani's project? Please comment, call or click on the link below for more information from the suppliers, designer and contractors on this project.
###
Colored glass brick supplier – Innovate Building Solutions 877-668-5888
Architectural design – Lisa Wasserman-Sivan – http://www.lisawassermansivan.com/
General Contractor – Hanler Construction – http://bestctbuilder.com/ 203-453-4017
Mason Contractor – Cordero Construction – 203-952-6496
Lighting designer – Sound Lighting and Design – 203-208-1123
---
Mike Foti
President of Innovate Building Solutions a nationwide supplier and regional (Cleveland and Columbus) remodeling contractors. Some of our product lines include glass counters, floors, backsplashes, glass blocks and grout free shower and tub wall panels
---