How to Tame the Countryside with a Classic Fiberglass Door and Glass Block Windows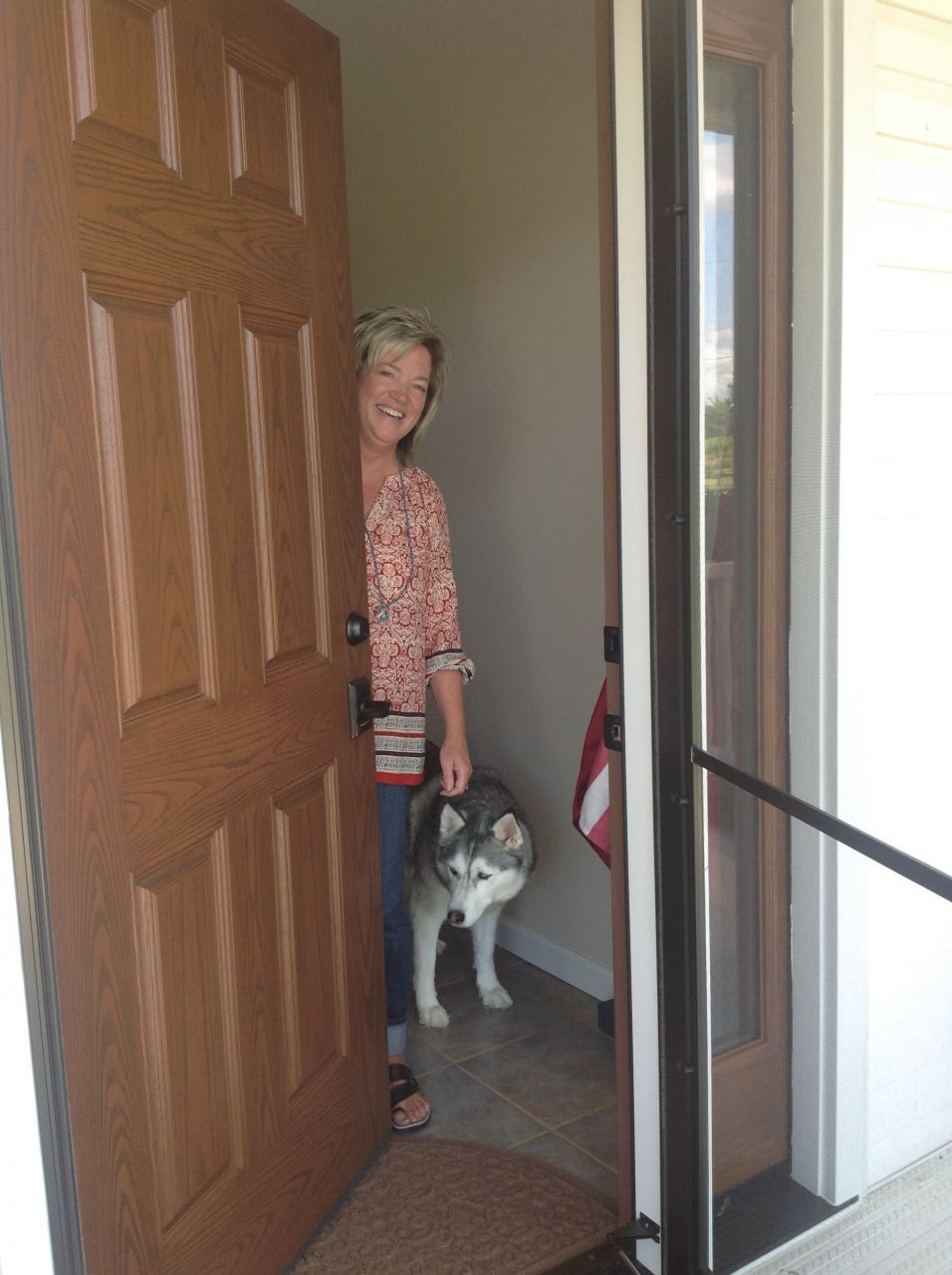 "The open landscape is beautiful and peaceful but it also is tough on the wear and tear of our home. The winds can whip around here something fierce and have made our doors and windows break down quicker than we would like," said Kelly Persichetti of Carroll Ohio.
I originally met Kelly in September of 2013 to look at a wood framed picture window (which was part of a 3 lite bay window) in her master bathroom where the frame had deteriorated from the harsh winters and winds which travel through the open fields surrounding her country home. This frame had caused the energy efficiency of the window to be compromised and the decision was made to replace the picture window with a frameless glass block system. At that time we talked briefly about the two double hung windows to the left and right of the master bathroom picture window and also about some maintenance challenges and performance issues with her current steel front entry door and storm door.
By the summer of 2015 Kelly decided to replace the two flanking double hung windows and to upgrade to a fiberglass entry door and an extruded aluminum storm door. In the article below we'll take a look at how Kelly tamed these problem doors and windows in her beautiful Carroll Ohio country home.
"The Doors"
Challenge – Builder Grade Steel Entry and Storm Door
Kelly's original entry door was made of steel (which is common) and had 2 sidelights with grids and a full view screen door which provides fantastic breezes.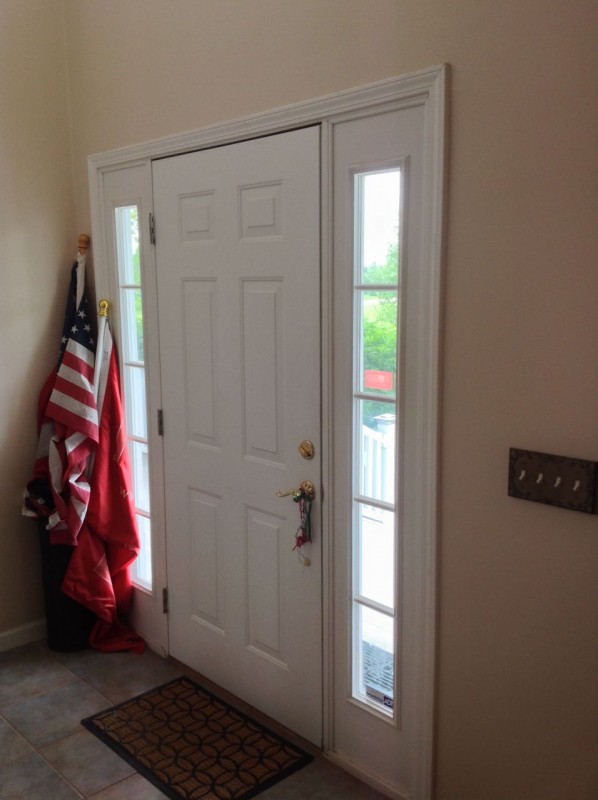 The problems with these doors included:
• The paint on the steel entry door would peel and blister regularly requiring excessive maintenance.
• The door handles would throw off excessive heat on sunny days.
• The wood framing around the door had deteriorating compromising it's energy efficiency.
• The storm doors' screen had to be replaced several times because people would walk through it because it didn't have a balance bar in the center.
Product Solutions – Fiberglass Entry Door, Sidelights and an Upgraded Full View Storm Door
In order to upgrade the existing six panel front door while reducing maintenance and improving energy efficiency, Kelly chose an Energy Star rated Heritage fiberglass entry door manufactured by Pro Via and installed by the Clear Choice division of Innovate Building Solutions. The door is designed in the classic 6 panel layout which compliments the rustic style of the home and adds curb appeal to her expansive front porch.
The cherry stain and oak grain patterns also match well with the home's design.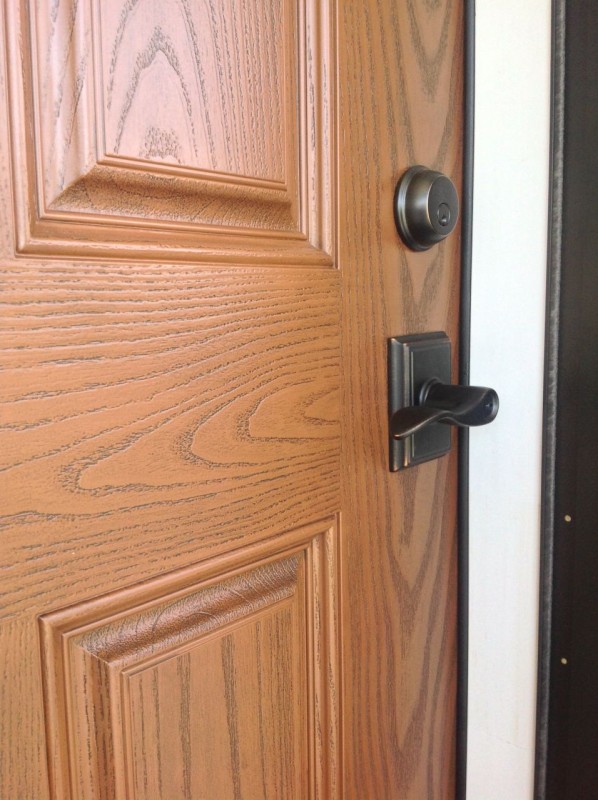 Two full view sidelights provide better sight to the outside since there are no grids between the glass panes.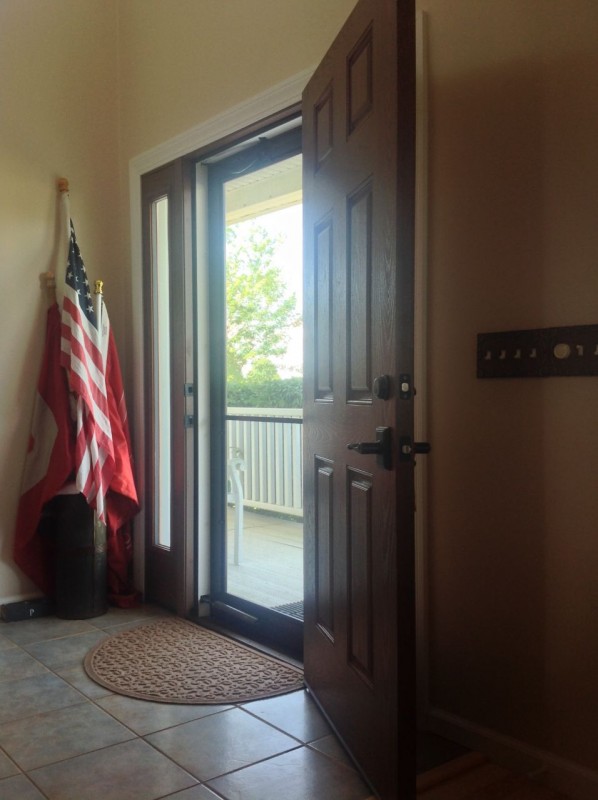 The storm door selected was a Pro Via "Superview" in a rustic brown color which matches well with the fiberglass entry door.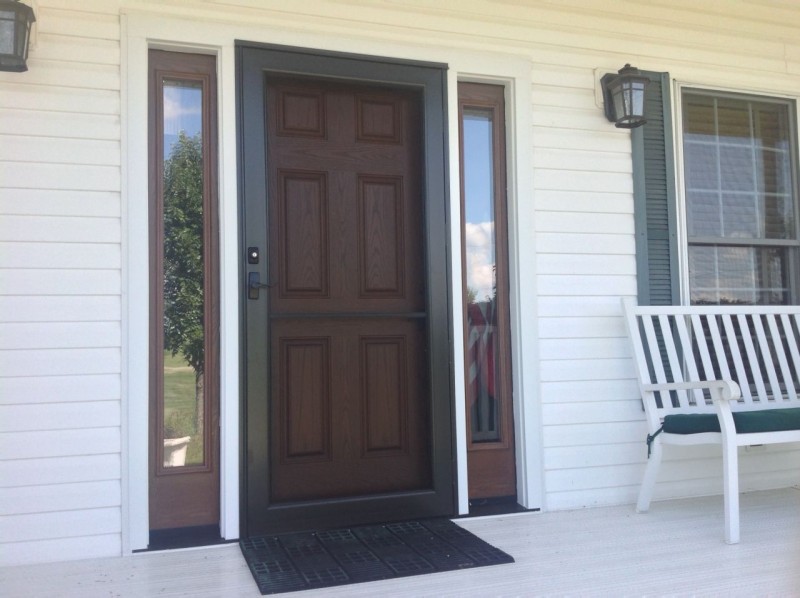 As Kelly said, "I not only like the looks and low maintenance benefits of these doors, but it's nice to see them made by another high-quality Ohio manufacturer." (note – Kelly is the Founder of FOBO – For Ohio Buy Ohio – which supports independently locally owned businesses in Ohio).
"The Windows"
Challenge – Wood Framed Bay Window in Master Bathroom
While the architecture of the old 1st floor wood framed bay windows (which included a picture window and two flanking double hung windows) was appealing the energy loss, need for maintenance (caulking, painting etc.) and the lack of privacy were the drivers towards looking for a better window replacement option. The blinds used for these bathroom windows were also a pain to dust and clean.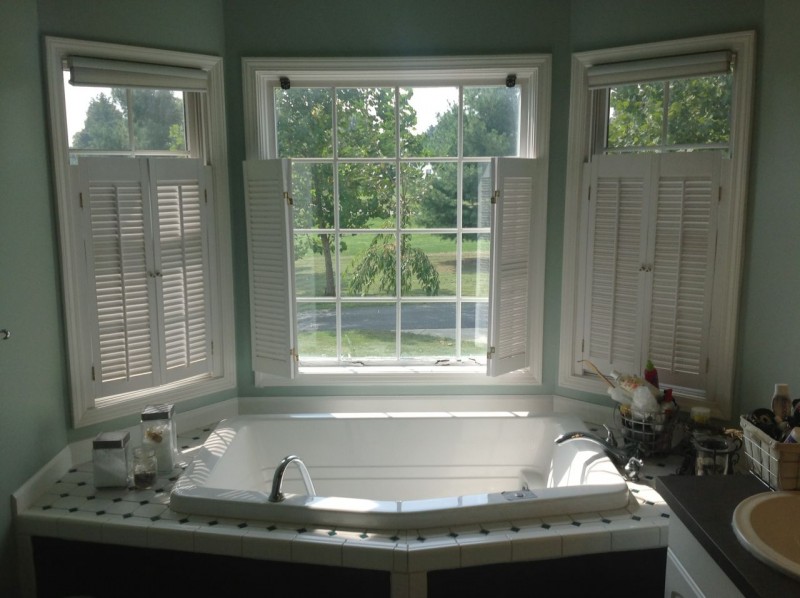 Product Solution – Frosted Glass Block Windows with Air Vents
Choosing a window which would be low maintenance, energy efficient and private were the top priorities. She chose a frosted glass block window with an air vent installed by the Columbus Glass Block division of Innovate Building Solutions. This selection eliminated the need for any frame around the windows.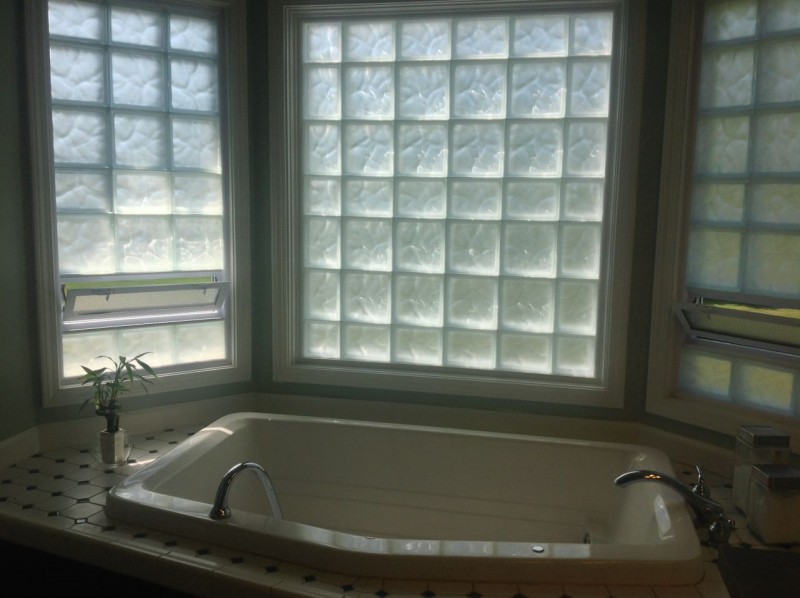 In addition the glass block windows were frosted on the inside for maximum privacy (eliminating the need for curtains) and manufactured using a more energy efficient Protect All fabrication system. Air vents were added on the side windows to get air circulation through the bathroom as well.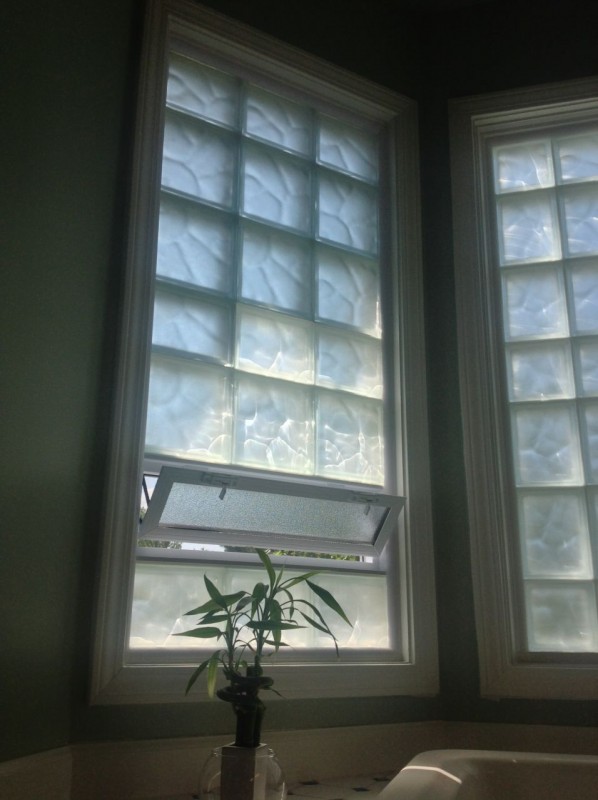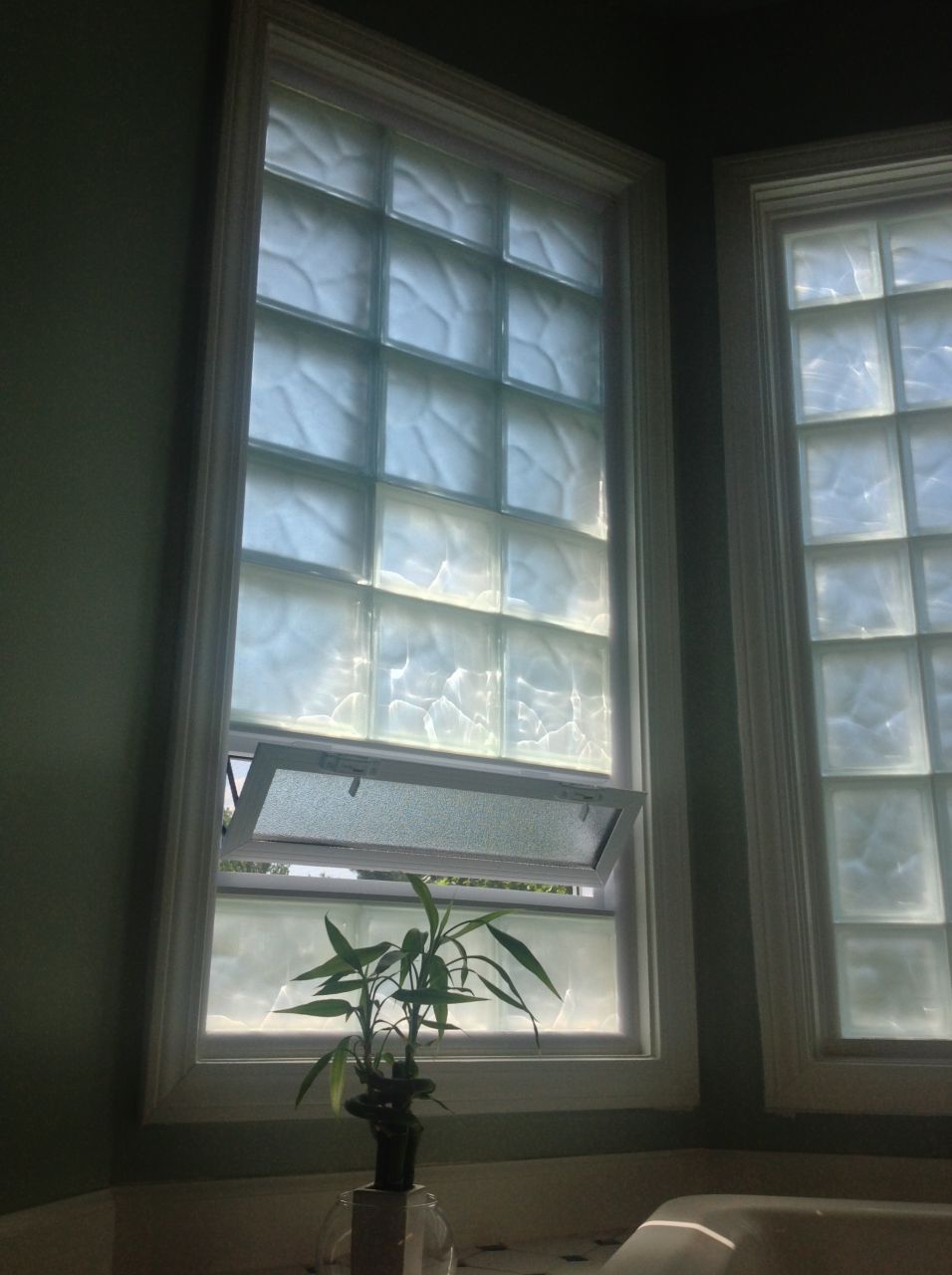 What do you think about the doors and windows chosen for Kelly's project? Please comment or call the numbers below for more information.
If you need help fiberglass front or storm door replacement project visit or call Cleveland Window (216-531-4118) or Clear Choice Window & Door in Columbus (614-545-6885). For glass block windows Cleveland Glass Block (216-531-6363) or Columbus Glass Block (614-252-5888) or for nationwide supply of the "Protect All" glass block windows call Innovate Building Solutions (877-668-5888).
---
Mike Foti
President of Innovate Building Solutions a nationwide supplier and regional (Cleveland and Columbus) remodeling contractors. Some of our product lines include glass counters, floors, backsplashes, glass blocks and grout free shower and tub wall panels
---