5 Bathroom Trends you'll see at 2015 Columbus BIA Parade of Homes (and 3 you won't)
If you're like me you really get excited to see the Columbus Parade of Homes. I love seeing cool homes, inspired decorating and some of the latest trends in products for new homes or remodeling an existing home. Just like previous years the 2015 homes provide a glimpse of ways to make any home more useable, fun and liveable. In the article below I'll give you a sneak peak into 5 bathroom trends you'll see on display at the six Parade homes this year – and 3 trends which are hot you won't see – a total of 8 to consider for your next renovation or new home build whether you live in Columbus Ohio or anywhere in the United States. Let's first take a look at the five trends you will see in this years Parade.
5 Bathroom Trends at the Columbus BIA Parade of Homes
Trend 1 – One level showers – Not only are one level showers distinctive and sleek– they are also safer (not having to step over a shower curb) and can be essential for an older family member or someone with special needs. You'll see this one level shower at MI Homes. In addition MI used a clean, contemporary frameless glass enclosure where you can get a full view of this beautiful shower.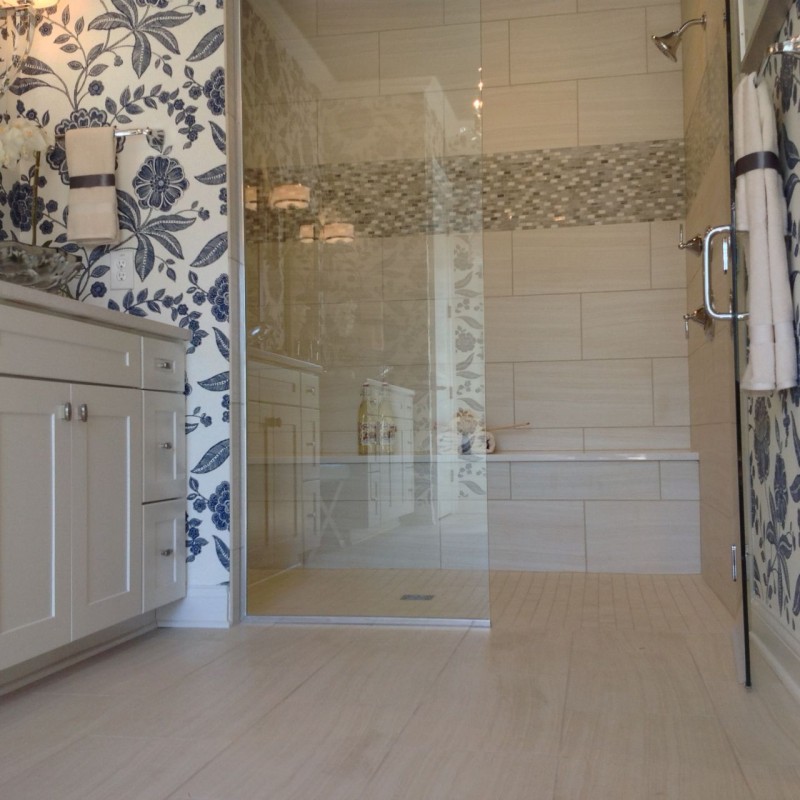 Trend 2 – Stand alone bathtubs – Wouldn't it be nice to relax in one of the new free-standing bathtubs. They are all the rage right now in the national new home and remodeling magazines. I also like how Fischer Homes and America's Floor Source incorporated a distinctive pebble floor under the tub.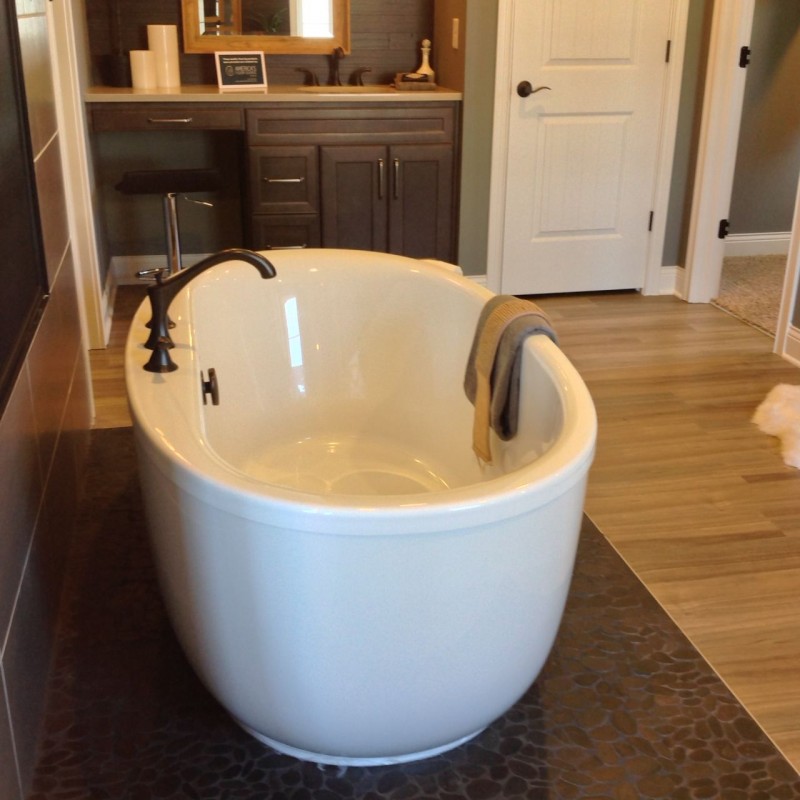 Trend 3 – Spa showers with body sprays – The feeling of multiple body sprays in a luxury shower is certainly a treat over a long work day, a tough workout or after you've done a bit too much work around the yard. This CopperTree Homes shower has clean, contemporary clear glass and enough body sprays to make you a new person.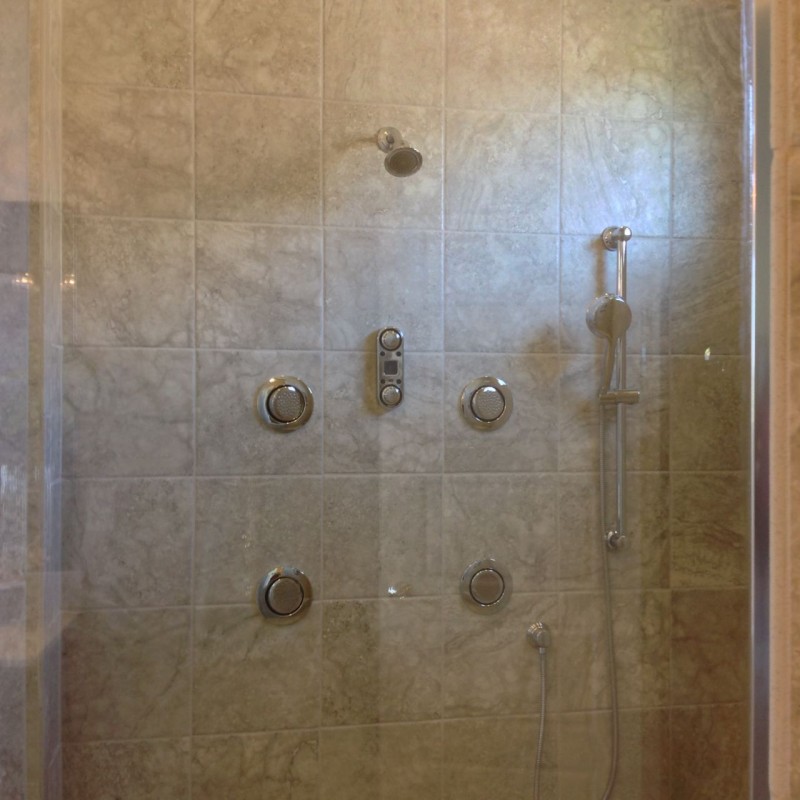 Trend 4 – Is it ceramic or is it wood? Wood floors conjure up the feeling of warmth – but who really wants to have a wood floor in a wet bathroom environment? What's nice is with today's ceramic tile technology you can have the durability of tile and the classic look of wood without worrying about scratches, dents, cracks or warping. Could you tell this floor in the MI Parade Home is made of tile?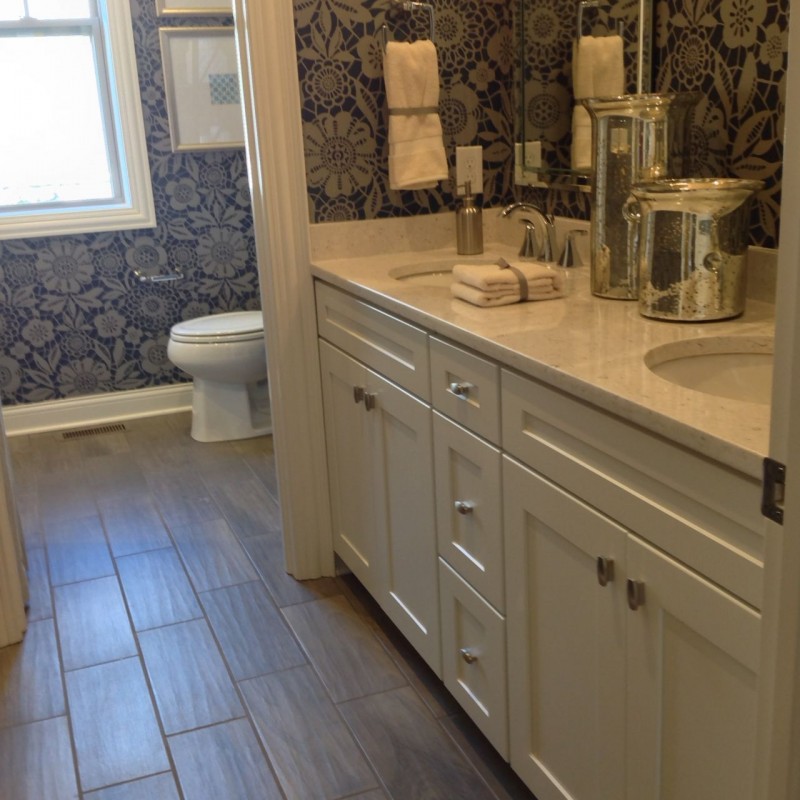 Trend 5 – Luxury and barn doors are now synonymous – Barn doors are no longer the beat up old variety you'd expect to find in the country. These unique doors, which are mounted and slide along a top rail, are increasingly finding their way into the luxury home and remodeling market. I like the "relax, refresh and renew" message leading into the Fischer Homes master bathroom.
3 Bathroom Trends you won't see at this year's Parade of Homes
While it would be nice to see every cool trend in the marketplace represented at the Parade it's just not realistic since the builders only have so much space to show what's hot and trending. Here are 3 additional trends you may want to keep in mind for your next remodel or new custom built home:
Additional Trend 1 – Luxury grout free shower wall panels – OK this year's Parade had phenomenal examples of intricate tile work in almost every master bathroom – but with that being said most people would say, "I love tile…..but I hate grout." A trend taking off in the remodeling market (after people have gotten tired of cleaning their grouted tile shower walls) is the use of luxury grout free shower wall panels. These panels have gone beyond the flimsy thin white acrylic walls installed by the franchise companies into thicker and more architecturally significant solid surface systems. Check out one system below and see the flexible options with adjustable shower shelving and storage as well. These luxury shower panels are simple enough for a DIY installation.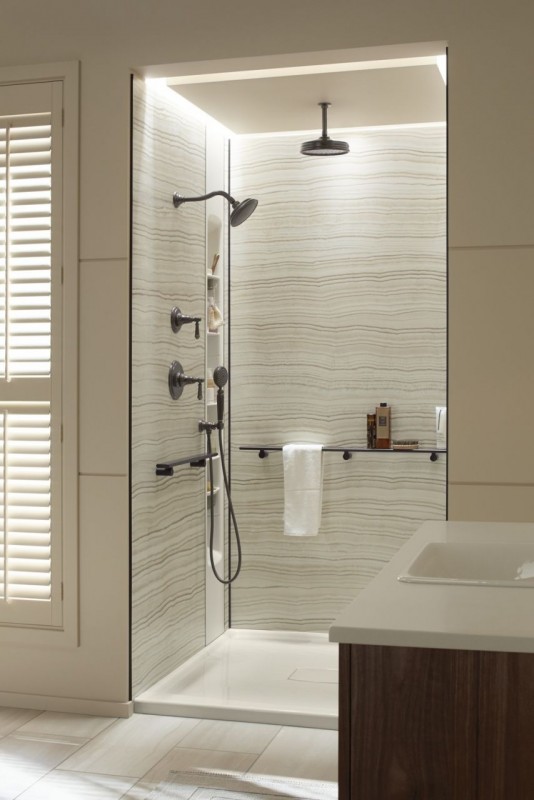 Additional Trend 2 – Contemporary shower design – As you may know Columbus is generally known for more traditional single family homes and decorating styles but the movement to contemporary bathrooms is rapidly growing (especially in loft apartments and urban housing but also in the suburbs as well). These bathroom are using products like wall mounted cabinetry and high gloss walls panels to make the bathroom easier to clean and sleeker in appearance.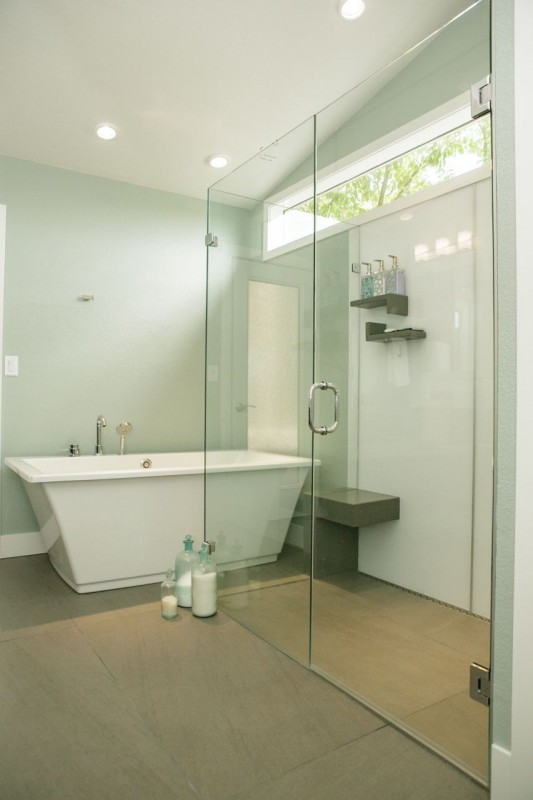 Additional Trend 3 – Lighting in unexpected places – The desire to control and delight with bathroom lighting has never been more prominent. While I went through this year's Parade during the day (when it's hard to see some of the fun things which may have been done with lighting) I have noticed some unique techniques from under-cabinet lighting and even illumination through glass countertops! Here's a couple of fun examples.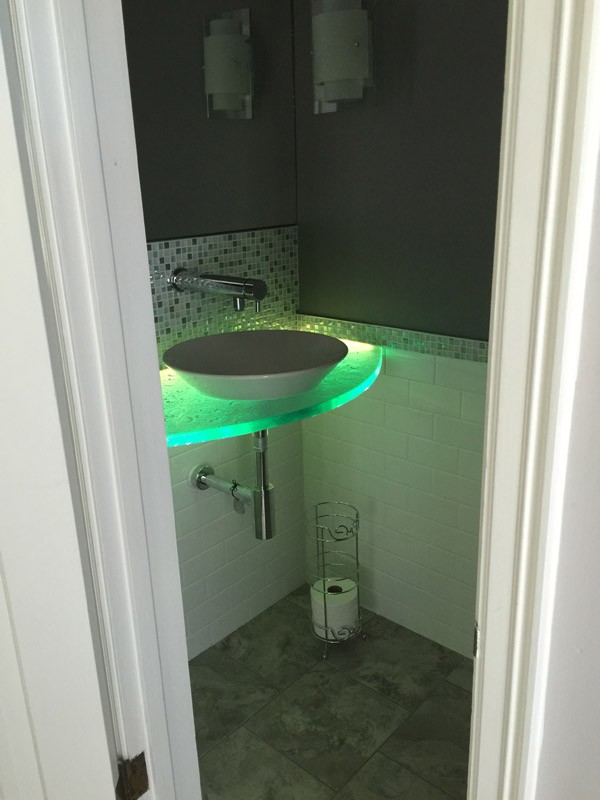 Which of these bathroom trends is your favorite? Please comment or call the numbers below to give us your feedback. If you have a chance check out this year's show – you won't be disappointed.
###
If you want more information on these Parade Homes call MI Homes (614-318-8400), Fischer Homes (614-896-2554) Coppertree Homes (614-425-2649) or America's Floor Source (614-237-3181).
If you want more information on grout free shower wall panels, high gloss wall panels or glass countertops contact Innovate Building Solutions in Columbus at 614-252-3242 or for nationwide supply at 877-668-5888.
---
Mike Foti
President of Innovate Building Solutions a nationwide supplier and regional (Cleveland and Columbus) remodeling contractors. Some of our product lines include glass counters, floors, backsplashes, glass blocks and grout free shower and tub wall panels
---