5 Out of the Box Remodeling Tips for a Master Bathroom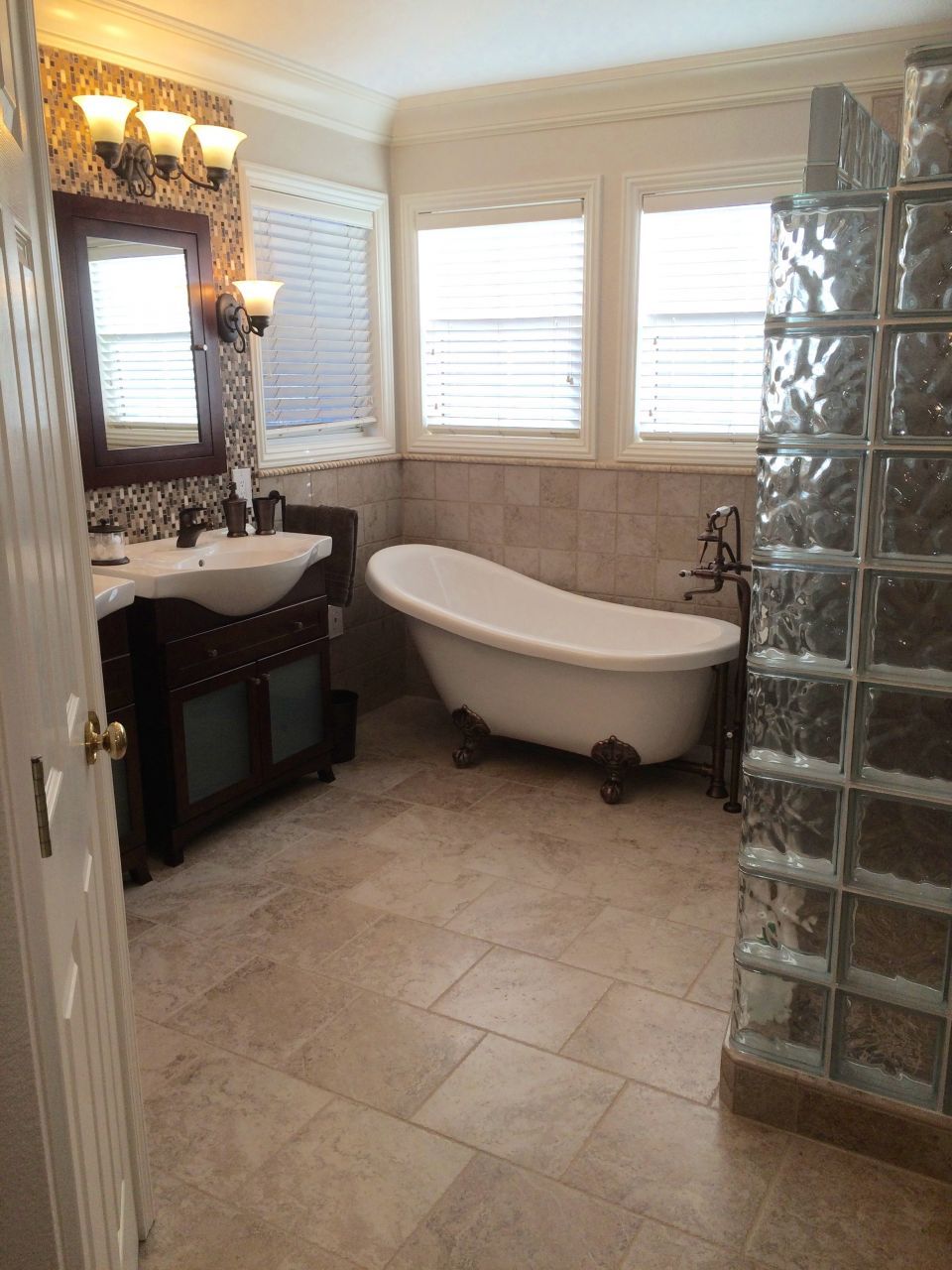 Sometimes in remodeling one thing just leads to another. Such was the case when Jim and Debbie Patrizi went to remodel their master bathroom in Martinez California.
As Jim said, "What started out as removing a flimsy framed shower door at the beginning of the weekend evolved into a progressive demo of the entire bathroom by the end of the weekend. After removing the door I found dry rot around the shower. Then my wife and I discussed our dislike of the tub next to the small 3' x 3' standard fiberglass shower and felt the time was right to remove the tub and the shower to make space for a larger shower. As our design thoughts became clearer we decided to eliminate the generic square design of our tract home bathroom and put some design flair and curvature into our newly remodeled space."
Learn 5 tips Jim and Debbie used to escape the common boxy look of their tract home bathroom to create a new relaxing, functional and gracefully elegant new design.
Tip 1 – Eliminate squares and rectangles, think curves – A square 3' x 3' shower, a rectangular 60" x 32" bathtub – everything was so boxy in the old bathroom. Jim and Debbie introduced multiple curves into the new design. The glass block walk in shower uses a curved design. The freestanding tub has nice rounded edges. The sinks and vanity tops are also curved and have multiple heights to add interest.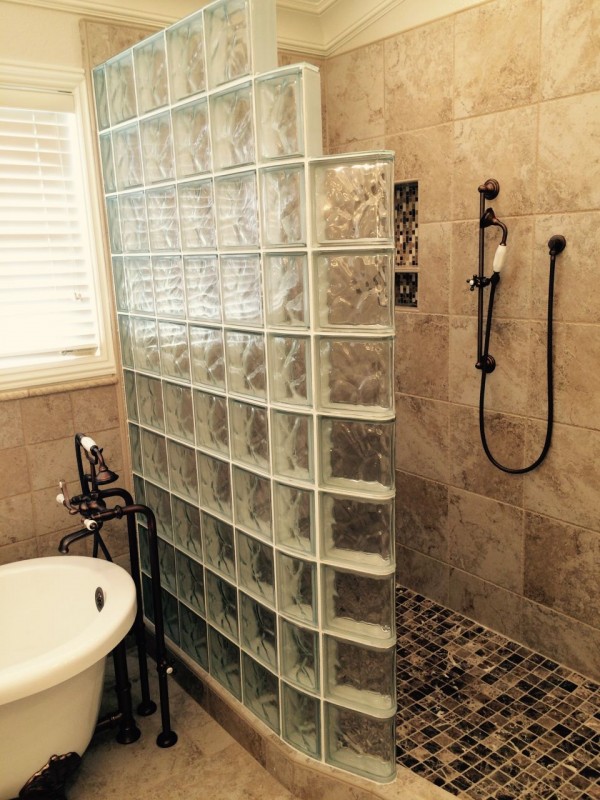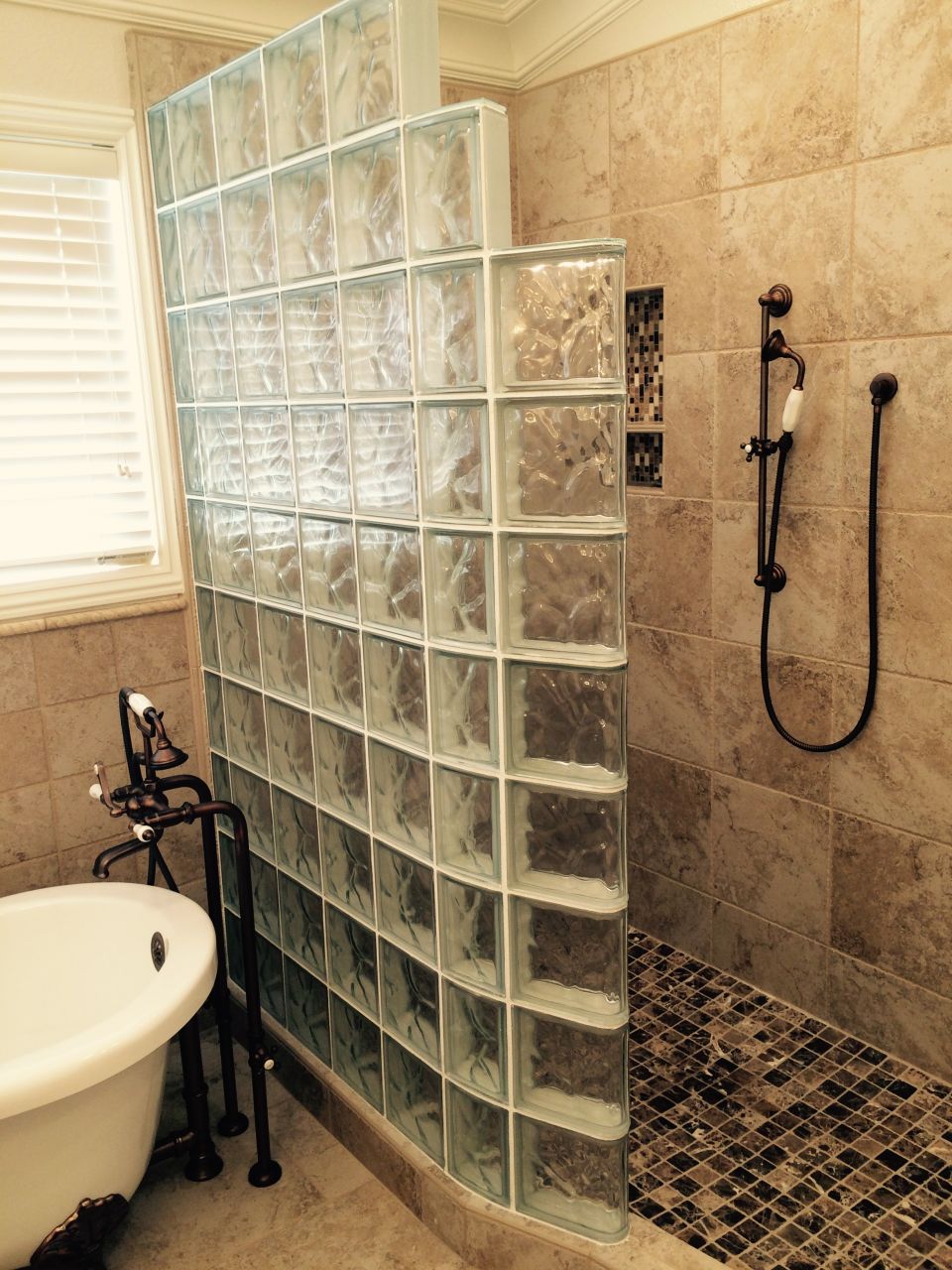 Tip 2 – Be ready for a little construction improv – As Roseann Rosannadanna used to say on Saturday Night Live, "It's always something." Isn't that true when it comes to remodeling? Whether you are a DIY'er or a professional remodeler (like my company) you will come into technical job issues which will make you scratch your head a bit to find a solution. Jim's challenge was a drain pipe which was sticking out of the floor. This pipe would be tough to move because of the direction of the floor joists. The improvisational solution was to use a custom waterproofed ready for tile base which was notched out where the pipe sticks up.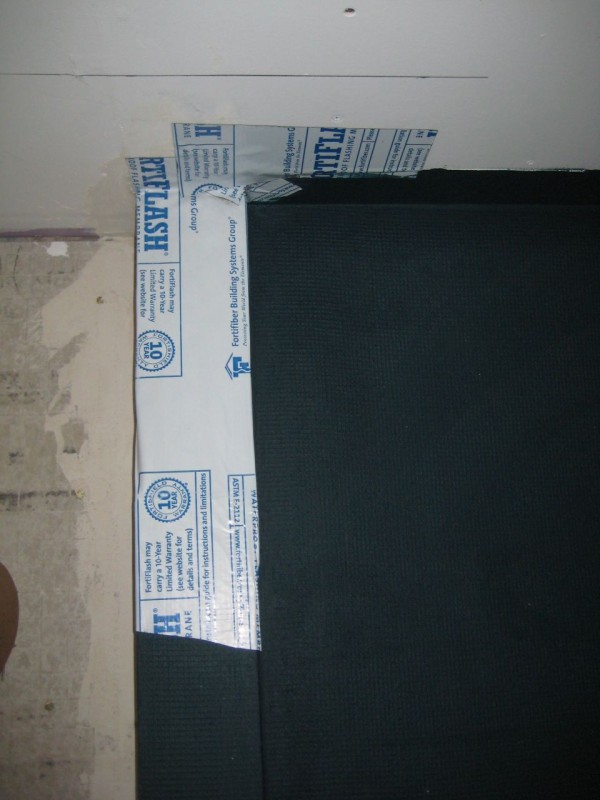 Tip 3 – Think like a physical therapist – This is a tip where Jim and Debbie have it over the rest of us because they are physical therapists. It's important to think not only how your design will work today – but also think how the space will work as you age. Here's some specific design details to make the bathroom functional over the long run:
Hand held shower – This product makes it easier for anyone to use the shower….and to clean it as well.
Backer board behind the tile walls – To accommodate grab bars Jim attached plywood backer board to the studs for additional support if grab bars are needed down the road.
Light it up – Lighting is critical for a safer bathroom. Jim used 8 lights in the ceiling and ample lighting over the vanity – all of which are on dimmers and can be adjusted for the time of day.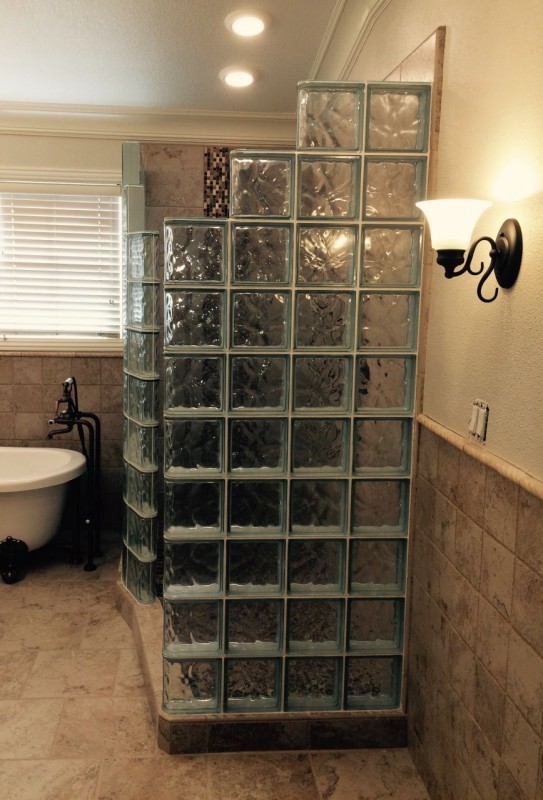 Tip 4 – Combine a holistic design with passionate research – A well-known Rolling Stones song says "You can't always get what you want." In remodeling this saying may often be true if you're totally dependent on a contractor to find the products you want for your design. The key to actually getting what you want is the willingness to roll up your "digital sleeves" and do your own digital research (note – from my nationwide wholesale sales experience I've seen the most innovative construction products and processes are used because the owner demands them – not because their contractor wants to try out something new).
Jim and Debbie wanted their entire bathroom to be coordinated and elegant. Their goal was to have the oil rubbed bronze vanity fixtures match the shower fixtures. After extensive on-line research they found a line from Signature Hardware to realize this goal. The contemporary vanities and recessed medicine cabinets from Ronbow Manufacturing continue this coordinated and purposeful theme. Lastly the vanity tile wall and decorative stripe in the shower were matched with a pattern called "rocky road imagination" to create a consistent look and feel.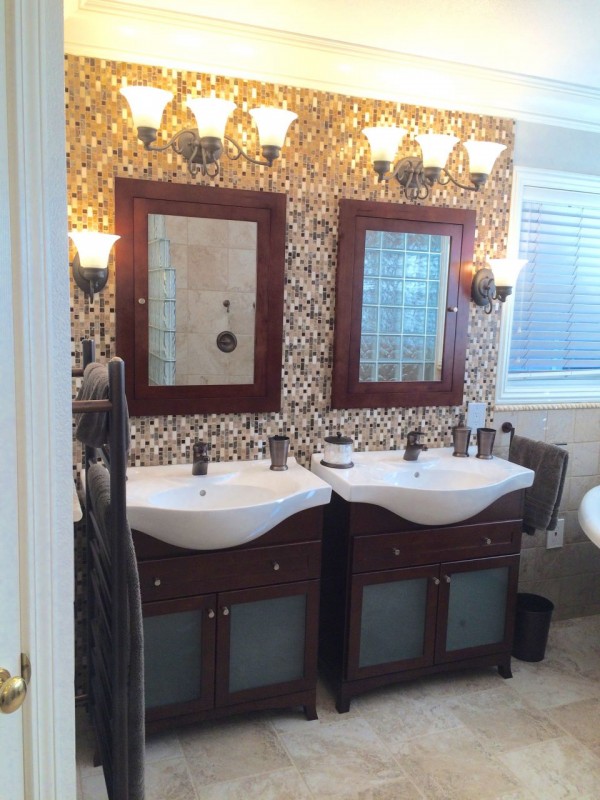 Tip 5 – Take the doors off – You can't think out of the box when you're enclosed in the box (or in the shower enclosure box). Leveraging the trends in the market today Debbie and Jim decided to go with a doorless glass block shower. This design eliminates the need to clean a shower door and cuts the material cost of buying a door. The curvature of the glass block wall funnels water back towards the drain.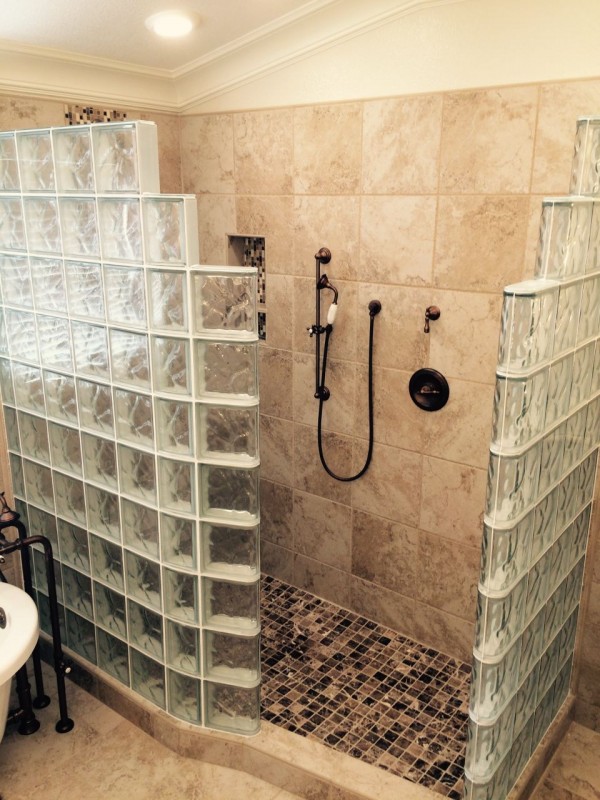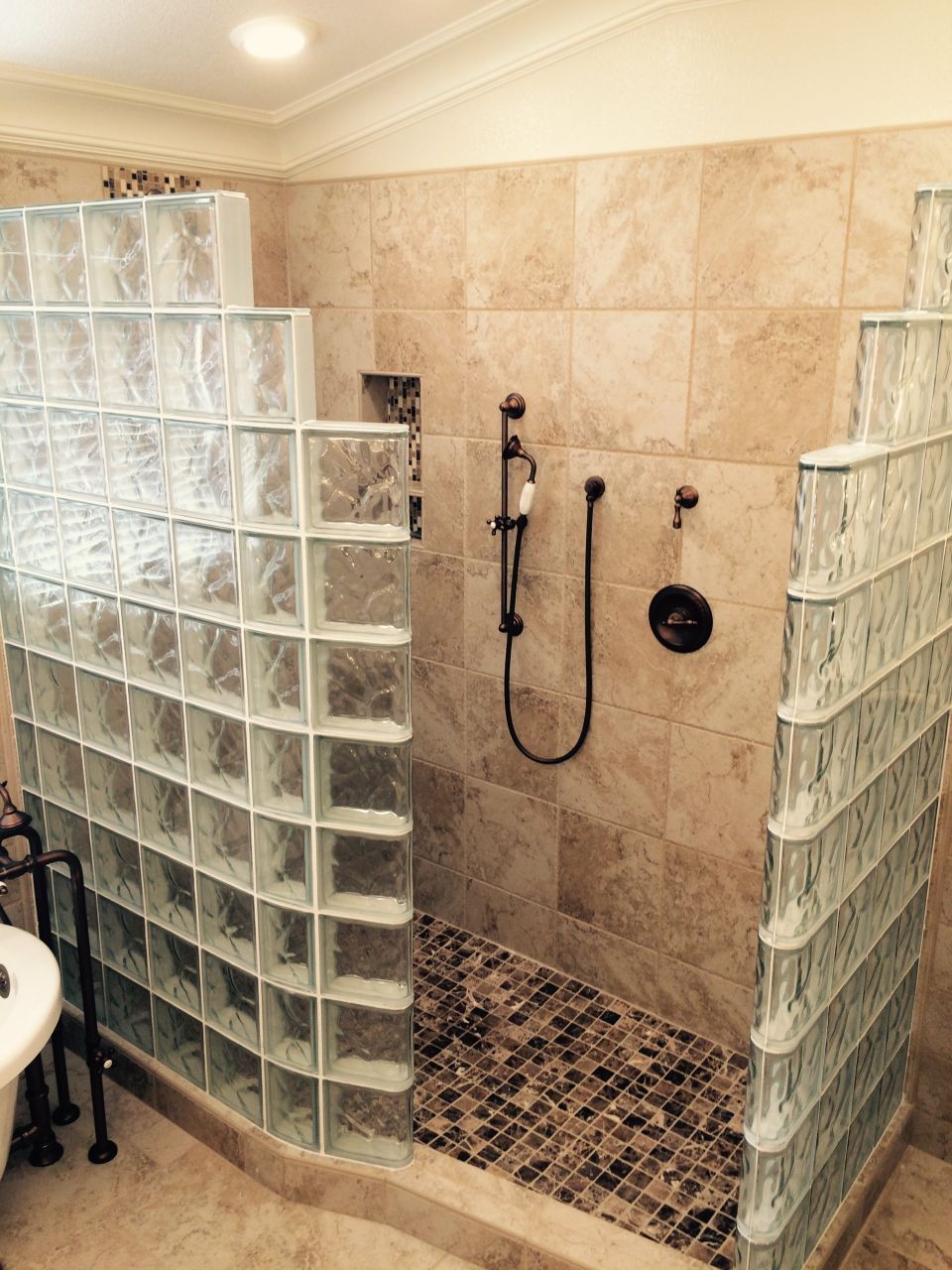 Which of these 5 out of the box tips would be best for your bathroom? Comment or call us at the numbers below for additional out of the box remodeling products or ideas.
###
For more information on the glass block shower system, a ready for tile shower or solid surface stone base call Innovate Building Solutions on a nationwide basis (877-668-5888). For a local bath remodeling project call their divisions including Columbus Glass Block (614-252-5888), Cleveland Glass Block (216-531-6363), and Cleveland Design & Remodeling (216-658-1270)
---
Mike Foti
President of Innovate Building Solutions a nationwide supplier and regional (Cleveland and Columbus) remodeling contractors. Some of our product lines include glass counters, floors, backsplashes, glass blocks and grout free shower and tub wall panels
---