Taking a behind the scenes adventure into an ingenious upscale tiny home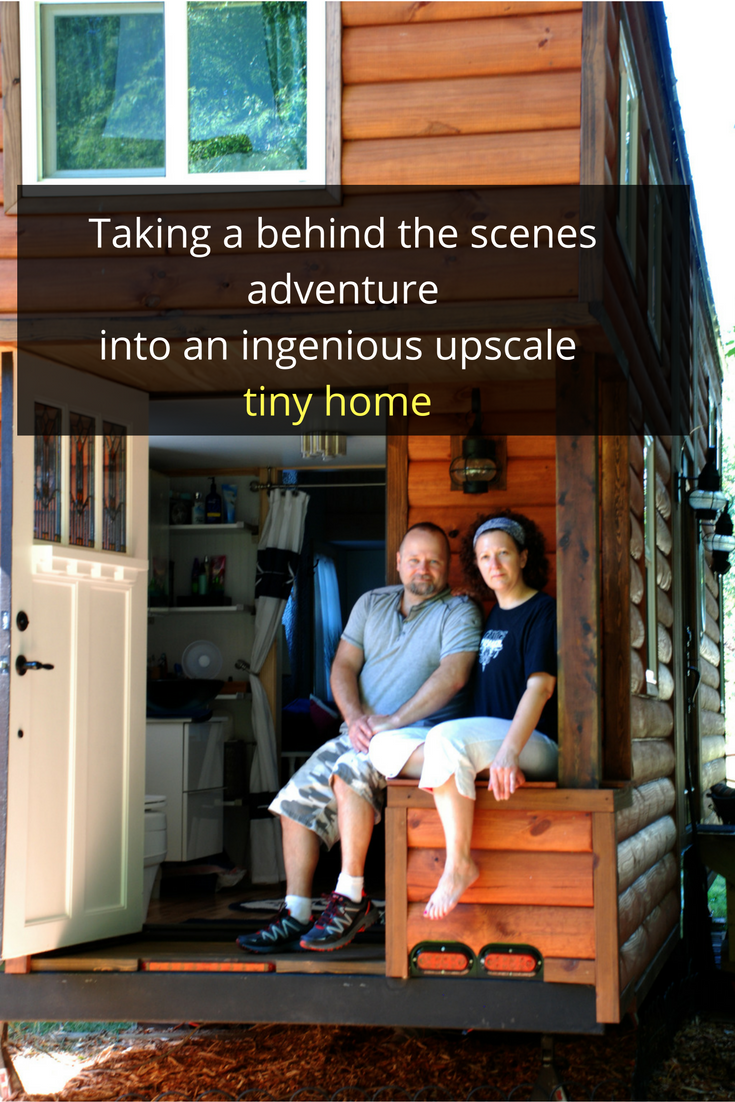 Are you fascinated by tiny homes and tiny home living? The shows on TV about this micro home building movement are exploding. When I got approached a year ago by Kristi and Rafael Bugajski to supply decorative shower wall panels for the luxury bathroom in the tiny home they were personally building (also known as the Tiny House Escapade) I was intrigued and excited to participate, roll up my sleeves and learn more. I thought to myself, "Cool, this will be fun!"
In this article I've asked Kristi to take you and I "behind the scenes" into their tiny journey. Building a tiny home is NOT at all like buying a production home from the (fictitious) national builder Crank It Out Homes Corporation. With a production home the builder makes 95% of the decisions for you. Building a tiny home is an intensely personal (and can be an emotionally draining) experience designed around the new lifestyle and tiny home owner(s). We'll look at "the why" they built this home, their overall design goals, and take a peek into their "multi-purpose" bathroom and kitchen. Lastly – I'll sum things up with some life lessons any of us (whether we're planning to build a tiny home or not) can learn from Kristi and Rafael's tiny home building adventure.
This tiny home experience for Kristi and Rafael had its' share of twists, turns and ups and downs but in the end they blazed new trails and created a home (and most importantly – a lifestyle) which works for them.
Let's hop aboard the Tiny House Escapade.
Why did you build your tiny home?
Have you ever noticed how your life can gain clarity through adversity? It was the "life slaps you in the face" challenges which motivated Kristi and Rafael to reflect and take a 180 degree turn on their lifestyle which spurred this project on. It was the challenging "trifecta" of difficult news when Kristi's Mom and Dad passed away within 5 months of each other, and she was diagnosed with breast cancer which created this reflective moment for the couple.
As Kristi said to me, "In the process of getting rid of all of my parents "stuff" Rafael and I realized all these things were just stuff, accumulated over the years. We wanted to travel, have more experiences, adventures and not stress about paying for stuff which would just donated or thrown out at the end of our lives. Mike – this was truly an eye-opening experience for us!"
This reflective moment drove Kristi and Rafael to get rid of most of the possessions they had worked their entire lives for and start pushing for a simpler life – which included tiny home living.
What were the design goals for the Tiny House Escapade? Did your goals change along the way?
There were 3 main goals the couple had which impacted its design and product selections:
Goal 1 – Have the feel of a traditional home – Most tiny homes are 20-24' long but Kristi and Rafael didn't think this would live well for them, their 19-year-old daughter, dog and "adopted" cat (they took in her Mom and Dad's cat after they passed away). As Kristi said to me," The pictures on Pinterest and the tiny home TV show make the homes look bigger than they really are. Our goal is to live in this home long-term." To accomplish this goal, they had a 34' long trailer specially built. In addition, they cantilevered (i.e. built the home over the edge of the trailer) it by 2' in the front and back for a total length of 38'. The home is 8.5' wide and 13.5' tall (this gives enough room in the lofted bedrooms to have enough space to sit up, but it's still only 4'2" high in the lofts).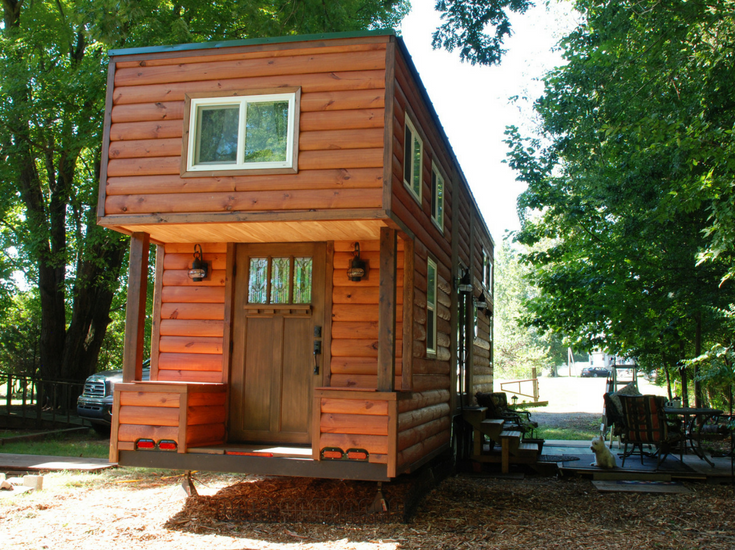 Goal 2 – Not just utility, how about some luxury! There are a lot of tiny homes which do provide a "dwelling" but really don't live comfortably. They wanted a home to look forward to relaxing and being in. One with a bit of luxury (who doesn't want a bit of luxury?). The bathroom (unlike many tiny homes) is not an afterthought. It has spa features like a glass vessel sink and upscale shower wall panels. The kitchen uses full sized appliances and has LED lighting inside the cabinetry for a cool effect at night.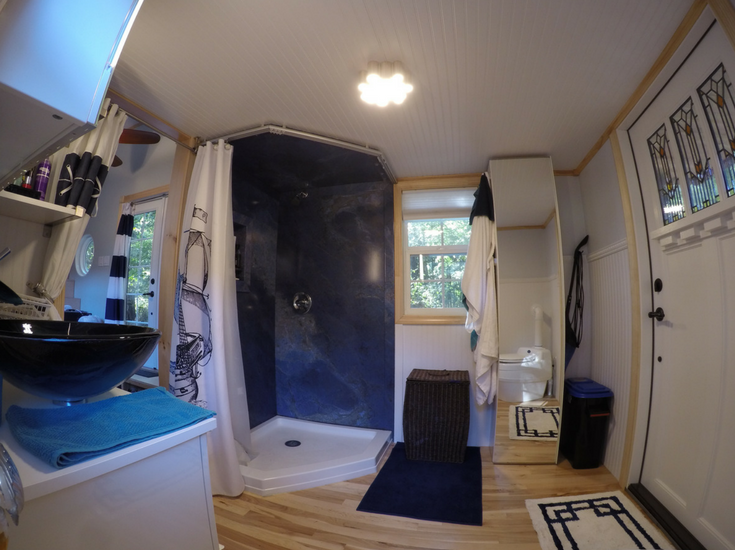 Goal 3 – Have a home which would travel and could go off the grid – Originally Kristi and Rafael wanted a home they could take on the road so they invested in products like an RV hot water heater and a Separette toilet. After completing the home, they find it's too stressful traveling with the home (after all this is a 38' home with all your personal belongings in it!)– so they could have saved money by knowing this sooner.
What's so cool about your tiny home bathroom? Is it completely done?
 Most tiny home bathrooms are one person rooms which are more utilitarian than enjoyable. Kristi and Rafael wanted a stylish "multi-purpose room" (this term reminds me of Junior High, but I digress) which is designed to be a bathroom, laundry room, mud room and dressing room in one small space. Here's some of the cool things in the bathroom now, and also some additional functionality planned for the future:
Bathroom sink with a glass vessel bowl – Having a sink seems like a no-brainer for those of us living in traditional homes but in most tiny homes people have to shave and wash their hands in the kitchen sink – yuck! Being in the healthcare field this couple wanted no part of that – I can certainly agree. Instead of having a boring sink they installed a glass vessel bowl – sharp!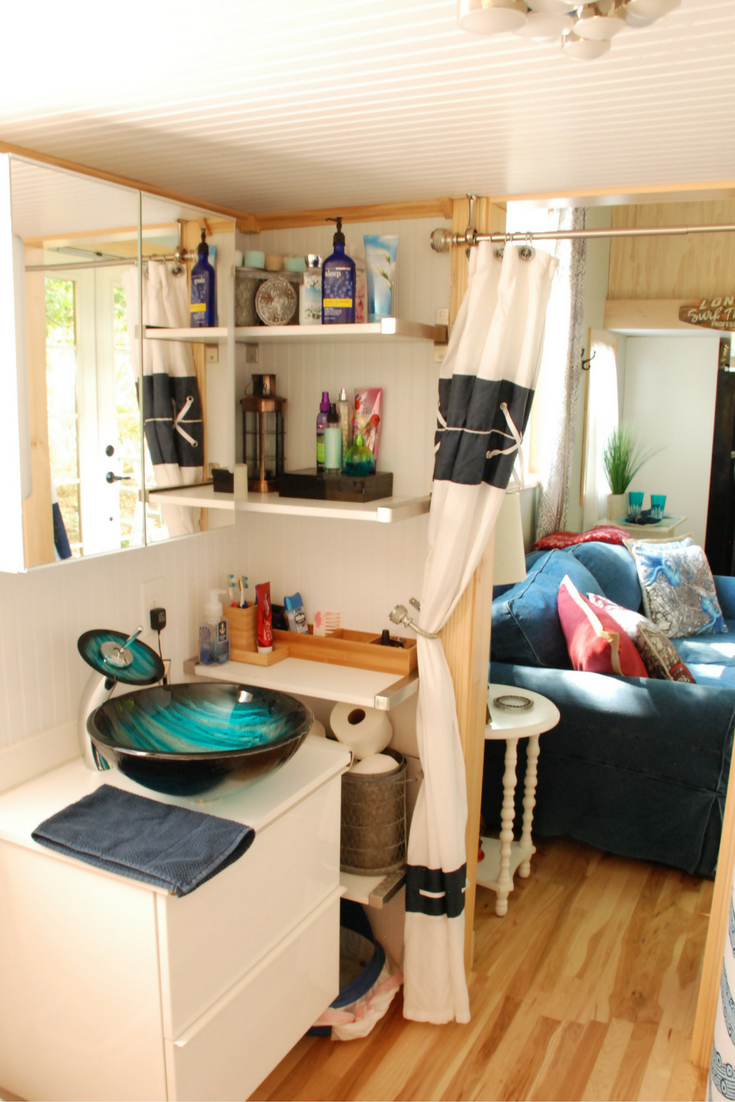 Decorative wall and ceiling panels – Kristi and Rafael wanted the shower walls to look cool, be easy to maintain, have some style, and yet lightweight enough so they would "travel well" if the home was in transit. They chose a decorative (and DIY friendly wall panel system) in a fun Blue Sodalite pattern which was a breeze to install and really pops out of the wall (no generic, thin, flimsy Home Depot looking wall panels here!).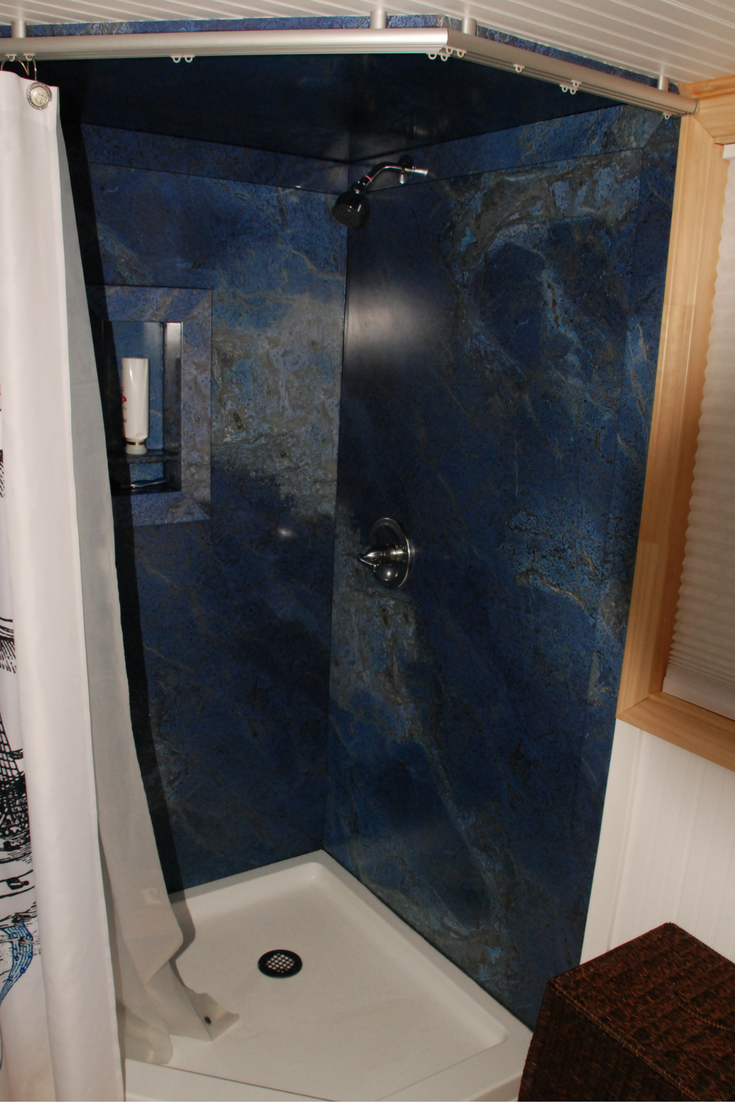 Saving trips to the laundromat – Right now there is no laundry room in the Tiny House Escapade. Like a lot of custom home building projects, it's hard to get everything you want right off the bat (note: it's very difficult to get a traditional bank mortgage for tiny homes which will constrain budgets). While the couple has met some nice people in their trips to the local laundromat they are planning on adding a washer/dryer in the bathroom.
What's so cool about your tiny home kitchen?
Yes – we all love our kitchens. I know it's the focal point of our home – especially around the holidays! The Bugajski' s wanted theirs' to be slick and fully functional. Let's check out some of the features which give it the feel of a larger traditional luxury home (but on an affordable budget!):
Fully functioning for daily living – Who wants their kitchen to live like a college dorm room with a tiny fridge and an Easy Bake Oven (just kidding here!).  Kristi and Rafael certainly did not. This kitchen is equipped with full sized appliances and counters long enough for non-crowded meal preparation.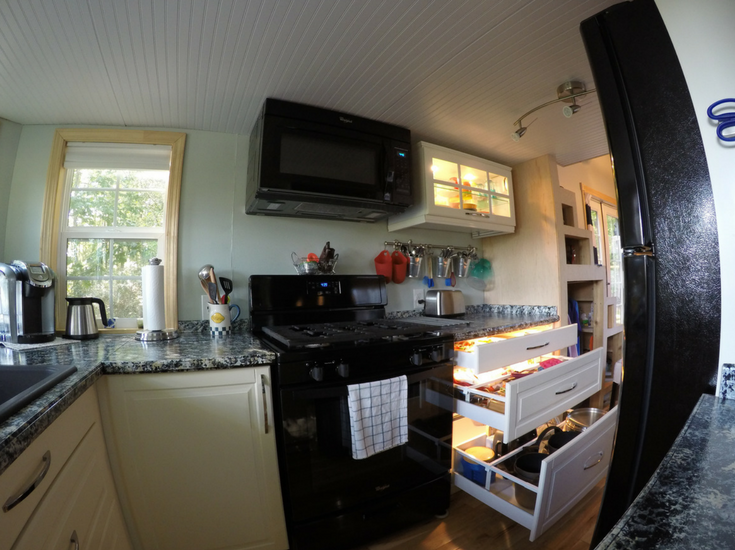 Stylish and affordable cabinetry – I know my family loves fun trips to IKEA (and not just for the Swedish meatballs – although that doesn't hurt). IKEA has perfected fun, stylish and affordable in so many of their products. Kristi and Rafael chose the Bodbyn IKEA lacquered raised panel cabinet door which even has cool glass doors on the two 30" x 15" wall hung cabinets. There are LED lights in all of the cabinets so you can find things at night without turning on the main kitchen light. They also have two corner cabinets 47" x 25" where food is stored, and a 36" x 25" unit under the kitchen sink for their trash and recycling bins.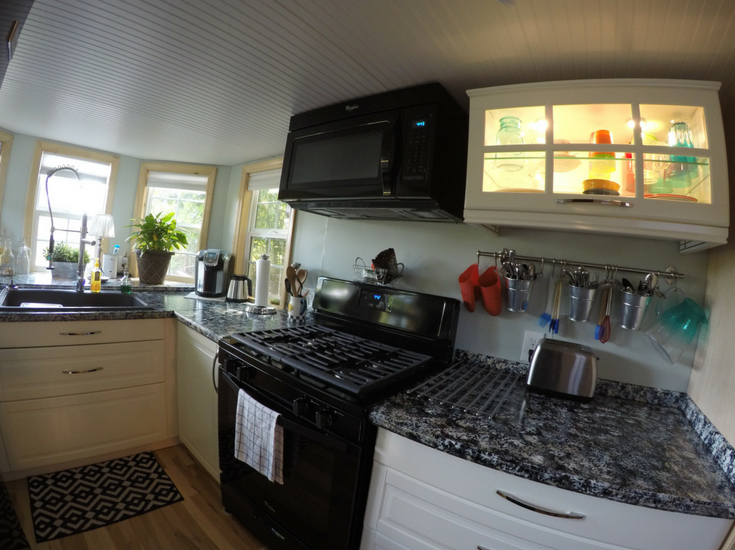 So you're not building a tiny home (neither am I). Life lessons we can learn from the Tiny Home Escapade.
While I find the tiny home movement really cool you're not going to find my wife Rose and I building a tiny home anytime soon (we like our traditional family home in the burbs, our neighborhood and space too much). With that being said there are valuable life lessons – much larger than a custom tiny home building project itself – to be gained from Kristi and Rafael's Tiny House escapade. Here are a few lessons their project has reinforced in me:
Be patient with one another, hear the other person out- Kristi and Rafael did have their "moments" building this tiny home together. There were days they didn't even speak to one another (I'm sure there are married couples who can imagine an EVERYDAY DIY home improvement project with their spouse leading to this!). What held them together was remembering to (eventually) hear their spouse out….no matter what….and even if they still thought they were wrong! Seeing things from two perspectives will lead to better results.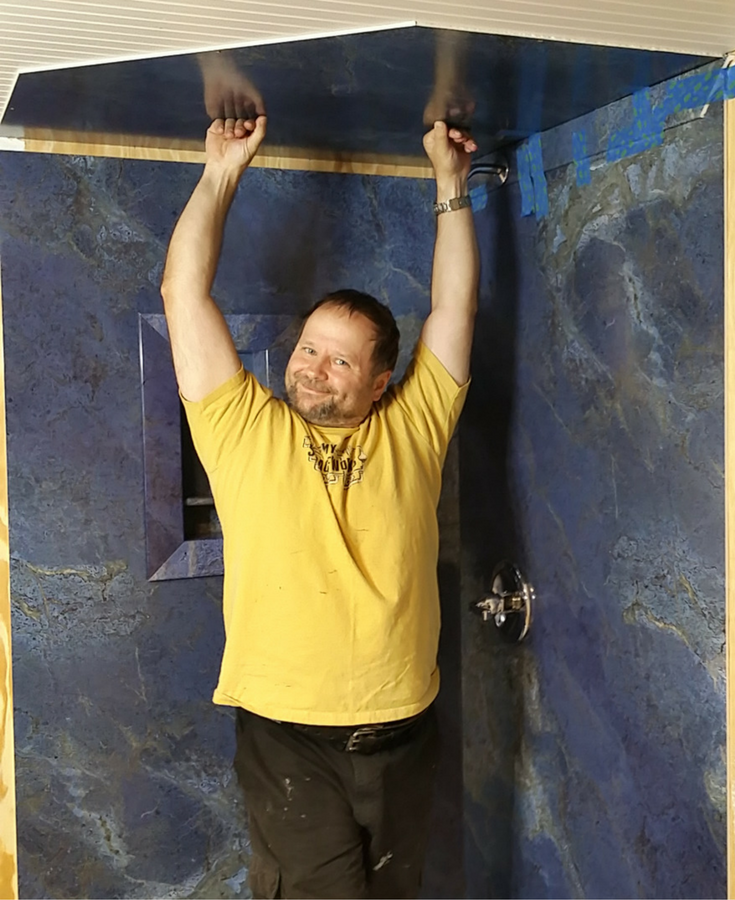 Ask what your "stuff" is doing for you? It's easy to accumulate things. In the end it's not about our stuff, it's all about the experiences and adventures we share with the people we love. Ask yourself, "is there an opportunity for me to live a more minimalist lifestyle and be more of a "maximalist" by investing time in experiences and fun with my friends and family? Wouldn't it be emotionally freeing to have less bills to worry about since after spending less money on things?
Being "early to the show" is not easy, be prepared to be challenged, stay the course – I remember when I was a 25 entrepreneur my Dad pulling me aside and saying "Son, you haven't been challenged yet – but you will be." How right he was! No one of us is living on "easy street." We might look at a celebrity from afar and think they are living on easy street, but our perception and their reality are usually far from the truth. Whenever you're one of the first people to do something (building a tiny home when the majority of communities and towns aren't accepting of them, starting a new business, learning a new skill etc.) understand adversity is part of what you "signed up for." Stick with your goals, stay committed to your dreams and the path you've been called to take. The Tiny House Escapade has been a journey. Kristi and Raphael haven't "arrived" where the home is a finished project yet (like life, it may never be completed done).
Have fun along the way – Kristi and Rafael listened to a lot of music and liked to be silly with each other while working on the home. Laughter is SO important to a life worth living! When in doubt laugh more (even if it's at yourself).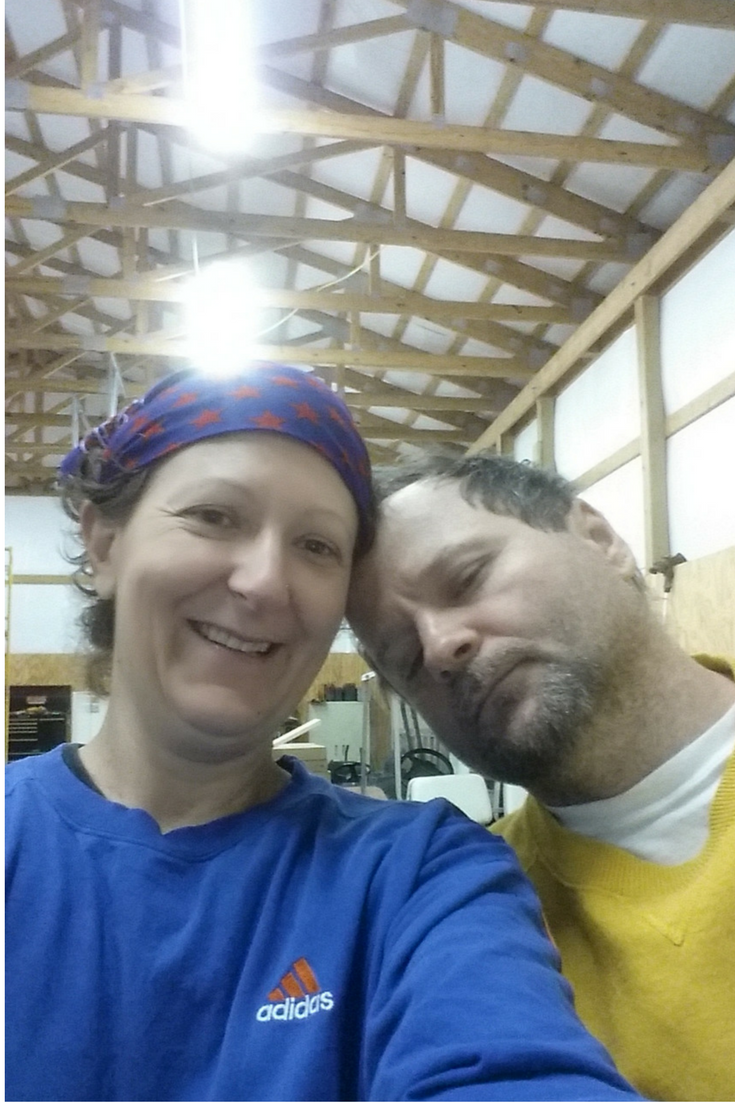 Conclusion
I hope you enjoyed our "mini-tour" through the Tiny House Escapade (AKA the home of Kristi and Rafael Bugajski, their daughter, dog and adopted cat). Even if you're just a tiny house voyeur (finding it cool how the "other side" lives) there are some valuable life lessons (being patient with each other, having fun and understanding that each of our journeys will have bumps and unexpected turns along the way) we can all gain through our temporary "trip" on the Tiny House Escapade.
To learn more about the Tiny House Escapade call Kristi or Rafael at the number below. To learn more about the cool decorative grout free shower and tub wall panels contact Innovate Building Solutions (yes – I have to admit that's my company!).
Contact Kristi and Rafael at 336-793-7965 and Innovate Building Solutions for nationwide supply of 4 different lines of grout free tub and shower wall panels at 877-668-5888.
Connect with the author on Twitter @Mike_Foti and his company @InnovateBuild
---
Mike Foti
President of Innovate Building Solutions a nationwide supplier and regional (Cleveland and Columbus) remodeling contractors. Some of our product lines include glass counters, floors, backsplashes, glass blocks and grout free shower and tub wall panels
---