The Pros and Cons of a Walk in Shower – The Untold Story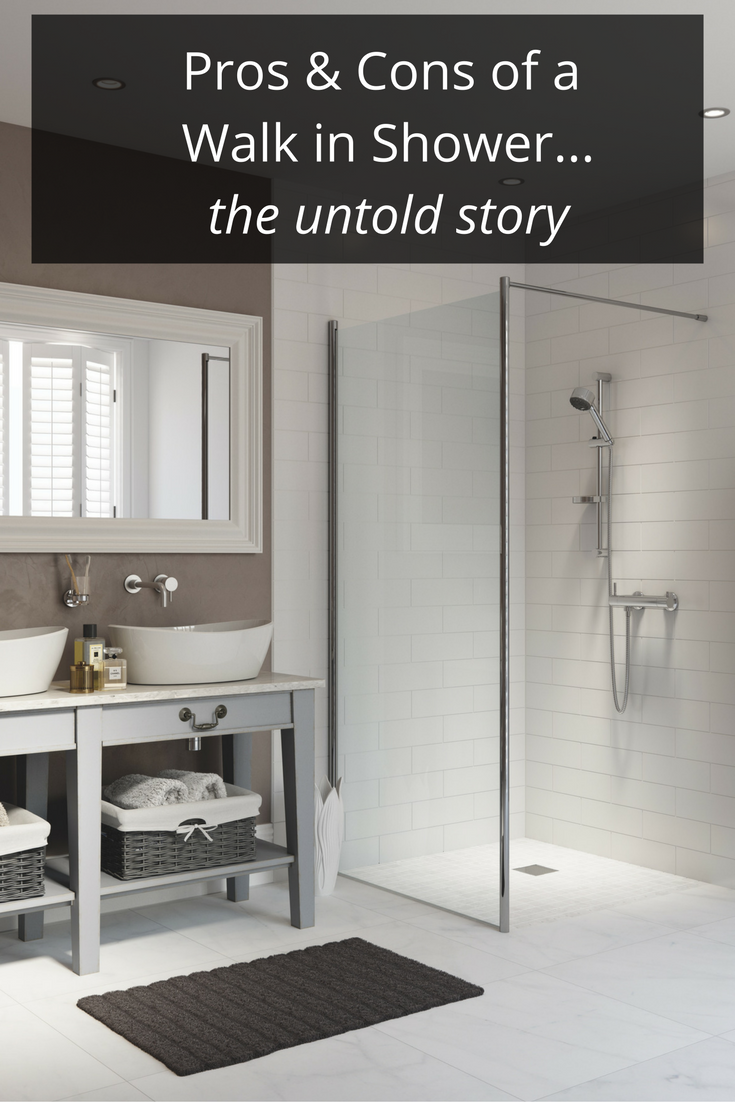 Updated January 26, 2019
The walk in shower – are you a fan or a foe?
Who knew a type of shower could be such a hotly debated topic, but I've seen people struggle big-time on the merits of whether to use a door or doorless shower design. Unfortunately- like most things in life – there is no one right answer on whether the traditional American shower enclosure (which is closed-in on the open end with glass or a shower curtain) or if an open design is the way to go (yes – I have to admit I do have a personal preference – but I'll share that at the end).
As someone who has a remodeling and shower supply business I will tell you we've sold and installed both systems many times and have a pretty good concept of both sides of this "argument" (I say argument because sometimes remodeling can become a "contact sport" between couples!). In this article my goal is to give you the straight scoop, the untold story and the pros and cons of a walk in shower. Let's check out the points and counterpoints of this debate.
Pros of a walk in shower
OK fans of the walk in shower here's your keys to winning the shower enclosure people over to your love of an open design:
Point 1 – Ditch the door and save some dough. 
Glass shower doors, which are often used for a shower "enclosure," can be expensive. If you choose a high-style 3/8" thick frameless system the door alone can go north of $1,000. If you go with the lesser quality framed door your home can end up looking like a cheaply built builders-grade home from the 1980's. If you choose the low cost curtain option they always seem to build up dirt and grime and end up looking nasty. With the doorless open design you'll save money and get rid of the problems above. The glass block shower shown below is also a breeze to clean.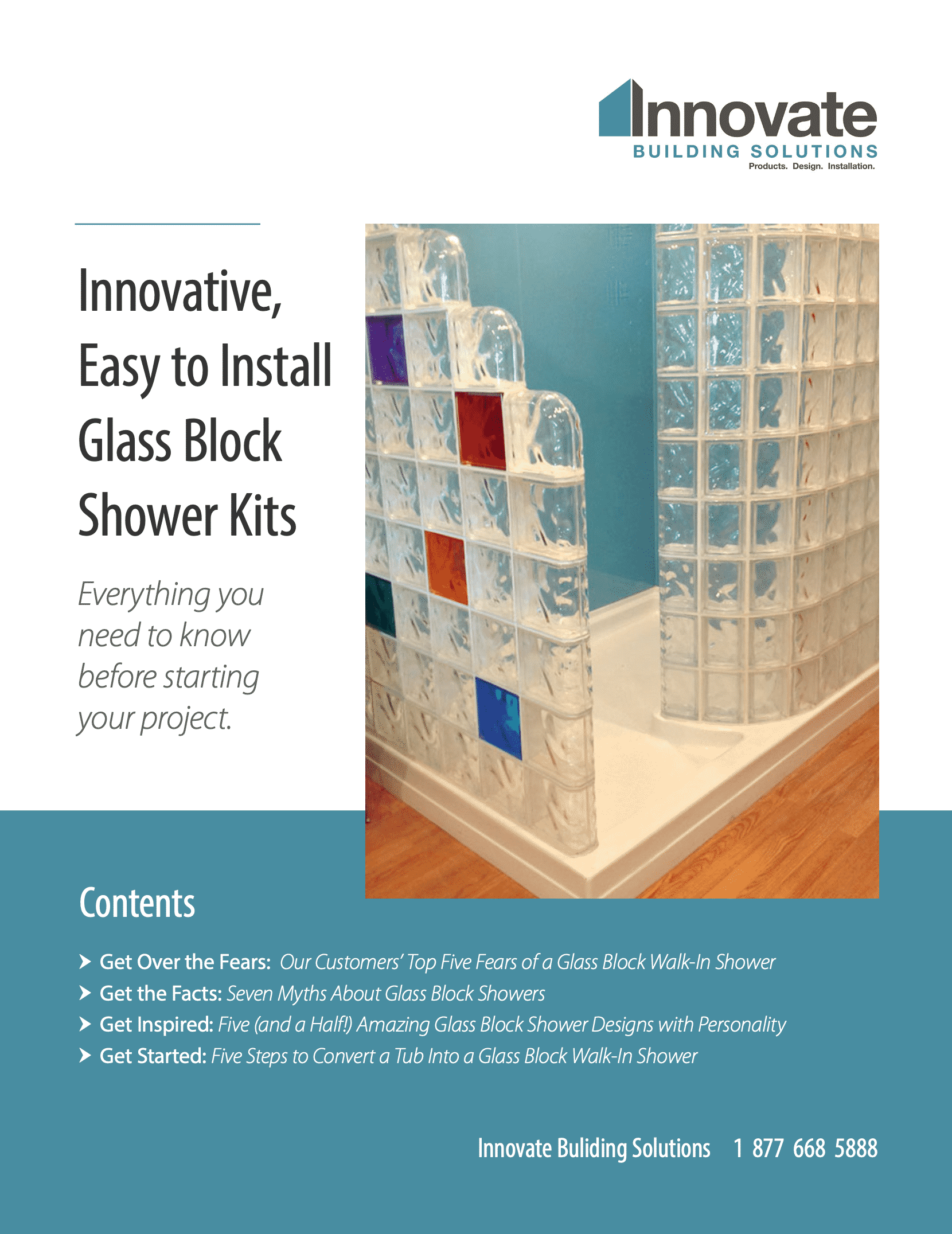 Glass Block Shower Ultimate Guide
The Ultimate DIY Guide for your Next Bathroom Remodel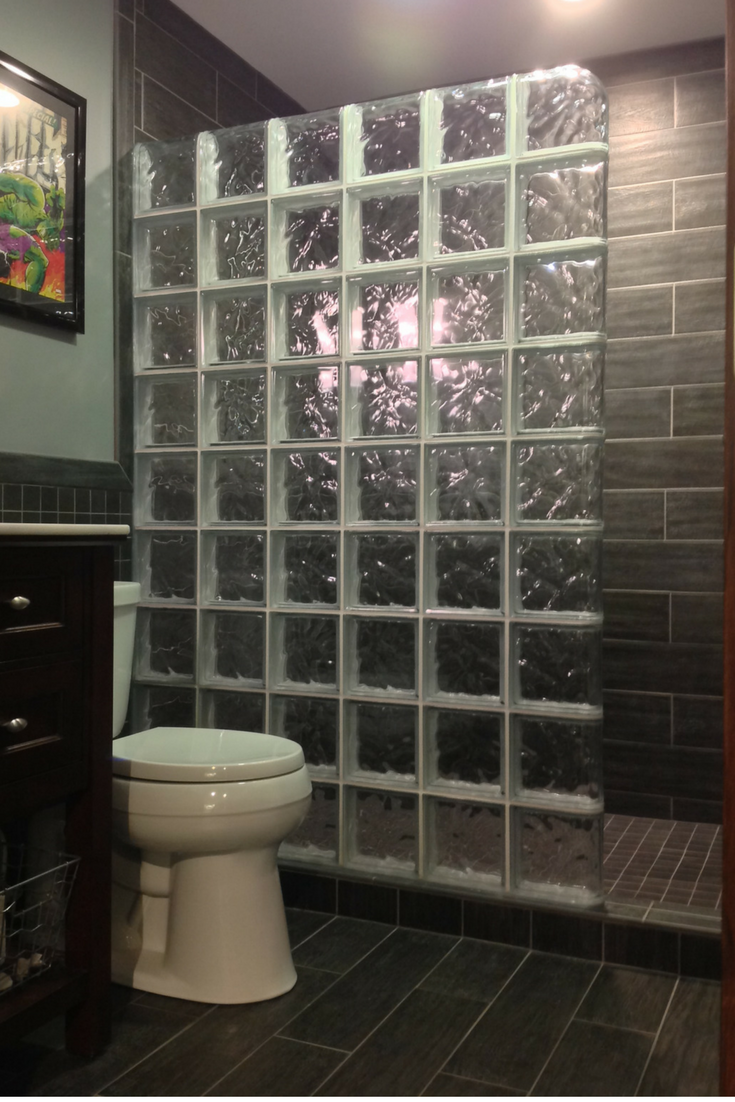 Point 2 – Easy to get in  
I wish I understood why the heck my body is made up of wear parts and it gets tougher to do what I did when I was 20. As a guy I can be dillusionally happy and pretend my mobility is the same as when I was in college by my trips to the physical therapist for my neck remind me this is not the case!
My challenge with my neck is similar to what many experience as their mobility is reduced as they age. What's cool about a walk in shower is you don't have to struggle with the door – or better yet you can make a one level shower design to eliminate all the barriers to entry. We are seeing a huge growth in the one level and ramped in shower entry designs as more people are caring for aging parents and/or are just trying to plan ahead with sound strategies to stay in their homes longer.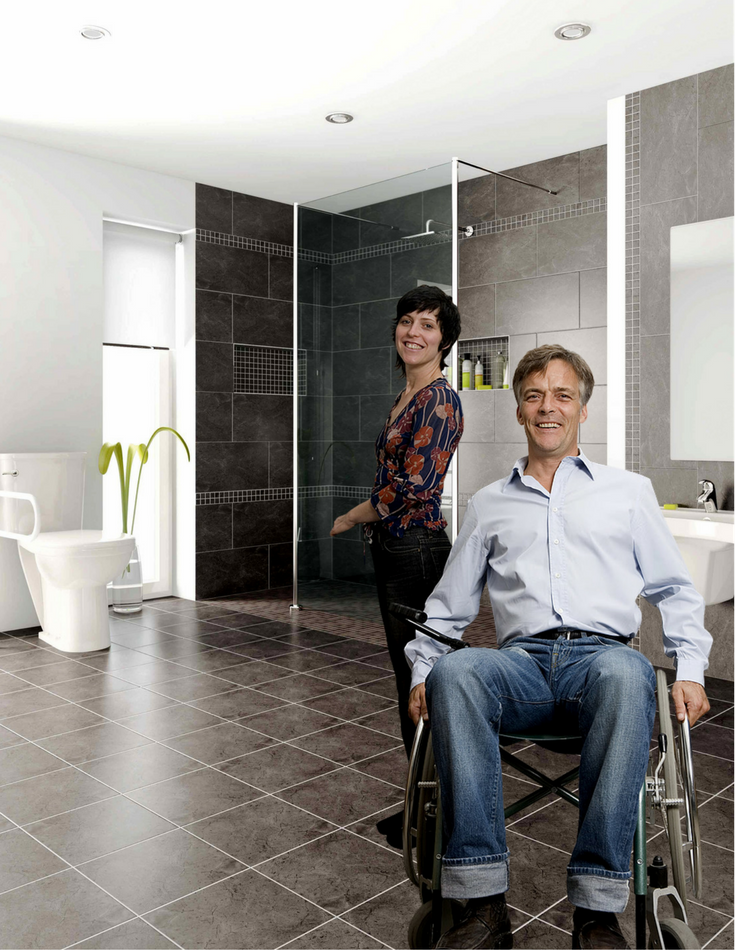 Point 3 – Minimalist contemporary design
The simplicity of tiny homes and dressing like Mark Zuckerberg and Simon Cowell are in! Why you might ask? I think it's partially due to the fact our lives are too complicated and most of us are desperately searching for ways to make things simpler. Whether it's in fashion design (Simon Cowell and Mark Zuckerberg wearing black shirts all the time), home design (tiny homes, container homes and houseboats) or shower design (a simpler shower without a door) the desire for cleaner, easier, less complicated design is on the rise. The walk in shower is simple because it has less moving parts (no doors or curtains) than the shower enclosure.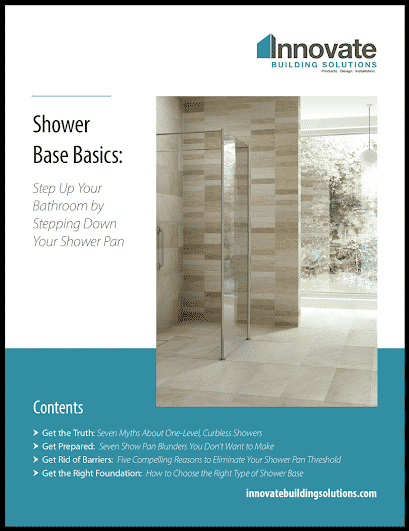 Get Our Ultimate Shower Base Guide!
Step Up Your Bathroom by Stepping Down Your Shower Pan!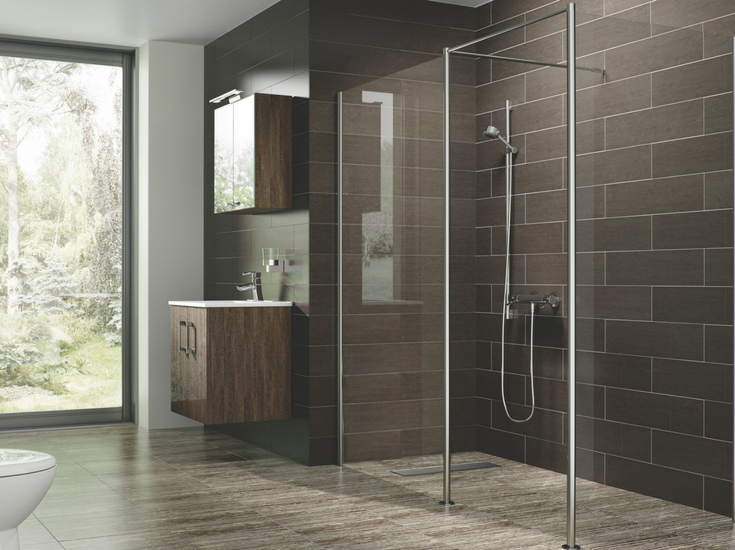 Counterintuitive Point 4 – The small bathroom walk in shower 
This is a point which most people living in the United States don't understand initially. You can have a walk in shower in a bathroom in a really tiny bathroom. Most people assume you need a lot of space for a walk in. If you live in Europe and Asia (where homes and apartments are smaller than in this country) they know otherwise. With the use of an open one level wet room system your shower and bathroom can be one continuous space. This one level wet room not only works well for someone who needs the assistance of the wheelchair, but it's also a big benefit when you've got a tiny bathroom.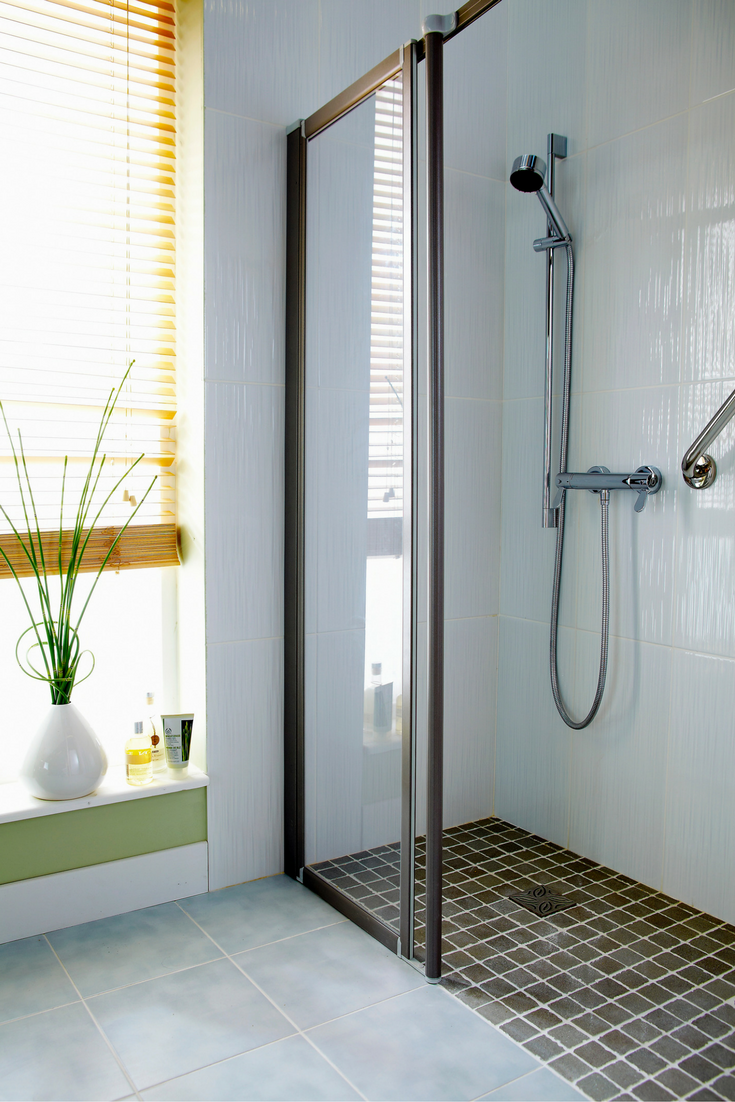 Cons of a walk in shower
OK – the fans of the walk in shower have had their say – now let's give some ammunition to those people who just aren't fans of open designs.   
Point 1 – Water on the ground, water on the ground, your bathrooms lookin' like a fool with water on the ground
If you were a fan of American Idol (yes – I have to admit I was) you may remember civil rights activist "General" Larry Platt singing the Pants on the Ground tune protesting people with sagging pants. Well – just like Larry was not loving people in his neighborhood with sagging pants, many people just can't stand the idea of standing water on the ground outside of the shower area from an open shower. There are ways to counter the problem of water getting out (using a curved glass wall or a pivoting shower screen door are two of the most popular) but many people just don't want the worry of that "water on the ground!"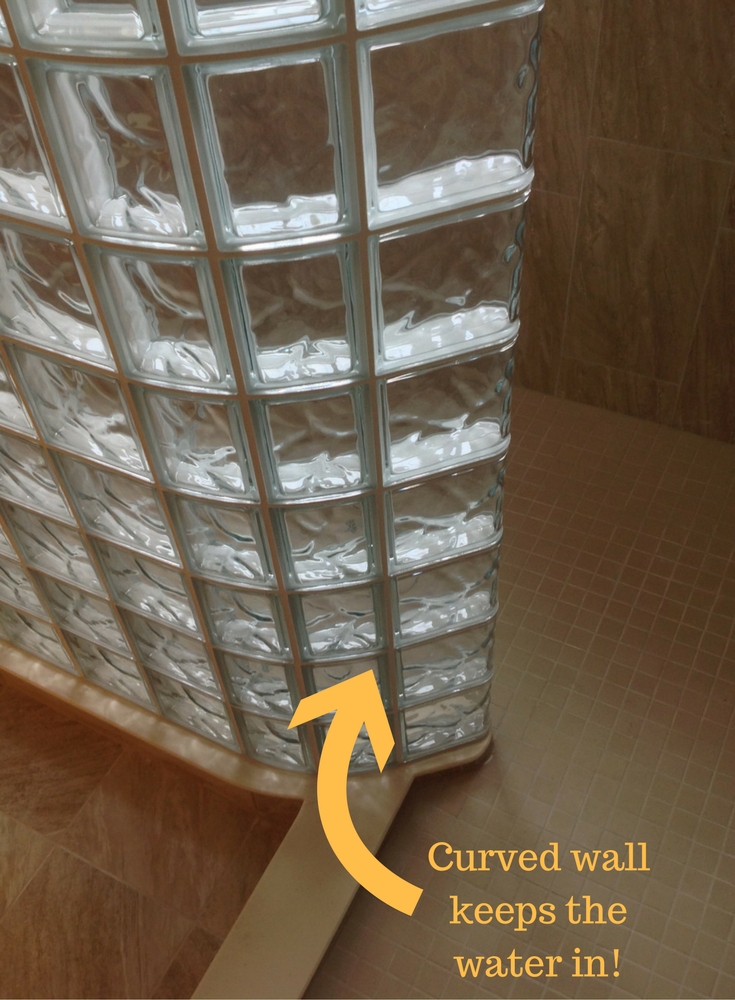 Point 2 – I'm not as "ripped" as I'd like – the need for privacy
It's cool to look at football players and swimmers (yes I know many women were ooing and aahing over the swimmers during the Olympics) with their 6 pack abs. I'm still thinking, "isn't there a way for me to get to a 1 ½ pack abs?"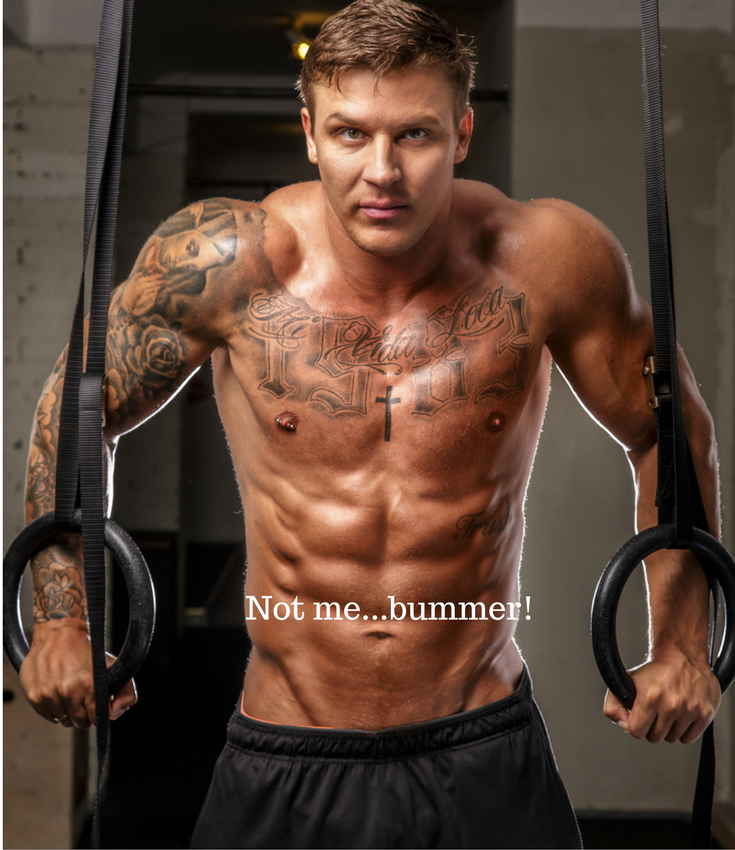 If our bodies matched those of famous fitness instructors and athletes we might want the shower completely open. For most of us that's just not the case! Given this fact the shower enclosure with obscure glass or glass blocks can be preferred because it offers more privacy (sidenote: I know my wife used to hate it when the kids were little and they would barge in the bathroom when she was taking a shower. She was happy to have an obscure glass enclosure during those years.).
Point 3 – Keeping it hot and steamy
When you get home from a long day of work on a cold winter night it can be SO relaxing to crank up the heat in the shower and decompress in the confines of a shower enclosure. With an open shower some of the steam will logically find its way out. Some people with open showers combat this challenge by adding heated floors to balance the scales of steam leaving the space.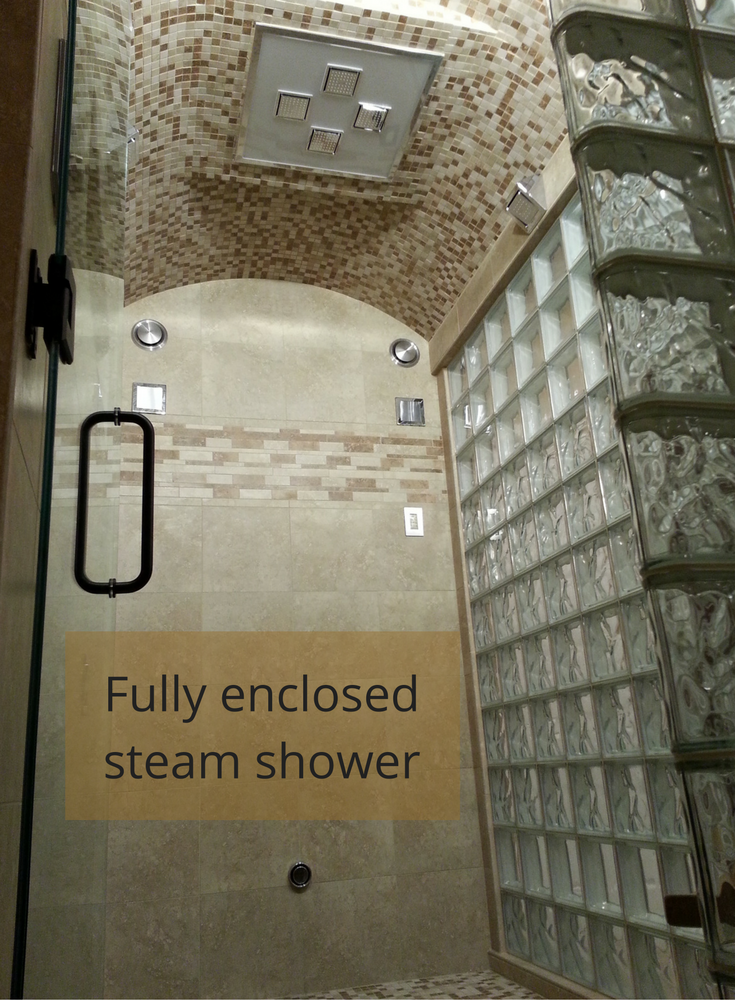 Coming "clean" – my personal preference
I will fess-up that I do have a personal preference in this "open vs. closed" debate.  I prefer the open walk in shower to an enclosure with a door. Although I don't have a walk in shower in my home today (I didn't know what I know now when my home was built 21 years ago) here's the reasons I wish I did:
I've already had to replace the cheap framed shower door the builder put in with a semi-frameless system at a cost of about $1,600.
As I'm getting older I'm becoming more of a minimalist guy and desire more simplicity. Maybe that's why I also got into the home organization business!
I'm OK with the open shower (and my lack of a 6 pack abs – or even 1 ½ pack abs). I'm hoping my wife will join me in this open space!
Conclusion
I hope this article has given you a few new points or counterpoints despite which "side" of the walk in shower aisle you're on. If you have any questions about these systems or need help with a bathroom remodeling project please feel free to contact me – or one of the people on my team – at the numbers below. It would be our honor to help you!
If you're looking for more information or an estimate on remodeling a shower or call Cleveland Design and Remodeling (216-658-1280), The Bath Doctor in Columbus (614-252-7294) or for nationwide supply Innovate Building Solutions (877-668-5888).
If you're a remodeler or builder and want practical advice on remodeling products, industry trends, marketing and sales tips to grow your business (and cut day to day hassles), start reading my newest blog – Innovate Builders Blog. It's packed with ideas you can use now. Click here to Sign Up for the Innovate Builders Blog.
---
Mike Foti
President of Innovate Building Solutions a nationwide supplier and regional (Cleveland and Columbus) remodeling contractors. Some of our product lines include glass counters, floors, backsplashes, glass blocks and grout free shower and tub wall panels
---