5 Myths about Anchoring a Glass Block Shower Wall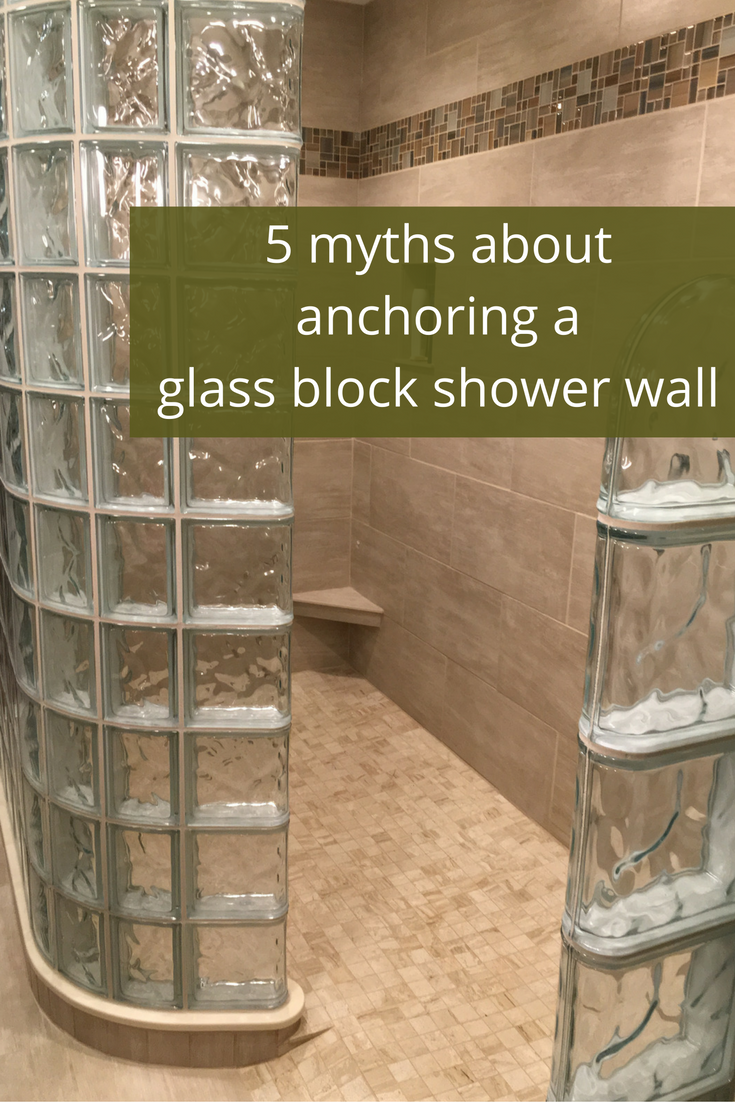 Updated April 19, 2020
Yes – I've been involved with selling glass block shower pans and walls since 1985. Ouch – that's a pretty long time (it's also why I like telling people I started in business at the age of 11 – although no one is believing me!). During this time I've heard so many myths about glass block shower walls I thought it's high time to set things straight – in writing!
You see –  since a glass block shower wall is often a niche project for homeowners and builders it's like everyone is needing to recreate the wheel each time a job is done. Many of you don't have the answers to the correct way to build and anchor a glass block shower wall so you seek out advice from your general contractor, builder or some random clerk at a home center store. The reality – most of these people don't know what the heck they are talking about either. It's not that your contractor is dumb, it's that they very likely have never built on of these walls before. They are a 'newbie,' just like you. But what's cool about glass blocks – is they install (and anchor together) like 'Lego blocks.' They're not hard to install. They're not hard to anchor.
My goal for this article is simple – bust the myths about how to anchor a glass block shower wall (and at the end, I'll give you a special link you'll want to check out if you're intrigued about glass block walls – but you'll have to wait until the end to find out what it is). Without further delay let's go.
Myth #1 – You have to anchor the glass block shower wall down
A glass block shower wall will be positioned on top of the shower curb. A "curb" if you're not familiar with the term, is the highest point of the shower base on the outside edge. It is higher than the base so when water runs off the glass it is directed down towards the drain. Most people think it is logical to anchor something down – but with shower pan that is the worst thing you can do! The reason you want to avoid this like the plague is if you drill holes through the curb you've now created a place where water could find its way through the pan and leak out onto the subfloor beneath. If this happen – you have big problems because this water could leak to levels below (causing ceiling damage) and results in needing the rip out the entire shower.
I can't say this strongly enough – DO NOT ANCHOR THE GLASS BLOCK WALL DOWN! At this point you may be saying, "So Mike where should I anchor the wall?" Move on to myth #2 and find out.
Myth #2 – A glass block shower wall needs to be anchored on two sides
What's weird about this myth is I even saw one of the major glass block manufacturers recommending this strategy. After safely installing thousands glass block shower walls since 1977 (not me personally – my hands are too smooth for that – but my company) I can tell you this is pure hogwash! So what is required?
The glass block wall absolutely does have to be anchored on one side wall. The reason is without anchoring the wall would not be tied into the surrounding construction and could move away from the surrounding wall as your home settles. It is unnecessary to anchor into 2 sides.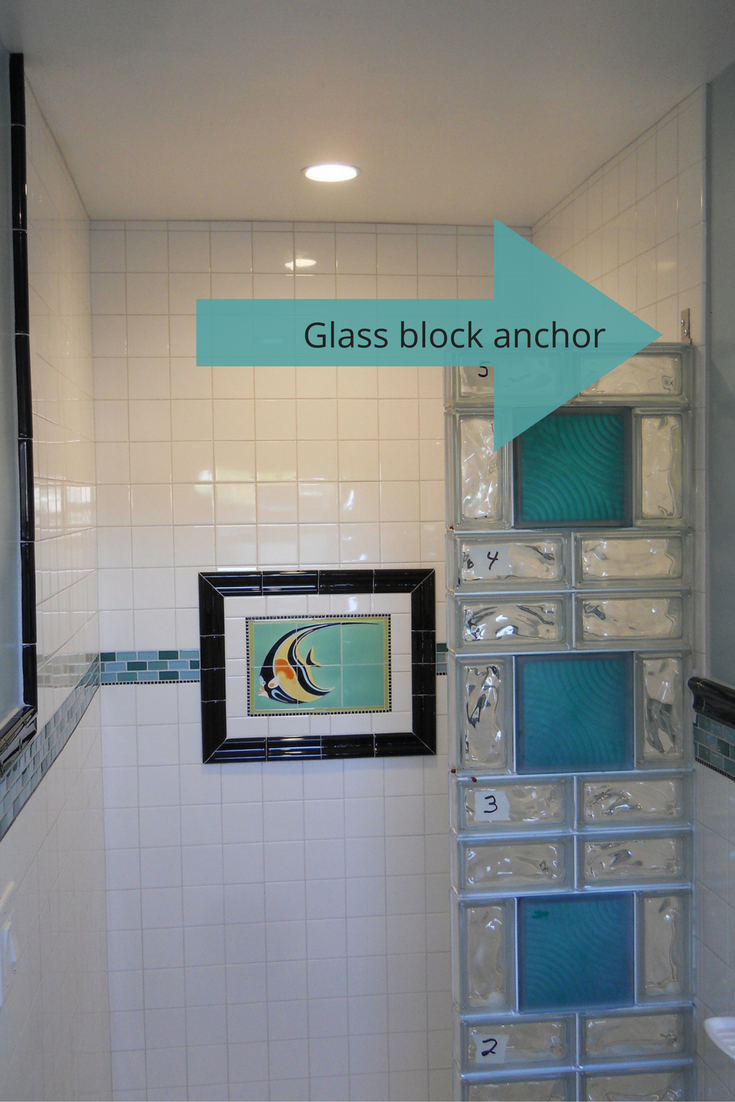 Myth #3 – You need to go to the ceiling with the glass block wall so it will stay in place better
In most cases I do not recommend to run the glass block wall to the ceiling. You may say, why not Mike? Wouldn't you sell more glass blocks that way? Well – yes – in the "short run" we would sell more but it's usually not the best way to do it (the exception would be in a steam shower – maybe a topic for another blog post). The reason we don't recommend going to the ceiling has to do with ventilation. It is a good idea to not contain all the steam and moisture inside the wet area but to let it flow out of the shower and move through your exhaust fan which is often centered in the bathroom. The other benefit is it saves you money. Why spend for 12 courses of glass blocks when 10 blocks high is all you really need! A 10 block wall (which will measure 80" high) is tall enough to keep the water in.
Here's another fun design which didn't go to the ceiling (and very few glass block designs do touch the ceiling)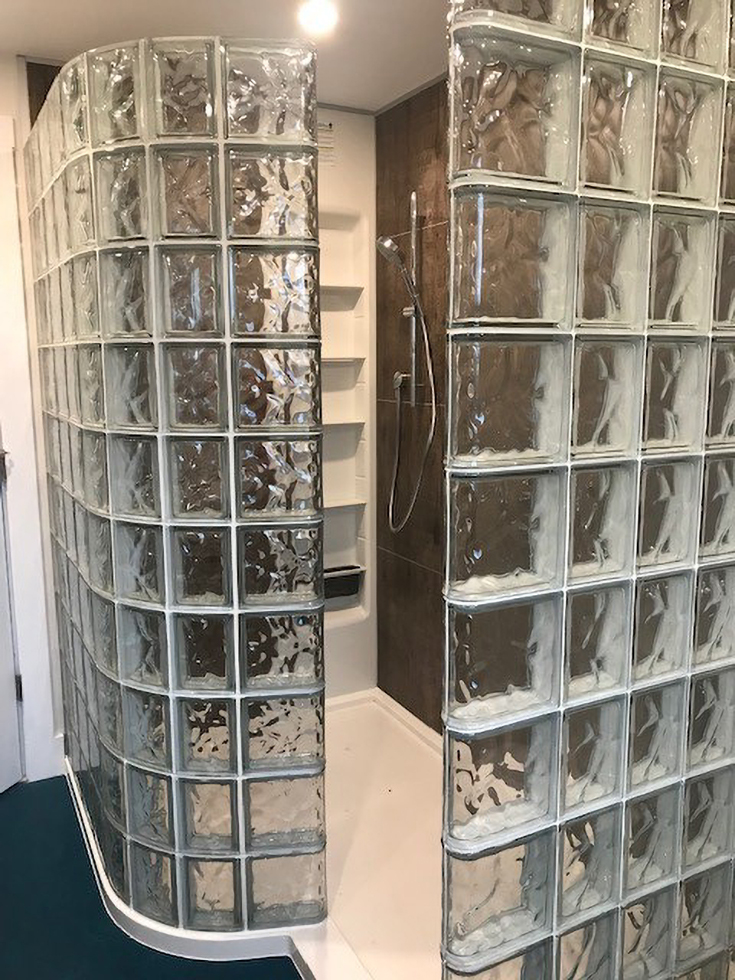 Myth #4 – In order to properly anchor the glass block wall, you must use mortar throughout the wall assembly
Mortar sounds tough. Mortar sounds mean and long lasting. This is true – partially. Mortar does not always provide the best bond with glass and can be more prone to cracking with movement. While it is perfectly acceptable to use a fully mortared system with reinforcing wire and anchors to build a glass block wall (this is the only way we did walls in the early years of our company) there is actually a better way to "get 'er done" as Larry the Cable Guy might say. Enter the Protect All Glass Block Shower Wall.
Unlike a traditional mortar system (which requires a skilled mason and is messy) the Protect All system is prefabricated into easy to install sections. These wall panels make it simple for a DIY homeowner or a contractor working with blocks for the first time to install even a curved glass block wall. The assemblies have vinyl spacers which run vertically and horizontally and anchors lock in through the vinyl strips.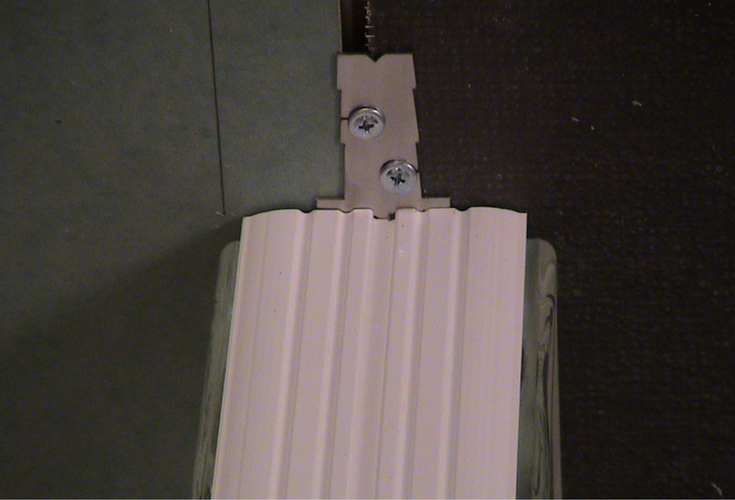 These vinyl spacers eliminate the need for wire to run through the courses of blocks like you have with a mortared installation (I have seen the wire in a mortared system rust out), and there is a slot in the vinyl so the anchors lock into the glass block wall.
The Protect All Wall is not only easier and less costly to install (you don't need an expensive and difficult to find mason contractor), but it won't rust and is stronger. That sounds like a trifecta of benefits to me!
Myth #5 – You must mortar the glass block shower walls to the side wall and shower curb so it's properly secured
I have to confess. Back in the "old days" this is actually a mistake our company used to make. We would mortar between the glass and the tile wall at the side and to the shower curb. We learned (through having to do repairs – bummer) that this is a bad idea because as you have settling the mortar joint between the glass and the wall can tend to crack.
The best way you can keep the wall properly anchored, and allow for some movement as your home settles, is to either use caulk or grout-caulk (which is as it sounds a mixture of grout and caulk together) at the sides and the curb. These materials will provide the flexibility you'll want and keeps the installation water tight.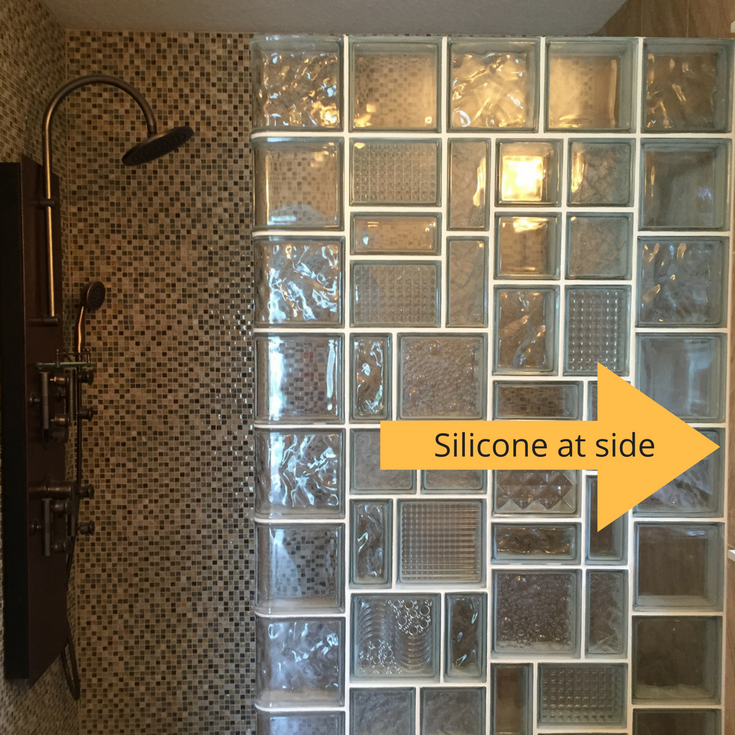 OK, so here's the special link I 'teased you' about in the beginning of this article I'm sure you want to know…
So now that you've figured out anchoring a glass block shower wall is no big deal and you want to learn more about them – I'll bet money – there's one BIG question you have. And that question is….
How much does a glass block shower wall cost?
Unless you're independently wealthy you need to get your arms around cost…and quick. So, here's a good way to find out. Just click on the article below to 'unlock the secrets' about the cost of a glass block shower wall. Of course, if you have more questions – certainly call the numbers below.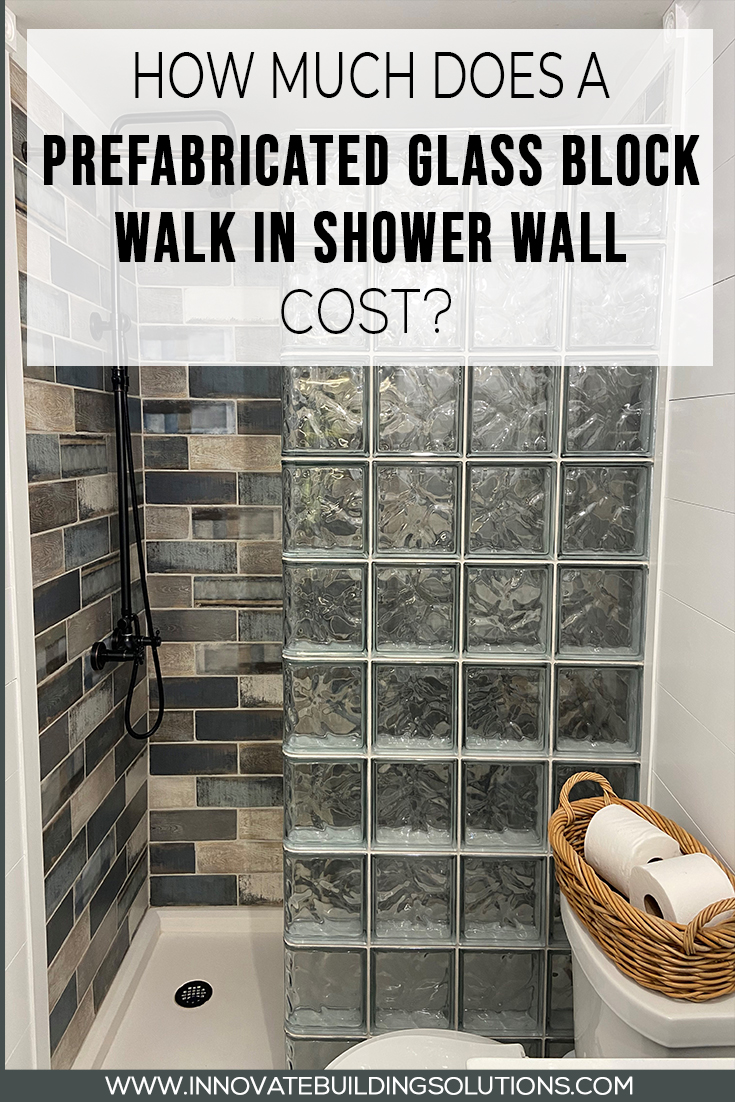 Conclusion
 In short anchoring a glass block shower wall is not rocket science. Just remember these two simple things:
Don't listen to some clerk or contractor who will give you their "infinite" advice about how to do a glass block shower if they've never done one before.
Re-read these 5 myths and/or call to get input on how to do this project right – the first time. There is no sense "recreating the wheel" when there is knowledge to lead you through the proper installation methods.
###
For nationwide glass block shower design, and prefabricated wall and base supply call Innovate Building Solutions at 877-668-5888. For a local installation service and supply contact Columbus Glass Block at 614-252-5888 or Cleveland Glass Block at 216-531-6363.
If you're a remodeler or builder and want practical advice on remodeling products, industry trends, marketing and sales tips to grow your business (and cut day to day hassles), start reading my newest blog – Innovate Builders Blog. It's packed with ideas you can use now. Click here to Sign Up for the Innovate Builders Blog.
---
Mike Foti
President of Innovate Building Solutions a nationwide supplier and regional (Cleveland and Columbus) remodeling contractors. Some of our product lines include glass counters, floors, backsplashes, glass blocks and grout free shower and tub wall panels
---