7 ½ Crystal-Cool Ways to Use Glass in a Contemporary Bathroom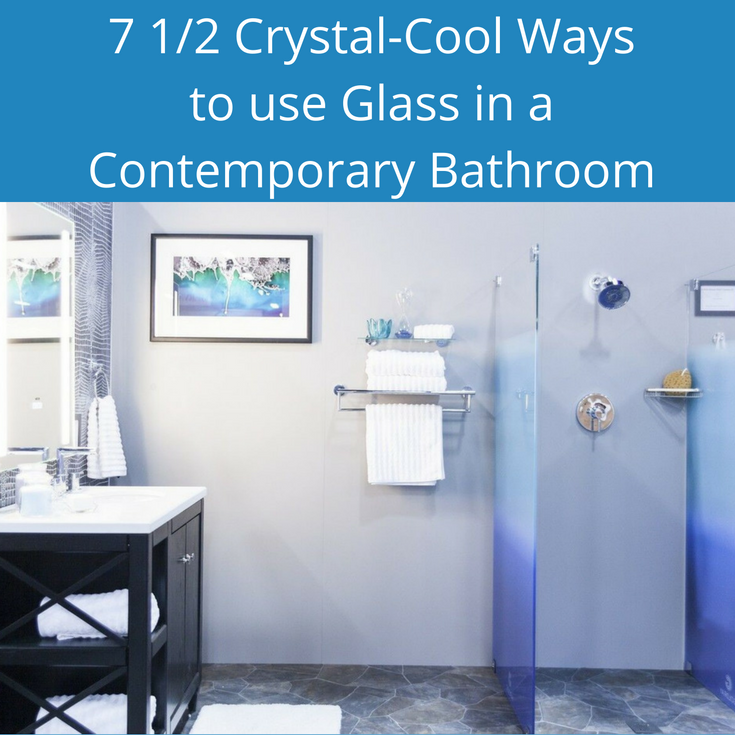 I'm a big fan of glass. Maybe it's because I've been involved with various products in the glass business since 1985 (wow – that makes me sound old!). The more familiar (and knowledgeable) I become about uses and properties of glass the more I love it. I am not alone in being a glass lover.
So why do we love glass? How does glass make our bathrooms not only functionally better – but provide a cooler design look as well? Most importantly how can you use glass in a bathroom to not only "live better" but "live cooler" – providing you with a sense of style to live to your fullest? In this article, we'll first take a quick peek into 5 benefits of glass in a bathroom. Then let's have some fun and check out 7 1/2 "crystal-cool" ways you can use glass to add some wow factor to your next bathroom remodeling project.
5 benefits of glass products in a bathroom
Glass has distinct advantages all its own. Here are some reasons people incorporate glass into bathroom designs:
It can move light and provide sight. A dark room, a dark shower is not only depressing – it can be downright dangerous. Walls isolate us, where glass opens spaces up. Transparent glass also offers expansive views through rooms and offers a "window" (yes – pun intended) to our outside world.
Its reflective properties can make a room "live" bigger. When light can literally bounce off the walls the space feels more open and lively.
Glass can give you energy. Just think how you feel on long, cold and dark days? If you're like me – more tired. A light filled space created by a glass shower, a partition wall or skylight (even with the light from the moon at night) can improve your mood. A brick wall just feels like – a brick wall.
It provides privacy and light. Just think about it. There are not many materials like translucent glass which give you the "BOGO" special (buy one, get one benefit free) of moving light through a space and providing privacy. In a bathroom -where we are showing our "hot" (or maybe not as hot as we'd like) bodies the idea of privacy with light is appealing.
Cool colors, textures, and illumination all in one material. Whether you want to live in a cool, clean minimalist world of simplicity and function – or in a bright colorful bohemian chic setting where patterns and colors collide decorative glass offers the opportunity to wow your world!
Now let's have some fun and check out ways to wow with glass in your bathroom. I'm warning you – some of these uses may surprise you, some may wow you and others you may say there is no way I'm using that! At the end of the article let me know which glass uses you're giving two thumbs up to, and which are definite downers.
Glass countertops – crystal-cool bathroom glass idea #1

Cast glass countertops are a feature which screams out "wow" in a bathroom. Not only are they solid and sturdy (the countertops can range in thickness from ¾" up to 2 ½"), but you can move light through the surface (this is a feature no laminate, granite, quartz can touch!).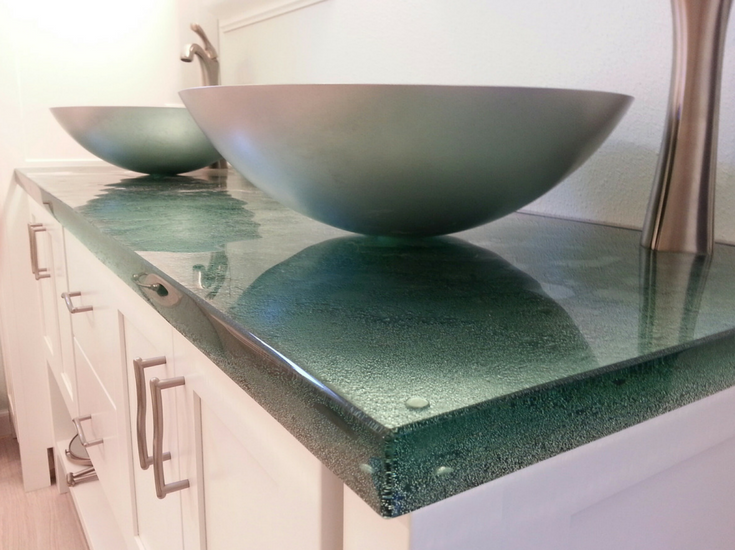 If you're wondering, "won't I see my blow dryer, brushes and lipstick containers through the glass in the cabinetry below?" The answer is no. There is a material put below the glass (it's most commonly aluminum) which blocks you from seeing through the glass to the contents in your cabinetry.
Back coated glass or high gloss shower wall – crystal-cool bathroom glass idea #2

Does your home or apartment bathroom lack light? Is there a practical way to get natural light in by adding a skylight or window into the room? If you live in a high-rise apartment in the city or in a multi-floor condo the challenge of getting natural light into inside spaces. What would you think if you could get energy (and light) to "bounce" off the walls? (Yes – this sounds better than your kids bouncing off the walls!).
Here's a way to "create" light and color in your space. Use reflective back coated glass on the bathroom walls. This type of glass is tempered (for safety) and will create a reflective environment to add energy to the space. You can get it in any standard or custom color.
If the idea of glass walls concerns you (or you worry about the cost of this product – and it's not cheap!) you can use these cool high gloss acrylic wall panels shown below as a glass substitute. They're as cool as glass – yet about ½ of the cost – and safer.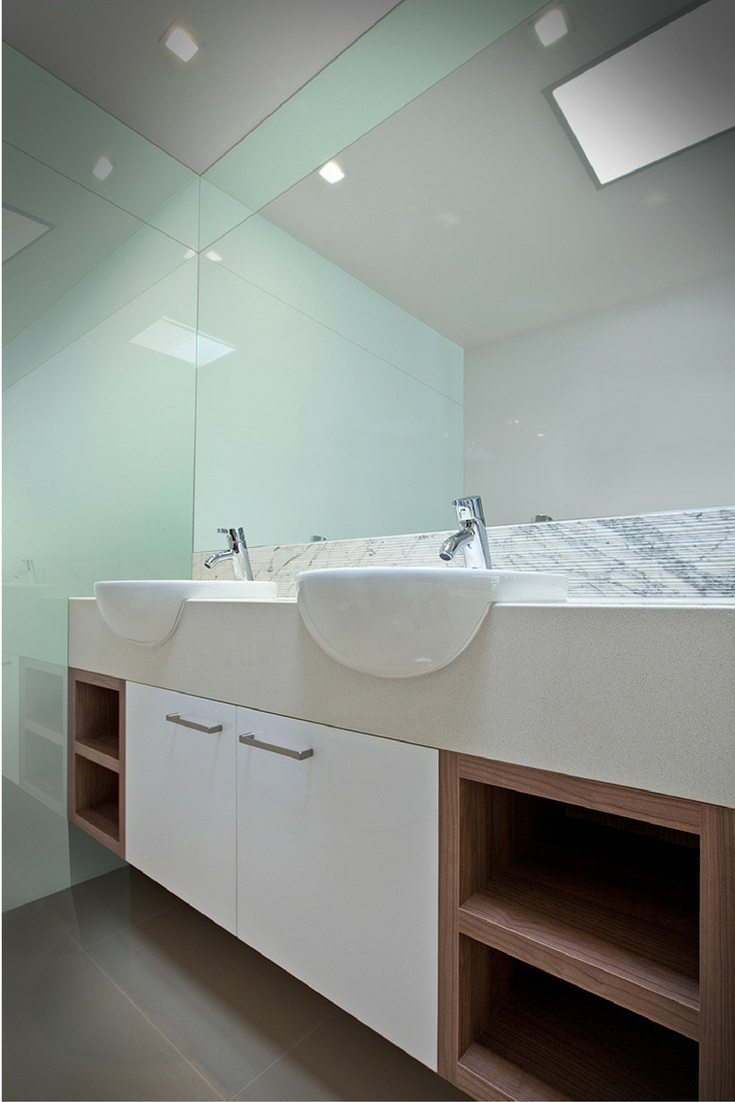 Floor to ceiling glass – crystal-cool bathroom glass idea #3

Transparent glass allows us to become one with the outside world. I love projects which connect the bathroom to an outside courtyard with floor to ceiling glass. It allows the natural light to flow in – yet maintains privacy. Yes – this type of project would not be inexpensive – but the ability to be in your bathroom, yet be in nature at the same time is so appealing.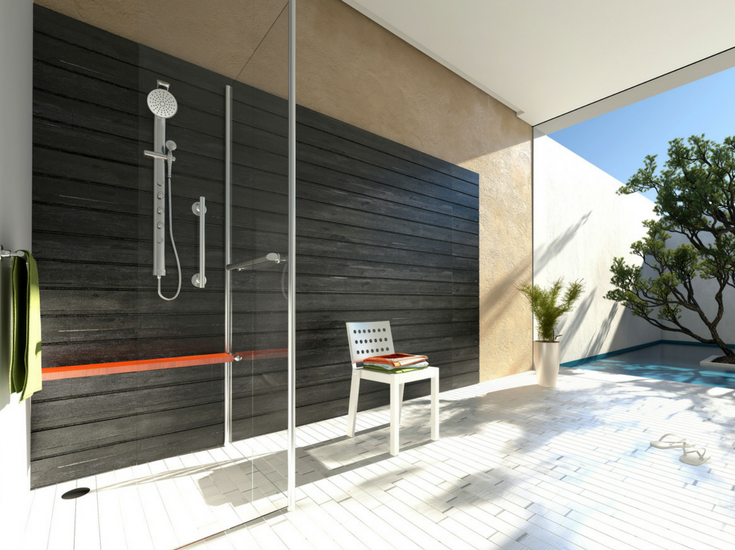 Glass bricks – crystal-cool bathroom glass idea #4

When you think of a brick wall traditional clay products which blocks light – but are sturdy and stable. Imagine the ability to provide this rugged look with a contemporary edge and flair – and even move colored light through spaces! This is all possible with the glass brick. These units come in various sizes (9 ½" x 4 ½" x 2" and 4 ½" x 4 ½ x 2") and is clear glass or blue, brown or a darker black color. They can serve as a partition or shower wall and create a minimalist and durable appeal.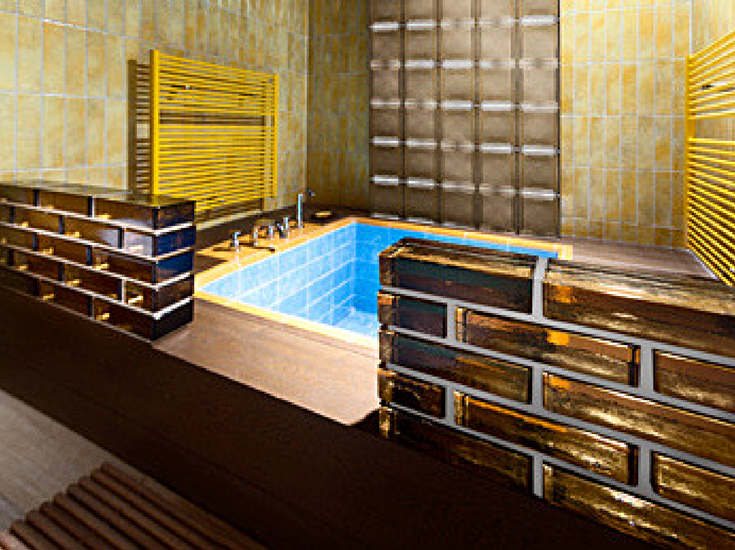 Sustainable recycled glass countertops – crystal-cool bathroom glass idea #5

What's neat about glass is it's a sustainable material which can be melted down and used again – as well as having cool reflective properties. One super-unique product are recycled countertops from Vertrazzo. They are made with recycled glass from curbside recycling programs, traffic lights, jars, windshields and skyscraper glass which have all been recycled. There are various additives and pigments which bind the recycled glass together. What's even cooler is there are no two countertops which are the same. It's fun and environmentally responsible.
Leaded glass inspired glass block shower wall – crystal-cool bathroom idea #6

Sometimes the "same old, same old" just doesn't work. Such was the case when Geraldine Gallagher called me and said, "Mike I have kind of crazy idea – I hope you can help me?" I would like to make a shower wall which is inspired by my love for leaded and stained glass out of glass blocks. Can you help? I said sure – let's see what we can figure out. The glass block shower below literally brought Geraldine to tears when it was done. The wall moves sunshine into the shower, but also provides prismatic streams of light.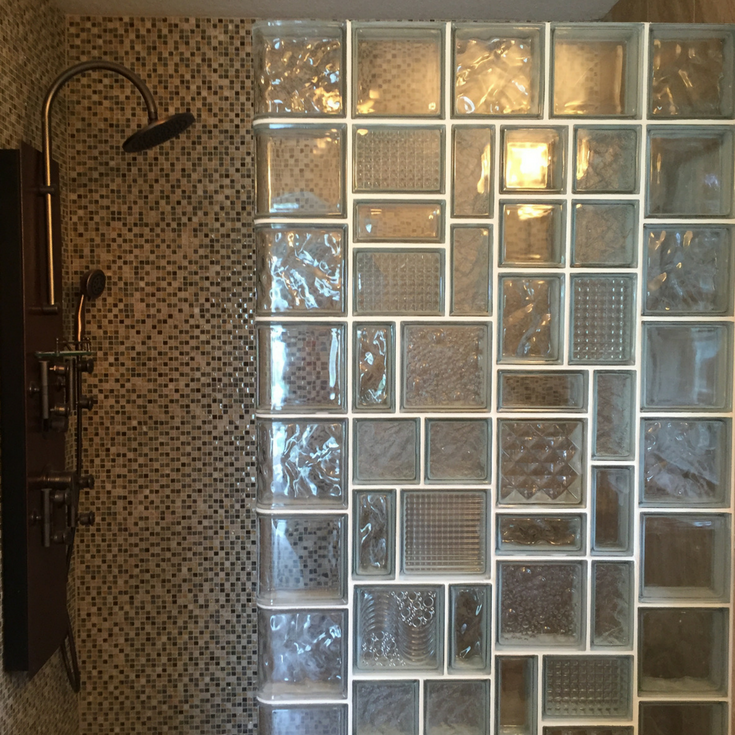 A glass bathtub – crystal-cool bathroom glass idea #7
This idea is perfect for the minimalist who wants to stand out from the crowd (and isn't afraid to let it all hang out in the tub – ha! ha!).  The glass tub is an architectural achievement which leaves a lasting impression on the room. If you have to do your own cleaning – or you want to use the tub everyday – I'm not sure this is the best option, but if you want a super-cool glass product in your home this is for you!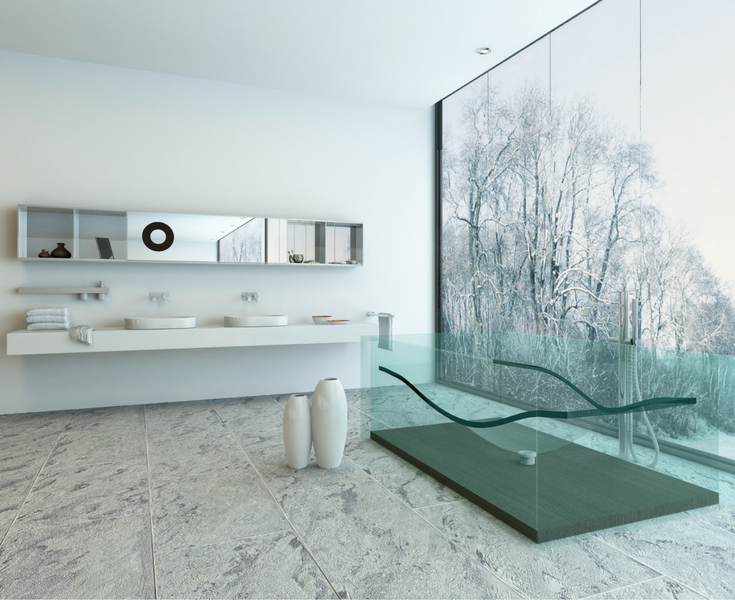 A glass floor over a 15 story elevator shaft – crystal-cool bathroom glass idea #7 ½

OK – this one is WAAAAAY OUT there (that's why I called it the "1/2" idea) – but while we're talking about fun uses of glass (and since I'm in the glass flooring biz) I had to add this one (although it's pretty impractical) to the list. There are not many times you're going to see a glass floor over a 15-story high elevator shaft (yes – it is an unused elevator shaft). This bathroom has it. I'm not a big fan of heights so I'm not sure how much I'd want to be using this bathroom staring down 15 floors, but it is intriguing. Are you game to sit on this toilet and look down?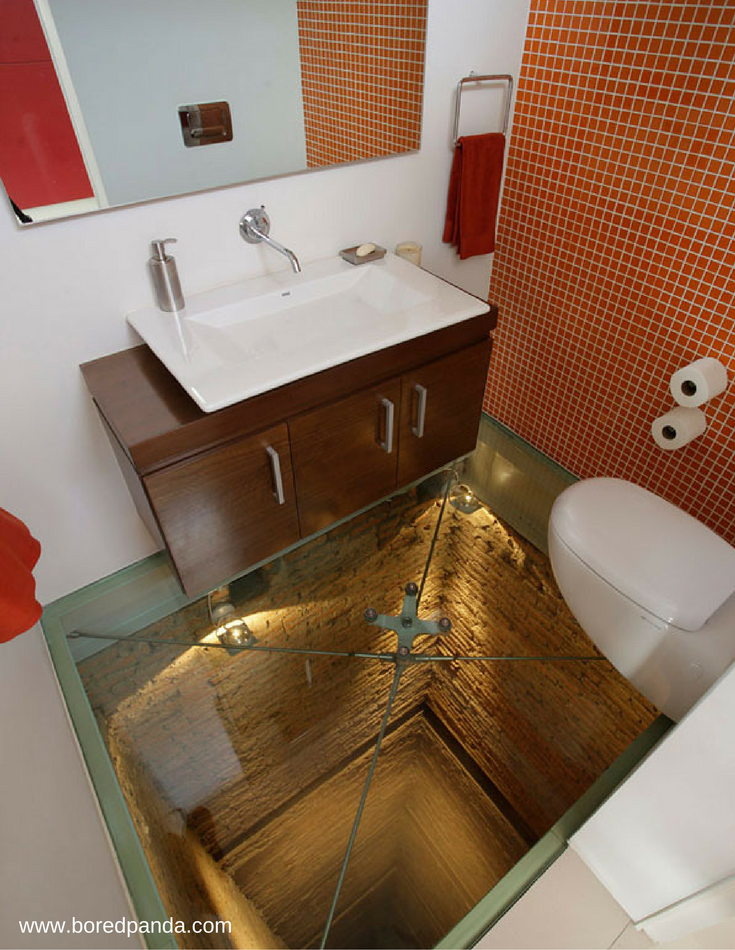 Conclusion
Did you see any glass bathroom products which just blew your mind? Which of these products would you like to learn more about? Which do you say, "there is no way I'm using THAT?!!!" I'd love to hear your comments below. If you want more information about unique glass countertops, glass block walls or glass bricks give us a call at the numbers below. We'd love to help you!
###
For nationwide assistance with glass countertops, shower walls or glass bricks call Innovate Building Solutions at 877-668-5888. For a local installation service and supply contact the Innovate offices in Columbus at 614-252-3242 or in Cleveland at 216-658-1280.
---
Mike Foti
President of Innovate Building Solutions a nationwide supplier and regional (Cleveland and Columbus) remodeling contractors. Some of our product lines include glass counters, floors, backsplashes, glass blocks and grout free shower and tub wall panels
---