Glass blocks and glass bricks – what's hot and what's not today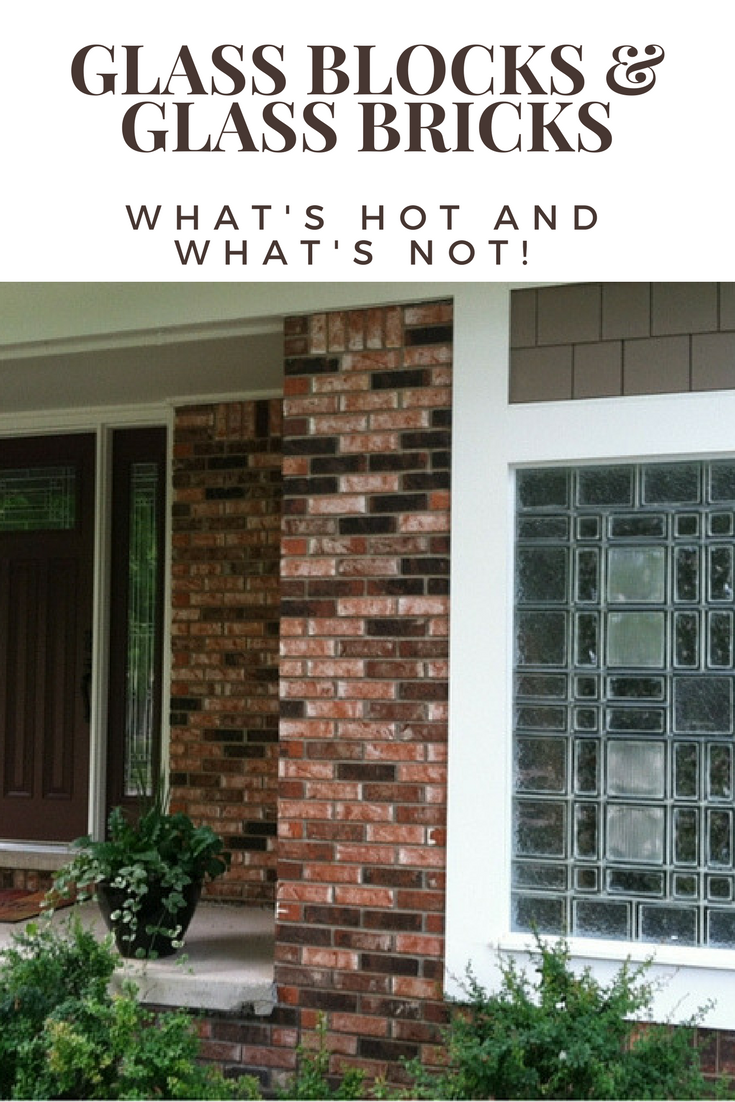 Updated January 27, 2019
Controversy and debate seems to follow glass blocks and glass bricks like a bad rash. Some people give them an enthusiastic Siskel and Ebert inspired two thumbs up. Others say – yuck – I wouldn't put those 80's glass blocks in my home if you gave them to me! As someone whose been in the glass block biz since 1985 (yes – I'm dating myself here but I like to tell people I started at the age of 11 – a BIT of an exaggeration but I'm going with it) it's easy to see that building material trends are changing constantly and that has impacted how people feel about glass blocks.
You see some stuff which was hot in the 80's not being used any more. With glass blocks there are styles, product and installation systems which are popular today most people don't even know exist. Most people think of glass blocks as one wavy 8" x 8" unit stacked on top of another.
So, before you say whether glass blocks or hot, or not, read on to see what k options others are finding to be inspired ….and also what products and systems are just "old-school." At the end of the article I'd love to know whether this post has changed your opinion or not.

What's hot about glass block and glass bricks?
Here are 5 glass block and glass brick products, applications and systems which are happening today.
1 – Funky eclectic glass block wall and window designs
Why be boring when you can be cool, eclectic or even a bit bohemian. It's fun to express yourself in your window and wall designs. We're seeing people ordering (and pinning like crazy if you're a Pinterest fan) some wild stuff. Check out below how different sizes, patterns and colors being combined in this glass block shower and bathroom window. Yes – they can make our production department a bit loopy making these funky glass block designs – but they are fun to look at and can even create the look of leaded glass – all in a structural window or wall.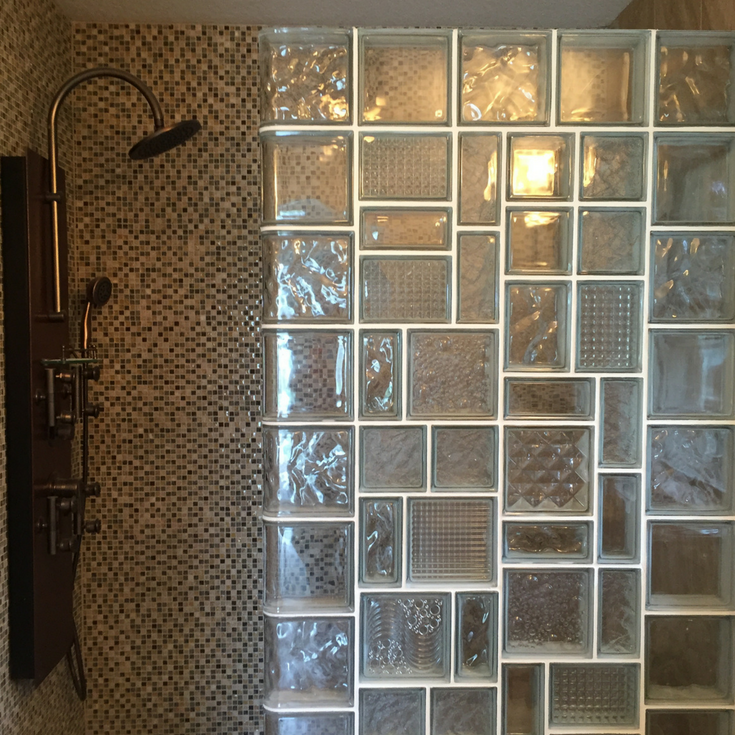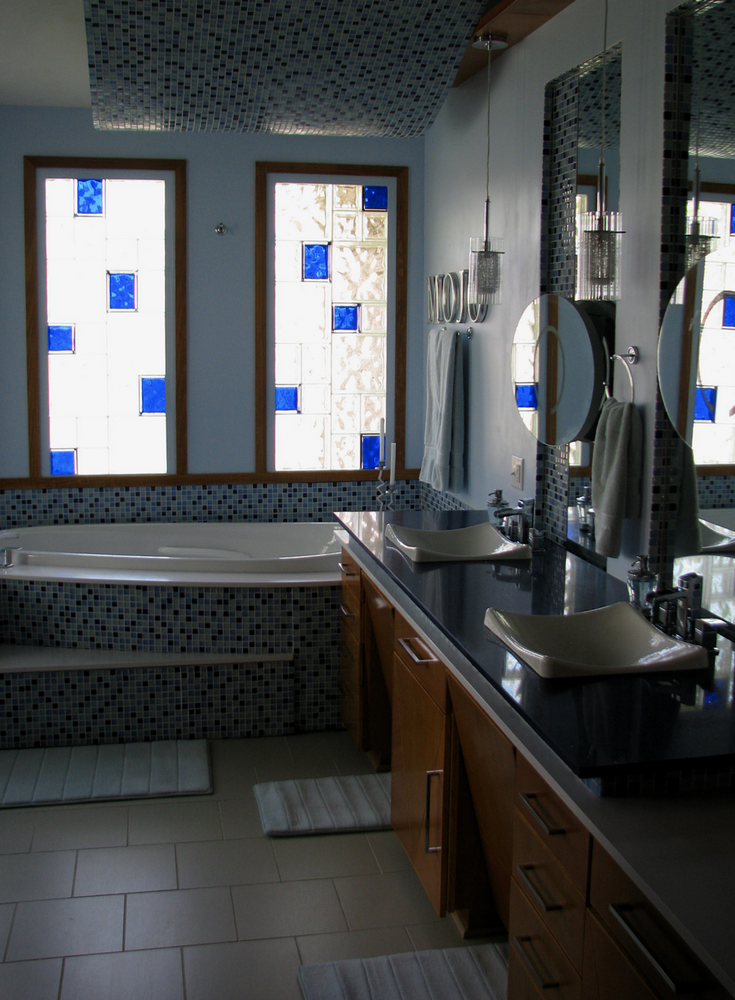 2 – Don't "stick frame it, glass brick it!"
A stick framed (also called a drywall wall) is cheap to build. It's also boring and can't move light from one space or another. Because owners want more light in their homes we're seeing the glass brick wall partition trend in Europe now making it into the U.S. These walls are sturdy, colorful and can move light through a contemporary loft or luxury home space. Imagine the sturdiness of glass bricks with clear or colored light coming through your wall.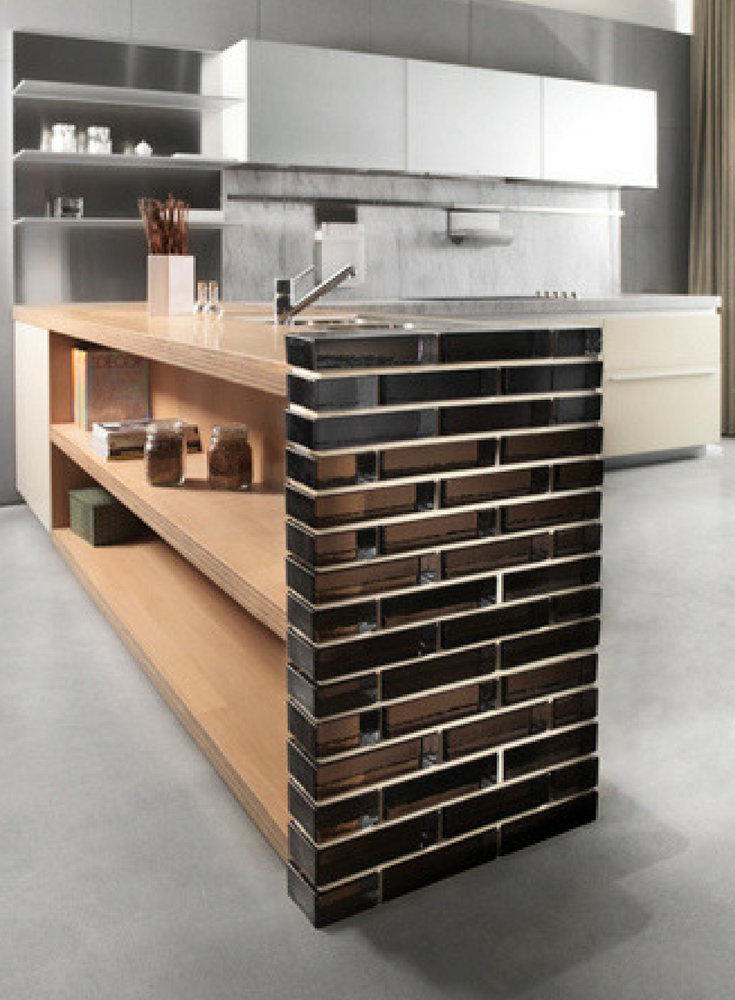 3 – Framed glass enclosures are out – curved glass block walk in enclosures are in
There is nothing quite like (sarcasm intended) a builder's grade framed glass shower stall with the ever-present gunk (not exactly a technical term) of hair and dirt in the doorway entry. Frankly – you've had it with these types of showers. Yes – your builder saved money when he originally installed this flimsy framed glass enclosure into your home – but he doesn't have to clean it!
Now you're ditching the door (so you don't have to clean this frame EVER again) and adding curved glass block shower walls to have a cost-effective way to make a sturdy, low maintenance walk in shower. You can even add fun decorative elements (colored glass blocks, glass tile blocks etc.) to these walls and ready for tile or solid surface bases to be custom made for the walls (see the 2-wall picture below).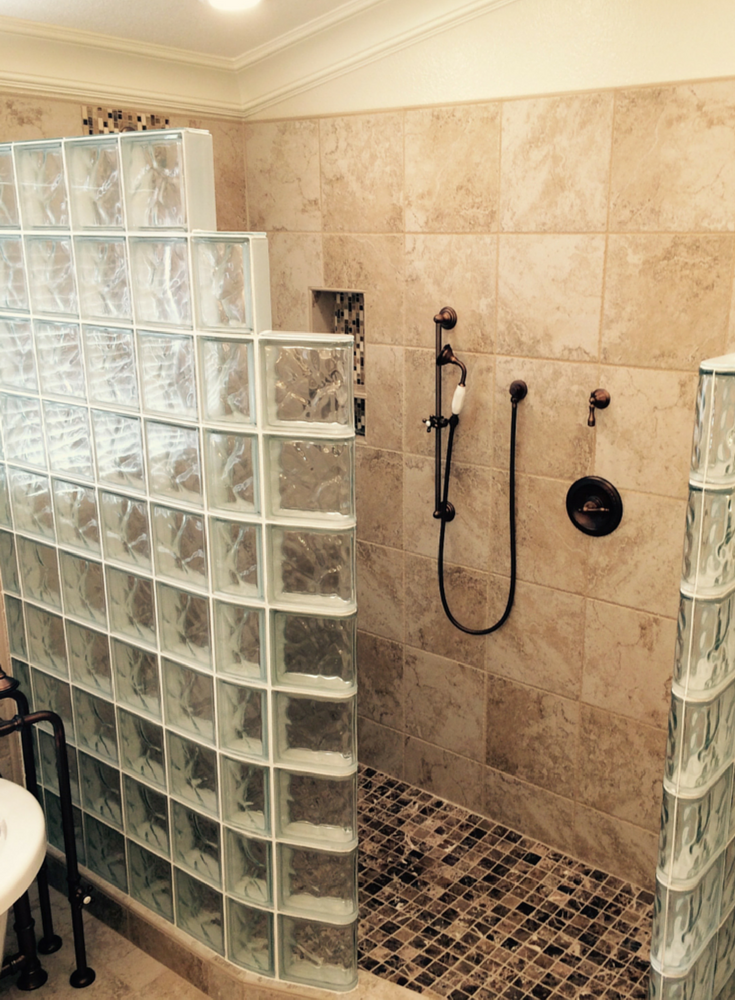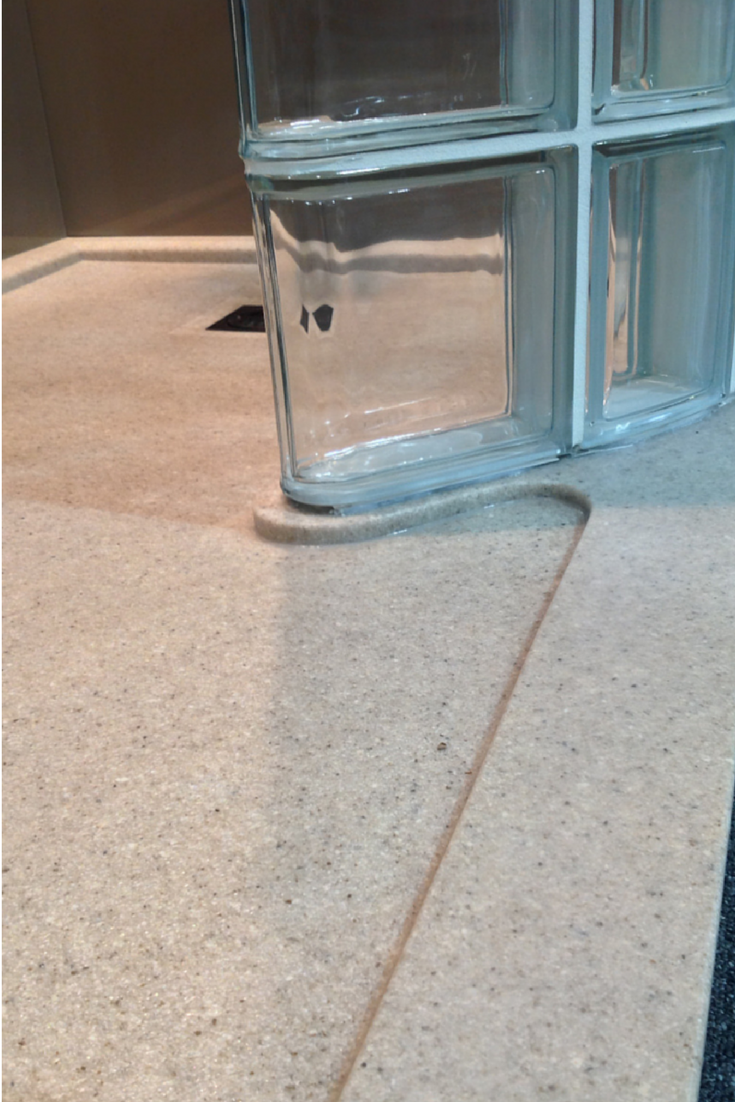 4 – Easy to install vinyl framed glass block windows
Back in the "bad old days" when someone wanted to put a glass block window into a framed upper floor of a home the contractors would start scratching their heads wondering how the heck are we going to put a product like glass blocks (which was traditionally been put together with mortar) inside of a wood framed window opening. Mortar doesn't like wood and vice versa!
Well, the answer today is a mortar-less glass block window which is manufactured into a vinyl frame. Now a glass block bathroom window can install just like a traditional vinyl window and it's simple and straightforward. You don't need to beg some mason (who is too busy with "larger" jobs) to mess with your desire to have ONE high privacy glass block window, so your nosey neighbors won't look in! See below what this window looks like while it's being installed and one sample of a completed project.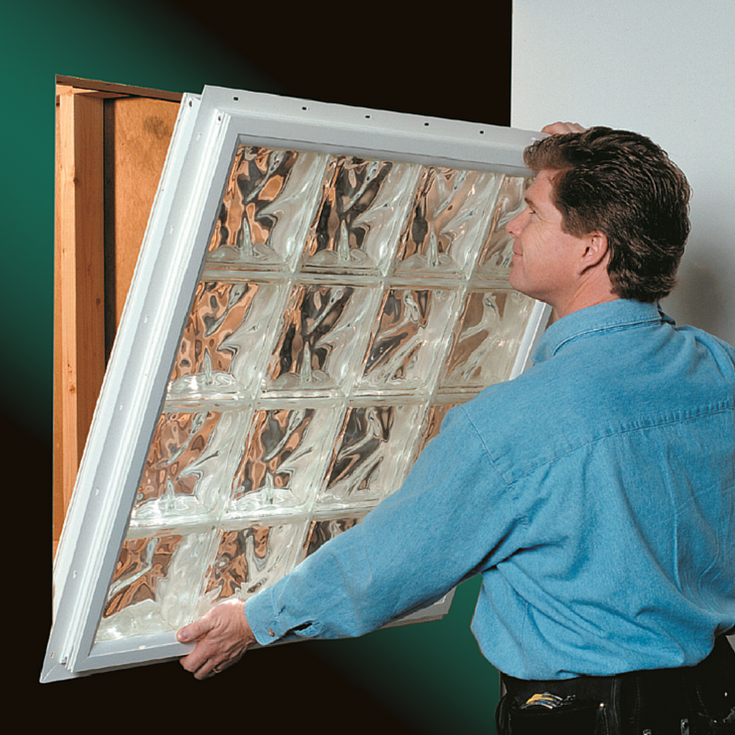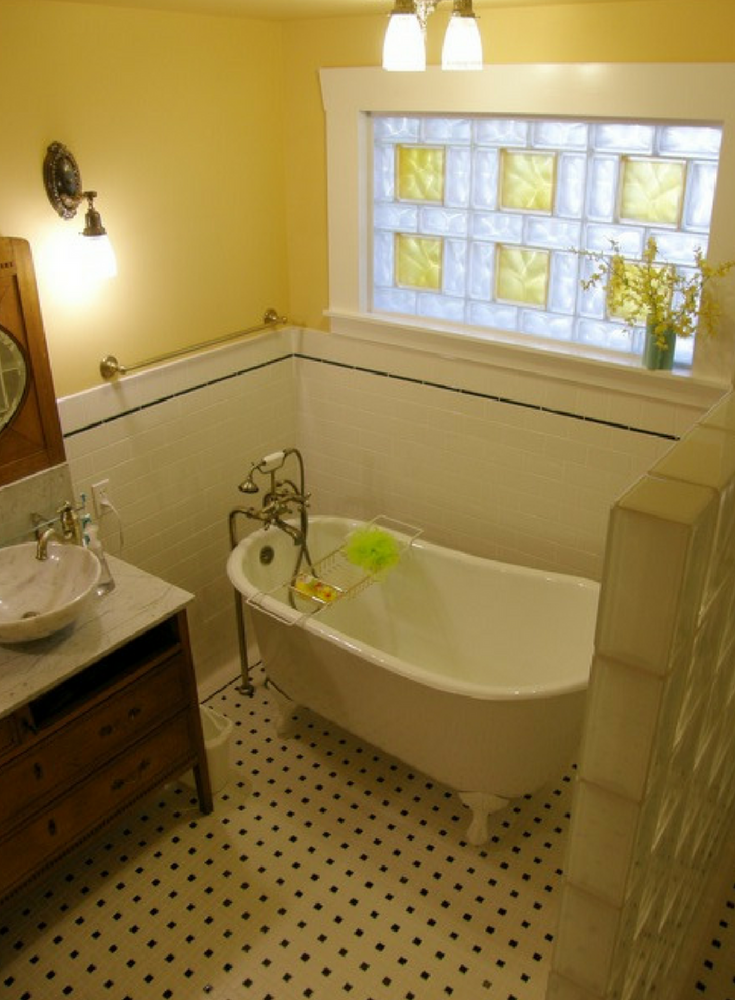 5 – We no longer live in a black and white world – embracing color with glass block designs
Clear blocks are OK but colored and frosted blocks are extraordinary. Now there are over 104 different colored glass blocks and frosted blocks which are being used in windows, walls and showers. If you'd like to bring colored light into your world, glass blocks are a fun and functional way to make it happen.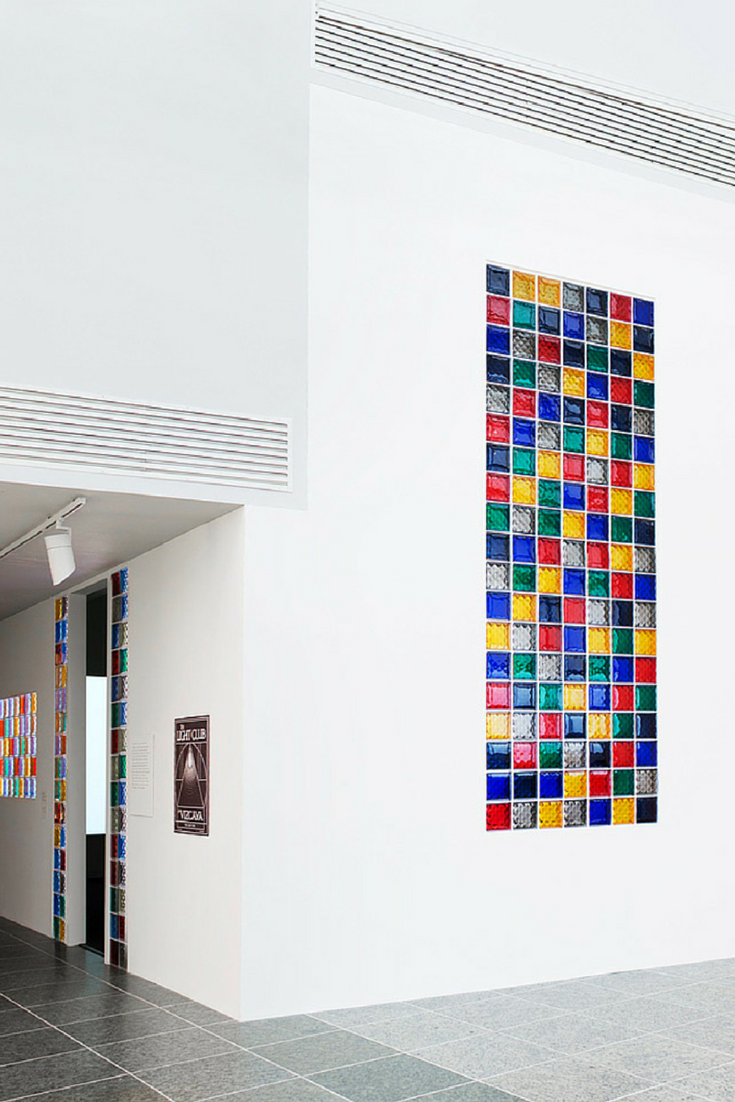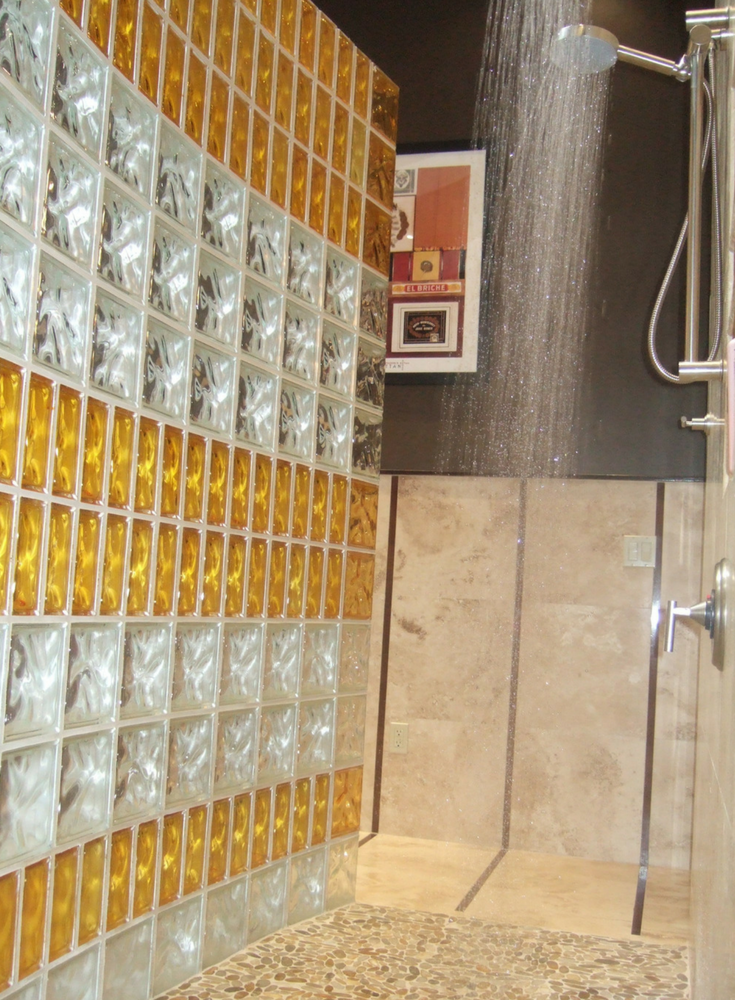 What's no longer hot about glass blocks?
Yes – leg warmers, dresses with shoulder pads, stirrup pants, down vests and top siders where all hot in the 1980's but you wouldn't be caught dead wearing them today. It's also true that some glass block "staples' and methods from the 80's are no longer hot (or make sense to do) today. Let's look at 3 not-so-hot examples.
1 – Diamond shaped blocks
This diamond shaped block was flying off the shelves in the 1980's protecting basement windows in the Northeast and Central states like crazy. At one point in our companies' history it was 65% of our sales. Now – it's down to 1%. Some manufacturers have discontinued the pattern. Hot, it's not!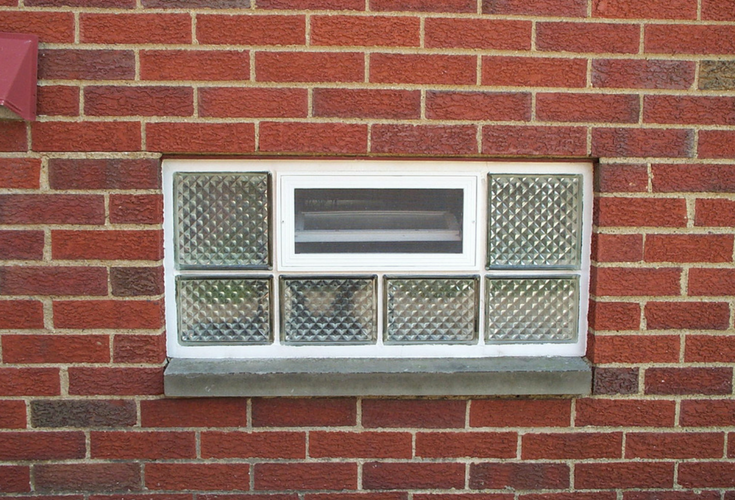 2 – One 8" x 8" wavy glass block stacked up on top of another
Yes, it's cost-effective to lay one glass block on top of one another (and it's still done frequently), but the architectural community (and individual homeowners) are bored with this installation pattern. You want to mix bigger sizes and patterns together (see what's hot in example #1) for a bit more fun in your design. To keep your costs down it's still OK to put one block on top of another though.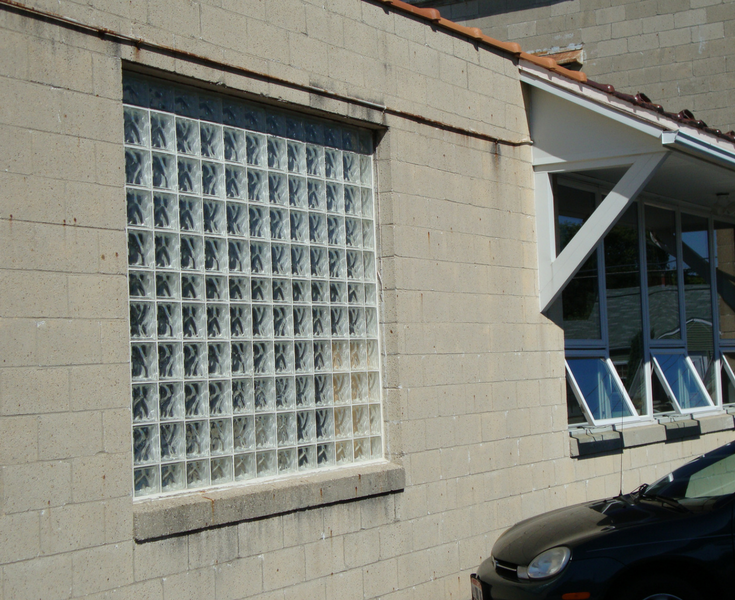 3 – Using the old grizzled veteran mason contractor to install glass blocks
"Old grizzled masons" used to be the only people you could get to install glass blocks. Here's 3 reasons you don't have to (and shouldn't want) to use them today for your glass block installation:
• One – There are less of these guys around to do the work. Why is this? Well most parents aren't telling their kids to become a mason, plumber or carpenter. Their guiding their kids into high-paying high-tech position.
• Two – If you can locate one of these guys they'll likely charge you an arm and a leg to get your job done. Why – you may ask? It's because they don't install glass blocks often and it's a pain to lay them one by one. They'd rather skip this job and do a traditional clay brick or concrete block project.
• Three – Their methods are old school and behind the times. With premade systems like the vinyl framed windows talked about in "what's hot" reason #4 or preassembled glass block shower wall kits it doesn't make sense to use a mason contractor who will put this material up one by one with wire in between the blocks for support (note – I've seen this wire reinforcement rust out on more than one occasion and the wall had to be taken down).
Conclusion
Has this article changed your opinion about what's hot and not in glass blocks? Would you like to use them now? Why or why not? Feel free to comment below or I'd love to hear your opinion. Give us a call at the numbers below to shout out your opinion or get help with nationwide wholesale supply or glass block installation (using today's modern methods).
###
For nationwide glass block window, wall or shower design, fabrication and installation advice call Innovate Building Solutions at 877-668-5888. For a local installation service and supply contact Columbus Glass Block at 614-252-5888 or Cleveland Glass Block at 216-531-6363.
If you're a remodeler or builder and want practical advice on remodeling products, industry trends, marketing and sales tips to grow your business (and cut day to day hassles), start reading my newest blog – Innovate Builders Blog. It's packed with ideas you can use now. Click here to Sign Up for the Innovate Builders Blog.
---
Mike Foti
President of Innovate Building Solutions a nationwide supplier and regional (Cleveland and Columbus) remodeling contractors. Some of our product lines include glass counters, floors, backsplashes, glass blocks and grout free shower and tub wall panels
---