11 Proven Ideas to Fix Your Small Cramped Bathroom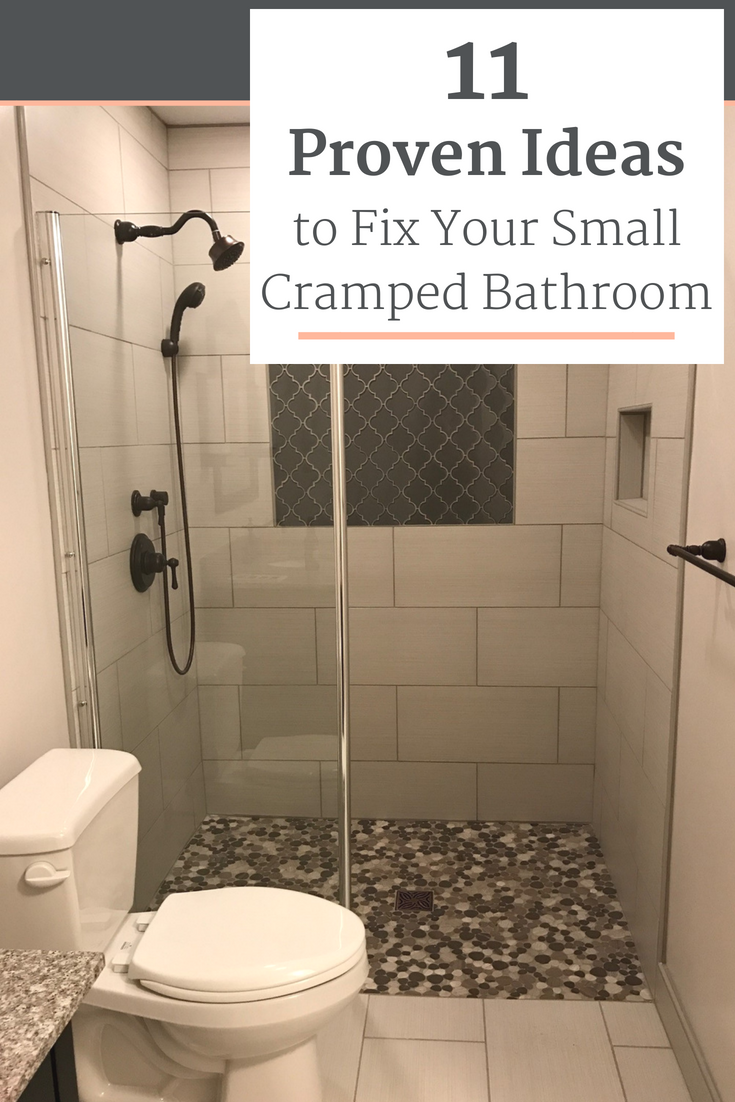 Updated January 28, 2023 
Does your bathroom only feel a tiny bit more spacious than the last time you had the 'pleasure' (sarcasm intended) of 'taking care of business' in an airplane bathroom? Instead of enjoying your shower you're used to banging your elbows against the shower doors. Bumping into the sides of the vanity cabinet is also something you're all too familiar with. And we're not even talking about the lack of storage and the risky proposition of climbing over the tub rail to take a shower. This small bathroom and tub/shower combo unit is an accident waiting to happen.
Bottom-line – your small cramped bathroom is dangerous, not stylish and a place you'd rather not have to use.
Moaning about small bathroom frustrations is simple. Figuring out what you can do about it is tough.
The question becomes, how can you fix/reinvent a small bathroom to not only be functional, but fashionable? As crazy as this may sound I believe this is not only possible, but easier than you think.
In this article I'm going to dish up 11 proven ideas to fix what today you may think is un-fixable – your tiny bath and shower. Some of these changes will involve more extensive bathroom remodeling. Others are cosmetic and lower cost. Pick and choose the ideas which make sense for you, but whatever you do, don't 'settle' for your current space which is only a tiny bit better than an airport bathroom (at least in the airplane you still get one free drink and a small bag of pretzels!).
Idea #1 – Stop putting yourself in a 'small box.' Blow up your traditional shower enclosure!
In the United States most people shower in an 'enclosure.' When you've got a large shower, this tiled, or glass surround space doesn't feel cramped. When you've got a small shower – it feels like an old phone booth, or if it's tiled on all sides, one step up from a coffin.
In Europe and Asia – where bathrooms are typically smaller than here – many showers are not constructed as enclosures. They are wide open spaces without the glass or tile wall surrounds. These bathrooms are called one level wet rooms.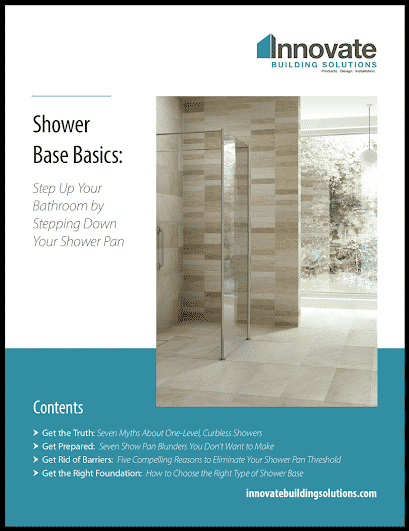 Get Our Ultimate Shower Base Guide!
Step Up Your Bathroom by Stepping Down Your Shower Pan!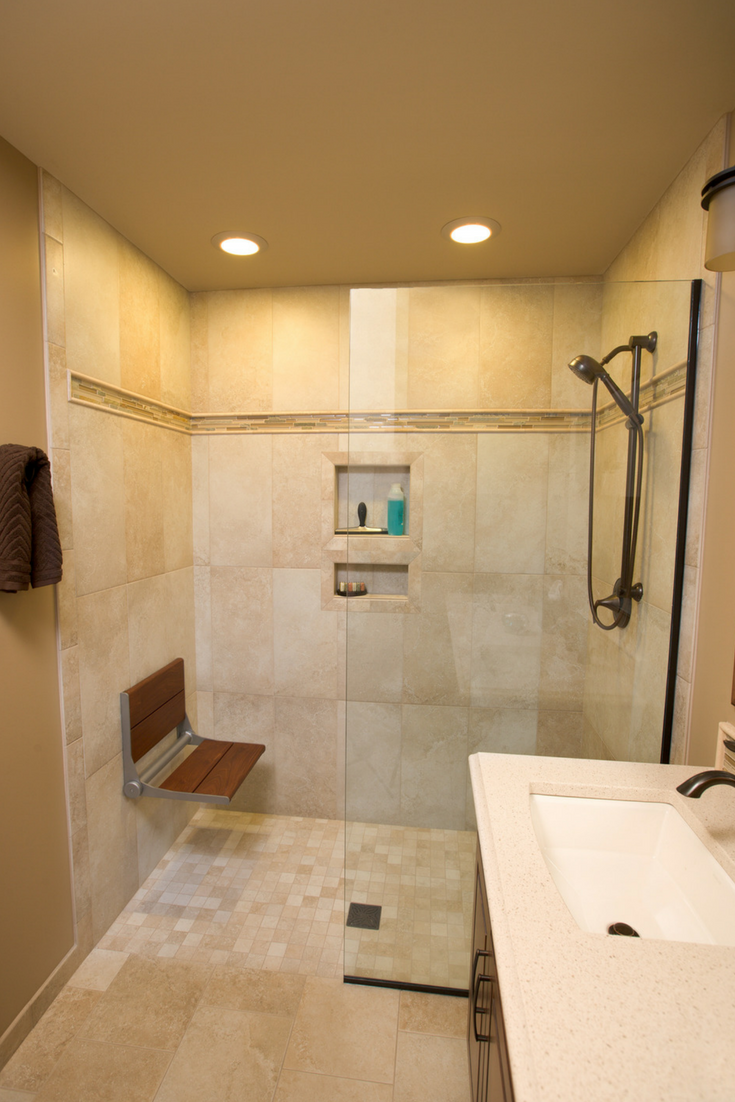 The wet room makes the bathroom floor all one level, but the shower drain is still the lowest spot in the room. Since the space is not 'compartmentalized' (broken up), it feels and lives more comfortably no matter how small it is (note –my wife's Grandfather in Italy had a complete bathroom in a 4' x 6' space without an enclosure– imagine that!). And if you're not sure if this zero entry wet room is right shower floor or pan for you, check out the video below on how to compare zero entry vs. ramped vs. low profile shower pans.
Idea #2 – Slim down (no, not you), your vanity   
Having a sink is obviously essential, even in a small bathroom. However, a vanity countertop with a 22" deep cabinet box below can be more than your tiny bathroom can handle. The solution is to put your vanity on a diet. Slim it down. How you might ask?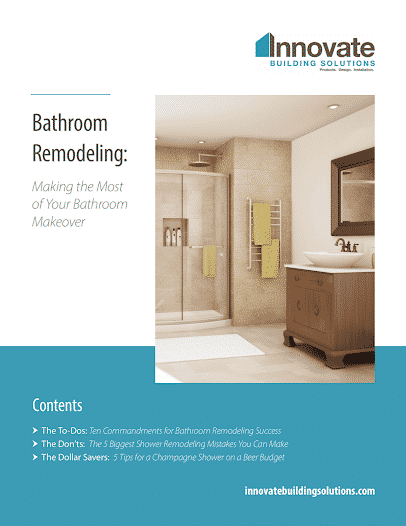 Bathroom Remodeling Ultimate Guide
Making the Most of Your Bathroom Makeover!
Consider these ideas:
Reposition your faucet to come out of the walls vs. out of the cabinet. This will cut down the depth of your sink top and creates a contemporary look.
Use a sleek wall-hung cabinet vs. a bulky cabinet box. The space will be more open, more minimalist and fashion-forward.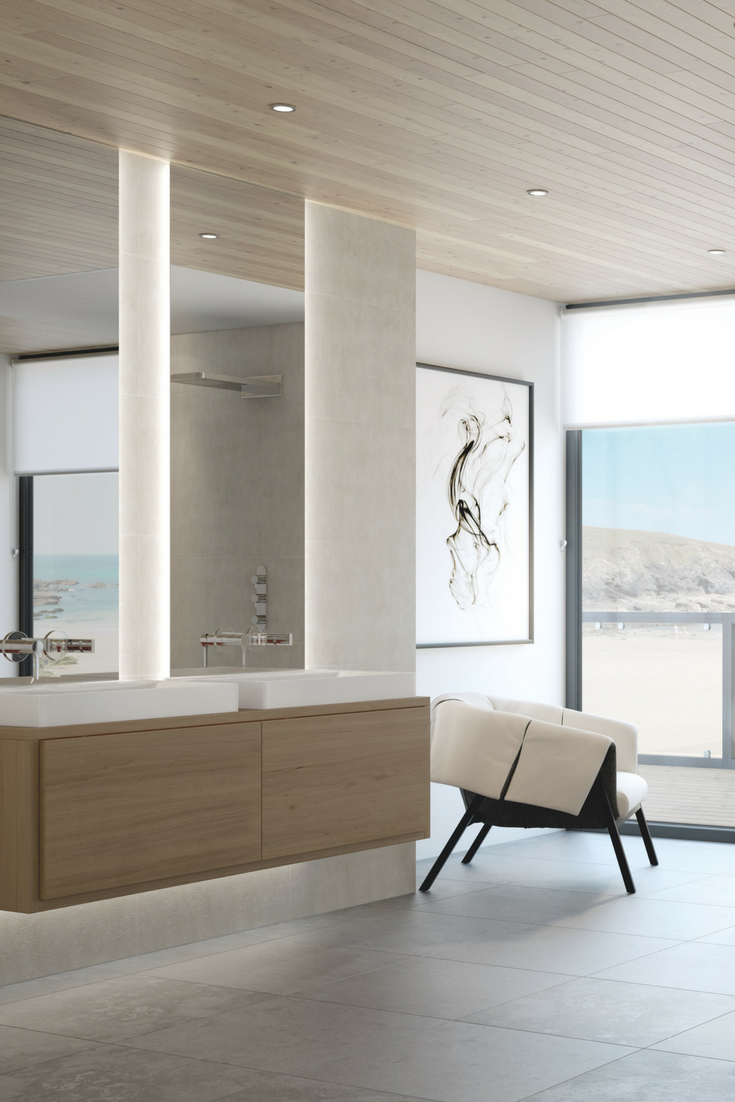 Idea #3 – Learn how being 'pushed into a corner' can be a good thing when it comes to shower and sink designs
While designing a 'somewhat-spacious' bathroom in the common 5' x 8' rectangular shaped bathroom is tough, designing in a square-shaped 6' x 6' bathroom is even tougher. Putting in standard rectangular shaped showers (most common sizes are 48" x 36" and 60" x 32") or single-bowl vanities (common sizes include 30-48" wide by 19-22" deep), does not fit well in a square room.
A quick solution for a square bathroom is to use corners effectively (assuming you don't want to do the wet room system mentioned in idea 1). Look for rounded and angled corner showers and vanities. They free up space and make it easy for you to move around the center.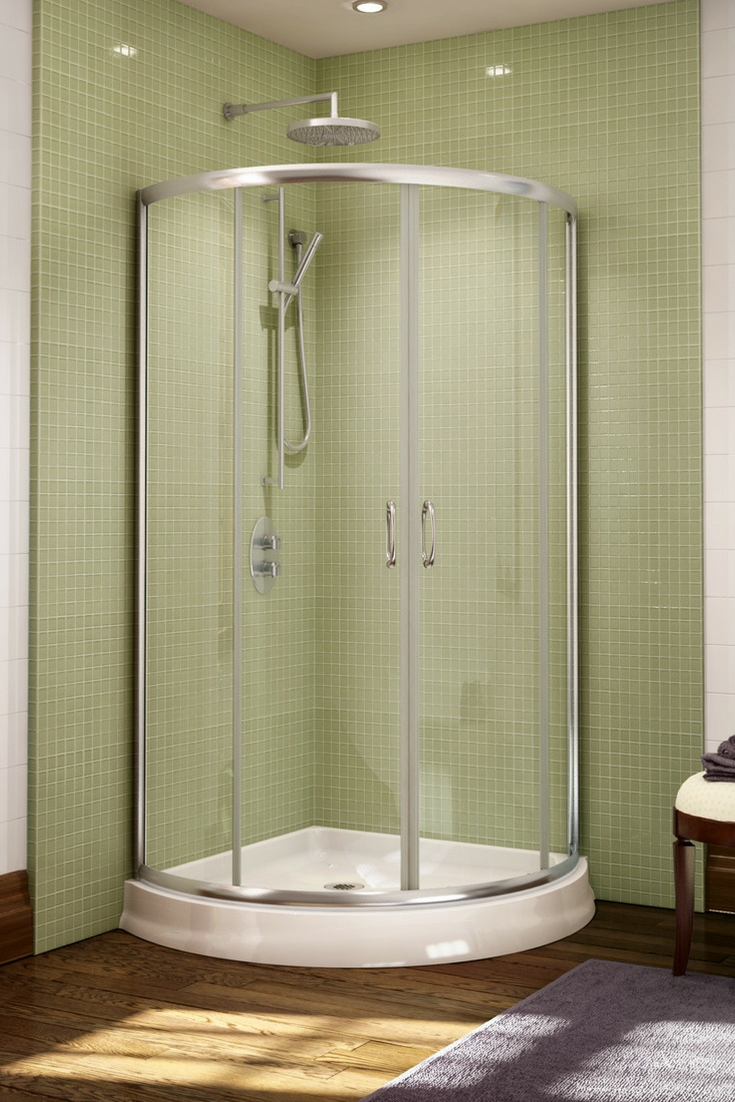 Idea #4 – When you've got small, it's time to think big
If your space is tiny, the worst décor decision is to repeat tiny patterns in tiny showers. Mosaic tiles not only make your room smaller, they also give you a permanent 'date' with your scrub brush cleaning grout joints.
The question is, can you make the space feel bigger and eliminate maintenance?
The answer is – go big.
If you're doing a tile shower – use large format tiles on the walls. Also use large format tiles on the shower pan floor (note – this will require a different shower pan and drain system).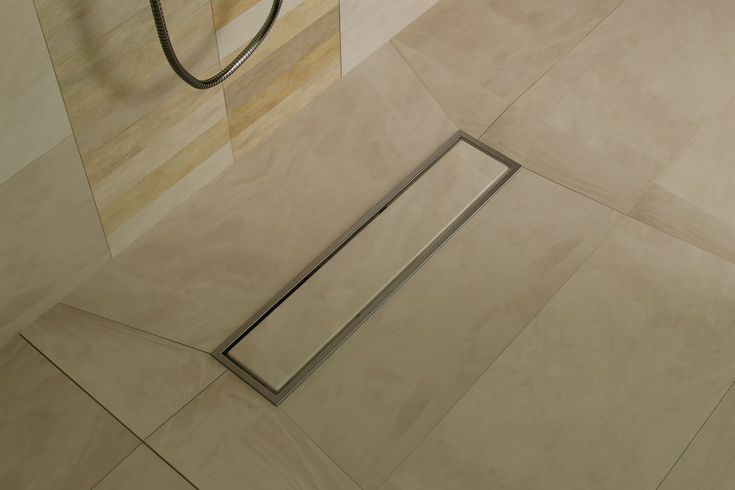 If you want to blow up tile grout all together (I get this, and hear this desire daily), consider a grout free shower wall panel system. One example are laminate wall panels, due on the market later this year. They are visually appealing and let you throw a 'retirement party' for your scrub brush.
Get Free Samples!
Click here to request free samples of our Laminated Waterproof Shower Wall Panels.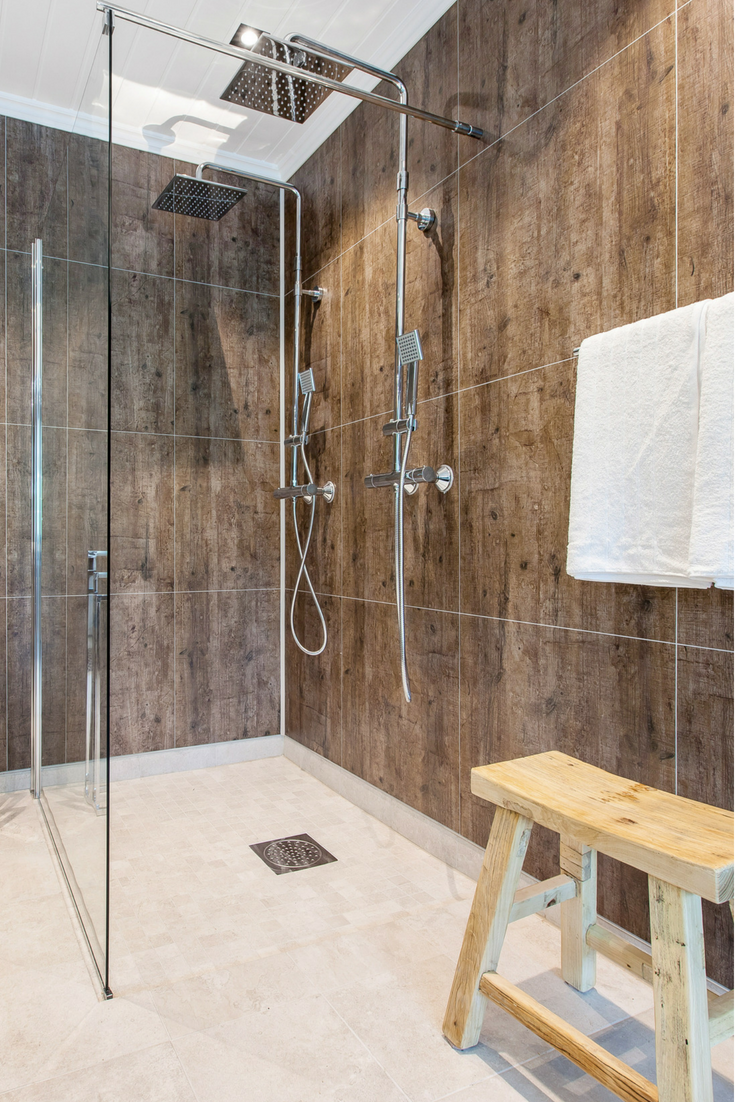 Idea #5 – Be transparent  
There's nothing worse than framed tiled over shower walls to give you a closed-in feeling. To solve this problem, 'open up' and be more transparent – as in using transparent glass.
For the most visually appealing space – choose clear glass walls. I know there are drawbacks to this design choice, like the lack of privacy when showering (and since I don't exactly look like Matthew McConaughey with his shirt off, I can feel your pain here). However, the bathroom will feel more open and continuous.
Idea #6 – Get into a 'reflective state' (without meditation). Add a brighter feeling, with high gloss shower wall panels
The lack of natural light is a problem in many small bathrooms. If installing a skylight or window isn't possible (you've got a bathroom on the inside of the home with a floor above), using reflective wall materials can be the answer.
One fun (and contemporary) product to add brightness without natural light is to use high gloss wall panels. These panels cost less than back-painted glass and allow light to reflect off the walls. They don't have a 'dumbed down' dull matte finish.
Get Free Samples!
Click here to request free samples of our High Gloss Shower Wall Panels.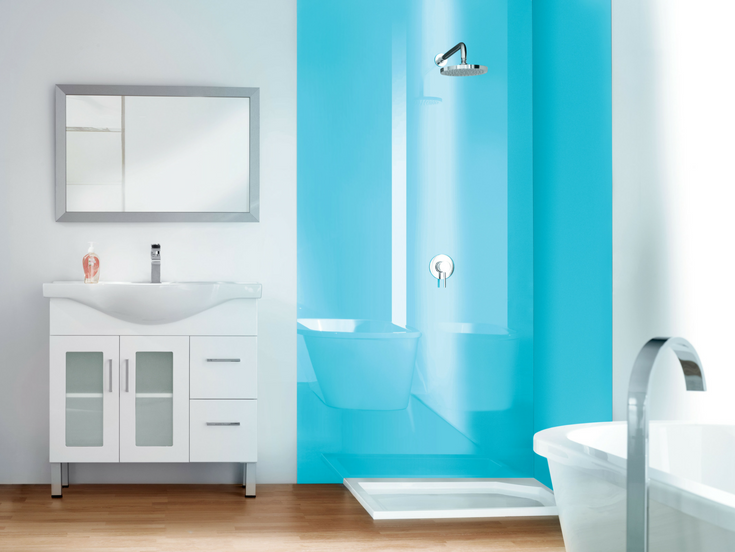 Idea #7 – It's time to get vertical, vertical  
Back in the 80's (yes, I'm showing my age) Olivia Newton-John sang "it's time to get physical, physical." If you're from this era and want a good laugh, watch the video below for a funny blast to the past.
In small shower design there's not enough space to 'get physical,' (a workout in a small shower is a funny mental image though), but if you want to create the feeling of more space, 'go vertical.' This means using vertical patterns to move the eye up. I thought this new home accomplished this goal well.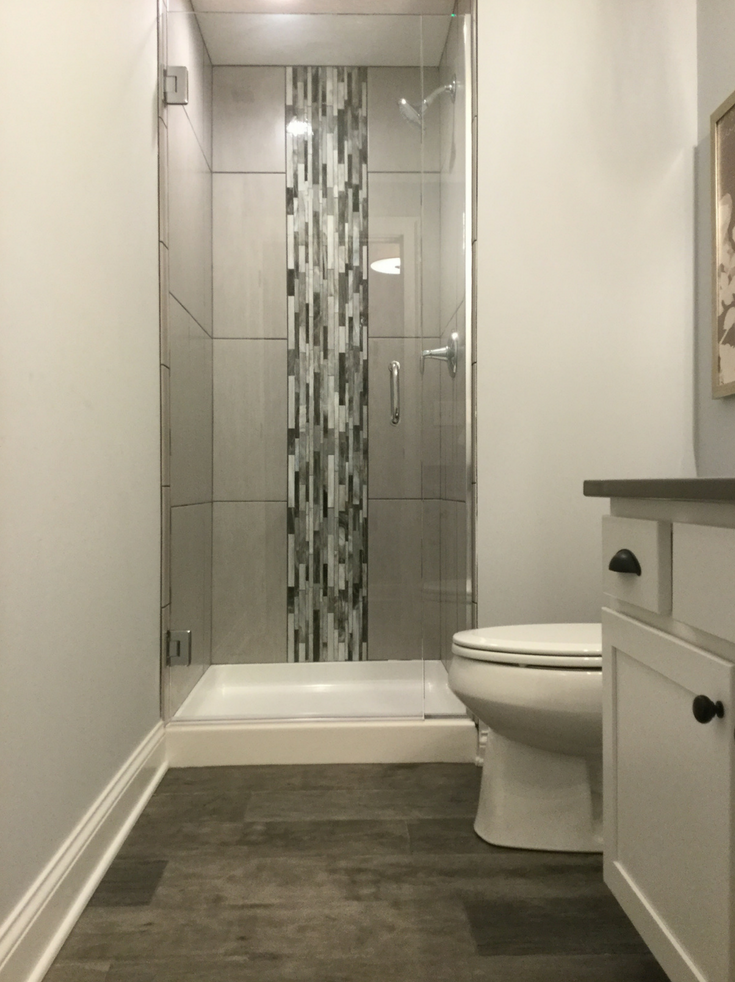 Idea #8 – Beg, borrow or 'steal' light where none existed before  
Go into a room without windows. How does it feel?
Step into a room with windows. How does it feel?
From my perspective, there is no comparison. Dark rooms are depressing. Rooms with natural light are inviting. If your small bathroom doesn't have windows what can you do about it?
Create a window opening – While this is not a cheap, it makes a world of difference. If your bathroom shares an outside wall, hire a contractor to cut an opening in. Use high privacy glass like a glass block bathroom window or a decorative glass window. If you don't want to use obscure glass a clear glass transom window high on the wall can do the trick.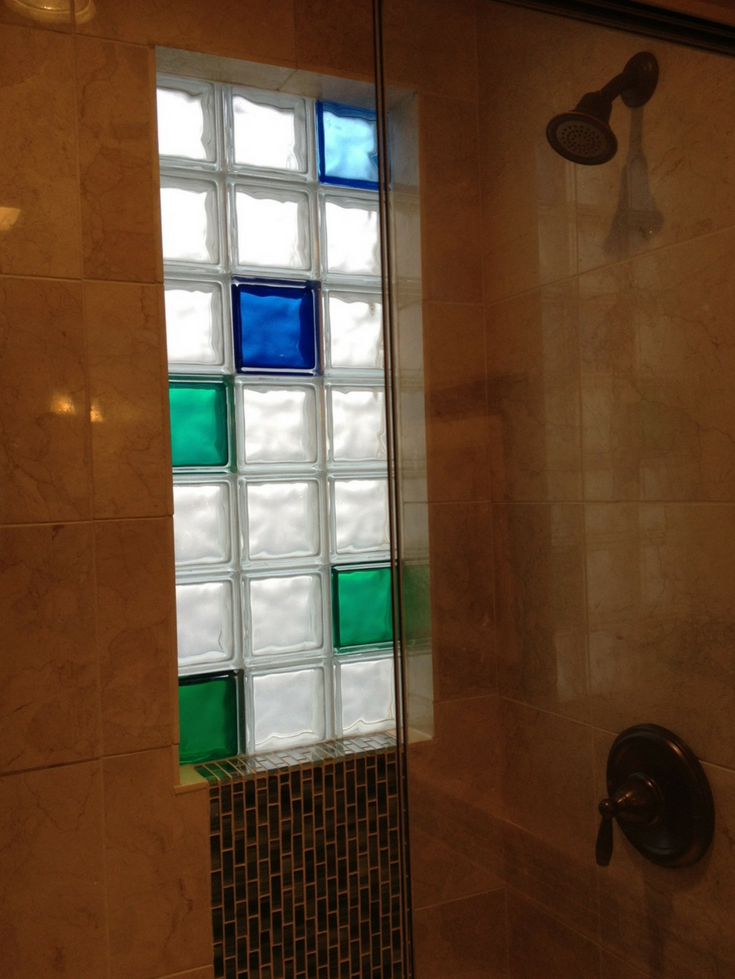 Take the roof of the 'mother, sucker' – Old school 'funk' fans may remember the song by Parliament and the Funkadelic's (gotta love that name) with the words 'tear the roof off the mother, sucker.' When it comes to small bathrooms, a creative strategy is to put an opening into the roof with a skylight. There is zero concern about privacy. The light (in the daytime and the nighttime) shines down on you.
 'Borrowed light' – If adding a window or skylight are impractical (or too costly) a way to get light on the cheap is to borrow it. Not sure what that means? Put a window opening into an interior wall which can 'borrow' the light from an adjoining room. If you're worried about privacy, products like 'milk glass' or 'frosted glass blocks' works well.
Idea #9 – Think BOGO (buy one option, get another option for free)
Ask yourself, "is it possible to get more than one function out of any product you purchase?" For example, a towel bar, can also serve as a grab bar. A shower door can have a towel rack built into it. Look for products which double-up options and save room.
Idea #10 – Start swinging in a different direction
Bathroom doors which swing in, and shower doors which pivot and swing in and out are frustrating in small bathrooms. Changing how doors swing can make all the difference.
Ask yourself these questions:
Could an in-swing bathroom door be changed to swing out? Better yet – could I use a hot-styled barn door?
Could a pivoting shower door become a sliding door – or could you switch to a doorless shower? (note – doorless showers can be done in a space as small as 60" x 32" using a shower screen or a curved glass block wall.
Idea #11 – Take some advice from 'Mrs. Thomas and her English Muffins.' Use your nooks and crannies
I'm not sure why good advice, leads me back to food. Maybe it's because I think about it (at least) 3 times a day. But Mrs. Thomas had it right when she got us loving those buttery nooks and crannies.
While you're likely not using much butter in your bathroom, most people are doing a bad job using their bathroom 'nooks and crannies' (i.e. taking advantage of the inside of wall cavities or mounting shelving to a wall).
Look for opportunities to build into your walls using recessed niches or pull out shelves.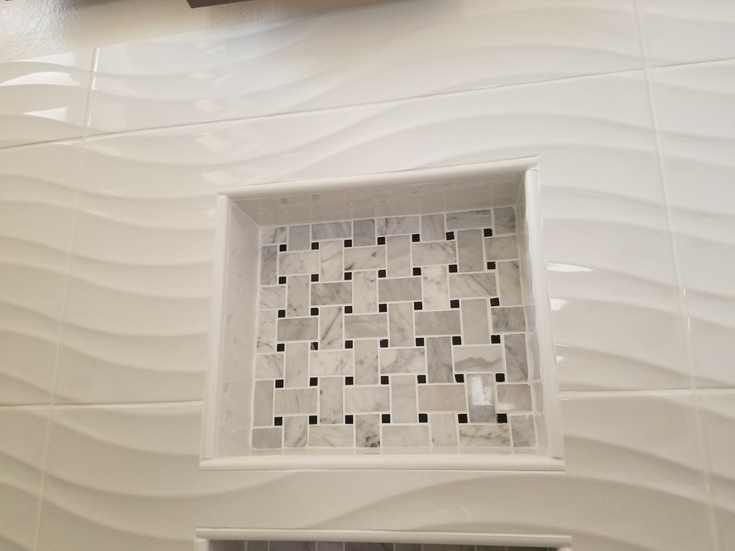 Look for opportunities to build onto your walls with mirrored medicine cabinets or shelves above a toilet.
Look for storage opportunities where none existed before.
Conclusion
 My goal in this article was to give you hope (and ideas). To see your small bathroom not as a lost cause. To use these 11 fixes. To not accept 'the agony of defeat' as they used to say on Wide World of Sports.
Your next mission (if you decide to accept) is to choose the top ideas from the 11 above. I want you to experience the 'thrill of victory,' – a fashionable and functional small bathroom.
If you'd like to add more winning small bathroom ideas to the list or have questions how you can improve your small space today, comment below or give us a call (use the phone numbers below).
How can I (or a member of my team) help you?
For assistance and factory-direct product supply of grout free shower wall panels, shower bases and glass enclosures nationwide contact Innovate Building Solutions at 877-668-5888. For a bathroom remodeling project in Northeast Ohio call Cleveland Design and Remodeling at 216-658-1270 or The Bath Doctor in Columbus at 614-252-3242.
If you're a remodeler or builder and want practical advice on remodeling products, industry trends, marketing and sales tips to grow your business (and cut day to day hassles), start reading my newest blog – Innovate Builders Blog. It's packed with ideas you can use now. Click here to Sign Up for the Innovate Builders Blog.
If you want to connect with me and/or learn more about remodeling, but don't want to put up with my wacky humor (I get it). Follow me on Twitter @Mike Foti, or my companies @InnovateBuild or @InnovateHomeOrg.
---
Mike Foti
President of Innovate Building Solutions a nationwide supplier and regional (Cleveland and Columbus) remodeling contractors. Some of our product lines include glass counters, floors, backsplashes, glass blocks and grout free shower and tub wall panels
---