How to Remodel Your Shower on a Budget (without buying junk)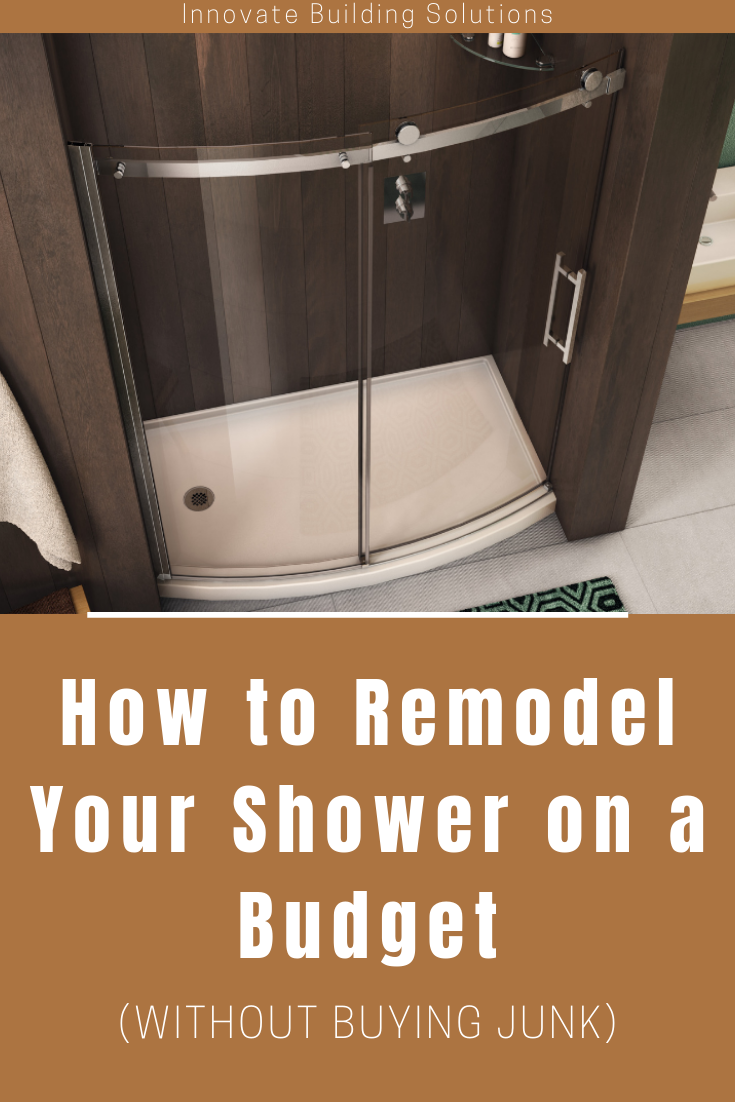 You dream of owning the luxury shower you saw on Fixer Upper with Chip and Joanna Gaines. You saw an article in House Beautiful with a shower to die for. It had marble floors, Brizo fixtures, Toto toilets and you thought to yourself, "With this shower it won't look like I live in generic 'builder-special' (sarcasm intended) home anymore."
These luxury showers and bathrooms you see on TV or in fancy magazines, while completely drool-worthy, aren't your reality!  
Maybe your life resembles the following …
Example #1) You've started your family and now have a two-year-old. You stretched to buy the home in the walkable neighborhood. You want to kick up your version of This Old Bathroom ('er that would be your master bathroom). Money is tight, but you still want it to look cool. But how?
Example #2) You're getting close to becoming an empty nester (which sounds weird to say). You plan to be in this home another 5 years. However, the bathroom in your 'Chevrolet-esque' neighborhood doesn't justify 'Mercedes-Benz' shower products.
In addition, you're tired of moldy, brown grout joints, the dated builders-grade shower pan and flimsy framed shower doors. However, you're not going to sink a lot of bucks into a fancy bathroom remodel. How can you improve this shower on a budget, but not have it look cheap at the end?
In this article, I'll tackle the hard question…the how. We'll look at how to remodel your shower on a budget (without buying junk) and not have to do the following:
Have your 2-year-old run around without diapers because you spent all the money on the remodel.
Put off adding money into the already-too-small college fund for your 14-year-old daughter because your budget was blown up on the shower remodel.
Spend ALL your kid's inheritance pretending to be your own version of Joanna Gaines or Tim 'The Tool Man' Taylor (if you remember him).
While I'm (partially) joking about the three points above, it just makes good common 'cents' (OK – bad play on words, but I'm goin' with it anyway) to be thoughtful (and careful) with how and where you spend money on your next shower remodel.
In this article I'll share 7 practical tips to stretch your shower remodeling budget – without buying junky products (do flimsy framed shower doors and fiberglass shower surrounds ring a bell?) which are as disposable as your last pack of razor blades. Let's check out the 7 tips.
Tip #1 for a shower on a budget– Don't buy the cheapest products in the aisle
The previous owner bought the thinnest, cheapest discount shower base they could find at the local big-box store. Not only has it yellowed, but it's developing a crack. You're thinking, "This crack could blow any day now. Yikes!"
In addition, the wafer-thin, wobbly framed shower door with the nasty soap, dirt and scum-filled track at the bottom the original home builder put in, technically counts as a shower enclosure, but its certainly not something you're proud of. You've come to this realization…

Cheap products which fail (or are failing) are bad investments, no matter how 'low-cost' they are.
The question becomes, what should you look for to get good value, so you don't repeat the shower product selections mistakes of the past you're stuck with today?
Here's what I'd recommend. Look for good value, mid-priced products which are built to last. Here's 3 examples:
Example 1 – Reinforced acrylic shower pans – The shower base is the foundation of your shower. If it fails, you're SOL. I'm guessing you know what that means – big bucks to replace EVERYTHING! So, get a base which is built to last without spending too much. One product I'd look at are reinforced acrylic shower pans. While they're cost-effective, the acrylic is formed over an MDF (Multi-Density Fiberboard) core ensuring it won't break down (or crack) on you.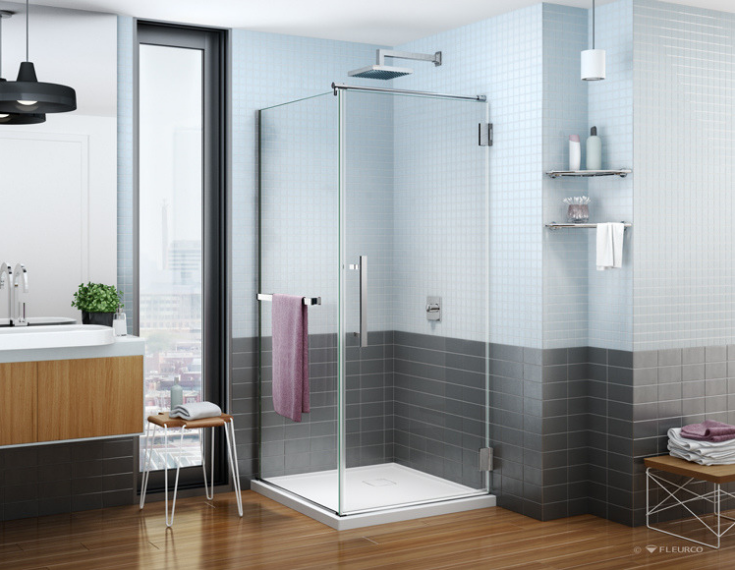 Example 2 – Laminate shower panel – They look like tile and stone but are easier to install and eliminate your tile scrub brush or expensive (pain-in-the-rear) visits from the tile grout cleaning guy.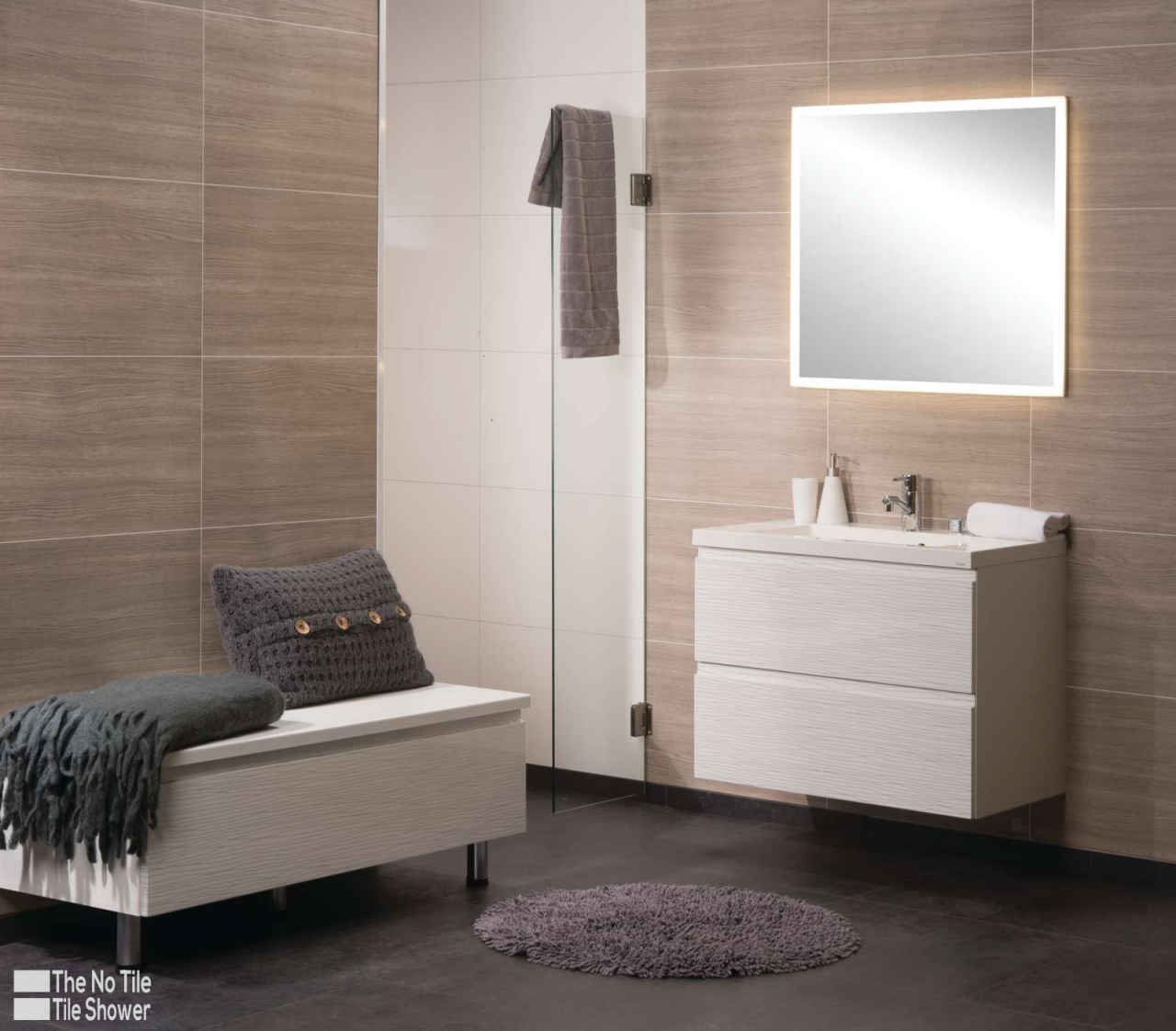 Example 3 – Medium thickness framed shower doors which are mass produced – You want style, but you need to keep your budget intact. You can get the 'best of both worlds' with mass-produced frameless shower doors. They can be straight or curved, but since they're made to stock sizes they are  more affordable.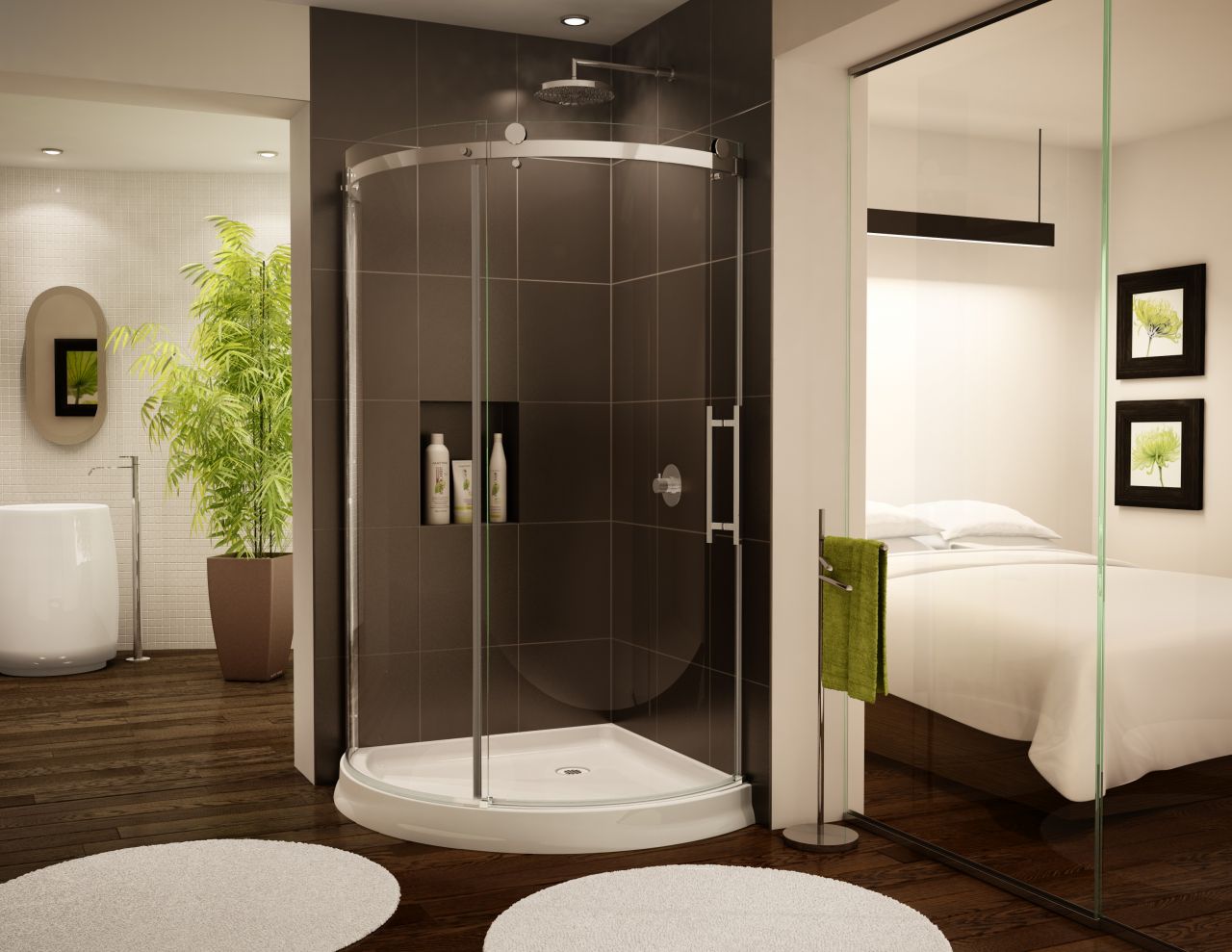 Tip #2 for a shower on a budget -DIY or BIY, it's time to get to work.
Construction labor and building material costs are rising (duh, you're probably saying right now). The question you might have is why? Here's why.
First, there's a lack of construction workers. Those who are left are demanding higher paychecks. Guess whose picking up the tab for these higher costs? You guessed it…it's (unlucky) you.
Second, material costs are rising. This is due to the 'old law' of supply and demand and higher tariffs. Remodeling contractors are marking up materials they're supplying and installing. So, higher material costs are being passed on to you.
There are 2 phrases you can 'put to work' to get your costs down. They are "BIY" and "DIY."
First, look at BIY (Buy It Yourself and then have a professional contractor install). Mention to your contractor you'd like to buy some supplies yourself. This can reduce material cost markups. With this strategy, however, I will caution you. Most mid to large sized contractors will tell you to go 'pound salt.' They won't let you BIY because they want to control the materials used and their schedule. Smaller remodeling contractors are more likely to go along with your goal to save a few bucks here.
Second, look where you can DIY (Do It Yourself). If you're not super-handy but are willing to get dirty look to demo your own space. In addition, if you've got basic woodworking tools you can also install your own shower wall panels which look like tile, but without the maintenance hassle. Leave the 'heavy-duty' stuff to the pros (plumbing, electrical and lighting are good examples).

Tip #3 for a shower on a budget– Buy quality and resist the urge to 'super-size' it
If you've been 'suggestively sold' the largest order of fries at McDonalds or a super-sized drink at the gas station you know how EASY it is to spend a little more and consume too much. When it comes to bathroom and shower remodeling a little more can turn into a little more which morphs into a lot more money. Then you say, "OUCH, where the heck (OK you use a different word than that) did our cash go?"
While you want quality, you need to resist the urge to super-size your product choices.
For example, when you look at the interior shower surrounds ask, "Is it really necessary to go to the ceiling with our wall tiles or shower wall panel surrounds?"

Also, if you're V.C. ('er that would be Vertically Challenged), do you really need a 79" high glass shower enclosure when a 75" size would work?
Don't let remodeling 'project cost creep' and 'super-sizing' snatch your money.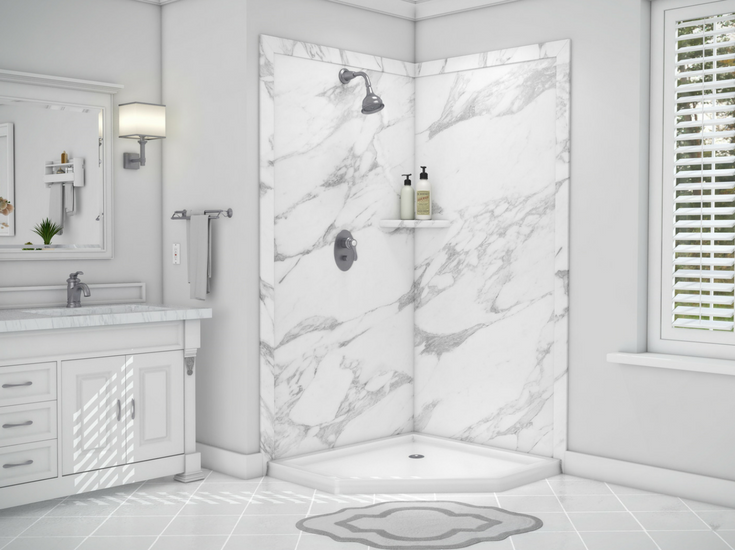 Tip #4 for a shower on a budget– Learn how to 'walk into' savings
While the following example may puzzle you at first, bear with me and you'll see how using this analogy can save you money on your next shower door and enclosure purchase. I'll call it…
"The Tale of Reggie."
You see long ago, in a city not far, far away I had a sales rep (in Cincinnati) named Reggie. You see Reggie has a HUGE personality. I (personally) loved this about him. However, not everyone shared my love of Reggie's big personality. So, as his manager, here's what I told him.
I said, "Reggie, some people are going to LOVE the full-Reggie. However, other people will only be able to handle a 'partial-Reggie!'
So, you may be asking…. what does this story about Reggie have to do with shower remodeling on a budget? Well, here's what.
While you may initially think you want a full-sized glass shower door enclosure (covering the entire front shower curb), maybe you can do just fine (and even be better off) with a partial shower door (AKA a shower screen or walk in shower).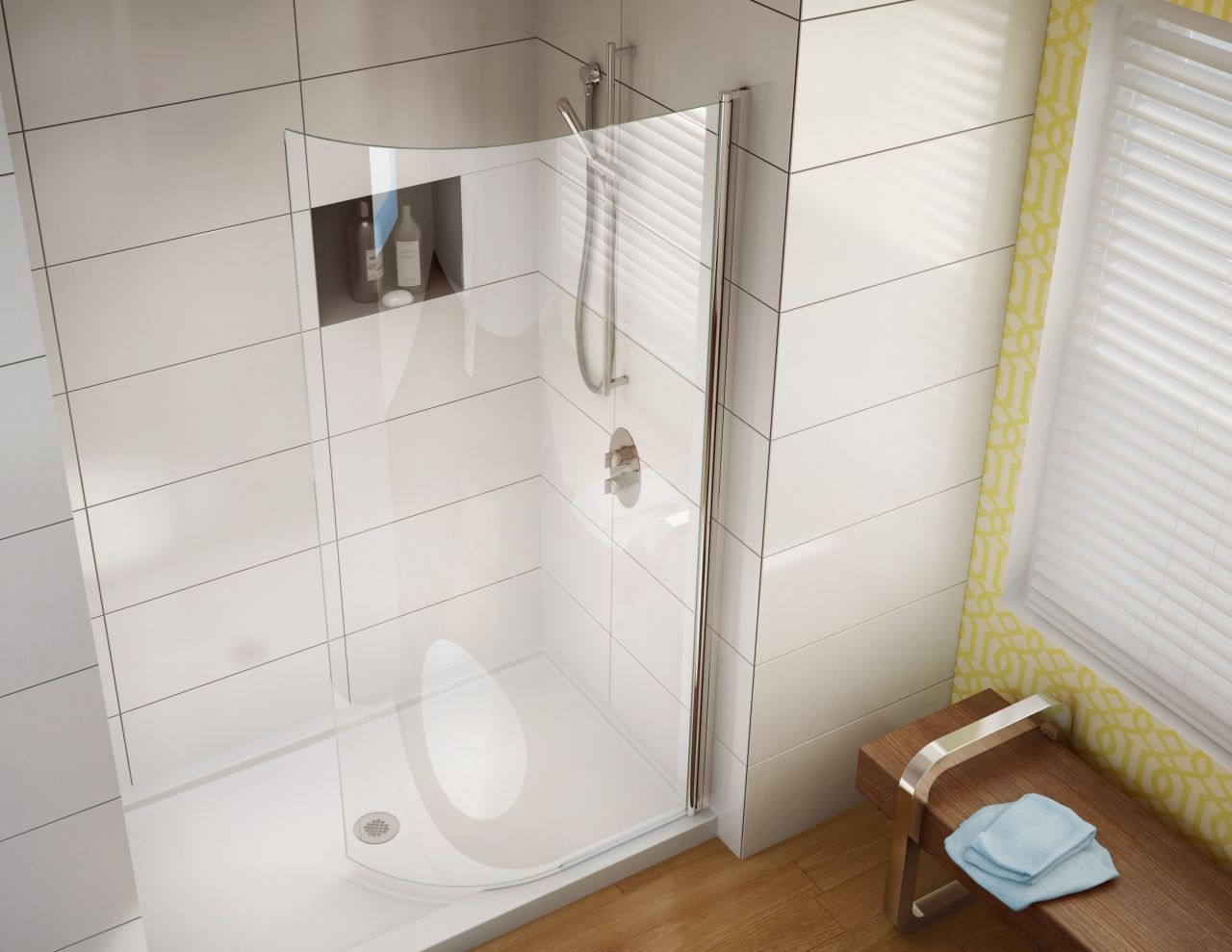 Not only are partial glass doors stylish, but they save money and eliminate cleaning the bottom track.
So – your partial door system can be as bright an idea as Reggie delivering only the 'partial-Reggie' on a sales call. Sometimes less is more, but also less is less (burdensome on your pocketbook).
Tip #5 for a shower on a budget– It's OK to do the job in stages  
In a perfect world (and I'm sure you're like me and know that 'ain't' the world you live in!), you'd have cash on hand to get the entire project done right now. However, in your 'real-world' you've got diapers for your 2-year-old, expensive prom dresses for your daughter and aging parents. Unexpected expenses get in the way of your (almost) perfectly planned life (and shower remodeling project).
It's for this reason, you need to realize shower remodeling is not an 'all or nothing' proposition. You can do this job in stages…if you're thoughtful about what you need to do now and what can be kicked down the road for later. Here's what's essential to get started and what can be 'kicked down the road.'
What's essential in the first stage of a shower remodel – The shower pan, valve, shower wall surrounds, and shower fixtures are needed up front.
What can be done later – Shower niches added to the wall and glass shower enclosures (start with a curtain and tension rod if money is in short supply) can be added later.
Realize this…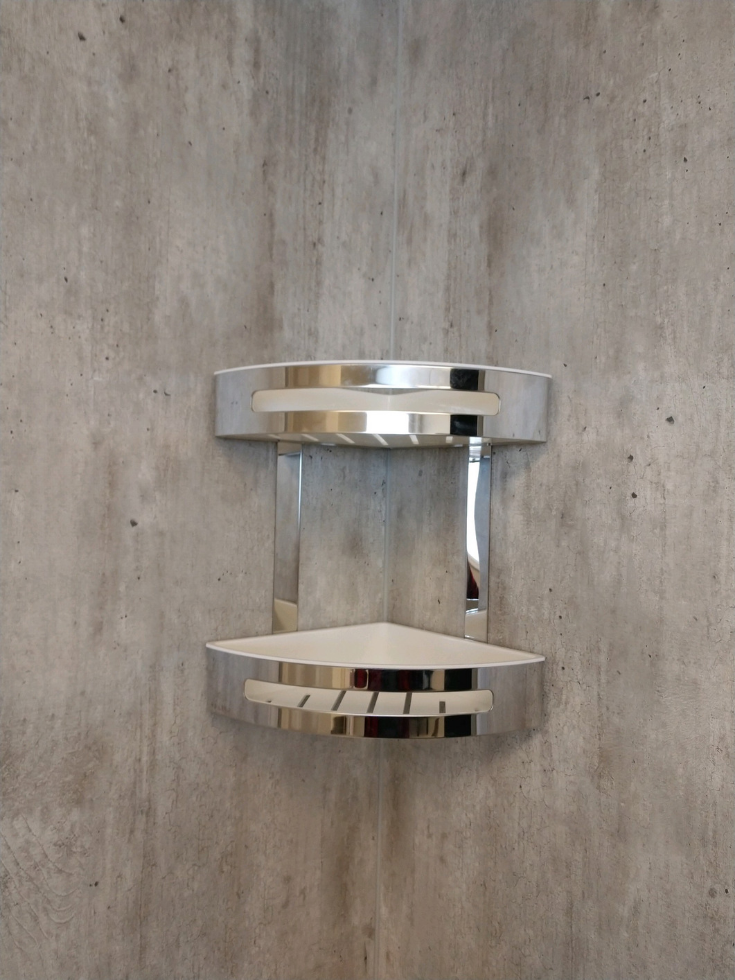 Don't feel you have to do everything right now.
Tip #6 for a shower remodel on a budget– Make sure you don't get 'nickeled and dimed.'
Don't you hate putting toys together for your kids or grandkids and batteries (or glue) aren't included? These 'nickel and dime' items are a pain you deal with after you're knee-deep in the project.
When you're putting together toys the 'extras' which aren't included are more of an annoyance vs. a huge expense. However, with shower remodeling, those things you don't think about up front can morph into hundreds or thousands of dollars faster than you can 'where-the-heck-did-all-my-money-go!'
Runaway costs can make your wallet as thin as the Flat-Stanley Man from your son's 5th grade middle school project. However, there's a way to combat this 'nickel and dime' dilemma. Here's how.
You need to resign yourself to be a 'pain in the rear' up front.
Not sure what I mean by that, here it is. When you talk to possible material suppliers you need to make sure you're purchasing everything that's needed up front. Or, if you're working with a contractor do your best to make sure they've included everything in their bid to minimize unexpected (bad) surprises.
Will this mean you'll be a questioning pain in the rear during your research phase and will frustrate some contractors and suppliers? The simple answer is ….
YES!
However, being more thoughtful and cautious before signing on the bottom-line or pulling your credit card out, will help your costs from becoming a runaway freight train to the poor house.
Tip #7 for a shower remodel on a budget– Look for 'magical' products (standard products used in custom sizes)
When you got the bad news your shower was a 'custom size,' did it send you into a cold sweat?
Here's an equation which is (generally) reality when it comes to customization.
Custom sizes and shapes = Big bucks from you!
However, I'll tell you a secret (if you promise to keep it between you and I). There are 'magical products' which can tame custom sizes. Shhh…here's 2 of them:
Idea 1 – The 'Flex Pan.' – This acrylic pan differs from most since it IS NOT prebuilt with a tile flanges. The tile flanges are added after the fact. You may wonder, why is this good? Well, by adding the flanges after you can use 'standard sized' 48" x 36" base and it will work for a one-sided, two-sided (in a corner) or even 3-sided glass enclosure. Actually, the same standard 'Flex Pan' can be used in five different configurations (4 of which normally require a custom-made shower base).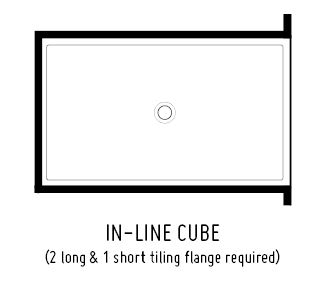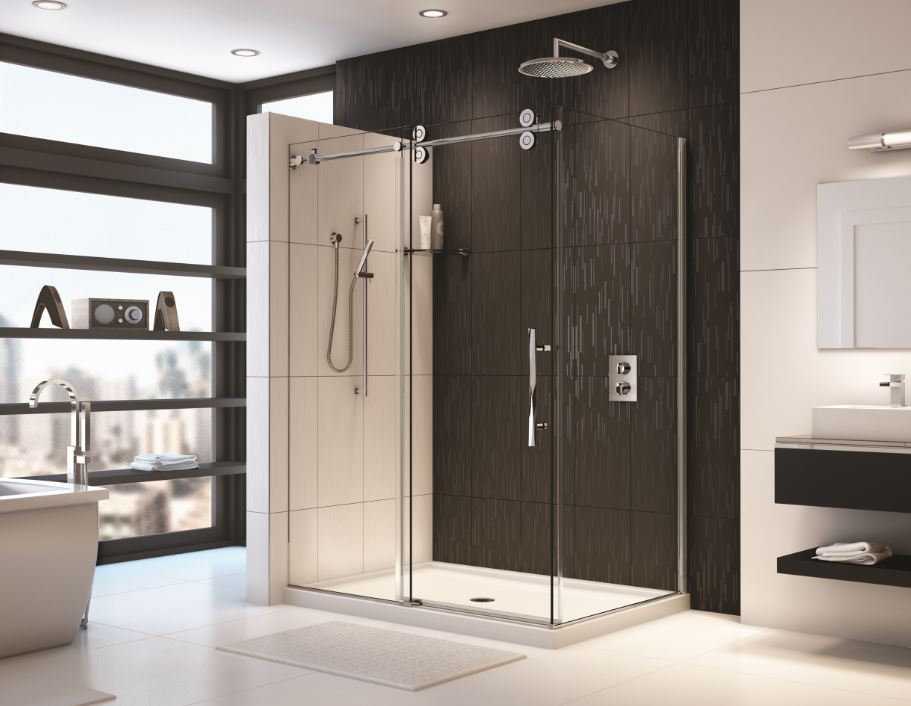 Idea 2 – The 'No Tile, Tile Shower' Wall Panels – Since these shower panels come in modular sizes (which are clicked, locked and sealed together) you can use the same 6 panel 2' x 8' x 3/8" shower wall kit (which looks like tile, but blows up the nasty grout joint) and make either a standard 60" x 36" shower or a custom 63" x 35" shower, for example. Once again, a standard product works for a custom size without extra bucks from you.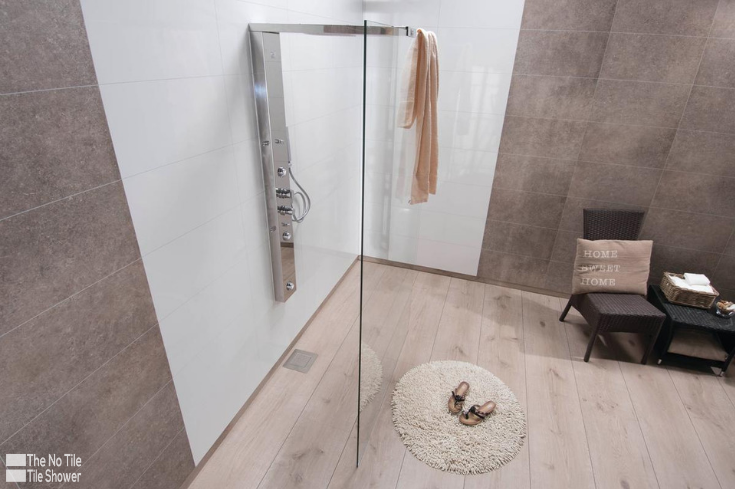 Conclusion
While it would be nirvana to get a luxury shower installed by a professional remodeling contractor and not have to touch your pretty (or not-so-pretty) hands to make it happen, when you're looking to get a shower on a budget (without using crappy materials), this will likely not be your reality.
You'll need to 'roll up your sleeves' and dig into the right (and most thoughtful) product selections.
You'll need to think beyond 'what does everyone else uses' and find smarter materials which give you size flexibility, ease of installation and durability.
You'll need to think through possibly doing the project in stages to make it affordable.
While, doing a high-quality project on a budget will not be simple, you want a space you're proud of without mortgaging away your kids' future college fund. The good news is, it is possible to get a high value shower without breaking the bank, if you use some of these 7 tips.
How can I (or a member of my team) help you?
If you need help with shower wall design, installation or supply strategies me and my team (which includes Terry, Diane, Georgia, Kerry, Michelle, Jeff, Ryan and Stacy) would love to help. Please do the following:
Call us at 877-668-5888 for nationwide wholesale supply on products like laminated wall panels, glass shower enclosures or rigid acrylic shower pans. For a local project call 216-658-1280 in Cleveland or 614-252-3242 in Columbus.
If you're a remodeler or builder and want practical advice on remodeling products, industry trends, marketing and sales tips to grow your business (and cut day to day hassles), start reading my newest blog – Innovate Builders Blog. It's packed with ideas you can use now. Click here to Sign Up for the Innovate Builders Blog.
If you're in the building business, click here if you'd like to learn how to become a shower wall panel dealer or call and ask for Mike at 877-668-5888.
---
Mike Foti
President of Innovate Building Solutions a nationwide supplier and regional (Cleveland and Columbus) remodeling contractors. Some of our product lines include glass counters, floors, backsplashes, glass blocks and grout free shower and tub wall panels
---