5 1/2 Practical Ideas for a Stylish Shower on a Tight Budget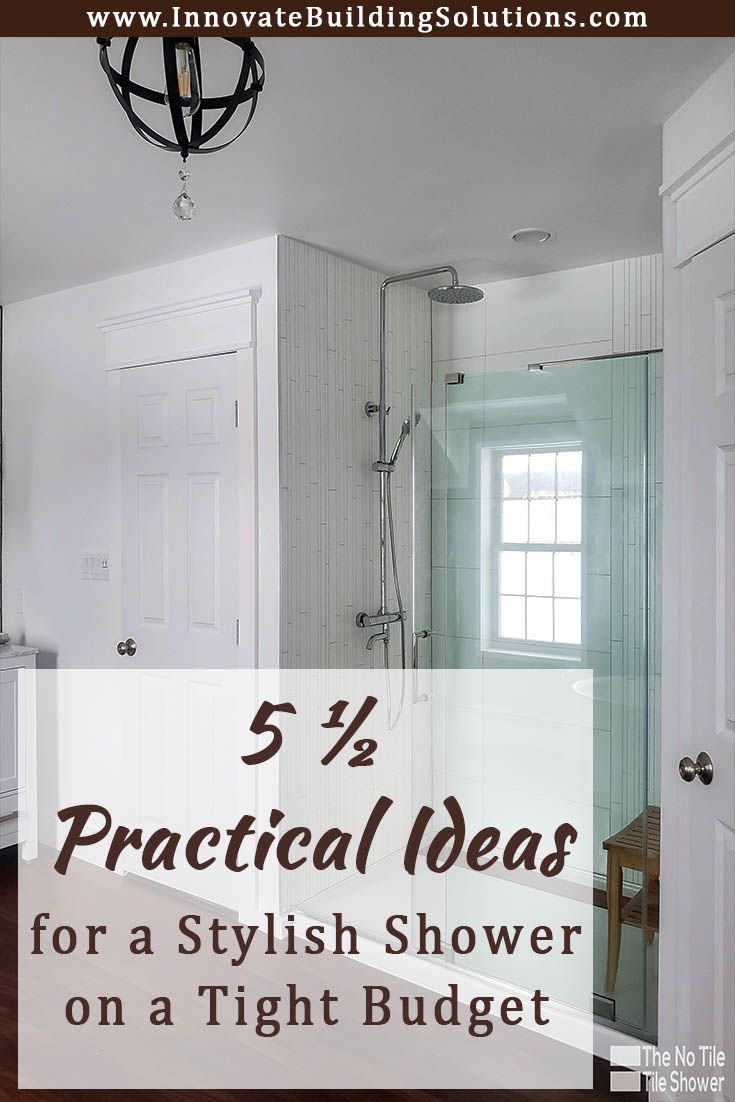 Your existing yellowed, stained, partially cracked (and not very clean-looking) fiberglass builders-grade shower is a disaster. It needs to be replaced.
Sure, in a perfect world (OK, it's not the world you're actually living in) you'd pay the highest-rated (which is usually the most expensive) bathroom remodeler in town to redo your shower (and entire bathroom if you have the money). They would transform your ugly-duckling space into a drool-worthy shower which would grace the pages of House Beautiful or Better Homes and Gardens.
Now, I'll have to interrupt this vision for a 'cold-splash' of reality.
Your Budweiser-like 'beer-budget' (and seemingly never-ending expenses of your 2 kids and spouse) isn't helping you one bit to fund your Dom-Perignon-champagne-esque bath and shower remodeling tastes.
You need a new shower but can't afford to break the bank (OK – your kids have already done an excellent job of that anyway) making it happen.
The question is, how can you get a stylish shower on a tight budget?
To help you attack this challenge head-on, you'll find 5 ½ (OK – the ½ idea is to add some intrigue) practical ideas to get a cool shower if your budget isn't exactly 'Bill-Gates-esque!' Let's check out the ideas.
Budget-friendly, yet stylish, shower idea #1 – Waterproof shower wall panels
For those of you who've read my articles before you know I'm a BIG fan of laminate shower wall panels. These 2' x 8' x 3/8" thick panels click, lock and seal together (like laminate flooring). They're DIY friendly – so you save money vs. hiring a tile contractor or signing a contract with an acrylic wall franchise wall to put thin, acrylic panels up.
The bonus is, they look exactly like tile, stone or marble. You won't have the dust and mess associated with a tile installation either. You don't need to rent expensive equipment (like wet saws) to get the job done.

What's even nicer is there are ZERO (yes, you heard that right zero) joints to clean or get moldy as your shower ages. If you're the one 'elected' (by process of elimination) to clean tile shower joints, you can see the blessing a stylish wall panel system which allows you to chuck your tile scrub brush can be.
Budget-friendly, yet stylish, shower idea #2 – A combo shower base and glass enclosure which doesn't scream out 'super-sale special from your big-box store'
Since you're looking to replace your cheap fiberglass surround or nasty and dirty tile shower, why would you go into a big-box store and buy a 'new' cheap fiberglass shower to replace the old one you're removing? Why repeat the mistakes of the past, again? Isn't that redundant?
In addition, who really wants a flimsy and impossible to clean framed shower door either? Besides your spouse keeps griping about banging their elbows against the sides constantly anyway.
Here's a smarter idea which is also budget-friendly and won't force you to move your plumbing. This idea is to use a combination curved shower pan with a curved glass door.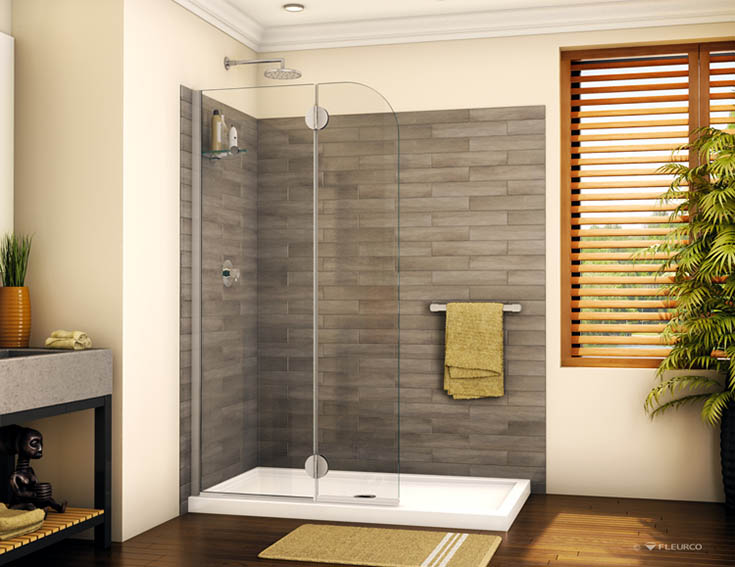 With this combo system you'll gain 6" of space in the center of your shower (allowing those banged-up elbows to heal). And since the drain is in the same location of your old tub/shower unit, you won't need to bring in an expensive and hard-to-find plumber to relocate your drainpipe.
Budget-friendly, yet stylish, shower idea #3 – Stainless steel niches and corner shelving  
If your shampoo and soap storage today is soooooo lacking you're resorting to a plastic Dollar-store-special' shower caddy to house your growing lotions and potions, you know your storage IS NOT pretty.

Nice looking, yet simple to clean shelves and niches would be a major plus for your new shower.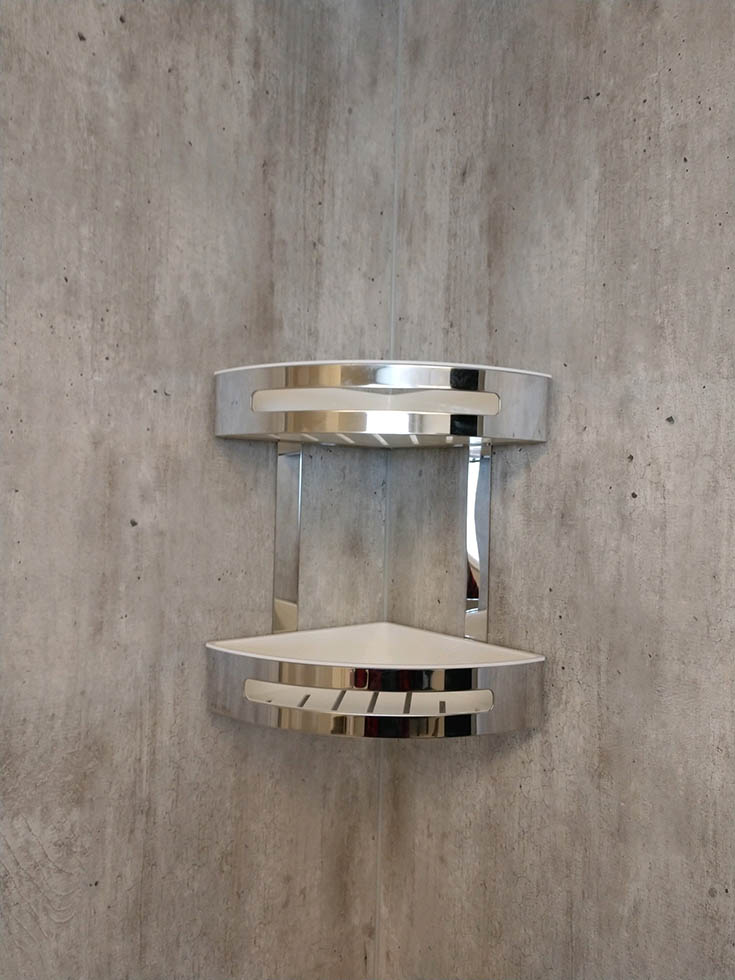 I'm here to tell you the following:
Shower storage doesn't have to be an embarrassment.
Check out these contemporary stainless steel shower niches or removable plastic trays inside these stylish corner shower shelves. Don't accept ugly storage anymore.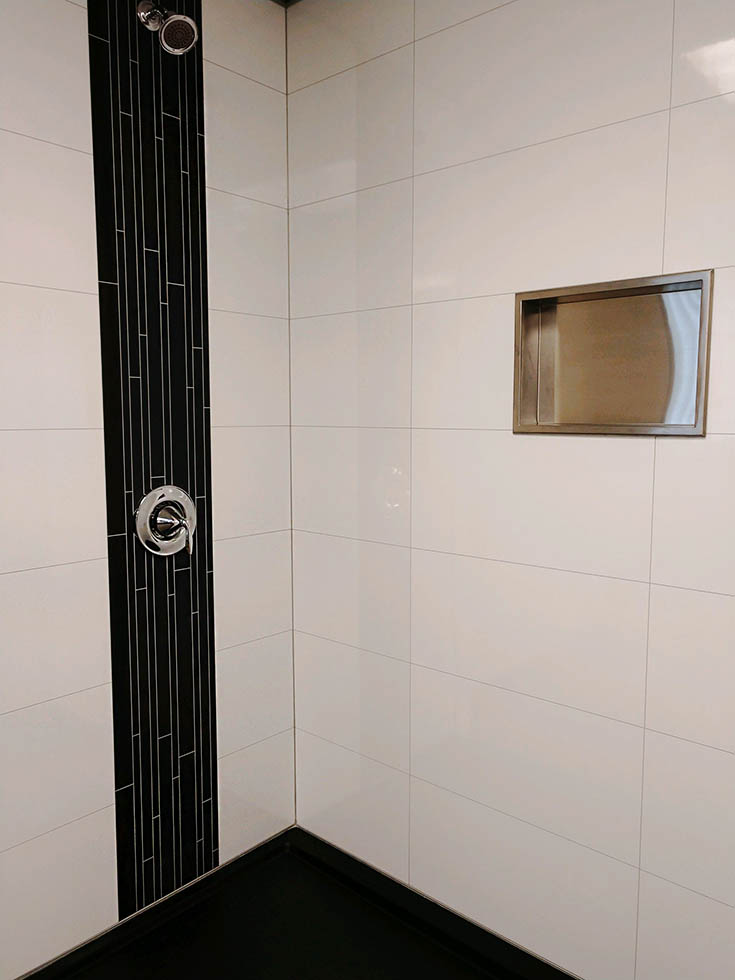 Budget-friendly, yet stylish, shower idea #4 – Teak fold-down shower seats
You dream about the spa shower you LOVED on your last vacation. Relaxing on its bench seat and being messages by its jets was heavenly. You think, "wouldn't it be nice to enjoy this luxury in my home as well?"
Here's a way to make your dream come true. Add a teak fold down shower seat. A teak seat will give you the smell of a spa. You'll also enjoy relaxing, shaving your legs or simply rinsing yourself off with a hand-held shower…all while sitting down.
Budget-friendly, yet stylish, shower idea #5 – The rain head  
There is one feature you'll often find in a large luxury shower but is often overlooked in smaller, common-sized shower designs. This feature is the rain head.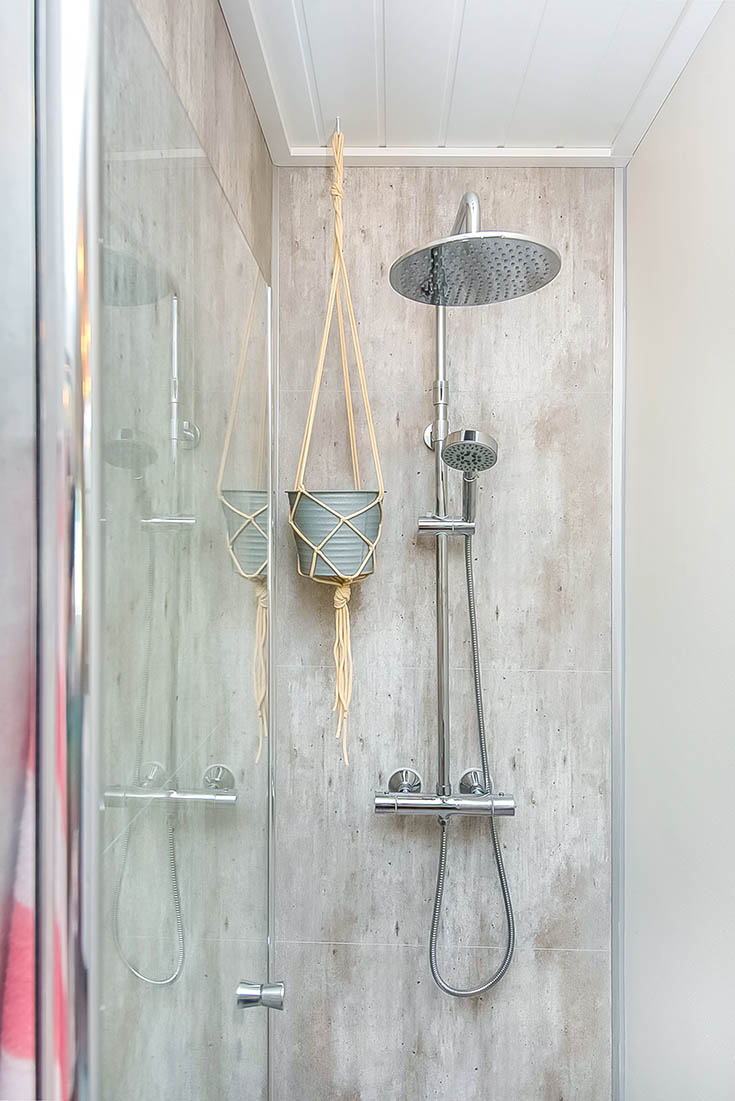 Rain heads not only give you a relaxing shower, but they're a smart choice if you'd like a walk-in shower which reduces the chance of water spilling onto the bathroom floor.
While the price of rain heads can vary (from $100 to over $2,000), you'll find their price has come down as their popularity has increased.
If you're worried about wimpy shower pressure with a rain head, visit a plumbing showroom with a running water display or look for a head with rain-injection technology.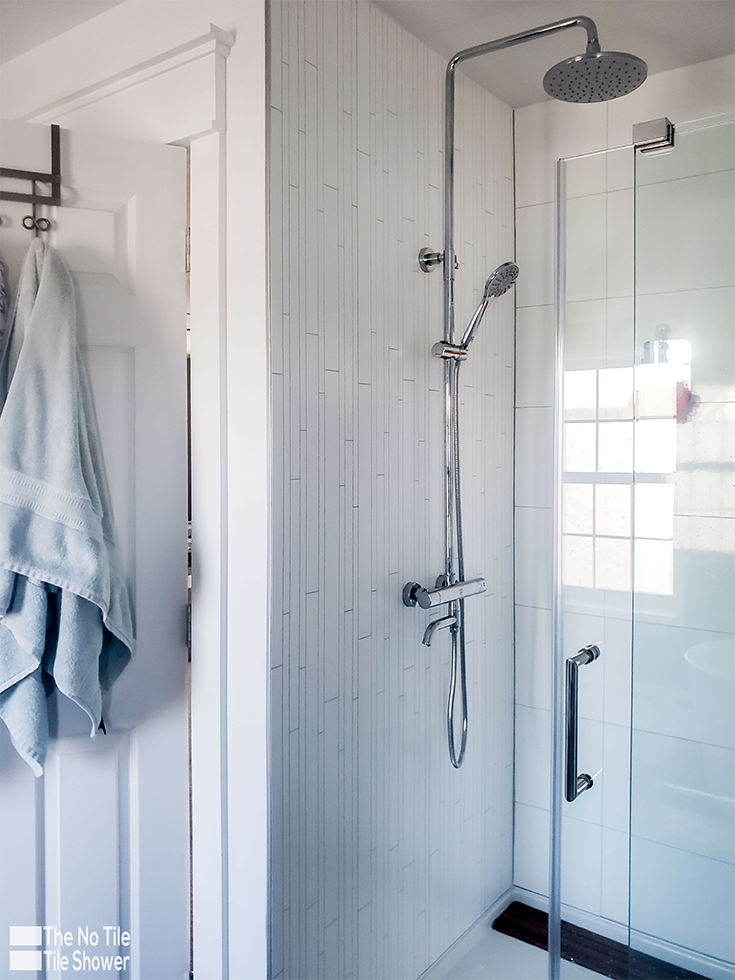 Budget-friendly, yet stylish, shower idea #5 1/2 – The half-glass enclosure… AKA as a shower screen   
If you'd love to eliminate the stomach-turning job cleaning your framed shower door, you're not alone! These low-budget doors are a maintenance nightmare. Some owners are even swearing off shower doors (or is it swearing about them?) and reverting to shower curtains (which have their own fair-share of drawbacks).
If you want the luxury look of a door, but don't want the cleaning hassles here's a 'half-idea' which makes sense.

This half idea is to use a shower screen. With a shower screen (also called a shower shield) the door is as small as 39" (note – the fixed portion of these shower screens are 24" wide and the pivoting portion is 14"). You can use them for a walk-in shower in a space as small as a 48" or 60" production-sized shower.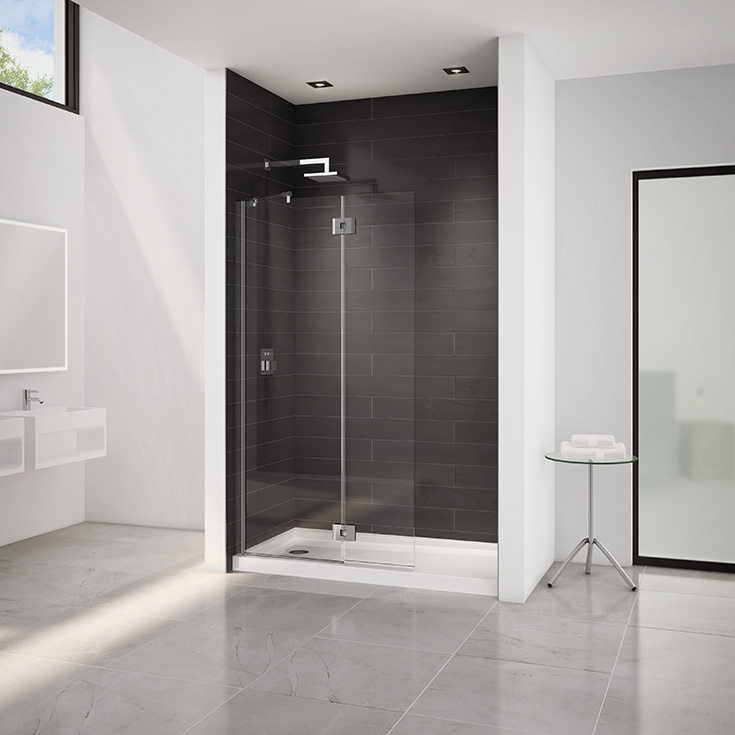 You'll get a luxury look. You'll save money. You'll eliminate cleaning framed shower doors. Sounds like a perfect 'trifecta' to me!
Conclusion
So, did you get any budget-friendly ideas for a new stylish shower from the list above?
I'll wrap up by telling you the following.
Just because you aren't an heir of Bill Gates and your family doesn't have a big trust fund (or at least one they're sharing with you), doesn't mean you can't create a stylish shower.
Will you have to do more Internet research to figure out smart ideas and products to make this happen? Absolutely.
Might you need to roll up your sleeves and put on your best DIY imitation of Chip and Joanna Gaines to make this new shower a reality? You betcha.
However, won't it be nice to have a stylish luxury shower to replace your moldy tile surround or yellowed and cracked fiberglass builders-grade special without busting your budget? If your answer's yes, I'm with you.
Mike
###
If you need help designing a shower or finding good pricing on shower wall panels, glass enclosures, contemporary shower accessories or sturdy shower pans, we'd love to help. Call Innovate Building Solutions at 877-668-5888 or The Bath Doctor at 614-252-7294 in Columbus. For a remodeling project contact Cleveland Design and Remodeling at 216-658-1270.
If you're a remodeler or builder and want practical advice on remodeling products, industry trends, marketing and sales tips to grow your business (and cut day to day hassles), start reading my newest blog – Innovate Builders Blog. It's packed with ideas you can use now. Click here to Sign Up for the Innovate Builders Blog.
If you're in the building business, click here if you'd like to learn how to become a shower wall panel dealer or call and ask for Mike at 877-668-5888.
If you want more advice (or like wacky humor) follow me on LinkedIn @MikeFotiLinkedIn or on Twitter @Mike_Foti or my companies @InnovateBuild or @InnovateHomeOrg.
---
Mike Foti
President of Innovate Building Solutions a nationwide supplier and regional (Cleveland and Columbus) remodeling contractors. Some of our product lines include glass counters, floors, backsplashes, glass blocks and grout free shower and tub wall panels
---