How to Convert a Tub into a Low Maintenance Walk in Shower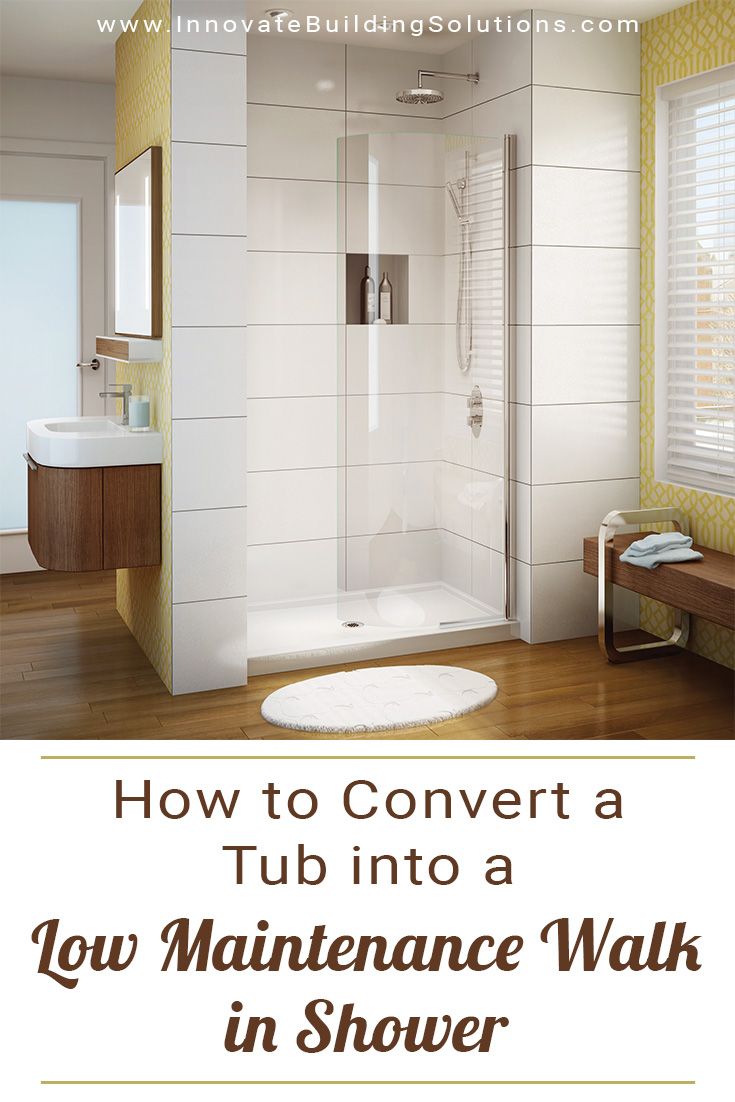 Update January 2, 2022
Even though he won't admit it, it's not easy for John to climb over the tub to take a shower in his tiny bathroom.
And though you will forcefully admit it (and complain about it also), cleaning the scummy grout joints which are barely keeping together your dated 4" x 4" powder blue ceramic tile bathtub surround is a task you can do without.
You've had it with this sad excuse for a tub/shower 'system' (if you can call it that). You'd like to convert your tub into a shower before something bad happens to John, or you throw your tile scrub brush through a wall.
The problem is, you're unsure how to get started. You don't know the best products and designs for a walk-in shower. You're not sure how to create a space which is safe for John (although you're certainly not telling him this is one of your motivations), but also one which oozes style and reduces cleaning time. The reality is bathroom and shower remodeling are not what you do for a living.
You know you need help. Where do you start?
If this describes your situation (even if you don't have a stubborn spouse named John or Joan for that matter), you need to read on. In this article I'll dish up 5 practical ideas to convert your tub into a walk-in shower to add style, safety and reduce how often you have to clean it. I'll also make sure these ideas won't force you to take out a second mortgage. And if you read until the end – you'll learn about 'bonus idea #6 which can save you money as you pull all the elements of your walk in shower together.
Let's dig into the ideas.
Idea #1 – Start at the bottom. Choose a shower floor pan which is smarter…and deeper  
Most tub/shower combos are built into an alcove space (if you're not familiar with that term it's an enclosed area with 3 inside walls). Most standard alcoves are 60" or 48" wide with 2 side walls ranging from 30" to 36" deep.
Given this lack of side-wall depth, and the rounded interior design of your tub and framed sliding glass doors (if you have them) you're living with ONE CRAMPED ELBOW-BUSTING SPACE to take a shower in!

In most small 5' x 8' bathrooms with alcove style tub/showers it's not practical to change the size of your side walls ('er the depth). Given this lack of flexibility you need to be strategic to get more 'bang' from your limited depth. But how, you may ask? Here's 3 design approaches for a smarter shower floor or shower pan to maximize your comfort when you convert from a tub to a walk-in alcove shower.
Design approach #1 – Flex the middle if your 30" sides lack depth – Tight side walls are a pain. You can't fit a deeper rectangular shower pan (say a 60" x 34" or 60" x 36") because it would stick out past the walls (as my Dad used to say, "You can't fit 10 lbs. of s*** into a 5 lb. bag). Here's a smarter idea. Use a curved shower pan and a curved sliding glass door. When the pan is curved (or bowed) in the center, you'll enjoy the 36" depth where you need it most – in the middle of the shower – even if the side walls are only 30" deep.
Design approach #2 – Buy a deeper shower pan if your walls are 32" to 36" deep – Effective shower remodeling is a game of smartly deploying (OK – do I sound like some type of military guy here?) every inch. In many cases your current tub/shower combo is 30" deep, but your side walls may be 32" to 36" deep. Use these few inches wisely. For example, if you have 32" or 36" of depth consider a cool textured stone shower pan. You'll get more space and enjoy a unique pan which is easy to clean. Now, that (as they would say in basketball), is a double bonus!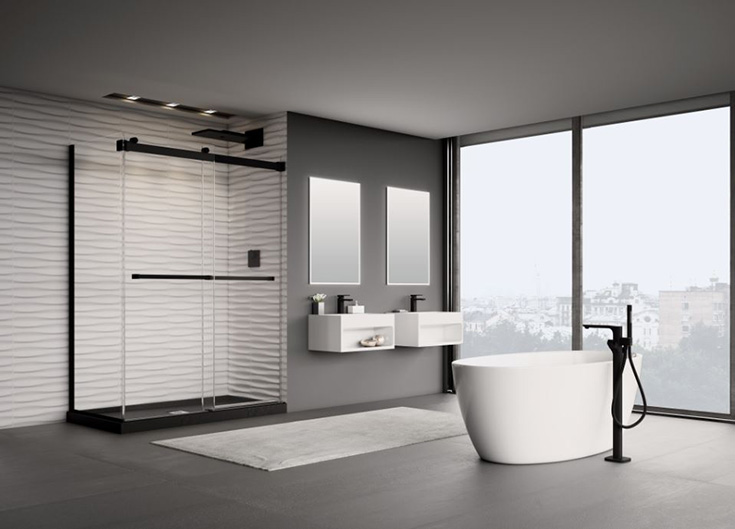 Design approach #3 – A 'no barriers to entry' style shower floor pan – Maybe it's the business geek in me (I guess any guy who watched Louis Rukeyser of Wall Street Week when they were in high school would qualify) which makes me think about 'barriers to entry' as a term about financial markets. However, there's another type of 'barrier to entry,' which is your shower barrier to entry. The threshold (also called a curb) can be the difference in a shower being usable or not. There are now one level shower floor pans made of a glass reinforced plastic (the same material used in airplanes) which create a one level bathroom and shower floor. This pan works for people of all abilities (even if they use a wheelchair or walker).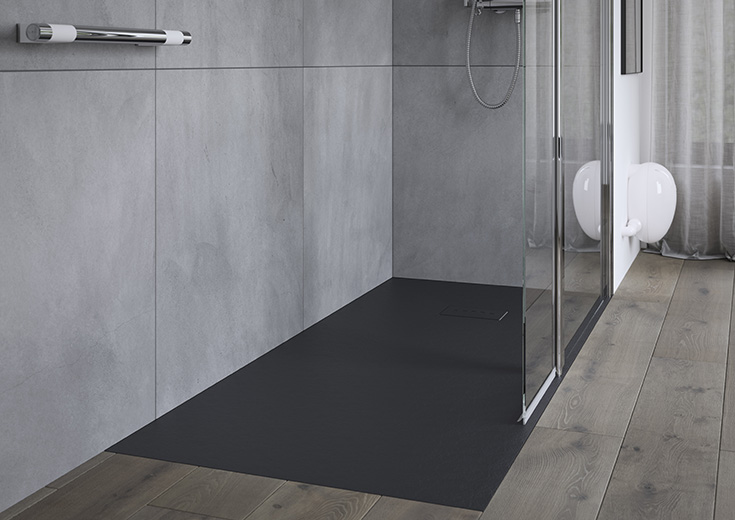 Idea #2 – As George Jefferson (from The Jefferson's would say it's time to 'move on up.' Don't settle for cheap plastic faux tile or stone wall panels which are (literally) cut out of mold.
If you're as old as me (OK – some people THINK I'm 59 but I'm much younger than that. I'm actually (29 x 2) +1. You do the math), you remember watching The Jefferson's. I can still hear that theme song about 'movin' on up to the East Side, to a DELUXE apartment in the sky.'
The Jefferson's had a similar goal to what you have when you want to a walk-in shower. You want to be 'movin' on up. You don't want a new shower which looks cheap (or made out of a mold) which is only marginally better than the old one. You want something which is really cool – yet also affordable.
It's for this reason IMHO it makes little sense to do a shower remodel project and 'settle' for cheap, plastic looking wall panels which are literally 'cut out of a mold,' even if that mold is SUPPOSED to make people think they're real tiles. Nobodies fooled by plastic wall panels which are 'trying' to look like the real thing.
Why replace one outdated 4" x 4" ceramic tile system with cheap, molded acrylic walls which – while they're simple to maintain – don't exactly create anything close to a high-end look.
I'm here to tell you there's two better alternatives in shower wall panels which won't blow your budget either.
Walk in shower wall panel alternative #1 – Laminate bathroom wall panels – These 2' x 8' x 3/8" units click, lock and seal together. They're made of a high-pressure laminate, applied over marine grade plywood with a vapor backing. They're easy to install. Their fashion-forward styling has made them a staple in European homes for over 25 years. Now they're available in the United States.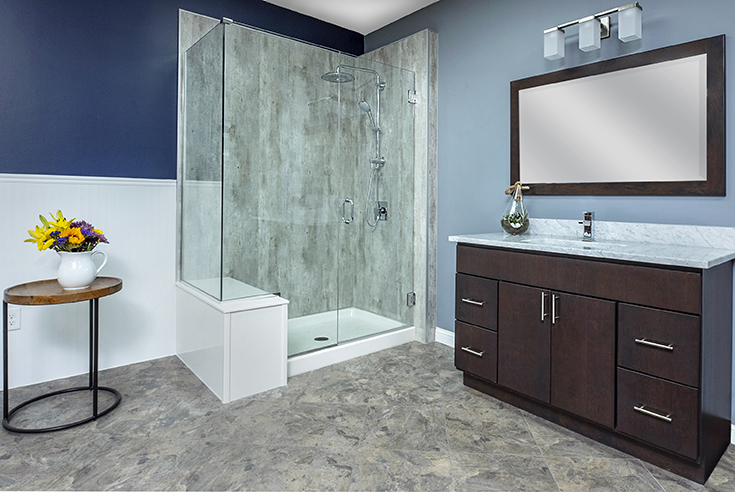 Walk in shower wall panel alternative #2 – Decorative PVC composite walls – These ¼" panels are digitally reproduced replicase of actual stone patterns. Super easy to put up. Super easy to clean. DIY friendly.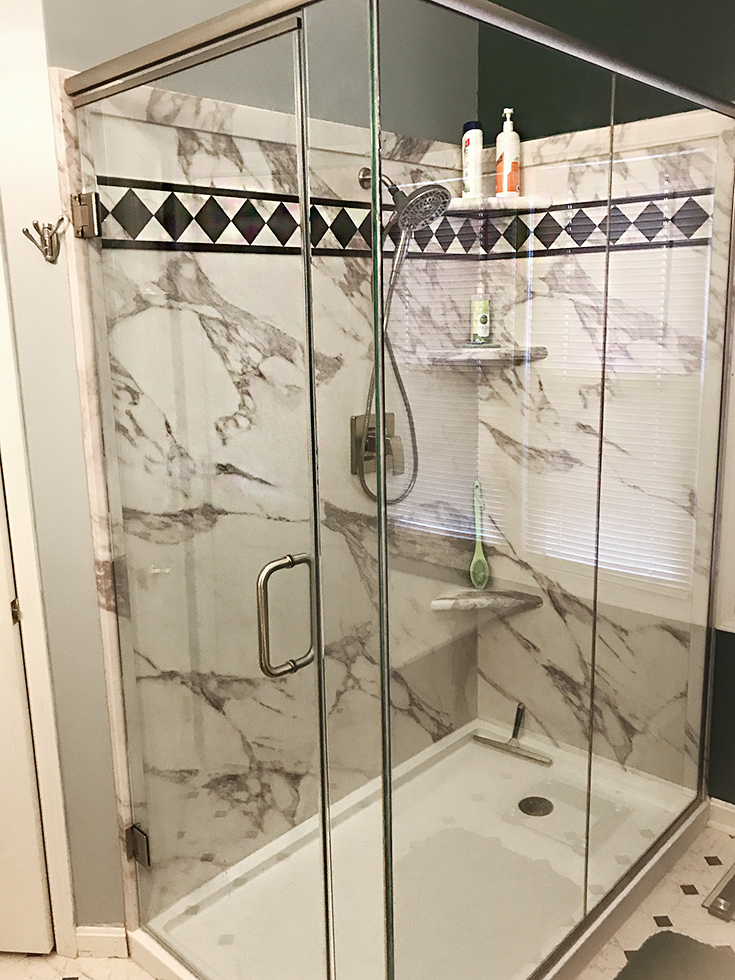 Idea #3 – Stylish glass systems which cut cleaning time. Can you say that again? Cut cleaning time.
There's nothing quite as 'tasty' (sarcasm intended) as cleaning the tracks of a cheap, builders-grade tub/shower door. If you've seen (and cleaned) the gunk (that's a fancy word for hairs, dirt etc.) out of these tracks and lived to tell about it, you know exactly what I'm talking about.
For your low-maintenance walk in shower, you need to have none of that. If you're wondering what better options exist to create a 60" wide low maintenance walk in shower, here's 2 tricks which, while they won't fit up my sleeve, will help you get a smarter, more space-efficient space.
Trick #1 – A frameless shower screen. Shower screens (AKA shower shields) have a 24" fixed portion and a 15" pivoting door. The pivoting door can be angled in to bounce water back towards the drain when you're showering. In addition, you can find shower screens where the entire door pivots in (and out) so it's simple to reach the shower controls to get the water warm so you won't have 'cold shock therapy' when you get in.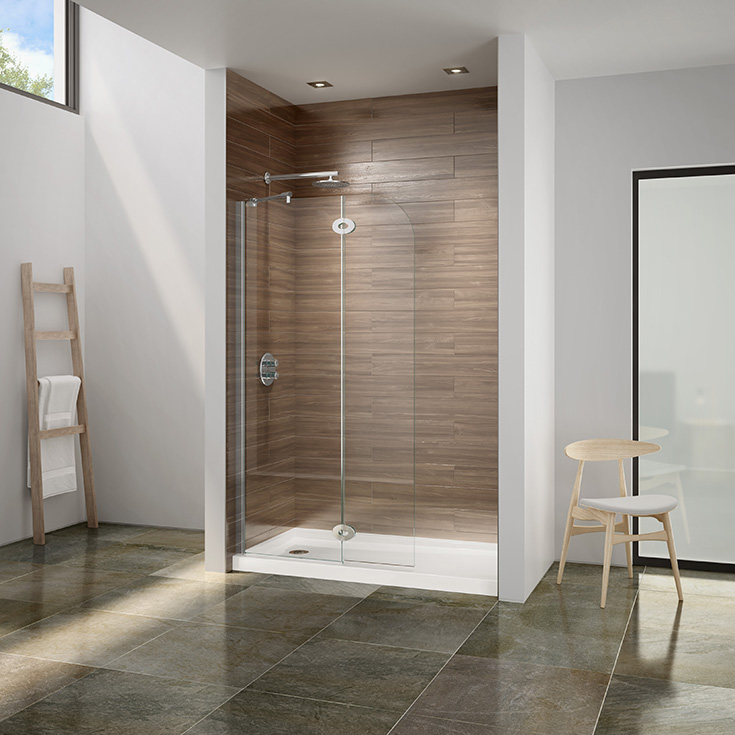 Trick #2 – 'New-styled' glass block showers. Glass block showers have gotten a bad-rap IMHO about being behind the times. With new styles, and new design patterns it may be time to relook at these glass building 'Lego-style' blocks for a fun interior bathroom design element. With this doorless design you can stop cleaning nasty door tracks ever again. With this 'circular focus glass block pattern,' you'll get a contemporary look which is being used in some fun boho-chic boutique hotels.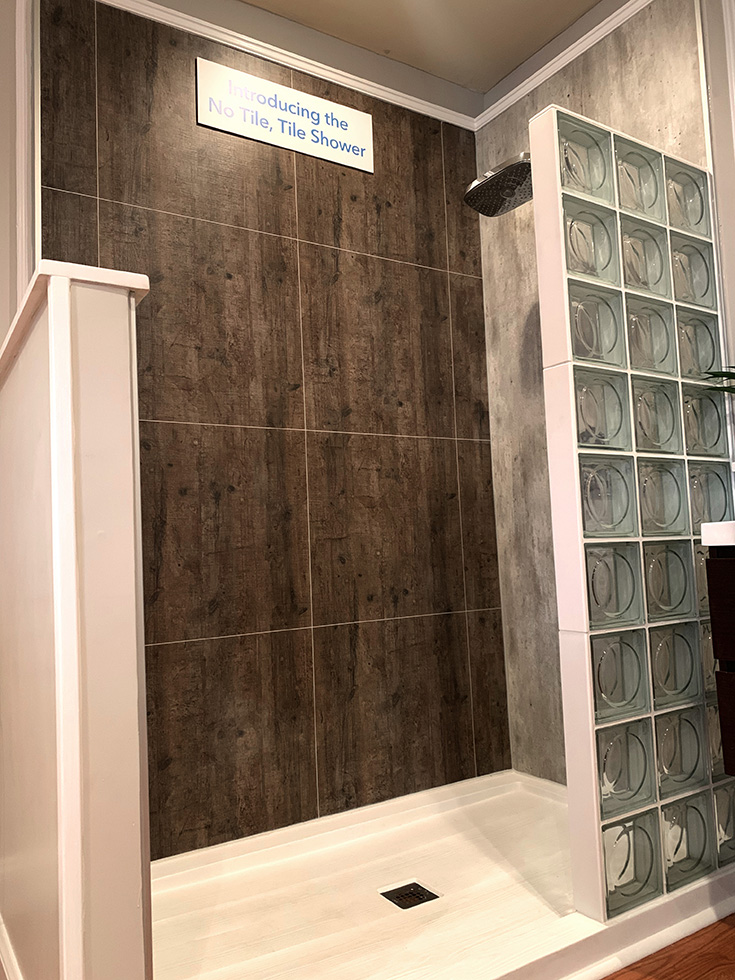 Idea #4 – Understand the smaller the shower space, the smarter your storage solutions need to be  
Maybe it's because I'm also in the closet business that I see how poorly designed storage spaces make people's lives a disaster.
Maybe it's because I've worked with countless people on shower designs and seen 'glamour shots' (I'm being sarcastic here) with the oh-so-wonderful dollar store 'hanging storage basket over the shower head' I know shower storage can truly qualify as UGLY!
I'll serve as your very first 'bathroom psychologist' and tell you it's not all your fault (and its not your parent's fault either).
Most storage problems (whether they're in a closet or a tub/shower unit) are 'structural problems.' By that I mean the people building them did a poor job planning for you. Either they put in no shower storage (or poorly designed closet storage) or used materials which are a major pain to clean (if you have a tile shower niche with dark-moldy grout joints today you know what I'm saying).

If you're wondering if there's a better way, I'm here to tell you there is a way to design your walk-in shower to get the storage you'll need, and it won't be hard to clean either.
Check out these contemporary shower niches. Or how about a stylish glass corner shelf.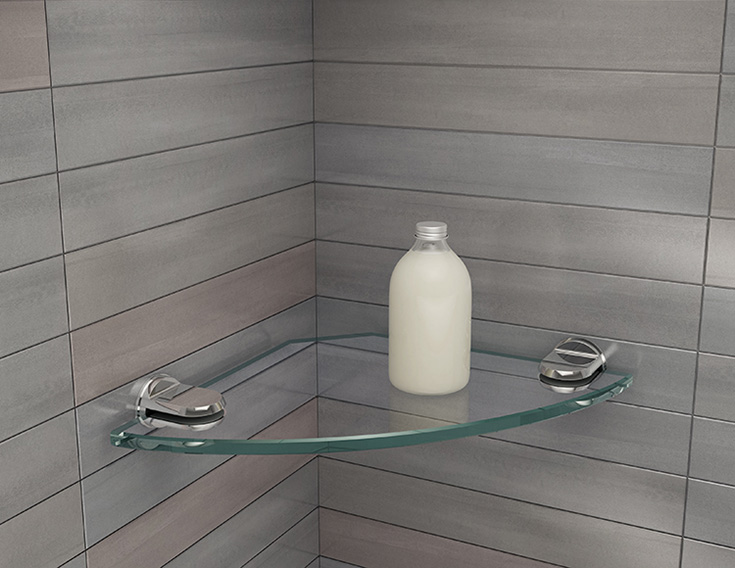 You can have a small space, with thoughtful storage. It's not an impossible dream.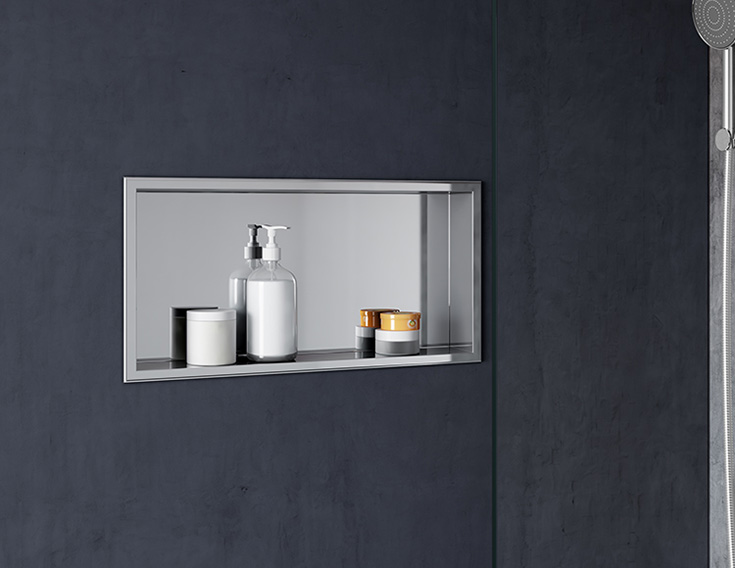 Idea #5 – Add 'spa-like' luxury, even in a small walk in shower
How nice it would be to have a shower you could relax in like the one you enjoyed on your last vacation. A seat to relax. Gentle streams of water beading off your head. Aaah, sounds wonderful, doesn't it?
Well, don't fear, your spa-like shower could be here (hey – this phrase sounds like some type of cheesy TV commercial line, doesn't it?).
Even though you don't have a place for a built-in shower bench seat doesn't mean you can't have a seat. If you have a 60" wide shower a corner seat or a fold down seat will give you the relaxation (and place to shave your legs) you desire, without sucking up space you don't have.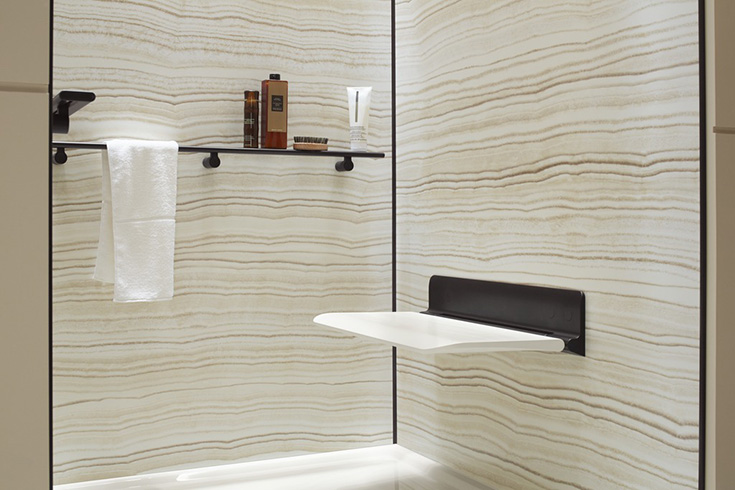 Another smart design element in a walk-in shower is to use a rain head vs. a wall mounted shower head. The rain heads not only provide a relaxing shower, but they keep the water focused directly on you vs. spraying at you (and out of the shower enclosure).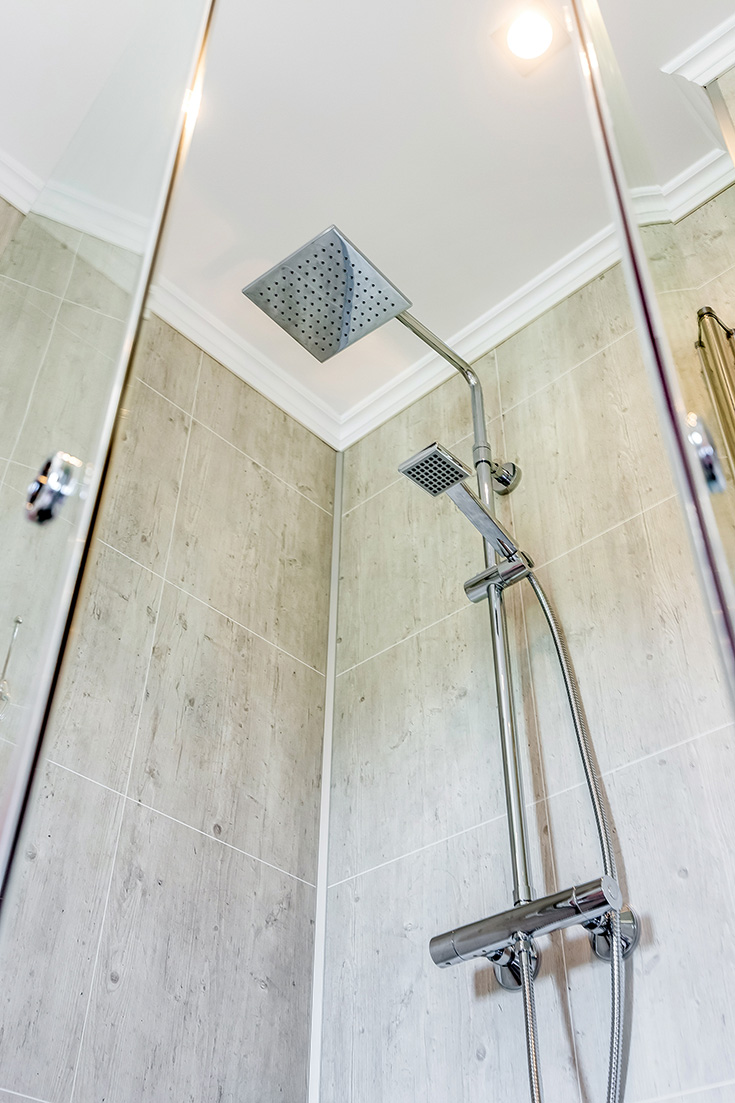 Bonus Idea #6 – Buy a complete walk in shower kit, not shower components
You know when you're remodeling your bathroom EVERYTHING seems to cost more than expected! While you don't want to skimp on quality, you also can't afford to spend like a drunken sailor (no offense to sailors). You need to buy better to end up with a bathroom which stretches your money WITHOUT cheapening the finished project.
And while a walk in shower can often be less expensive than a shower enclosed with glass shower doors, it's still not cheap when you buy higher quality products.
However, the good news I'm here to share with you is you can convert your tub to a walk in shower AND get quality materials IF you look into complete shower kits. You see with complete walk in shower kits (which include a sturdy shower pan, thick shower wall panels and thick glass shower screens) – you'll get the quality you want, at an affordable price. Make sure you're buying right before pulling out your credit card.
The Ultimate Shower Replacement Kit Guide
Clear advice on bringing your bathroom to the next level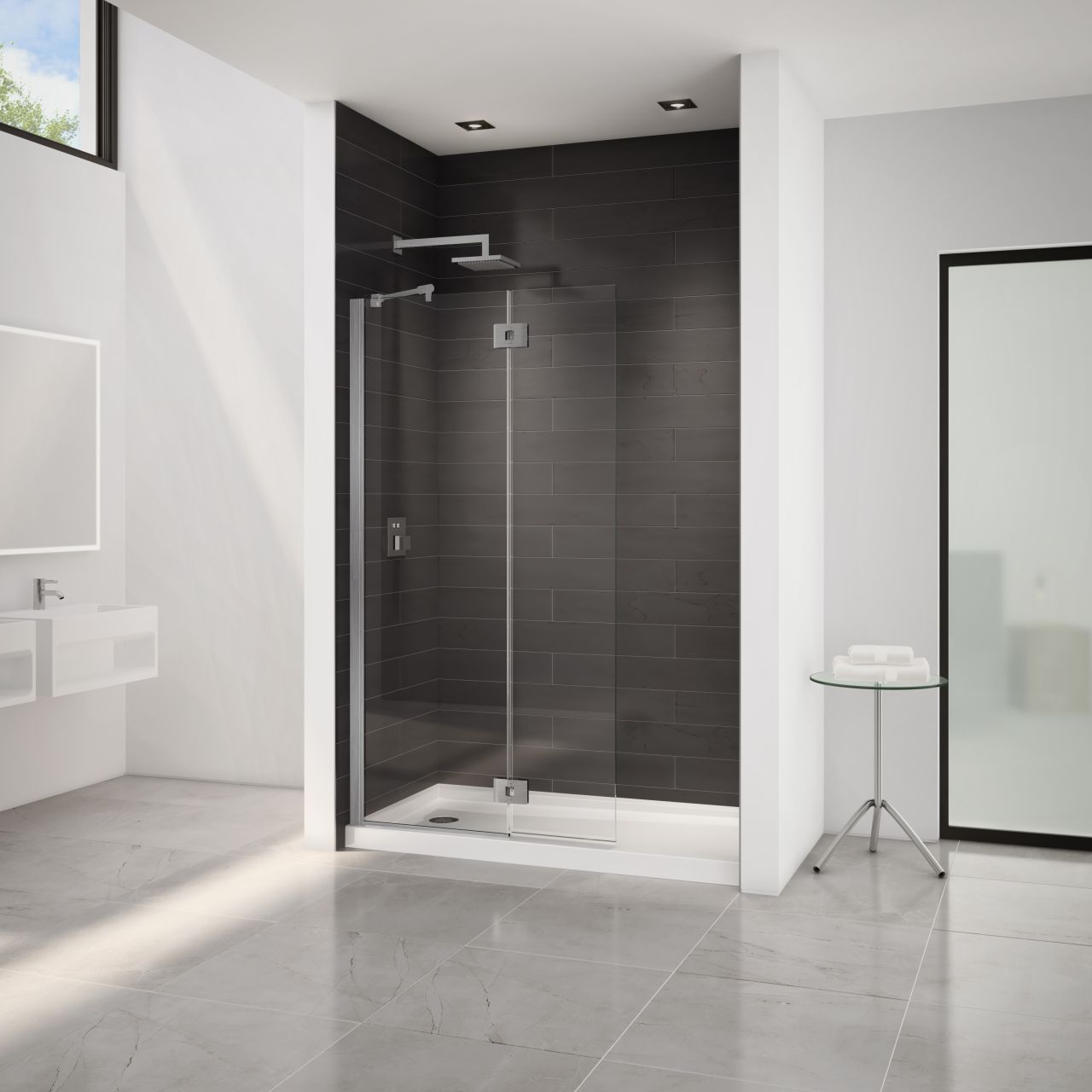 Conclusion
OK – so how did I do? Did you get an idea or two for a low maintenance walk-in shower to replace your old tub/shower you didn't know before?
My hope is this article gave you hope. There is hope (and a realistic way) to get a stylish walk-in shower, with low maintenance, which is safer – all without spending ever dime (or dollar) you have.
The key to making this happen is to be more thoughtful and plan better up front.
If you need help with shower design or would like nationwide-direct pricing on waterproof shower wall panels, contemporary acrylic shower pans, stylish shower doors or contemporary shower accessories, we'd be delighted to help. And also don't forget to ask about the complete shower kits if you want to save a few bucks as well. Call the numbers below.
Mike
###
Nationwide call Innovate Building Solutions at 877-668-5888 or The Bath Doctor at 614-252-7294 in Columbus. For a Cleveland tub to walk in shower conversion call The Bath Doctor at 216-658-1270.
If you're a remodeler or builder and want practical advice on remodeling products, industry trends, marketing and sales tips to grow your business (and cut day to day hassles), start reading my newest blog – Innovate Builders Blog. It's packed with ideas you can use now. Click here to Sign Up for the Innovate Builders Blog.
If you're in the bathroom or kitchen remodeling business, click here if you'd like to learn how to become a shower wall panel dealer or call and ask for Mike at 888-467-7488.
If you want more advice (or like wacky humor) follow me on LinkedIn @MikeFotiLinkedIn or on Twitter @Mike_Foti or my companies @InnovateBuild or @InnovateHomeOrg.
---
Mike Foti
President of Innovate Building Solutions a nationwide supplier and regional (Cleveland and Columbus) remodeling contractors. Some of our product lines include glass counters, floors, backsplashes, glass blocks and grout free shower and tub wall panels
---