7 Ideas for a Multi-Generational Bathroom You Won't Mind Sharing with Your Crazy Family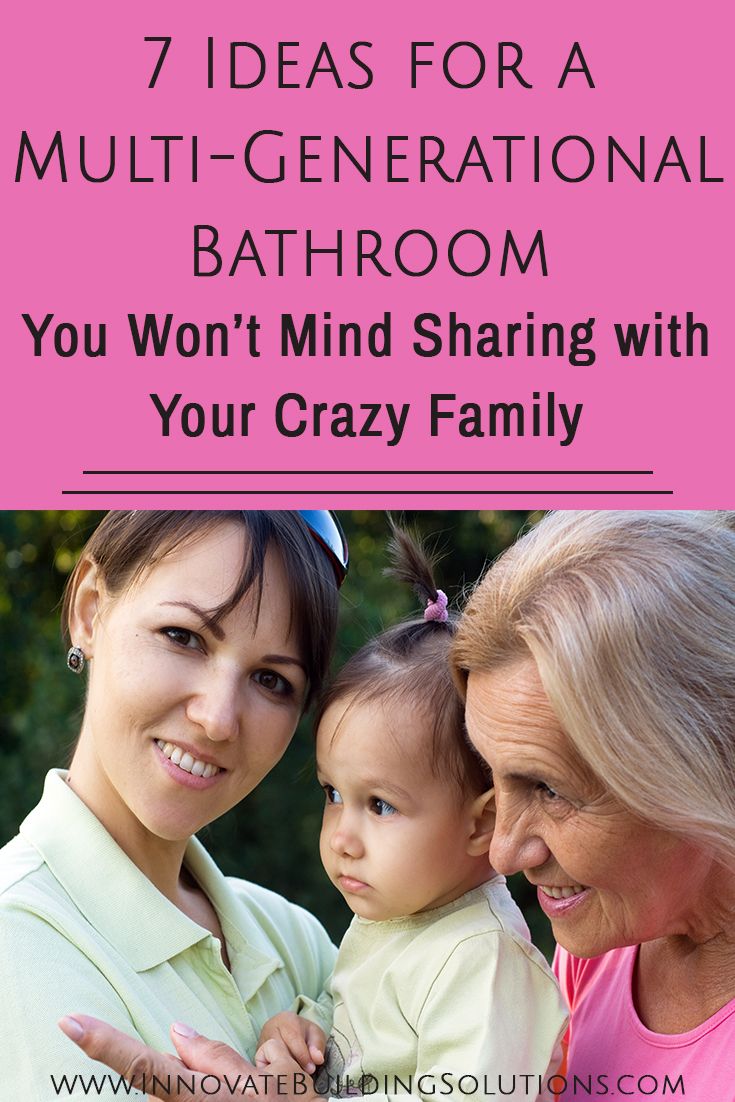 A multi-generational family evolves
Mom's mobility isn't what it used to be. She has begrudgingly moved in with you.
Then 2 months later your 20-something son Brandon decided to 're-enroll' in college. To afford school he's looking to 'boomerang' back to your house. While you had to say yes, you're silently thinking, "Ready or not, here he comes again!"
And while you love your daughter Morgan, and really love your granddaughter Olivia, you're hoping she'll still be able to make it financially on her own after the divorce. While it would be fabulous to spend more time with Olivia, you already have your hands (and house) full helping Mom, worrying if your house is safe for her and cleaning up (again) after Brandon's stuff laying all over the place!
Now what to do about your house and bathroom since you've become a multi-generational household?
And just like that your time as a 'free and easy' Empty Nester is over. You've evolved into a multi-generation household. Whether this allows you to rest easy out not, know you're not alone. You're part of a growing trend. As a matter of fact, 20% of United States households (or 64 million people) live in a multi-generational household (which is 2 or more generations under one roof).
And this would be fine IF your existing home (and bathroom) was designed to work from grandkids to grandparents…but it's not. Adding on an 'in-law suite' or A.D.U. (Accessory Dwelling Unit) would be swell – if you have the lot space or the money to make it happen. You know this ain't happen'. In addition, you know your master bathroom and hall bathrooms are not exactly the safe (or stylish Better-Homes-And-Garden-Esque) places you wish they were. Not hardly.
The LAST THING you want do to is spend money remodeling (and making it safe for Mom) and the new bathroom reminds you of the hospital you're trying to keep her out of. Plus 'institutional-looking bathroom' isn't exactly the hot phrase your realtor will want to use when trying to sell your home years down the road.
So, here's the challenge (and you have no choice but to accept it).
How do you create a multi-generational bathroom which is stylish, safe and works for everyone in your 'expanding' household?
Below I'll give you 7 practical – yet cool – ideas to transform your hall or master bathroom into a multi-generational space you won't mind sharing with your crazy family. Let's check out these ideas.
Idea #1 – Level the 'playing field.' Install a one level or low-profile shower  
The biggest hurdles (literally and figuratively) to make sure Mom is safe is worrying about her stepping over the old, yellow-stained, builders-grade 5" high shower curb, or worse yet – climbing into the tub.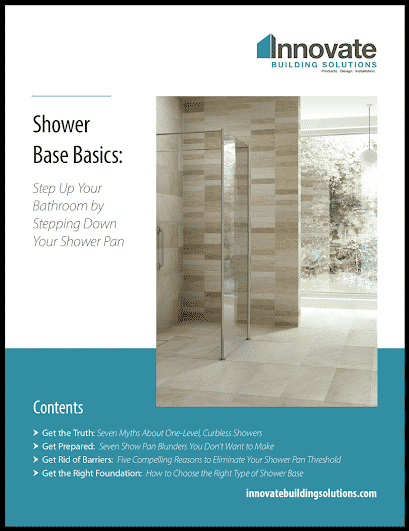 Get Our Ultimate Shower Base Guide!
Step Up Your Bathroom by Stepping Down Your Shower Pan!
Can you say #HospitalStayWaitingToHappen?
You'll be comforted to know you shouldn't (and you won't) have to invest in yellow caution tape to create a stylish space without the worries of her falling because of a bad shower pan or tub design. All you need is start with smarter 'shower foundation.' By this I mean – remove the dangerous tub and old, ugly high curbed shower pan and replace them with 2 better options. Here are those options:
Option 1 – A low profile shower pan – With a low profile pan you get ease of entry and these 2" or 3" high curbed pans come in standard sizes which are light on the budget. To take your remodel to the next level, I'd recommend researching reinforced acrylic pans which won't flex like the junky fiberglass pan you're putting up with now. They come in sleek designs, so your kids won't feel like they're using 'Grandma's shower.'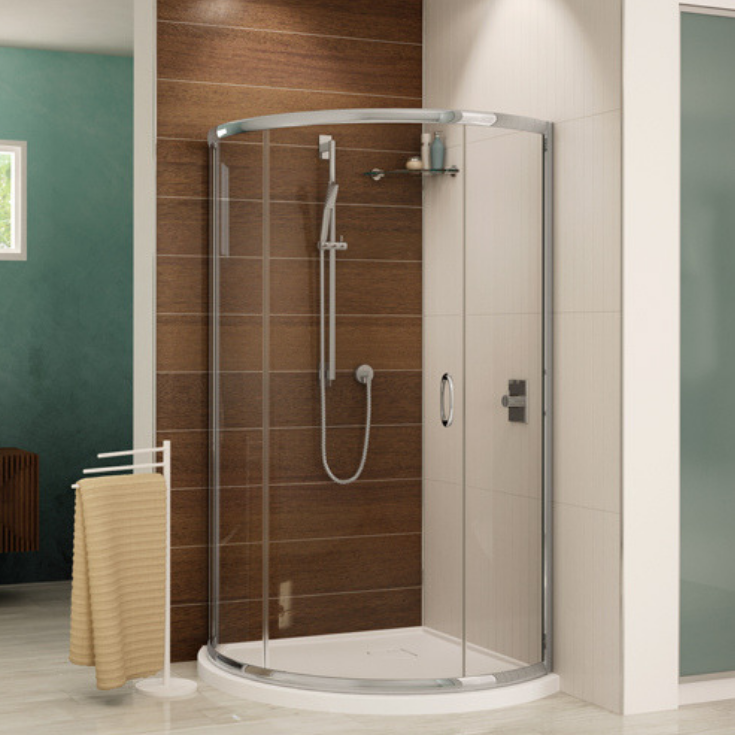 Option 2 – The one level bathroom – One level bathrooms create one continuous bath and shower space. They get rid of trip hazards (and will work for someone who uses a wheelchair or walker). While one level floors provide an 'uber-chic' contemporary style (which is HOT in bathroom design today), they're no longer a pain to install. You don't need to 'drop the floor' and cut into the joists.Simply use a system with a shower base former which is set directly on your joists, butt tile backer board to the base former, waterproof, then tile the top surface and you're good to go.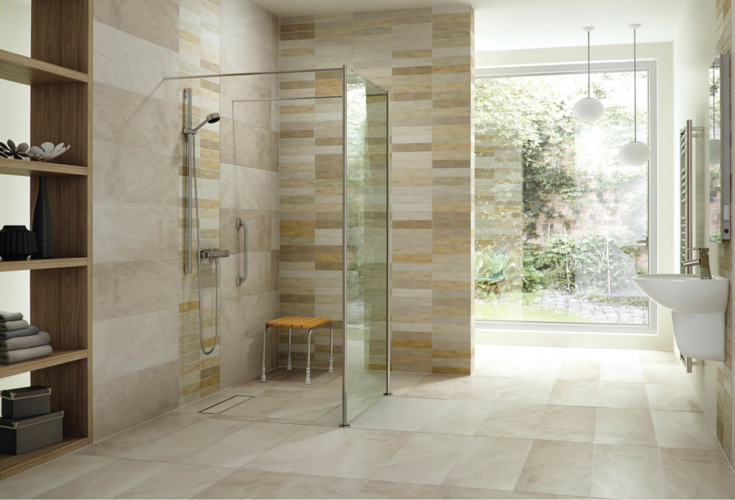 Idea #2 – Stylish and 'grout-free' shower walls are no longer mutually exclusive
 As you know multi-generational living may sound 'kumbaya' conceptually, but you've got to 'put up' with the quirks and downright strangeness which is your family.
Some in the fam, are neat and tidy –like Felix from The Odd Couple (I know I'm 'dating' myself with this analogy!). Others sloppiness (like Oscar) rule the day.
When it comes to multi-generational bathroom maintenance this 'different neatness strokes for different folks' is a problem. Who's going to clean the shower? Who's mopping the floor? Where's 'the maid' (sarcasm intended) when you need them?
Bathroom and shower maintenance is a pain. And combine with this the time to care for your elderly Mom or Dad and you're already too tired to put up with a high-maintenance tile shower.
If you want a stylish bathroom and think (high maintenance) tile is the only way to get it – I'm here to tell you there's better options.
Instead of a tile surround – one option is a 'no-tile, tile shower.' The no tile, tile shower is actually a laminate wall panel system. These 2' x 8' x 3/8" thick panels simply click and lock together like laminate flooring. In addition, they use a waterproof sealant between the panels for a 100% waterproof installation.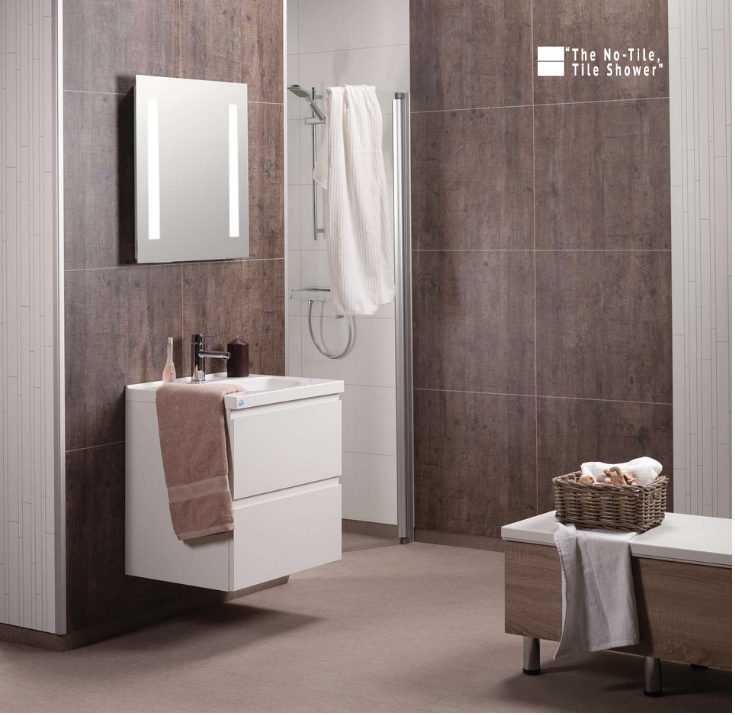 Get Free Samples!
Click here to request free samples of our Laminated Waterproof Shower Wall Panels.
A second decorative grout free wall panel option are PVC composite panels. They look like stone and marble – yet are simple to cut, install and clean.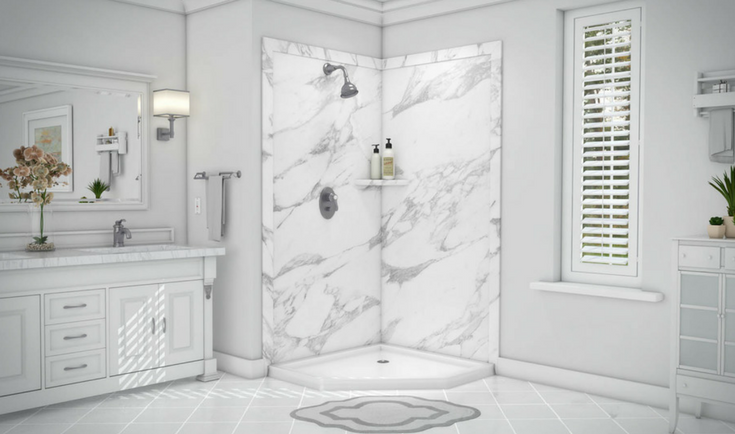 Get Free Samples!
Click here to request free samples of our DIY Shower and Tub Wall Panels.
If you want the low maintenance benefits of shower wall panels you don't have to 'settle-for' plasticky looking acrylic or 'behind-the-times' cultured stone any longer.
Grout free and stylish are no longer mutually exclusive.
Idea #3 – Think multi-purpose and increase the bang for your storage bucks    
Let's face it. Your bathroom is too doggone small! It was theoretically designed with function in mind, but it feels as cramped as your overstuffed master closet. Now – with multiple family members using the same space – clutter and cramped is your bathroom's middle name (as if it wasn't before all your new 'housemates' arrived).
To fight against this problem, you've gotta 'Get Smart' (no, not the old show – although that brings back funny memories). You need to get more out of your bathroom storage, so it works for everyone. Here's 3 space-saving – storage-expanding products which give you a 'fighting chance' of keeping this multi-gen bathroom organized:
Product 1) The medicine cabinet on steroids – As you know Mom has waaaaay too many meds. In addition, for her safety she needs a lot of light. You also need a way to take away the fog from your son's way-too-steamy showers. How about a mirrored medicine cabinet with a built-in light and defogger? It provides more storage, light and a defogging function.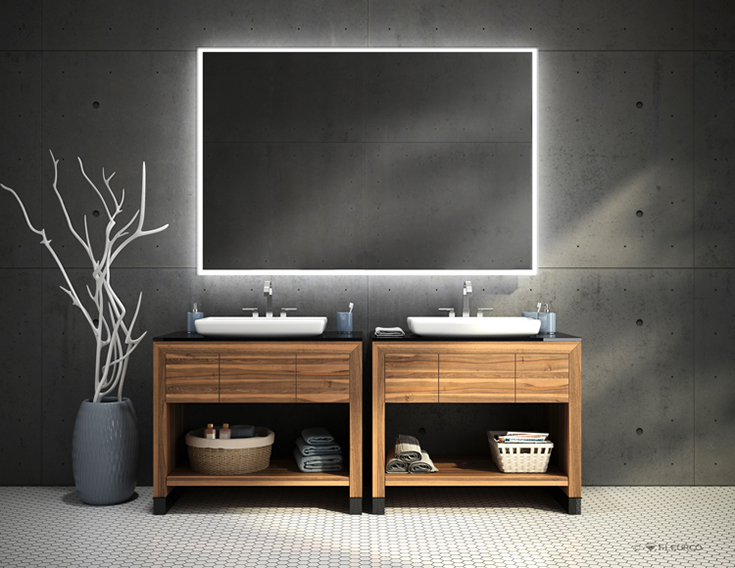 Product 2) The recessed shower niche – Space is tight. Let me say that again, space is tight. In a remodeled bathroom used by lots of family members you need to use every inch –even those inches are in the wall. Recessed niches add storage built into wall cavities to gain storage where none existed before.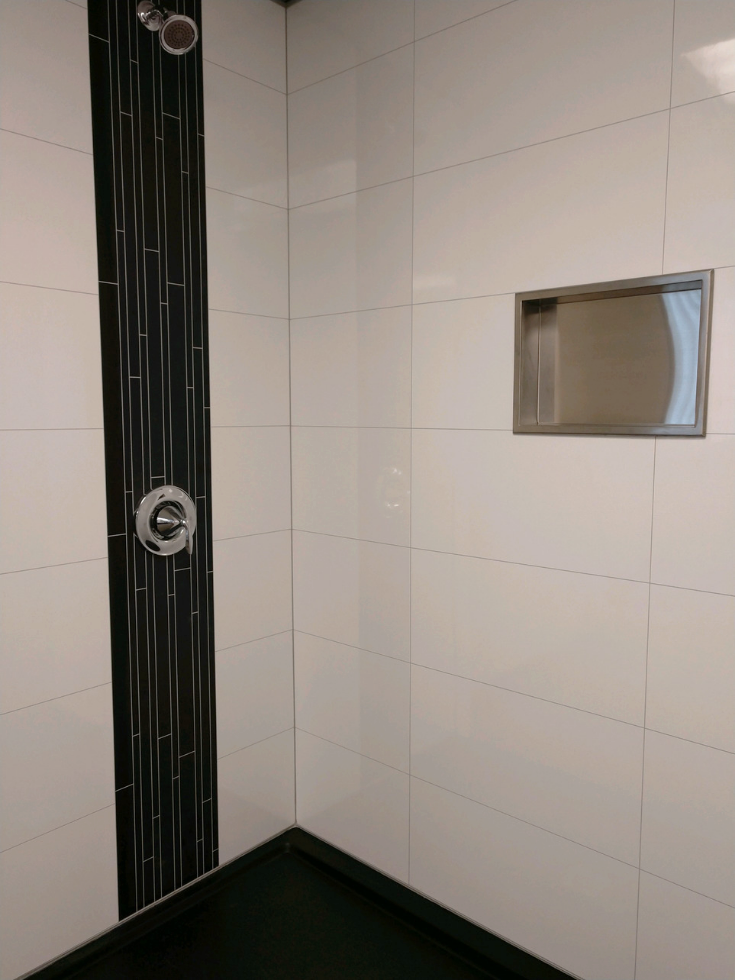 Product 3) Pull out vanity shelving – If your current bathroom vanity is a disaster, I feel your pain. Finding what's in the back is virtually impossible no matter how many Dollar Store "organizers" you buy. Just like your disastrous pantry what you need are pull out shelves to see what the heck you have in the back. Give each family member their own 'pull-out drawer.' Make better use of your precious 'square-inchage' (OK –people in big houses have square feet, but your tiny space needs to be measured in square inches).
Idea #4 – Who let the light in? You, you, you!
Lack of bathroom light is a HUGE risk for Mom slipping and falling. While teenage kids or grandkids can read in the dark, this isn't the world Mom lives in now. Plus, enhanced light adds energy and makes a room feel bigger (now – that's a plus).
Maybe you lack light because you have a window (smack dab in the middle of the shower) covered with blinds. You're not really wanting to give a 'show' to creepy 'Mr. Wilson' next door.
Or your bathroom has no window at all and shaving for your #I'mTooLazyToGoToTheOptometrist, 4-eyed husband is not a pretty sight.
So, how can you make a safer bathroom – and more light-filled? Here's a few 'tricks.'
Add a solar light tube – You'll get light into your bathroom even if you have no exterior walls to work with.
Add a transom window – You'll maintain your privacy (no worrying about creepy Mr. Wilson) and can enjoy the sunny skies outside (or not, if you live in my hometown of Cleveland Ohio which is gray too often for my liking).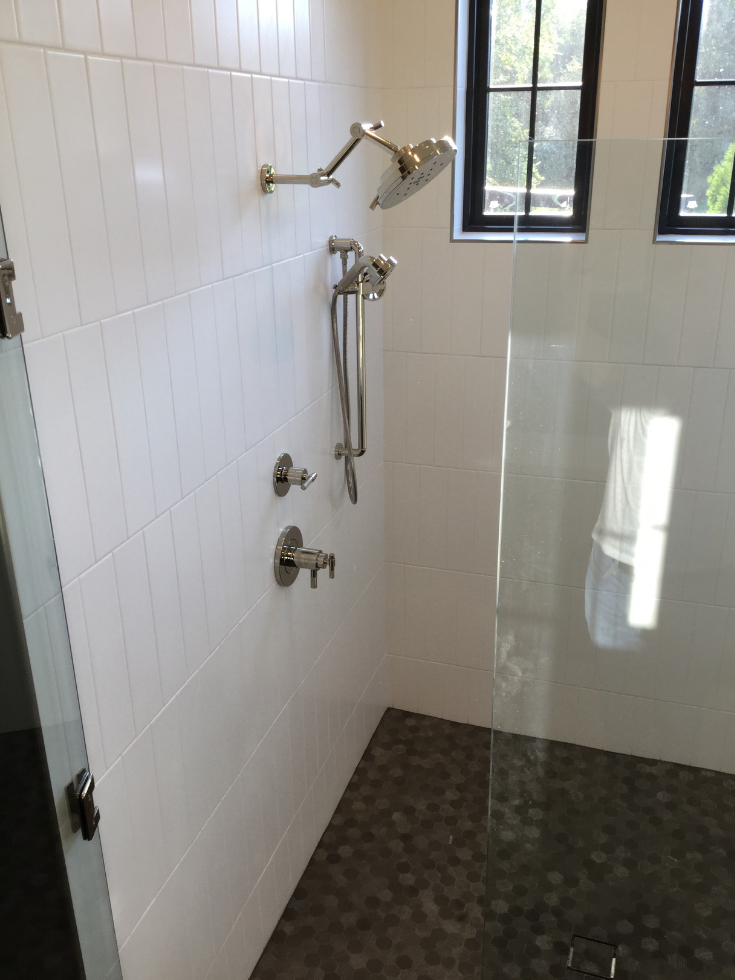 Take out your clear house windows and use a high privacy acrylic or glass block window – Even if your existing bathroom window is in the middle of the shower – you don't have to worry about privacy, you just need an effective privacy window. Glass blocks and acrylic blocks are solid solutions to this problem.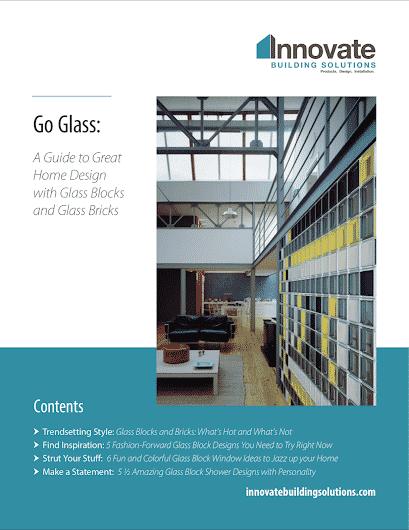 Go Glass!
A Guide to Great Home Design with Glass Blocks and Glass Bricks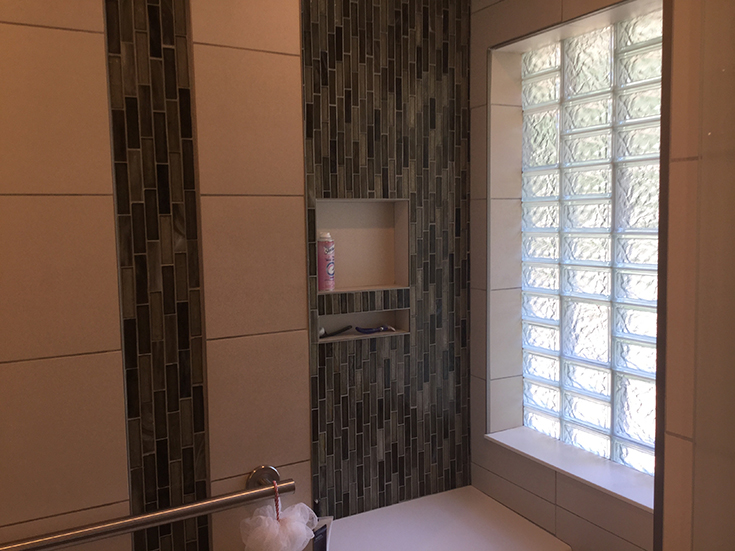 Idea #5 – Get 'trendy' and safe. Raise your vanity up
Sure – floor-based vanities are the norm. However, with an older parent they can be a major barrier to get close enough to the sink to use it.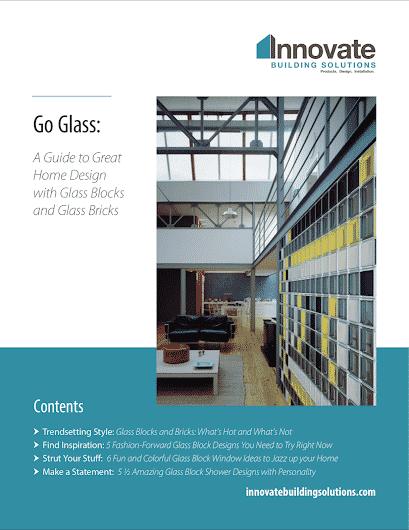 Go Glass!
A Guide to Great Home Design with Glass Blocks and Glass Bricks
To add safety – yet also contemporary style – pick your vanities up. Add a wall-mounted unit. They're sleek and simpler to pull a wheelchair up and use.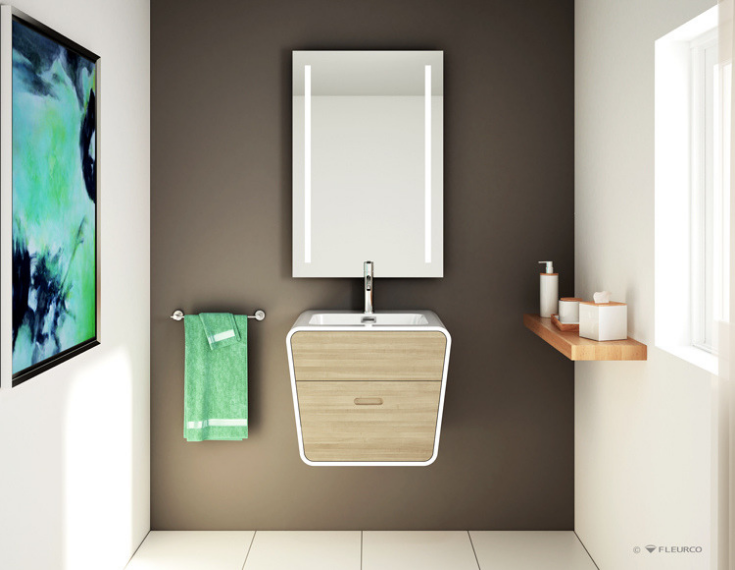 Idea #6 – Include a fold-down seat
Even if you don't have a ton of room in your shower but would like the ability to shave your legs in there (or give Mom the ability to bathe herself with a hand-held shower while sitting down) a fold-down seat is essential.
Fold it down when it's needed. For family members who want a quick shower – in as big a space as possible, fold it back up.
With different ages using the same bathroom, you'll want a comfortable showering experience for all. A shower seat helps do this.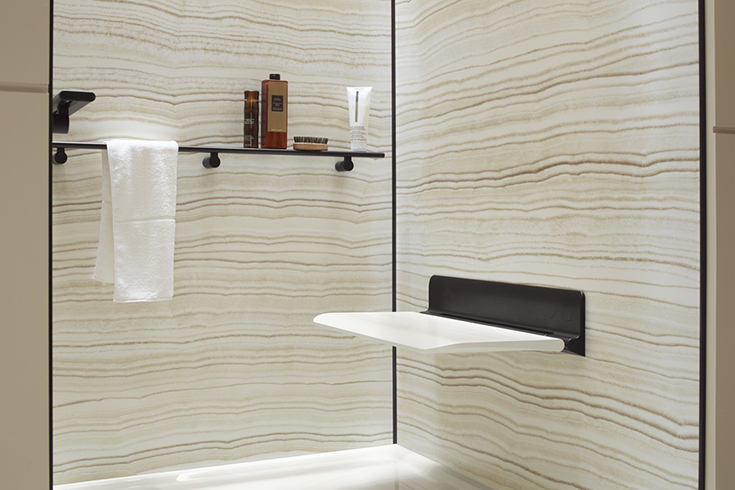 Idea #7 – Make sure your floors are 'hot' and easy
Remember how steamy it was when you used to visit Grandma's house? You wanted to 'run, run as fast as you can' and get out of her 'sauna-esque' home!'
With a new bathroom remodel, it would be nice to create a 'toasty warm' space for Mom (or Grandma) and a 'luxe' shower experience which will make everyone in the neighborhood envious.
In today's world in-floor heating systems are a way to do this. And the bonus is they've come down dramatically in cost. A heated floor is a luxury feature everyone will LOVE!
For 'flooring bonus points' put your in-floor heat system on a laminate surface and save precious cleaning time. Marry them up with the groutless laminate wall panels discussed in idea 2 and cut your upkeep time down to size.
Conclusion
While multi-generational living does require sacrifices and more thoughtful space planning, it's also a needed reality for cash-crunched households or those looking to care for someone they love.
It's nice to know there are ways to create a safe, yet-stylish bathroom which doesn't look institutional.
Be smart. Apply one (or a few) of the ideas above. You'll end up with a multi-generational bathroom you won't even mind sharing with your (sometimes) crazy family!
Mike
How can I (or a member of my team) help?
Call 877-668-5888 (for nationwide wholesale supply of grout free wall panels, shower pans and glass enclosures) or advice for your multi-generational bathroom. If you're looking for a local installing dealer of laminated wall panels or bathroom remodeling contractor our network can help. For a local shower and bathroom design and installation call 216-658-1280 in Cleveland or 614-252-3242 in Columbus for shower and bathroom supplies.
If you're a remodeler or builder and want advice on remodeling products, industry trends, marketing and sales tips to grow your business (and cut day to day hassles), read my newest blog – Innovate Builders Blog. It's packed with ideas you can use now. Click here to Sign Up for the Innovate Builders Blog.
If you're in the building business, click here if you'd like to learn how to become a shower wall panel dealer or call and ask for Mike at 888-467-7488.
If you want more advice (or like wacky humor) follow me on LinkedIn @MikeFotiLinkedIn or on Twitter @Mike_Foti or my companies @InnovateBuild or @InnovateHomeOrg.
---
Mike Foti
President of Innovate Building Solutions a nationwide supplier and regional (Cleveland and Columbus) remodeling contractors. Some of our product lines include glass counters, floors, backsplashes, glass blocks and grout free shower and tub wall panels
---