6 ½ Steps to Select a Recessed Wall Niche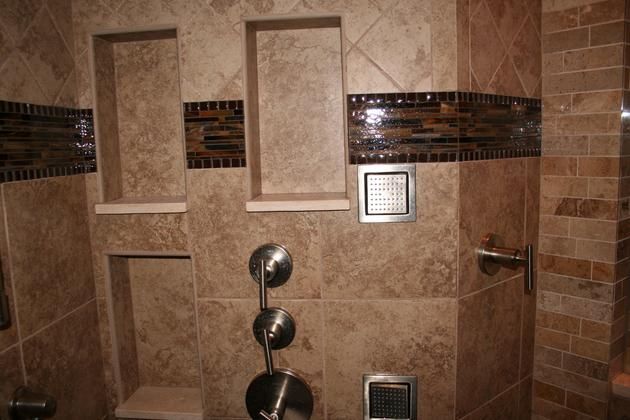 Is your shower or bath too small? Do you worry about you or a loved one slipping in falling due to slippery materials being placed on the floor or tub rail? If so – consider using a recessed
wall niche for your shower or tub. Here's 6 ½ steps to help you select the right shower caddy or recessed niche for your next bathroom remodeling project:
Step 1 – Know the benefits – Building a niche into the wall saves space, increases the useable space inside a small shower or bathtub, and keeps the slippery materials (soap and shampoo) off the floor (thereby reducing the chance of an aging parent or someone with mobility challenges from falling).
Step 2 – Where to put the recessed niche – Place the niche close to the shower head on either the plumbing wall or wall furthest away from your shower door or shower curtain (if you want to create more room consider a curved shower rod).
Step 3 – Identify the right time in the construction process to install the wall niche– The best time to install the niche is right after the rough framing stage. It does not make sense to install an in wall niche in a fully completed tile or acrylic wall (this installation must be done when the wood studs are exposed).
Step 4 – Sizing your shampoo and soap dish area– Simply measure the size and number of shampoo bottles and bars of soap you want to store in the niche and then allow at least an inch around this for a bit of extra space to figure out the best size for your bath or shower remodeling project.
Step 5 – Building your niche – Do you want the easy or the hard way? The easy way is to purchase a pre-manufactured waterproof niche made out of expanded polystyrene that can be simply nailed inside the studs. The hard way is to make your own niche – frame the niche with wood, cover the area with cement board, seal it and then tile over the area.  
Step 6 – Creating an accessible design for  someone with special needs of mobility issues – If you're looking to build a roll in shower , wet room for a stylish universal design that can be used by everyone consider placing your in wall niche lower than normal (about 48" off the shower floor) so it can be reached by everyone.
Step 6 ½ – Still confused, get help – If you need help call a professional bathroom remodeling contractor to lead you through the options and provide a warranty for your shower or bath remodel project.
Do you have any experience with recessed wall niches for a shower or bath? If so please comment below.
###
If you're looking for more information or an estimate on shower or bath remodeling project with a recessed wall niche visit Cleveland Design & Remodeling (216-531-6085), Columbus Design and Remodeling (614-252-7294)  and the Bath Doctor (513-742-6679)of Dayton or Cincinnati Ohio for help.
Related Articles
---
Mike Foti
President of Innovate Building Solutions a nationwide supplier and regional (Cleveland and Columbus) remodeling contractors. Some of our product lines include glass counters, floors, backsplashes, glass blocks and grout free shower and tub wall panels
---