How to Use a Decorative Arched Round Circular Oval or Fan Window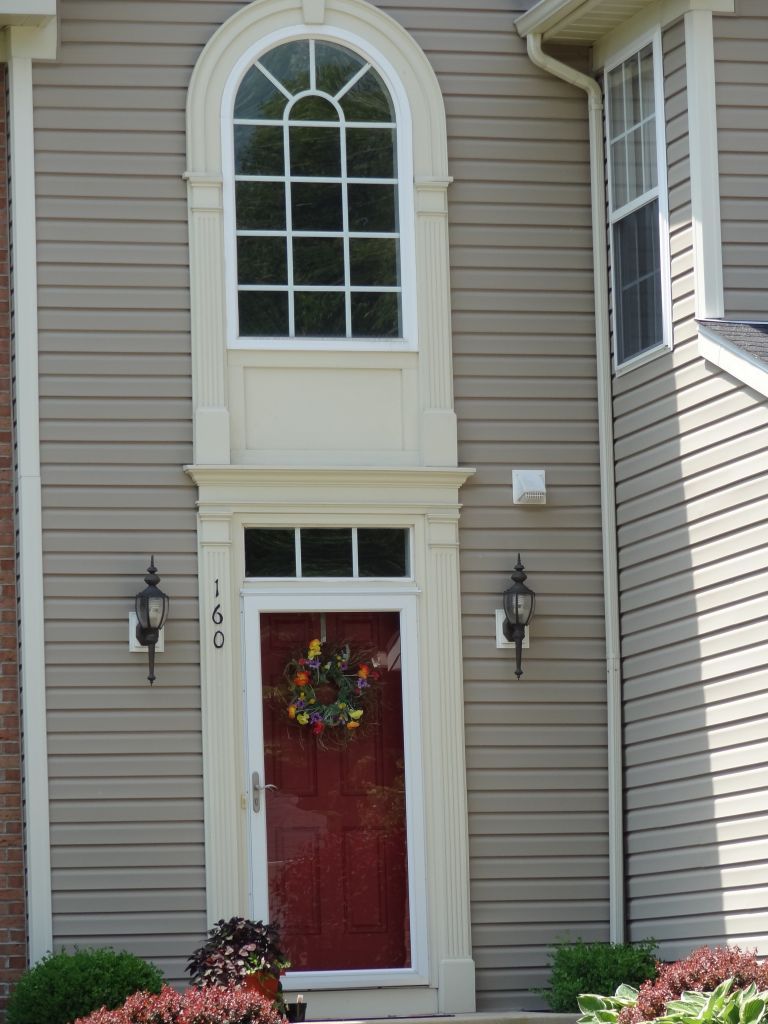 Arched window to add light and style to a 2 story foyer Interior view of a round top fan window in a living room
Creating style, flair and improving light transmission can not only help to "turn a house into a home" (like Luther Vandross might have said) – but it can create curb appeal and resale value as well. There is probably no better way to improve the look and increase natural light into a home than by using a decorative window.
There are many types of decorative windows but this article will focus on arched, round, palladian, circular and fan windows. You'll learn the definition, advantages and disadvantages, types and uses of these types of decorative windows.
Definition – A decorative arched or round window is shaped with a curved top. These windows are generally used in conjunction with other windows (sometimes as a transom window above a traditional double hung or casement window, or in a group of windows). In most situations these are fixed windows that don't open (although there are operable types of arched windows). A popular type of rounded window is the fan window which is a ½ circular window that resembles a fan design.
Advantages of a Round Top, Arch, Circular, Oval or Fan Windows    
Add a dramatic architectural element– Adding decorative windows can create a design style unique to a home. For example using a palladian window (this window include a larger arched window in the center surrounded by two smaller side windows) can create the feeling associated with Greek and Italian renaissance style architecture.
Add more light– These windows can provide expansive views to a front, side or backyard.
Save on electricity with more natural lighting – Improved natural lighting can provide a more ecologically friendly home and reduce the need to turn the lights on as often.
Provide a decorative touch and focal point for a room – Round and oval windows can become a focal point of both small and large rooms.
Disadvantages of a Round Top, Arch, Circular, Oval or Fan Windows   
Solar heat gain – You may want to use an insulated glass package to minimize heat gain.
More expensive window– Decorative shaped windows are custom made in small quantities and are more expensive than standard double hung, casement or slider windows.
Usually they don't open– Round, circular and oval windows generally don't open. Many of the arched and palladian windows are also fixed (although you can find them in operable models).
Window treatments require more planning and expense – Although many people choose to go without window blinds or shades in decorative windows – when you do need a covering material they expensive and require careful measuring and more skill to install.
Popular Options
Add more style with these options:
Interior veneer trim options to match traditional style decors
Multiple vinyl frame and aluminum clad exterior trim color choices to accent your home
Decorative window grids and grills
Acrylic block and obscure glass options for additional privacy.
Higher energy efficient windows with upgraded glass packages.
Operable arch top acrylic block windows for style and air flow.
Where to use a Round Top, Arch, Circular, Oval or Fan Windows   
These windows are frequently found in 2 story foyers, living rooms, dining rooms, dens, master bedrooms and bathrooms as well.
Do you have any questions or advice about how to use a decorative window? If so please comment below.
To learn more about round, arched, circular, oval or fan windows or to get free consultation contact Cleveland Window Company (216-531-6363) or Clear Choice Window & Door in Columbus (614-252-5888) or in Cincinnati (513-742-5900)
Related Articles
---
Mike Foti
President of Innovate Building Solutions a nationwide supplier and regional (Cleveland and Columbus) remodeling contractors. Some of our product lines include glass counters, floors, backsplashes, glass blocks and grout free shower and tub wall panels
---