3 Design Tips for an Extraordinary Patterned Glass Block Window, Shower, Wall or Bar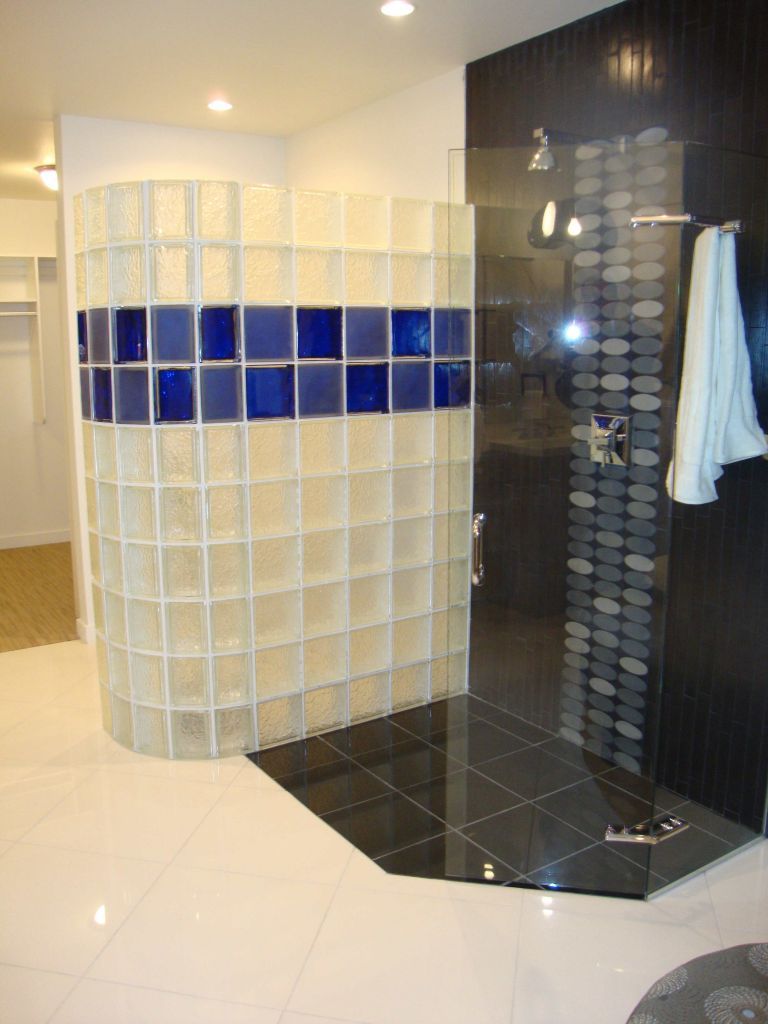 Glass blocks stacked on top of each other – that is the single glass block design known by most people. The cool thing is this building material doesn't only provide a means for a functional window, shower, wall or bar (with one block stacked on top of each other) – it can create a one of a kind window, shower or wall design through the use of patterning as well. Here's 3 tips to turn an ordinary project into an extraordinary one.   
Tip 1 – Use directional glass block patterns – Inside of many glass block are pre-formed patterns to create unique designs. Here are the more popular designs being used today:
Striped design – Use the "Argus" pattern block which has parallel flutes on the inside to create a dramatic stripe or stripes in a wall, window or bar.
Circle design – The Focus pattern from Pittsburgh Corning has a circle design in the center of the 8" x 8" x 4" block which can be a focal point in an office or home alike.
Waves, rounded corners, or larger circle designs – Use the Spyra glass block from Pittsburgh Corning or the Oceanview or Bromo patterns from Mulia to create a wave like design or larger circle designs through a commercial or residential project.
Tip 2 – Use decorative colored or frosted glass blocks – With over 108 colored and frosted glass blocks there is no need to settle for a generic looking wall anymore. Create wall patterns with random colored/frosted blocks, accents, stripes or checkerboard patterns. These products are being used in diverse applications ranging from medical offices to conference rooms to residential homes for showers, walls, windows and bars.    
Tip 3 – Combine different glass block sizes – Just like tiles on a wall or floor various glass block sizes can be combined to make unique designs. If you want a subway tile look use 8" x 8" glass blocks with 4" x 8" blocks at the end (this look can be fantastic in a shower enclosure) for a running bond pattern. For a random pattern use a combination of 6" x 6", 6" x 8" and 12" x 12" blocks in an eclectic mixture to create a window or wall with style.
Have you created any unique glass block patterns before? How did the project turn out? Do you need any advice with an upcoming project? Please comment below.
Learn more about creating unique glass block designs by visiting Columbus Glass Block (614-252-5888 or 877-668-5888), Cleveland Glass Block (216-531-6363), or Mid America Glass Block of Cincinnati or Dayton (513-742-5900).
---
Mike Foti
President of Innovate Building Solutions a nationwide supplier and regional (Cleveland and Columbus) remodeling contractors. Some of our product lines include glass counters, floors, backsplashes, glass blocks and grout free shower and tub wall panels
---