Project Spotlight: 5 ½ Tips to add class, character & style in a small bathroom remodeling project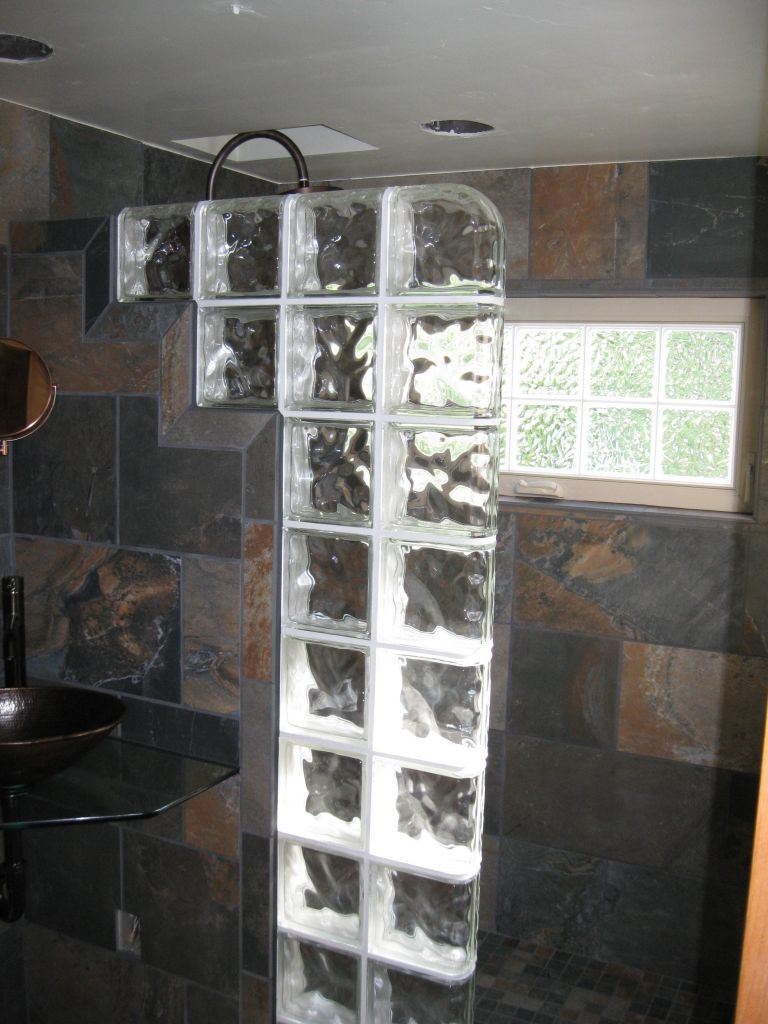 You may say it's not possible to create a classy, stylish and unique bathroom in a space as small as 6 foot by 6 foot – but don't tell that to Mat Forrest. When Mat and his partner got on a mission to invigorate and revitalize their small bathroom in California they were determined to create a top notch space and to not cut any corners in the process. Below you'll learn tips and ideas that guided Mat through this small bath remodeling process.
Tip 1 – Have a design theme– The theme for Mat's bathroom was based around the use of copper, glass and alder (alder is a flowering plant from the birch family). Inside the walk in shower Mat used a copper multi-function shower system that was expensive but provided the benefits of adjustable jets for a back massage, a handheld shower and a rain head. The glass and copper theme were also extended into the sink area with a simple custom glass sink top and copper vessel bowl that conserved space and looks really cool as well.  
Tip 2 – Open it up with style– Small bathrooms with the usual stand up shower and a door not only look boring but they can close in a small space even more. To create a more open feeling Mat ditched the shower door and came up with the ideas of using a step down glass block walk in shower. The glass blocks allowed light to move through the wall into the sink area and the step down wall design was used to break up the uniformity of the straight lines used with the tiles and cabinets.  
Tip 3 – Create fresh air & use light effectively – An open and healthy space is impossible to achieve in a cramped dark bathroom. To overcome this obstacle Mat used an operable awning style acrylic block window in the shower space. This selection provides fresh air and ventilation, increases natural light (making it easier to shower & shave) and provides privacy and a consistent look with the glass blocks. To create calming moods a dimmer light switch was used for the can light in the shower.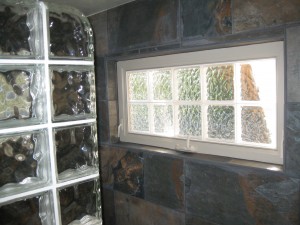 Tip 4 – Use every nook & cranny – The opulent mega-space room additions of the late 1990's and early 2000's have mostly gone away (along with the easy credit for everyone). Today's remodeling is focusing on thoughtful use of the existing space. To use every last inch of his 6' x 6' bathroom Mat built into the wall cavities recessed shower inserts for shampoo, soap and towel storage.  
Tip 5 – Don't cut corners with cheap materials – A focus on quality and low maintenance was critical in Mat's product selections – from the large non-porous ceramic tiles (which minimize absorption of shower chemicals or water minerals) to the cool copper shower system – doing the project correct (and with style) was the consistent theme in this project.
Tip 5 ½ – If you don't have Mat's vision call in a trusted expert – Let's face it, many people can't develop the ideas to transform a small bath space into a relaxing and stylish finished product. If this describes you look for a reputable, creative bathroom remodeling contractor to lead the way.
What do you think about Mat's project? Do you have any tips to add? Please comment below.
###
If you need assistance with a small bath or shower remodeling project learn more by visiting Cleveland Design & Remodeling (216-531-6085), Columbus Design and Remodeling (614-252-7294), or The Bath Doctor (513-742-6679) (serving the Cleveland, Columbus, Cincinnati and Dayton markets). If you'd like the glass block wall or acrylic block window features in this project visit Columbus Glass Block (877-668-5888), Cleveland Glass Block (216-531-6363), or Mid America Glass Block (513-742-5900). 
---
Mike Foti
President of Innovate Building Solutions a nationwide supplier and regional (Cleveland and Columbus) remodeling contractors. Some of our product lines include glass counters, floors, backsplashes, glass blocks and grout free shower and tub wall panels
---